Building an eCommerce website on your own can be a hideous task. Here Shopify comes in as a helpful solution with a complete solution including the best-looking theme design and shop management.
Shopify is one of the best ecommerce platforms and thousands of online stores use Shopify as their back-end eCommerce platform the number is increasing day by day.
If you are looking to start your own eCommerce online store with Shopify then this blog is for you. In this article, we will give you 10 Best Free Shopify Themes to help you maximize your conversion rate as a beginner.
Let's dig in then.
Read also: 5+ Best Shopify Live Chat App 2023
Why Shopify?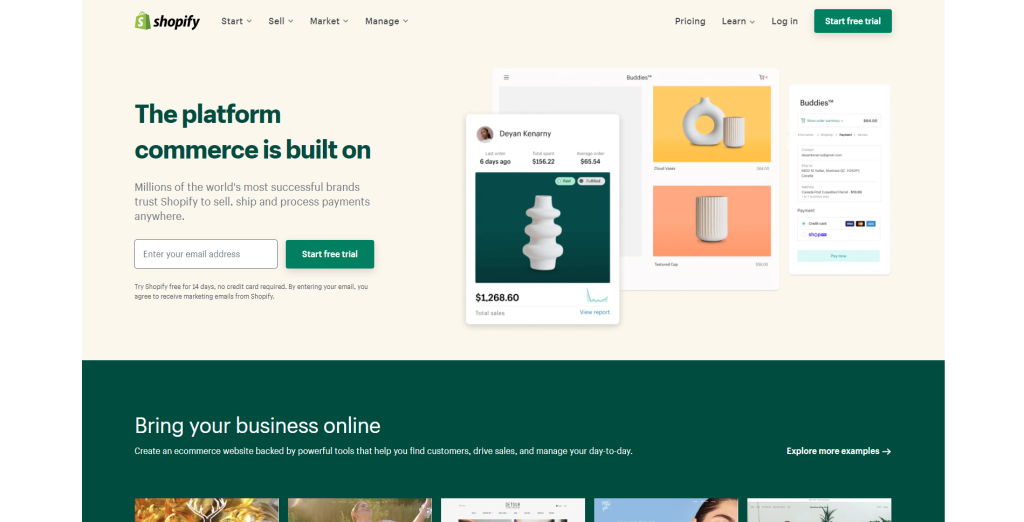 The software is simple to use and has a short learning curve which allows business owners to learn it quickly and get their online store up and running including Shopify customer service app.
Shopify has a low startup cost and is very popular among small and new business owners. For the benefit of all, a Shopify subscription also includes secure and reliable site hosting for your website. The three subscription plans are:
Basic Shopify at $29/month
Shopify at $79/month
Advanced Shopify at $299/month
All the subscription plans support various different types of eCommerce businesses and products like beauty supplies, handcrafted goods, clothing, online classes, ebooks, digital devices, equipment, etc. Some other advantages of Shopify are:
Web design is user friendly with just a short learning curve
Low startup and maintenance cost
Good for dropshipping
Great customer care service and support
Great scalability and security
Wide range of beautiful Shopify themes
How to Choose The Right Shopify Theme?
As mentioned above, e-commerce owners love Shopify because it offers a wide range of beautiful Shopify themes. With thousands of paid and free themes available, the users can create a unique e-commerce store look that will help provide their customers with a positive and engaging user experience.
Shopify themes are a type of template that influences how an e-commerce store's website appears and feels to visitors. Themes come in a variety of designs and layouts. In addition, depending on how it is created, each theme provides a unique user experience.
Website design and layout play a massive role in attracting and engaging customers and getting high conversion rates. Hence, mentioned below are some tips you can keep in mind while choosing a Shopify theme:
Start by listing all the features and functions you want
Decide on a budget or select one of the best free Shopify themes
Consider the product you have to sell
Check for built-in SEO features
Prefer mobile responsive and lightweight themes
Check product image display and catalog size
Check SEO customization options
Pay attention to the developer's reputation
Prioritize all the themes you like on the Shopify theme store
10 Best Free Shopify Themes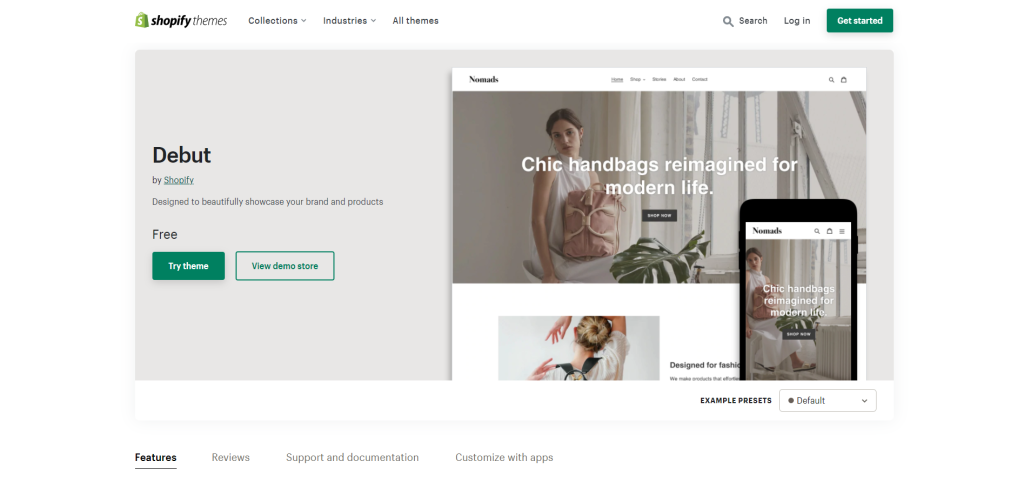 Debut is one of the free themes offered by Shopify and as the name suggests, it is a perfect start for your store. Debut is known for its simplicity and functionality which lets you run your ecommerce store without any hassle. If you need to start selling immediately without having to make a lot of customizations to your selected theme, then Debut is the best choice for you.
Features
Built for small catalogs
Promotional banners
Customer testimonials display
Predictive search
Slideshow
Pickup availability
Home page video
Product recommendations
Product filtering
Completely mobile optimized
Multi-level menu
Newsletter
Blog articles
Best For
It is the best Shopify theme for those ecommerce website owners who want to sell jewelry, accessories, clothing, and handmade products.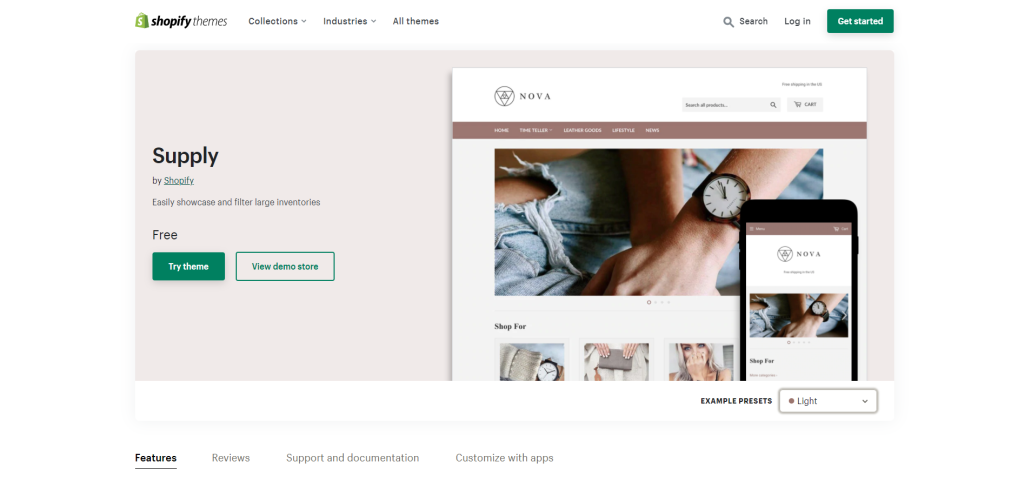 Supply theme by Shopify is available for free and merchants can easily find it and install it. If you look at the Supply demo, you'll notice that the name tells it all. It's essentially a theme for sellers who have a huge number of products and collections to sell.
On the homepage, there's a simple header with a product search bar, a shopping cart, and a navigation bar with drop-down menu items, as well as a collection list and product categories. With Supply, you can turn your store into a miniature replica of Amazon or eBay's massive eCommerce markets.
Features
Built for large catalogs
Collection filtering in the sidebar
Slideshow
Features collections on the homepage
General customization
Dropdown menu
Footer menu
Product page optimization
Blog articles
Best For
It is the best Shopify theme for ecommerce business owners who are on a small budget and looking for free themes. This theme can support a huge number of products and collections seamlessly and hassle-free.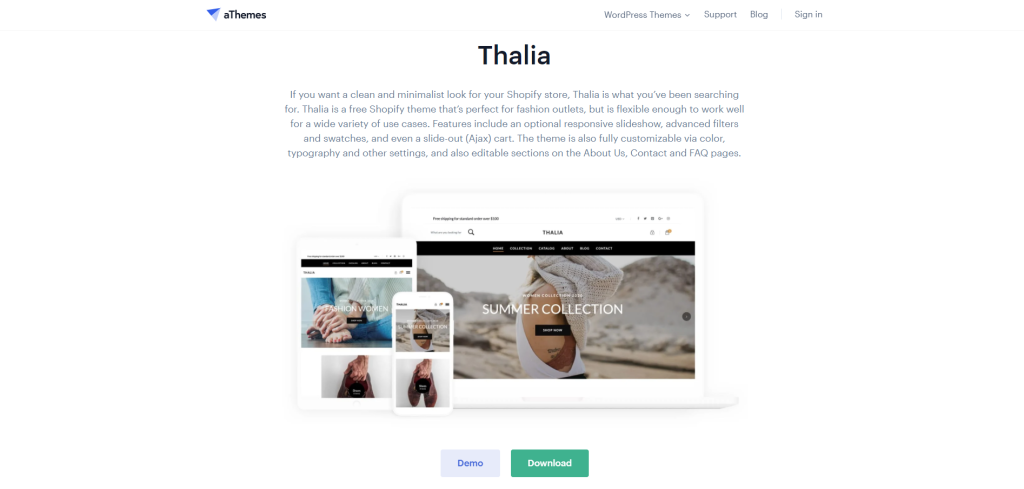 Thalia is the theme you've been looking for if you want your Shopify store to have a clean and minimalist look. Thalia is a free Shopify theme that's ideal for fashion stores, but it's also adaptable enough to work for a range of other products.
Features
Optional responsive slideshow
Advanced filters and swatches
Slide-out cart
Product swatches
FAQ pages
SEO optimization
Innovative sections
Color typography
Blog articles
Best For
Thalia due to its clean and minimalist look would work best for fashion outlets. However, its customizing options can work out for other products also like jewelry and accessories.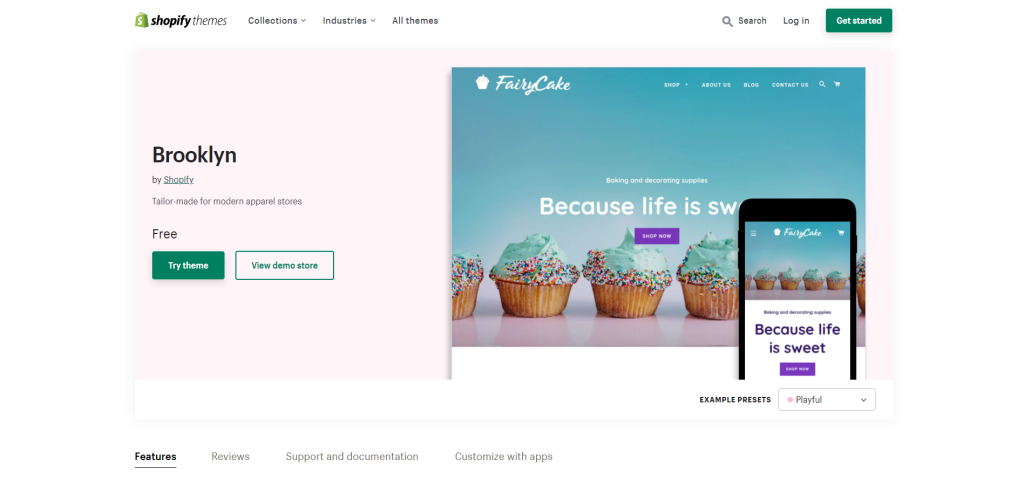 Brooklyn is a free Shopify theme that can be downloaded directly from the Shopify repository. It comes in two different styles: Classic and Playful.
The Classic variant is appropriate for modern fashion and retail stores. It has a promising future ahead of it. Because of the vibrant color possibilities, the Playful version might be utilized for bakery establishments, children's apparel, and so on.
It includes a slideshow header option for displaying many top-selling products at the store's front. You can also dynamically display products in your store, such as the most popular and best-rated items.
Features
Homepage video
SEO optimization
Mobile-friendly design
Free regular updates
Blog articles
Dynamic product grid
Header slideshow
Slide-out cart
Color typography
Mobile compatibility
Designed for modern apparel stores
Best For
Brooklyn supports a large and clear showcase of the product's image which makes it best for fashion and clothing. Customers will be able to look at the clothing piece closely and then make an informed decision.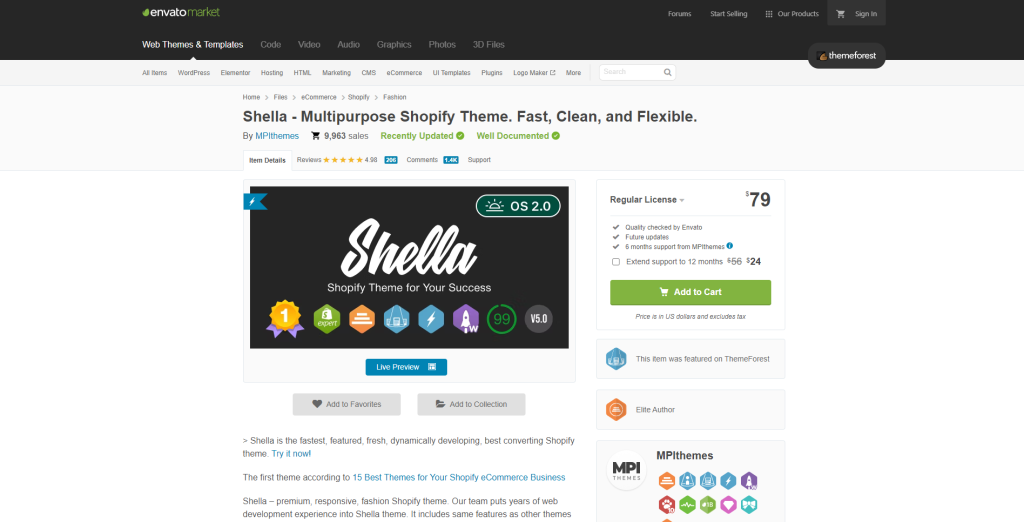 Shella is the ideal Shopify responsive fashion theme, based on years of web development and Shopify expertise. Shella focuses on performance and user experience to increase conversions, with hundreds of settings and some unique features.
This multipurpose Shopify theme comes with 99+ pre-designed pages to assist you in creating your own store, as well as ready-to-use skins to help you create the proper tone for your brand and items. Shella is the ideal theme for a clean, contemporary, well-organized, and high-performing online business, ranging from fine wines and jewels to gadgets and equipment.
Features
Multi-purpose design
Mobile optimized / mobile-first / 100% responsive design
Powerful admin panel
SEO optimized
Google rich snippet tool
Full RTL support (right-to-left languages like Arabic or Hebrew)
Built-in theme translations
Lazy load effect
Hide/Show most elements
Boxed or full-width layout
Tons of color options
Button shape options
Newsletter popup
MailChimp newsletter popup (based on embedded form)
Shipping rates calculator
1000+ live customization option
Wishlist
Compare products
Advanced swatches
Display sale % label
Best For
It is a multi-purpose Shopify theme and is suitable for a number of products like clothing, electronics, food items, accessories, jewelry, footwear, etc.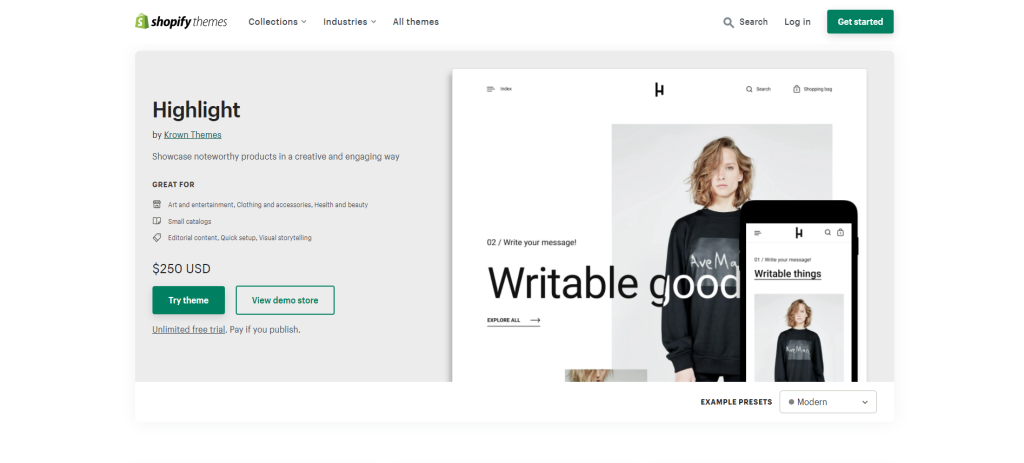 The Shopify Highlight theme was created by Krown Themes, a company dedicated to helping you express your creativity through Shopify themes. Once you've published the Shopify Highlight theme, it'll cost you USD 250. This Shopify theme allows you an endless free trial till you publish.
Features
Parallax vertical slider
Asymmetrical product grid
Additional product information
Customizable contact form
Product reviews
Promo banners
Blog articles
Product filtering and sorting
Color swatches
FAQ page
Stock counter option for impulse buys
In-store pickups
Three built-in style
Card for trust badges
Rich text section
Speed tested
Multi-lingual support
Compare product options available
Best For
It is best for those who are graphic designers, painters, illustrators, etc., and are looking for creative ways to display their work.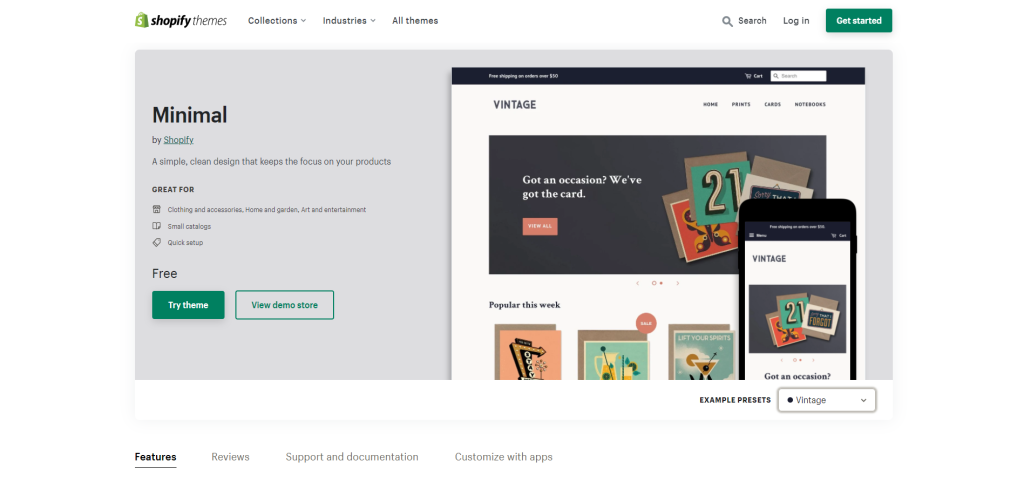 Minimal, as the name implies, provides a clean, easy-to-sift-through design that allows your customers to effortlessly navigate around your online business. It comes in three different styles: vintage, fashion, and modern. As a result, you may use this theme for any industry or niche.
On the product page, you can zoom in and out on images. This allows your customers to see the finer points of your goods. It also helps you enhance conversion rates in a way because the user has all of the necessary information about your goods. If you're a new company, you can use the home page video option to show a brand film to further engage your customers.
Features
Free theme updates
Product filtering
Home page video
Product image zoom
Slideshow
Home page customization
Mobile friendly
Color palettes
Search engine optimization
Footer menu
Header menu
Featured collection
Newsletter
Stock counter
Promo banners
Best For
If you are someone who wants your ecommerce store to look minimal and launch quickly, then this Shopify theme is the best choice for you.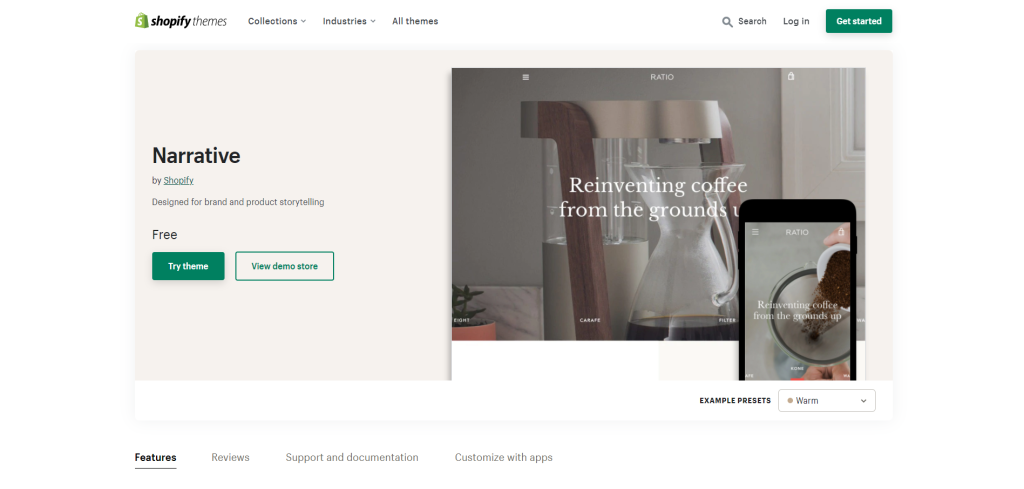 Narrative is a free Shopify theme that is available in four different styles: Earthy, Warm, Light, and Cold. You can use the theme for your trendy clothes store or show product pages to your customers in an intuitive way. It's an excellent design for niche boutiques with a small number of products to display.
The fixed navigation function improves the user experience by allowing them to see the menu, logo, and cart while they scroll through the store. It has a mobile-friendly design, so you can show your featured products to your users in a more appealing way on both desktop and mobile.
Features
Built for small catalogs
Hero video
Fixed navigation
Wide layout
Vertical slideshow
Designed for visual storytelling
Mobile-friendly user interface
Footer menu
Customizable content
Free photos
SEO optimization
Best For
If you are a business owner who wants his/her ecommerce platform to look extremely professional without any clutter then this theme is the best choice for you. Many customers mentioned in the reviews that the theme reminds them of Apple's official website.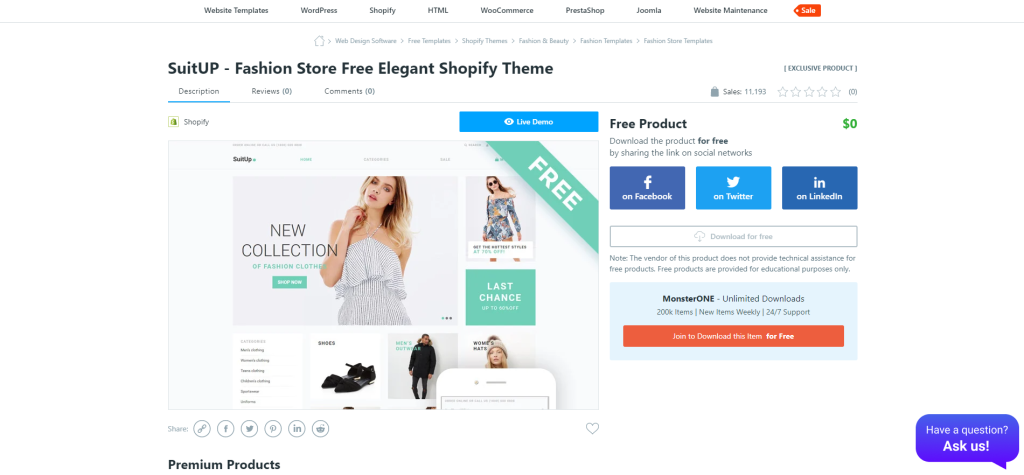 SuitUP does not offer many styles, unlike many of the themes of Shopify. It does, however, come with a fantastic style designed for huge stores, complete with category filters in the sidebar and multiple banners listing discounts and collections. The SuitUP theme has some great features, like a contact form, a search form, and a mega menu. There are numerous sorting options available, and the multi-currency functionality will undoubtedly aid in attracting new consumers.
Features
Collection list
Custom content
Newsletter
Featured products
Image with text
Collection banners
Slideshow
Logo list
Banners
Blog articles
Multi-lingual
Multi-currency
SEO friendly
Product quick view
Ajax cart
Contact form
Social option
Megamenu
Sorting options
Best For
It is a multipurpose Shopify theme and uses a universal template. It is a great choice if you want to sell clothes, electronics, automobile parts, furniture, bags, footwear, food products, etc.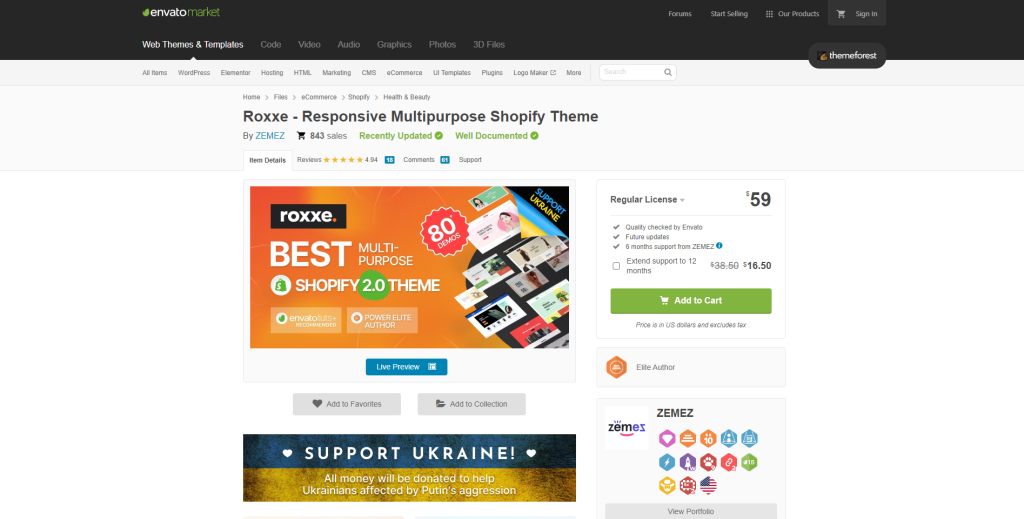 Roxxe is a multipurpose Shopify theme with a lot of demos to check out. If you scroll down on the preview page once, you will discover over 60 different pre-built home page examples. These include Fashion and Beauty, Electronics, Gifts, and Pets, to help you get a basic idea of how Roxxe will fit your demands no matter what category your online business needs to be in. Each sample is essentially the same theme, but with a unique look and feel.
Features
Megamenu
Collection page
Footer menu
QuickView
Email collection bar
Quick announcement bar
Exit intent pop up
Integration with Klaviyo, an email marketing software
Integration with Growave, an all in one marketing platform
SEO customizing options available
Best For
It is best for displaying products like electronics, clothing, gifts, homemade articles, etc.
Conclusion
It can be very confusing to select one theme from the wide range of best free Shopify themes. However, it is advisable to not panic and make a rushed decision. Go through all the themes and make a list of the themes which suit your requirements fully. Once you have the list ready, create a scrutiny process to select the best out of them. Do not be hesitant to ask for help from friends and family. We wish you luck in finding the best Shopify themes.
Check out our other informative blogs for more information!