In the old days, manufacturers used giant manuals to ship products. It was an old bulky manual that actually a book of instructions about how to use the product with hundreds of pages includes.
Over time that instruction manual becomes a knowledge base. Things have changed, as well as the product and customer management system. Now we have plenty of Knowledge Base Software as a help desk knowledge management.
In this article, I will give you 10 Best Knowledge Base Software that you can use for your customer service or help desk solution.
Read Also: 10 Best Zendesk Alternatives and Competitors for Customer Service Software
What is a Knowledge Base Software?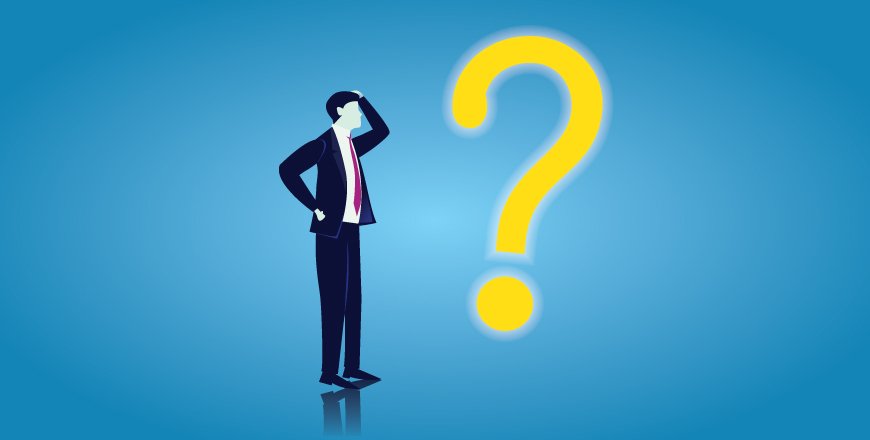 Let me ask you first what is the knowledge base actually? Any guess? Okay, let me help you.
The knowledge base is a much more innovative, trendy database used for knowledge sharing and management. Simply it is a platform that contains numerous questions and their answers, guiding instructions, and product or service documentation. Users can find answers to common questions just by typing a few words and about the product.
What is Knowledge Base Software then? It is a tool that acts as a central repository for all data, information, and knowledge and helps to organize all the company's knowledge in one place for secure storage and retrieval. It provides customers a place to find answers to questions or queries as a quick find solution. This is applicable for both customers and your employees.
Why Do You Need a Knowledge Base Software?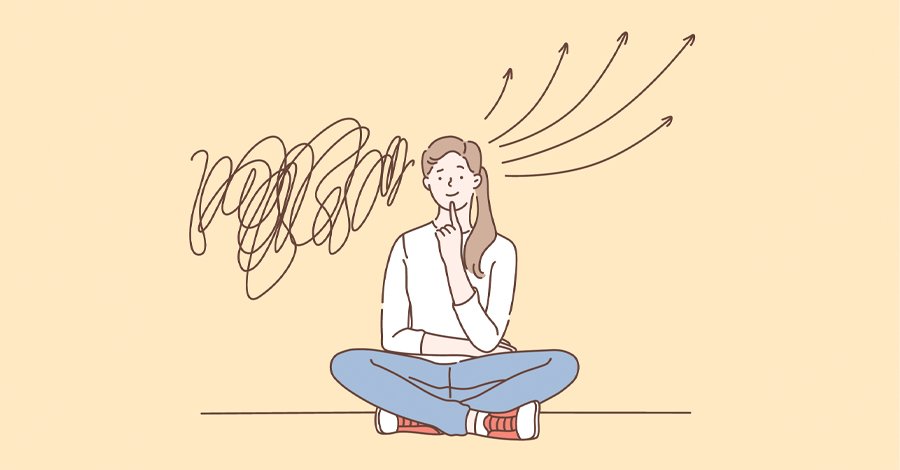 A survey says that 51% of customers prefer to support through an online knowledge base. Why not? Knowledge Base systems are a great solution with convenient self-help services to users. More importantly, it helps save businesses lots of resources otherwise spent answering common user questions.
Knowledge Base Software helps,
Storage and retrieval of knowledge
Boost in SEO to rank well on Google
Improves teamwork & collaboration
Streamlines flow of data
Aggregates organizational content
Saves time and resources
Improves the quality of customer service
Essential Features of a Knowledge Base Software
What are the Essential Features of a Knowledge Base Software? It's important to know what kind of features to include in your knowledge base and how to get more from it. Let's see then,
Convenient text editor: The convenient text editor is enriched with the ability to insert images, videos, and code samples and mark essential parts with special notes.
Manageable categories: A simple archive and categorization system help keep the entire knowledge base organized and help avoid getting lost while updating and adding new content.
Reports: You can track how your articles perform; therefore, many knowledge base tools offer additional reports on all searches, articles with 0 views, etc.
Search function: One of the main features of an adequate knowledge base is a useful search function. Users can search for articles and guides on your knowledge base to find solutions.
Customization options: You can easily customize your knowledge base with your brand colors, logo, header images, links, CSS, and even your custom domain and make it look like an integral part of your website.
SEO settings: Your content should be found in Google easily, right? The ability to specify title tags, meta descriptions, and target keywords is a must needed feature by the knowledge base.
A user feedback system: Another great way to improve your knowledge base is to get feedback from users. It can be a simple thumbs-up.
Analytics & Reports: Keep improving your knowledge base and create more helpful guides with analytics. You can also learn which knowledge base posts perform better and which creates more bounces for you.
Benefits of Effective Knowledge Base Software?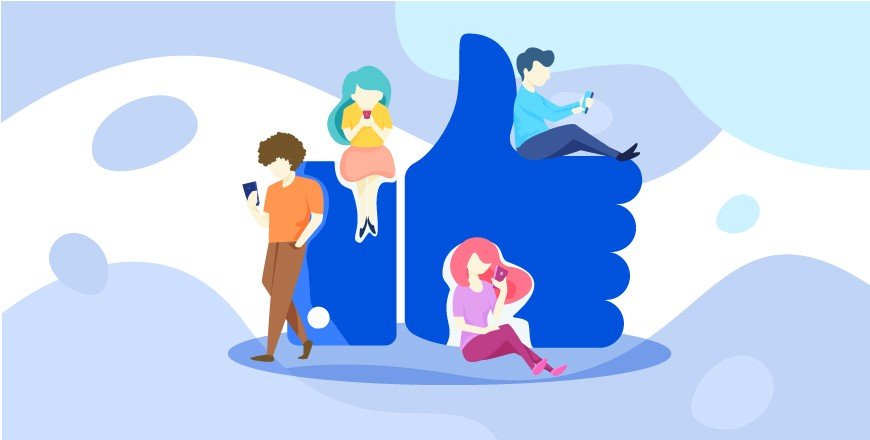 24/7 Service: 67% of customers prefer to use the company's FAQs, and a knowledge base makes sure that with 24/7 live chat support.
Less workload for customer support: Just think of it, If customers can find solutions on their own, that your team's workload reduces a lot.
Swift customer support: Support agents can use knowledge base articles in response to common questions.
All information in one place: Usually, a knowledge base contains all information in one place and keeps everyone on the same page about your product/services.
Additional organic visits: A knowledge base can bring you some high intent organic traffic and help to rank on Google.
Customer support automation: You can use knowledge base smart suggestions to answer your customers' questions on the go automatically.
How to Choose the Right Knowledge Base Software?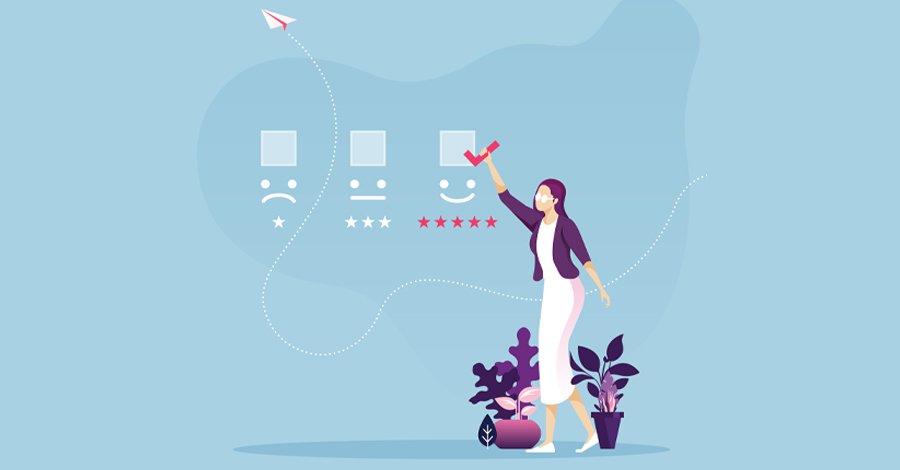 Style of Support: The first important thing is the style of support. Choosing the form of self-service you want to provide to your customers is the crucial part. You have to know what your customers prefer to reach you and what sort of customizable solution is needed.
Usability: An excellent cloud-powered knowledge base software should have an intuitive UI and at least a free trial for trying it. Check what you need and choose the best knowledge base software according to the usability of that particular software.
Price: Finally, the pricing. Before purchasing, compare features, and then decide which knowledge base software will help you deliver an excellent self-service experience. Do not judge by higher pricing or complicated UI.
Best Knowledge Base Software
It's time to see the best knowledge base software available in the market. Here is the list below of 7 of them. Let's see.
Document360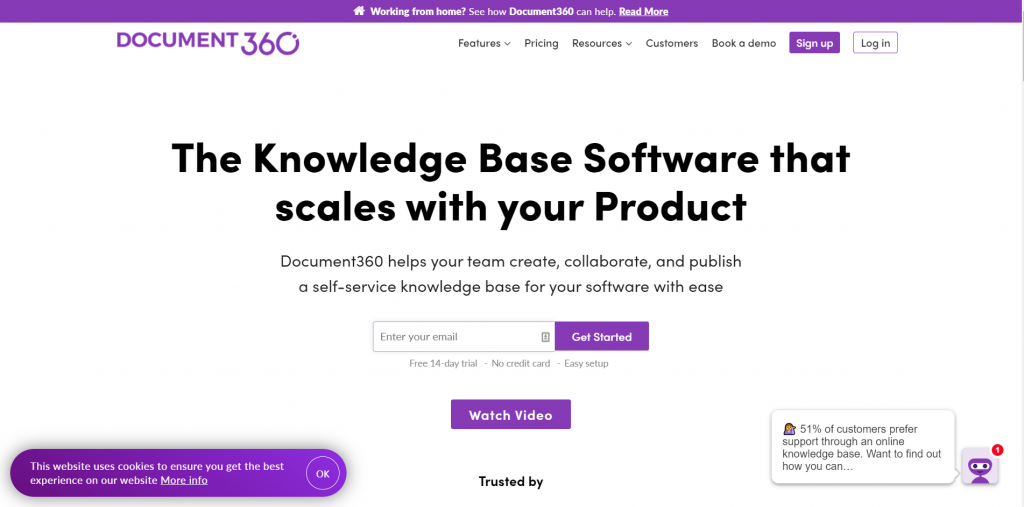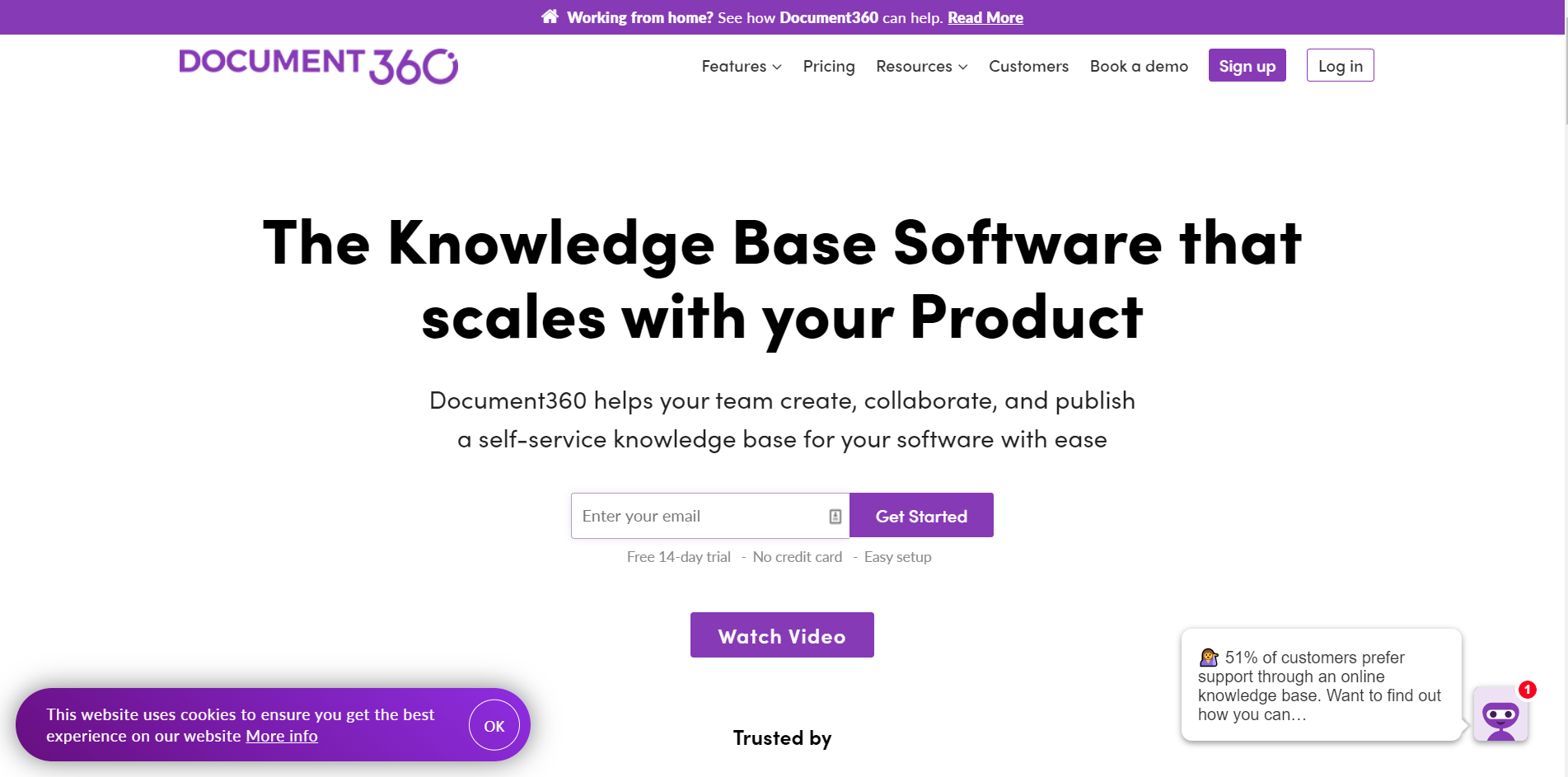 Document360 is the best knowledge base software for big companies for creating well-organized knowledge base platforms. It has the best collaboration features for creating new articles and maintaining a help center site. Leading brands such as Microsoft and Harvard University are also using as a help desk knowledge base software.
You can use this cloud-based knowledge management for creating both external and internal knowledge bases. It includes an easy-to-use Markdown editor to add links, images, videos, and code samples. The best thing is Document360 offers subscription plans for every budget and taste.
Features of Document360
Cataloging/Categorization
Collaboration
Content Management
Discussion Boards
Full-Text Search
Knowledge Base Management
Self Service Portal
Custom Javascript / CSS / Tags
Custom Footer Navigation
Markdown Support
Pros of Document360
Ease Of Use
Detailed and comprehensive reports
Vast collaboration features
supports markdown for easier content writing
The ability to create a private knowledge base
Cons of Document360
Limited Features
Limited Integration
High prices
Pricing of Document360
| | |
| --- | --- |
| Starter | $49 per project, per month |
| Business | $149 per project, per month |
| Enterprise | $299 per project, per month |
| Enterprise Plus | $499 per project, per month |
LiveAgent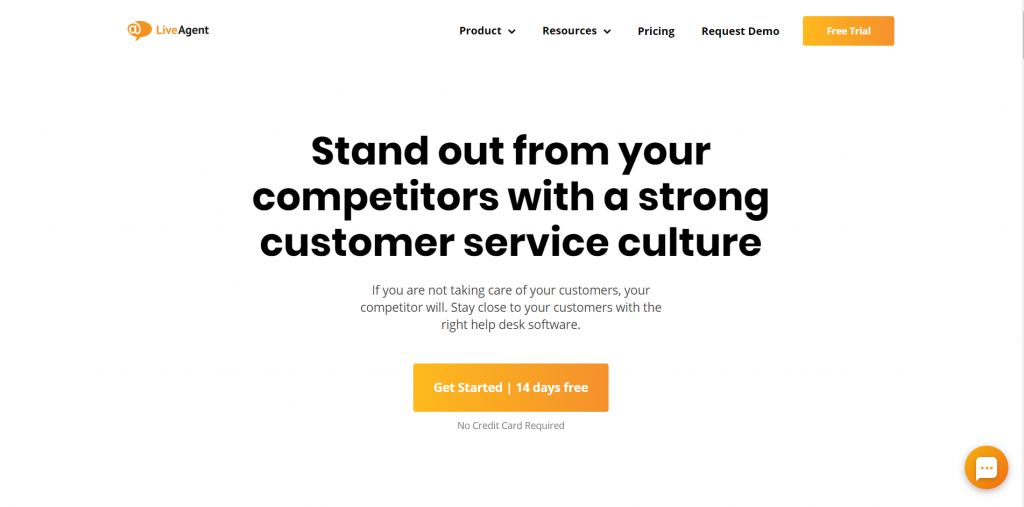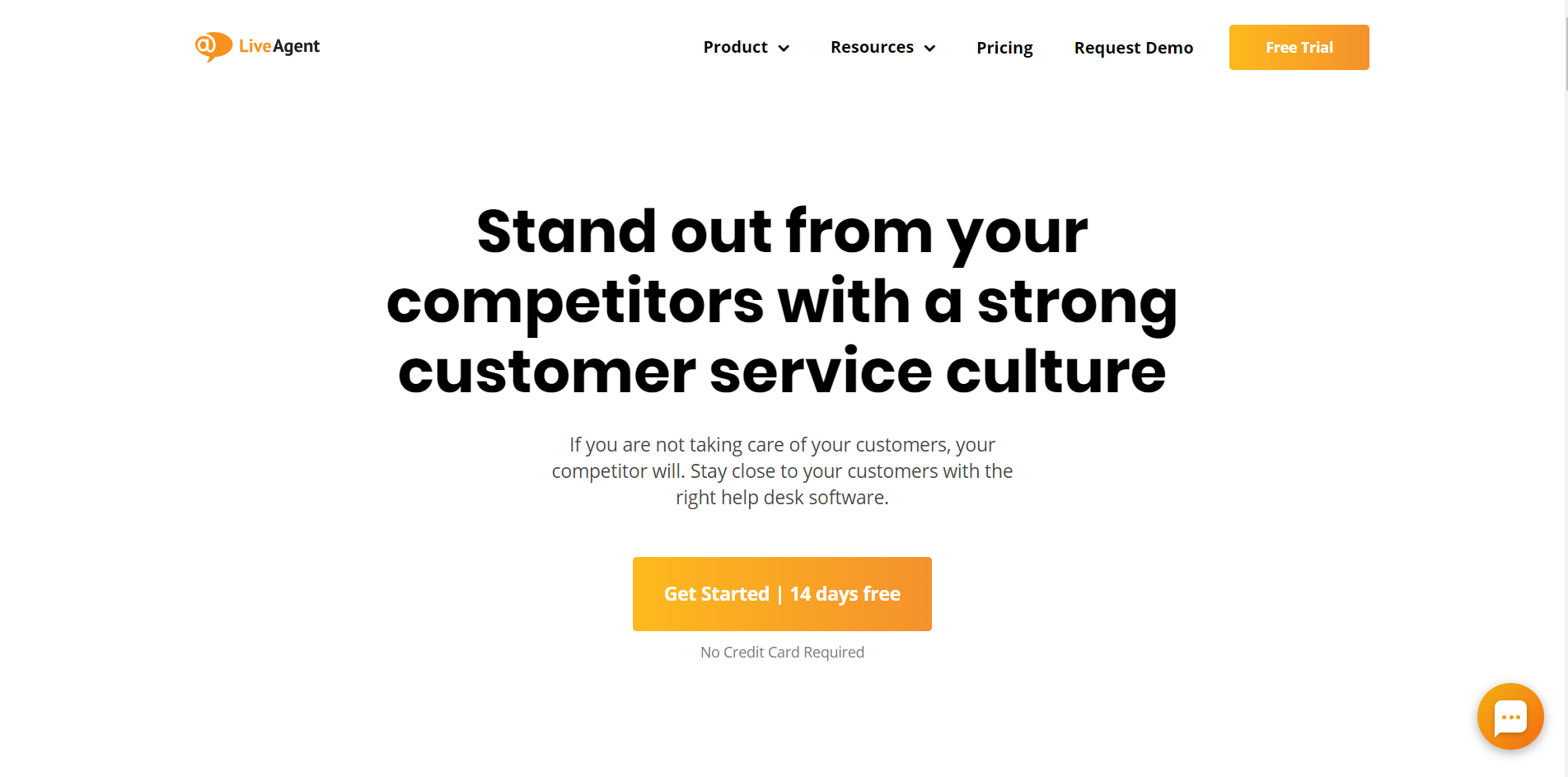 LiveAgent is a simple but powerful alternative to Zendesk for receiving and handling customer requests from different channels. For small and mid-sized companies, it is a perfect environment with the possibility of automation and customization to provide a better customer experience.
The tool uses advanced automation rules to capture customer queries from emails, live chats, social media, phone calls, and other channels. It's a classic ticketing system, but an all-in-one solution for companies provides live chat via a website and social media channels and creates a knowledge base for its customers.
Features of LiveAgent
Help center, Suggestions and Hybrid tickets
Automatic call routing
Email notifications
Departments, tags and filters
Automatic ticket distribution
Real-time visitor monitoring
Time & event-based automation rules
Drag-and-drop file attachments
Feedback management
Live chat and Custom ticket fields
Pros of LiveAgent
Simpler and more intuitive set of features
More affordable as an all-in-one solution
Cons of LiveAgent
Chats, emails, calls and social media requests are under separate tabs
No email marketing feature
Outdated interface
Basic live chat functionality
Pricing of LiveAgent
Free: free
Ticket: $15 per month
Ticket+Chat: $29 per month
All-inclusive: $39 per month
Helpjuice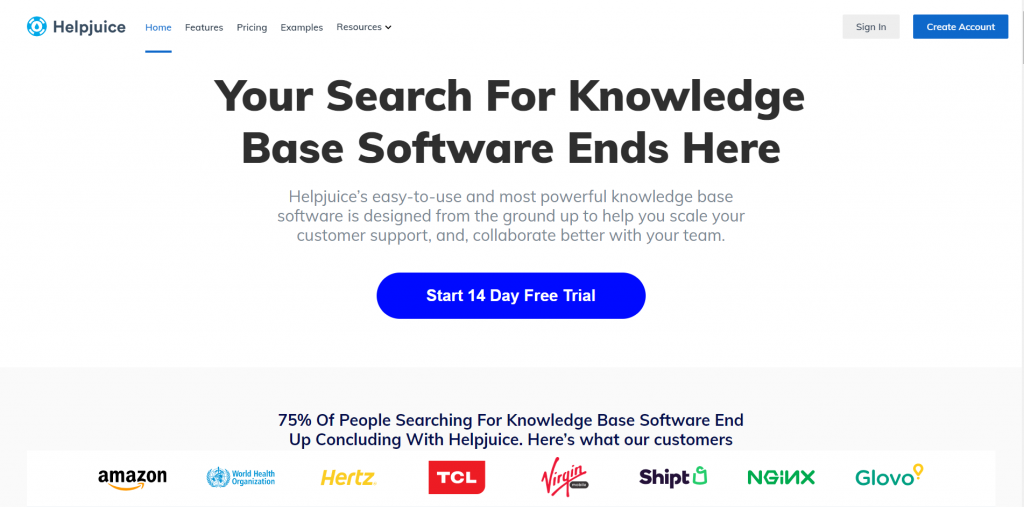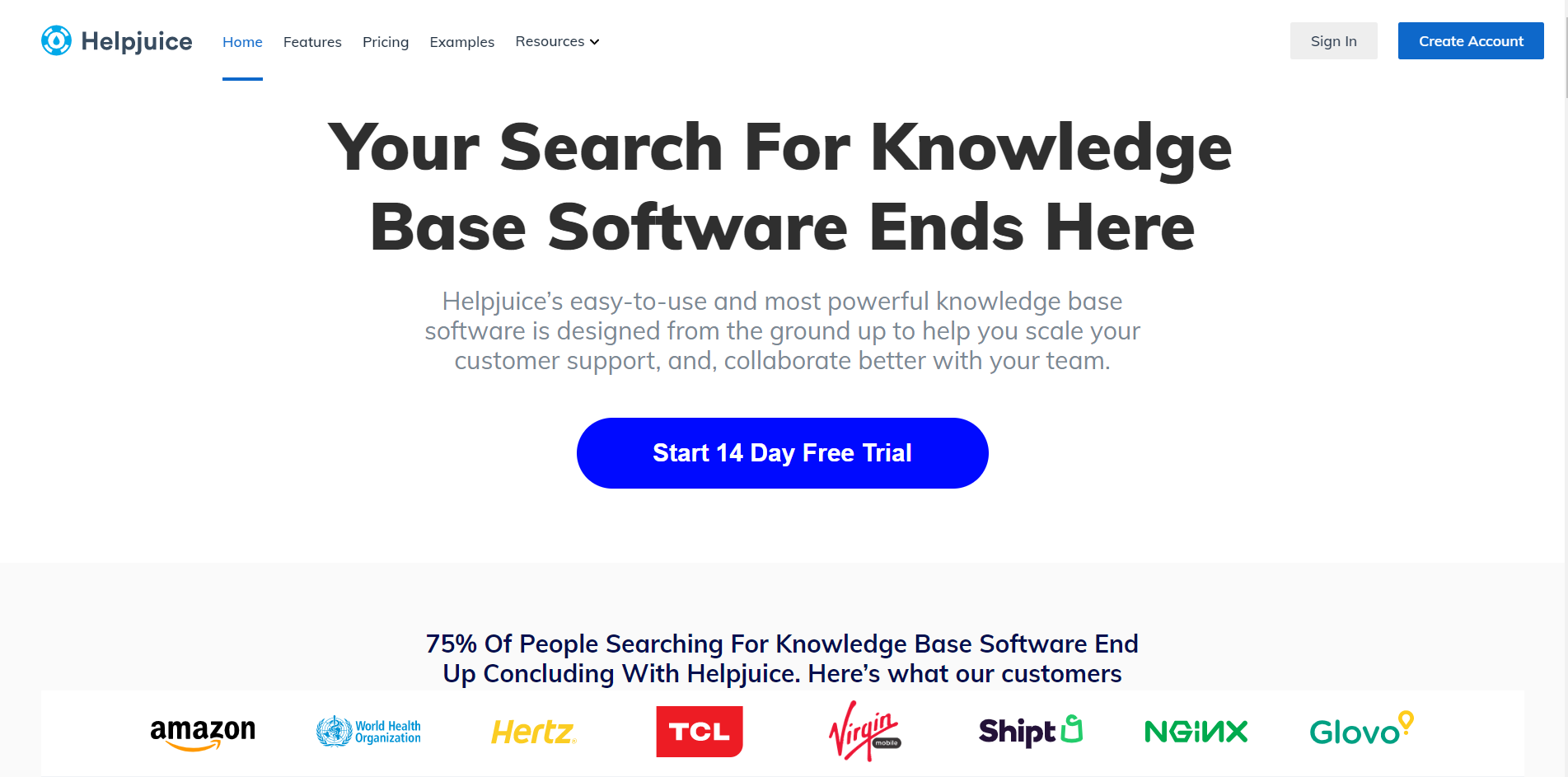 Helpjuice is a prevalent knowledge base software with a very beginner-friendly knowledge management system. With both internal and external knowledge bases, you can also self-host Helpjuice on your own server. The cloud-based knowledge base system is modern and intuitive, as well.
HelpJuice is an undeniable leader in knowledge management products by providing the cheapest subscription plan. They even offer free customization to set up your knowledge base fast and easy with the best customer service software.
Features of Helpjuice
Set user permissions
Tags & keywords & Track activity
Self-service portal
Collaboration with Content library
Custom branding
Document management
Intelligent instant search
Visual analytics
Content repository
Data management
Document tagging
Customization tools
Knowledge base
Advanced analytics
Pros of Helpjuice
Rich functionality
Rich appearance customization
Suitable for internal and external knowledge bases
Insightful reports
Cons of Helpjuice
High prices
No integrations
Limited Features
Pricing of Helpjuice
Starter: $120 up to 4 Users, per month
Run-Up: $200 up to 16 Users, per month
Premium Limited: $289 up to 60 Users, per month
Premium Unlimited: $499 Unlimited user, per month
Helpscout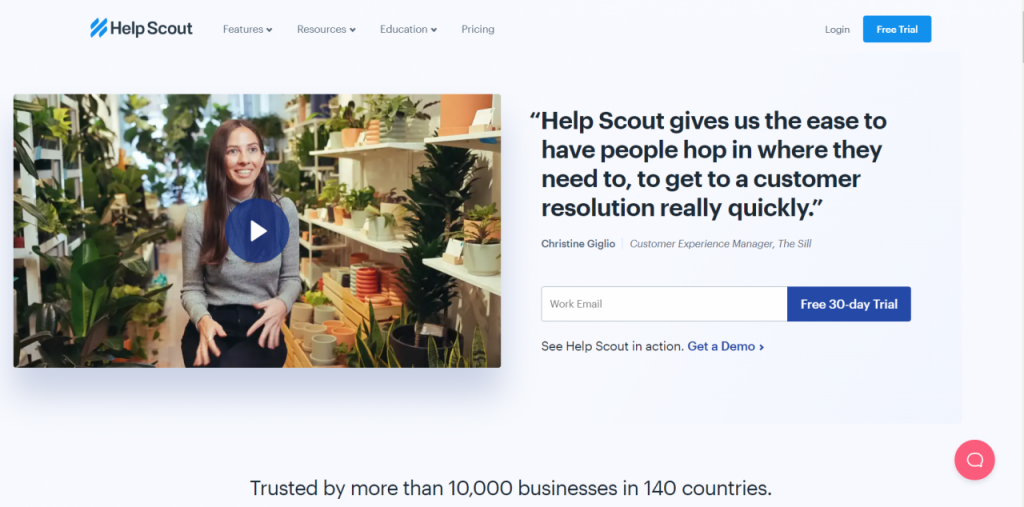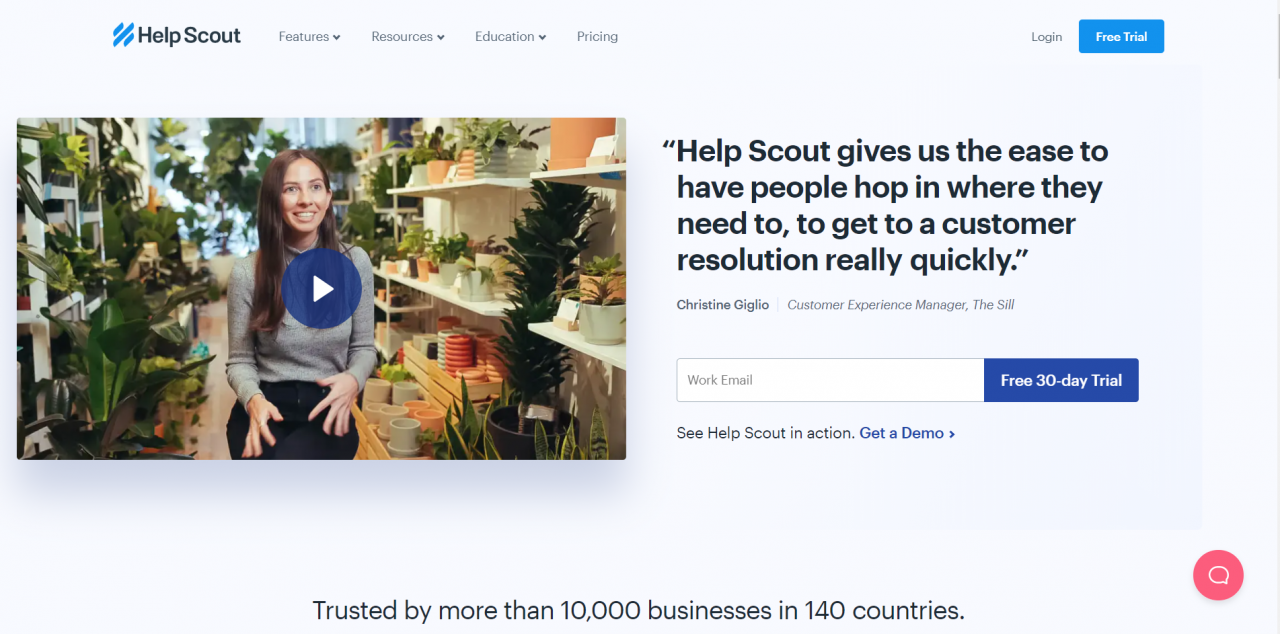 Help Scout is a relatively smaller free knowledge base software solution that is super-accessible and effortless to set up. It is used by many freelancers and small businesses and is widely considered to be the best helpdesk software of time.
Trusted by 9,000 businesses over 140 countries, Help Scout is a wonderful asset for small to large teams. By doing away with automated emails and ticket numbers, Help scout provides the most robust notification systems to date. Also, It doesn't use a conventional UI, and so the tool is straightforward to use and super fast at the same time.
Features of Helpscout
Looks like a normal email
Easy to use, no training manual required
Customer satisfaction ratings
Outstanding support, no matter plan
Integrated knowledge base
40+ integrations with 3rd party apps
Real-time, best in class reporting
True multi-brand support
Auto-populated, editable customer profiles
Collision detection
Track and record phone calls
75+ keyboard shortcuts
Email integration – update conversations from inbox
Help Desk, reports, and Docs API
Pros of Helpscout
Modern and more intuitive design
The live chat widget by Freshchat is more advanced and feature-rich
Advanced workflow automation
Cons of Helpscout
Poorer analytics
Unclear distribution of features among subscription plans
Limited dashboard customization
Pricing of Helpscout
Sprout: Free
Blossom: $15 per month, billed annually
Garden: $35 per month, billed annually
Estate: $49 per month, billed annually
Forest: $99 per month, billed annually
ProProfs Knowledge Base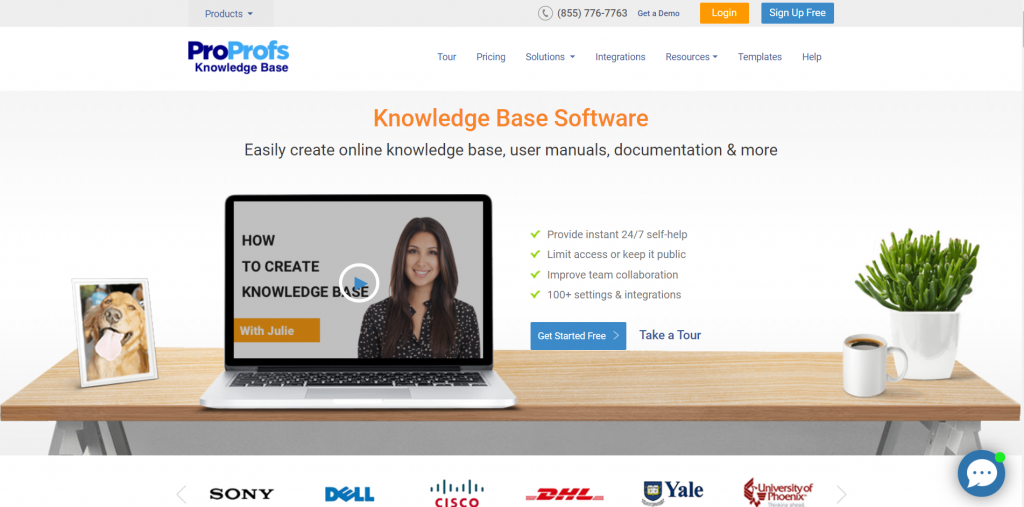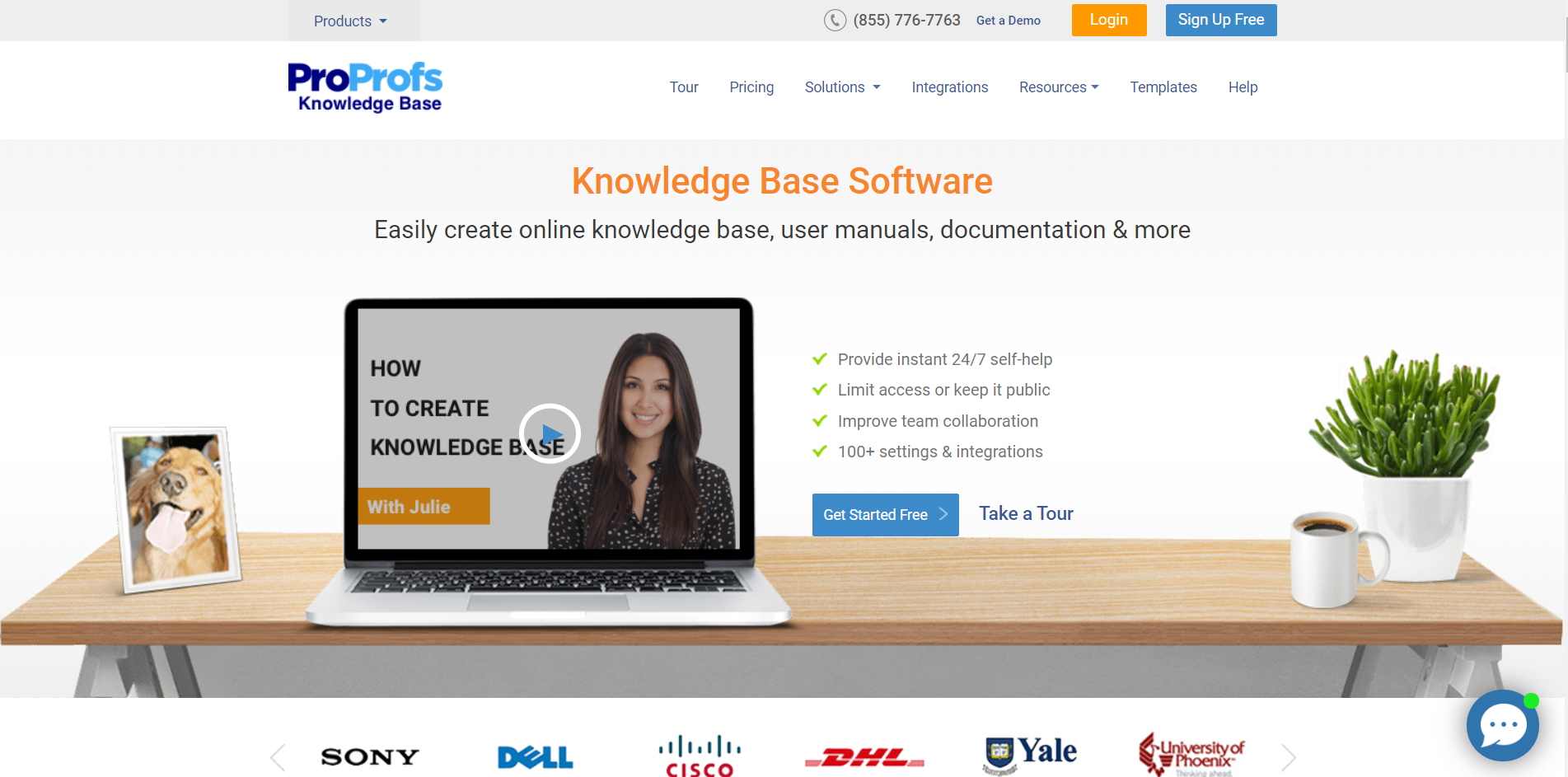 ProProfs Knowledge Base is a powerful free knowledge base software with unique features, smart settings, and robust integrations. When it comes to creating an online knowledge base, documentation, help sites, and FAQs, the ProProfs is undoubtedly the best choice.
The text editor of ProProfs looks like Microsoft Word, and you will get numerous editing tools for styling and formatting. The software is straightforward to use and plays well with powerful tools like Zendesk, Freshdesk, and other Zendesk alternatives. The convenience and flexibility give a boost to small firms as well as large enterprises.
Features of ProProfs
Automated Routing
Email Management
IP Whitelisting
Interaction Tracking
Knowledge Base
Live Chat
Macros/Templated Responses
Real-time Chat
Reporting/Analytics
Service Level Agreement (SLA) Management
Support Ticketing
Ticket Management
Pros of ProProfs
Automated ticket creation
Instant ticket resolution with the chat function
Unusual pricing system, where you pay for pages
Targeted agent training and management
Shared inbox functionality
Cons of ProProfs
The text editor can feel a little outdated at times
Can get expensive for bigger knowledge bases
Pricing of ProProfs
Free
Essential: $0.30 Page/month
Premium: $0.50 Page/month
Knowledge Base for WordPress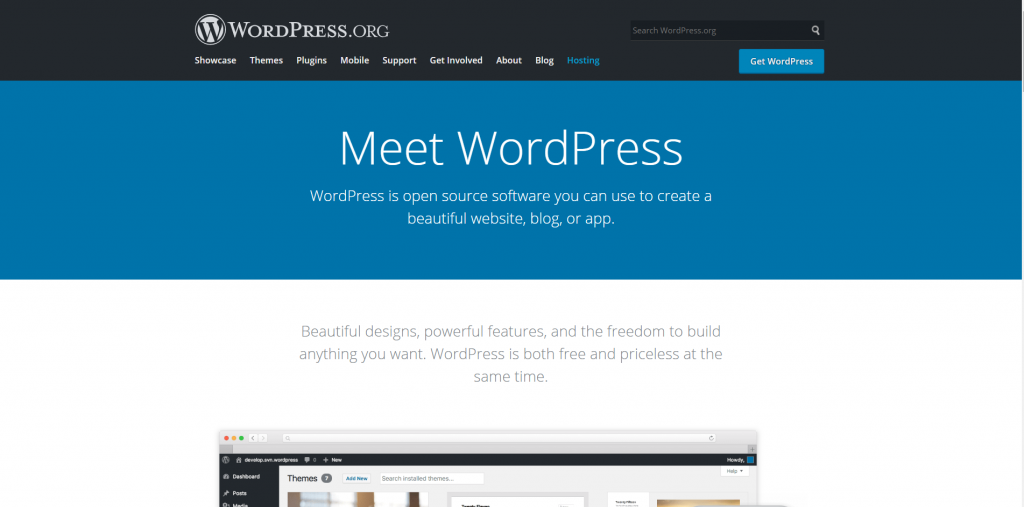 WordPress is a free and open-source content management software that you can use to build all kinds of websites, including complex knowledge bases. But to do so, it requires a bit of work to set up WordPress's knowledge base website.
This is a one-time solution, and you don't have to pay per month at all. Also, WordPress knowledge base is a much cheaper option compared to other cloud-based knowledge base systems. Here theme and plugin combined to do the job of Saas and WordPress knowledge base software.
Features of WordPress Knowledge Base
Extensible feature using WordPress plugins
Choose your own design from thousands of WordPress themes
Easier management of articles, media, and categories
Full control of your knowledge base.
Pros & Cons of WordPress Knowledge Base
Pros
Cons
Affordable pricing compared to other
best knowledge base software
Complex setup process
Apply your own rules
Maintenance issues with security
WordPress is free, but you must pay for a domain, hosting, if you use a knowledge base theme. Once your site is live, you'll only have to pay for your web hosting plan for the monthly fee and can use your WordPress site as a knowledge base. Also, you can use the documentation plugin as a WordPress knowledge base. Let's see some of them below,


weDocs is a tremendous open-source knowledge base and Documentation Plugin for WordPress by weDevs. This plugin is convenient for delivering long and detailed documentation of your WordPress product. However, you can also host docs, create or add new docs, organize them with orders inside your WordPress.
Features of weDocs
Open-source software
Extremely easy to use
Host docs inside your WordPress
Organize your product documentation in your site
Extremely handy for delivering long and detailed documentation
Provide streamlined experience in WP environment
Straightforward documentation
Pricing of weDocs
"weDocs – Knowledge base and Documentation Plugin for WordPress" is open source software.
KnowAll Theme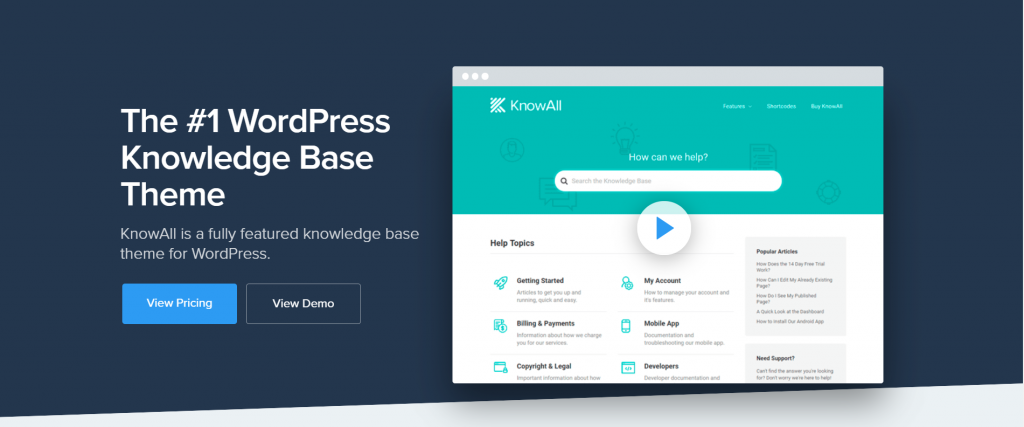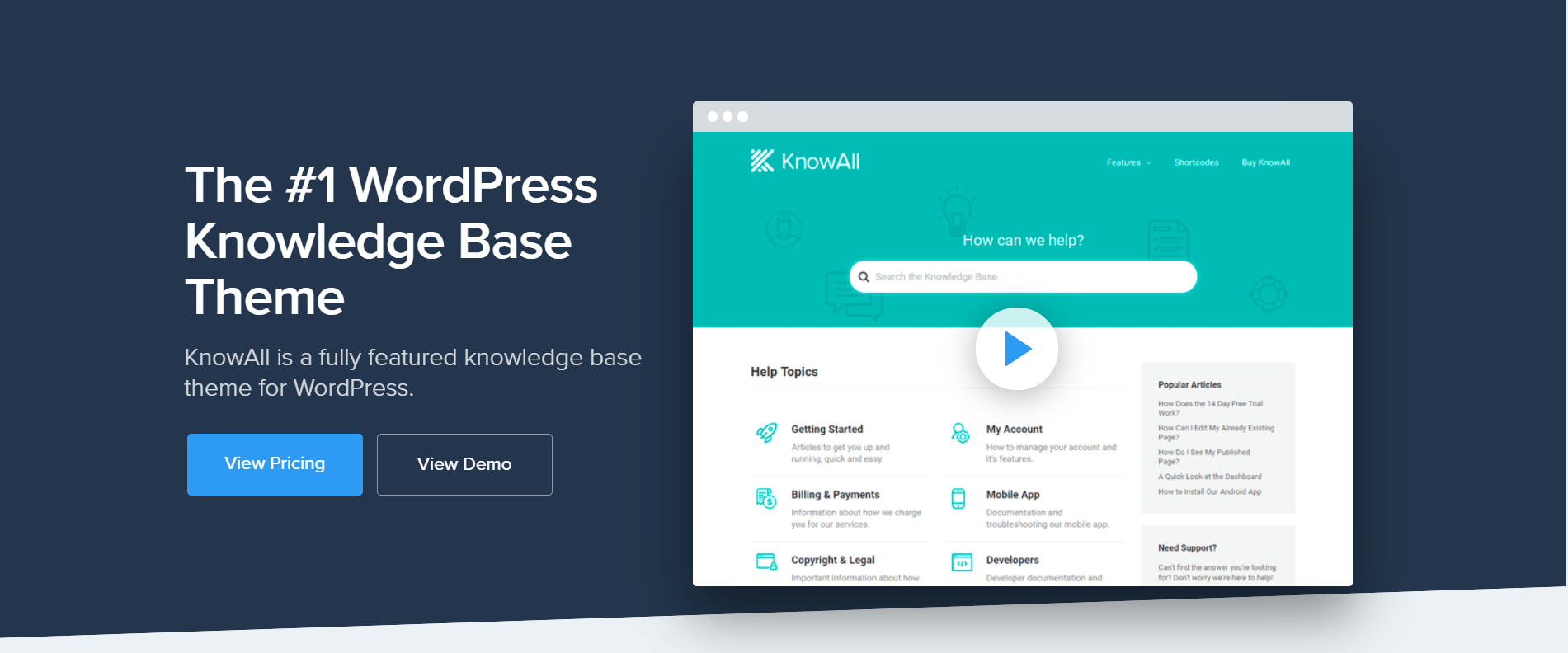 KnowAll is a fully-featured knowledge base theme for WordPress. From the instant answer to actionable analytics, KnowAll looks great on any device. You have to buy hosting to set up a knowledge base to your website then get KnowAll Theme and a knowledge base plugin like Heroic KB to turn your installation into a complete knowledge base system.
Features of KnowAll Theme
Always Available Support
Provide answers quickly
Suggest rated content
Easy to Customize
Looks great on any device
Actionable Analytics
Article Feedback
Transfer Analytics
Pricing of KnowAll Theme
Domain name: $10
Hosting cost: $30 per month
KnowAll Theme: $149
BetterDocs


BetterDocs is another best documentation & knowledge base plugin for WordPress by WPDeveloper. They offer you a stunning docs page in WordPress site without any coding. From the stunning premade template, page builder widgets, sticky TOC, instance answer BoT Betterdocs is power up a knowledge base that lets the visitors instantly find the answers they are searching for.
Features of BetterDocs
Stunning ready templates
Scrollable table of content
Advanced search option
Advance customization option
Instant answer BOT
Insightful analytics
Shortcode & page builder widgets
Completely free
Pricing of BetterDocs
Individual: $39
Small business: $99
Agency: $249
Wrapping Up
This was the list, guys. Here, we are trying to cover almost every popular help desk Knowledge Base Software. Each of these best knowledge management software is well trusted, useful, and proved themselves worth using by millions of companies.
Which one did you use or decide to use after reading this article? Let me know in the comment sections below. Also, share your user experiences after using them too. Till then, enjoy the article.