Are you looking for the best WordPress eCommerce plugins? Then I have some tips and some recommendations for you? If your store isn't user-friendly, then no one will buy, and eventually, you will experience a loss! I am pretty sure you don't want that. So, what should you do or which tools to use then?
Okay, here come the points then. We have done in-depth research so that you don't have to. We will show you how to choose the right WordPress eCommerce Plugins for your business and what features are available in each plugin so that you can make an informed decision about the best possible one for your business.
Let's dig it,
Why WordPress eCommerce Plugins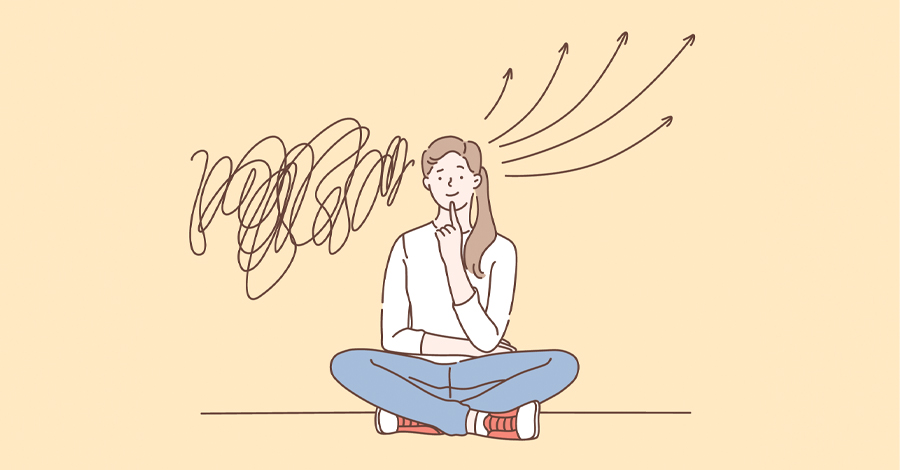 First of all, we will start with why should you use WordPress eCommerce plugins. If you plan to sell digital or non-digital products on your WordPress website, you need to have WordPress eCommerce Plugins. Either way, WordPress is the best common platform of now to use with a very handful of user experiences and options. WordPress eCommerce plugins can help you to manage eCommerce-related tasks easily from product showcasing to the payment or delivery process, everything will run within minutes.
WordPress also has lots of feature for eCommerce :
It has a stock of plugin solutions (such as WooCommerce, EDD, BigCommerce, etc.).
Intelligent and automated Security options are easy to find.
Lots of free and pro themes provide e-commerce options.
Existing sites provide needed integration.
The fastest community support is at your fingertips.
What to Look for in a WordPress eCommerce Plugin
There are hundreds of eCommerce plugins for WordPress, and choosing the right one can be challenging. In this post, We've developed a guide that will help you choose among some of the best WordPress eCommerce plugins available on the web today.
There are many things to consider when choosing a plugin. For example, the simplicity of use and functionality fits with your types of online eCommerce. First, let's review what makes up a good eCommerce plugin.
WordPress eCommerce Plugins are made for different types of business operations, for example selling digital goods(music, photos, visual content, ebooks, etc.), physical products that need shipping, and drop-shipping business, etc. So choose the right one that is best suited to your business type.
Use an eCommerce plugin that supports your preferred payment gateways by default or has an extension.
Ensure your WordPress eCommerce plugin has plenty of templates and is easily customizable, which helps a lot decorate your storefront.
eCommerce plugins should have apps or third-party apps and integration like email marketing service, accounting software, CRM software, etc. That will help you to grow fast.
Do consider that there are support options available. Good support can save you a lot of money in the long run.
Best WordPress eCommerce Plugin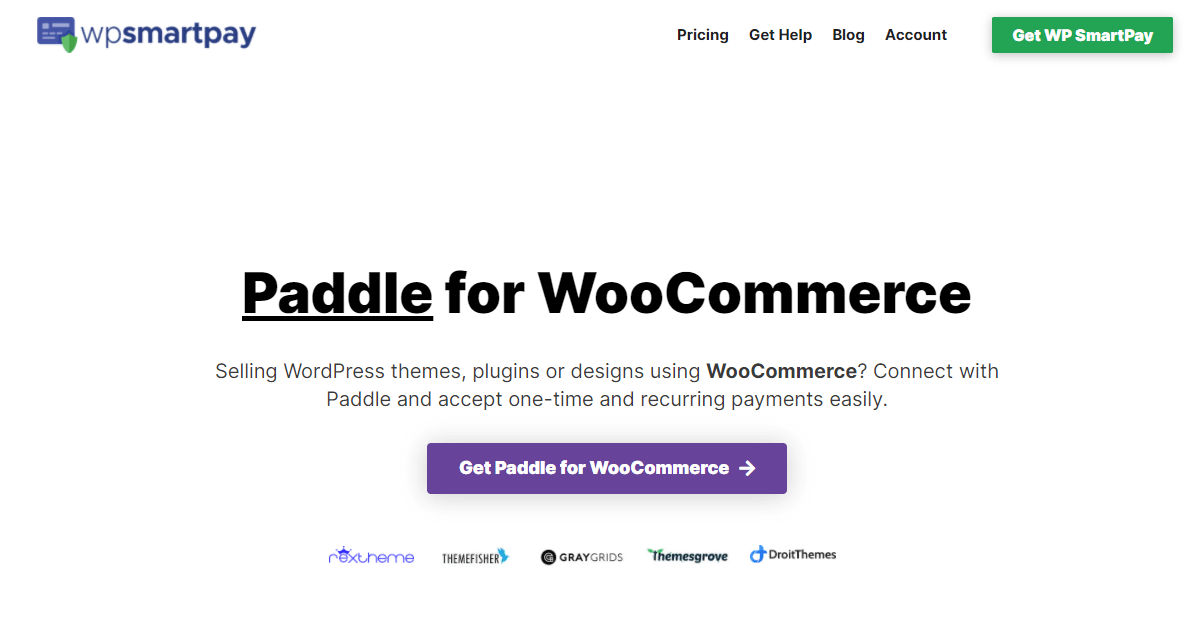 Paddle for WooCommerce is considerably a new WordPress eCommerce plugin to accept paddle payments on your WooCommerce based website. Users can easily accept paddle payments from their customers and manage recurring billing with Paddle for WooCommerce plugins.
Users can sell themes, plugins, designs, or any other digital or non-digital product online using the WooCommerce platform and can start accepting payments within minutes. Paddle currently accepts currencies worldwide, And Paddle for WooCommerce plugin gives you a solid boost to manage all of the currencies using just a single dashboard.
Best Features
Paddle for WooCommerce seamlessly works with WooCommerce's subscription and recurring billing plugins.
Easy plug-and-play setup, no extra configuration needed.
Enable all Paddle payment features on the Woocommerce site.
Enjoy a destruction-free and conversion-focused checkout experience with Paddle.
Paddle automatically handles the calculation, collection, and remittance of sales taxes and VAT in every single country on the user's behalf: users don't need to do anything.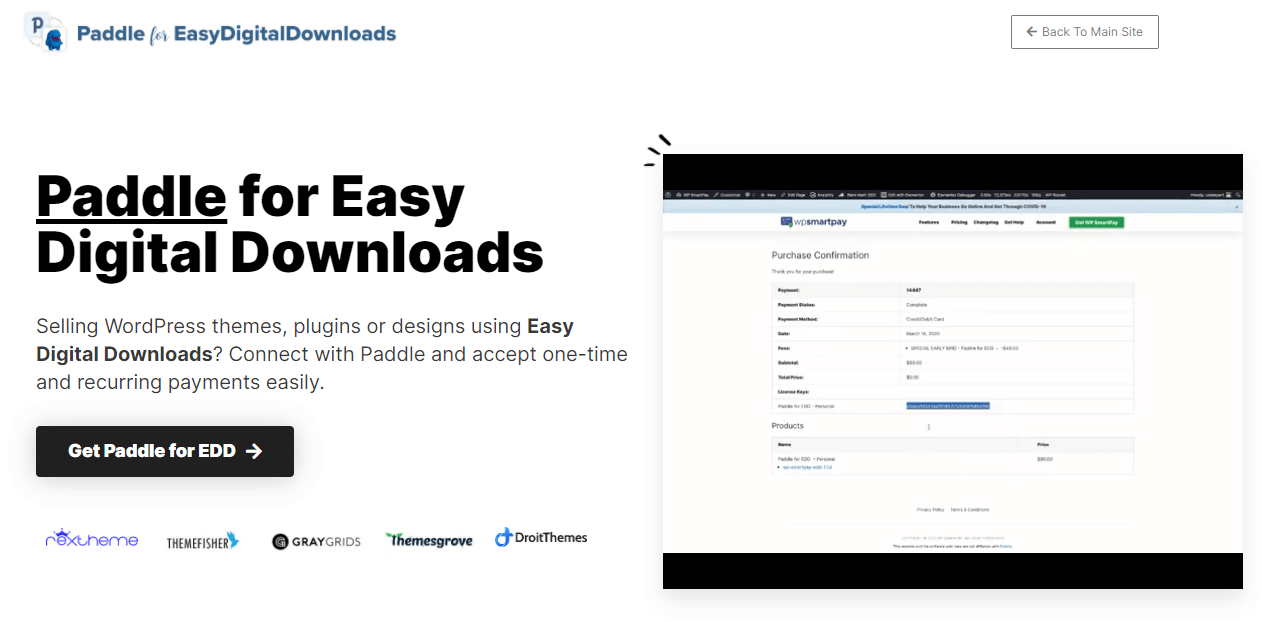 Paddle for Easy Digital Downloads is another new WordPress eCommerce plugin to accept paddle payments on your Easy Digital Downloads-based website. This plugin gives users a solid boost to manage all payments without worrying about security issues and fraudulent transactions with the Paddle payment gateway's help.
It's an easy-to-use and powerful tool that helps users sell themes, plugins, designs, or any other digital product online using the Easy Digital Downloads platform. It can start accepting payments within minutes and manage all payments in one place.
Best Features
Paddle for Easy Digital Downloads seamlessly works with WooCommerce's subscription and recurring billing plugins.
Easy plug-and-play setup, no extra configuration needed.
Enable all Paddle payment features on the Easy Digital Downloads site.
Enjoy a destruction-free and conversion-focused checkout experience with Paddle.
Paddle automatically handles the calculation, collection, and remittance of sales taxes and VAT in every single country on the user's behalf: users don't need to do anything.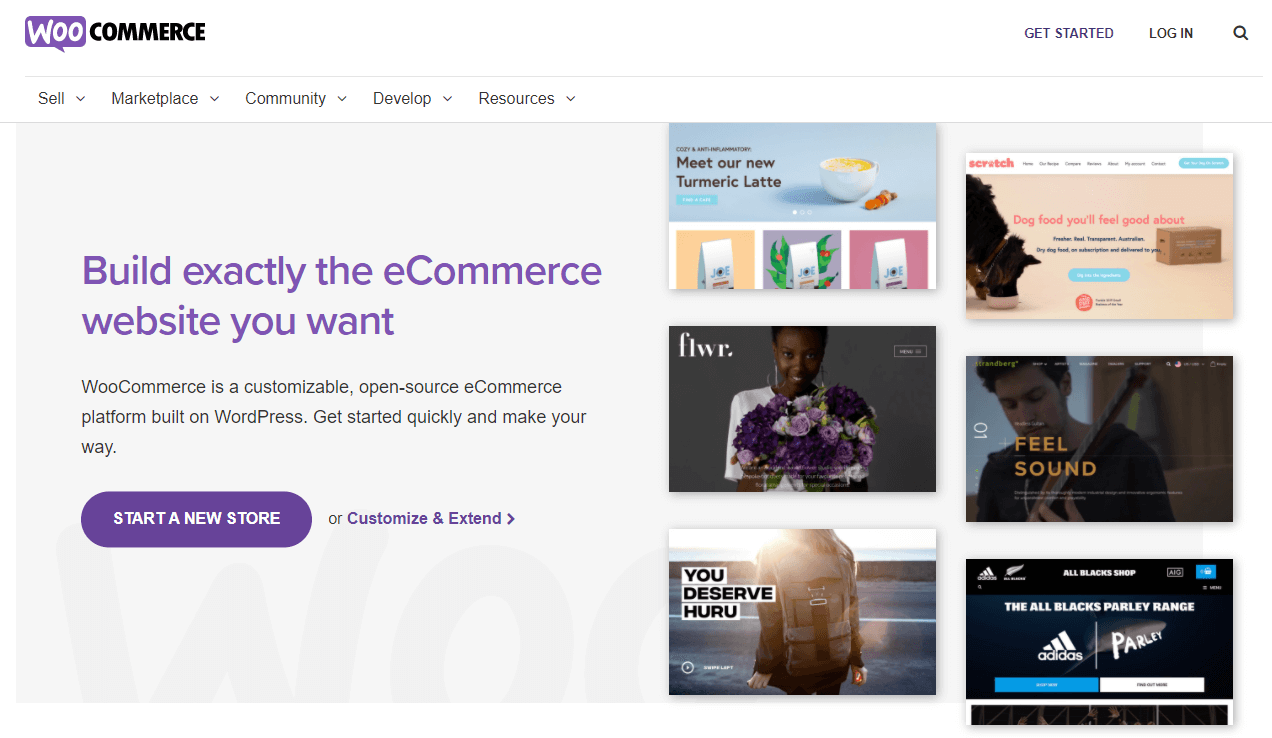 WooCommerce is the most popular open-source WordPress eCommerce plugin with over 3 million downloads in the world. Have you ever thought of creating your online store? With WooCommerce, you can do just that. There is a large number of add ons and themes available for WooCommerce.
It also has a passionate developer community. Users could create a store for your blog with five products or include an extensive collection of thousands of products. Lots of premium WordPress themes are made to work perfectly with WooCommerce.
The best part about WooCommerce is that if you want to start an online business but don't have much money, then this platform will be perfect with an all-in-one solution for you as it doesn't require any fee at all!
Best Features
Create a brand and industry-level beautiful, enticing storefronts with a collection of built-in themes.
Hundreds of useful extensions and themes, making it easy for you to add new features to your WooCommerce store.
Using modular product blocks, customize any pages within minutes.
Display storefront with digital and physical goods, instant downloads, custom configurations, product variations, and affiliate items. Memberships, subscriptions, bookings, and set dynamic pricing rules with extension.
Utilizing WordPress's SEO advantage, get to the top of search results.
Using WooCommerce Shipping extension connects with widely used carriers such as FedEx, ShipStation, and UPS– also a wide variety of inventory, delivery, and fulfillment solutions for your locale.
Support hooks and filters to modify or create functionality and integrate virtually any service using a robust REST API and webhooks.
Quickly design and build custom content blocks with React and inspect and change any core plugin code aspect.
Support popular payment gateways (plus, you can add many other payment options using extensions) and automatically calculate taxes, shipping costs, and other expenses.
Easily manage your inventory or even assign it to a store manager.
Cons of Using
WooCommerce has too many options on the settings page that can be quite intimidating for a new user.
It has a vast amount of similar add-ons; sometimes, users may not find the right add-on for their needed features.
Usually, Woocommerce works with all WordPress themes, but it is not easy to set up exclusive features with any theme. Users need a Woocoomers-ready theme to take full advantage of features without extra duty.
After becoming more extensive, store scalability may lose, and the user may need to move to a managed hosting provider to scale their Woocommerce store.

With WooCommerce Points & Rewards, you can engage customers by giving them points for things like signups, purchases, and referrals. Customers who have accumulated reward points are eligible for membership programs and on-purchase discounts.
With the help of WooCommerce points and awards, you can create customer-centered solutions for your website. This WooCommerce incentives plugin raises the brand loyalty, customer retention, and conversion rates of your online store.
Best Features
For Admin:
The retailer can take use of numerous exclusive and exclusive features offered by this loyalty rewards plugin to boost their conversion rates. Among the characteristics are:
The best-known reward strategies for fostering brand loyalty
Boost the worth of a consumer over time
aids in increasing customer conversion rates
increases your products' average order value
Receive free word-of-mouth advertising
solutions that are ideal for multinational administrators and support WPML
The administrator can view the point log report and every voucher created by a certain consumer.
Allow customers to earn points for various actions.
For Customers:
To honor loyal clients, this WooCommerce Loyalty plugin was specially chosen.
encourages recurring business from current clients.
With points and incentives, loyal customers are rewarded.
Additionally, clients can turn their earned points into coupons.
Keep tabs on each point transaction that occurred on their account.
If the buyer's referral uses their referral link to make a purchase, they can receive points.
On their birthdays or other important occasions, they can also accrue more points.
Cons of Using
Market saturation: Loyalty programs and solutions like these plugins are widely available and could seem the same. Similar membership conditions, acquisition criteria, and advantages apply to all of them. However, in this fiercely competitive environment, businesses are unwilling to back out of their obligations to loyalty programs out of concern for lost sales. Choose what suits you and your consumers best.
Customers Might Not Be Satisfied: Loyalty programs should entice clients to make purchases from your company. If not implemented properly customers might start doing business with one of your rivals.
Time-consuming to Start: Implementing a loyalty program and setting up this plugin requires thorough study and planning at first, and it might occasionally take too long to function properly.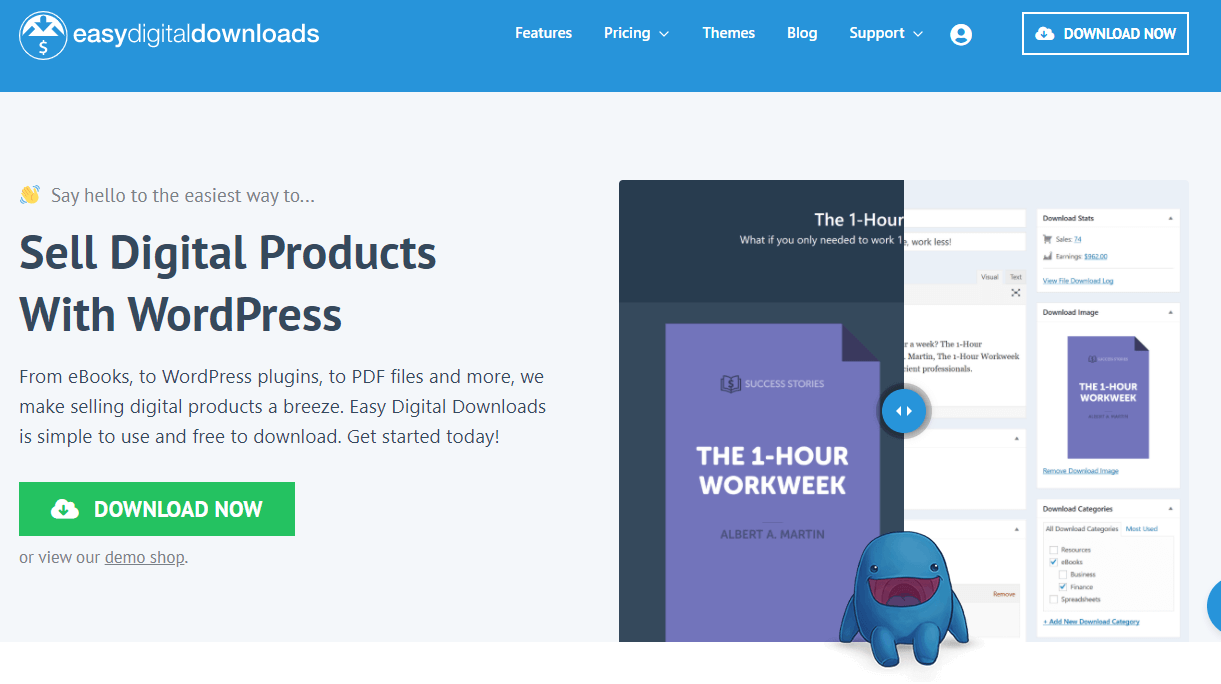 Easy Digital Downloads is another lightweight best WordPress eCommerce plugin with all the features users need to sell their digital products easily. Users can make galleries, add custom fields, set up product variations, offer discounts on bulk purchases, accept donations or even charge for access using PayPal Standard or Stripe payment gateways.
It also has dozens of extensions that enhance the functionalities of your storefront that sells your digital goods, including galleries, downloads, subscriptions, and more. With their easy customizable tool, you can decorate your storefront to your heart's content or choose one from their beautiful collection of themes.
Best Features
Easy Digital Downloads is designed in mind to sell digital products with built-in digital downloads.
Easy to use from the start, users would instantly figure out how to add products and display, which is handy for freshers.
The main features include complete customer management, a full shopping cart, data reporting, and discount codes. Users also receive tools for refund tracking, affiliate systems, mailing lists, and more.
The extensions library is filled with hundreds of extensions available for payment gateways, marketing platforms, email services, and other services.
EDD eCommerce plugin for WordPress is free, and it has quite enough features to fit with the average small digital goods businesses.
EDD works with almost any WordPress theme; however, it also includes a collection of built-in themes to choose from.
Collect customer's names and email addresses at checkout point and engage new customers who never reach checkout with the save-cart option.
Automatically trigger abandoned cart email campaigns and track in-progress carts, abandoned carts, and recovered carts quickly within the user's WordPress dashboard.
Developers can take advantage of the RESTful API for complete control over customizations.
Cons of Using
Easy Digital Downloads WordPress eCommerce plugin makes everything easier to construct eCommerce sites for digital goods. At the same time, it is much more complicated for non-digital goods.
EDD doesn't have any built-in solution for selling external products or an affiliate product on the Easy Digital Download WordPress eCommerce store, so users have to install a third-party add-on for it.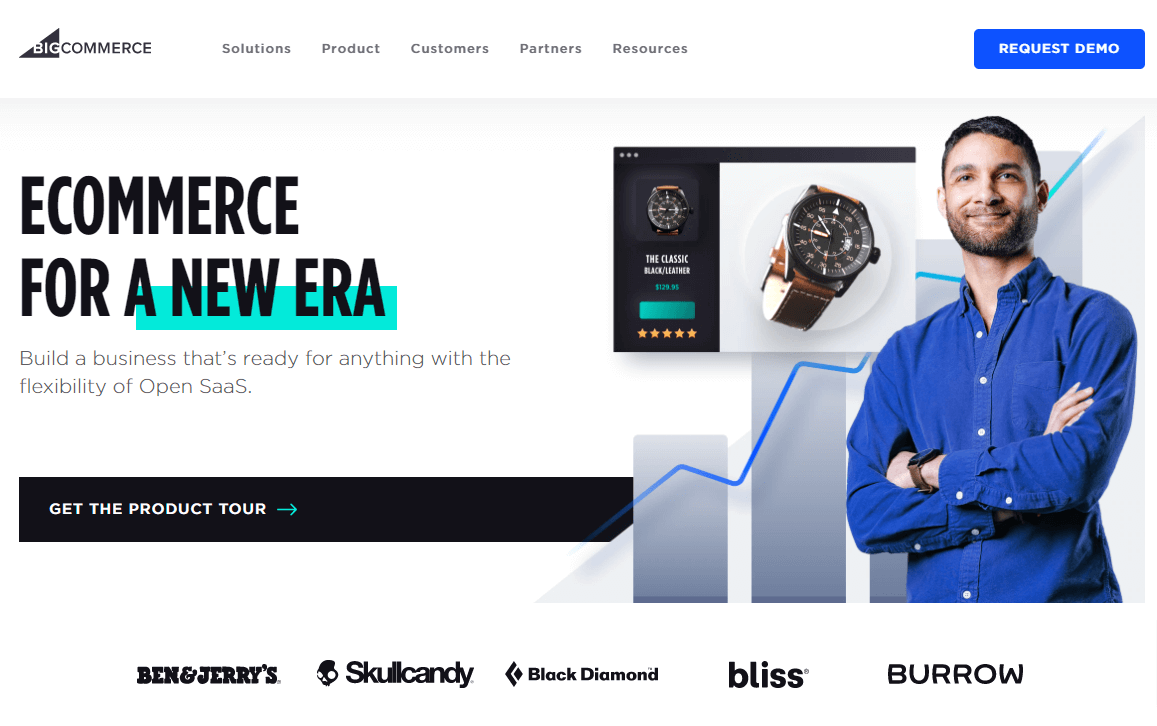 BigCommerce is one of the best WordPress eCommerce plugins, which is a fully hosted e-commerce platform that offers seamless integration with WordPress. It automatically creates the sign-in, cart, account, and other essential pages for the user's WordPress eCommerce site. Users can create beautiful product pages using its drag & drop editor or use one of its pre-built eCommerce templates.
Users can now easily sell products on their websites without having to worry about the technical details. This eCommerce plugins for WordPress takes care of all the technology, so the users can get back to doing what they love – creating great products and experiences that delight customers! It also comes with all the features sellers need to start selling right away, including inventory management, payment processing, shipping tools, and more.
Best Features
BigCommerce separates the eCommerce engine from other content that makes WordPress websites easier to run.
Users can sell with other channels like Facebook, Instagram, and Amazon.
Ability to choose from dozens of top payment gateways and only pay the payment service provider (no transaction charges)
BigCommerce offers a wide range of fulfillment and shipping options.
It has 80+ built-in designs and responsive templates to help you design the best storefront and easily customize your store with BigCommerce apps.
BigCommerce provides all the features users will need with high performance, enterprise-grade security, and easy scalability.
It has the best content management system compared to its native.
Big Commerce often collaborates with many processing companies and gets much better credit card processing rates for its users.
BigCommerce handles all PCI Compliance, So no worry about security.
Cons of Using
Though BigCommerce integrates with all the third-party apps and tools, Its app store is growing, and users may not find a specific integration with less popularity.
Compared to its native, users have to pay more for the abandoned cart feature.
Free themes are limited and more often similar to each other.
The limits on annual online sales are a bit annoying; the user has to upgrade expensive plans if they cross the limit.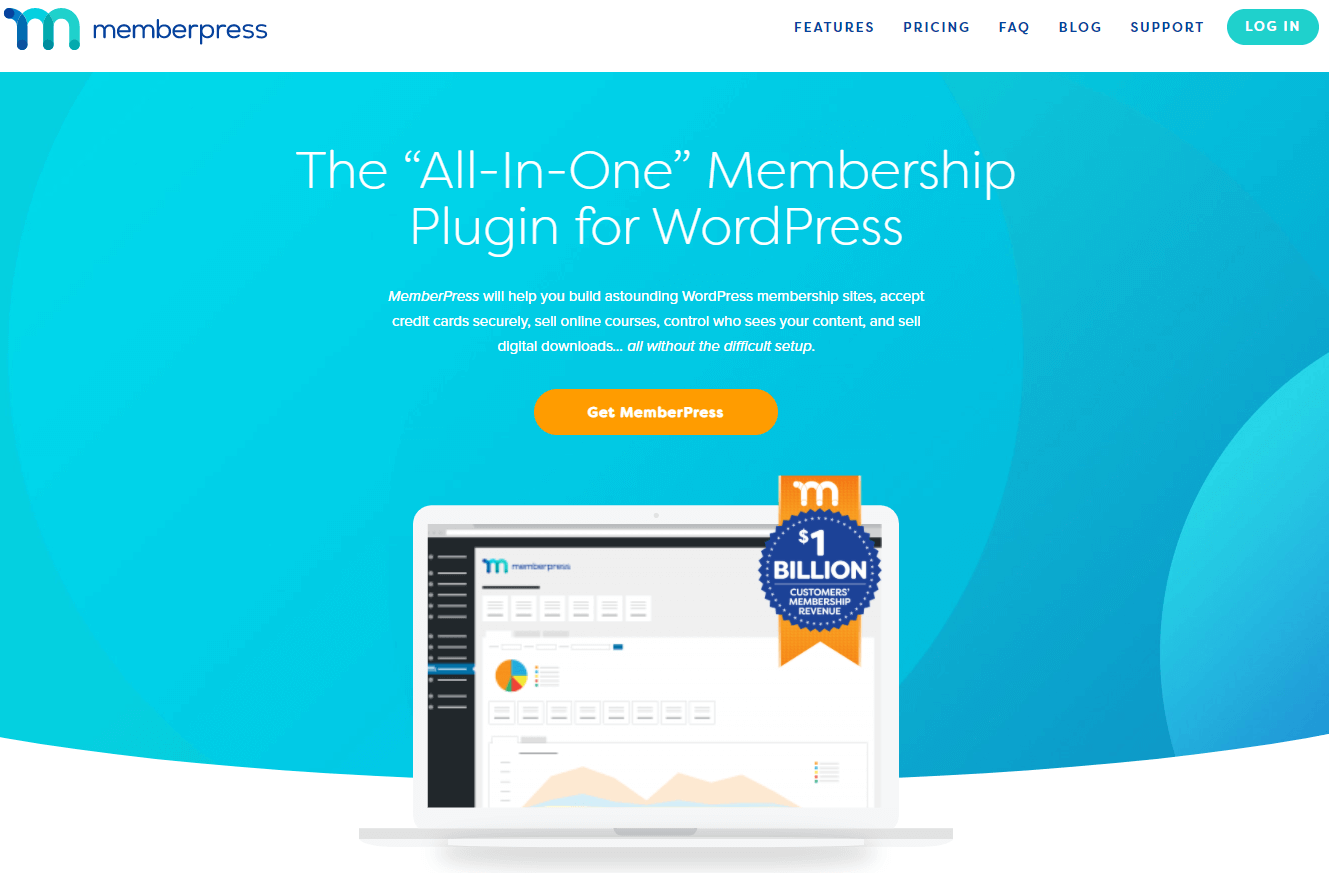 MemberPress is the best WordPress membership plugin that lets you create, manage, and sell subscription-based digital products and services. It also allows users to integrate with WooCommerce so a user can quickly build an online store to sell physical goods.
It is a full-featured WordPress eCommerce plugin that lets you create forums and social communities on your online store with the necessary extensions. Plus, with the built-in MemberPress Courses add-on, you can easily create, manage, sell online courses.
Users can focus more on marketing their products or services rather than spending time creating complicated payment gateways or manually managing subscriptions. It has tons of features and integrations which support popular payment gateways and email marketing services.
Best Features
MemberPress is easy to set up, and it has the ability to create paid content subscriptions.
It has fully customizable access rules for all types of content, coupons, and pricing pages.
Sell any subscription-based product like membership plans, pay per view, and more
It has powerful access control features that allow a seller to set user access levels and content restrictions.
MemberPress has a built-in course builder that allows users to create & sell courses by offering an immersive online learning platform.
MemberPress comes with the feature that allows releasing paid content over time, like episodes on Amazon Prime shows or other media.
Easy connection to PayPal Standard, PayPal Express Checkout, and Stripe
Detailed reporting with comprehensive documentation, including an excellent user manual and an email course
Cons of Using
MemberPress WordPress eCommerce plugins only support three payment getaways Authorize.net, PayPal, and Stripe.
Its pricing plans are available only on annual terms, and there is no lifetime purchase option, making this WordPress eCommerce plugin quite expensive over time.
MemberPress has a lack of customization for registration and login forms and built-in forum technology.
It also doesn't offer integration with email marketing services.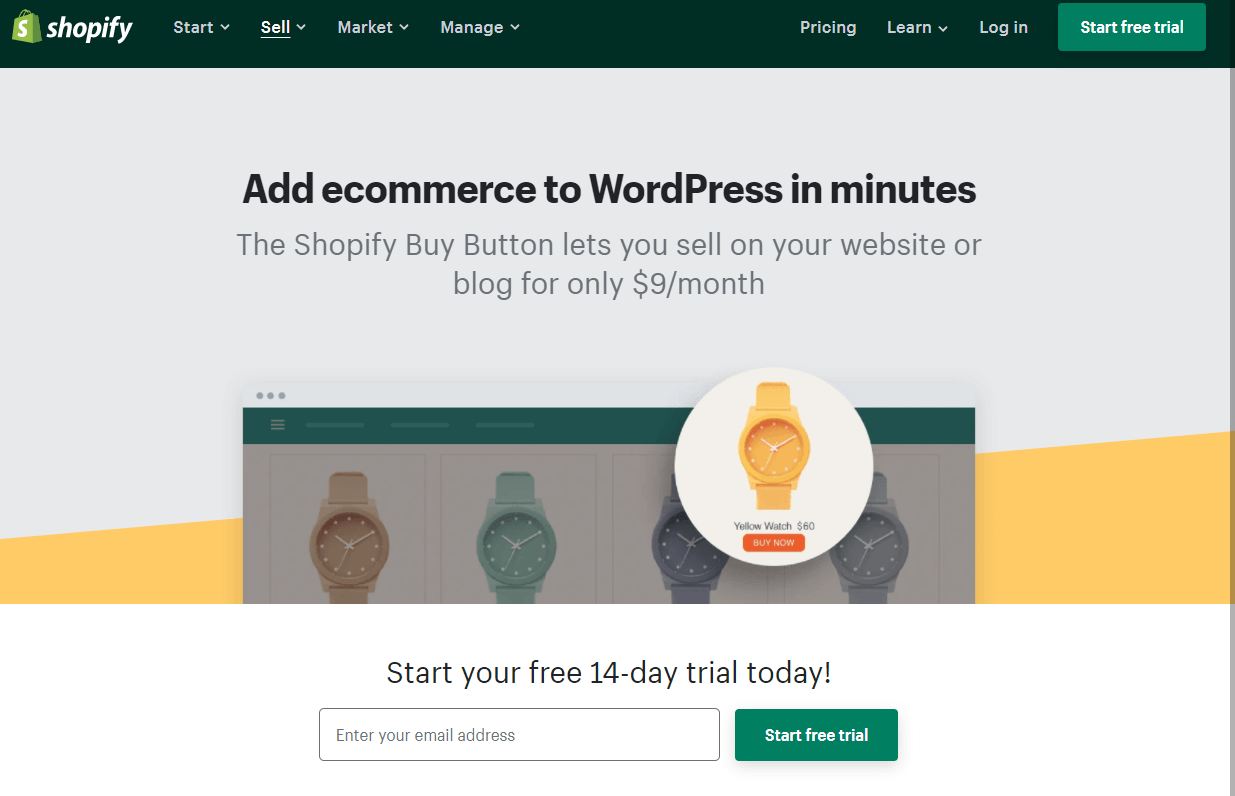 Shopify is another best and widely used cloud-hosted eCommerce plugin for WordPress websites to sell digital or physical products. Using Shopify, users no need to fuss with setting up handling shipping, taxes, various payment gateways, or ensuring the site is secure. Users don't have to worry about site speed, security, or other technical things because Shopify takes care of it all for its user.
Starting with Shopify is much easier compared to its native WordPress eCommerce plugin. All a user has to sign up with a Shopify account and get an eCommerce store us and running. It also has a vast collection of attractive themes to choose from, so users can change the look of their storefront quickly.
Best Features
Shopify eCommerce plugin for WordPress supports both digital and physical products.
It comes with an inventory editor, an order tracker, bulk importer, making inventory tracking super easy for its user.
Shopify supports multiple payment options that mean users can accept credit cards online and in-person.
Streamlined shipping system and direct integration with popular providers like USPS make order fulfillment a snap.
Shopify integrates with everything. Suppose you want to create a Facebook store or create buyable pins on Pinterest; you can do it all with Shopify.
It is super easy for beginners to start their online shop- without worry about the technical aspects of an eCommerce store, such as integrating with various payment gateways, worrying about taxes, setting up SSL, handling shipping, etc. Shopify handles it all.
Their built-in templates are attractive and fully responsive (mobile-friendly).
Users can create versions of their site in different languages.
The Lite Plan of Shopify Buy Button' allows you to use Shopify to sell products quickly on other websites.
The abandoned cart saving functionality is available on all plans, even the cheapest $9 'Lite' plan.
Cons of Using
Shopify WordPress eCommerce plugin charges users a monthly platform fee to use their platform.
Shopify forces its users to use their payment gateway powered by Stripe, and if a user wants to use external payment systems, he has to pay an additional fee.
Wrapping Up​
You'll be happy to know that I've compiled a list of the best WordPress eCommerce plugins on the web. There are many things to consider when choosing an eCommerce plugin, so We hope this helps you make your decision easier. Let us know which one you try or set to try after reading this blog and which one seems more accurate yet perfect for your needs! We would love to hear from you in the comment section below.