As a business owner, you want to ensure that your business runs as efficiently and effectively as possible. And if you are running a business on a site made with a WordPress website, you should already know the importance of having the right plugins.
The right plugins can make your website faster, easier to navigate, and more effective for your marketing efforts.
WordPress is one of the most popular content management systems(CMS) for business websites, and it comes with a range of plugins that can help you get the most out of your website.
This article will look at some of the best WordPress plugins for business websites. From SEO plugins to contact forms and more, we will cover the plugins that can make a big difference for your website.
Read more: 7 Best WordPress Subscription Plugins
What Is a WordPress Plugin?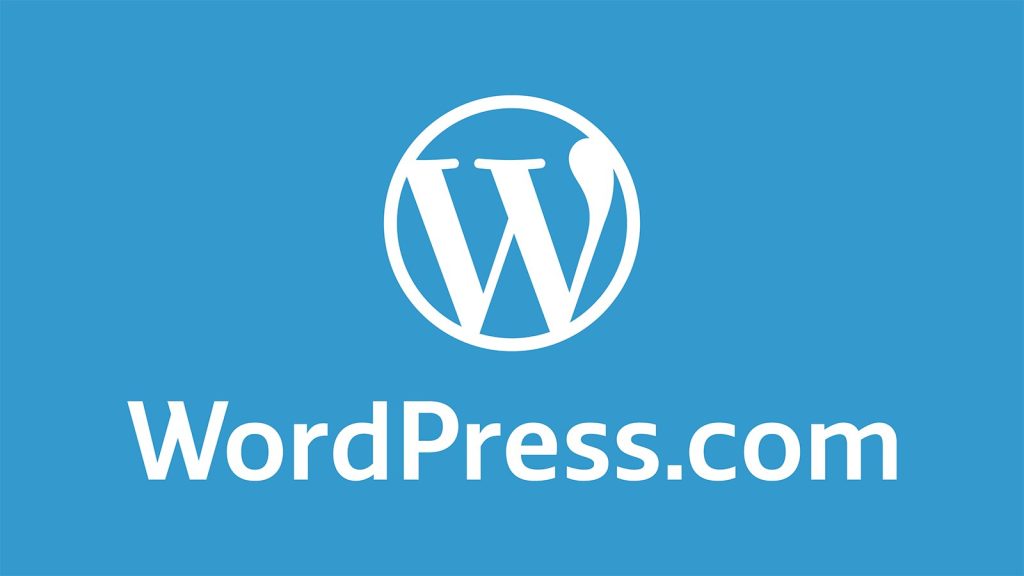 A WordPress plugin is a piece of software containing a group of functions that can be added to a WordPress website. It assists you in adding new features and functionalities to your websites, much like apps do for mobile devices.
WordPress plugins come in all shapes and sizes, with various facilities. There is a plugin for every purpose, from website analytics to social media integration.
With the right plugins installed, you can rank your website higher in search engine results, which can help bring more visitors to your site and expand your business.
Why You Need Plugins For Your Business Website
If you are a business owner running your business site with WordPress, you must maximize the full potential of your website. Several WordPress plugins can help you do that by adding enhanced features and capabilities to your site.
WordPress plugins are software packages that can be added to your WordPress website, giving it additional features and capabilities. They can help you customize your site better to meet the needs of your business and customers.
Plugins can range from simple to complex and can be used for various purposes, such as search engine optimization, eCommerce integration, content management, and more.
Using a WordPress plugin can help you provide better customer service and increase your online visibility. Investing in a quality plugin can give you an edge over your competition and help you reach your business goals.
Best WordPress plugins you must have for a business website.
Today, WordPress is one of the most popular content management systems(CMS) for businesses looking to create a website. It provides users with the flexibility to customize the look and feel of their website, as well as add powerful features.
However, it can be overwhelming to figure out which plugins to install on your WordPress site to get the most out of it. Once you've determined which type of plugin you need, you can begin your search. With the right plugins installed, you can take your website to the next level.
Please note that you should not set out to get different plugins before deciding on the specific objectives you will have for your business. In no case, you should be flooding your site with various unnecessary plugins. You need to identify your business needs and proceed accordingly.

Remember, getting unnecessary stuff for your business will make your operations less efficient and increase your operational costs.

While some of the plugins in the following list are free, in order to unlock the highest potential of the plugin, you may be required to purchase a pro plan.

WooCommerce is an open-source eCommerce plugin for WordPress. It is designed for small to large-sized online merchants using WordPress. It allows users to create online stores with various customizable features and allows store owners to manage products, customers, orders, taxes, shipping, and more from a single dashboard.
With WooCommerce, store owners can create an online store in minutes, selling both physical and digital products. WooCommerce also integrates with popular payment gateways, allowing customers to make payments online securely.
Additionally, WooCommerce provides a variety of tools, such as discount codes, loyalty programs, and analytics, to help store owners better manage their businesses.
Features
Easy Setup and Management: Setting up and managing a WooCommerce store is easy.
Customization: WooCommerce has a wide range of customization options.
Payment Gateways: WooCommerce supports a wide range of payment gateways.
SEO: WooCommerce is optimized for search engine optimization (SEO) and comes with built-in features.
Mobile Friendly: WooCommerce is mobile-friendly, making it easy for customers to shop on the go.
Analytics: WooCommerce provides data and insights into how your store is performing.
Pros
Easy and user-friendly setup
Flexible customization
Robust features
Cons:
Lack of technical support
Price
Free
Yoast SEO

Yoast SEO is a powerful WordPress plugin that helps you optimize your website for search engine optimization. It offers a range of features that can help you improve your website's visibility in search engine results pages (SERPs) and increase organic traffic.
Yoast SEO provides users with an easy-to-use interface that allows them to identify potential SEO issues and optimize their content quickly. The plugin provides users with a range of tools to help them craft content that is optimized for search engines.
Yoast SEO can help you optimize titles and meta descriptions, create XML sitemaps, analyze readability and keyword density, and more. With the help of Yoast SEO, you can easily make sure that your website stands out from the competition and attracts more visitors.
Features
Page Analysis: Analyze the content of your page for SEO optimization.
XML Sitemaps: Generates an XML sitemap for maximum visibility in search engines.
Title & Meta: Easily customize titles and meta descriptions for posts, pages, categories, and more.
Readability Analysis: Check the readability of your content to ensure it is easy to read and understand.
Social Media Integration: Automatically add social media images, titles, and descriptions for maximum visibility in social media.
Canonical URLs: Set canonical URLs for all pages to avoid duplicate content issues.
Breadcrumbs: Automatically generate breadcrumbs to improve user navigation.
Pros
Easy to use
Comprehensive
Automation
Cons
Costly
Complex for Beginners
Price
Free: $0
Premium: $99/Year

ThriveDesk is a powerful customer service platform and one of the best WordPress support ticket plugins that enables businesses to provide top-notch customer service and support. It provides an all-in-one customer service solution that includes ticketing, live chat, a customer self-service portal, and more.
Its intuitive and easy-to-use interface makes it easy for businesses to manage customer service operations, respond to customer inquiries quickly, and increase customer satisfaction.
With ThriveDesk, businesses can provide high-quality customer service and create a more enjoyable customer experience.
Features
Customizable: The primary goal of ThriveDesk live chat is to give customers better-individualized experiences. So, until someone is available to assist, a live chat window is never displayed.
Shared Inbox: This feature of Thrive Desk allows teams to collaborate efficiently on customer service inquiries. It provides a unified platform to store, manage, and monitor all incoming customer inquiries, allowing team members to respond and resolve customer issues quickly.
Live chat: Thrive Desk's live chat feature lets customers get quick answers to their questions.
Knowledge Base: This feature is an incredibly helpful tool for providing your customers with quick and easy access to the information they need.
Pros
Easy Setup
Comprehensive Customer Support
Affordable pricing
Cons
Limited user for free plan
Price
Basic: $6.67/month
Pro: $12/month

WPSmartpay is a WordPress payment plugin that allows you to accept payments for your digital goods without dealing with the complexity of creating a sales funnel. You can get as many items and payment methods as you like, and these payment methods are utilized for things like subscriptions, contributions, and other transactions.
The WPSmartpay plugin is easy to install and use. All you need to do is install it on your WordPress site and connect it to your preferred payment gateway. Once connected, you'll be able to accept customer payments in just a few clicks.
You can also generate custom payment forms that plug right into your pages. Plus, you can easily integrate the WPSmartpay plugin with other popular e-commerce software, like WooCommerce, Magento, and Shopify, making it even easier to manage your business.
Features
Easy to use: WPSmartPay has a user-friendly interface designed to be easy to use, even for those with limited technical knowledge.
Secure Transactions: WPSmartPay provides a secure payment gateway that ensures the safety and security of all customer information.
Numerous Payment Gateways: WPSmartPay supports various payment options, including credit cards, PayPal and Bkash.
Multi-Currency Support: WPSmartPay supports different currencies.
Integrations: WPSmartPay integrates with popular e-commerce and shopping cart platforms, allowing you to easily integrate payments into your website.
Recurring Payments: WPSmartPay supports recurring payments, allowing you to easily set up and manage subscription services.
Affiliate Programs: WPSmartPay provides an easy way to set up and manage affiliate programs, so you can reward your customers for referring business.
Pros
Multiple payment options
Secure payment processing
Low fees
Cons
Price
Essential: $99/Year
Business:$149/Year
Agency:$349/year

CoSchedule is an innovative WordPress plugin that helps you organize and plan your content marketing campaigns. It enables you to create an editorial calendar, manage multiple projects, organize tasks, and collaborate with your team.
CoSchedule is perfect for busy content marketers who need an easy-to-use tool to plan and manage their content. It's an intuitive visual plugin that makes it simple to manage your content creation, editing, and promotion – all in one place.
CoSchedule also provides a simple and intuitive user interface. This makes it easy to use, even for beginners. You don't need to be an expert to use the plugin, as it is designed to be user-friendly.
With CoSchedule, you can create a cohesive strategy that works for you and your team, and make sure your content is published on time.
Features
Automated Social Media Scheduling: COschedule allows users to schedule their social media posts in advance
Editorial Calendar: COschedule gives users an easy-to-navigate calendar view of their content.
Team Collaboration: COschedule makes it easy for teams to collaborate and plan content together.
Advanced Analytics: COschedule provides detailed analytics so users can track the performance of their campaigns.
Pros
Editorial Calendar
Collaboration tools
Automated Social Media Scheduling
Cons
Costly
Limited customization
Price
Free: $0
Pro: $29/month

Elementor is the best plugin for WordPress for creating websites. It's a drag-and-drop page builder that allows you to easily create professional-looking webpages without coding. Elementor takes the hassle out of website building, allowing you to focus on creating beautiful, functional websites with ease.
Elementor has a wide range of features and options to help you create stunning web pages. It has an intuitive user interface that makes it easy to get started quickly. You can add text, change fonts, insert images, and place custom elements. Elementor also comes with pre-made templates, so you can get your website up and running quickly.
Elementor also has many powerful features that make it even easier to design and customize your website. You can customize the look and feel of your website by changing the fonts, colors, and layouts. You can also add animations, sliders, and other interactive elements to make your website stand out.
Elementor also provides advanced features such as mobile optimization, a live preview feature, and the ability to customize the HTML and CSS of your website. This makes it easy to create an eCommerce website or any engaging website that looks great on all devices.
Features
Drag and Drop Editor: Elementor has a drag and-drop editor that allows you to easily create beautiful, professional-looking pages and posts without coding knowledge.
Responsive Design: Elementor provides a fully responsive design, allowing your website to look great on any device.
Templates Library: Elementor includes a library of pre-made templates that make it easy to create stunning pages and posts in minutes.
Customization Options: Elementor offers a range of customization options, allowing you to create the exact look you want for your website.
Popup Builder: Elementor also includes a popup builder, allowing you to create beautiful popups for your website quickly.
Pros
Responsive Design
Speed and Performance
Built-in Templates and Widgets
Cons
Limited accessibility of free version
Price
Essential Plan: $59/year
Expert Plan: $199/year
AgencyPlan: $399/year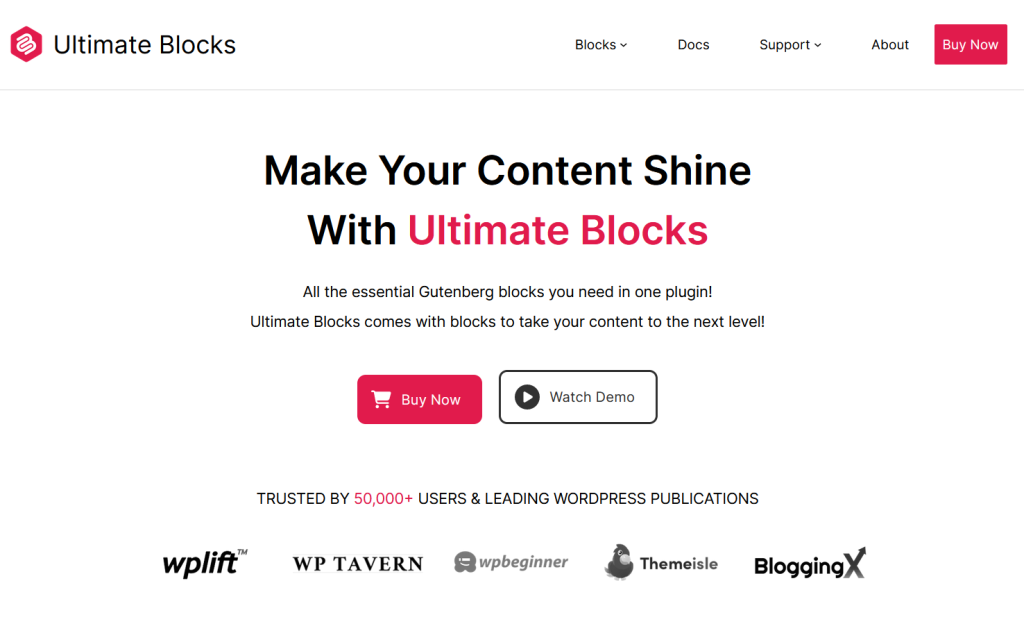 Ultimate Blocks is a great content marketing plugin. It's designed to help bloggers, marketers, and any web owner to create engaging content with Gutenberg. It comes with a wide collection of custom blocks to level your content creation process.
For example, its blocks like social share, click to tweet, tabbed content, and content toggle can grow engagement. Button, call-to-action, countdown, testimonial, ratings, and review can boost conversion.
Styled box, image slider, post grid, and expand can help in designing. Content toggle, how to schema, and review can impact SEO. This means Ultimate Blocks is a plugin where you'll find a variety of functionalities together as a complete package.
Features
20+ Custom Blocks: Ultimate Blocks have a collection of 20+ blocks which will go up overtime. We have already talked about some blocks in the above discussion.
Highly Customizable: Furthermore, Ultimate Blocks allow you to customize the appearance and styling of each block to ensure their consistency with your website's branding.
Enable/Disable Blocks: You can disable the unused blocks. This can further improve your website's performance.
Very Lightweight: Ultimate Blocks is very lightweight, meaning it doesn't add unnecessary codes or scripts. So your site can load fast without causing any conflict.
Pros
Beginner-friendly
Free version available
Optimized for mobile phone
Cons
Doesn't work with page builders like Elementor
Price
Free: $0
Yearly: $67 yearly license
Lifetime: $349 lifetime license

Wp Forms is a form builder plugin that allows you to create beautiful forms in WordPress. It's a great way to collect user information, create surveys, manage customer feedback, and more.
It comes with a drag-and-drop form builder, making it easy to create any type of form you need. Whether you need a basic contact form, registration form, survey, or payment form, WPForms has you covered.
Using WP Forms, you can quickly create forms with fields for simple data collection or more complex forms with multiple pages, conditional logic, and payment integration.
WP Forms is an excellent plugin for creating forms on your WordPress website. It is easy to use, has powerful features, and offers great security features to keep your forms safe.
Features
Drag and Drop Form Builder: WPForms has an intuitive drag-and-drop form builder that makes it easy to create powerful forms with just a few clicks.
Multi-Page Forms: WPForms makes it easy to create multi-page forms with progress bars to keep users informed of their progress.
Instant Notifications: WPForms allows you to set up instant email notifications for form submissions so you can stay on top of your leads.
Payment Addons: WPForms makes accepting payments from your forms easy with popular payment gateways like PayPal, Stripe, and Authorize.net.
Entries Management: WPForms makes it easy to view, edit, and export form entries from the admin dashboard.
Entry Export: WPForms allows you to export form entries in CSV format for further analysis.
Form Templates: WPForms Has more than 150 form templates to time.
Pros
Easy Entry Management
Custom Captcha
Responsive
Cons
Limited support for customizing
Expensive
Price
Basic: $49.50/year
Plus: $99.50/year
Pro: $199.50/year
Elite: $299.50/year

WP Rocket is the best caching plugin for WordPress that helps improve your website's loading speed and performance. It is designed to be an easy-to-use solution that can optimize the performance of any WordPress site quickly.
WP Rocket caches your pages and posts, minifies your HTML, Javascript, and CSS, and makes other optimizations to reduce your website's size and the number of requests. This helps reduce your server load, resulting in faster load times and an overall better user experience.
WP Rocket also integrates with other services, like Google Analytics and Cloudflare, making it easy to integrate your website with these services. WP Rocket is an excellent choice for anyone looking to speed up their WordPress website and improve their user experience.
Features
Easy Setup: WP Rocket is easy to install and set up. The setup process is straightforward and no coding knowledge is required.
Caching: WP Rocket caches your web pages and posts to make them load faster. It also provides lazy loading, browser caching, and GZIP compression.
Minification: WP Rocket automatically minifies your HTML, CSS, and JavaScript files to reduce their size and improve loading times.
Database Optimization: WP Rocket also optimizes your database to reduce page load times and conserve resources.
Pros
Fast and Reliable
Variety of Features
Compatible with most WordPress themes
Cons
Does not offer a free version
Price
Single: $49/year
Plus: $99/year
Infinite: $249/year

WP DB Manager is a WordPress plugin that allows users to manage and maintain their database effectively and efficiently. It is an easy-to-use and powerful tool that enables users to view, backup, repair, optimize and restore their database.
With WP DB Manager, you can create full or partial backups of your WordPress database with a single click. You can also schedule backups to be taken regularly and download them to your computer.
With WP DB Manager, users can also create custom database queries and import and export database tables and data. In addition, WP DB Manager provides users with advanced features such as scheduling database backups, automated database optimization, and reporting.
WP DB Manager can optimize your WordPress database to make it run faster and smoother. It can remove unnecessary data and tables, compress large tables, and optimize indexes to improve performance
This plugin is ideal for those who need to keep their WordPress database under control and up-to-date.
Features
Manage Multiple Database Connections: WP-DB Manager allows you to manage multiple database connections from a single dashboard. It makes it easy to manage databases from different locations and servers.
Backup Database: WP-DB Manager allows you to create a backup of your database with a single click. You can also schedule backups and choose to download them locally or send them to a remote location.
Restore Database: WP-DB Manager makes it easy to restore a database from a backup with a single click. You can also use the built-in search feature to quickly locate a specific backup file.
Optimize Database: WP-DB Manager comes with an optimized database feature that lets you clean up the database and remove unnecessary data.
Pros
Free
Easy to use and manage
Compatible with multiple databases types
Cons
Can be slow to load
Difficult to understand for non-tech users
Price
FREE

JetPack is a WordPress plugin that provides a variety of features and tools to make WordPress development easier and faster. JetPack includes features such as automated backups, security scans, and one-click content publishing.
Jetpack also makes it easy to customize your WordPress site. With its design tools, you can create beautiful and engaging layouts for your website. Jetpack also offers social sharing and site verification tools to extend your reach and increase engagement with your content.
It helps you to easily integrate your website with popular social networks like Twitter, Facebook, and Instagram. This allows you to share content and interact with your followers more efficiently.
JetPack also provides tools for website optimization, analytics, and marketing. With its wide range of features, JetPack is a great tool for any WordPress user looking to improve their website.
Features
Automated Backups: Jetpack plugin automates the process of backing up your site, including all of your content, images, and themes. You can easily restore any site version with just a few clicks.
Security Scanning: Jetpack scans your website for security vulnerabilities and malware, and alerts you when it finds something. It also includes a brute force attack protection feature to help keep your site secure.
Performance Optimization: Jetpack includes tools to help optimize your site's performance, including image optimization, caching and lazy loading. This means your pages will load faster and be more responsive.
Site Stats: Jetpack includes a comprehensive analytics suite that tracks your site's traffic and performance. In real-time, you can see your site's unique visitors, page views, and other key metrics.
Pros
powerful and comprehensive
ensure the highest security and up-to-date features.
ensure the highest security and up-to-date features.
Cons
Difficult to troubleshoot
Some features may be unnecessary for some website
Price
Security: $20/month
Complete: $50/month
WP Project Manager is a comprehensive, user-friendly project management tool designed to help teams manage projects and tasks more efficiently. It provides an intuitive and powerful way to track and manage projects, tasks, and other important details in one place.
The plugin features an intuitive and highly customizable user interface, a wide range of project and task management features, and a number of integrations with popular third-party programs.
WP Project Manager also offers a range of features to help you manage your projects effectively. You can easily create and manage project milestones, set up task dependencies, set reminders for upcoming deadlines, and create reports to help you keep track of your progress.
The plugin also integrates with a range of third-party apps and services, including Dropbox, Google Drive, and Slack. This allows you to share documents and collaborate with team members easily.
With its easy-to-use interface, powerful management features, and integrations, WP Project Manager is a great choice for teams looking for a reliable and efficient project management solution.
Features
Task Management: WP Project Manager allows users to create and manage tasks, set deadlines, and assign tasks to different users.
File Sharing: WP Project Manager has a file-sharing feature that allows users to upload and share files within the platform.
Project Calendar: WP Project Manager includes a project calendar that provides a visual overview of the project timeline, allowing users to manage their time more effectively.
Time Tracking: WP Project Manager provides users with a time-tracking feature to track their progress on tasks and projects.
Notifications: WP Project Manager has a notification system that sends users notifications when tasks are assigned, updated, or completed.
Reports: WP Project Manager provides users with detailed reports to track project performance and progress.
Pros
Time Tracking tool
Premium Visual Interface
Drag and drop editor
Cons
Costly
Limited customization options.
Limited integrations with other services.
Price
Annual:
Personal: $79
Professional: $149
Business: $249
Lifetime:
Personal: $316
Professional: $558
Business: $871
Wrapping Up:
In conclusion, these are the best WordPress Plugins for business websites. They provide a wide range of features and benefits, from enhanced security to improved search engine optimization.
These plugins will make it easier to manage content, optimize performance, and create a more secure website. The plugins are also designed to be user-friendly and easy to install.
With these plugins, businesses can create an efficient, professional, and secure website that will help them succeed in their endeavors.