Do you know that 89% of companies today compete primarily on the quality of the customer experience they serve? No matter what type of online business you have, if your customers aren't happy with your service, then it will cost you in the long run.
To offer them solid user support, there is no other option except using helpdesk software or a customer service platform. And if you have a WordPress-powered website, implementing a help desk can be pretty straightforward. You just need to install an appropriate WordPress support ticket plugin, that's all!
A support ticket system gives your consumers another way to contact you, and it's typically a more handy method for both your customers and you. There are tons of WordPress support ticket system options available right now. However, you must choose the best according to your company size and needs.
In this blog will talk about the 5 best WordPress support ticket plugins, both free and paid to help you fulfill your customer service goals.
Let's have a look.
Best WordPress Support Ticket Plugins
ThriveDesk is a customer support software built explicitly for start-ups and small business owners to support their customers efficiently at a very affordable price. This tool is simple, easy to use, and full of features. It is an all-in-one SAAS solution including everything to manage a WordPress-based company without needing any additional plugins. So far, ThriveDesk is the best Freshdesk alternative you can count on.
Features
Shared Inbox: ThriveDesk provides a shared inbox feature to enhance your customer support experience. All team members are notified when a task is assigned to a team. There is a collision detection feature that allows you to know whether two people from your team are helping the same customer.
Interactive Live Chat: The live chat option of ThriveDesk is full of features. A proactive messaging option allows you to send notifications, updates, and personalized messages. A ticket has been created if no staff are online. At the peak time, you can reply from your knowledge base. It saves you time.
Customer Interaction: Your customer can interact after the service. An automatic pop-up survey panel appears to fill your customer experience. This helps to improve your service. Moreover, you can recognize and reward the best performer in your team.
Knowledge base: A knowledge base that also functions as a data repository can be accessed easily. You can create a knowledge base by ThriveDesk answering all frequently asked questions to reduce the ticket flow.
Advance reporting: Thrivedesk's Reporting tool helps you make data-driven decisions to support and delight your customers.
Integrations: ThriveDesk allows you to integrate all of your favorite tools, including WordPress, WooCommerce, Easy Digital Downloads, Fluent CRM, Envato, Slack, and Trello.

Awesome Support, WordPress ticketing plugin comes with 50+ add-ons that distinguish it from the other ticketing systems on the market. It has the most innovative and one-of-a-kind add-ons to ensure great ticketing support.
Awesome Support is a fully-featured help desk application that allows you to personalize every customer interaction. It unifies your communication methods, including email, AI smart chat, FAQs, and a ticketing system, into a single dashboard.
The pricing starts from $149/year.
Features
Unlimited tickets: Awesome Support offers unlimited free tickets, agents, users, products, tags, channels, and so on. Private tickets are also available for free. Agents can create tickets for users on their behalf and access only their tickets or all tickets.
Email notifications: Both agents and users will receive free email notifications for ticket activities like new tickets, responses to tickets, etc.
File attachments: You can attach numerous files to tickets while using Awesome Support. It also controls the number of attachments permitted per ticket and the file type and maximum attachment size. Premium customers of Awesome Support may also add attachments to tickets by dragging and dropping them and offloading files to the cloud.
Chat widget: Awesome Support enables you to use TeamViewer to chat among your agents immediately from your ticket pages. Premium users can use the smart reply option (automatically responding to messages sent by Facebook users through messenger).
Ticket replies: Awesome Support creates one-click replies for the usual questions and FAQs. Additionally, you can easily respond to tickets using documentation topics.

JS Help Desk is another featureful plugin with 4k+ active users. One of the good features of the JS Help Desk is that it has a well-designed dashboard that makes it simple to track tickets with various sorting tools. It will just take you a few minutes to complete the installation process.
This plugin also includes a handy search option that allows you to find tickets based on a range of criteria. It is a freemium plugin. Though most of the features are for premium users, you can install and check the build quality without spending a buck.
The premium plans start from $49.99/year.
Features
Unlimited Tickets: The base version of JS Help Desk has no ticket limit.
Customer support: Both free and paid users of the JS help desk can get assistance. They also provide video tutorials for customers.
Multiple File Attachments: Clients or agents can upload numerous attachments when creating tickets and ticket responses. The admin can manage the ticket attachments depending on the ticket size and extension type.
Email Notifications: JS Help Desk allows you to send e-mail notifications to users, agents, and admins in distinct operations (such as a new ticket, any ticket replies, or a close ticket).
Guest Tickets: For users who are unwilling to create an account to open a support ticket, JS Help Desk offers cost-free guest tickets.
Responsiveness: JS Help Desk is compatible with a wide range of devices, including laptops, smartphones, tablets, and desktop computers. Layouts automatically adapt based on the device.
Filtering and sorting: JS Help Desk offers extremely powerful filtering tools for both customers and admins. This tool allows you to search for tickets and organize them.
Themes: JS Help Desk offers seven pre-set color themes with varying color combinations. You can choose your ticket system plugin colors from those combinations.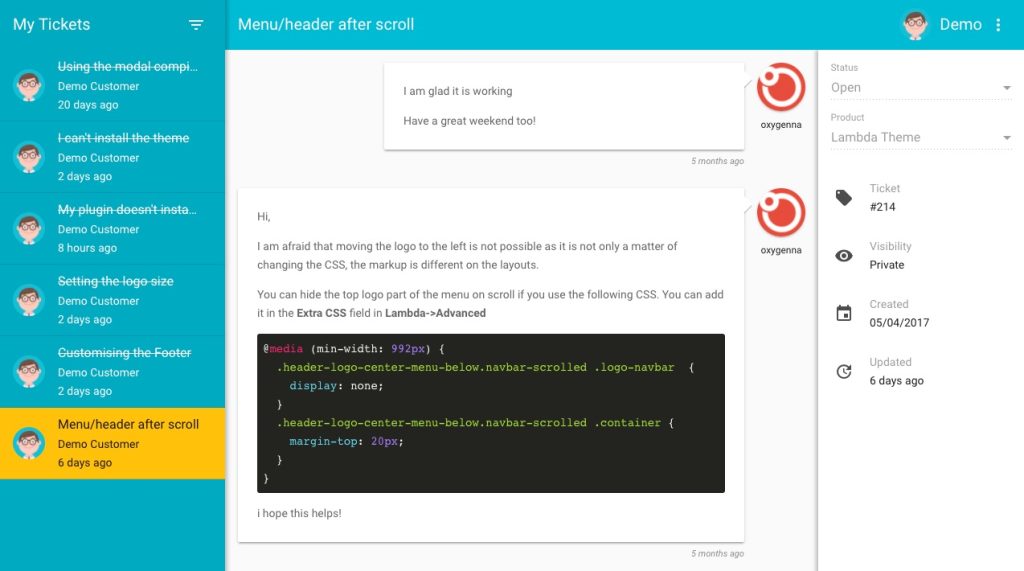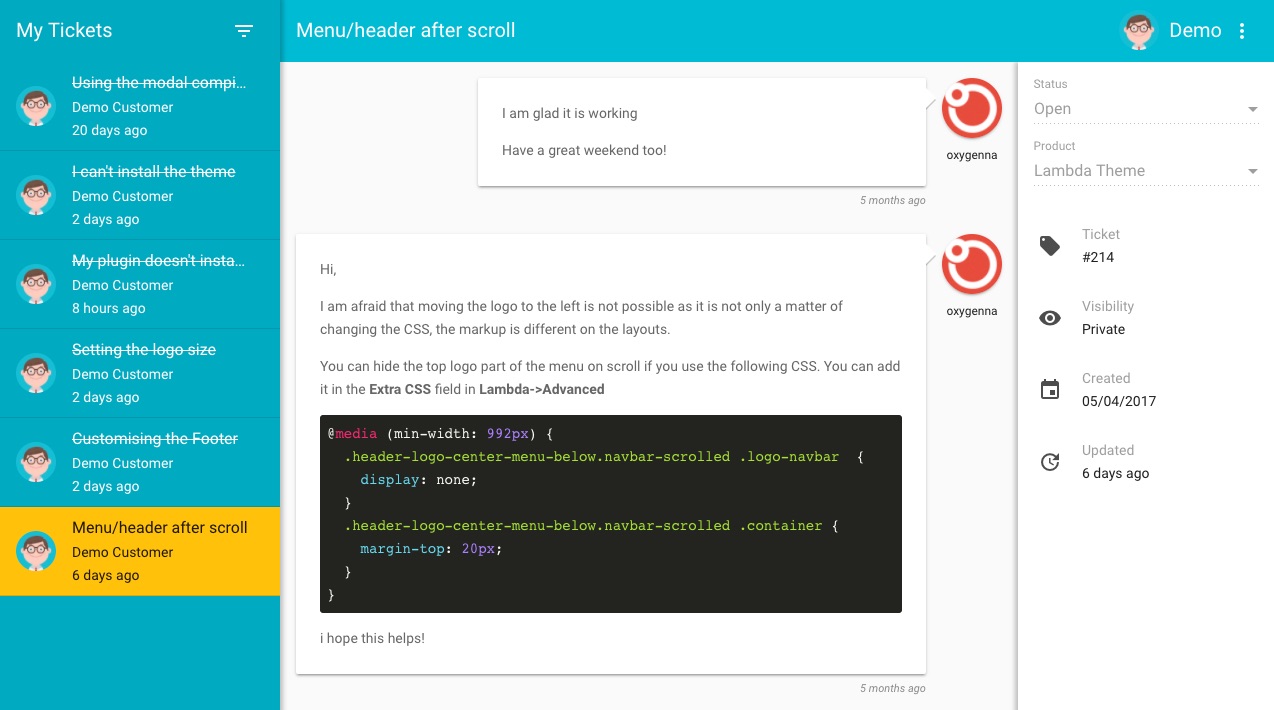 FAST WordPress WordPress Support Ticket Plugin provides a comprehensive support solution for your company. It looks professional with a clean UI, and extremely FAST that feels like you're speaking with your consumers.
In addition, unlike other existing plugins that require you to pay for add-ons or other functionality, FAST has no hidden extras. It has comprehensive reporting features, and this ensures you can develop data that shows you how efficient your support team is and whether clients are happy with their encounters.
Plans start at $39 for six months.
Features
Unlimited tickets: FAST provides an unlimited number of support tickets, agents, customers, and products.
File attachments: FAST enables you to attach images or files if necessary to your ticket replies.
Ticket replies: FAST allows you to reply to tickets only via email. The FavIcon Counter feature of FAST helps you find out if any tickets require a response. For quick ticket replies, it keeps the most common replies saved. It also adds a button (Hi+ customer name) at the top of the ticket replies.
Email Notifications: FAST allows both customers and agents to be notified through an email when a reply to a ticket is received. FAST also keeps track of your entire support crew and sends out notifications whenever a ticket is answered to, generated, or assigned.
Customer service: FAST is well-known for delivering a rock-solid customer service ticket system plugin.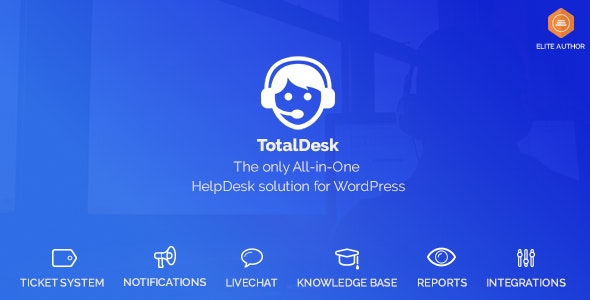 TotalDesk is one of the best ticketing solutions for WordPress with an all-inclusive WordPress theme ticketing system. It enables you to build both a knowledge base and self-service customer support, a ticket system, and live chat. You can generate reports also for analytics.
They charge $39 for 6 months.
Features
Email Notifications: TotalDesk has the option to inform you when a ticket is created, someone responds, a status change or an agent is assigned.
File attachments: TotalDesk offers you attachment support when replying to a ticket.
Knowledge base: TotalDesk gives you the option to create a FAQ depending on the ticket. You may organize FAQs into categories and provide unique icons for each one. Users can search live for FAQs, and the admin can track the views of FAQs. It offers three built-in widgets, and you can order FAQs depending on popularity and views.
Chat widget: TotalDesk offers you a live chat option. You can begin chatting with a new ticket. First, you have to enter the chat room using the ticket ID provided. Then you can send messages when every agent is offline. Every conversation in the chat room will be saved.
Ticket History: TotalDesk stores all ticket information and logs.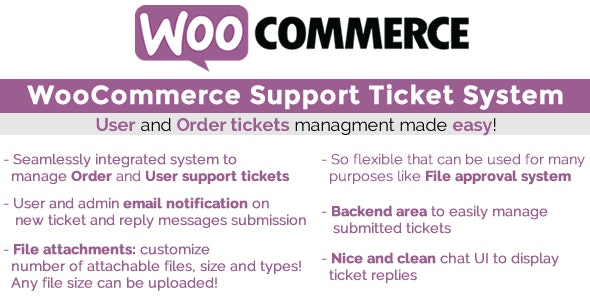 The WooCommerce Support Ticket System plugin integrates effortlessly with your WooCommerce website and offers a system for managing customer support tickets. This solution enables you to assist all customers who experience order or delivery issues. You will be able to handle tickets in your backend quickly, and your customers will be able to connect with you via a convenient message thread on the front end.
A pay-per-ticket process also goes into effect once the product is ordered and the order is paid for. By this, the support team keeps records of the customer's product-related queries. Furthermore, the plugin has an email notification system, and it notifies every activity by customers, support team, or owners.
The WooCommerce Support Ticket System plugin is available for $26.
Features
Email Notification: Whenever you perform an action, you will be notified through email.
File attachment: Attaching large files when responding to a ticket does not require any further server settings.
Ticket Priorities: Predefined ticket priority based on your company's requirements, and you will be able to manage the troubleshooting process better. When you install the plugin, you will receive low, normal, and high with the desired color (displayed on the ticket list). You may include as much as you choose and specify a color to make them stand out.
Message thread: A message thread displays the ticket conversation, and every message can potentially include file attachments.
Ticket history: Customers can use a unique section to submit new tickets and keep track of old ones.
Customer Support: There will be a unique ticket area on every purchase details page. Using this, a may get assistance with a specific order. Customers can also ask for general support using a user ticket.
Wrapping Up
This is the list of best WordPress Support Ticket plugins, both free and paid. You can choose any of them according to your needs and budget.
So, which plugin do you like most? Let us know your thoughts in the comment section below.