If you are in search of a complete WordPress directory plugin, then Directorist is the go-to-go option for you. This feature-rich plugin allows you to build any type of directory site with ease. From business directories to classifieds and event listings, Directorist has everything you need to create a successful online directory.
In this Directorist review, we will take a look at all the features that this plugin has to offer. We will also discuss how easy it is to use, as well as its pricing options. So if you are interested in learning more about this WordPress directory plugin, then read on!
Get to Know Directorist: An Overview of the Popular Plugin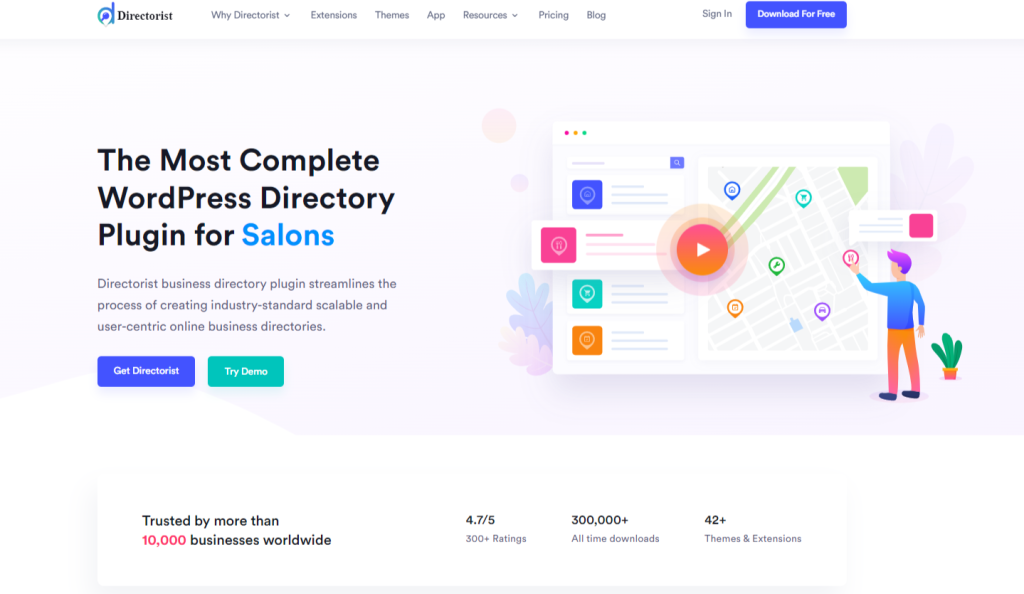 Directorist: More than just a directory plugin, developed by wpWax joined the party on the ground of directory niche later than the ones that stroll neck and neck with it. However, the plugin has settled its room much faster than its competitors. And, the reasons are obvious-the bucket full of features covering all the temperaments that you really need to make a directory website a golden goose.
What's more, the plugin is easy to use and comes with a user-friendly interface. The plugin allows you to create listings, categories, and tags. Moreover, you can add images and videos to your listings. Directorist also allows you to create custom fields for your listings. This makes it easy to add additional information about your listing such as price, location, and more.
Discover All the Features That Make Directorist the Best Directory Plugin
There are a lot of great directory plugins out there. But what makes the Directorist best? Here are some of the features that set it apart from the rest:
Multidirectory feature
The cutest aspect of a renowned directory plugin is the multidirectory facility. When people can have room to make different types of directory websites under a single hood, then they can easily expand their business ramifications, isn't it? In this terrain, Directorist can boast of this feature as it renders the multidirectory facility towards its users. Meaning, users can create multidirectory sites using Directorist. And, this feature sets light on the journey of directory users.
Unlimited custom fields
A great quality directory plugin should have feature like unlimited custom fields. Fortunately, Directorist lets you add unlimited custom fields to accommodate custom requirements on the listing Form. Also, this feature allows you to add custom fields as search filters to get the best results out of your directory website. 
Availability of mobile app
With smartphones and tablets becoming more and more prevalent, it's no surprise that mobile apps are becoming an increasingly important part of people's lives. According to Statista, the current number of smartphone users in the world is around 7 billion, meaning 84% of the world's total population uses smartphones. Hence, the chances to go beyond your directory website are innumerable with a heavy flock of users.
So, it goes without saying that a mobile app is a must-have feature that makes a directory website stand out of the box. More fortunately, Directorist comes up with a mobile app that is compatible with both android & iOS. With this mobile app, you can add new listings, edit existing listings, and view your directory in a mobile-friendly format. This makes it easy to keep your directory up-to-date and accessible to potential customers even from the distant parts of the World.
Advanced form builder
Directorist comes up with the most intuitive custom form builder that makes a room for its users to boost up their directory listing experiences. The Drag & drop-based custom form builder lets the users organize their directory websites through Single Page Layout and Listings Card Layout with an advanced search system customizability.
WooCommerce multi-vendor plugin compatibility
A directory plugin should have a feature that makes it compatible with multi-vendor plugins like Dokan, WC Marketplace, YITH WooCommerce Multivendor, WC Vendors, and WCFM. More fortunately, Directorist belongs to a feature that makes it compatible with the popular multi-vendor plugins. Hence, adding WooCommerce functionality to your directory website is just like a breeze.
Easy translation, right to left (RTL), and built-in SEO solution
A directory plugin should be multilingual so that it can help a directory website go beyond the borderline. Then, different users from different parts of the world can use the plugin with ease to make their directory websites in their own languages. With no surprise, Directorist allows your directory website to translate to any language effortlessly using Loco Translate plugin.
Also, Directorist creates a ground to set a meta title along with a description in each single page of your directory website. Meaning, your directory pages will take an extra leap ahead to have a driver seat on the search engines. Plus, compatibility with the popular SEO plugins like Yoast, and Rank Math brings this plugin to an incredible height in the search engine optimization world. Again, Directorist is fully compatible with the RTL languages like Arabic, Aramaic, Azeri etc. And, this will give you an unforgettable RTL experience in your directory website.
Powerful search and advanced filters
Directorist comes up with the powerful search and advanced filter option let your users search every listing based on the large number of criteria, including custom fields, tags, price range, location fields, category , and many more to bring your search experience to a whole new height.
Frontend listing submission and management​
A frontend listing submission on a directory website denotes a form submission used by publishers to submit their listing on the site. While, managing a frontend listing submission includes reviewing and approving submitted listings, removing listings that no longer meet the publisher's quality standards, and updating the listings.
In this case, Directorist corroborates your users to toss their listings on and manage those listings from the frontend without even being registered users with your site or being logged in to the admin panel. And, renewing or changing the plan from the frontend is a bonus for a site owner like you.
Private directory
A private directory is something that isn't accessible to all walks of lives. Instead, it focuses on a chosen few personalities. This directory system is used only aiming at promoting products or services to targeted audiences. Hence, boarding this feature is an indefinite charisma for a directory plugin.
And, with no surprise, Directorist holds this feature into its knapsack just to streamline its users to display selected items and sections of the theme for their special visitors only. Consequently, the users/directory business owners can run the rings around the necks of their competitors in the race.
Private messaging system
Directorist features a private messaging system that creates a private space for visitors to contact listing owners in no time. This system allows your listing owners to hike up their business value to the next level.
Easy Migration and Personalization
The very user-friendly system makes the migration process much simpler through letting you import an unlimited number of listings from a CSV file and you can personalize them using a large array of short codes.
Pricing
We would like to ask you a question. What haunts you a lot while choosing a directory solution? Your answer will be the "Price" if you aren't exceptional. We happily inform you that with Directorist, you can bring your dreamy directory website into being with just a minimal amount of cost. And, this happens just because of the no-price zone of the plugin. We mean the core version of the plugin is free.
However, if you want to tap your directory site with tons of premium features, you are most welcome to the premium world of Directorist at just $55.
Multiple payment gateways
A payment gateway is a thing that allows your directory website users to receive payment from customers from different parts of the world. Generally speaking, different people use different payment methods like debit or credit cards, PayPal, Stripe, or a number of different payment processors.
Luckily, Directorist comes up with the built-in checkout system that includes both offline and online payment systems and here admin can offer different payment options like PayPal, Stripe, Bank Transfer, etc.. And, it clearly denotes that using Directorist, you can allow the listing owners to accept payments from their users with multiple payment options with extreme possible ease.
Integrations with popular plugins
Directorist has come under the hood of integrations with the WordPress plugins you love and trust, like WPML, Gamipress, Oxygen Builder, MailChimp, BuddyPress, BuddyBoss, Elementor Page Builder, Bertha.ai, and WooCommerce Subscription. Meaning, using Directorist will complete your journey that you get from your favorite WordPress plugins.
Free & premium extensions
Directorist has already packed 28 integrations including a free option. These premium and free extensions will enrich your directory website with different vibes. Also, the team Directorist has claimed on its roadmap that the team members are mapping out more extensions that will make a directory website even more lucrative.
Rank featured listings: A rank-featured listing is a listing that is ranked higher than all other listings in the same category on a directory website. This means that when someone searches for a listing on the given directory website, the listing will appear at the top of the results page. This higher position is triggered by putting more information about that listing including, a description, photos, keywords, etc.
Surprisingly, Directorist fraternizes Rank Featured Listings under the shadow of premium features and this feature allows the directory website owners to rank the featured listings items with ease.
Announcement feature: An announcement feature is a type of feature that's designed to allow users of a website to easily share information with others, such as blog posts, product updates, or events, awards, and many other associated items. When you make sure you have got the best out of this feature, you are on the brink to pack tons of traffic and user engagements.
Moreover, this feature in a directory website allows you to insert and manage different types of business-related announcements that a site owner intends to publish on his/her directory websites, letting his/her users know in loud.
Free & premium themes: It goes without saying that directory websites are a great way to display companies and products to the audience. They are also an amazing platform to make a tie between customers and listings owners. Using quality themes that sound louder in appearance is worth consideration for making a directory platform appealing. More fortunately, Directorist comes with different types of free and premium themes that you can use for making different types of directory websites.
Updated and supported all year round
Directorist is regularly updated and supported by a team of professionals. This means that you can always count on the plugin to work properly and keep your website running smoothly.
Extremely user-friendly
Directorist is extremely user-friendly and easy to use. Even if you're not a tech-savvy person, you'll be able to figure out how to use this plugin with ease. Meaning, it is a plugin that seems like a sitting duck to everyone from beginners to seasoned ones.
Auto-login after registration
Though it seems a tiny feature, it is worth considering one that lets your users to login just after the registration is done and there they don't need any credentials. That means the feature supports the hassle-free move-on.
Customizable email notification
You, the site owner, can easily customize the email templates whenever you need them. Directorist offers the site owner a way to use dynamic information and thus let the directory users know about the expected messages. Literally, this is a very minor feature but counts a lot.
Other features
Apart from the features above, Directorist takes a stride with a swarm of features which include CSV bulk importer, developer friendliness, multiple mapping sources, tax ready, schema ready, social media share, events manager, spam protection, easy translation, RTL, built-in SEO solution, rating & reviews, guest submission, and modern & improved design.
How Can You Make Money with Directorist?
As discussed above, Directorist is a powerful directory plugin and it allows you not only to create a mere directory website but also earn money from a variety of options. It comes with a number of features that make it easy to monetize your directory. Let's get them in the following lines.
Paid listings: The Directorist plugin provides an easy way for you to monetize your WordPress site by allowing you to charge for listings. You can set up different listing packages and offer discounts for listings.
Featured listings: Another powerful way to make money with Directorist is through ranking featured listings. You can mint money by featuring each of the listings you approve on your directory site based on the pricing packages and rank them atop your list.
Claim a listing: With Directorist, you can make money by rendering an opportunity for listing owners to claim their listings and then get verified.
Pay per submit: One amazing way to earn revenue from your website is to charge users a fee to create a listing on your directory website. This can be an effective way to generate income, as long as you have enough traffic to your directory site.
Subscriptions: With Directorist, you can generate a fixed revenue by charging business owners regularly to renew their packages using recurring payment functionalities.
Make a Classified Website with Directorist
Be it a directory or a classified website, Directroist shows its mojo everywhere. Nowadays, smarter people are traversing towards classified listings businesses. The fact is that the platform is easy to create but tremendously lucrative and a money-making machine indeed. The interesting part of this platform is that you can make money even without handing out to the business or while sleeping at home.
Moving forward, a classified ads website let you display a wide range of products and services for sale, and to target your audience with precision. However, the main obstacle to this journey is the investment. Sad but true, many people think that making a classified website requires them to break their banks but in reality, they can kick out this thought out of windows with Directorist.
Directorist allows people to hammer out a thriving classified website at a very little amount of cost which is really a jaw-dropping option for those who are trying to set up a classified business with a little amount of investment.
In the Summary
There are a number of directory solutions that are truly genius and they can run a drilling competition with Directorist. But, Directorist is something that always takes an edge on the curve. This directory plugin brings up more options to scale a directory website up to a king-sized height even on its free version, compared to its competitors.
Finally, we will suggest you use a free version of Directorist and see how this plugin changes the pace of the game. Trust us you won't lose the bet in either way. Once you take a break building your directory website with Directorist, then don't forget to share your directory experience with us by leaving a comment in the comment section below.
Thanks for being with us till the end of the reading journey!