Tutorque is a proven LMS WordPress theme for e-Learning. However, to get access the limitless possibilities of Tutorqe first download the theme file from your themesgrove account .
To install Totorque theme, please follow steps below.
Log in to your WordPress Administration Panels.
Now, go

Appearance > Themes

and click on

Add New > Upload

button.
Choose the tutorque.zip file from you local directory.
An activation button will appear after successful installation of theme.
You need to activate the theme by clicking the

active theme

button.
If you want to active it later then come back again from

Appearance > Themes

Finally, click on

active now

button on the theme thumbnail named Tutorque.
Note: Do not forget to Activate the theme as default after the installation process has been done successfully.
How to Install Tutorque Via FTP
If you can't install the Tutorque theme via WordPress dashboard, try installing the theme via FTP.
Please follow steps below,
Step 1 – Download the Tutorque theme's zip from your Themesgrove Account.
Step 2 – Unzip the Tutorque theme zip file
Step 3 – Open your WordPress site via FTP. We would recommend you to use FileZilla
Step 4 – From FTP, visit the root of the WordPress install
Step 5 – Now visit wp-content folder > themes
Step 6 – Upload Tutorque unzipped file from step 2
Step 7 – Also make sure your folder permission is 755.
How to Update the Theme Automatically
Log in to your account to get your license key.
Copy the license key from your account and paste it below.
After you click on the active license, you will get a notification for updates and you will be able to update your theme automatically.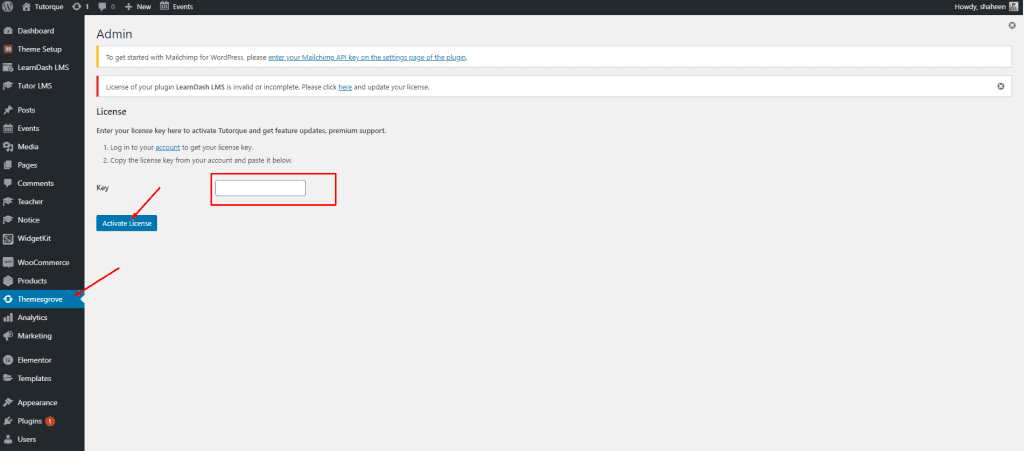 How to Update the Theme Manually
Manual update is so easy as like upload your theme through FTP.
In order to update your theme manually please follow the below steps.
Open your WordPress site directory through FTP
Browser through wp-content > themes.
Inside the theme folder open tutorque folder.
Now open the latest downloaded unzipped theme from your local computer.
Finally drag and drop files from local folder to tutorque folder of your live site.
Please choose override option while drag and drop files.
Now you are upto date with latest theme.