The most efficient method we have devised to help us in for knowledge is the "Question" and "Answer" techniques. Whenever we want to gather knowledge about a particular topic we ask questions about the topic. Then we search for their answers. This technique has endured for eons and now with the advent of the internet, it has changed form.
Today this method is simply known as an FAQ or Frequently Asked Question. FAQs can assist you in answering frequently asked consumer questions. As a result, people can easily find the information they need without having to contact you.
In this article, we'll discuss some of the best FAQ plugins for WordPress, their best features, pros and cons, pricing, and for whom it is best for.
Let's investigate them!
Read more: 7 Best WordPress Subscription Plugin
What is an FAQ plugin and why is it needed?
FAQs are used by every single entity that is looking to educate others about themselves. Businesses, service providers, and product sellers all use FAQs to help their customers solve their queries without needing to answer each of their questions individually.
A simple dedicated FAQ section on one's site can empower businesses to almost single-handedly solve all their customer service issues. Site owners nowadays can substantially improve and customize FAQs by using certain tools. One of the most important tools regarding FAQs is the FAQ plugin.
An FAQ plugin is a plugin designed to seamlessly integrate with your website. Its singular purpose is to allow users to ask and answer questions about anything regarding the product or service that the business is selling. FAQ plugins help in developing a site's knowledge base and encourage deep discussions in the community which ultimately leads to better knowledge sharing. 
All websites should include an FAQ section. This is because they offer a lot of advantages when it comes to site traffic, community building, and overall good business practices. Some advantages they offer are
Increases customer engagement – Customers always have queries when they are looking to purchase a product. The first place they usually go to get answers is the FAQ section. While there they may end up answering some questions as well from their prior experiences. This automatically increases the conversation rate.
Saves time for potential customers – When people are interested in your product or service they would naturally try to contact you to get detailed information. An FAQ section saves time in that respect. Interested customer simply needs to visit the FAQ section and get their answers directly as opposed to emailing and waiting for a response.
Boosts SEO – One of the criteria that search engines use to understand the type of a site is a keyword or keyphrase search. If you populate your FAQ section with a healthy amount of keywords and keyphrases it will drastically improve the SEO of your site.  
Now we know why FAQ sections are important so the next natural question that needs to be answered is "Which one should I use?" If this is the question you need to be answered then you have come precisely to the right place.
Top 10 Best FAQ plugins for WordPress
Now we are going to go through 10 of the best FAQ plugins currently available on the market and going to discuss unique features, use cases, and price points.
WP responsive FAQs with Category
WP responsive FAQ with Category is one of the most commonly used FAQ plugins for WordPress sites. It is easy to integrate and has a mobile-friendly design that allows for better accessibility. It also comes with added functionalities such as FAQ categories, animations, and images.
Best for
This FAQ plugin is recommended for big sites that already have a massive knowledge base with a substantial FAQ database.
Features
Unique shortcode allows you to display questions in exactly the perfect locations on your site
The shortcode can also be used to customize displays
Categories available to separate and distinguish different types of FAQs
WooCommerce product FAQs (Premium users only)
Pros and Cons
| | |
| --- | --- |
| Pros | Cons |
| Animation speeds are configurable | Page builder is a premium feature |
| Simple and easy to integrate | Premium version is very expensive |
| Shortcode placement | |
Pricing
| | |
| --- | --- |
| Free | |
| Annual | $99 billed yearly, 1 site usage |
| Annual package plus | $149 billed yearly, unlimited site usage |
| Lifetime package | $199 lifetime license, 1 site usage |
| Lifetime package plus | $299 lifetime license, unlimited site usage |
Accordion FAQs
There are many accordion-styled FAQs out there but the best one is Accordion FAQ. It is simple to integrate and uses FAQ plugins for WordPress based on the bootstrap framework. It features accordion-style FAQ displays which makes it easier to go through FAQs when you have an extensive or long list. 
Best for
Big sites that have a lot of FAQs and FAQ categories.
Features
Short code and page builder both available for placement
Accordion style FAQ display
Accordions are highly customizable
Categorization and ordering of FAQs available with drag and drop functionality
Pros and Cons
| | |
| --- | --- |
| Pros | Cons |
| Fully responsive | Pro version needs to be purchased to access further features |
| Lots of customization available with Pro version | |
| Accordion style FAQ display but also changeable | |
Pricing
| | |
| --- | --- |
| Free | $0 |
| Premium | $27 lifetime license |
Ultimate FAQs
Ultimate FAQs is another well-used FAQ that is simple to integrate and feature-rich. It is a very versatile plugin that can be configured for any site regardless of the size and level of user ability. 
Best for
Has features and usability that suit all types of sites but WooCommerce sites can get the best out of it
Features
Dedicated FAQ tab for WooCommerce products
Custom CSS styling options
Allows categorization and ordering of FAQs based on types
Pros and Cons
| | |
| --- | --- |
| Pros | Cons |
| Easy to set up | Requires time to learn all the features |
| Shortcode implementation available | No free version is available |
| Ordering and sorting are available | |
Pricing
| | |
| --- | --- |
| Single site | $67 lifetime license |
| 5 sites | $127 lifetime license |
| 10 sites | $197 lifetime license |
Quick and easy FAQs
Quick and easy FAQs is one of WordPress's own native FAQ plugins. It is simple to set up and very easy to use. It offers heavy customizations using CSS and question categorization based on content.
Best for
Smaller websites that are looking for a low-cost option to implement an FAQ section on their page
Features
Can accommodate individual and clustering of FAQs
Custom posts can posted added as FAQs
FAQs are all categorized and ordered and can also be filtered during search by content
Pros and Cons
| | |
| --- | --- |
| Pros | Cons |
| Simple to integrate and use | Lacking in frequent updates |
| Shortcode use for flexible question placement | |
| Free | |
Pricing
Quick and easy FAQs have no premium version. It's free for all to use.
Heroic WordPress FAQs

Heroic WordPress FAQs is a tool designed with a singular purpose in mind that is dealing with the FAQ section of a website. It is a feature-rich tool that lets you do everything starting from customization to categorization of FAQs. It also supports a variety of different content types including image, text, and video.
Best for
Established sites with a large knowledge base and question-answer bank. 
Also for people looking to use heavy customization and well-designed themes 
Features
Predefined styles available to choose from
Drag and drop interface
CSS3 animations
Pros and Cons
| | |
| --- | --- |
| Pros | Cons |
| Well-designed and good-looking FAQ themes | No free version is available |
| Variety of content supported | |
| Extensive design and style options | |
Pricing
| | |
| --- | --- |
| Heroic KB Essential | $149/year |
| Heroic KB Plus | $199/year |
| Heroic KB Pro | $399/year |
Helpie FAQs
Helpie FAQs is yet another tool that focuses heavily on the design and maintenance of the FAQ section of a site. It can categorize, sort, and filter questions. It's fully responsive and works well with Gutenberg blocks and also Elementor. 
Best for
Smaller and bigger sites alike.
Smaller sites that focus on good organization and upkeep of their FAQ sections
Features
Fully responsive Accordion/Toggle
FAQ-Accordion block for Gutenberg
Automatically adds FAQ Schema
Basic FAQ Shortcode builder for all pages and posts
FAQ-WooCommerce Integration
Pros and Cons
| | |
| --- | --- |
| Pros | Cons |
| Shortcode page placement | Access to some features require purchase of premium version |
| Adds FAQ schema for SEO improvement | |
| Fully responsive | |
Pricing
| | |
| --- | --- |
| Free | $0 |
| Pro – Single site | $38.99 |
| Pro – 5 sites | $79 |
| Pro – 100 sites | $149.99 |
Tribulant FAQs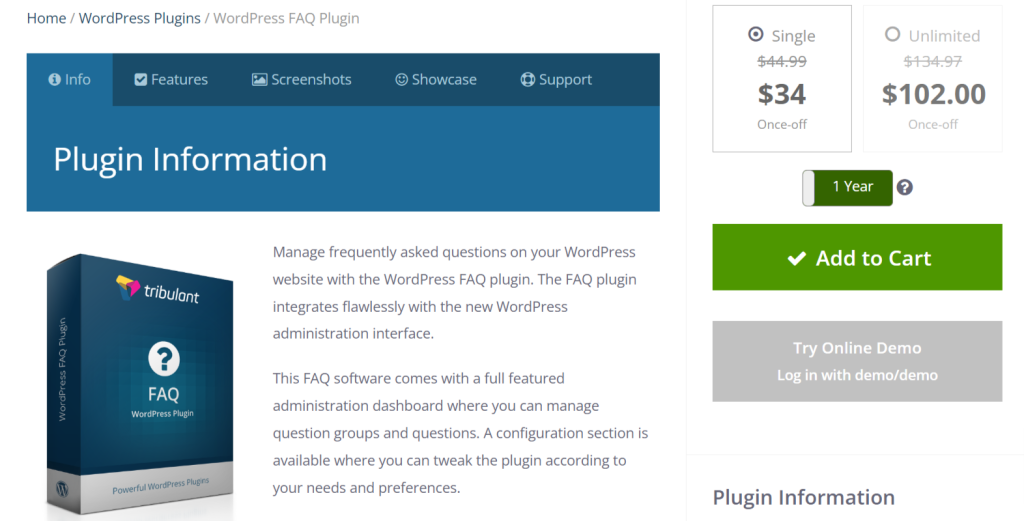 Tribulant FAQs is another well designed FAQ plugin that solely focuses on the functionality of FAQs. It provides heavy customization of posts, and drag and drops features to list and change the order of questions. An accordion style display is available. It also comes with a search bar exclusively for FAQ and custom CSS addition features.  
Best for
Bigger sites that are looking for a dedicated solution for all their FAQ needs.
Sites with bigger knowledge bases that have a lot of FAQ data that needs sorting and displaying
Features
Built-in image gallery
Q&A forum with approval feature
Translation ready
Pros and Cons
| | |
| --- | --- |
| Pros | Cons |
| Feature rich | Free version unavailable |
| Translation capabilities | |
| Image gallery | |
Pricing
| | |
| --- | --- |
| Single | $34 for lifetime |
| Unlimited | $102 for lifetime |
YITH WooCommerce Questions & Answers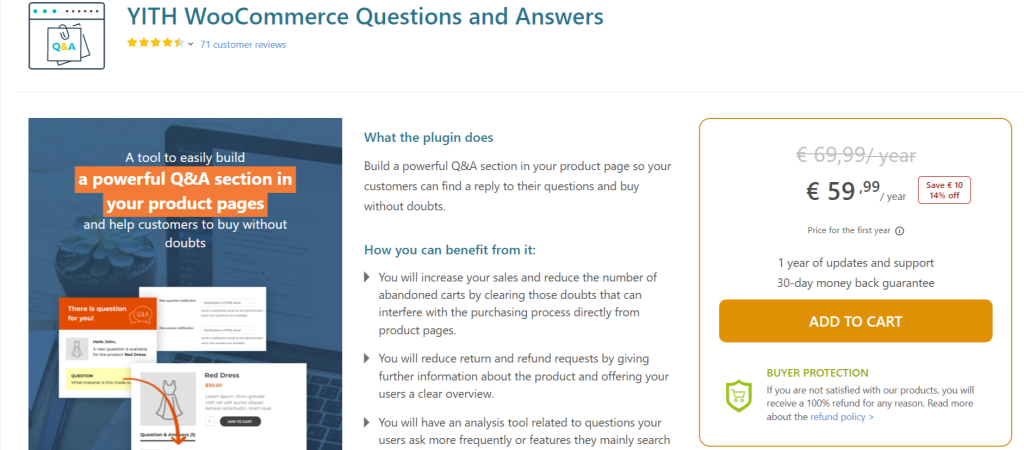 YITH WooCommerce Qs&As is a bit unique when it comes to FAQ plugins because it is designed for WooCommerce. Instead of accordion-style displays, the FAQs are displayed directly on the products page where the owner or staff of the store can answer them. It has email notification capabilities for users to get notified of answers and owners to get notified of questions posted. 
Best for
Features
Enables users to ask questions about specific individual items
Questions and answers are displayed directly on the frontend
Only authorized personnel can post or edit questions
Pros and Cons
| | |
| --- | --- |
| Pros | Cons |
| Useful as an FAQ as well as social proof | No accordion-style features are available |
| Extra channel for engagement in a store | |
| Allows users to get 'real' and instant answers | |
Pricing
Conclusion
The above FAQ tools we have just analyzed all offer varying levels of functionality and customizability with unique and stand-alone features that set them apart from each other. However, our pick for the best FAQ plugin for WordPress goes to Accordion FAQs.
It is a highly responsive plugin designed with a unique and helpful accordion-style display. The accordions are highly customizable and Q&As are also categorizable. It works seamlessly with most page builders Both free and premium versions are available which makes it accessible to businesses and sites of all sizes and expertise.