The Internet provides a wide variety of means to connect with people around the world. From blog to postings on social media are all fun and effective ways to communicate and socialize online. One such popular way to connect with people via the internet is a forum website.
Participating in a forum website is fun and useful as it allows communication between people sharing common interests. If you are a business owner, blogger, influencer, website owner, or just want to test your luck online; you can build an active online community by creating a forum for your audience.
Today I'll be discussing all the details on how to create a forum website so you can build one even if you are new to the online world. Before discussing the deeper details, let us first understand what a forum website is.
What is A Forum Website?
A forum website, also called a message board, is a conversation-based website where people carry out discussions around specific topics. It can be called an online meeting place where people post messages to participate in a specific discussion that interests them. Examples include Reddit, Quora, Stack Overflow, Warrior Forum, and similar others.
What else does a community platform offer you? Let's see,
Way for your readers to interact with one another.
Simple way to quickly answer reader questions or respond to many readers at one time.
Builds a sense of community among your site visitors.
Can attract new readers.
Reduce your marketing costs significantly.
Drive in more income by monetizing your community.
How to Start a Forum Website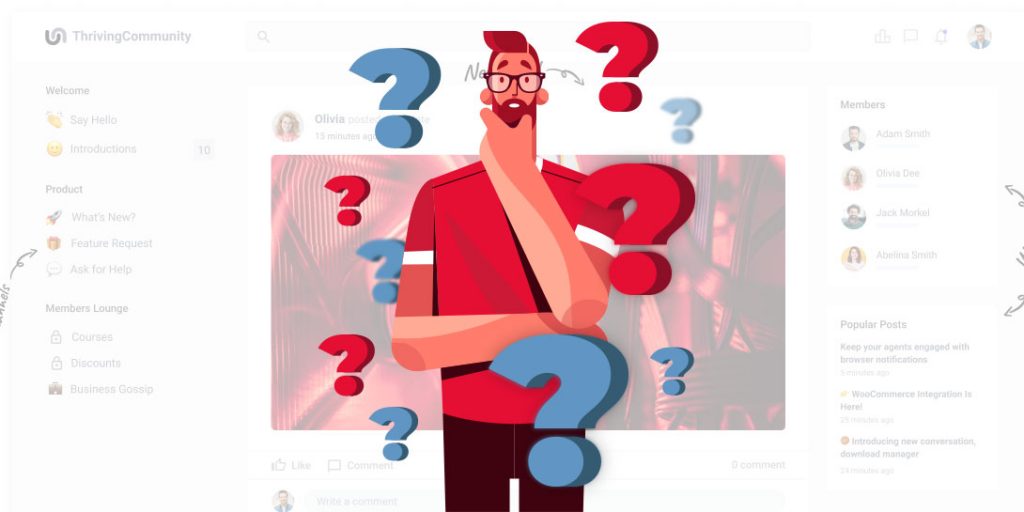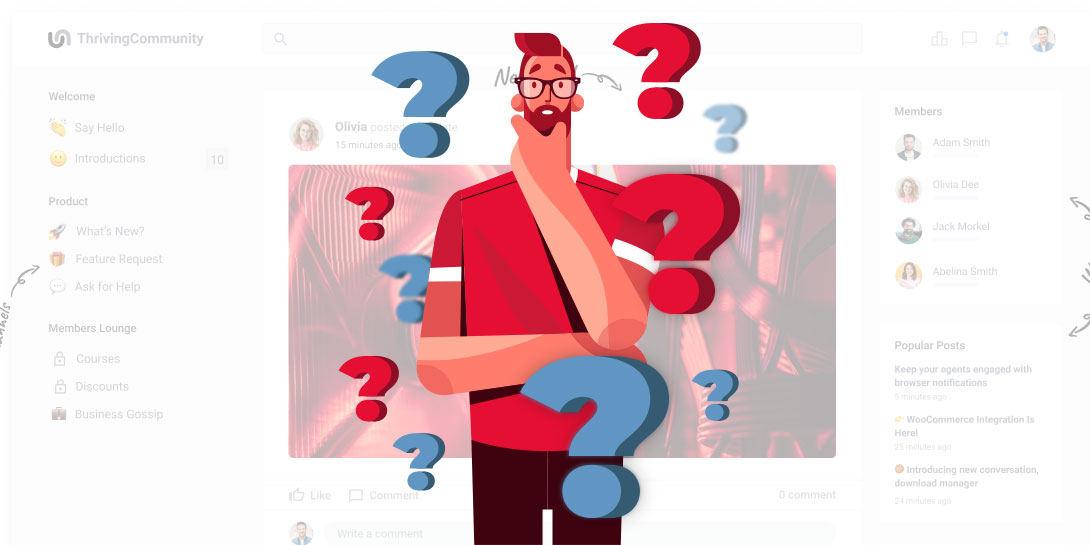 Starting a forum website is not much different than building any other type of website. Follow this easy step-by-step forum-building process to create one for yourself:
Choose the Right Forum Platform Software
Building a forum website starts with choosing the right forum platform software as per your current needs. Among the most popular free forum platforms are phpBB and WordPress's very own bbPress. Choosing bbPress is a great option if you love working with WordPress.
You can also go for a paid forum platform from the list above, depending on the features you desire for your forum website. If you want some specific unique feature for your forum like privacy-focused destruction-free discussion, a community for every use case, Organize your discussions in public or private channel then go for ThriveDesk.
Choose a Web Hosting and A Domain Name for the Forum
Choosing a domain name and a hosting plan is a prerequisite for creating any type of website. Once you are sure about the forum platform you are going to use, choose a name for your forum website and book a domain name for it. If you are not buying hosting from your platform developer, select the host of your choice after comparing and analyzing the hosting plans offered by different web hosts.
A lot of hosting providers offer a 1-click installation feature for multiple forum platforms to help you get started easily without any technical knowledge. Look for this particular feature when selecting a hosting plan if you don't want to take any professional help in creating a forum website.
Forum Installation
Once you have a website and decide upon the forum platform of your choice, it is time to install it. If you have the option of a 1-click install, it will save a lot of your time. If not, just follow the installation steps of the platform from the developer's website and your forum will soon be up and ready!
Selecting a Niche and Creating Forum Topics
The next step of starting a forum website requires you to select a niche around which all the discussions will be held. If you have an established business or, say, a beauty influencer; it is quite easy for you to pick your forum niche.
If you are starting from scratch, you can choose a topic you are an expert in as your audience might have questions for you, the forum creator, as well. Alternatively, you can choose to follow the SEO route to find a suitable niche for your forum website.
SEO tools like SEMrush will help you understand the market dynamics in a particular region and tools like Ivory Research, which will help you ensure the high quality of every post you make. Building a forum website around a topic in which your target users are already interested will ensure the instant success of your forum. forum.
You will have to create both topics and subtopics in the niche you select for engaging your forum visitors. For instance, a forum with niche "beauty" can have several topics like skincare, haircare, makeup tips, etc. These topics can again have several subtopics like winter care, oily skin, breakouts, dull skin, etc. under skincare, and so on.
Establishing Forum Rules
Now that you have created a forum and some topics, you will have to set some rules before routing your present audience to your forum website or bringing in the new one. Consider establishing rules against discriminatory comments, spam, foul language, religious or racial hatred, etc.
You can also check out the Terms and Services of other forum websites to get an idea about the same. Consider asking the new forum users to agree to the terms set by you before participating in the discussions.
Launching and Managing Your Forum
Once you are done setting the forum rules, you can bring in people to your newly created forum website. Launching your forum is only half the battle won, you will also have to manage it regularly to ensure everything is going well with your forum users. Moderate comments, ban abusive members, ensure that your forum terms are not violated, welcome new members, recognize the birthdays of your forum participants, start new discussions, and keep the conversation going to engage your forum members.
How much does It Cost to Build aForum Website?
The cost of building a forum website completely depends on your needs and preferences. You can create a forum website within a budget of $20 only. You just need to pay for a domain name and an entry-level hosting plan, to begin with. A forum can then be installed on this newly-purchased website using a free plugin.
The running costs of a forum website can also be under $10 per month. But of course, depending on the expected growth of your website and visitor count, the initial and recurring cost can go up to thousands of dollars especially if you choose to take professional help in building a forum website.
What are the Best Forum Platforms?
To build a forum website, you need to find a suitable forum platform that matches your requirements. Some platforms offer only the basic features while others come with unique and advanced features. The list below covers some of the best forum platforms including both the free and paid ones to suit every budget:
ThriveDesk
ThriveDesk is comparatively a new forum platform with a lot of potentiality with community space for creators, influencers, and businesses. You can easily drive user engagement by enabling your customers to come together, connect, and collaborate on ideas, discussions, and projects. For a distraction-free discussion and setting up a community forum for every use case like membership, course, product ThriveDesk is undoubtedly the best solution you have so far.
Highlight: Engage your customer by creating a thriving community forum with deep WordPress integration.
bbPress
bbPress is a fast and lightweight forum platform offered by the developers of WordPress. It is a multi-purpose platform that allows you to create both a standalone forum website or a regular website with single or multiple forums. It comes in the form of a plugin that can be easily integrated with your WordPress website.
Price: Free
Highlight: Comes from WordPress developers.
Discourse
Discourse is an open-source forum software built with JavaScript for modern browsers. It has an in-built moderation system that will save you time when managing your forum website. Additionally, it features an in-built mobile layout that will allow your forum participants to use it on the go.
Price:
l Free when self-hosted.
l One-time fee for getting it installed in the cloud from the community.
l All-inclusive plans start at $100 per month if you want platform developers to take care of the hosting as well.
Highlights: Built-in moderation system and multiple pricing plans.
phpBB
phpBB is open-source bulletin-board forum software with an extensive set of features. It is the most popular discussion board platform as it offers complete customization for your forum website. Because of its popularity, you can expect to receive guidance on any issue from fellow platform users on the official community forums of phpBB.
You can create sub-forums, display forum rules at the top, highlight active topics, and do much more with phpBB. The platform also allows you to create password-protected forums for additional security. Users can post both public and private messages with its intuitive board setup.
Price: Free
Highlight: Fully customizable
Vanilla Forums
Vanilla Forums is an open-source forum platform that is lightweight and easy to use. It comes with a statistics plugin that allows you to display your forum website stats on different pages. With an intuitive dashboard, you can perform a variety of functions and manage your forum with great ease.
The platform also offers an easy onboarding process to help you get started. It provides you with some useful training materials, checklists, and guidance from its customer support representative.
Price:
l Free open-source self-hosted version.
l All-inclusive paid plans with varying prices if you choose to buy hosting from the platform developer.
Highlight: Built-in statistics plugin.
MyBB
MyBB is a feature-rich open-source forum platform. It comes with more than 2,400 themes and plugins giving you endless options for customization. Available in over 30 languages, MyBB helps you target the global audience no matter what language your forum participants use.
The platform puts security first and even has a "Security Hall of Fame" to recognize users who disclose software vulnerabilities to the developers. It also has a "Merge System" that allows you to merge different MyBB installations and can handle conversions from other forum platforms like bbPress, phpBB, and more.
Price: Free
Highlights: Availability of hundreds of themes and plugins, multiple language support.
vBulletin
vBulletin is a powerful, feature-rich forum platform that allows you to create a fully customizable forum website. Used by NASA and Sony Pictures, vBulletin is one of the best forum platforms you will come across. It offers a secured environment, responsive web design, a clean interface, and built-in SEO tools.
The platform offers tons of unique features for your forum participants including the creation of a friend list, private messaging, the ability to see the online status of members, displaying member birthdays, and more. You can expect to receive high-quality support from the vBulletin customer support team.
Price:
l Plans start at $14.99 per month for a fully-functional forum hosted by the developers on vBulletin Cloud.
l Self-hosted "vBulletin 5 Connect" software at a one-time cost of $249.
l Bundle of self-hosted "vBulletin 5 Connect" software and "Mobile Suite" at a one-time cost of $399.
Highlights: Built-in SEO and plenty of unique features.
WordPress
I'm sure you already know a lot about WordPress. But have you ever thought of creating your forum website with this most popular Content Management System? WordPress offers immense power and flexibility to build any type of website you might desire. This very fact leads us to create a forum website using the most loved website-building platform WordPress!
You will find a wide variety of plugins that are compatible with a WordPress website. Among them are some that allow you to create a forum website of your choice. Asgaros Forum, ForumEngine, CM Answers, wpForo Forum, Simple:Press, and bbPress (discussed above) are a few popular WordPress plugins to quickly set up your forum over a regular WordPress website.
Whether you want to create a standalone forum website or add a forum alongside a regular website, WordPress is the best option. It is both flexible and extremely easy to use.
Price: It completely depends on your requirements. You will be paying the WordPress hosting charges and the cost of the plugin if you choose a premium option. In my opinion, a free plugin carries enough features to create a fully functional forum website.
Highlights: Beginner-friendly, easy to use, and most flexible platform.
Conclusion
Forums are a great way to attract new audiences and engage the existing ones on your website. It helps improve your website traffic and business if you have an existing website or business. A standalone forum website is also a great way to develop a dedicated online community.
When creating a forum website, pick a platform that is widely known to ensure high-quality service and reliable customer support. I'd recommend choosing a free forum platform and the cheapest hosting plan initially, and upgrading the hosting plan as your forum grows.
So, have you decided on your forum niche yet? I'd love to know about it and also about the forum platform you have chosen for your website.