Online businesses are so common nowadays, and with eCommerce platforms, it has become so accessible for entrepreneurs from around the world. However, selling the products over the internet except physically has its own benefits.
Now, with WooCommerce, you can sell digital products with less complexity and easily skip the technical difficulties of so-called physical goods selling. You can also make one-time and recurring payments using WPSmartPay plugin for WooCommerce.
In this article, I am going to show you how you can sell your digital products with WooCommerce and boost your sales using Paddle for WooCommerce.
How to sell products with WooCommerce
Let me explain with a real-life example.

Suppose you want to start an online education portal. And so, you conduct a list of courses in Web Designing and decide to use WordPress as your Content Management System (CMS). When a customer is enrolled in a course, you plan to send a hard-copy or a flat rate shipping of the relevant reference book.
Now, to achieve the solution, you can create two separate WooCommerce products – one digital and another physical. This is how you can sell your products with WooCommerce.
However, in this article, we only discuss selling digital products with WooCommerce.
Configure Downloadable Products in WooCommerce
To sell your digital product first you have to configure the downloadable product. Once you have completed this task, you are ready to proceed with the configuration of your eCommerce store for digital products.
Tasks is to set up the download method,
First, log in to your WordPress Dashboard
Then go to: WooCommerce > Settings > Products > Downloadable Products.
Finally, select a File Download Method from the dropdown.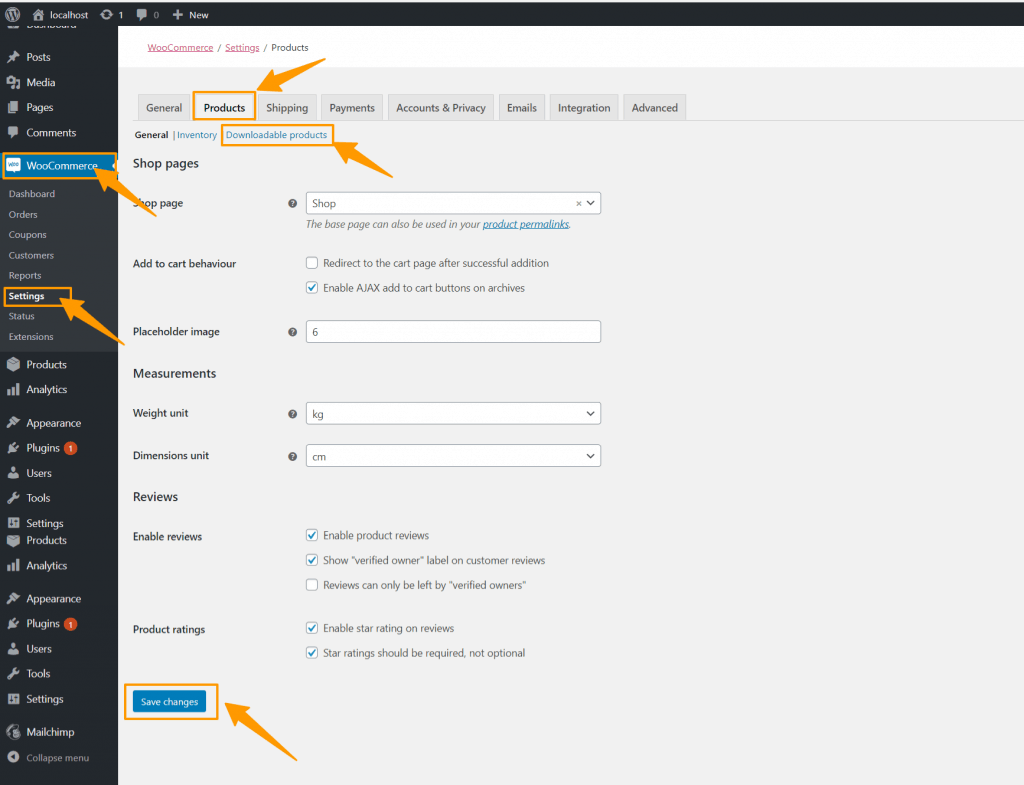 There are three different methods of downloading available files.
Force Download: For force download there's use PHP. Your documents need to be safe and so, your servers need to be powerful, especially with large files. There can happen timeouts while purchasing any product and it can impact the credibility of your store.
Redirect Only: Users are forwarded to the folder using a URL for this sort of purchase. One thing about this is that anyone with the connection can enter the folder.
X-Accel-Redirect / X-Sendfile: To manage the file, the X-Accel-Redirect / X-Sendfile module must be installed and activated on your server. However, you must ensure that the systems are well installed and also the download method is safe and reliable to use. Force Download: For force download, there's use PHP. Your documents need to be safe and so, your servers need to be powerful, especially with large files. There can happen timeouts while purchasing any product and it can impact the credibility of your store.

Set up additional configuration options
You can also set up additional configuration if needed and to do so just do three simple steps like below,
First, you have to select a level of Access Restriction. Then click the Downloads Require Login checkbox only if you want that users to be logged in to download files. And disabled the Guest checkout.
Secondly, click the Grant access to downloadable products after payment checkbox.
Save changes.
How to create a digital product with WooCommerce
Downloadable Simple Products
To create downloadable simple products follow the below instruction. Also, the image will guide you for a perfect understanding,
Go to WooCommerce > Products > Add Product to add a new Simple product.
After then click the Downloadable checkbox. There are two more options that will appear: Downloadable Files, Download Limit.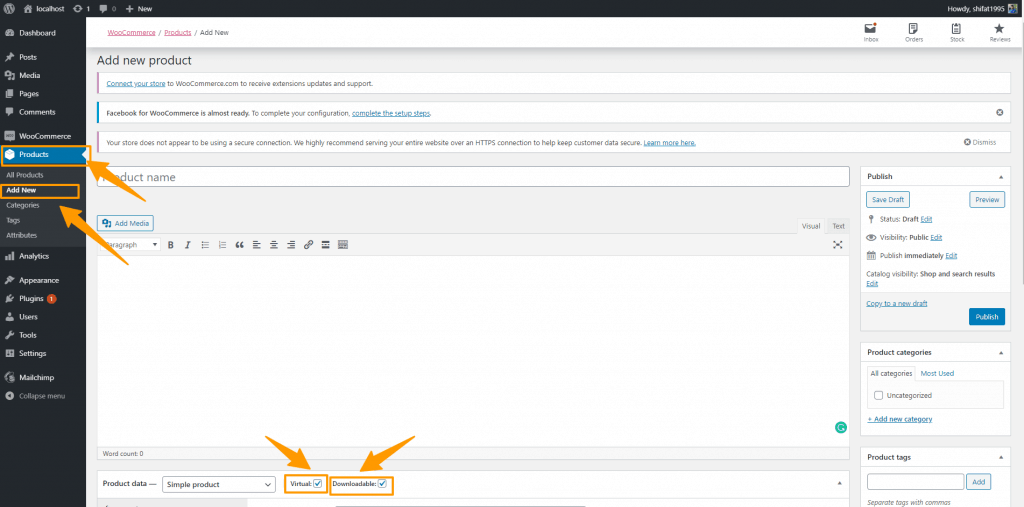 Now, select the Add file button, and rename the file. If it's hosted elsewhere, enter the downloadable URL. Otherwise, select the Choose file button to either insert an existing file from your Media Library or to Upload a new file.

Then, Upload the file and click Insert to set up each downloadable file URL. When the upload is complete match the URL of the product to the URL of your site.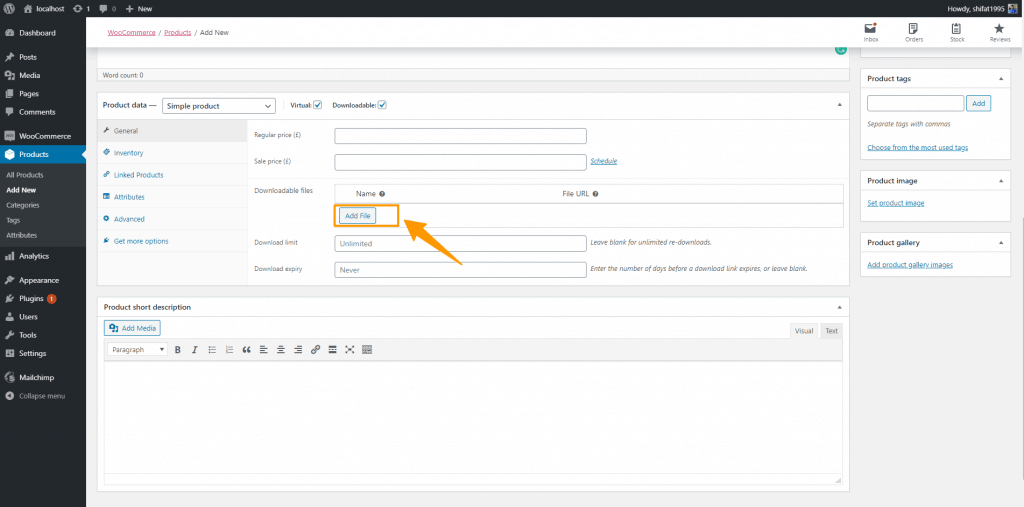 You can set the Download Limit but it's optional. Once a user hits this limit, they can't download the file anymore.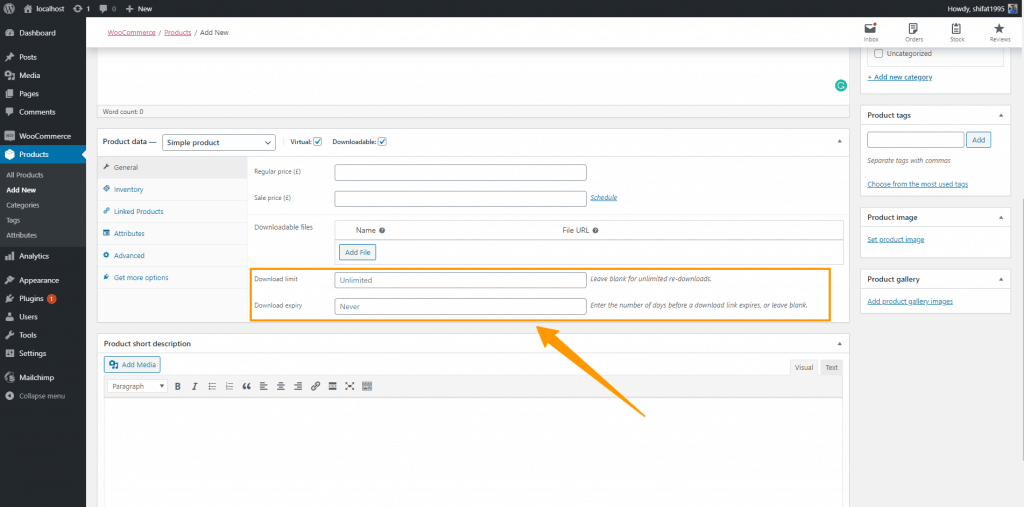 Downloadable Variations
You can get the Variable products as a downloadable variation. When adding a variation, click the Downloadable checkbox. There more options will appear.

The existing options work the same as regular products; therefore; Set the file path, optionally choose a download limit and expiry, and then save.
Combining downloadable and virtual products
If you click the Downloadable checkboxes, products are treated as physical products and allow you to sell downloads and real products together. But if you want to add/sell a downloadable product that is not physical, then enable the Virtual option.
Select some great plugins to boost your sales
WPSmartPay for Paddle Payment
WPSmartPay for Paddle payment is an ultimate eCommerce + website solution. We already know that Paddle is now one of the most used payment platforms for WordPress. And WPSmartPay is the number one paddle payment plug-in here.
For those who want to focus on selling their digital products online and also conduct one-time payment and recurring payment, then WPSmartPay is an excellent integration for the most popular and most customizable eCommerce platform WooCommerce. It will help you to boost your sales for sure.
WooCommerce Memberships
Exclusive offers over specific content and product are some of the great ways to manage recurring income for your store. And here, Memberships extension provides great flexibility to you because when you are selling exclusive stuff, this is what your customers want and really interested in opt-in.
Even offering a small discount for the customer would work heavily in your favor. WooCommerce membership extension combines the subscriptions and memberships with a commonly used strategy and ensures your selling boost up.
Amazon S3 Storage
Amazon S3 is a commonly used storage service offered by Amazon for the eCommerce stores that sell digital products. It provides a great option to store and retrieve massive volumes of data for the e-commerce owner.
This WooCommerce extension helps you to link your products to Amazon S3, and therefore you can offer your downloadable products to your customers through the S3 URL. You can also specify the download location and file path using shortcodes. This is the most reliable solution to serve downloadable products to your customers.
Bulk Download
If your customer purchases multiple products in one order, then having an option to download all at once would be a great thing. Here, the WooCommerce Bulk Download extension will help you to give your customers such an option to download multiple files by selecting all.
Additionally, there is an option that you can download multiple files in a single ZIP file.
Wrapping Up
This is how you can sell your digital product with WooCommerce; a step-by-step guide for you. You can try WPSmartPay; a must use paddle payment plug-in for WooCommerce and EDD. Also, don't forget to share your opinion in the comment section below. We want to know your thoughts because we always care about it.