Online Learning Platforms is the new face of the education and coaching business in this fast-moving world. Once you choose a WordPress LMS (Learning Management System) Plugin, it's going to be a very tough job to change it for a different plugin. To prevent such calamity, we are discussing LearnDash vs Tutor LMS and going to help you choose the best plugin that suits your site.
To get your site up and running you need to do some research on the options of plugins in the market and also need to know what they offer. Seems very overwhelming, doesn't it? But don't worry we got your back. We are presenting to you an industry leader LearnDash and a rookie with abundant features Tutor LMS.
So without further ado, let's jump right into the comparison review between LearnDash vs Tutor LMS!
Quick glance at the main feature comparison of LearnDash vs Tutor LMS.
| | | |
| --- | --- | --- |
| Features | LearnDash | Tutor LMS |
| Employee Training | Available | Not Available |
| Gamification | Available | Not Available |
| Data Export and Import | Not Available | Available |
| Video Courses | Available | Available |
| Scheduling | Available | Not Available |
| Class Management | Not Available | Available |
| Multiple User | Available | Available |
| Student Registration | Available | Available |
| Auto enroll after payment | Available | Available |
LearnDash: The Industry Leader?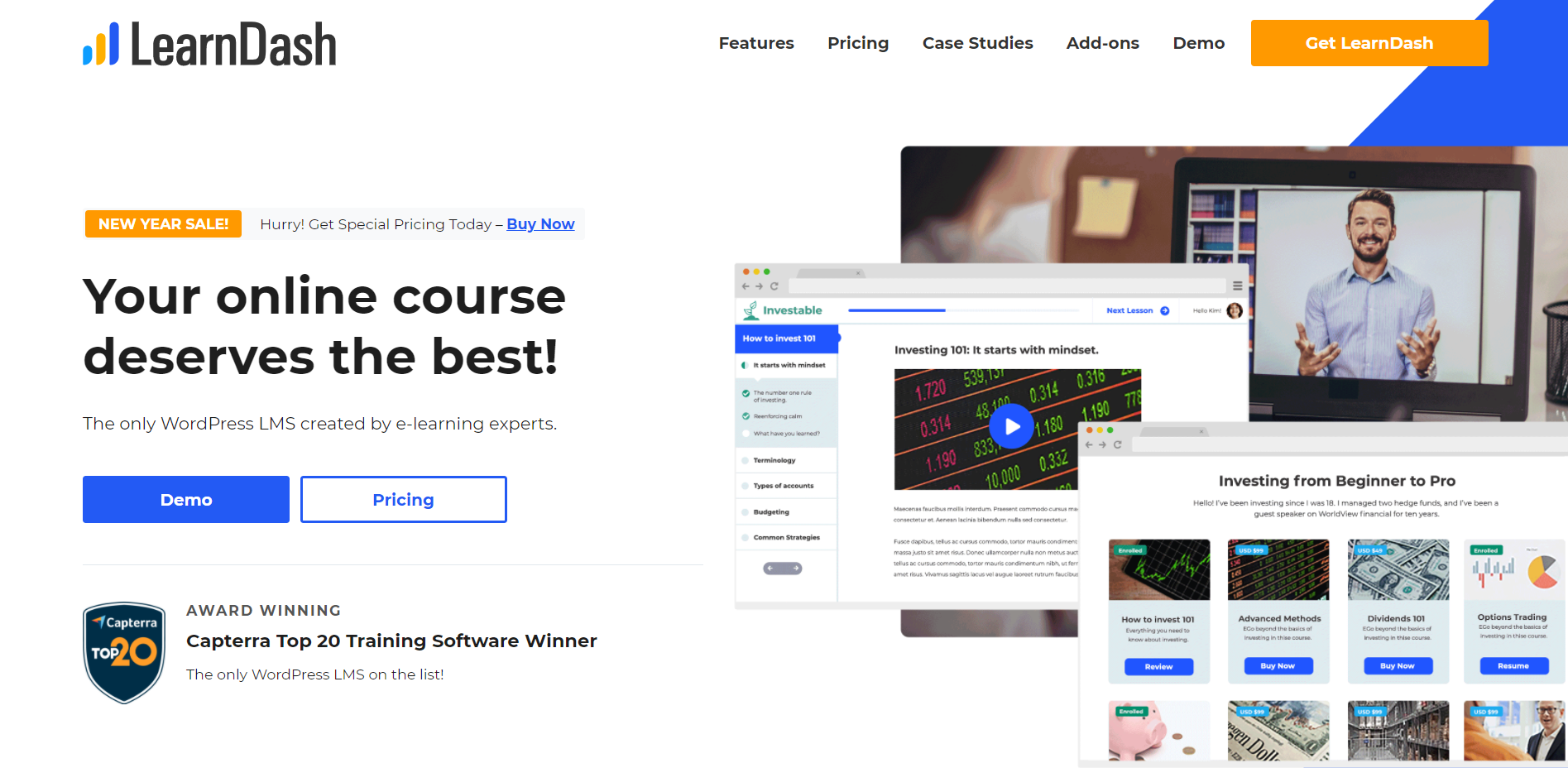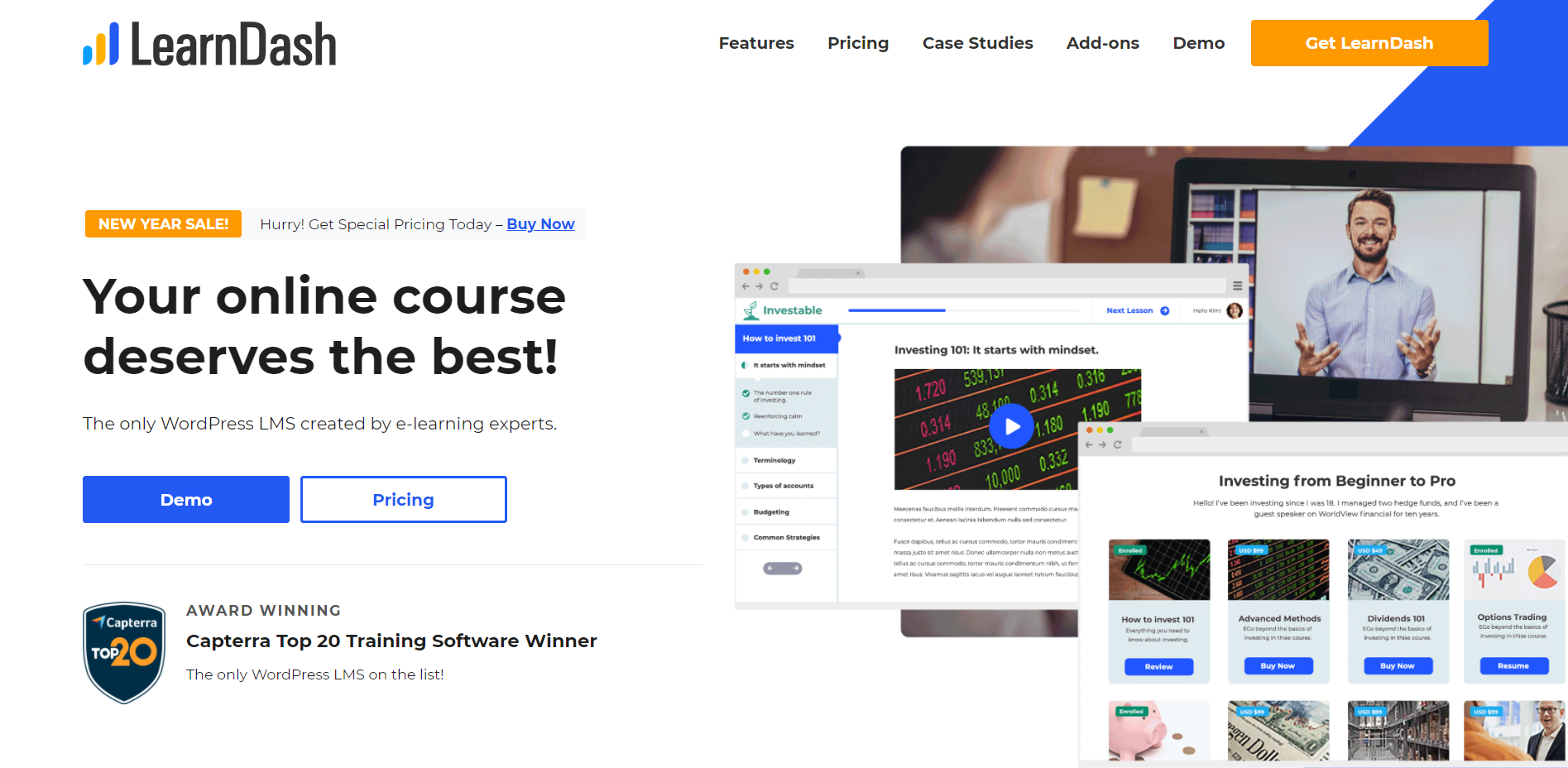 LearnDash, a name which is commonly heard, is maybe the oldest WordPress LMS Plugins out there. Making its name since 2012, it has been picked up by many big brands and universities over the past years. Not only it has a lot of features but LearnDash is partnered with Astra which opens a huge door of astonishing themes at your disposal.
You will be able to create courses and will be also able to add lessons, topics, quizzes, categories, etc. within the courses. The deep feed content function of LearnDash allows you to schedule a course according to your preferences. Also, you can easily conduct online training or webinars with the best webinar software Zoom.
Important Features of LearnDash:
The quizzing options of LearnDash are very engaging for both students who want to learn and students who think education is boring. You can always increase the types of quiz options on LearnDash by simply getting their Advanced Quizzes Add-Ons.
LearnDash Course Builder:
Build your course with ease as you won't have to leave the page again and again. While building a course you can easily add stuff such as sections, lessons, etc. with just a single click. Building a fully fledged course will just take a few minutes with LearnDash.
People often love easy stuff, which takes less effort and also less time. The payment integration of LearnDash is fast, secure and effortless. It offers a bunch of payment add-ons along with PayPal and WooCommerce Integration, so that you can work with things you are comfortable with.
PayPal is the name everyone heard in this modern world, and this big online payment system comes in as built-in in LearnDash. Though there will be some necessary settings which you have to fill out which is going to take just a few minutes to complete, other than that no additional install or add-on is required.
Users of LearnDash:
Over the years LearnDash has been picked up by many big universities, brands and entrepreneurs. John Hopkins University picked LearnDash for their TCI University Project. This is a major urban health project which has been initiated and backed by the Bill & Melinda Gates Institute for Population and Reproductive Health. When it comes to blogging, ProBlogger is a name almost everybody hears. The ProBlogger team offers two courses on how to improve and do better in the field of blogging and both courses are managed by LearnDash.
Pricing of LearnDash:
An industry leader such as LearnDash doesn't come in cheap. Unlike other WordPress LMS Plugins, there is no free version of LearnDash that you can try out first. The price of LearnDash can be ranged from $199 to $369. The Basic Package is the cheapest which costs $199 while the Plus Package costs a little more which is $229. The most expensive package of LearnDash is their Pro Package which will cost a total of $369. All the packages contain bonus contents so you can think of these as a good deal.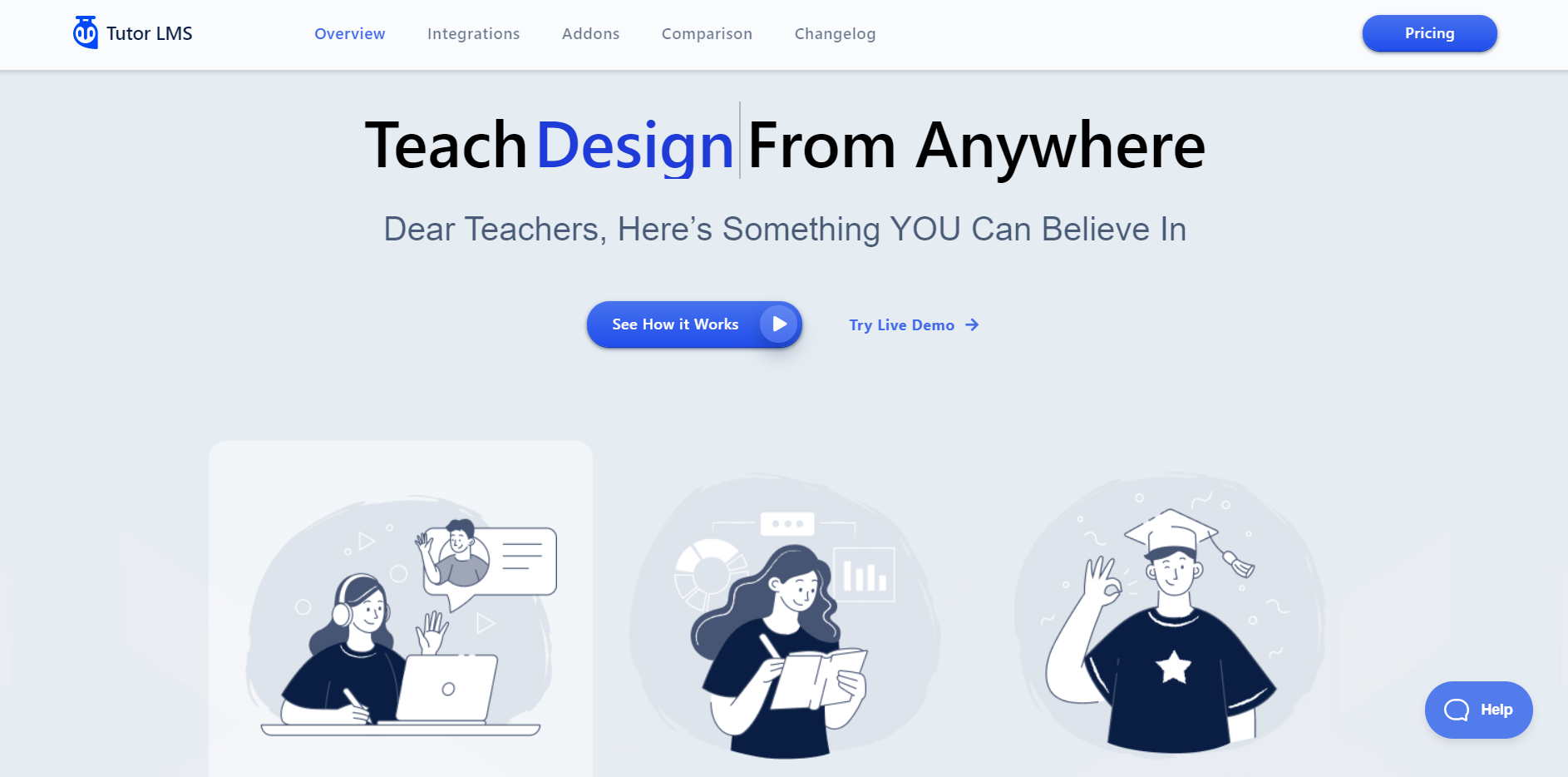 Tutor LMS is a new plugin that made it's entrance in the world of WordPress LMS Plugin in 2019. Since then, it offers an abundance of features and provides a very user friendly avenue. One of the best features that really needs to be mentioned is the Drag & Drop online course builder of Tutor LMS along with more than 10 question types. This plugin also offers a lot of different add-ons like multiple instructor, reports, assignments, prerequisites, etc. to keep your learning platform more enthusiastic.
Important Features of Tutor LMS:
Quirky Course Builder of Tutor LMS:
Before creating any course make sure that you already have a few Instructors registered to your site so that you can easily assign them to any course while creating one in Tutor LMS.
Building a course is one of the most easy tasks as the Tutor LMS Course Builder is as easy as it gets. It has a very easy to understand Drag & Drop feature that helps you to build a course very efficiently while having fun. You can add a new topic to your course with just a single button where you can also give its name and summary. After all the necessary steps you can start adding lessons and quizzes to those topics.
In Tutor LMS you can have multiple topics and those topics can have multiple lessons and quizzes, all in a single course. Sometimes a load of quizzes and lessons inside a single topic can be frustrating, that is why we would recommend 2-5 lessons and 1 quiz for maximum effectiveness.
Tutor LMS also allows you to add a Course Intro Video for the betterment of your students. Through that video a student should be able to understand that the course offers and get a complete overview of the course.
Quiz is the most likely the only way to know how much the students have grasped your lessons, and it also scares the students to an extent. With Tutor LMS you can create both amazing and interesting quizzes that your students will love.
Quiz options such as, Yes or No, Single Choice, Ordering, Image Answering, etc. can keep both your quizzes and course interesting. These unique quiz options of Tutor LMS will be able to bring more interest to your students and keep them more engaged towards your course.
Tutor LMS gives a bunch of choices everywhere for your comfort. This WordPress LMS Plugin has teamed up with almost all the big names so that your students can pay you with ease. WooCommerce, Easy Digital Downloads (EDD), etc. are available in Tutor LMS to bring a seamless eCommerce Experience.
With Tutor LMS you can create any type of monetization plan using their best payment integrations. If you want you can also add shopping carts, one time purchase, lifetime accesses, subscriptions models and many more to your courses.
Users of Tutor LMS:
Tutor LMS is designed for ease and comfort for anyone who wants to create an educational or training website. Being new in the industry this WordPress LMS Plugin has been picked up by some biggest and best e-learning platforms such as Udemy, Coursera and so on. This plugin is also being used by some educational institutes and its constantly increasing day by day.
Pricing of Tutor LMS:
An industry rookie like Tutor LMS which has abundant features that will make both your business and website proper, comes with a free version. There will be some limitations in the free version but that is rather expected.
Tutor LMS also offers 3 premium packages with 3 different prices which can be bought as both Annual and Lifetime. The first and cheapest package is Single License which costs $149 in Annual and $399 in Lifetime with 1 Domain License. The second package is 5 License Pack which comes in $199 in Annual and $599 in Lifetime with 5 Domain License. The last but not least, the most expensive package is the Unlimited Licenses which would cost you $299 in Annual and $999 in Lifetime with obviously unlimited domain licenses.
Tutor LMS vs LearnDash: Detailed Comparison!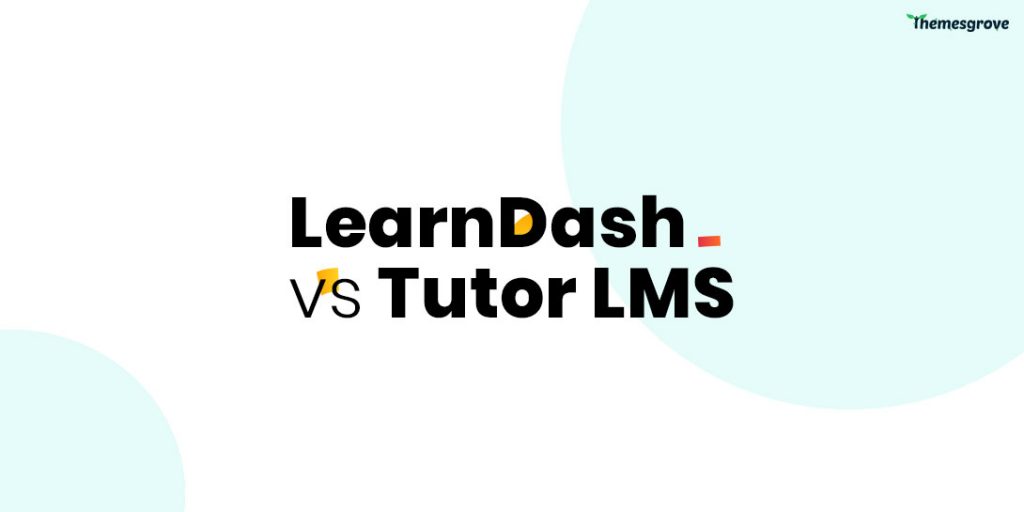 Online Courese Builder
The heart and the most important feature of any WordPress LMS Plugin is its online course builder, which is also the biggest comparison of Tutor LMS vs LearnDash. The LearnDash course builder offers a one page builder where you won't have to leave the page, again and again, to complete building a course. On the other hand, a one it's kind Drag & Drops feature of Tutor LMS course builder brings both fun and comfort to the game.
Advanced Quiz System
The advanced quizzes of Tutor LMS are so massive while being unique in its own way that it also beats LearnDash. LearnDash offers a wide variety of quiz options that can keep students interested while Tutor LMS offers a unique quiz type that will definitely keep students asking for more.
Payment Integration
The payment integration of both LearnDash and Tutor LMS is almost similar. LearnDash brings the biggest online payment named PayPal to the game as its built-in payment integration. Meanwhile, Tutor LMS brings another popular name, WooCommerce to the platform. Though Tutor LMS provides more options of payment than LearnDash does.
Value for Money
There will always be some features more in a plugin than others but the only thing really differentiates and makes something a complete winner is its pricing according to value for money. The cheapest package of LearnDash is $199 while Tutor LMS offers it at $149. On the other hand, the most expensive package of Tutor LMS is $299 and LearnDash offers it at $369 which is $70 more than Tutor LMS.
Pros and Cons of LearnDash and Tutor LMS according to User Rating from Get app
LearnDash is rated 4.6 out of 5 with rating of 4.4 as the Ease of Use. The Customer Service rating of LearnDash stands at 4.7 out 5.
| | |
| --- | --- |
| Pros | Cons |
| "What is not to like about this? Multi-tier courses, classes, teacher interaction, and a handful of gateways to round out this system. There are really too many features to list, and most of them are rounded really nicely. Customer support is quick and easy to work with, the cost isn't prohibitive as this LMS supports creating large projects, and the features feel like fully-realized and integrated aspects of a complete software, not just bolted on options on a lesser-thought-out plugin." | "We ran into a compatibility issue with our event software. It ended up breaking the software, and we had to axe the event system we had put in place because we wanted to use this LMS over others. We also ran into a problem where we couldn't create a class online to register with, and then host the classes offline, manually entering a grade and pass/fail for in-person testing very well. Our specific use-case ended up being the one that this software couldn't handle." |
| "I'm not the developer of my site but I do make all of the changes, etc. So when my students were purchasing classes but the classes weren't getting onto their dashboard immediately – I contacted LearnDash and they helped immediately. What a relief!" | "Because the developer I used was the one to implement the software, I wish I could say more here. However, I don't have anything to share here because I use it to load classes etc. but that is all. And customer service helps me when I need it. I also realize I need to learn more to take care of a few issues but I don't feel that is a LearnDash concern." |
| "Easy to use (comparatively speaking) for course developers and students and 100% reliable. Has to be 100% reliable." | "A typical software, a bit too complicated – but I guess that is software!" |
Tutor LMS is rated 4.7 out of 5 with rating of 4.7 as the Ease of Use. The Customer Service rating of Tutor LMS stands at 4.7 out 5.
| | |
| --- | --- |
| Pros | Cons |
| "At first I was worried that it would be really complex like other plugins. But then I got it going and it's really easy to set up. Basically, it just flows when you are building, and drag and drop help out a lot. You can build a simple or complex learning management system with free or paid capabilities." | "Would like the option to have templates to choose a different style." |
| "We used the free open source edition and we were impressed about the easiness of integration with WordPress and ability to edit the source code to fit our need, in short: 1- Ease of integration. 2- Flexibility to be edited. 3- Free." | "1- Lacks some of the major LMS features such as Evaluations, certifications, etc. (It's found in the paid edition of course) 2- No support for the free edition, but the open source community is more than enough for us." |
| "This software has good advantages points but most of it for me as a developer is easy to develop, unlike other lms; tutor has cool documentation help me with edit classes , controllers and customize view , the ease to develop open the door to dozen function to be add as i have the great built in functions, that make me said that tutor lms is a greate lms to start with , if you have the right developer you can do anything with it." | "Tutor lms has major disadvantages. I believe they did not consider appearance when they build lms. I mean what a bad look student dashboard has, they even forget to have breadcrumbs which cost me nothing to add but that affect the overall image of lms." |
Best Alternative: LifterLMS
Considering LearnDash vs Tutor LMS, LifterLMS is another player in the world of WordPress LMS Plugin. This plugin can work with any existing Education WordPress theme, and also build a new theme to your liking in very simple steps. The online course builder of LifterLMS is a simplistic one that brings options like create, edit, delete of course into a single dashboard.
LifterLMS also has a free version with different price packages. Each premium package contains Add-Ons, which can also be bought separately.
Conclusion of LearnDash vs Tutor LMS: Which one to choose and Why?
LearnDash vs Tutor LMS: both the best WordPress LMS Plugin out there. Like all the other things they also have their good and bad sides too.
The first thing is LearnDash doesn't provide free options while Tutor LMS has. If you are looking for a minimal solution that meets your initial needs without cost, go for Tutor LMS. No offense, with LearnDash, you will get those minimal options too, but with a price. After using Tutor LMS for some time, if you really feel comfortable using it, we would recommend buying one of their lifetime packages as you never have to pay them again after purchase. Besides, Tutor LMS provides you a lot more customization options over LearnDash that ensures an easily manageable experience for sure.
While using LearnDash and its features, you will definitely be able to see why it has been picked by some of the most prominent universities and brands. Finally, If we talk about payment integration, LearnDash brings the biggest online payment named PayPal, to the game as its built-in payment integration where Tutor LMS did with the WooCommerce platform. This might give you extra benefits in some cases, I guess.
So, these were our thoughts between LearnDash vs. Tutor LMS. We categorically described every vital point to give you an unbiased and meaningful comparison guide. Don't forget to share your valuable opinion in the comment section below.