Like choosing an LMS WordPress site, picking a WordPress LMS plugin is a tough decision too. But not anymore! As part of our series comparison of the best WordPress LMS plugin, we have already shown you an in-depth comparison between LearnDash vs Tutor LMS. In this blog, we will show you a hands-on comparison between LifterLMS vs LearnDash. If you miss the previous one, please read the excellent post from the link below.
Read: LearnDash vs Tutor LMS: Which One is the Best WordPress LMS Plugin & Why?
Both LifterLMS and LearnDash are the best and most popular in the market or world of WordPress LMS Plugins. The things that set these two plugins apart are the prices and some of the important features that set your website as an example and obviously keep your business booming!
In this LifterLMS vs LearnDash comparison, we will go deep into these WordPress LMS Plugins and let you know which is the best one for you to work with. We will be also sharing our personal thoughts on both LifterLMS and LearnDash. Searching for the best WordPress LMS plugin will no longer a hard decision for you!
Quick glance at the main feature comparison of LifterLMS vs LearnDash.
| | | |
| --- | --- | --- |
| Features | LifterLMS | LearnDash |
| Multimedia Support (including support for video lessons) | ✔️ | ✔️ |
| Dip feeding of content | ✔️ | ✔️ |
| Drag and Drop Course Builder | ✔️ | ✔️ |
| Gamification Features (i.e. Quizzes, Certificates, Badges, Awards, etc.) | ✔️ | ✔️ |
| Support for One-Time as well as Recurring Payments | ✔️ | ✔️ |
| Course Groups and Bundles | ✔️ | ✔️ |
| Focus Mode | ❌ | ✔️ |
| Free Version | ✔️ | ❌ |
| Student Dashboard | ✔️ | ✔️ |
| Affiliation | ✔️ | ✔️ |
| Data Export And Import | ✔️ | ✔️ |
| Scheduling | ✔️ | ✔️ |
| Class Management | ❌ | ✔️ |
| Multiple User | ✔️ | ✔️ |
| Student Registration | ✔️ | ✔️ |
| Auto Enrolls After Payment | ✔️ | ✔️ |
| Course Prerequisites | ✔️ | ✔️ |
| Multiple Instructors | ✔️ | ✔️ |
| Award Certificates | ✔️ | ✔️ |
| Course Attachments | ✔️ | ❌ |
| Student Forum | ✔️ | ✔️ |
| Course Preview | ✔️ | ❌ |
| Advanced Quizzing | ✔️ | ✔️ |
| Quiz Grading Method | ✔️ | ✔️ |
| Quiz Timers | ✔️ | ✔️ |
| Multisite Enables | ✔️ | ✔️ |
| Multiple Payment Gateway | ✔️ | ✔️ |
| Employee Training | ✔️ | ✔️ |
| Free Courses | ✔️ | ✔️ |
| Course One-time Purchase | ✔️ | ✔️ |
| Gutenberg Compatible | ✔️ | ✔️ |
| Device Friendly | ✔️ | ✔️ |
| Showcase Course Rating | ✔️ | ✔️ |
| Course Lifetime Access | ✔️ | ❌ |
| Course Bookmark | ✔️ | ✔️ |
| Course Track | ✔️ | ✔️ |
| Student Bulk Enrollment | ✔️ | ✔️ |
LifterLMS: The Industry Rookie?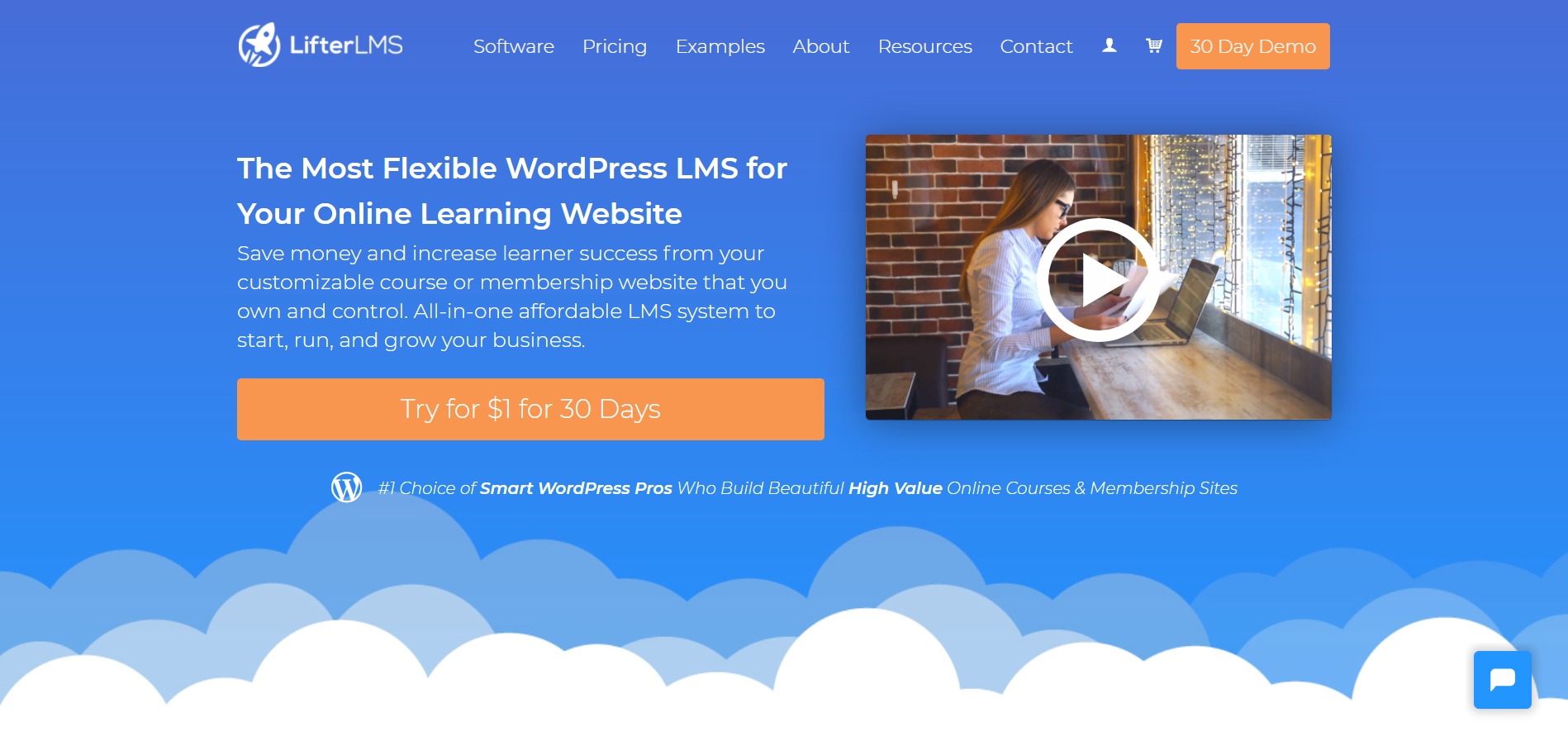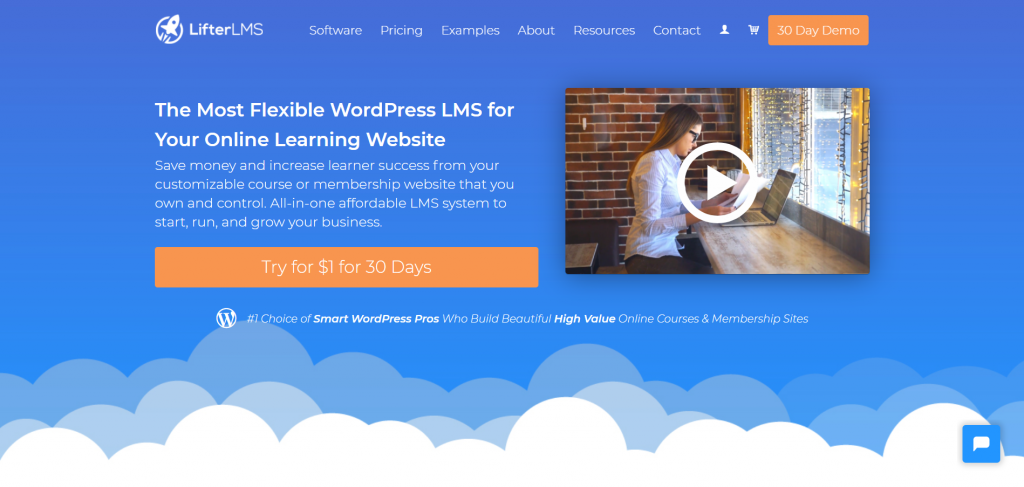 LifterLMS is a WordPress LMS Plugins designed to provide the best LMS service to your clients. This plugin can work with any existing WordPress theme or if you like any theme then it is very easy to build a new one. The things that set LifterLMS apart from the rest of the WordPress LMS Plugins are its many key features, which will make your Learning management system not only modern looking but also easier for you to handle.
Best Features of LifterLMS
LifterLMS Course Builder:
LifterLMS Online Course Builder Dashboard brings simplicity and perfection in one place. Within a single dashboard, you can easily create, edit and delete courses and it's sectioned very easily without any prior knowledge.
It doesn't end here, on the right side a slider window should appear where you can freely configure everything about the course. Which makes it even more convenient, as you won't have to leave the dashboard.
Lesson access, membership, course prerequisites, and whether you want to set this course up to a drip, and many more will be available there for you to work with. At the very end make sure to save your changes otherwise you might have to do some considerable extra work.
Setting lessons in LifterLMS is, even more, easier to grasp than the course builder. The lesson-level settings inherit the value of the setting of their parents just like course-level settings do. This means you will have to spend less time on it and can be built very easily within a few minutes.
In the lesson setting of LifterLMS, you will be able to find three more options other than course settings. You can set it as "Course Setting" which will automatically use the course's setting or "Global Settings" which will simply use the global settings. All these options will be at your disposal all the time and are only one click away.
The other two options are "Enabled" and "Disabled" which will explicitly overwrite the parent setting for that particular lesson.
With the help of advanced quizzes of LifterLMS, you will be able to build very interactive and immense quizzes for your students. There is a wide range of different varieties or quizzes that will keep you students excited and looking forward to the next one.
Multiple choice, image choice, freeform answers, short answers are the few names within a wide range of quiz options. These wide ranges of quizzes allow students to fully gauge their own understanding of the course material.
The quiz builder of LifterLMS is also quick and straight-forward. All the things that you will ever need to take a full-fledged quiz for your students are at your disposal. Things like passing grade, number of students who can attend the quiz, time limit, and many more are only a single click away.
Affiliation is a great way for you to expand your course or membership sales. LifterLMS integrates with two third-party affiliation software, which is AffiliateWP and iDevAffiliate.
AffiliateWP is a very easy-to-use software and a reliable WordPress plugin with a lot of useful marketing tools. AffiliateWP keeps record referrals and tracks commissions via LifterLMS courses and Membership sales.
iDevAffiliate another user-friendly software with a built-in front-end template, which will easily integrate into your website, and all of these will just take a few minutes to install. iDevAffiliate offers a lot of features, such as multiple commissioning options, direct Facebook or Twitter marketing, and many more in 30 different languages.
Payment is rather important in these plugins as you will be selling your online courses to unknown people all over the world. LifterLMS features various payment gateways for you to use. PayPal, Stripe, WooCommerce, and many more are there, so won't have to work with one but many options.
Every one of these gateways can be used very swiftly just by installing its extension, which might not take more than a few minutes. LifterLMS is actively working to bring more payment gateways for the betterment and will soon be released for your disposal.
Other than these branded gateways, a manual payment gateway is also a considerably good option as it is included in the LifterLMS Core. By this manual gateway, you can define a custom process for your students for accepting payments for your courses and memberships.
Recurring payments can also be handled by the Manual Payment gateway. When the payment is due the order will be switched to "On-Hold" and the Payment Due notifications will be shown and sent to the student.
After the payment is recorded successfully the student will be re-enrolled automatically and the order will be switched to "Active" until the next due date of the payment.
Users of LifterLMS
LifterLMS are one of the powerful and best WordPress LMS Plugins along with some others. Big companies and universities always prefer powerful plugins for their own websites which gives them a huge amount of flexibility.
LifterLMS has been picked up by a lot of big companies and universities. Tiny Chefs are one of those brands that picked LifterLMS as their basis for teaching children the fun of cooking. On the other hand, companies like Health Care Transformation have taken health care to the next level with the help of this plugin.
Pricing of LifterLMS
Individual Add-Ons: $99+ per year, includes 1 Active Site.
Universal Bundle (Most Popular): $299 per year, includes 5 Active Sites.
Infinity Bundle: $999 per year, includes Unlimited Active Sites.
LearnDash: The Industry Leader?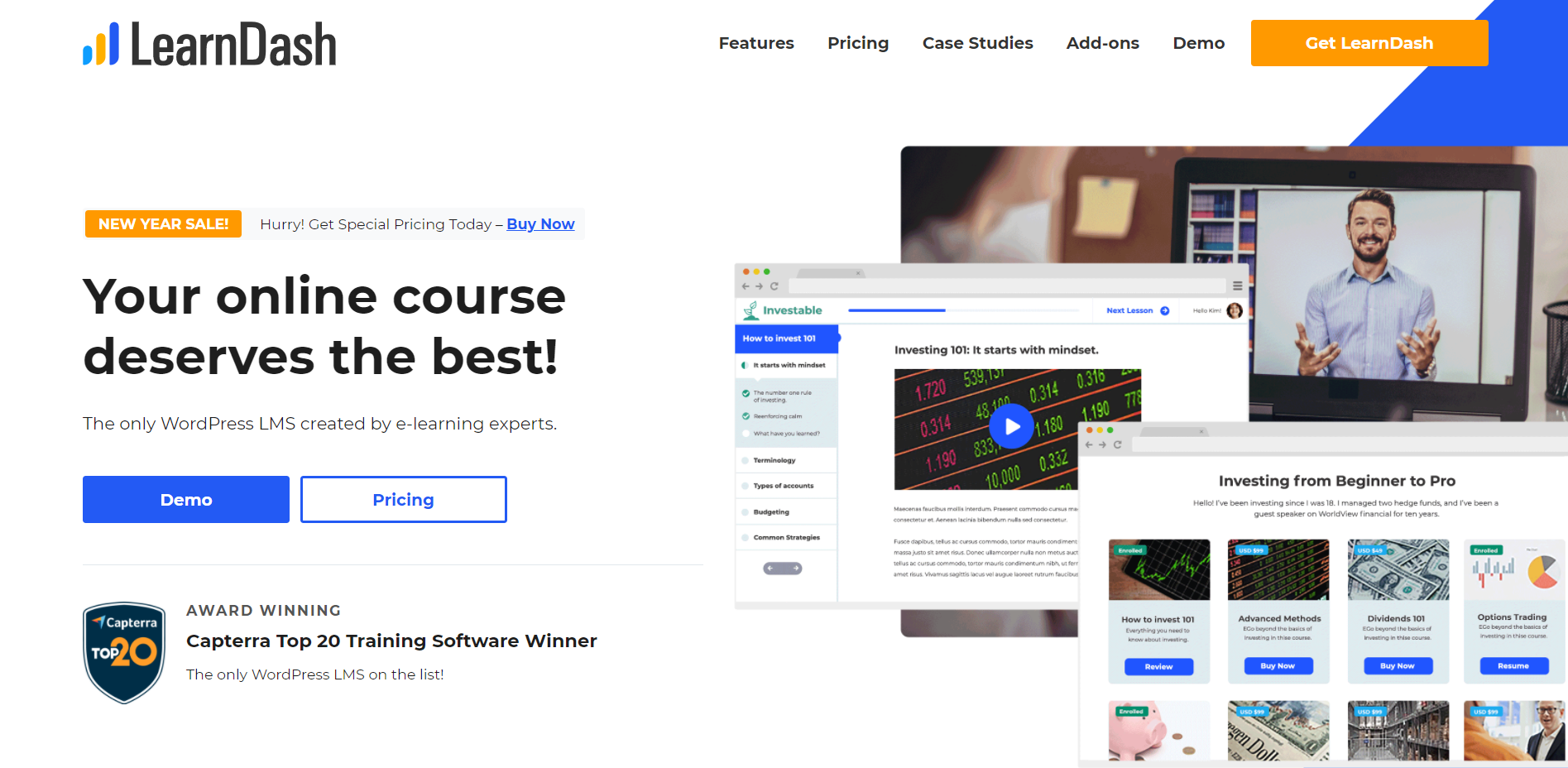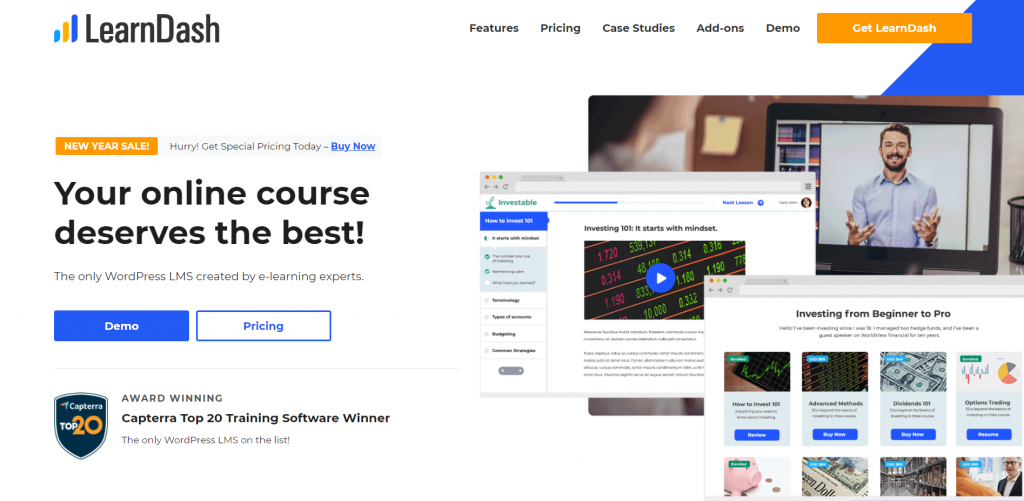 LearnDash is another one of the best WordPress LMS Plugins other than LifterLMS and some others. Being in the market since 2012, LearnDash might be the one you call the industry leader. LearnDash has been trusted by various companies, universities, and entrepreneurs worldwide for being their source of selling online courses even for host webinars. Being partnered with Astra theme, LearnDash provides a wide range of amazing and modern-looking themes for your website.
Best Features of LearnDash
LearnDash Course Builder:
LearnDash Online Course Builder is unique in its own way, where you can easily build out your courses in a very intuitive way. Adding stuff like sections, lessons and quizzes can be added without ever leaving the page.
After successfully completing creating a course, you will be able to see the number of steps on that course along with the "Undo" and "Expand All" options on the right-hand side. By clicking the "Expand All" button, you will be able to see all the steps at once and will be able to rearrange, add or remove any course steps you want.
A certain course is made up of a considerable amount of lessons, and that is why adding new or existing lessons into the course is just a few clicks away. To add new lessons you just have to click on the "New Lesson" link and type in the name and finally press Enter, and your new lesson will be magically created without any issue.
The Drag & Drop feature of LearnDash makes your work of adding lessons even more easier and fun. To use this feature you only need to use your mouse to click & hold down and drag the lesson to the course builder in the spot you want it to be.
LearnDash provides various types of advanced and very enthusiastic quizzes that will keep your students more engaged. The Advanced Quizzes Add-Ons takes the quizzes of your website to the next level.
There is an abundant number of features that will make your quizzes more engaging to your students. Raise the stakes with a time limit and also deduct points for incorrect answers with the help of LearnDash. Make your students brainstorm to their limit with questions like Jumbled Sentences, Calculated Formula, and many more.
By using an Affiliation plugin you can increase the members and also the sales rate of your courses. An affiliation software known as AffiliateWP is fully integrated with LearnDash and its live use in your website is just a few steps away.
Firstly, there needs to be a few courses on your website. Well, if you don't have any, that process is very simple as we have explained earlier. After that, you have to install a Shopping Cart, as a recommendation, we would ask you to use Easy Digital Downloads (EDD).
Just by using this very plugin, you can associate your LearnDash course to Easy Digital Downloads or EDD products. You can create course bundles, coupons or discount codes, and many others with these add-ons.
Finally, the time has come to install AffiliateWP. This a plugin that perfectly fits with EDD, which makes it an amazing combo to boost the income of your website. The best part of AffiliateWP is the affiliation program management. You will be able to find huge options on commission tracking and revenue splitting.
People often seek an easier way for payment that will be fast, secure, and straight-forward. LearnDash supports PayPal, also has WooCommerce Integration and a bunch of other add-ons so that you can choose what's comfortable for you.
WooCommerce brings an abundant amount of freedom to your palm. WooCommerce allows you to customize the "My Account" area for your clients and also gives full control over the checkout experience. You can also sell physical products in addition to your courses if you wish to do so.
PayPal payments come in as built-in support in LearnDash. To use PayPal in your website you just have to fill out some necessary settings except that, no additional or add-ons are required. If you are looking for a quick and easy way to start selling courses, then you can definitely consider using PayPal.
If you are willing to try out different add-ons other than WooCommerce or PayPal then LearnDash still gets you covered. Stripe, ThriveCart, SamCart are just a few of the many different options for you to choose from in LearnDash.
Users of LearnDash
LearnDash, who is in the market for more years than the others, unquestionably got picked up by various major and minor companies and universities. Companies, universities, and sometimes entrepreneurs often like to use a simplistic and well manageable system, that's where LearnDash comes in.
Being one of the world's largest research universities, John Hopkins University believes in LearnDash and uses it to power the course content of their TCI University project. This is a major urban health project which has been initiated and backed by the Bill & Melinda Gates Institute for Population and Reproductive Health.
If you think of blogging, the first thing that comes to mind is ProBlogger. ProBlogger is certainly the oldest and most popular blog about blogging in the community. The ProBlogger team offers two courses on how to improve and create a better blog and both of those online courses are being powered by LearnDash.
Pricing of LearnDash
Basic: Now $159, normally $199
Plus Package: Now $189, normally $229
Pro Package: Now $329, normally $369
LifterLMS vs LearnDash: Which one to choose!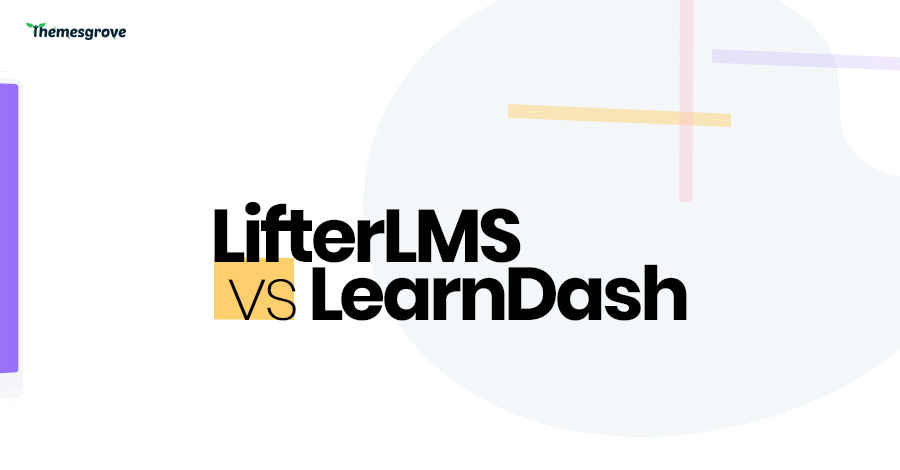 Now the question obviously arises, between LearnDash vs LifterLMS, which one is better for your website? Is it LifterLMS or LearnDash? Now we will be sharing our comparative thoughts between these two WordPress Learning Management System Plugins and let you know which one is better.
Course Builder
| | | |
| --- | --- | --- |
| Features | LifterLMS | LearnDash |
| Unlimited Course and Lesson | ✔️ | ✔️ |
| Video Lesson | ✔️ | ✔️ |
| Multiple Video Sources | ✔️ | ✔️ |
| Lesson Management | ✔️ | ✔️ |
| Course Prerequisites | ✔️ | ✔️ |
| Course Attachments | ✔️ | ❌ |
| Course Preview | ✔️ | ❌ |
| Multimedia Contents | ✔️ | ✔️ |
| Course One-Time Purchase | ✔️ | ✔️ |
| Course Lifetime Access | ✔️ | ❌ |
| Course Analytics | ✔️ | ✔️ |
| Content Security | ✔️ | ✔️ |
Course Builder is kind of the most important feature there is in any LMS Plugins. A good course builder can give you both comfort and flexibility at the same time.
The Drag & Drop function of LearnDash is exceptional in its own way and it's definitely a great way to create a course and have some fun. But, LifterLMS took their Drag & Drop function to a completely different level. In LifterLMS, you will not just be able to build a course but will also be able to add any previous lessons to it or give any prerequisites.
Ease of Use
| | | |
| --- | --- | --- |
| Features | LifterLMS | LearnDash |
| Drag and Drop Course Builder | ✔️ | ✔️ |
| Focus Mode | ❌ | ✔️ |
| Student Dashboard | ✔️ | ✔️ |
| Scheduling | ✔️ | ✔️ |
| Class Management | ❌ | ✔️ |
| Auto Enrolls After Payment | ✔️ | ✔️ |
| Student Forum | ✔️ | ✔️ |
| Course Preview | ✔️ | ❌ |
| Employee Training | ✔️ | ✔️ |
| Gutenberg Compatible | ✔️ | ✔️ |
| Device Friendly | ✔️ | ✔️ |
LifterLMS might be a rookie compared to the days LearnDash has been in the market but it surely is easier to use. During some installations, LifterLMS was just a few clicks away, but LearnDash on the other hand had too many processes for that task. In the case of simplicity and to reduce the labor, it is unquestionably the crown holder.
Payment Options
| | | |
| --- | --- | --- |
| Features | LifterLMS | LearnDash |
| ThriveCart | ❌ | ✔️ |
| PayPal | ✔️ | ✔️ |
| Paid Memberships Pro | ❌ | ✔️ |
| Easy Digital Downloads | ✔️ | ✔️ |
| WooCommerce | ✔️ | ✔️ |
| Stripe | ✔️ | ✔️ |
| SamCart | ❌ | ✔️ |
The payment options for both WordPress LMS Plugins are very promising and are greatly reliable. One plugin might have more options than the other but everyone loves to work with the things they are comfortable with.
LifterLMS and LearnDash almost got very similar options in case of payment, but still, LearnDash has much more integrations than LifterLMS. LifterLMS offers a Manual Payment option that might be sort of unusual for some to not own any internet payment account. Otherwise LearnDash is the clear winner in terms of payment options.
Integrated Tools
| | | |
| --- | --- | --- |
| Features | LifterLMS | LearnDash |
| Email Marketing | ✔️ | ✔️ |
| Student Forums | ✔️ | ✔️ |
| Device Friendly | ✔️ | ✔️ |
| Use Any Theme | ✔️ | ✔️ |
| Customer Relationship Management (CRM) | ✔️ | ✔️ |
| Authoring Tools | ✔️ | ✔️ |
| Tin Can API | ✔️ | ✔️ |
Integrated tools make your task easier and make your website smooth. A senior market holder like LearnDash really has a huge amount of integrated tools compared to LifterLMS. All the tools are included in their pro bundles, also comes for LifterLMS too.
Support Facility
| | | |
| --- | --- | --- |
| Features | LifterLMS | LearnDash |
| Technical Support | ✔️ | ✔️ |
| Free Training Courses | ✔️ | ✔️ |
| Setup Wizard | ✔️ | ❌ |
| Detailed Documentation | ✔️ | ✔️ |
| Dynamic Resources | ✔️ | ❌ |
| Demo Course | ✔️ | ❌ |
| System Analyzer | ✔️ | ❌ |
| User Community | ✔️ | ❌ |
| Feature Requests | ✔️ | ✔️ |
| Expert Support | ✔️ | ❌ |
The support facility of world-class LMS Plugins such as LifterLMS and LearnDash are doing their best to help you out with your issues or needs. But, there are clearly some differences that set them apart.
The customer support of LifterLMS is pretty straightforward and very easy to understand even if someone is not that much of a tech person. If you have purchased any of their bundles then you can submit a ticket at their website. In answer to that, their support team will reply to your request within 12 business hours Pacific time.
LearnDash customer support is somewhat very different from LifterLMS. You won't be able to find any ticket or request option for this plugin. You will surely be able to contact their support team but they do have working hours. The support team of LearnDash is available from Monday to Friday from 7 AM to 4 PM EST.
Pricing, The Best Value for Money
| | | |
| --- | --- | --- |
| Features | LifterLMS | LearnDash |
| Free Version | ✔️ | ❌ |
| Price of Low-Cost Package | $99+ (Individual Add-Ons) | $159 (Basic) |
| Price of most Popular Package | $299 (Universe Bundle) | $189 (Plus Package) |
| Price of most Expensive Package | $999 (Infinity Bundle) | $329 (Pro Package) |
The prices of LifterLMS are comparatively lower than the prices of LearnDash but money says it's quality for LearnDash. The minimum price of the bundle of LifterLMS starts from $99+ but the package of LearnDash starts at $199.
The best-seller, which is Universal Bundle, costs $299 with a total value of $1,287. The biggest bundle of LifterLMS is their Infinity Bundle costs $999 with a total value of $3,180. These are surely the best value-for-money bundles no matter how you look at them. Unlike LearnDash, LifterLMS has a free version for its user.
The best seller of LearnDash is their Plus Package with a price tag of $229 and lastly, Pro Package which costs $269 both are worth a try. Both packages contain various content as unlimited so it's also a plus point.
So, including an all-out package, LearnDash is the most convenient option to choose in our opinion, although you may have to spend something more than LifterLMS but it worth it because LearnDash offers exactly what you need for an LMS.
Pros and Cons of LifterLMS and LearnDash with Ratings
LifterLMS is rated 4.9 out of 5 with a rating of 4.6 as the Ease of Use. LifterLMS also holds a perfect rating of 5 out of 5 in Customer Service.
| | |
| --- | --- |
| Pros | Cons |
| "The software is solid and very powerful. But what I want to focus on is the community." | "Some of the Settings were in different navigation nodes making it a little confusing at first as to where to change things." |
| "The weekly mastermind call gives me the opportunity to learn about other tools or techniques that make my product better." | "I think there is a risk in being too all-in-one because then the complexity goes up substantially." |
| "As a new business, we prefer flexibility and adaptability, and thus Lifter is the best choice." | "Hard to find the difference between plans or access plans or subscriptions or enrollments (maybe it is because my english is too poor…)." |
| "The reason I was interested in the software was that it was easy to access and easy to learn." | "I operate on my SS income which is limited. The cost of add-ons are out of my financial reach." |
LearnDash is rated 4.6 out of 5 with a rating of 4.4 as the Ease of Use. The Customer Service rating of LearnDash stands at 4.7 out of 5.
| | |
| --- | --- |
| Pros | Cons |
| "Overall it's been excellent. We use it every day to train our users and they've loved the way it works." | "But we chose LearnDash because of their easy-to-use API. The major thing missing from LearnDash is that it still does require a developer (or an experienced WordPress user) to set up." |
| "I like that my theke software of choice (Astra) provides a good starting point and so far very happy." | "Can't think of anything, at one point we had a few students miss the mark complete button on a lesson but that's probably more to do with design." |
| "What I like most is that there are a lot of updates to improve and to enhance the software. Especially I really like the fast and competent support if I have questions in regards to LearnDash." | "Organization of courses and lessons is completely horrible and non existent. Trying to edit permissions for accessibility can be tricky as well." |
| "I have been using LearnDash for almost 2 years. It is a great plugin for courses and the most recent update has made it even better." | "Unfortunately once you make a product available for sale through WooCommerce many of the listed product features fail. Most notably the course prerequisite feature." |
Final Thoughts of LearnDash vs LifterLMS: Which one to choose and Why?
LearnDash vs LifterLMS comparison was definitely not the easiest. Both of them are the best and world-class WordPress LMS Plugins, so won't be making a horrible decision either way.
To get started, you can try out the free version of LifterLMS if you are on a tight budget or don't want to spend at all. Try the free version completely, know your needs and requirements, and see if this works for you or not then go for the upper version.
Otherwise, LearnDash is the most convenient option to choose in our opinion, although you may have to spend something more than LifterLMS but it worth it because LearnDash offers exactly what you need for an LMS from course builder, course bundle to membership, and shopping cart.