If you are running a business, big or small, it can be challenging to manage marketing and sales engagement manually. There are so many aspects involved, from strategizing to curation to delivery and execution.
Often, you may fall short on many of the designated deadlines because everything is manual. This is precisely where marketing automation tools come into play. 
In this blog, we will talk about such 10 best marketing automation tools for small businesses.
Read also: 10 Best Website Monitoring Tools of 2022
What are Marketing Automation Tools?
Marketing automation tools help businesses grow by automating marketing processes. Such tools send automated messages to customers across various channels. These channels include email marketing automation, social media management, landing page management, digital marketing, etc.
Investing in a good marketing automation tool at the right time can help you grow your business exponentially.
Wondering how? Allow us to elaborate.
Why do You Need Marketing Automation Tools?
According to Salesforce, "Automating the many steps between marketing and sales gives your team more time to focus on overall strategy and nurturing the leads that show real promise. That means more prospects and more customers."
Marketing automation can also give you a richer, more detailed picture of potential customer behavior.
Let's see some benefits of marketing automation tools.
Reduce operational cost
Generate additional revenue
Create strong customer relationships
Create customized workflows
Track customer journey
Generate and nurture leads
Reporting and analytics
Manage your data efficiently
10 Best Marketing Automation Tools
Eloqua
Oracle Eloqua is a marketing automation software that will allow you to plan, design, and implement successful marketing campaigns efficiently across multiple channels. Creating personalized campaigns through Eloqua is a great way to connect with your customers.
Its additional tools like web analytics, reporting, monitoring, etc., will help you study customer preferences and cater to them accordingly. Some other additional features of this user-friendly marketing automation tool are flexible data management, lead generation, social media marketing, and much more.
Features
AB Testing
API
Activity Dashboard
Alerts/Notifications
CRM
Calendar Management
Campaign Analytics
Campaign Management
Campaign Planning
Campaign Segmentation
Contact Management
Customer Segmentation
Data Import/Export
Drip Campaigns
Email Marketing
Email Templates
Lead Distribution
Monitoring
Multi-Campaign
Multi-Channel Communication
Multi-Channel Marketing
Real-Time Reporting
Social Advertising
Social Promotion
Pricing
| | |
| --- | --- |
| Plan | Pricing/Month |
| Basic | $2000 |
| Standard | $4000 |
| Enterprise | Contact Sales |
Pros
Campaign management is a very intuitive tool
Versatile set of functionalities
Great integrations options with other apps are available
The visual interface is easy to understand
Cons
Cost is very high
Customer care service is slow
Omnisend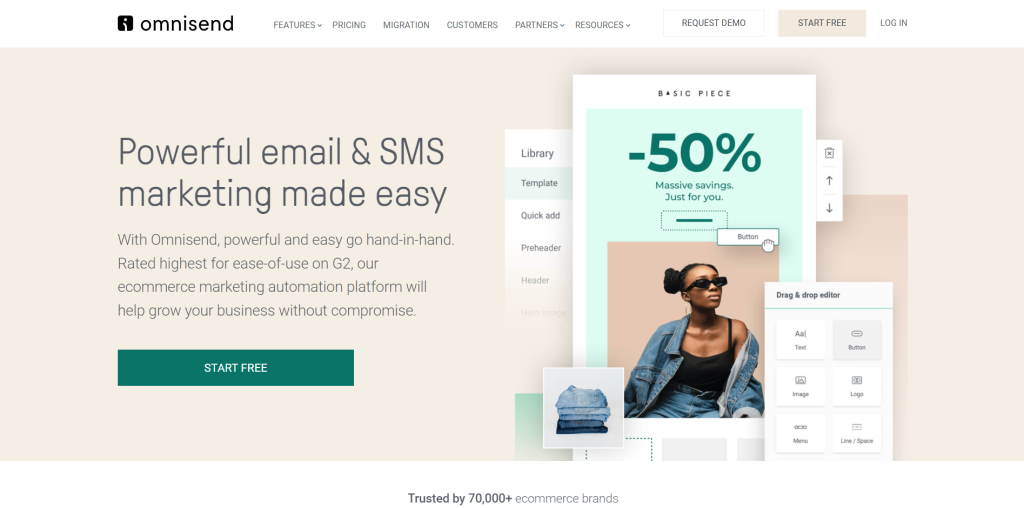 Omnisend is an eCommerce-specific marketing automation tool. With this intuitive marketing automation tool, creating attractive email campaigns can be easier than ever before. It will also allow you to create newsletters with the easy-to-use editor and grow your subscriber base with various signup forms. Omnisend is compatible with various eCommerce systems, including Shopify, Bigcommerce, Magento, WooCommerce, and others.
Features
2-Way Messaging
AB Testing
Autoresponders
CAN-SPAM Compliance
Contact Management
Customizable CTAs
Drip Campaigns
Dynamic Content
eCommerce Management
Email Marketing
Event-Triggered Actions
Reporting/Analytics
ROI Tracking
Sales Analytics
Scheduled Messaging
Segmentation
Social Marketing
Subscriber Management
Template Management
Text-to-Win
Website Visitor Tracking
WYSIWYG Editor
Pricing
| | |
| --- | --- |
| Plan | Pricing/Month |
| Free | $0 |
| Standard | $16 |
| Pro | $59 |
Pros
Newsletter creation feature is convenient, and beneficial.
The template editing feature is compelling and intuitive.
Integrations to other apps are easy.
Cons
Emails often reach customers' junk inbox
No way to filter out email addresses
Trial periods allow only two email sends.
Constant Contact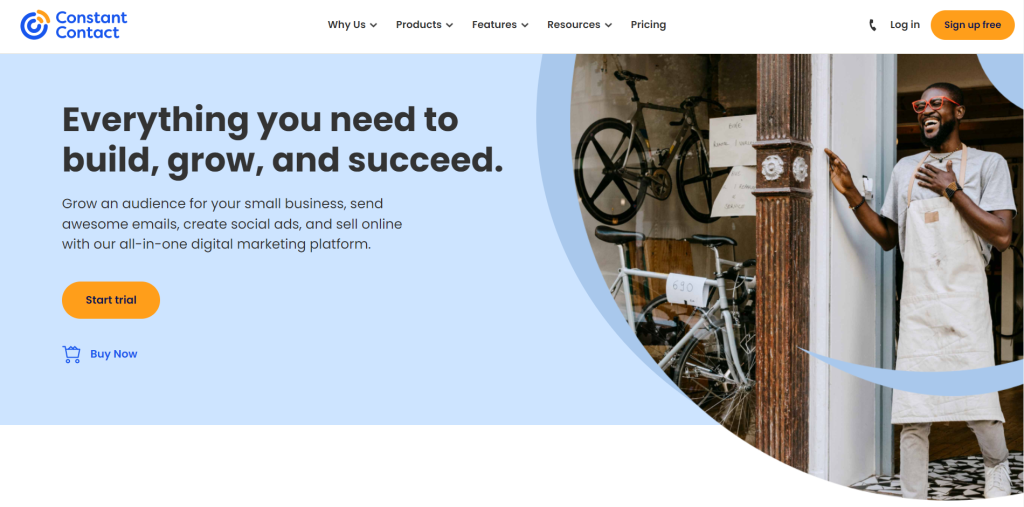 Constant Contact is another great option on our list, with a comprehensive array of site construction, eCommerce, domain, logo creation, and online marketing tools. It assists small businesses, non-profits, and individuals in managing tasks efficiently. All its marketing automation features blend in perfectly with the eCommerce platforms to help you drive more sales. For more than 20 years, businesses of all sizes have trusted Constant Contact for their automation tasks.
Features
AB Testing
API
Activity Tracking
Audience Targeting
Automated Publishing
Automated Scheduling
CAN-SPAM Compliance
CRM
Calendar Management
Customer Segmentation
Customer Surveys
Customizable Branding
Data Import/Export
Design Management
Discount Management
Image Library
Inventory Management
Kitting
Landing Pages/Web Forms
Lead Capture
Lead Management
Lead Nurturing
Lead Qualification
List Management
Performance Metrics
Post Scheduling
Shipping Management
Social Advertising
Social Promotion
URL Customization
WYSIWYG Editor
Website Management
Website Visitor Tracking
Workflow Management
Pricing
Plan
Pricing/month
Core Plan
0-500 contacts
$9.99
500- 2500 contacts
$45
2500 – 5000 contacts
$65
5000 – 10,000 contacts
$95
Plus Plan
0-500 contacts
$45
500- 2500 contacts
$70
2500 – 5000 contacts
$95
5000 – 10,000 contacts
$125
Pros
Extremely user-friendly and intuitive.
Excellent app and third-party integrations available.
Email deliverability rate is very high.
Cons
Pre-made templates are not very flexible to work with.
No multi-channel automation is available.
HubSpot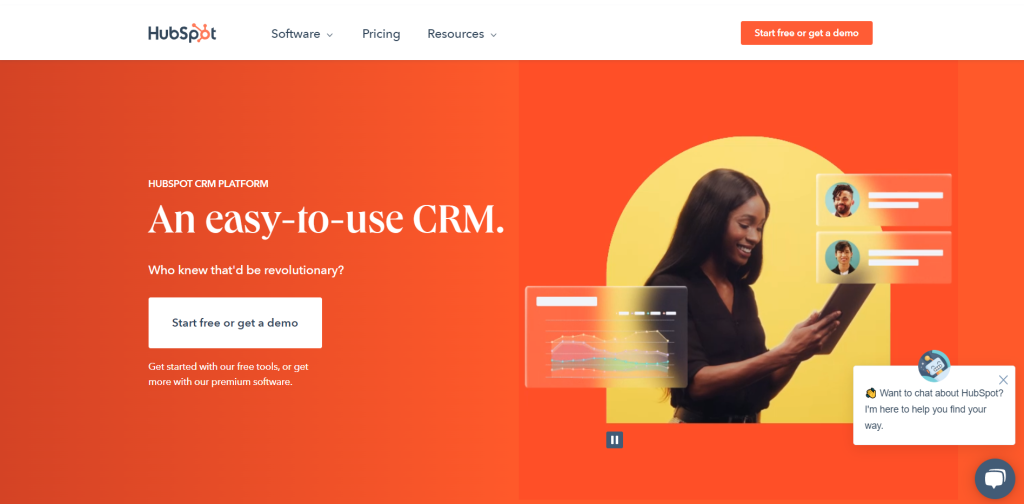 HubSpot is probably one of the best marketing automation software as it provides a free edition that outperforms most paid CRMs on the market. Additionally, you can use it simultaneously across your marketing, sales, and customer care teams. It's a fantastic alternative for all businesses, irrespective of size. One characteristic that makes HubSpot CRM stand out is how simple it is to get started, making it great for those new to using automation software.
HubSpot asks you several questions during setup to figure out how you plan to use the platform and then gives you guided tours of each section, such as Marketing, Sales, and Customer Service.
Features
Activity Dashboard
Alerts/Notifications
Calendar Management
Calendar/Reminder System
Campaign Management
Contact Management
Customer Database
Email Management
Email Marketing
Lead Segmentation
Live Chat
Marketing Automation
Mobile Access
Performance Metrics
Pipeline Management
Project Management
Search/Filter
Segmentation
Self Service Portal
Social Media Integration
Source Tracking
Task Management
Third-Party Integration
Internal Chat Integration
Landing Pages/Web Forms
Lead Capture
Lead Distribution
Pricing
| | | |
| --- | --- | --- |
| Plan | Pricing/month (Billed monthly) | Pricing/month (billed annually) |
| Starter | $50 | $45 |
| Professional | $890 | $800 |
| Enterprise | $3200 | $3200 |
Pros
Basic version also has good features.
Great functionality.
Great customer support service.
Cons
Workflows can be a little difficult to create and understand.
Frequent errors of server down.
AdRoll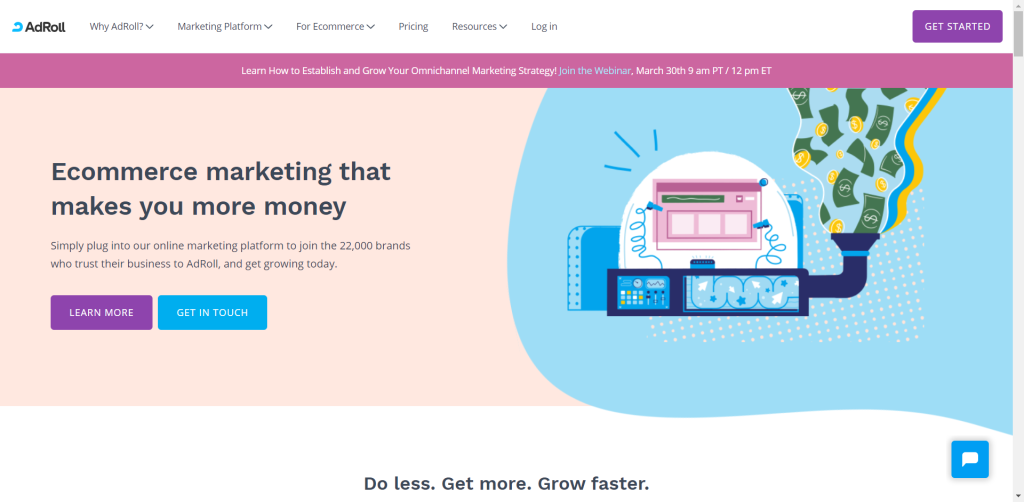 Previously known as Userfox, AdRoll has helped businesses grow exponentially with its lead automation and personalization features. Over 15, 000 brands worldwide, including American Red Cross, Levi's, and Estee Lauder, as well as Zendesk and Tableau, use AdRoll. The ad targeting app assists you in creating, optimizing, and delivering tailored ads across a variety of platforms and devices.
Additionally, AdRoll can also be used to produce dynamic, tailored adverts based on a user's browsing history and favorite products. To offer customized, engaging advertising, AdRoll's team of designers have incorporated handy features like calls-to-action, 3rd-party product feeds, best-selling products, and more.
Features
AB Testing
API
Activity Dashboard
Audience Targeting
Behavior Analytics
Behavioral Targeting
Campaign Analytics
Campaign Management
Conversion Tracking
Cross Channel Attribution
Customizable Reports
Display Ad Management
Dynamic Content
Geotargeting
Lead Management
Mobile Retargeting
Multi-Channel Marketing
Personalization
ROI Tracking
Real-Time Data
Recommendations
Reporting & Statistics
Retargeting Ads
Sales Analytics
Segmentation
Social Marketing
Social Media Retargeting
Template Management
Visitor Management
Website Visitor Tracking
Pricing
| | | |
| --- | --- | --- |
| Plan | Pricing/month (Billed monthly) | Pricing/month (billed annually) |
| Starter | $0 | $0 |
| Growth | $25 | $19 |
Pros
Customer service and tech support are very quick and efficient
It is user friendly and easy to set up
Visually appealing user interface
The toggles for campaigns are self-explanatory
Cons
Ad browser can be a little slow sometimes
Training material quality can be improved
Integrations can be difficult to manage
Monday.com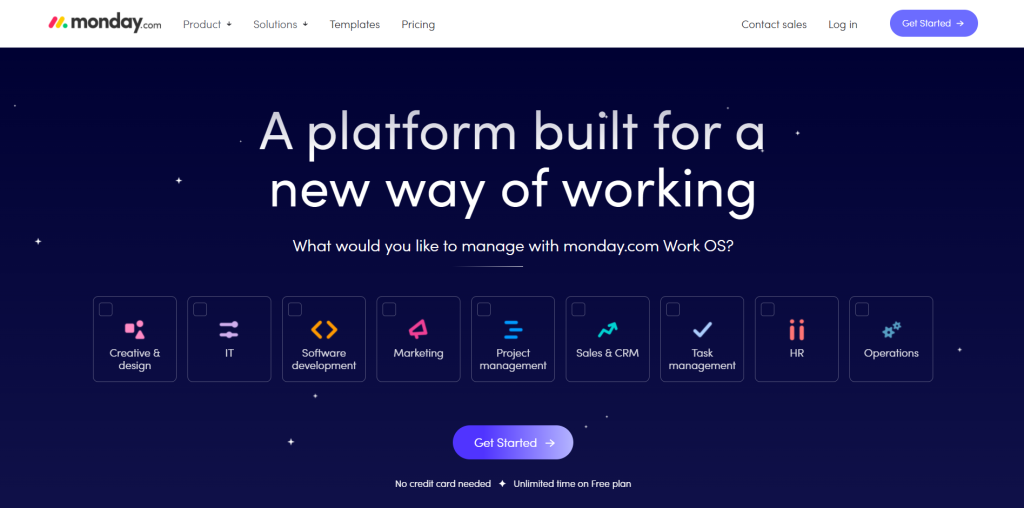 Monday.com, formerly Dapulse is an award-winning collaboration and project management software that enables teams to plan effectively and execute complicated projects on schedule. It also has various features for taking care of the marketing practices of the business. Automated marketing tools such as lead generation, customer tracking, social media marketing, etc. can help you achieve great results and build deep customer relationships.
Features
360 Degree Feedback
Access Controls/Permissions
Account Alerts
Feedback Management
Field Sales Management
File Sharing
Financial Management
For Mac Devices
Prospecting Tools
Public Dashboards
Publishing / Sharing
Purchasing & Receiving
Qualification Tracking
Campaign Management
Campaign Planning
Capacity Management
Capacity Planning
Private Dashboards
Process Change Tracking
Process Modeling & Designing
Process/Workflow Automation
Product Data Management
Product Roadmapping
Program Notices
Transaction Management
User Management
Utilization Reporting
Vacancy Management
Pricing
| | | |
| --- | --- | --- |
| Plan | Price/month (Billed monthly) | Price/month (billed annually) |
| Individual | $0 | $0 |
| Basic | $10 | $8 |
| Standard | $12 | $10 |
| Pro | $20 | $16 |
| Enterprise | Contact sales | Contact sales |
Pros
Very user friendly with natural points of interaction
Excellent coordinated workspace and dashboard
Cons
Induvial line in team project takes longer to be updated
Uploading pictures inside the tasks can be difficult
EngageBay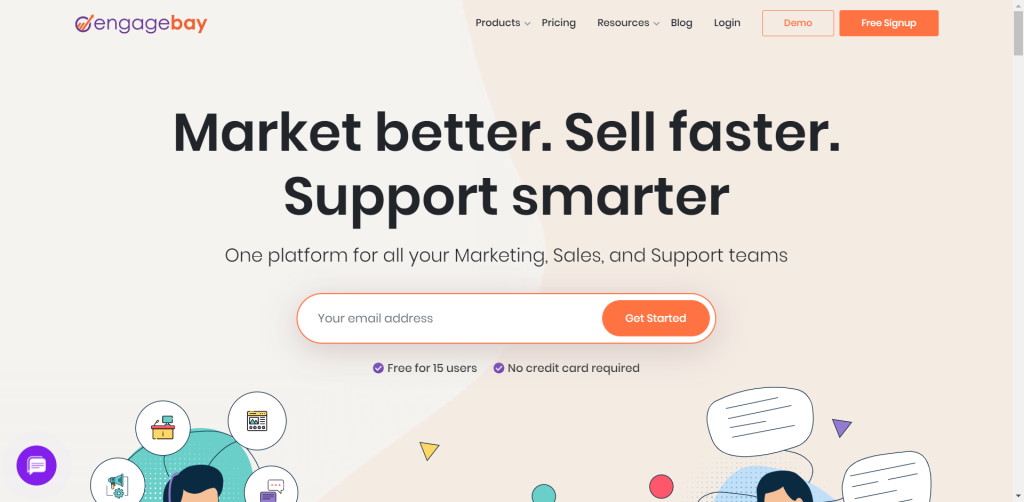 EngageBay is an all-in-one marketing and sales CRM software designed for businesses of all sizes to attract, engage, nurture, and convert site visitors into satisfied customers. The cloud-based platform can also be used to grow leads, create, and automate email marketing. Moreover, you can schedule content distribution, and manage client relationships using the built-in CRM. It approximately supports 29,000 growing companies all over the world.
Features
Calendar Management
Calendar Sync
Proposal Management
Prospecting Tools
Queue Management
Quotes/Estimates
Referral Tracking
Reminders
Reporting & Statistics
Reporting/Analytics
Spam Blocker
Subscriber Management
Target Account Identification
Task Management
Usage Tracking/Analytics
User Interaction Tracking
Visual Notifications
Web Notifications
Website Visitor Tracking
Customer Support
Customizable Branding
Customizable CTAs
Customizable Templates
Canned Responses
Cataloging/Categorization
Channel Management
Churn Management
Click Tracking
Client Database
Whitelisting/Blacklisting
Workflow Configuration
Workflow Management
Pricing
| | | | |
| --- | --- | --- | --- |
| Plan | Price/month (Billed monthly) | Price/month (Billed annually) | Price/month (Billed biennially) |
| Free | $0 | $0 | $0 |
| Basic | $14.99 | $13.49 | $11.99 |
| Growth | $49.99 | $44.99 | $39.99 |
| Pro | $99.99 | $89.99 | $79.99 |
Pros
Very user-friendly and intuitive platform
The main page is stable and loads very fast
Quick and efficient customer care
Cons
Landing page templates are limited
Landing pages do not support reusable headers and footers
Limited email templates
Oribi for eCommerce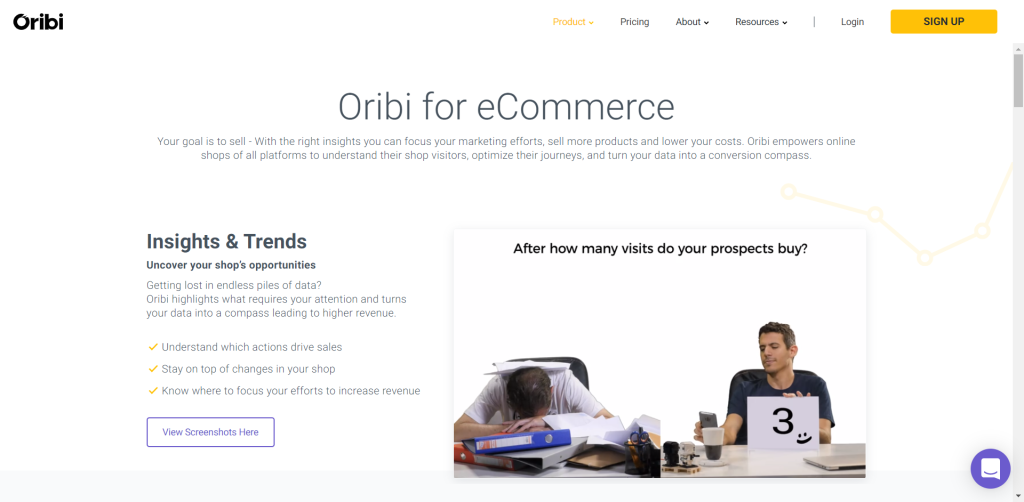 If you are looking for a Google Analytics alternative, then Oribi is the perfect choice for you. Oribi saves you from wasting endless hours making and analyzing reports. This tool will let you gain access to automated inclusive reports any time of day as many times as you want.
Additionally, with Oribi, you will be able to view all your data, graphs, metrics, budgets, etc. in one organized dashboard. This will save you from the hassle of switching between multiple tabs and will also let you get answers to crucial questions like what the conversion rate is, how many customers are you averaging each day, what type of posts are getting maximum attention, etc.
Features
Action Management
Activity Tracking
Alerts / Escalation
Behavioral Analytics
Campaign Analytics
Campaign Tracking
Channel Management
Collaboration Tools
Conversion Rate Optimization
Conversion Tracking
Customer Segmentation
Dashboard
Email Marketing
Event-Triggered Actions
For Mobile
Multi-Campaign
Multi-Channel Attribution
Pageview Tracking
Performance Metrics
Predictive Analytics
Prioritization
ROI Tracking
Real-Time Monitoring
Referral Tracking
Reporting & Statistics
Reporting/Analytics
Resource Management
Usability Testing
User Interaction Tracking
User Journeys
User Research Analysis
Visitor Tracking
Visual Analytics
Web Traffic Reporting
Website Analytics
Pricing
| | | |
| --- | --- | --- |
| Plan | Price/month (Billed monthly) | Price/month (Billed Annually) |
| 5 clients | $1136 | $750 |
| 10 clients | $1818 | $1200 |
Pros
The AI capabilities are very advanced and intuitive
Free trial available
User friendly and easy to set up
Cons
Reports are only available in PDF format
The startup cost is high
Customer service is very slow
Pardot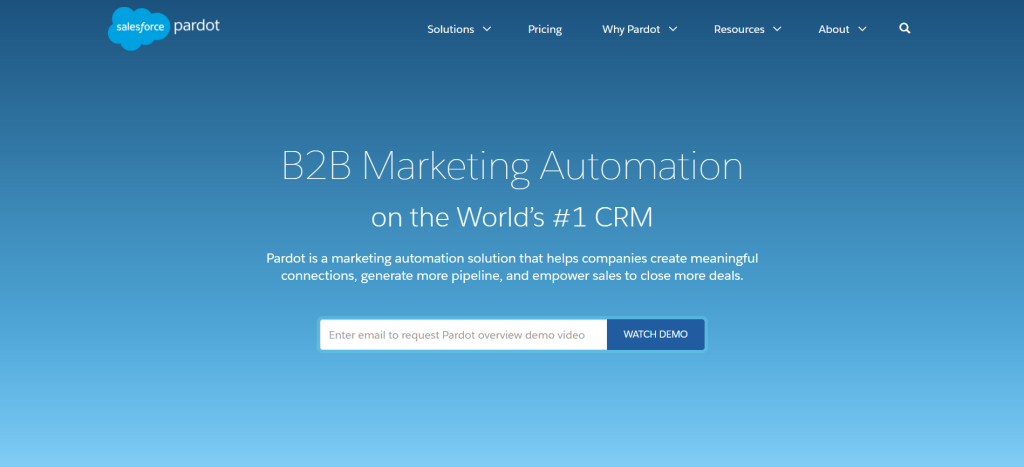 Pardot is primarily intended at B2B enterprises, spanning from SMB to enterprise-level, and starts at $1,250/month. To help marketing and sales teams work together to produce and qualify sales leads, shorten sales cycles, automate marketing, and track marketing ROI, Pardot's lead management offers CRM integration, email marketing, lead nurturing, lead scoring, and ROI reporting.
Features
AB Testing
API
Access Controls/Permissions
Activity Dashboard
Activity Tracking
Business Card/Badge Scanning
CAN-SPAM Compliance
CRM
Contact Management
Customer Database
Customization
Dashboard
Drip Campaigns
Dynamic Content
Email Campaign Management
Engagement Tracking
Event-Triggered Actions
Forms Creation & Design
Interaction Tracking
Keyword Tracking
Landing Pages/Web Forms
Lead Capture
Lead Database Integration
Lead Distribution
Lead Verification/Validation
Online Forms
Performance Metrics
Pipeline Management
Real-Time Notifications
Reporting & Statistics
Reporting/Analytics
Spam Blocker
Template Management
Third-Party Integrations
WYSIWYG Editor
WebForms
Website Visitor Tracking
Pricing
| | |
| --- | --- |
| Plan | Pricing/month |
| Growth | $1250 |
| Plus | $2500 |
| Advanced | $4000 |
| Enterprise | $15000 |
Pros
Great automation customizing options are available
Very useful customer tracking features are available
Cons
Customer service is very slow to respond
No features are available to automate the extraction of email lists
Self-configuring the software is almost next to impossible
Marketo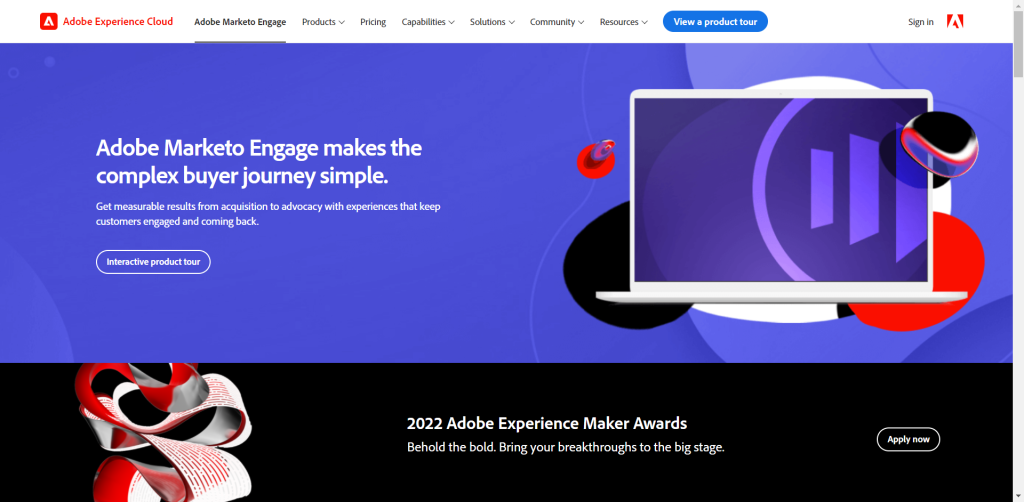 By delivering amazing experiences at every point of the customer journey, Adobe Marketo Engage enables marketing teams to be the drivers of demand and growth in their organizations. It is a premier marketing automation platform for small and medium enterprises in a variety of industries, with a wide range of capabilities.
Email marketing, nurturing, SEO, landing pages, scoring, and analytics are some of its very efficient and useful features. However, advanced pricing plans come with advanced features like website personalization, mobile engagement, social, and online retargeting.
Features
AB Testing
Activity Dashboard
Behavior Analytics
Behavior Tracking
Campaign Analytics
Campaign Management
Campaign Segmentation
Contact Database
Conversion Tracking
Customer Database
Customer Journey Mapping
Customer Segmentation
Customizable Templates
Data Import/Export
Drag & Drop
Drip Campaigns
SMS Marketing
Social Marketing
Source Tracking
Third-Party Integrations
Website Visitor Tracking
Multi-Channel Marketing
Opportunity Management
Performance Metrics
Pipeline Management
Predictive Analytics
Pricing
| | |
| --- | --- |
| Plan | Pricing/month |
| Jumpstart | Contact sales |
| Select | Contact sales |
| Prime | Contact sales |
| Ultimate | Contact sales |
Pros
Very user-friendly and intuitive software
Salesforce integration features are very advanced
Customer support is quick and helpful
Cons
Landing pages are poorly built
Report and analytics function is not advanced enough
Conclusion
It can be very daunting to choose appropriate marketing automation tools from the various options available. Therefore, you need to have clarity regarding what you are looking for and why. Once you have a clear understanding of the answer, you will not struggle with choosing some of the best marketing automation tools available in the marketplace.