Around 20% of the entire world's population speaks English. This means there is a substantial untapped market just waiting to be discovered for your business or your website. You don't want to lose that 80% native language speaking clients, right? 
If so, then this article is for you. In this blog, we will show you how to create a multilingual WordPress website with WPOnepager, the easiest WordPress landing page builder. Enjoy the step by step guide.
What is a Multilingual WordPress Website?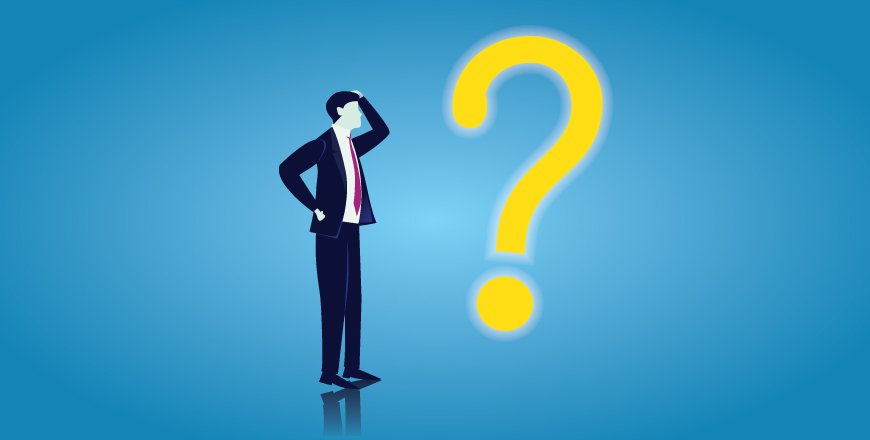 In general, a multilingual website is a site that offers translated content. The content and information are shown in more than one language; for example, English, Spanish, Ukrainian, and Chinese.
Same as a multilingual WordPress website shows contents in different languages, which is customized for different audiences. Here, users can select their preferred language or automatically redirect users to a language based on their region.
You can either translate your website manually with human translators' help or use a machine translator as in auto-translate services. Also, using a third party plug-in can help you convert your website according to your desired language.
Third-party solutions can not guarantee the same content quality for every language. It may be the same or maybe not. That's why manually translating your content is a much better approach in some cases. You can translate the content yourself or hire professionals to do that.
Do I Need a Multilingual Website?
Do you need a multilingual website? It depends on your targeted customer or audience location. Basically, we prefer English as a website language, but topical use must be translated to that particular regional language.
For example, in Germany, people use the german language more than English. If they are your targeted audience, then your website must be translated into the German language. Here are some popular reasons people add multiple languages to their websites below,
Boost Sales: When different audiences are able to use your site in their language, especially if it's an ecommerce site then your sales automatically boost up.
Better SEO: Your traffic might increase with a multilingual site because people often search in different languages and therefore, lots of search engines are starting to run searches in foreign languages.
User Experience Advantages: Having a site in the native language automatically gains much better user experience and a better user experience can get better conversion rates, time on site, and bounce rate.
Establish International Authority: If you're looking to get ahead of competitors, showing that you're a global brand can help
Gain Trust: A multilingual site speaks the same language as your customers and many of them most likely trust a website when the content is displayed in their native language.
Great User Experience: A multilingual website shows people you are thinking about them and their experience on your site. It helps you to gain credibility.
Good ROI: Translation on your site is a cost effective marketing tool that can bring in new customers from all over the world's population and help with lead generation.
How to Create a WordPress Website Multilingual with WPOnepager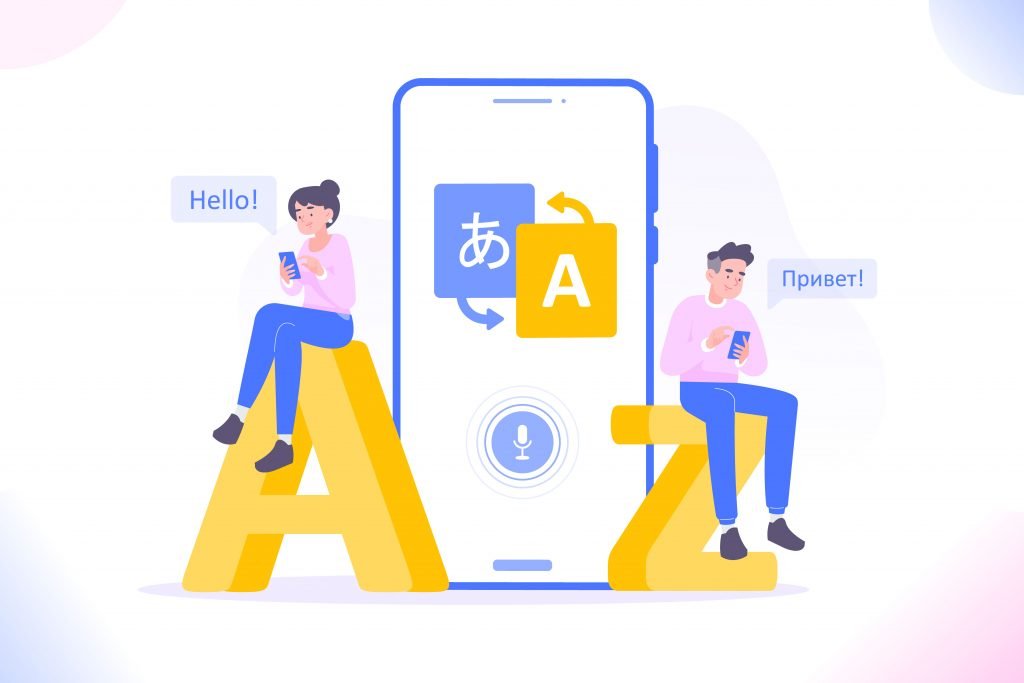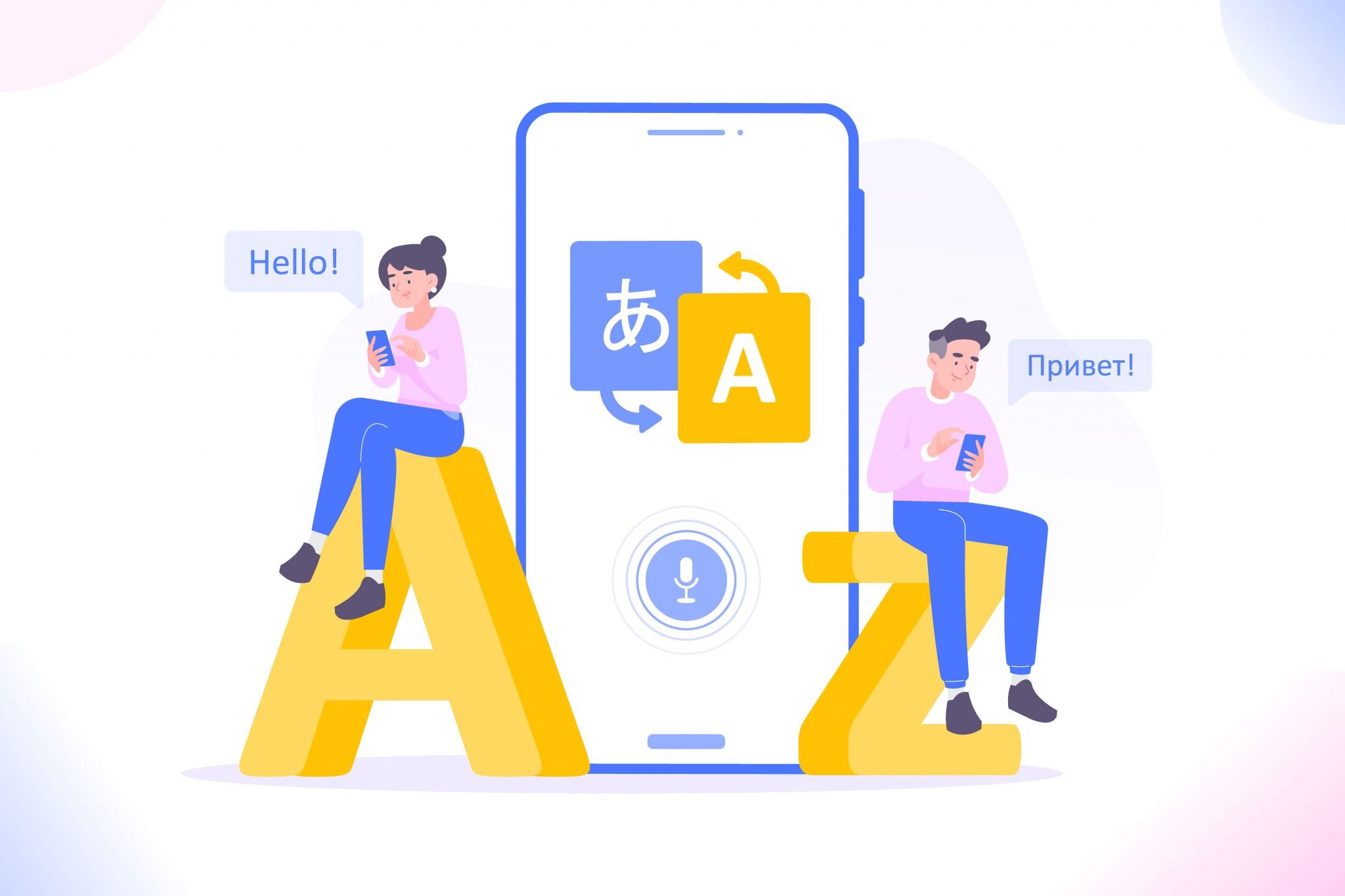 Now, its time to Create a WordPress Website Multilingual and we are going to do it with WPOnepager. Before doing that lets know the processes at a glance,
Install WordPress
Select a Landing page from WPOnepager
Select a plug-in for multilingual WordPress website
Create a free WordPress multilingual website
Install WordPress
We assume that you are already a WordPress user and WordPress already installed on your device. However, if you don't just follow WordPress's following guide, "How to install WordPress."

Read Also: How To Install WordPress On Localhost (Simple But Complete Guideline)
Select a Landing Page from WPOnepager
WPOnepager is the easiest and beginner-friendly WordPress landing page builder and onepage builder plugin to help you make the website better and faster. You can easily create Drag & Drop Onepage, Under Construction Page, and Landing Page Builder for WordPress within minutes. Also, import any of the existing ready landing pages from the dashboard from any category. We are doing the same here,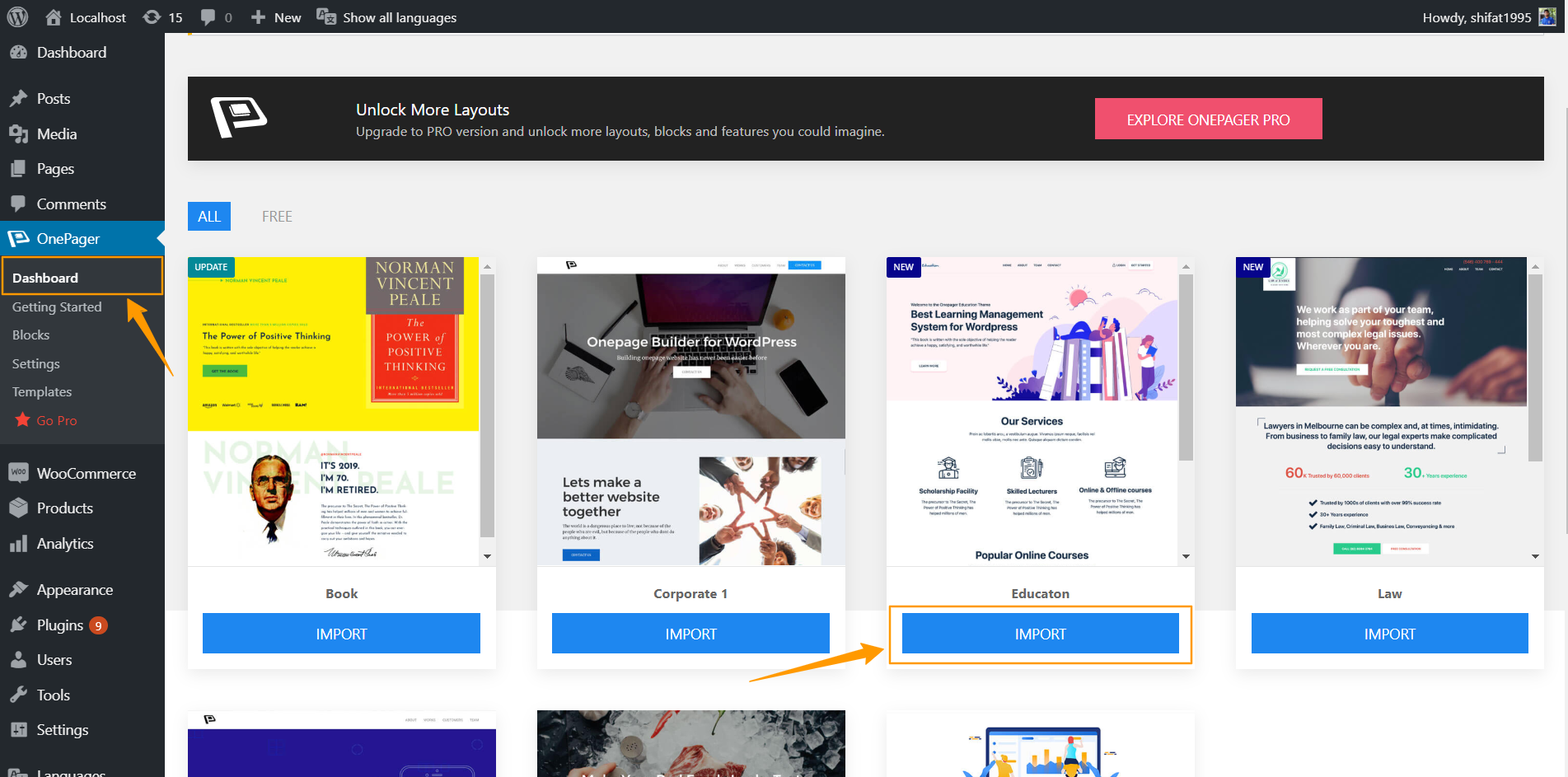 After then give a name to your page and click over the Create button.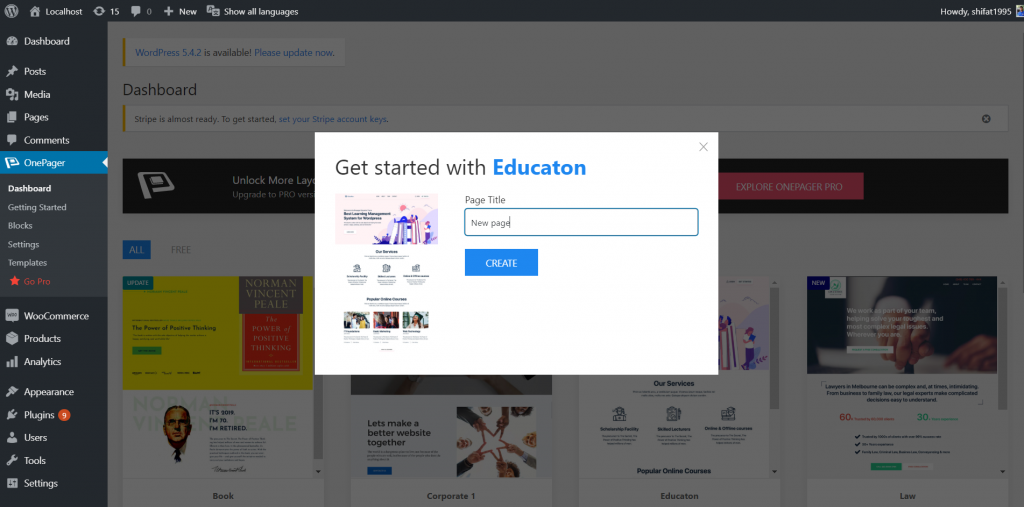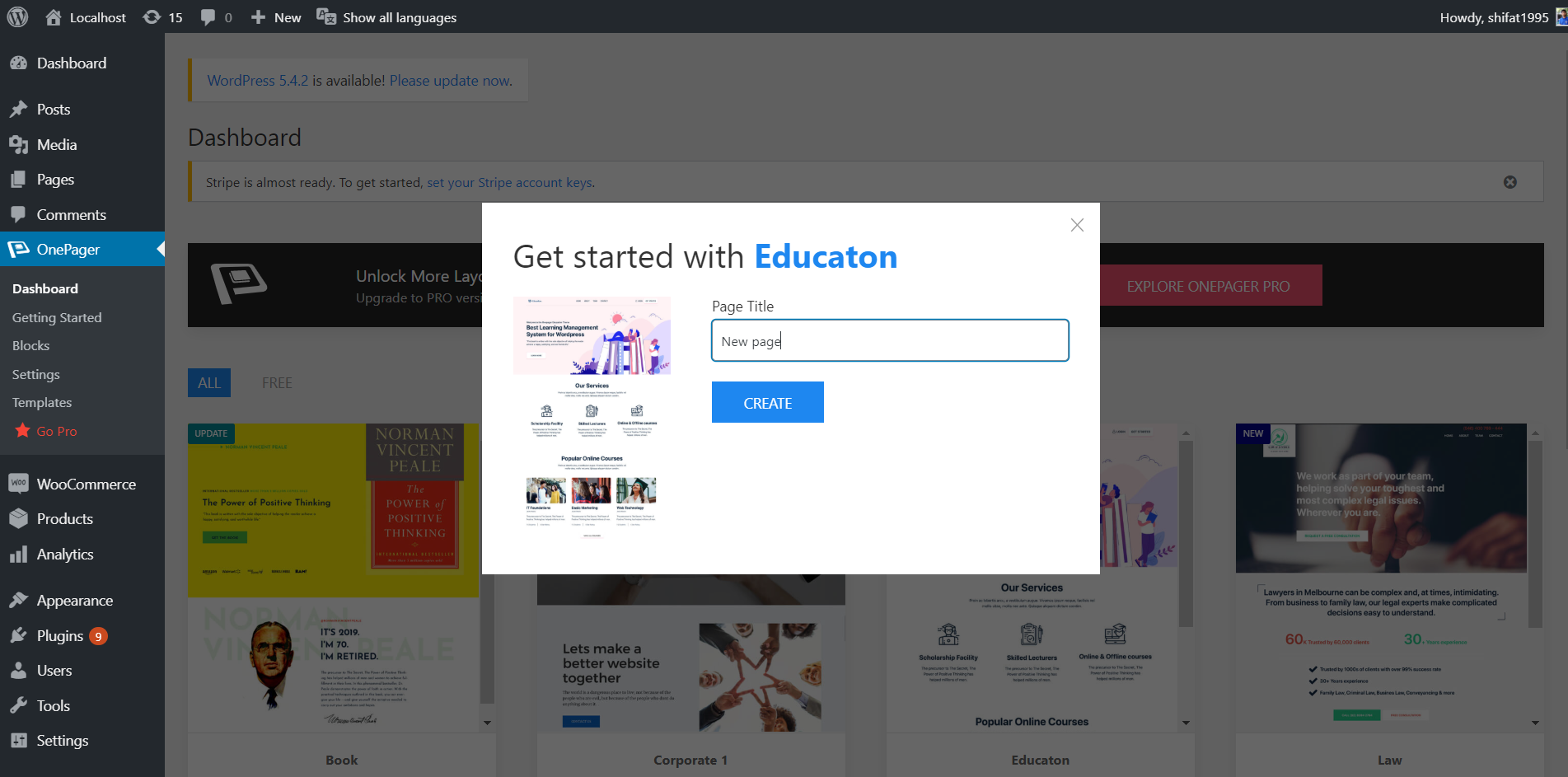 Now, customize the page on your demand. This is as simple as like.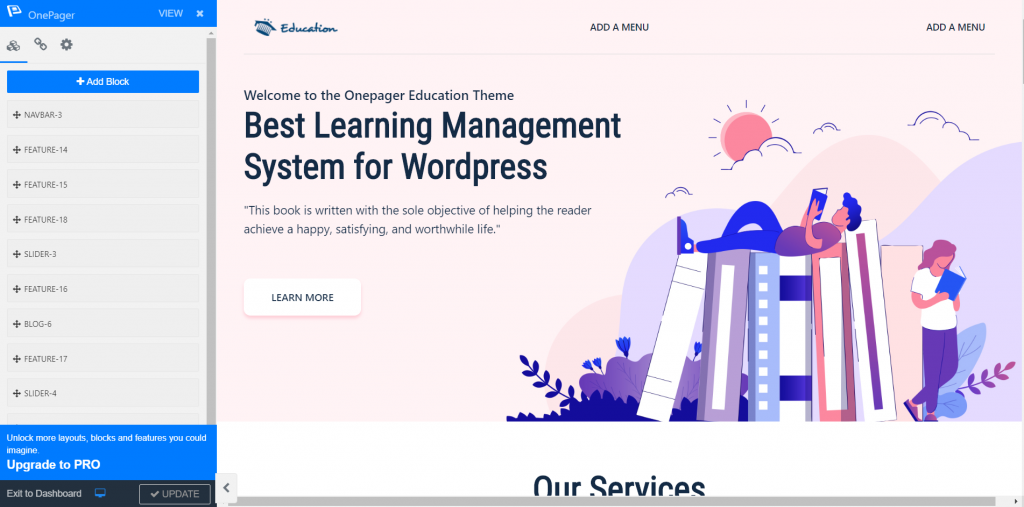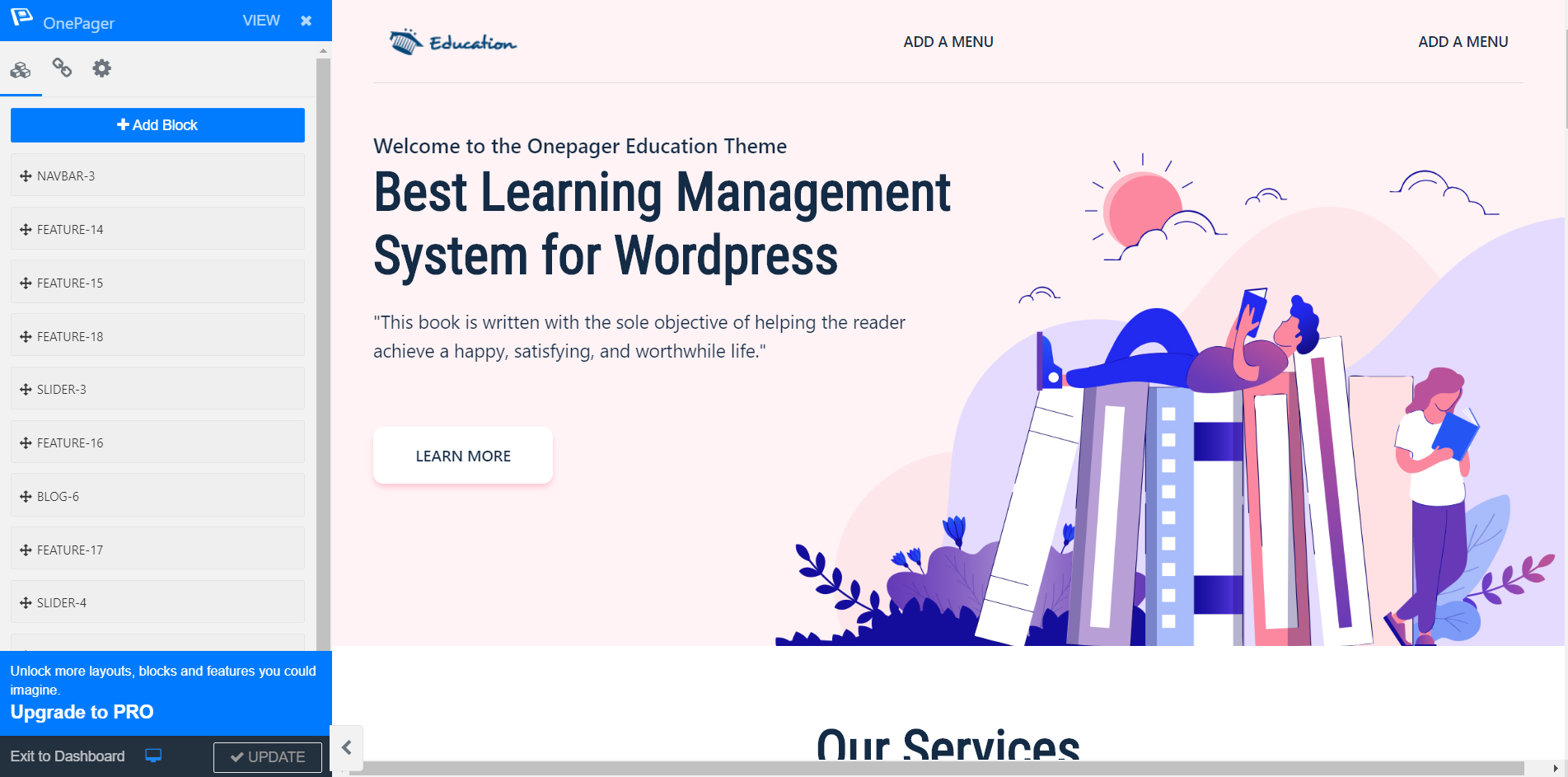 Plugin for Creating a Multilingual WordPress Website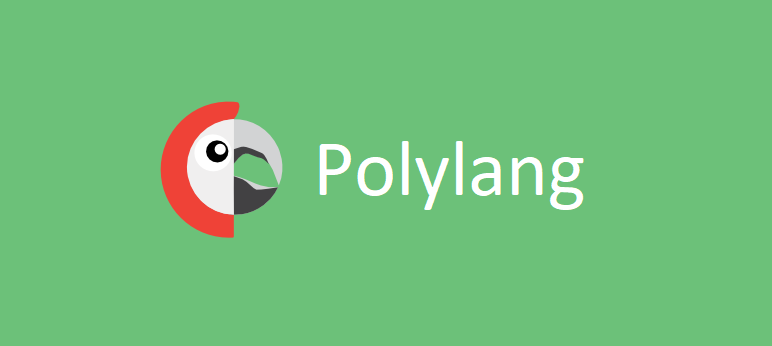 There are plenty of WordPress plugins available in the market to translate your website into multiple languages. All you have to do is choose a plugin that helps you efficiently manage translations and meet your financial needs. Not every plugin offers a free plan. You must go for a paid plan if you don't want to make things unnecessarily difficult for your users.
In this guide, we are going to use Polylang, the best free WordPress Multilingual Website building plugin so far. If you are looking for a free and straightforward way to set up multiple languages on your WordPress site, then Polylang is the best choice.
Polylang allows you to easily create a multilingual WordPress site. You just have to write posts, pages, and post tags and then define the language for each of them. The translation of a post is optional for the default language or not.
Key Features
Supports manual and automatic translations.
Add multiple languages.
Integrates a translation management system.
Translate almost everything, from posts, pages, categories, menu, widgets, etc.
It supports custom post types.
How to create Free WordPress Multilingual Website using Polylang
In this guide, we will show you how to create a WordPress Multilingual Website using Polylang with step by step instructions on how to set them up.
These are the basic process,
Install the Polylang plugin.
Add a new language to your website.
Manually translate your posts and pages.
Enable the Polylang language switcher widget.
Now lets see the detailed process.
Install and Activate the Polylang plugin
First, you need to install and activate the Polylang plugin and the visit Languages > Languages page to configure the plugin.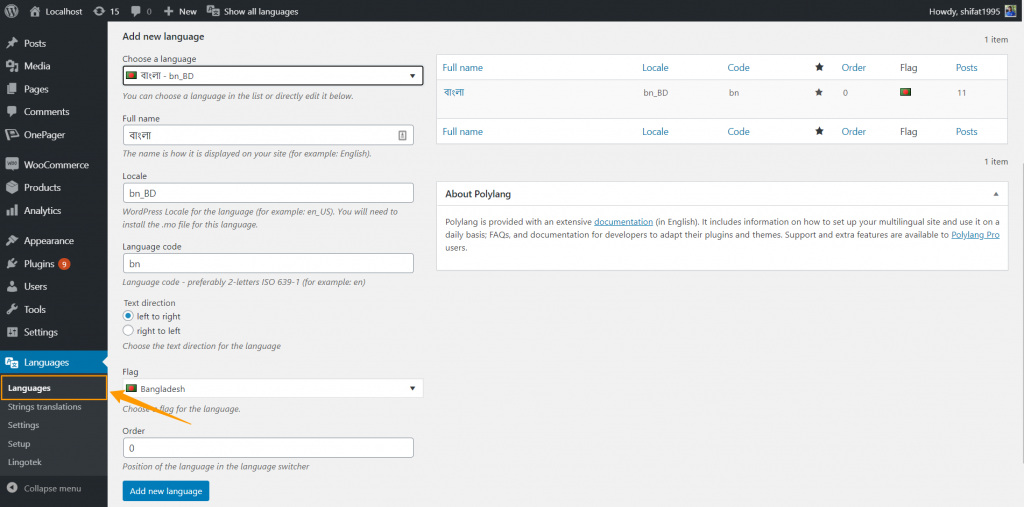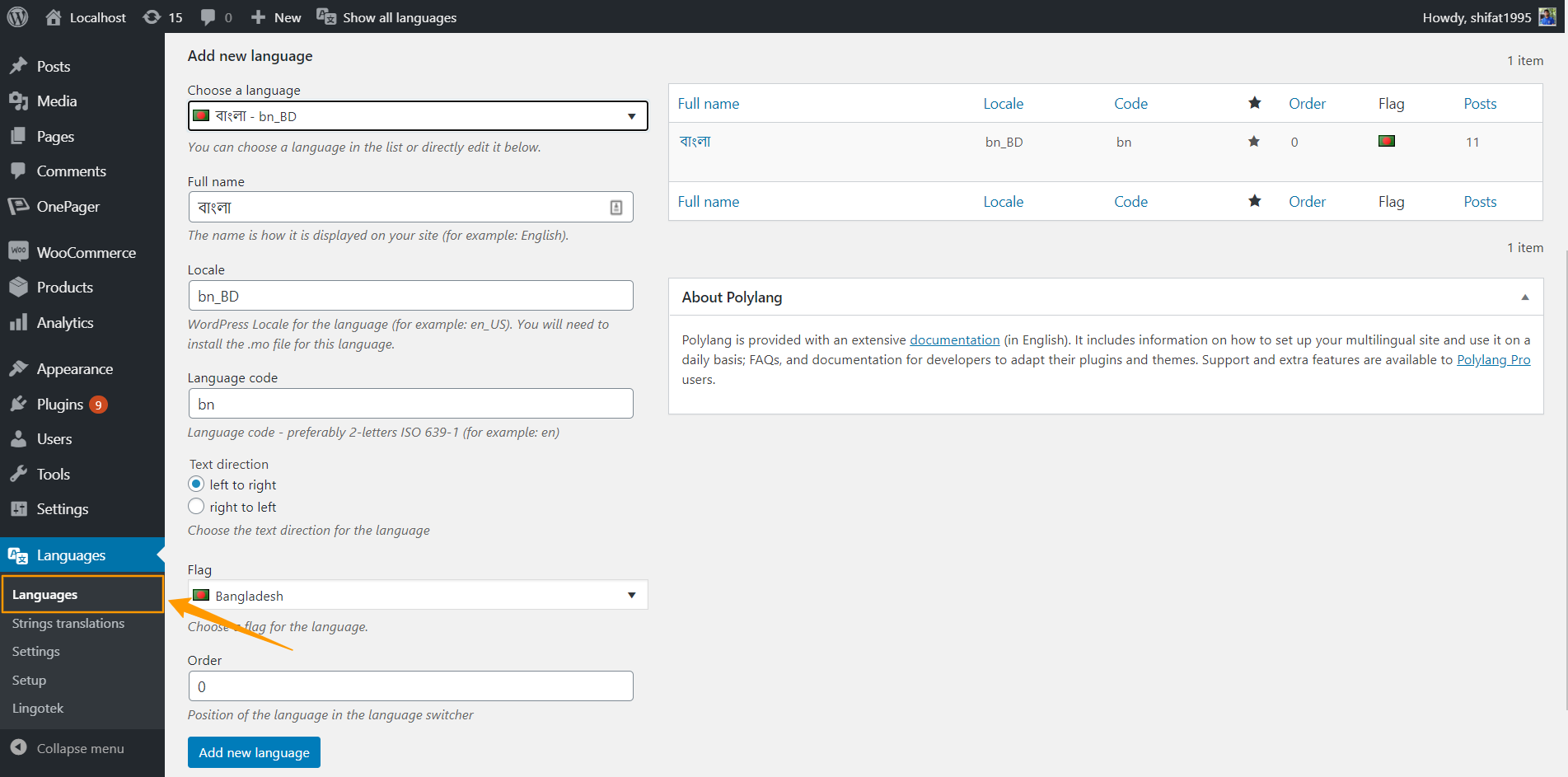 Here you need to add default language and select all other languages that users can choose on your site. If adding languages is complete, then switch to the Strings Translations tab to translate the site title, description, and then select the date and time format.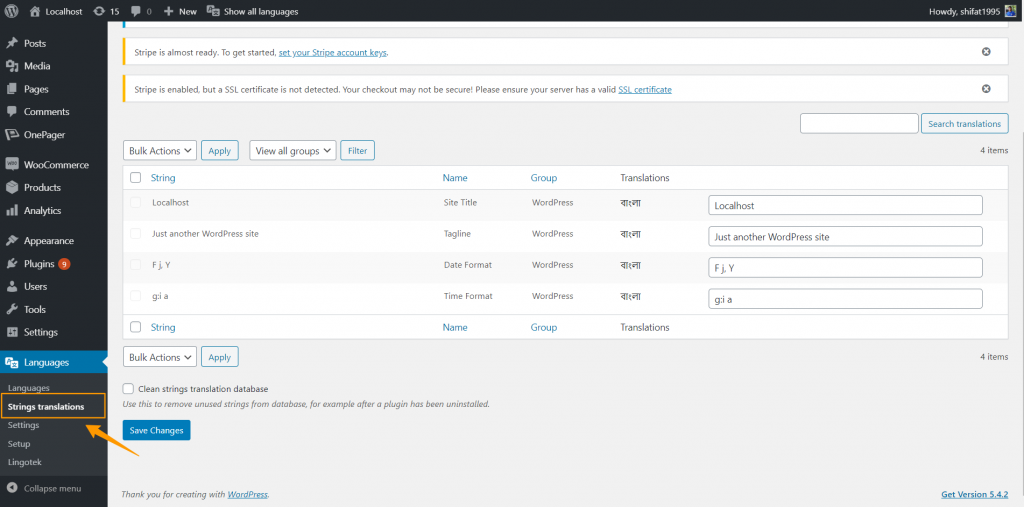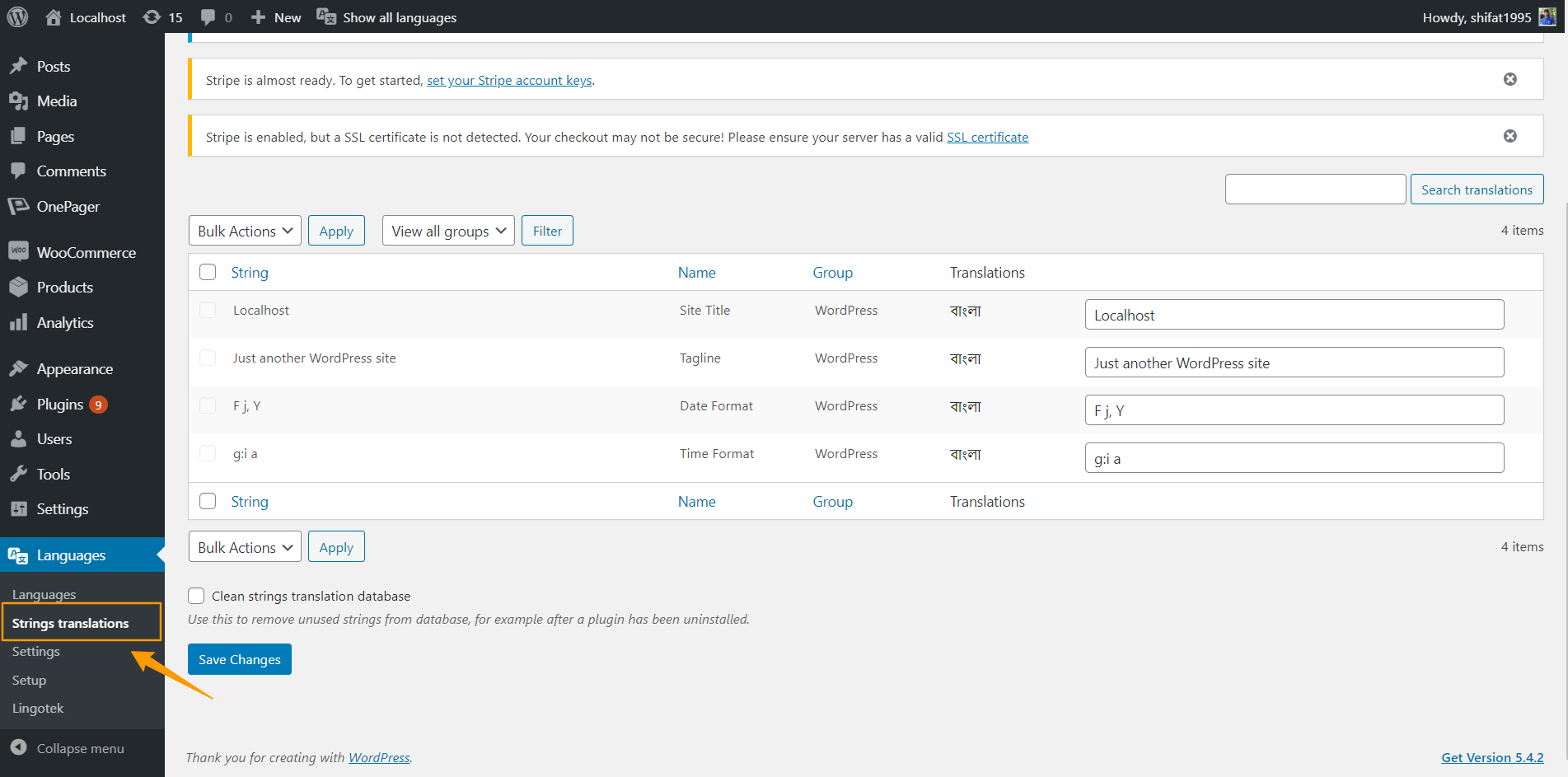 Next, you need to visit the Languages > Settings page to set the URL settings for languages and set up SEO friendly URLs.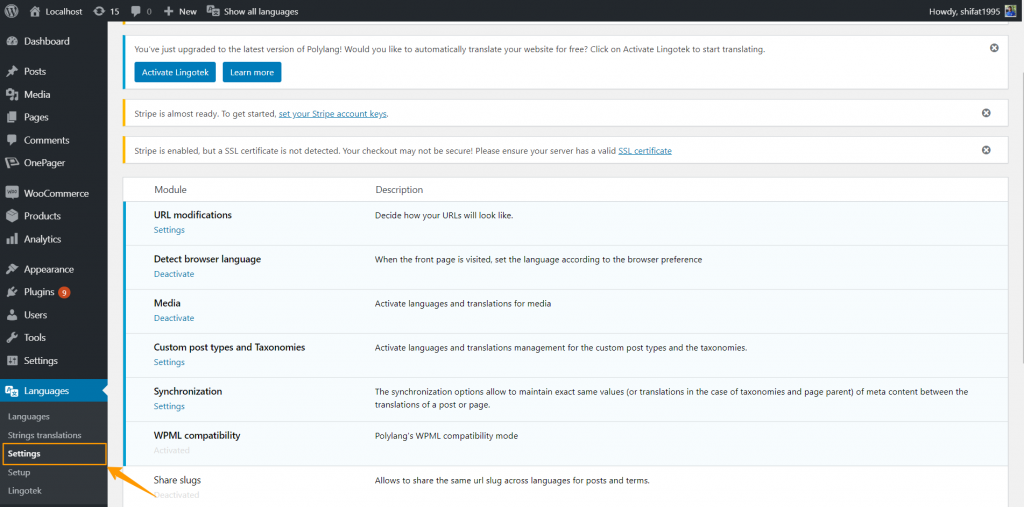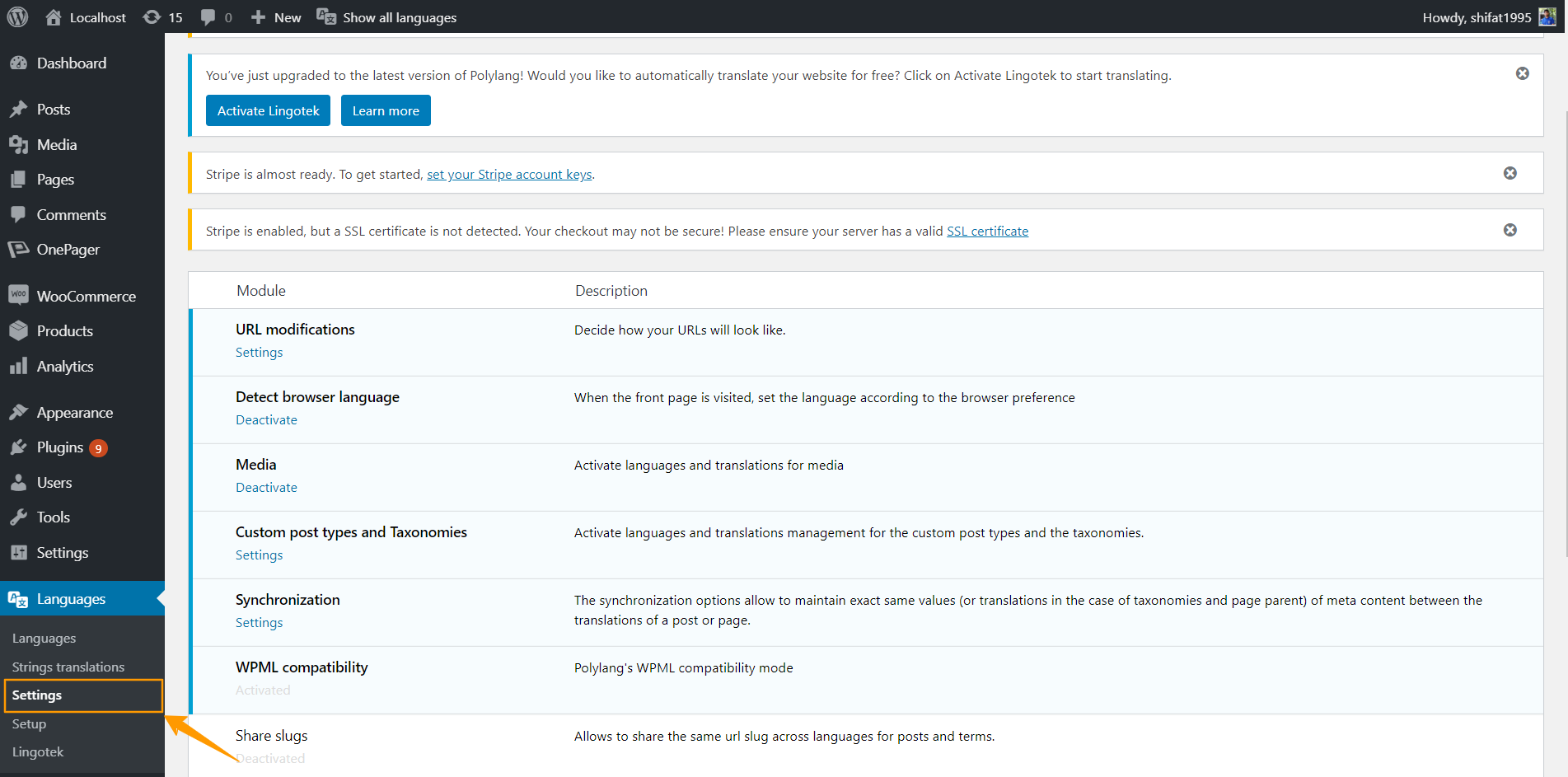 Finally, click on the save changes button to store your settings.
Translating Content in WordPress with Polylang
Choose one of your posts and open the editor. You'll find a new Languages widget at the right of the WordPress editor. The drop-down list inside enables you to switch between languages.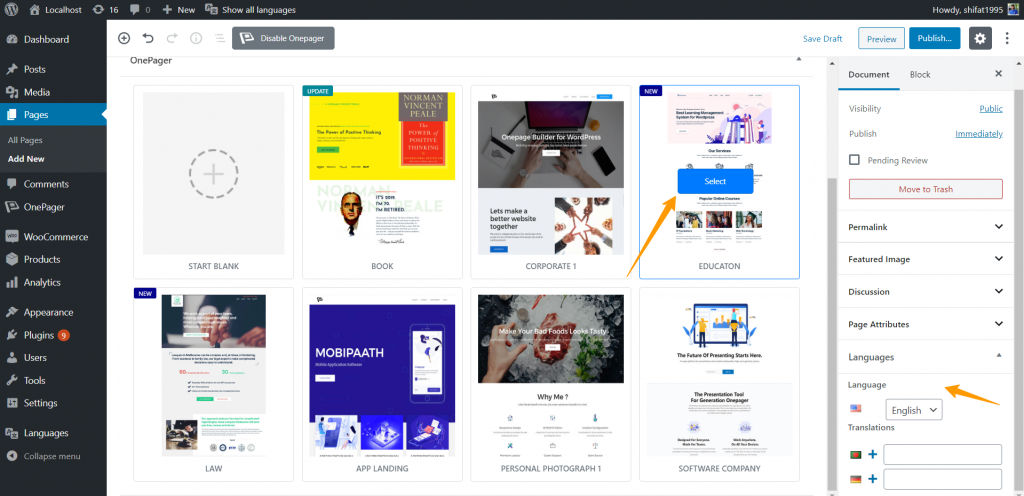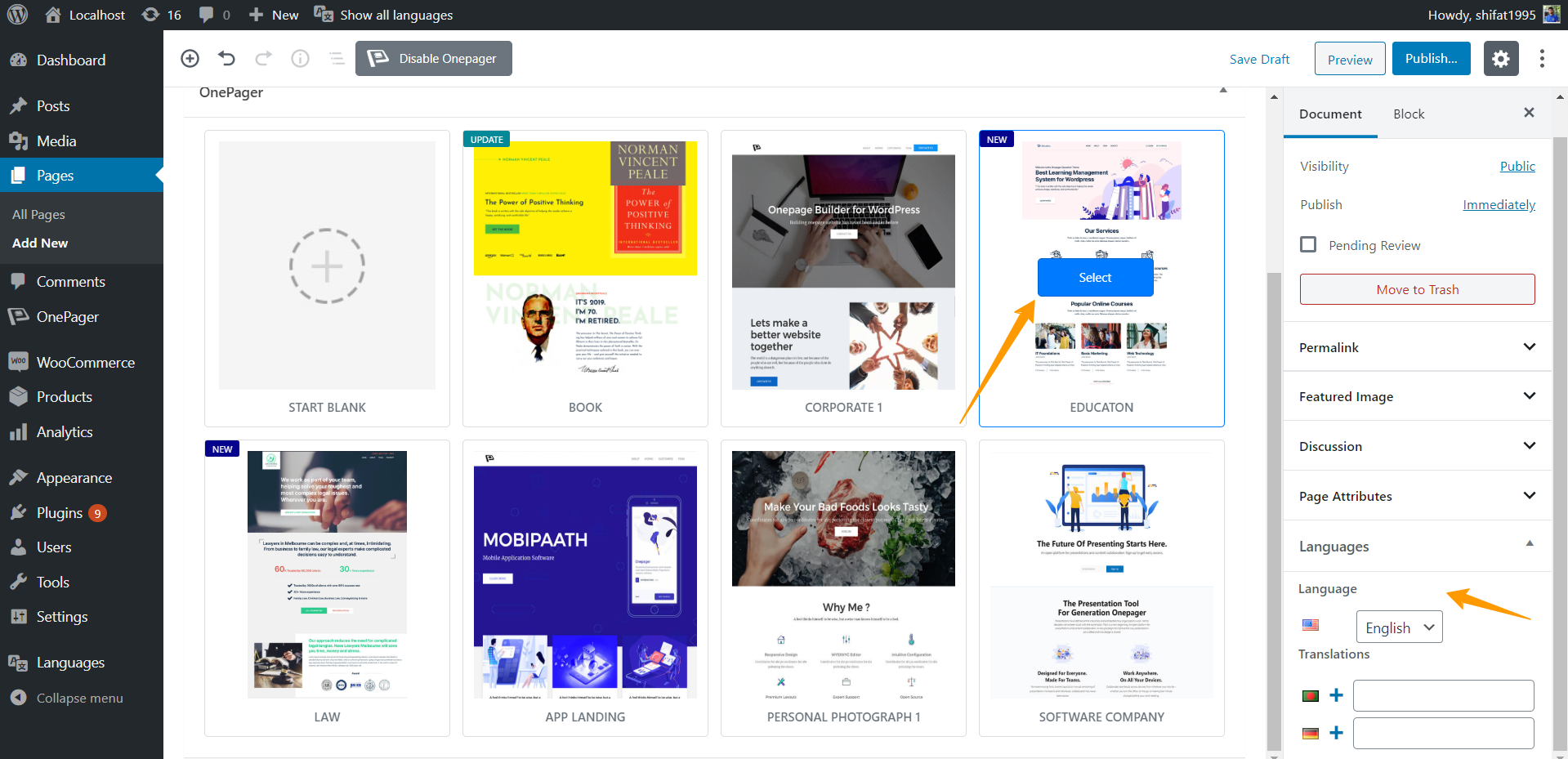 Click on the + sign next to the flag of the language. It will send you to a 'new' post, where you need to enter your manual translation.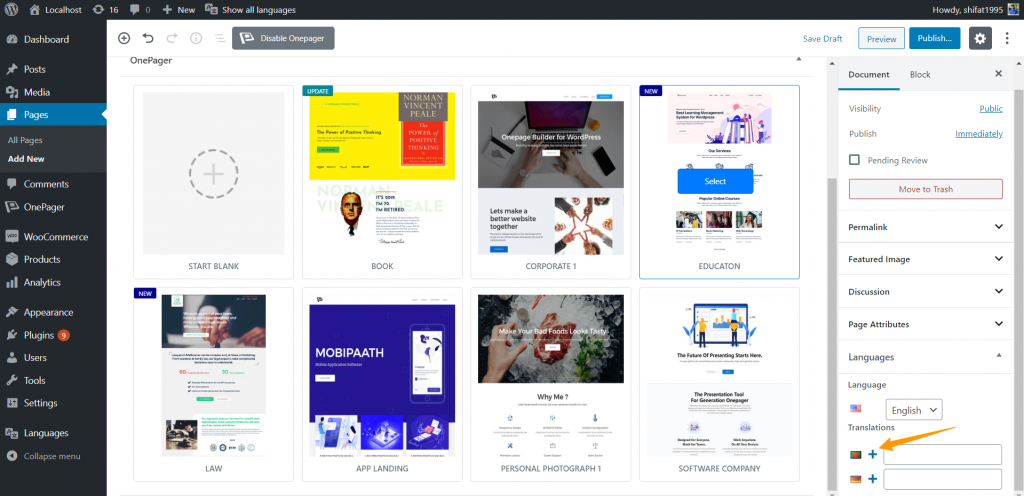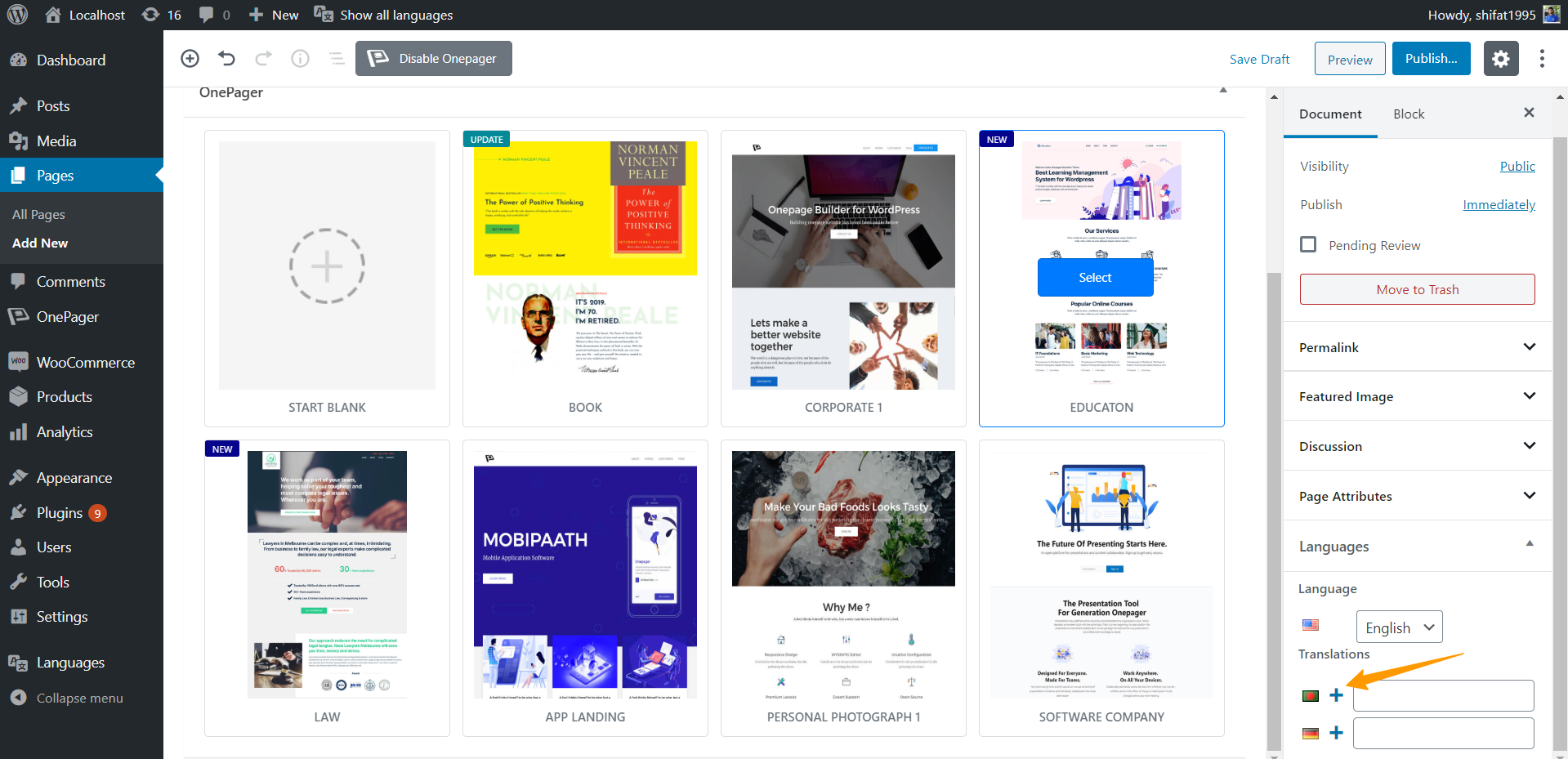 When your translation is complete, set the post's default language using the drop-down list. Now all that's left to do is to enable the Polylang languages widget, which lets visitors switch between versions of your posts and pages.
That's it for creating a multilingual website using Polylang. Once you are done, you can publish your posts and pages.
Translating Categories, Tags, and Custom Taxonomies
You can also translate categories and tags, or any custom taxonomies you may be using.
If you want to translate categories, then go to Posts » Categories.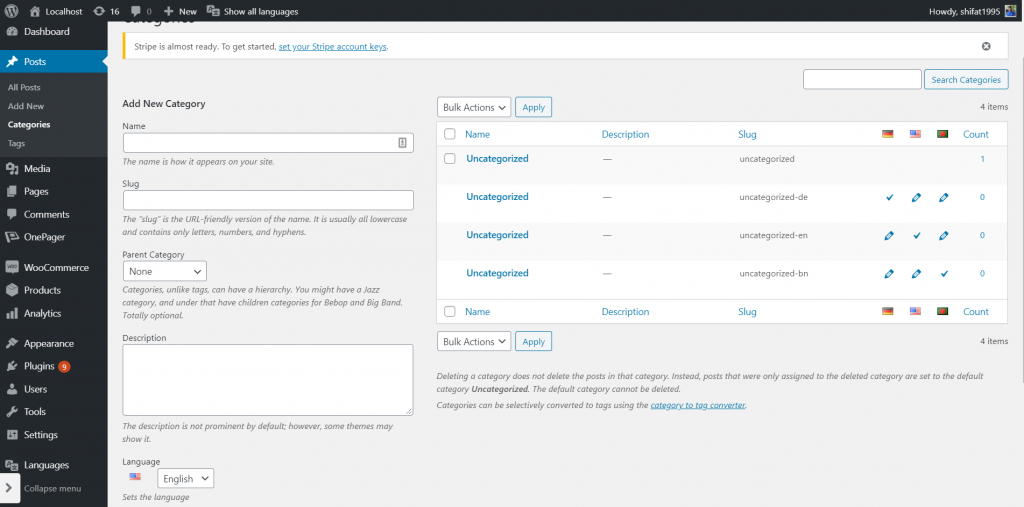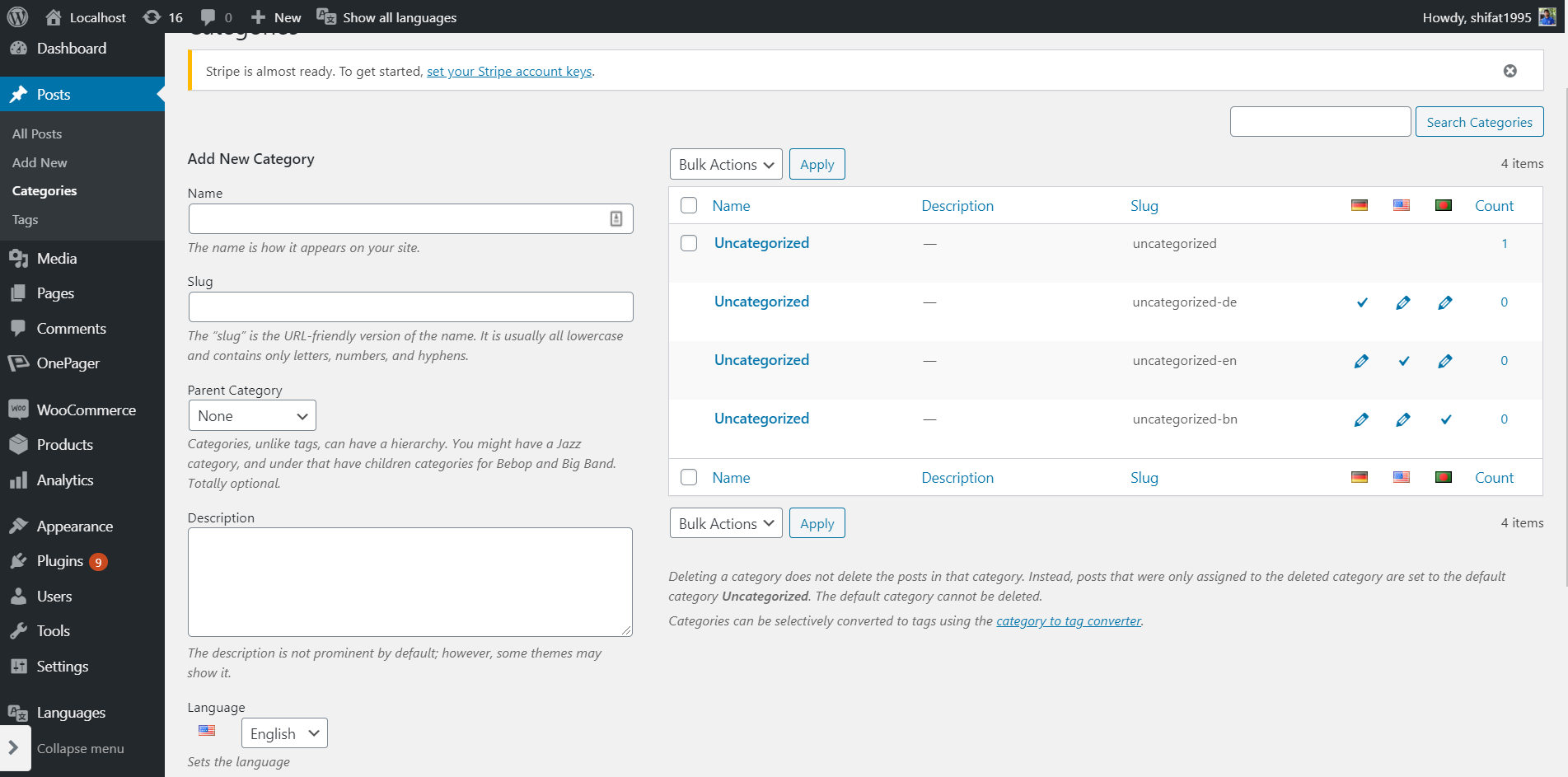 Display a Language Switcher on Your WordPress Site
Just go to Appearance » Widgets and add the language switcher widget to your sidebar or another widget-ready area. You can choose a drop-down, or use language names with flags. Once you are done, click the save button to store your widget settings.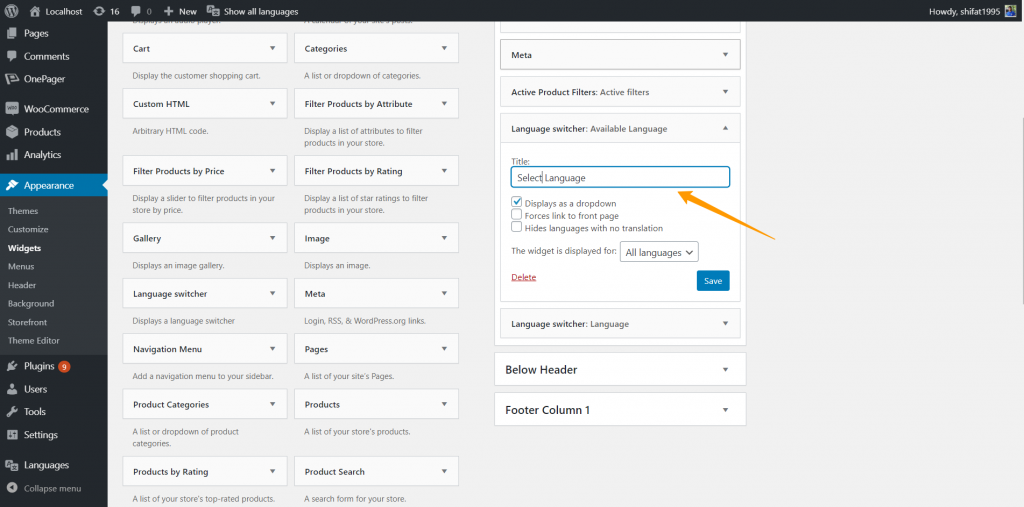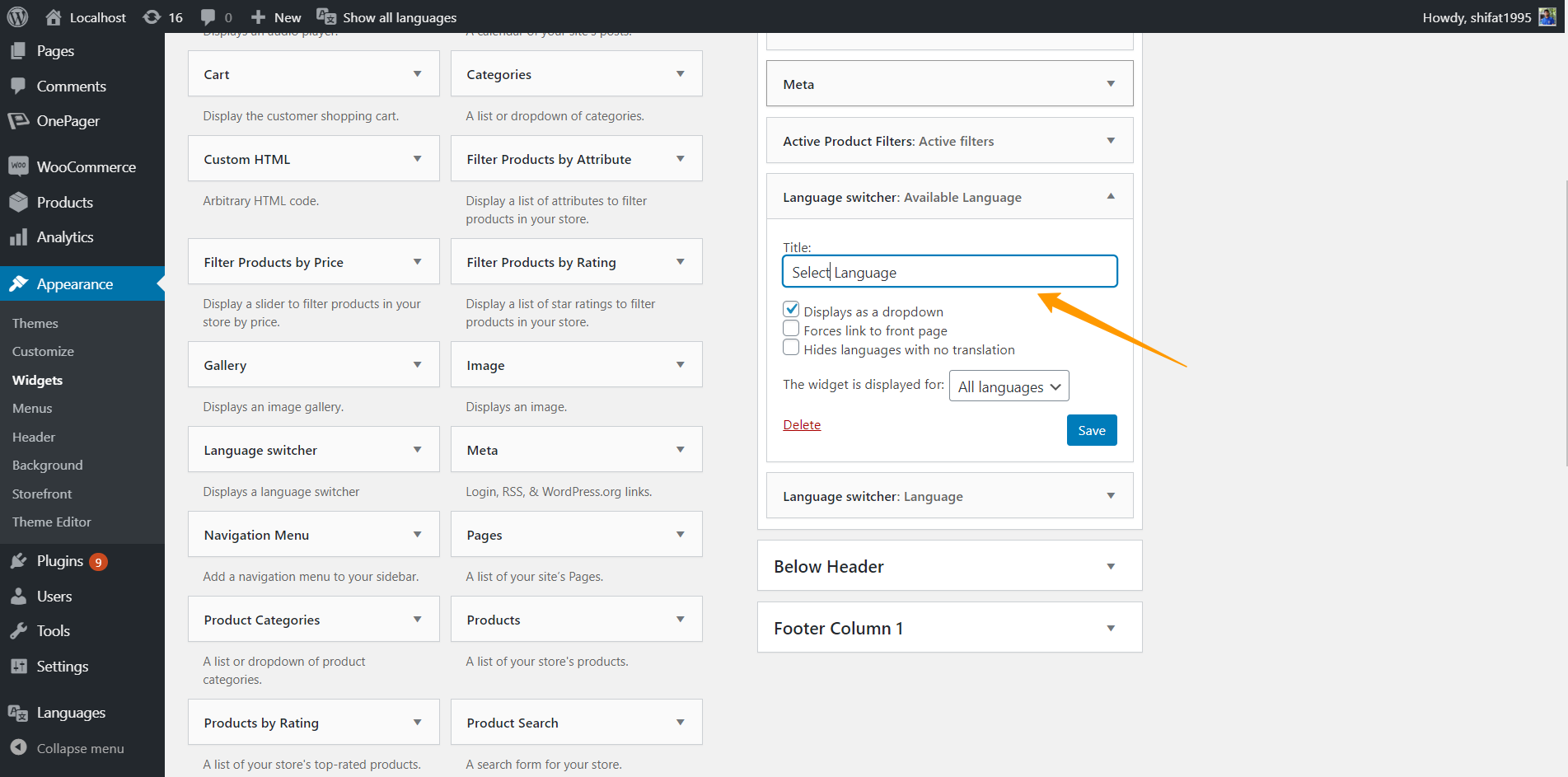 Wrapping Up
This is all for today. I hope you will enjoy this as well as learn the WordPress multilingual process with WPOnepager. Don't forget to share your valuable opinion regarding this article and share your user experiences with the WPOnepager landing page builder.