We're looking for such a payment gateway that will cost the lowest processing fee and handle all the tax issues instead of me. Then we have come across to the Paddle payment gateway and embraced it for our Themesgrove website.
After choosing Paddle, we kept trying different integration plugin for it. But nothing seems better than Paddle for WooCommerce plugin also works with EDD seamlessly. Though it is a newbie in the market, we are satisfied enough with its easy to use checkout process and user-friendly functionalities. 
Today, I am going to analysis thoroughly the WPSmartPay integration plugin and Paddle payment gateway for Easy Digital Download (EDD) and WooCommerce website.
Let's start.
What Does Paddle Serve Better Than Its Competitor?
Simply, Paddle is an all-in-one SaaS commerce platform. It unifies payments, subscription and billing management, manual invoicing, sales tax, financial compliance, and more with a unified tool that grows with you.
If you plan to scale whether expanding upmarket, focusing on new international markets or optimizing monetization, Paddle will help you get there faster. Let's find out the strongest point of the WP Smart Pay plugin. 
Fast Setup: Accept your first payment in under 5 minutes.
Delegate taxes and VAT: Automatically handle the calculation, collection, and remittance of taxes in every single country on your behalf. You don't need to do anything.
Support Wide Range of Currencies: Accepts major credit cards/debit cards, including Visa, MasterCard, American Express, Discover, JCB, Diner's Club. Also, Support PayPal, Apple Pay, and Wire Transfers.
Easy to Implement: Super easy to implement SDKs across supported platforms that support modern interface paradigms.
Multilingual: Paddle has coverage of 20+ currencies and 11+ languages.
Low Processing Fee: Paddle charges 5.5% + $0.50 per transaction whereas other payment gateway like FastSpring charges 8.9% + $0.30/0.45 per transaction.
Allow 3rd Party Affiliate Network: Paddle doesn't create a problem in using 3rd part affiliate network. However other payment gateway may create complication if you want to apply 3rd party affiliate network.
These are the key points behind choosing the Paddle payment gateway. Now tell me how one can resist himself from choosing this payment gateway. Clearly, it has all the capabilities for heading to be the best.
Why Chose Paddle for WooCommerce Plugin?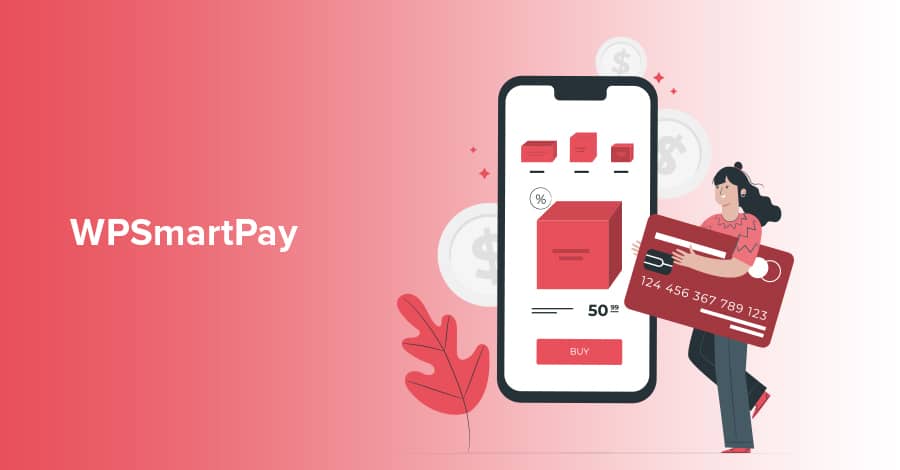 We know, WPSmartPay is a newbie integration plugin for Paddle in the market. Still, it seems to us more promising than other so-called renowned payment plugins. It comes with two different versions. One is for the Easy Digital Download (EDD) and another one is for WooCommerce. 
The amazing feature list and lowest processing fee forced me to choose WPSmartPay. Let's check all the powerful features of WPSmartPay.
Easy Payment Option
Making the payment option an easy procedure is the main challenge of any payment gateway. The WPSmartPay plugin gets a full number at this point for its easiest payment option. It handles all the payments, taxes, currencies, compliance, and billing support queries.
It will help you to collect payments for services, single products, or donations online without coding it yourself or hiring a developer. Even you don't need to buy an extra tool or pay for any further service.
So, provide your users with a seamless payment option so that they don't get frustrated, and thereby you become profitable using the number one WPSmartPay plugin for Paddle payment.
Forget the Taxes
WPSmartPay handles two things instead of you so that you can fully concentrate on spreading the business around the globe.
Automatically Charge the Correct Rate of Sales Tax: WPSmartPay acts like a tax calculator. It will calculate the taxes no matter wherever your business is. It ensures tax compliance across your payments, subscriptions, invoices, and receipts. So, there is no reason to be panicked for tax calculation.
All Your Sales Tax Is Remitted for You: WPSmartPay will handle your sales tax as promised. Associating with Paddle, it files and pays your sales taxes owed on your behalf, then issues a "reverse invoice" to for your records to show taxes as paid. You don't need to do or pay anything extra.
Seamless Checkout
The easier and faster it is for the users to complete the purchase, the better your conversion rates will be. At the end of the day, customer satisfaction is the main thing to consider. Without giving them a seamless experience, you can't expect a better earning.
WPSmartPay is dedicatedly developed to give you a seamless checkout process without any hassle. Your customers don't even need to leave the site at all to complete the purchase. Its an easy and authentic procedure.
Support All the Payment Methods
WPSmartPay accepts all the major payment methods like Mastercard, Visa, Maestro, American Express, Discover, Diners Club, JCB, PayPal, Apple Pay, and Wire Transfers (ACH/SEPA/BACS). You will receive your payment through your Paddle account no matter your clients pay you in whichever methods.
To make payment methods more authentic and time saving, WPSmartPay will give your clients chances to pay at their convenient way. Payment method should not be an issue between buyers and sellers.
So, stop wasting time thinking about payment methods. Let your users pay you through any of their preferred options.
Coupon Codes
Suppose you want to give your beloved users a bit more than others e.g., discount.
How will you do that?
Well, generate a coupon code and let your users apply that code on your site. Use with subscriptions or one-time payments, and optionally add a total amount label that updates real-time.
WPSmartPay comes with this amazing feature. You don't need to install or buy another plugin to get this service.
Recurring Payments
Recurring revenue provides a more predictable income and allows you to make better forecasts and significant decisions for your business. So, make sure your website has a payment gateway with a recurring billing system.
WPSmartPay comes with a builtin recurring payment system so that you can sell your digital products or services on a subscription basis as well as one time purchases. Set up recurring payment plans with WPSmartPay and make payment easier.
No Dealing with Invoices
You know, sending invoices manually is time-consuming and redundant work. It kills the potential time that you can invest in your software building sector. To relieve you from this hassle, WPSmartPay comes with an auto-generated invoice feature.
You just make sure the excellency of your products, the rest of the works like sending an invoice, is under the responsibility of WPSmartPay. It will take care of the authority for sending the invoices to buyers.
Secure Payment Processing
The payment process should be much secured, no matter you're paying a large amount or a tiny amount. The secure payment process builds trust between sellers and buyers. So, gain the credibility of your buyers by offering a well-protected service.
WPSmartPay for Paddle payment gateway comes with a secured payment process by maintaining four layers of fraud protection. This ensures the suspicious flag transactions and helps you fight chargebacks. You don't need to pay extra fees to get this service.
Automatic Update and Instant Support
WPSmartPay will keep providing you an automatic update unless you stop paying yearly renewal fees. Your software will still keep working seamlessly without an update. But update make sure the contemporary service. Developers can check and contribute updates from WPSmartPay github link.
If you face any complication while you're using WPSmartPay, just inform it to the authority. They will give you an instant reply. You can knock them for any query or suggestion, they serve you with high priority.
Optimized for Every Platform
Simply you can not control your users which platform they will use, or they are using. A user can use multiple platforms like computers, mobile, and tablets. So, you have to make sure your software runs seamlessly in all the platforms. WPSmartPay meets that requirement, which means it will perform across all the platforms.
Mobile and tablet visitors to your site will get a checkout experience optimized specifically for smaller screens while you're using WPSmartPay plugin for Paddle payment gateway.

Why You Should Move to Paddle?
Paddle unveiled several innovative features that make it dramatically easier and faster for business owners to sell their product globally. Paddle is a revolutionary payment gateway that makes selling software easier than ever before.
Paddle's fees are very simple: you pay 5%+ $.50 per transaction. Larger businesses can negotiate a discount (once you pass $30,000 per month in sales).
Paddle is a good choice if you're a web developer, software seller, or a SaaS company. If you don't want to waste your revenue for paying some unnecessary taxes, you should move to Paddle for your Easy Digital Download and WooCommerce website.
With WordPress and Paddle you can sell your products like;
eBooks
Apps
Themes and Plugins
Music
Web Elements
Photos
eCourses
Membership
Tutorials
Software
Tickets
And last but not least, you can Collect donations too through the Paddle payment gateway for WordPress.
WPSmartPay Deserves a Try!
You don't need to be global, but your product should be. Let your clients buy your products through whatever currency and whichever payment methods they want to, using the WPSmartPay payment plugin.
Don't let your billing stack hold you back from delivering a seamless user experience, managing your subscription billing, and grow into new markets. So, use WPSmartPay and be global with a single click.