Every successful campaign create urgency to their buyer so they can act fast and close the deal. Here comes WP Deadlines.
wp deadline
WP Deadlines will display a highly customizable countdown timer to your e-commerce (WooCommerce) page, side-wide flyout banner and countdown timers for your email.
User Friendly Deadline Setup
Creating a new
deadline
countdown is as simple as you drink water. You will find all the options precisely used and placed, thinking from an end user's perspective. Nothing here to make you confused and you can get hints about each option from the meta text next to it.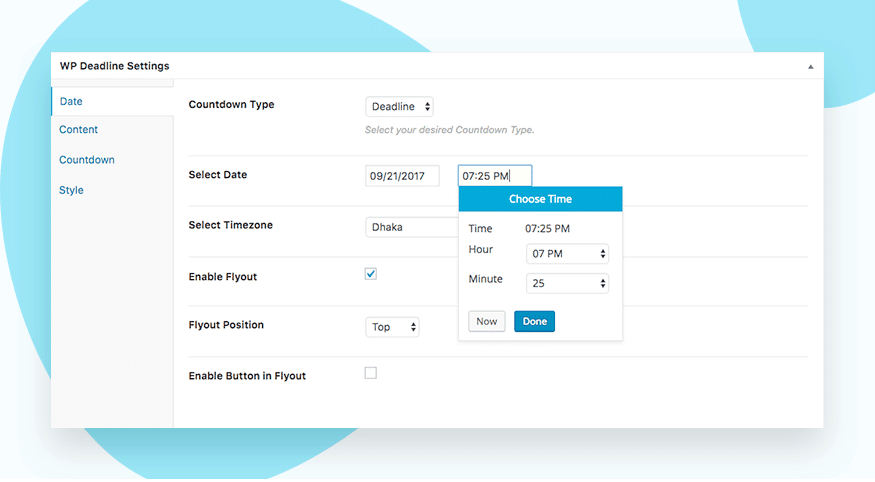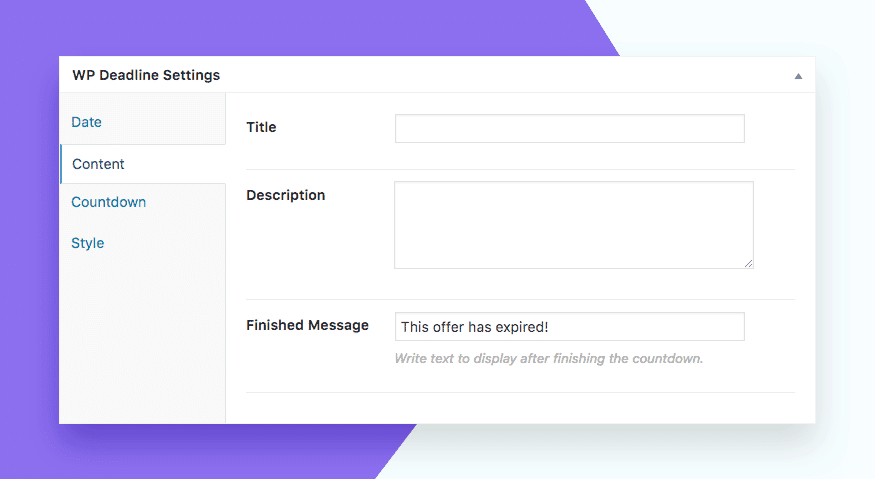 Set Specific Content to Specific Deadline
Since every single deadline carries a
purpose
, it's important to put some text in each. While generating a new one, you can set its title, the purpose it's making for including finishing message it's supposed to show when the assigned time for the deadline ends.
Easily Control Deadline Visibility
Visibility control of every single label is entirely in your grab. WP Deadline is made for fulfilling each user's needs, and therefore it allows you configure it as you feel good. Hidding Days, Hours, Minutes, Seconds is just a click away even you have access to use custom label replacing any existing one.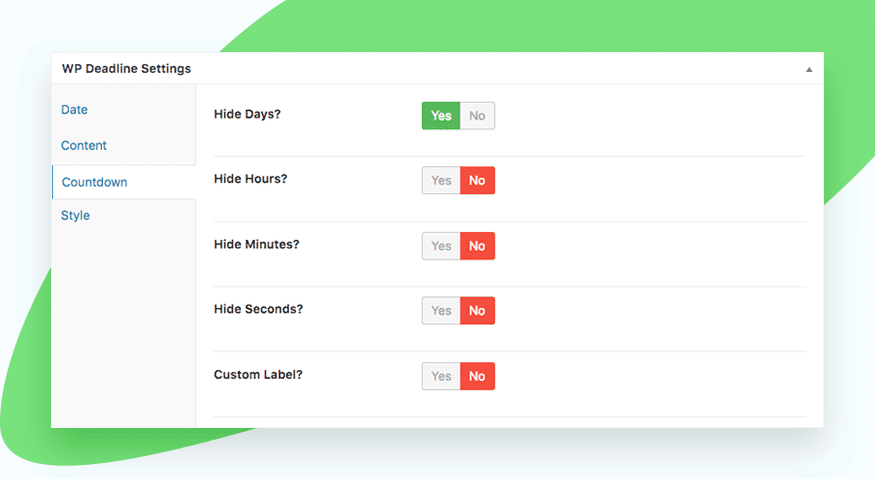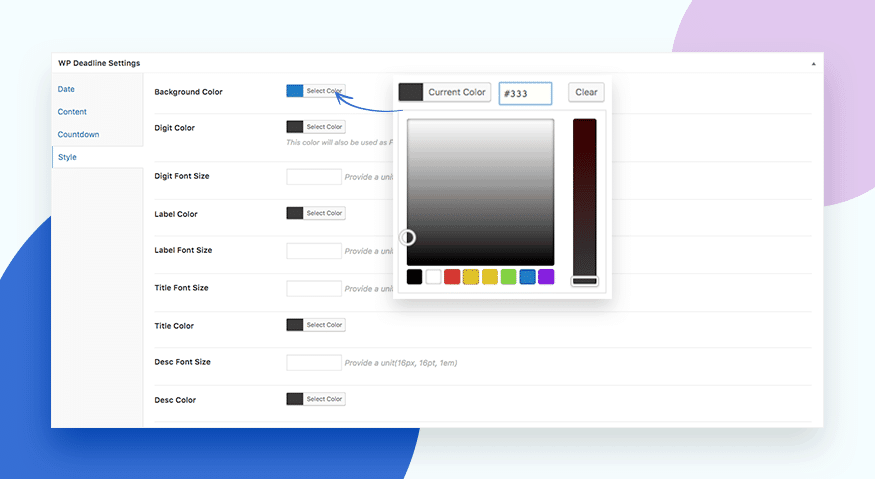 Choose Your Own Color Style
WP Deadline hasn't made you limited in choosing your preferred color. It lets you choose any of your favorite colors with the smart color picker, and that can be applied on any appearing labels on it. Else you are free to come out from using default font style as well. Choose the font as per your best fit.
WP Deadline At A Glance
Take a look our free version features which let you do a lot of things without any effort.

Create Unlimited Countdowns

Create Countdown for pages/posts

Use custom fonts, colors backgrounds to style your countdown timer.



Ability to type your own text in Countdown day field


Use countdown for your email with our dynamic gif animation generator

Ability to type message after countdown timer expired

Flyout countdown for side wide and position them top/bottom.

Generate Shortcode to use everywhere.

Generate Shortcode to use everywhere.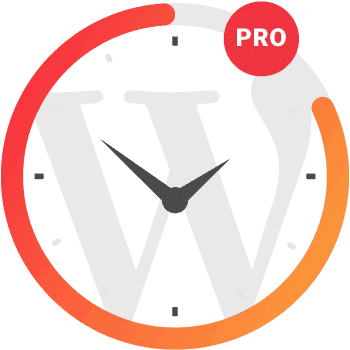 WP Deadline Pro
On WP Deadline's free version, you can have all basic settings and configuration options to make a standard countdown timer. But on its pro, you would have a bunch of advanced features, for making the countdown exactly how you want. Defining alignment for each element, putting margin or padding, border styling, colors and much more.
WP Deadline Pro Features
WP Deadline Pro features that let you publish your deadline with effortless way to your site.
Pro

Contact Form 7 Integration
Pro

Elementor Custom Elements
Pro

Pro

Pro

Pro

Advanced Countdown / Deadline Customization
Pro

Advanced Flyout Customization
Pro

Specific Flyout to a specific page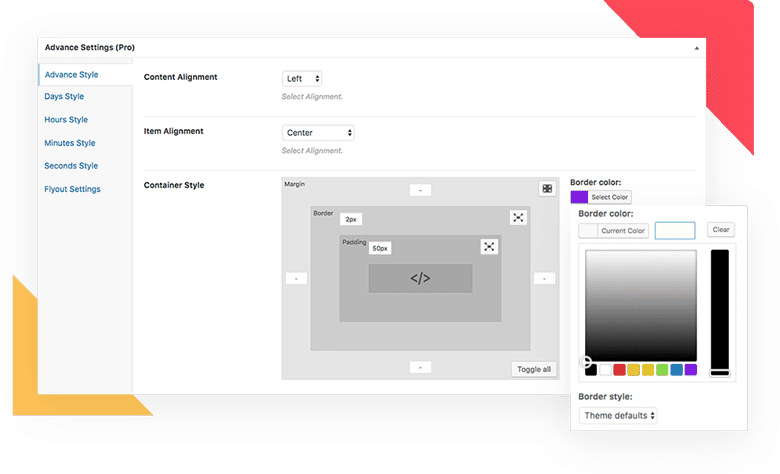 Advanced Deadline Customization
It's a premium feature of WP Deadline where you can entirely customize the deadline timer exactly how you want. It allows endless possibilities on styling with color, border, defining padding, margin, as well as customizing font size and much more.
Visual Composer Integration
To ensure the most effortless user experience, we have integrated WP Deadline with the most popular WordPress page builder Visual Composer. You can find it in the elements list which can be added to the other elements. You can show it anywhere on the page without having a little glitch.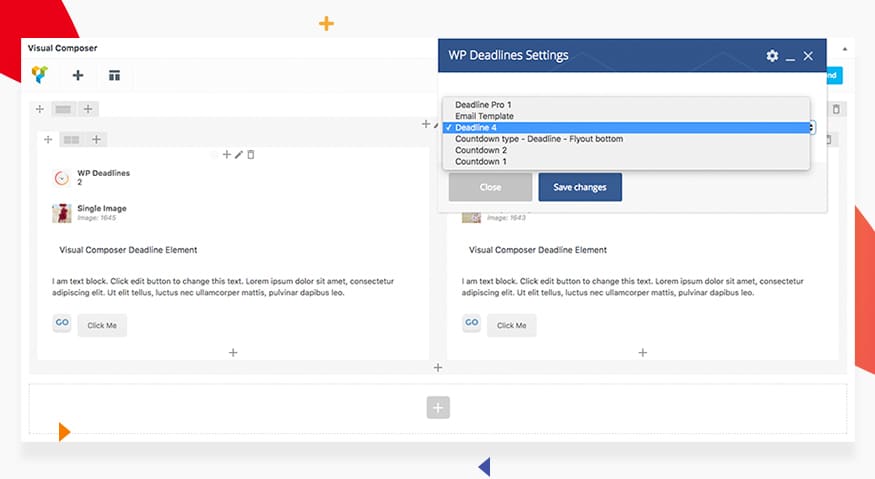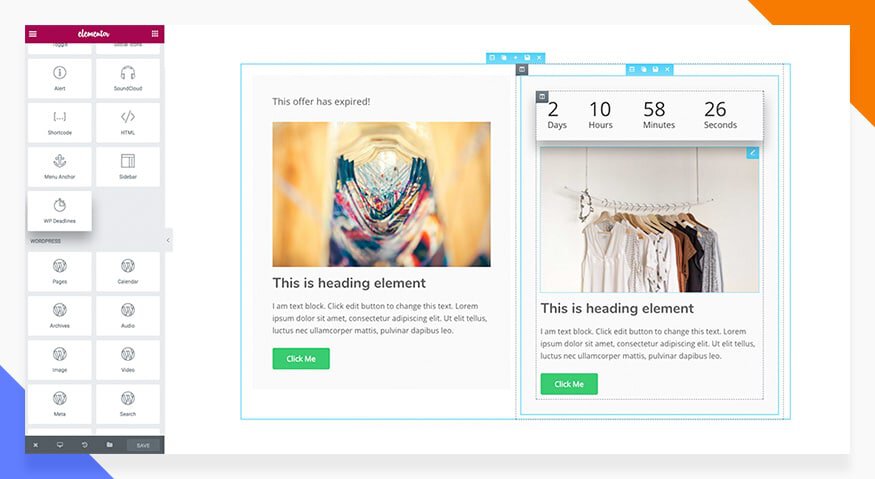 Elementor Integration
A great new for the Elementor page builder fans. WP Deadline is also supported in your favorite pagebuilder. Within a page, you can show it anywhere you like. Just to pick it from the elements list and don't worry about the alignment and other customizations. Everything would be under your control to make changes absolutely according to your wish.
Specific flyout to a specific page
The extensive capability lets you have the control of showing the countdown on specific pages, as a flyout bar. Else the auto-generated shortcode for each deadline can be used on any pages with no trouble.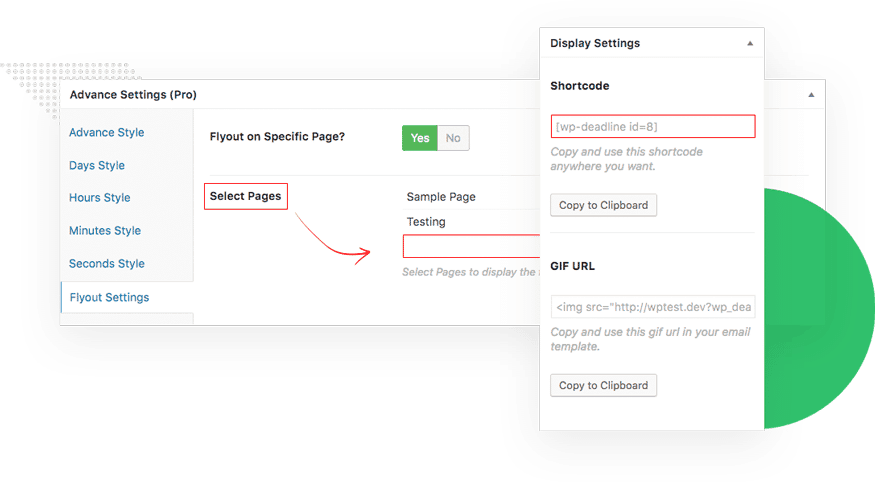 Contact Form 7 Integration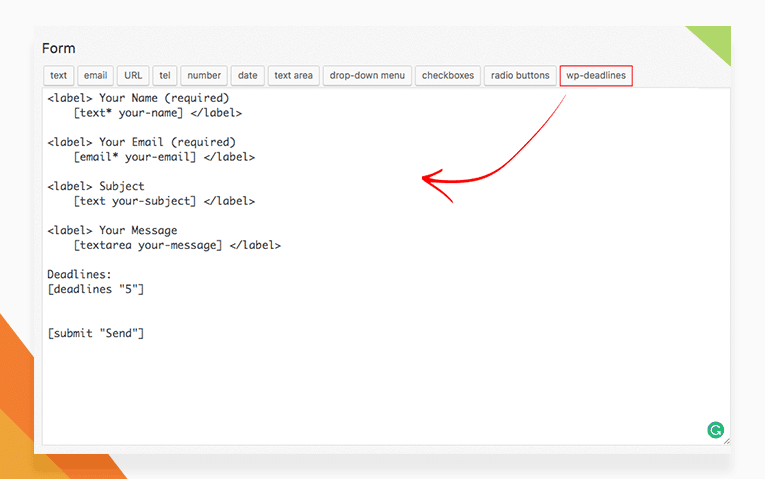 You can use deadline timer inside contact form 7. While building contact form, an additional option named wp-deadline would be available at the top that inserts a shortcode inside the form just to click on it.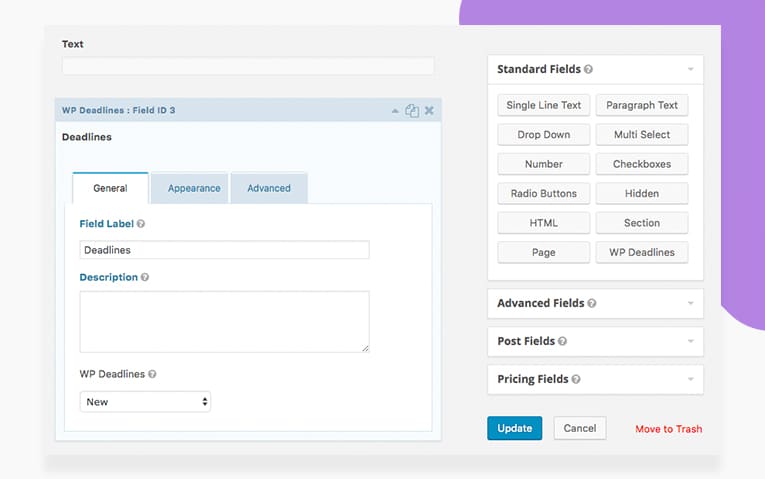 Unlikely the contact form 7, you can use the deadline inside gravity form as well. The approach is as simple as possible. A distinct option named wp-deadline would be available that allows you full customization.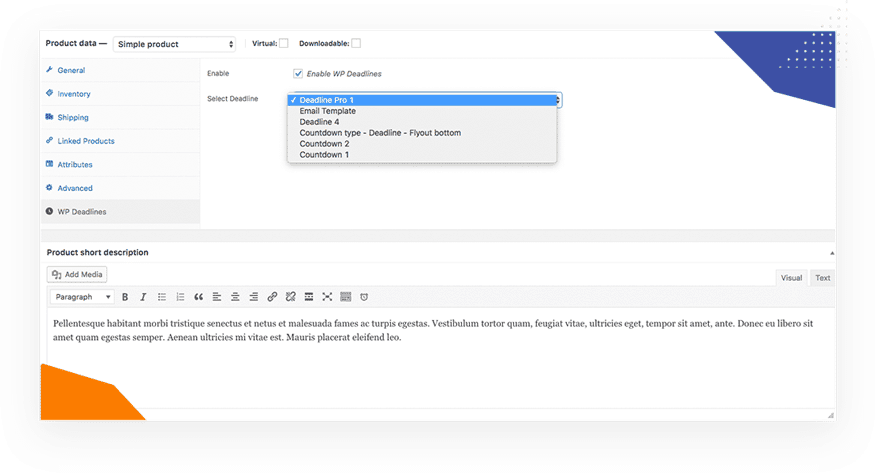 WooCommerce Integration
You can either enable or disable deadline for WooCommerce. After enabling, it allows you choose from the existing deadline as per your wants. Every single customization control would be on your hand to configure it's exactly how you want.
Advanced WooCommerce Customization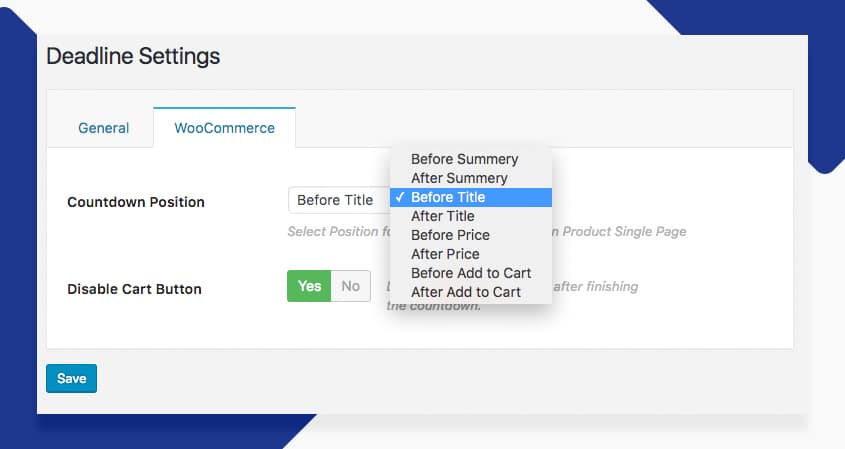 For the sake of its advanced customization capability, you can set the position for the deadline. Placing after or before price including letting you enable or disable cart button after the product offers is expired.
Download Pro Version
In its pro version, you would have a bunch of advanced features, for making the countdown exactly how you want. Defining alignment for each element, putting margin or padding, border styling, colors and much more.
We are serious in Business
If you've been around the block very long, you know that there's one big risk when buying a theme or plugin from a small, new company: they could go out of business and stop providing updates, which means your website would quickly go out-of-date.
We maintain a fiercely loyal following of customers for one reason: we provide unbeatable support with frequent update of our products to make sure your website load faster and work smoother.
For any kind of query please leave a message to
help@themesgrove.com