It's been a long time since we are in the industry of WordPress themes. From our lucid experience over the years we have built Education WordPress Themes like Edumodo, Learned, StudyKit, Edukado. However, there was always a lacking of a complete LMS WordPress theme and with that in mind, we have been working on building a fully functional LMS theme since January.
Finally, the time has come. Today we are proudly introducing our long-awaited LMS WordPress theme Tutorque; the all-in-one Education WordPress Theme. It's not just a theme; it's a complete LMS solution for educational websites and e-learning with limitless functionalities and online selling options. With the power of Elementor and WidgetKit, we have built exactly what you need.
Let's know a bit more about the consummate Tutorque LMS WordPress Theme.
Tutorque Is the Best LMS WordPress Theme for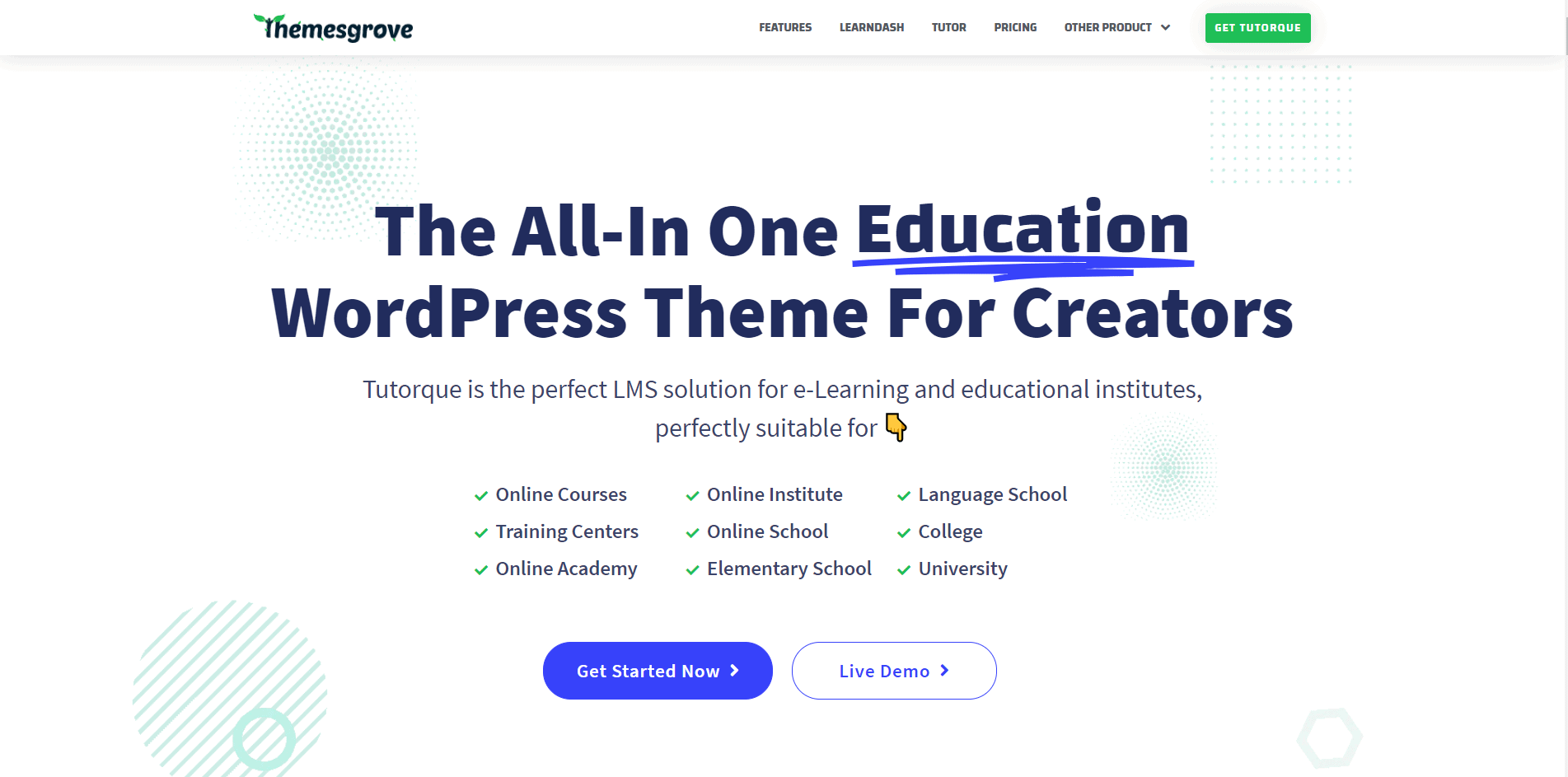 Distance learning and online education is the new norm of education due to COVID-19. Due to the situation and to patch up with modern facilities every educational institute, instructor or coach now needs an online presence. For them, Tutorque is the perfect solution so far.
We build Tutorque as a powerful LMS WordPress solution for creators with a full-featured eLearning marketplace in mind. It is perfectly suitable for educational institutes, online courses, training centers, online academy, online institute, elementary school, language school, college, and university.
To bring up the extensive variation in usability, we have brought three different homepage variations for University, Online course, and Coaches with three other LMS solutions LearnDash, Tutor LMS, and LearnPress. It's not just a theme; it's a complete solution for your next education website with limitless functionalities for selling online courses.
Tutorque Supported LMS
LearnDash is the most trusted WordPress LMS plugin choice of fortune 500 companies. Major universities, training organizations, and entrepreneurs worldwide are using LearnDash for creating their online courses. Then why should we lag behind?
Tutorque is fully compatible with LearnDash, which means you can integrate and enjoy all the benefits of LearnDash with Tutorque LMS WordPress Theme. With extensive features and options, Tutorque will provide you the best LMS experience in a theme with three different homepage variations LearnDash University, LearnDash Online Course, and LearnDash Coach.
Let's see the hompages for the LearnDash theme.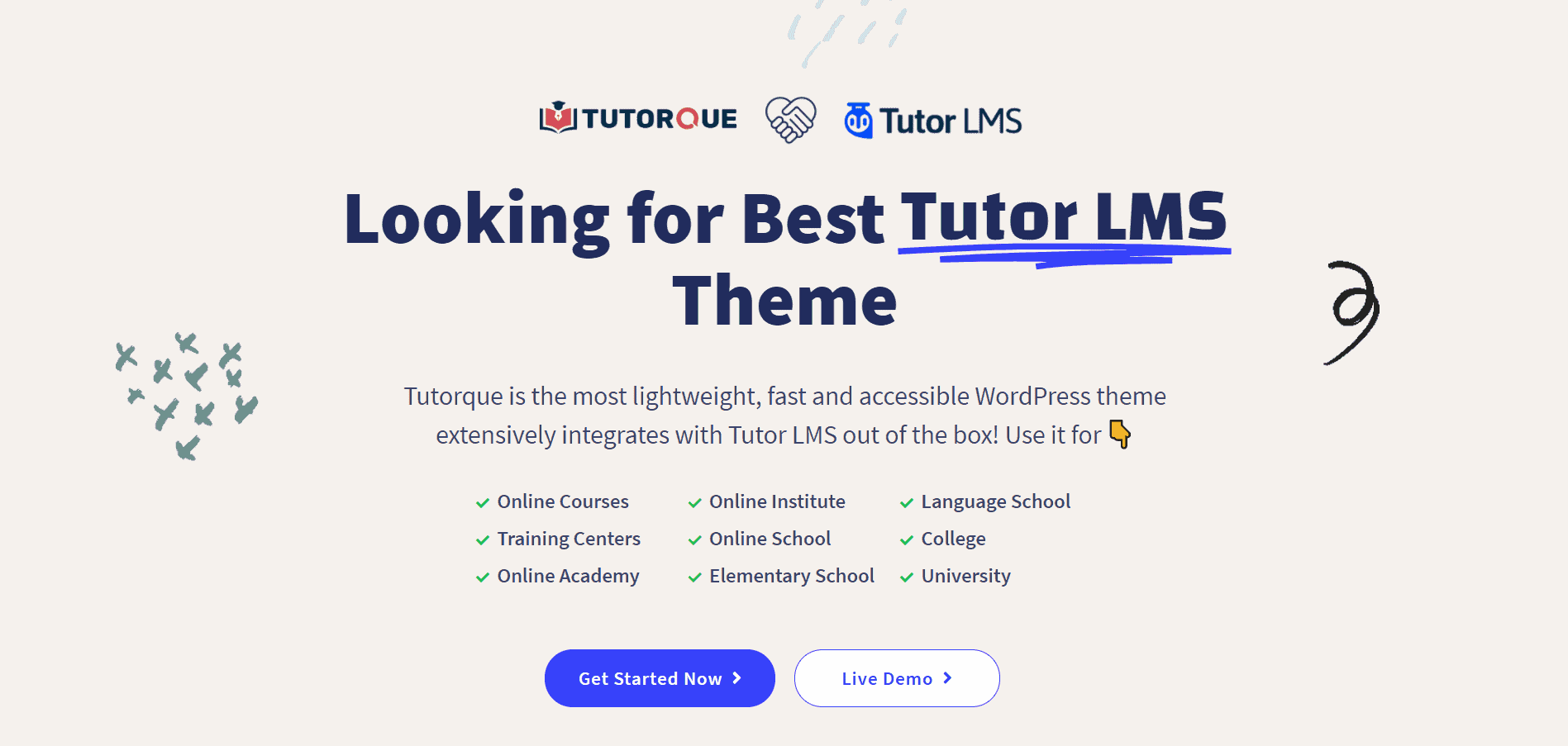 Tutor LMS is a complete, feature-packed, and robust WordPress LMS plugin to create & sell online courses easily. Though it is a new player in the market with several useful features and facilities, Tutor LMS is quite popular and convinces us enough to integrate it with Tutorque WordPress education theme.
You can easily create quizzes, add multiple instructors, interactive lessons, make potent reports, and get all the backend options right on the frontend with our Tutorque LMS theme and Tutor LMS integration. In this release, we only bring out one homepage variation, but we will add the other two in the upcoming version of Tutorque.
Let's see the hompages for the Tutor LMS theme.



LearnPress [Coming Next]
LearnPress is a comprehensive WordPress LMS Plugin, just like WordPress Moodle. This is one of the best WordPress LMS Plugins can be used to easily create & sell courses online. In the upcoming version of Tutorque LMS WordPress Theme we are planning to integrate Learnpress along with Sensei.
What's Inside Tutorque?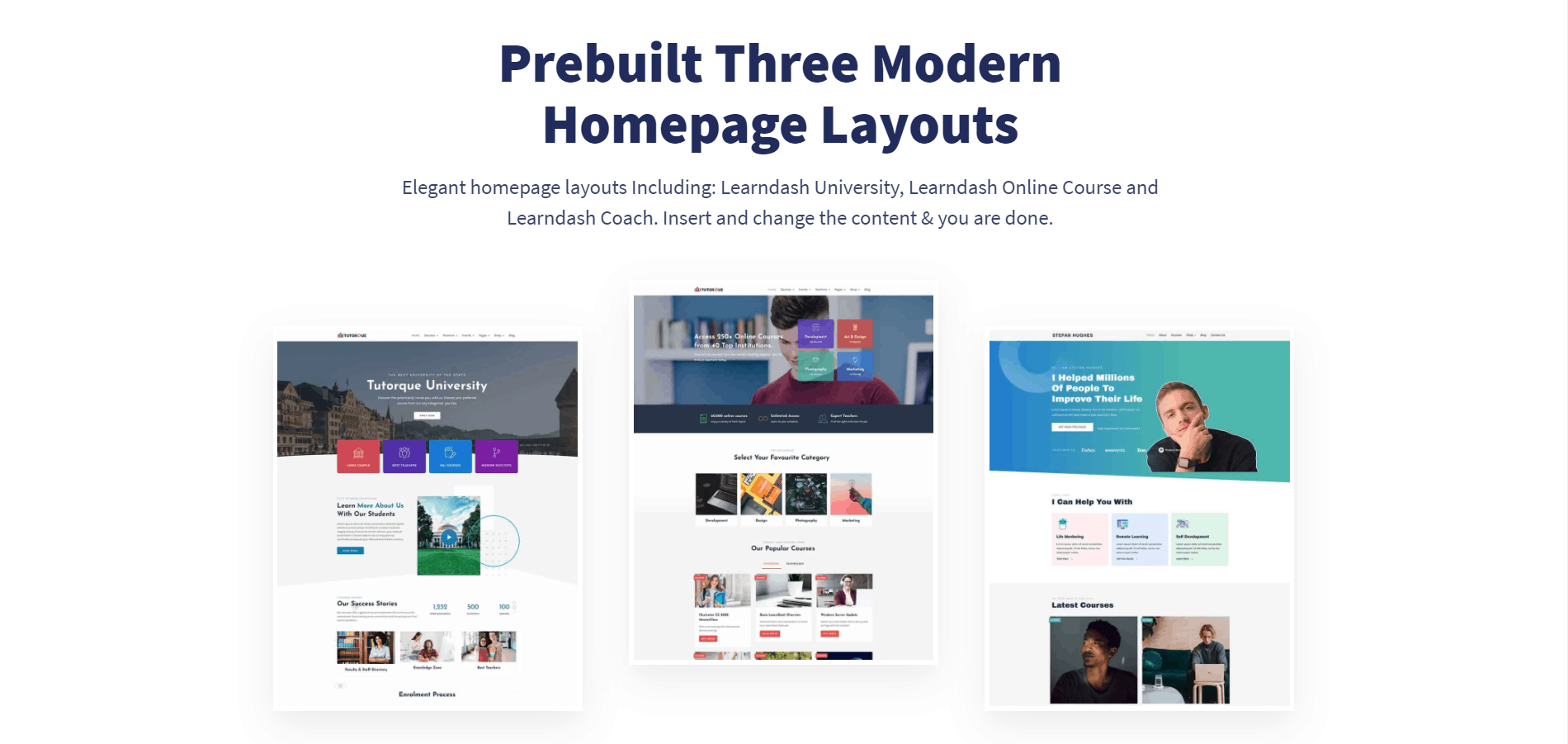 Accessibility Support
Tutorque education WordPress theme is entirely built with the strict accessibility guideline provided by wordpress.org. People with disabilities can effortlessly access or use Tutorque without any difficulties. Just clicking the tab button, anyone can navigate the full site directly from the theme layout without using the mouse. Also, the link can be easily discernible too.
One-Click Demo Import
You can easily import any of our pre-designed landing page demos just in a click with the powerful one-click demo importer. For example, WordPress School Theme demo, WordPress Education Theme demo, University WordPress Theme demo, LMS WordPress Theme demo, etc. Tutorque Education WordPress Theme provides the most hassle-free installation process for importing any demo.
Zoom Integration
Now, you can easily conduct online classes, webinar, virtual seminar, instructive training sessions with the Zoom integration of the Tutorque Education WordPress Theme. Face-to-face education across the world is much easier with Tutorque with the leader in modern enterprise video communications Zoom.
Three Header Variation
The Education WordPress Theme comes with three distinct header variations to give your Education site a brand new look according to best fit and different perspective. Choose one that matches the best for you from the design for university, for online course and for the individual coaches.
Highly Optimized
Each and every layout of this theme is highly optimized with focused SEO and super-fast page loading speed. The super-fast page loading speed gives you a boost to enjoy a conversion-friendly website building experience with much more than your imagination. Also, no need to worry about the SEO because Tutorque education WordPress theme is already SEO optimized.
Multilingual Support
Tutorque LMS WordPress theme is fully multilingual supported. Easily make a multilingual website and open up new possibilities for the native speaking students. Now, it's more than easy to offer translated or customize educational content and get close to the substantial audience with Tutorque Education WordPress Theme.
WooCommerce Ready
If you want to sell anything to your student from books, ebooks to helpful gadgets simply do it with the integration of WooCommerce for WordPress. Turorque is entirely WooCommerce ready to sell physical to digital products on your site without any somatic involvement. Therefore, just add your product deine the prices, description and product image, that's it.
Front-End Real-Time Editing with 30+ Ready Made Elements
You can experience a whole new visual front-end editing with 30+ functional ready-made WidgetKit elements for different functionalities along with Elementor. Just apply any design elements or edit and see the result instantly. Bring variety with more options; it's just a matter of minutes.
Powerful Customizer
The end of the clunky theme options panel, because with Tutorque Education WordPress theme you can edit any part, bring any changes with the powerful built-in customizer. All the education layouts of this WordPress education theme are incredibly unique and eye-catchy to give a new look to your site in the way you want.
Built-In Inner Pages
About Us Page: Let the people know about your university, university students, history & traditions, success stories with useful stat and the best of your teachers in the about us page.
Contact Page: Contact us page contains all the detailed information about your university including a contact form, email address, contact number, and office location address.
Notice Page: Show your upcoming notice day wise with the Google calendar integration in the notice page. Also, provide a bit more details about particular notice in the individual notice page.
Event Page: Let the people or student know about the upcoming or running events with a lot more details. You can also search for the events or filter the events with date time wise.
Wrapping Up
Honestly, hard work always pays off, and Tutorque is a result of several months of research, development, and hard work. We are pretty confident with the performance as well as the usability of the Tutorque WordPress LMS theme. So, what are you waiting for? Select any of the pricing options from our easy pricing plan. Also, let me know your opinion and user experience in the comment section below.