Do you want to turn your WordPress website into an e-commerce website? If your answer to this question is yes, then WooCommerce or Magento can be the perfect choice for you.
In the last few years, both these platforms have gained immense popularity due to their advanced features combined with numerous extensions and plugins. This blog compares WooCommerce vs Magento on various parameters to identify which one is the best eCommerce platform that fits your needs.
So, let's get started.
Read more: 6 Best eCommerce Platforms for Starting an Online Business in 2022
WooCommerce vs Magento: Features at a Glance
Features
WooCommerce
Magento
Inventory management
– You can add as many products as you want
– Must install an extra plugin for multi-store management
– You can add as many products as you wish
– Provides real-time visibility of the product inventory
– Offers multi-store management
Security
– Fairly secure
– Must be careful while downloading extensions and plugins through third party providers
– Highly secure
Search Engine Optimization capabilities
– Inherits SEO features of WordPress platform
– Top in the field of SEO
– Many advanced SEO extensions
– Features have SEO capabilities by default
Multi-lingual support
– You will have to purchase WPML to support other languages and currency
– Built-in support for all popular languages
Themes
– Multiple themes available for free or at the very low costs
– Themes are available but can only be installed through CLI
Customizing options
– All the aspects are entirely customizable
– Comes with a page builder to aid the process of customization
– All the aspects are completely customizable
– Page builder only available in Magento
– The page builder is not very easy to use and requires a little understanding of coding
Payment options
– Supports numerous payment options
– PayPal is the most used one
– Extra payment extensions can easily be installed
– Has its built-in payment options
– Offers numerous payment options
– Allows users to decide their shipping charges while setting up Magento
– Numerous easy third-party extensions are available
Support
– Unlike Magento community support system, here you will not find quick support
– You will have to rely on support resources to find solutions
– A huge community is available to provide support
– Support also includes email and live support
B2B Features
– For B2B features, you will have to purchase a plugin first
– Premium subscribers can avail of the B2B features
What is WooCommerce?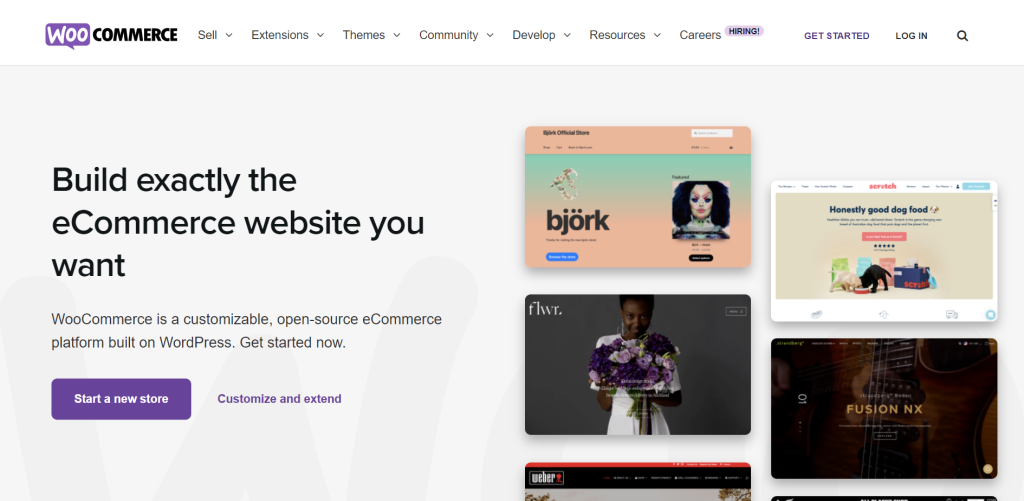 WooCommerce is a free plugin for WordPress which is designed for businesses of all sizes. Once you download the plugin, you can add e-commerce functionalities to your WordPress website with a few simple clicks. You can choose from WooCommerce's hundreds of extensions and more than a thousand plugins, depending upon the requirements of your business.
It has a user-friendly interface that's ideal for any online store. It is commonly used to sell popular physical merchandise like clothes, footwear, food products, jewelry, bags, etc. However, it can easily be customized to sell digital services and products. If you are still confused about WooCommerce, you can refer to the list of benefits mentioned below for your convenience.
Extremely user-friendly
Easy to install and set up
Free of cost
Allows you to add product descriptions, tags, and categories
Customers can leave product reviews
Allows customers to enable search filters
Integrates with all major payment providers
Offer various layout themes and customizing options
Customers can make payments without creating accounts
Allows enabling of geolocation to calculate taxes
Let's you add unlimited products to your online store
What is Magento?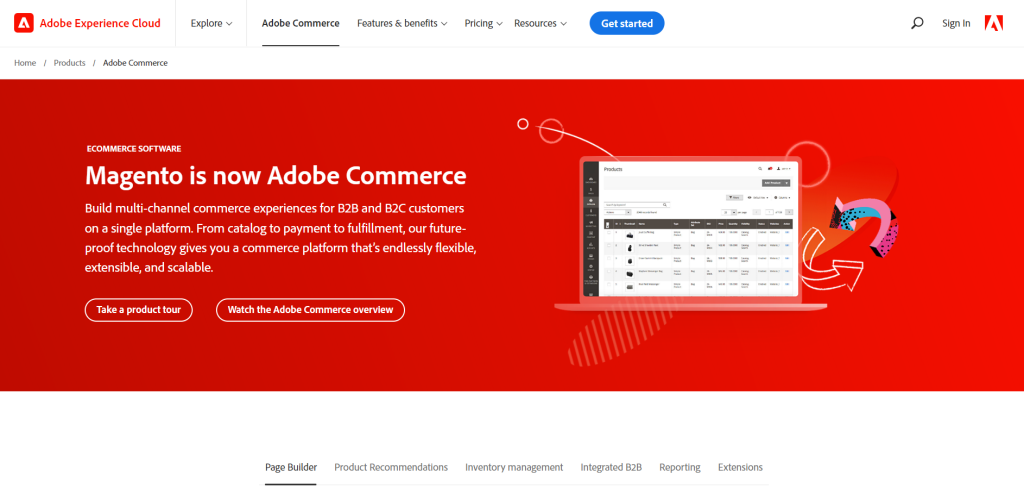 If you are looking for an e-commerce platform to help you build an online store, you will never run out of options. With a wide spectrum of options available in the marketplace, Magento is one of the best. It is an e-commerce platform owned by Adobe and written in PHP that can take care of all your e-commerce business needs.
Magento offers a variety of tools and features for marketing, optimization, and management, allowing you to give your customers an excellent shopping experience. Designed keeping in mind businesses of all sizes, Magento will help you to serve from a few to a million customers efficiently. Users get the option of choosing from several plugins and themes to give their e-commerce website any look they want. Even with little to no technical development experience, you will easily navigate Magento.
Magento 2 is the latest update being offered by Magento. The update provides more advanced features like faster loading speed, more secure payment options, easy maintenance, and upgrade, engaging customer experience, etc.
Some more benefits of Magento are:
Very user-friendly and intuitive
The Magento platform is feature-rich and very powerful
Built keeping in mind search engine optimization
Allows you to customize every aspect of your e-commerce business
Advanced reporting options are available
Mobile-friendly configuration
Offer numerous content management tools
Customers can enable intelligent search filters
Has customizable security features
Offers marketplace integration
WooCommerce vs Magento: Detailed Comparison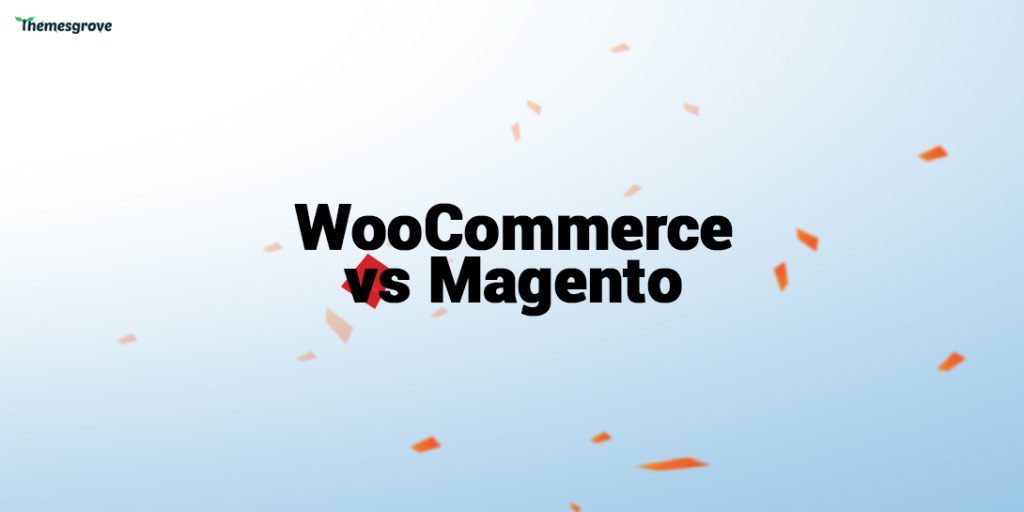 After having read about WooCommerce and Magento, the possibility is you are more confused than ever. We understand your dilemma. Hence, to help you reach a final decision, we have a detailed comparison of WooCommerce and Magento below. Hopefully, the comparison will answer all your questions and aid you in reaching a final decision quickly.
WooCommerce vs Magento: Performance
As a new business owner, you might not know what specifications and performance potential are required for launching a new e-commerce business. Your e-commerce website needs to have great performance because time is money. If your e-commerce website is slow to load, the customers will just move on to other alternatives. Hence, site speed and performance are two critical elements. Studies reveal that customers expect the website to be loaded in two seconds or less.
When it comes to the performance and speed of WooCommerce and Magento, both platforms showcase great results. Although the website's performance depends majorly on the hosting provider, WooCommerce and Magento have been known to respond fast enough. In case, your e-commerce website is not loading fast enough, both WooCommerce and Magento offer solutions like removing some plugins and extensions to garner more speed.
WooCommerce vs Magento: Pricing
Both WooCommerce and Magento are free and open-source systems that can help you set up your new e-commerce website from scratch. However, if you want to upgrade and avail of some extra features, you will have to pay some money.
Although Magento is a self-hosted platform that is free to install, you will need a couple of other things. These include a web hosting service, domain, security, and any extensions you'll need to make your site more functional. It could cost you anywhere from a few bucks to several hundred dollars. Magento Commerce is the platform's premium paid edition, which includes capabilities that aren't available in the free version. The exact amount you'll pay is determined by the gross revenue of your e-commerce business.
As mentioned above, WooCommerce is also a free WordPress plugin that allows you to sell your products online. You will, however, have to pay for WordPress hosting, a domain name, and security certificates. Your hosting provider will determine the precise cost.
WooCommerce vs Magento: Ease of Use
If you're about to launch your new eCommerce firm, the website builder you choose should be user-friendly. Even the most powerful feature set would be pointless if you didn't know how to set it up to run.
WooCommerce has been designed keeping in mind beginners and e-commerce business owners who have no prior experience. The platform is hence beginner-friendly with a simple user interface. A beginner can navigate his/her way around WooCommerce effortlessly and use all the features to their full potential. Additionally, the user-friendly feature also makes the platform highly customizable. With customized options, you can quickly personalize your website by changing the color of your design, adding additional functionalities to your shop, and even including photographs or videos.
WooCommerce also allows you to add an unlimited number of products and customers to your store. WooCommerce includes a setup wizard that will help you through the first setup. Furthermore, you can create pages, set up payments, configure shipping, select currency, and taxes. This site provides a wealth of resources to assist with practically any task.
On the other hand, Magento is designed for web developers and medium to large online stores. It's ideal for users to at least have some technical knowledge to use it. As a result, inexperienced users may struggle to navigate the platform. Even though several configuration guides and tutorials are available, the Magento store setup procedure might be difficult for new users. You may have to invest time to figure out how to set up extensions and adjust themes after installation. You might also need to hire professionals for helping you manage the platform in the long run.
WooCommerce vs Magento: Plugins and Extensions
Extensions are tools that are built into stores to improve and expand the functionality of eCommerce sites. Magento and WooCommerce are both well-known for having a big variety of add-ons that improve the website's functionality and look. All of these extensions and plugins are extremely easy to download and install.
WooCommerce provides users with hundreds of free and premium WooCommerce extensions to meet all their logistical, technical, and advertising needs. Plus, there's more. WooCommerce allows you access to over 55,000 free WordPress plugins and themes. In terms of product type, shop organization, marketing, payments, shipping, enhancement, and subscription, you can design your eCommerce store. They're also simple to integrate into WooCommerce stores.
Magento has a dynamic community of developers, agencies, and freelancers, hence, it uses a wide range of commercial and unpaid third party extensions. Magento Marketplace now contains almost 4000 extensions for accountancy needs, advertising and promotion, sale, payment & security, content management, search engine optimization, reporting & analytics, and customer service, among other things.
What is Unique About WooCommerce and Magento?
There is nothing new we can now tell you about WooCommerce and Magento. However, to offer you a revision of what is mentioned above and to help you make a final decision, we have listed below some unique, yet known, features of both WooCommerce and Magento.
WooCommerce
Hundreds of extensions to extend e-commerce business functionality
Aids quick creating of the online store
Supports a variety of different payment options
A wide range of pre-built themes
Allows customers to subscribe through WooSubscriptions
Use free extensions like MailChimp to create automated email campaigns
Increasingly flexible and scalable
Let's you build a feature-packed shopping cart for your customers
Let's you add the unlimited product to your store
Offers great product and inventory management
Magento
Great platform flexibility and extensibility
Effortless catalog management
Offers advanced catalog search
Creative content staging methods
Can organize page hierarchy
Sets email reminders
Offers rewards and royalties
Allows price variations depending upon availability and grouping
Fully SEO centered
Mobile friendly
Supports all payment methods, even COD
Great and efficient customer support
The Final Verdict
It is almost impossible to give a definite answer to the question of which is better: WooCommerce or Magento. Choosing an e-commerce support platform depends on your requirements and expectations. Each e-commerce website has a different set of customers to serve, different goals, varying degrees of investment, etc. Hence, it is recommended to decide closely to identify your needs and consequently, the various aspects of a platform.
While WooCommerce is free and highly user-friendly, Magento offers excellent performance and security features. In the end, the decision depends upon what exact feature will help you build a successful and popular online store. Therefore, do your research and take your time in deciding. Do not be hesitant to take help from friends and family if needed. We wish you luck in making the right decision.