In WordPress plugins directory you will find a lot of plugins out there. But most of them lack functionality that you look for in a plugin. If you try to test plugins one by one, it will take a lot of time.
In this post we have listed top WordPress editor plugins, which will allow you to edit WordPress better. These plugins are not picked randomly. We tested a huge number of WordPress editors and after sorting those, we found these plugins.
With any of these plugins you will be able to utilize your time and effort properly. Each plugin comes with different functionalities, chose one that meets your requirements best.
Black Studio TinyMCE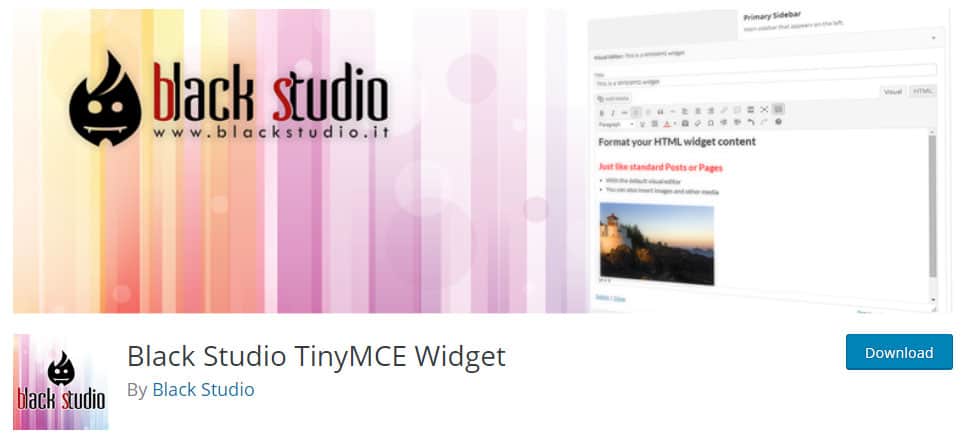 This is one of the best WordPress wysiwyg editor plugins that are currently available in the WordPress repository. You will be able to insert rich text and media objects in your sidebar without any kind of hassle. Black studio TineMCE enables you to edit your widgets in a WYSIWYG manner without using the native TinyMCE editor of WordPress.

With Black Studio TinyMCE you can fully switch between HTML mode and visual mode. You do not require any sort of HTML knowledge to add formatting and media/images to the text. You can move forward and use the media from your WordPress media library.

Black Studio TinyMCE supports full-screen editing and it also comes with support for the accessibility of widgets overall. In full screen editing mode, you will be able to work without any side distraction as the editor is visible all over the screen.

Pros
Full featured TinyMCE Visual editor.
Supports full-screen editing.
Translation available in 20+ languages.
It can edit rich text widgets via the visual editor.
Cons
No extra composer controls appear.
A large gap between widget title and content.
Classic Editor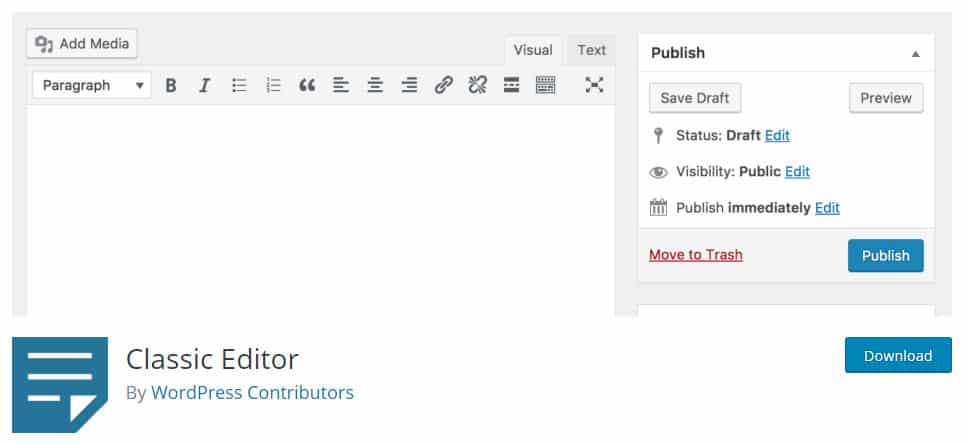 Classic editor is the official plugin of WordPress team which restores the classic WordPress editor. In the new WordPress 5, the default editor is Gutenburg. Gutenberg might not be the editor that you are looking for. This plugin will hide all the functionality of Gutenberg block editor and you will be able to create your post in the old classical way.

This classic editor allows administrators to choose the default editor for all users. It enables administrators to allow users to change their default editor. When this is allowed, a user can select which editor to use for each post.

This official WordPress plugin will be fully supported and maintained until 2022 or as long as required.

Pros
Restores the old classical editor.
No complexity.
Cons
Comes with all the limitations that the classic editor of WordPress has.
WP Smart Editor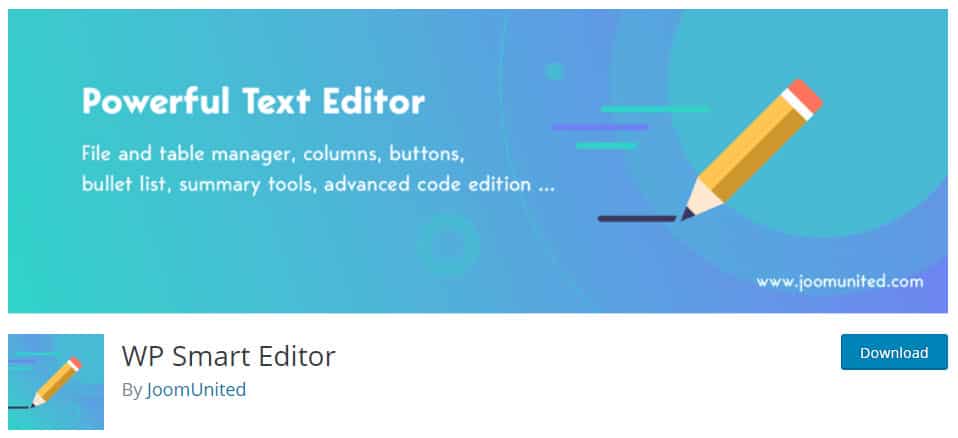 If you are looking for an easy editor for wordpress which you will be able to use without any kind of hassle than WP smart editor is the one you are looking for. This text editor offers you and your client a custom experience with possibility of filtering tools available per user or user role. Create different user profiles and set different editor tools to each profile.

This WordPress content editor plugin comes with various time saving tools like, file manager, table manager, button, bullet lists, content summary, custom style editor, etc. These tools doesn't only save your time but also save your money along with your effort.

Pros:
Several time saving tools.
Unlimited user profile creation.
Compatible with 3rd party integration.
Cons:
Pro version doesn't provide much facilities.
TinyMCE Advanced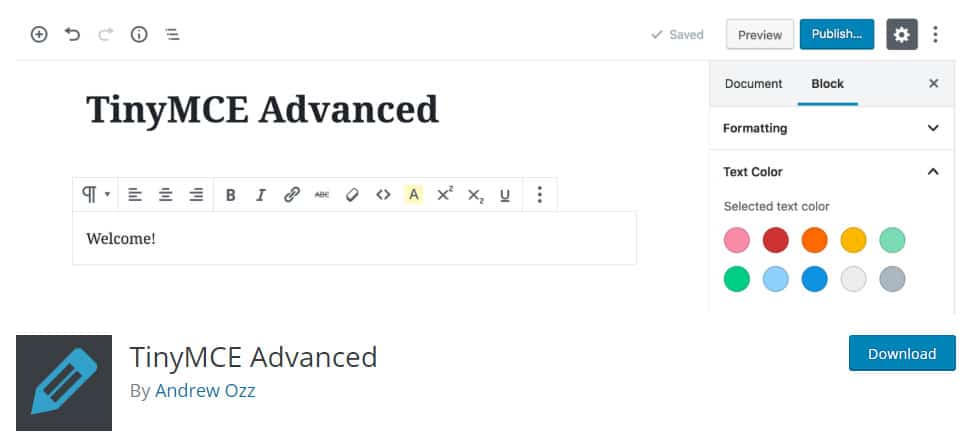 If you are feeling limited with the WordPress visual editor and need more formatting options, than take a look at TinyMCE Advanced plugin. This plugin will help you to customize your TinyMCE visual editor so you get all the shortcuts and formatting tools in your fingertips.

With TinyMCE Advanced you will be able to do advanced formatting from your dashboard. It allows you to:
Add and alter tables.
Chose squares or disks for unordered lists, instead of bullets.
Search text and then replace it.
Insert emoticons, page breaks, date and time, horizontal line, spaces and more.
If you stuck anywhere while using this plugin, you can check for the documentation. There are also some tutorials available to troubleshoot most of the common issues that may arise. The plugin developer actively support the forum at WordPress.org and attempts to resolve all the issues posted.

Pros:
Advanced formatting options.
Cons:
Some time give errors like 403 and 500.
Doesn't support inline css.
Syntax highlighter for Post/Page HTML Editor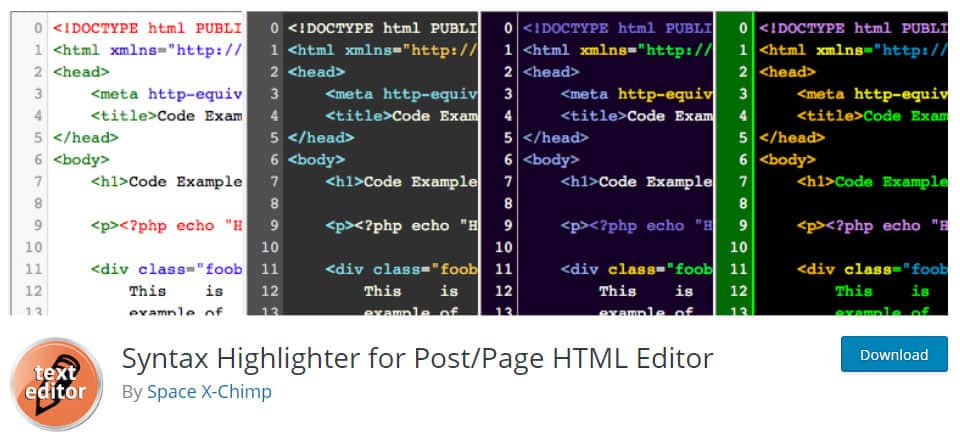 If you are bored or having trouble with your editor try switching to Syntax highlighter. It is an easy to use WordPress plugin, that will replace your default Post and Page Text/HTML editor with an enhanced editor. The default WordPress post and page Text/HTML editor is great but it is limited.

This plugin removes the limitations of default editor. It allows you to see code with syntax highlighting and line numbering so that you can read your HTML markup with ease. You have full control over the editor and you can configure it from the settings page.

Syntax highlighter for post/page is a very lightweight and fast editor that comes with 36 different color themes. This plugin is fully translation ready and already translated to several popular languages. You are sure to delight and find much more comfort than default editor with syntax highlighter.

Pros:
Fast and lightweight
Translation ready
Cross browser compatible
Cons:
Doesn't provide syntax highlighting for theme/plugin editor.
WP Githuber MD – WordPress Markdown Editor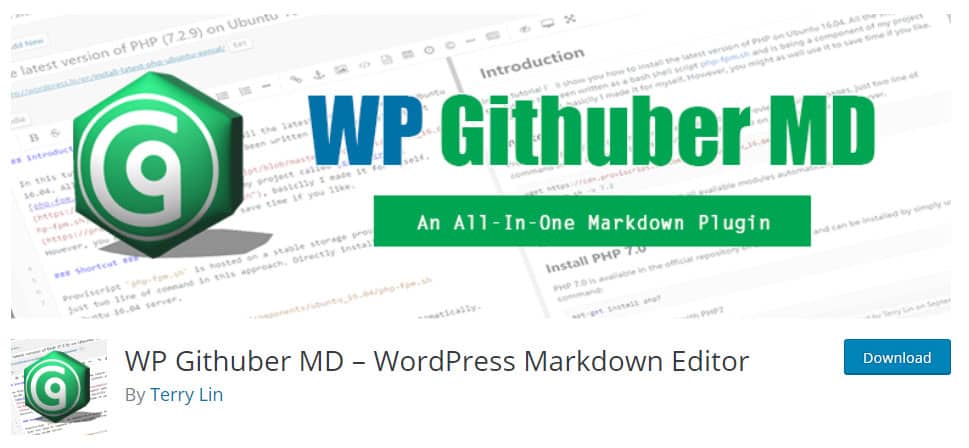 Wp Githuber MD is an all in one WordPress Markdown Plugin that provides a variety of features like markdown editor, image-paste, HTML to markdown helper, live preview and more. It lets you convert HTML to markdown just by using HTML to Markdown tool.

One of the special features of this editor is that it doesn't load any unnecessary scripts. This plugin detect your markdown content and then decides which script to load. With this markdown editor you can copy a selected area of image in photoshop then paste in to Markdown editor. This free wordpress editor doesn't come with any premium version.
Pros:
HTML to Markdown helper
Gutenberg support
Image copy & paste
Syntax highlighting
Cons:
There is no premium version available for this plugin.
Htaccess Editor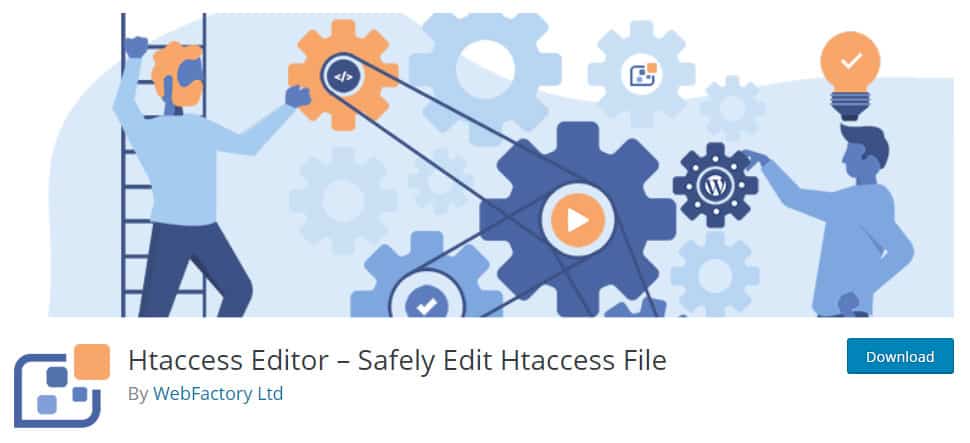 Easily edit your sites .htaccess file from WP admin with WP Htaccess editor. It provides you safe, simple & fast way to edit .htaccess file with automatic backup. You can restore this backup via FTP or directly from the plugin in times of any disaster occurs.

You can find the backups at '/wp-content/htaccess-editor backups/' folder. This editor is completely compatible and tested with WP network(WPMU). It shows up under the network admin's, settings menu.

Pros:
Automatic file backup.
Simple and safe to edit .htaccess file.
WP network (WPMU) Support
Cons:
Theme Editor
If you are looking for a WordPress editor plugin which will allow you to edit your theme and plugin files directly than look no more. Theme editor is one of the best WordPress editor plugins that helps you easily edit your plugin and theme files. With this one plugin you can easily remove or upload files and folders.

One of the useful features of this plugin is user permissions. You can create as much users you want with different user roles like – author, editor, administrator, subscriber, etc. They will only be able to access certain files, that they have permission.

Another distinctive feature of this plugin is that it lets you create child theme by selecting the parent theme in the parent tab.

Pros:
Code Mirroring
Edit theme and plugin files
Fancy box
Cons:
No auto complete
No syntax highlighter
Ultimate Blocks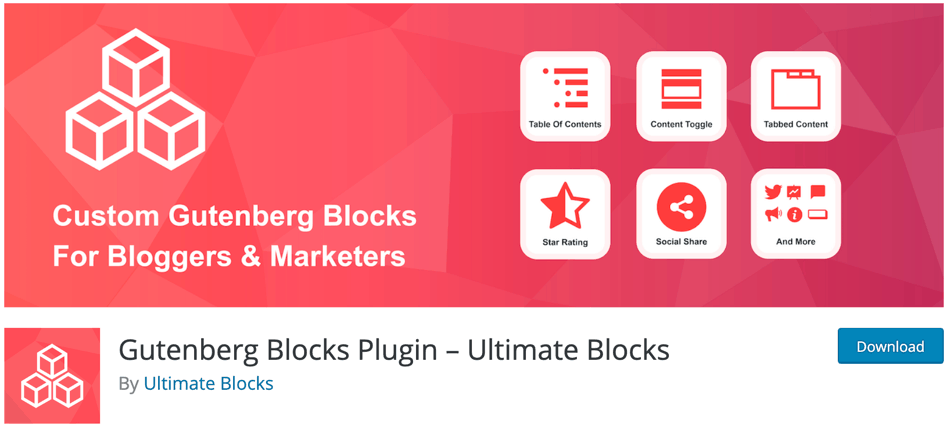 Gutenberg editor has taken the WordPress community by storm. It is one of the biggest updates since the release of WordPress itself, and it offers you more functionality to make your pages look better even if you're not a designer or a developer.
And instead of trying to completely change that and use another editor, why not get the most out of it? This plugin helps you do just that.
The Ultimate Blocks plugin comes with 17 awesome blocks that help you extend the functionality of the Gutenberg editor and get the most out of it.
There are some essential blocks like the Review (schema enabled block), Call to Action Block, An improved button block, countdown block, progress bar block, click to tweet block and more.
Pros:
You are not completely changing the editor, you are just getting the most out of it.
No need to play with code to get what you want. The features are simple to use.
No complexity.
Cons:
This plugin is only for Gutenberg editor. You cannot use it on Classic editor.
Choosing a WordPress Editor Plugin
If you don't like the native tinyMCE editor of WordPress – Go with Black studio TinyMCE.
If you like to extend WordPress Visual editor – Go with TinyMCE Advanced.
If you are looking for a good theme theme file editor – Go with theme editor.
When you are looking for best markdown editor – Go with the WP Githuber MD markdown editor.
Conclusion
There are countless WordPress editor plugins in the WordPress directory and you cannot try them all. Therefore we tried to make the shortlist for the best one. Hope you find the one that meets your requirement and helps you to edit with comfort.
If you have any other preference, share it and let everyone have a chance to use it.