Have you ever tried the WordPress event calendar plugins to display your upcoming events on your WordPress-based website? Selecting the right one is tough, especially when there are tons of options to choose from. That's why here I am with the solution for you.
This post will discuss a list of the seven best WordPress calendar plugins to consider, including the premium and freemium options. Let's get started with some key benefits of WordPress calendar plugins as well as features to look for when choosing one.

Why should You Use a WordPress Event Calendar Plugin?
Whether you operate an educational website, a sports website, or even manage a professional organization's website, host a webinar, promoting events to your website visitors openly is beneficial. However, displaying a nice-looking event calendar on your WordPress website is not an easy task without having an event calendar plugin.
You are presenting your events in an innovative and easy-to-understand manner to your audience to establish and boost your authority as a more reliable and engaging brand. Display upcoming events and important dates with required information in a calendar view increase the chances that your visitors will not miss your events.
These plugins are also beneficial because most of them allow you to show additional information like Map, public & private calendar integration, lots of customized views, and much more. That helps the visitor to catch everything at a glance and add his calendar with one click.
Another benefit of the WordPress event calendar plugin is that there are huge options regardless of how complex or straightforward your requirements are. Three are plenty of free events plugins for WordPress that almost meet your needs. However, if you are looking for compact advanced features in your WordPress events plugin, you also have many options to choose from.
What to Look for in a WordPress Calendar Plugin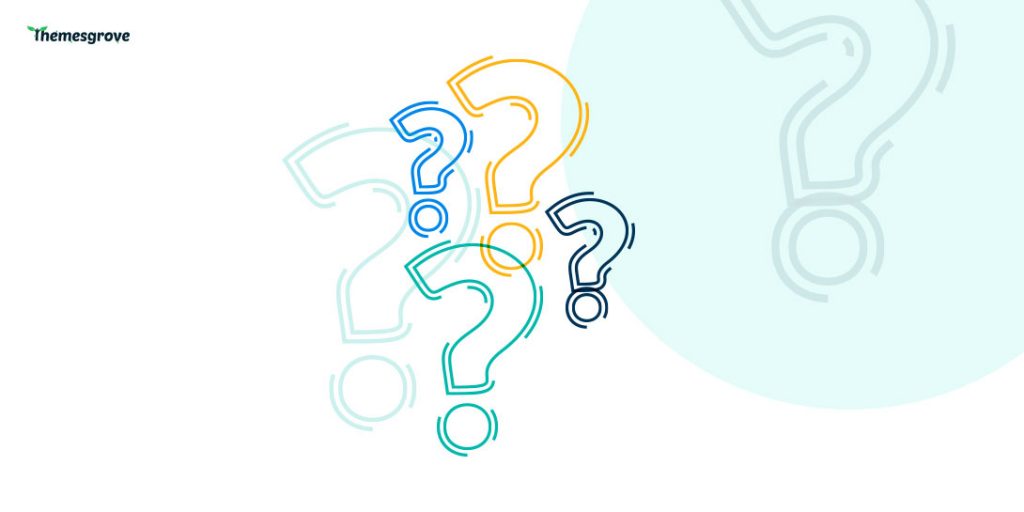 Before we drive into our list of the best WordPress event calendar plugin, we want to clarify that what works for one site may not be the best option for another website. Each WordPress Calendar Plugin (free or premium) has its own features specifications. It's up to you to decide what is or isn't needed when looking for the best fit for your website without compromising speed and security. However, there are the features we looked for when choosing the best event calendar plugin for the WordPress website.
There are some standard features and qualities that all WordPress events plugin should have, such as:
Multiple options to view like daily, monthly, timeline, and so on for easier user interaction
An easy-to-use back end for quickly adding, deleting, or editing events
Compatibility with widely used WordPress themes and plugins.
Mobile-friendliness and responsive design.
Display customizations and countdown.
Embedded different location Maps.
Best WordPress Event Calendar Plugins

The Events Calendar is one of the most popular WordPress Event Calendar Plugin with more than 800000 active installations in the event calendar plugin department. Packed with loads of features and ready to go out of the box, anyone can easily create and manage any in-person or virtual events with this Calendar Plugin on their WordPress website.
The events calendar plugin interface is very user-friendly and integrates seamlessly with the other WordPress dashboard. It allows creating multiple venues for events that can be reused when needed. It also has a vast collection of views to choose from when posting an event calendar, including list, day, and month views.
Features of The Events Calendar
Rapidly create events, saved venues, and organizers.
Day, list & month calendar view with tooltips.
Easily integrated with Google Maps, Google Calendar iCal.
Completely Ajaxified for super smooth browsing.
Completely responsive from mobile to tablet to desktop
Work with the widely used theme frameworks such as Avada, Divi, Enfold, Genesis, and many more.
Widget: Upcoming events list and Events Taxonomies (Categories & Tags)
Event search and Hooks & filters galore.
WP REST API endpoints
Pricing of The Events Calendar
Though the free version of The Events Calendar plugin is ready to help, a Pro version available that includes more powerful features like additional calendar views & fields, recurring events, advanced widgets, and location search. The pricing starts from $99 per year for one site, and the price increases based on the number of websites.

The second plugin on the list is the All-in-One Event Calendar WordPress plugin with over 150000 active installations worldwide. It has been considered one of the most advanced WP plugins for its great Ui/UX, attractive visuals, and robust design.
Using this WordPress Event Calendar Plugin, anyone can create and publish an event in just a few minutes and easily share it with the rest of the world. Timely develops this beautiful plugin, and it requires an active account to use it.
Features of All-in-One Event Calendar
Recurring events with complex patterns.
Easy sharing with Apple iCal, Google Calendar, MS Outlook, and any other system that accepts iCalendar (.ics) feeds.
Color-coded events based on category.
Featured event images and category images.
Day, Week, Month, Agenda, and Posterboard view.
Direct links to filtered calendar views.
Embedded Google Maps.
Theme options to customize your calendar appearance with an inline Calendar theme editor.
Filter by event category or tag.
The calendar can be embedded into a WordPress page without creating template files or modifying the theme.
Pricing of All-in-One Event Calendar
All-in-One Event Calendar Plugin for WordPress is entirely free to use, including every freemium feature. However, if you need more customization options, you can knock their sales team for a customized price.

Modern Events Calendar is one of the best WordPress event calendar Plugins with the ability to accept bookings from visitors. It also has a complete set of features a WordPress events plugin must-have. However, their 50+ latest design trends calendar views offer a unique experience to its users.
The modern Events calendar has worldwide more than 80000 active installation users. Integrated with Google Calendar, Google Map, PayPal, WooCommerce, and so on, make event management more effortless.
Features of Modern Events Calendar
50+ Event display layouts with Booking & ticketing features.
Internal XML import & export and ability to import from the widely used event calendar.
Dally, Weekly, Monthly, countdown, Full Calendar, Grid & Cove, List, and timetable view.
Event location, organizer system with multiple organizers.
Single-day, Multiple days, and never end events
Event widgets and custom sidebar
Shortcodes generator and Direct/Modal link for a single event
Google Calendar, Google Map, PayPal, and LearnDash integration
Manage & reminders Notifications
Support comment form in the single event page
Insert images for locations and organizers
Event countdown, Dynamic event labels, and Dark Mode
Pricing of Modern Events Calendar
Modern Events Calendar Lite: Modern Events Calendar Lite is completely free for a lifetime, but it doesn't have a booking system and some skins for the calendar, which the pro version has.
Modern Events Calendar Pro: Pro plan has three pricing plans with all the premium features. They charge $75 per year for one license, $255 per year for five licenses, and $455 per year for ten licenses.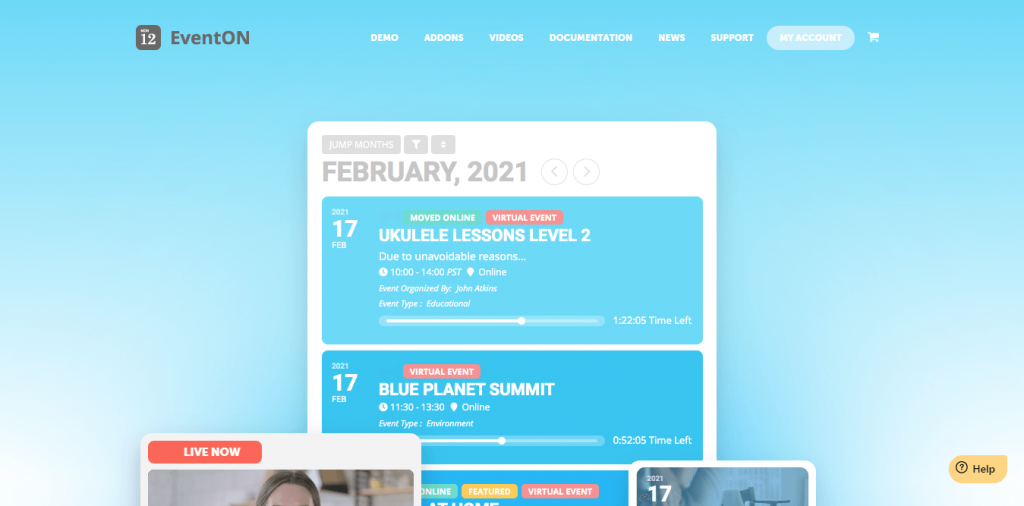 EventOn is another excellent premium WordPress Event Calendar Plugin with best seller title at WP Plugin marketplace codecanyon.net. It has a minimalistic design with great looks, but the user-friendly back-end interface makes EventOn very handy to use.
EventOn offers different choices to the users for creating events on a custom schedule, adds Google Map location, includes images to events, organizes events using custom tags and categories, and more. Interestingly, it has a shortcode generator as well. Besides, it can search through events, submit monthly and even yearly events, and filter events based on customized categories, assign thumbnails for events, and export events as ICS files.
Features of EventOn
Supports single and multiple days and without end-day or time events
Completely customizable all the data on event rows in the calendar
Use universal time and date format in the calendar through your website
Customize calendar month/year, date, and time formats
Display upcoming events list by months
Pre-set calendar event order ASC/DESC
Various options are available for how a user can interact with an event
View featured events above others in the calendar
Customizable google maps interactive features such as mouse scroll, zoom, etc.
Integrated PayPal to accept payments for events
Quickly add custom CSS styles via EventOn Settings
Integrated with Zoom for webinar.
Pricing of EventOn
Unfortunately, the EventOn event calendar plugin doesn't have any free plan; however, it has already sold over 54000 units. It charges $25 for the regular license and $250 for the extended license with six months of support at codecanyon.

My Calendar is another best WordPress calendar plugin for adding richly customizable interactive calendars to WPwebsites. The plugin supports different event calendars within WordPress Multisite, multiple calendars displayed by categories, locations or author, or simple lists of future events.
My Calendar combines unique, helpful widgets that deliver users the facility to display a mini calendar and a list of upcoming events in the sidebar of a website. Users can also create event groups and then edit those events concurrently. My Calendar Pro version offers some premium features like imports events, REST API support, and many more.
Features of My Calendar
Monthly, weekly, or daily grid and list Calendar views of events
Mini-calendar for compact displays (as a widget or as shortcode)
Email notification sent to administrator when events are scheduled or reserved.
Custom templates for event output and editable CSS styles and JavaScript behaviors
Have widgets for today's events, upcoming events, compact calendar, event search
Limit views by categories, location, author, or host
manage locations and rich permissions handling to restrict access to parts of My Calendar
Using WP to Twitter, post to Twitter when events are created.
Allow your site visitors to submit events to your site (pay to post or free!).
Import from .ics or .csv formats events via file or URL.
Let logged-in users edit their events from the front-end.
Easily create events when you publish a blog post or publish a blog post when you create an event.
Support REST API for sharing events between multiple sites.
Pricing of My Calendar
My Calendar: My Calendar is free for lifetime use on unlimited websites calendar plugin with all regular features. According to wordpress.org, The free version has more than 30000 active installations.
My Calendar Pro: My Calendar Pro comes with some extra premium features, and this package charges $49 for a single year. They also offer a lifetime deal for $199.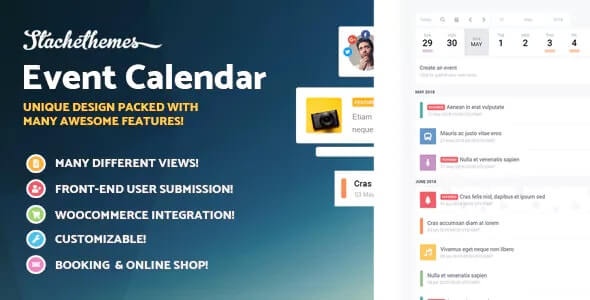 Stachethemes Event Calendar Plugin for WordPress is relatively new and a unique approach to the classic event calendar concept, but it has already gained popularity. The plugin is packed with a rich stockpile of features and options to quickly and easily create fully detailed and informative events.
WooCommerce integration in Stachethemes Event Calendar benefits users to sell products and manage online stores easily. This WordPress calendar plugin is loaded with excellent features like easy location management, photo guest list, gallery, weather forecast, email reminder, and recurring events option.
Features of Stachethemes Event Calendar
Seven different views – Day, Week, Month, Agenda, Grid, Box Grid, and map view
Modal mode, Coming soon mode, and Single page mode.
Support Elementor. Build event pages with Elementor theme.
Option to enter keywords to the event to show on the calendar search result.
Attach relative files on the calendar to your users to download from the event
Filter Events by Location or Category
Create Single Event Page, Single Day, Multiple Day, All day, More than one day, and Never-ending events.
Ability to hide past events in shortcodes
Auto-Generated SEO Schema Markup for Single Pages including event status and booking items
Customize Reminder or Invitation email content
Add Weather Forecast section, Facebook Comments Section, and Disqus Comments Section.
Search Events by date, name, or keywords
Integration – Elementor, WPML, Google Maps, OpenStreetMap, OpenWeatherMap, WooCommerce, and Font-Awesome.
Support all Payment Method/Gateway supported by WooCommerce
Price of Stachethemes Event Calendar
Although the Stachethemes premium WordPress events plugin has an impressive 4.5 stars out of 5 ratings at WP plugin marketplace CodeCanyon, they don't offer any free version for their plugin. This WordPress Calendar Plugin charges $59 for the regular license and $249 for the extended license with six months of support at codecanyon. So far it has been sold over 5000 units.

Simple Calendar is one of the best WordPress event calendar plugins for its mobile responsiveness and beautiful designs. Quick to set up and fine-tune to your needs makes the easiest way to add Google Calendar events to your WordPress site.
This events plugin for WordPress has tons of great features, including time zone settings, design templates, calendar newsletters, and much more. However, no need to add future events to WordPress. Users just keep adding to their Google Calendars like they already do. Calendars can be viewed as in a month, week, day, or list views. Color code events and customize the design to your liking.
Features of Simple Calendar
Out-of-the-box designs may match your theme's look and feel.
Keep managing events in Google Calendar and display events from any public Google Calendar. No need to create events in WordPress.
Customize event content display using simple tags. No coding required.
Fully responsive and mobile-friendly with the list and monthly grid views.
Ability to Combine multiple calendars into single displays explicitly or using categories.
Integrate with Event Calendar Newsletter for quickly turning your events into a newsletter-friendly format.
Highlight events with colors that match assigned Google Calendar event colors.
Display attendees' names, avatars, and RSVP status for any private or public event.
Fully open-source with code hosted on GitHub.
Additional functionality is offered with add-ons.
Display all list of attachments with links to their source.
Give priority email support with a 24-hour response time during weekdays backed by a top-notch team.
Pricing of Simple Calendar
Simple Calendar: Simple Calendar is free for a lifetime to use as a WordPress event calendar plugin for the website with all regular features. According to wordpress.org, The free version has more than 70000 active installations.
Simple Calendar Pro: Simple Calendar Pro offers three separate packages with some extra premium features. This WordPress event calendar plugin charges $49 per year for one site, $79 per year for five websites, and 149 for 25 sites plugin integration.
Wrapping Up
That was the list of the best WordPress calendar plugin based on different perspectives. I hope you all enjoy the list. Let us know which one you try or set to try after reading this blog, which one seems more accurate yet perfect to you. Also, you can suggest us to add your preferred one if we miss your favored one. Don't forget to share your valuable opinion regarding the list in the comment section below.