Customer reviews are an integral part of an eCommerce business as they help create credibility for products and services. Most customers prefer reading customer reviews before deciding to make a purchase.
Hence, if you are an eCommerce business owner and want to improve your sales, you need to rethink your online marketing strategy, keeping in mind the importance of online customer reviews.
In this read, we will discuss the 7 best WordPress review plugins for interactive customer reviews.
Read More: 7 Best WordPress Email Marketing Plugins to Use in 2022
What is WordPress Review Plugin and Why Should You Use One?
A WordPress review plugin will allow your customers to leave honest feedback on your product/service. You can personalize the plugin, enabling customers to review your products using a rating option or simply leave a comment in the comment box, or both.
Positive reviews from your customers will go a long way invalidating the quality of your products/services and building a trustworthy relationship with your customers. It is a fact widely known that online buyers diligently read reviews and comments before making a final decision. A good review database will not only help you boost your sales but also boost your SEO.
Some more benefits of using WordPress review plugins are:
Increase sales
Reviews are a great source for advertising your business
Improve customer interaction through boosting search engine optimization
Achieve transparency around your product/service
Fill in the knowledge gap customers might have
Get candid feedback about your product/service and improve accordingly
Create customer loyalty and trust
7 Top WordPress review plugins for 2022
We have handpicked your top 7 WordPress review plugins for you. They are all moderately priced, come up with highly advanced features, and are easy to install and configure. So, without further ado, let's get started!
WP Customer Review
If you are looking for a free customer review plugin to efficiently collect the reviews of your customers, then WP customer reviews are the answer to your question. It will not just allow your customer to leave reviews but also let you create your product reviews.
Its advanced features will moderate all the reviews along with blocking fake ones. As an admin, you can moderate all the reviews and also choose which reviews you want to display. You can visit the past reviews from time to time to monitor the growth of your business.
Key Features
Customizable forms – You can decide what you want to include in your review forms. This allows you to focus on the specific information you want to collect from your customers.
Edit your reviews – Often customers submit reviews in a hurry and do not write complete sentences or comprehensible sentences. This plugin allows you to edit the reviews so that they can truly benefit the new customers who refer to them.
Lightweight and speed optimized – Unlike some other review plugins in the marketplace, the WP customer review plugin will not slow down your website. It is also very user-friendly, and you will be able to embed the plugin into your website easily without any external help.
Pricing
WP customer review is a free plugin. You can visit the WordPress plugin directory to find it.
Best for
Highly recommended for new small and mid-sized businesses.
Schema
If you want to add well-structured user reviews and ratings on your webpage along with the search engine, then Schema is the right choice for you. It works best on search engines and increases your chances of displaying your product/service review along with item image and description. You do not require any advanced coding skills to add this plugin.
You can add the plugin through three simple steps. Open the Schema interface, and select the plugin review which you want to configure. Then proceed to select the pages, posts, and categories you want to plugin to be displayed. Finally, verify and publish.
Key Features
Information in rich snippets – To make your reviews more realistic and believable in the search engine result, you can add the name of the reviewer along with the date review was posted. Displaying the review's name will indicate authenticity and help the customers know that the review is the latest and not outdated.
Support all posts type – No matter what device and platform your customers have used to post the review, the plugin will support it and allow you to display it on your eCommerce website and search engine results.
Categories – The plugin lets you choose the category you want to display on your review page. Some of the categories are articles, news articles, item lists, FAQs, services, events, etc.
Facebook share – You can also share reviews via Facebook. This allows you to highlight the most important reviews to gather more customers.
Pricing
| | | |
| --- | --- | --- |
| Plan | Pricing/Month | Pricing/Lifetime (One-time) |
| Schema Pro | $79 | $249 |
| Growth Bundle | $249 | $699 |
Best for
It is moderately priced and appropriate for mid-sized business owners.
Google Reviews Plugin by Tagembed
If you are looking for a plugin that smoothens the whole embedding process and helps improve your website's performance, then the Google reviews plugin by Tagembed is one for you. It is one of the finest plugins in the store and is known for being easy to operate and providing desired results.
The plugins help you to combine Google reviews related to your business, curate and customize the collected reviews, and then display them in a presentable manner on the website. The plugin is simple to use and even allows you to collect feeds from 20+ social media platforms, allowing you to exhibit a wide range of content. Alongside making the whole embedding process manageable and easy, it also offers various features that help to enhance the performance of your Google review widget. The features include customization, moderation, analytics, and more.
Key Features:
Customization – You can personalize your widget as per your need by changing the font size, font style, widget background, and more. It helps to make your widget more pleasing to the eye and noteworthy for website visitors.
Moderation – Provides you with full control over the feeds, which means you can show and hide reviews at your convenience.
Themes & layout – You have various theme and layout options that help you to enhance the charm of your Google review widget.
Auto update – The reviews on the feed update automatically; there is no need to refresh the feed to get all the latest reviews on the website.
Custom CSS, analytics, custom CTA, Responsive widget, and more.
Pricing:
The plugin allows you 14 days free trial, and pricing plans start at $9 per month.
Best For:
The affordable pricing plans make it ideal for all types of businesses. And it is highly recommended for small and medium-sized businesses.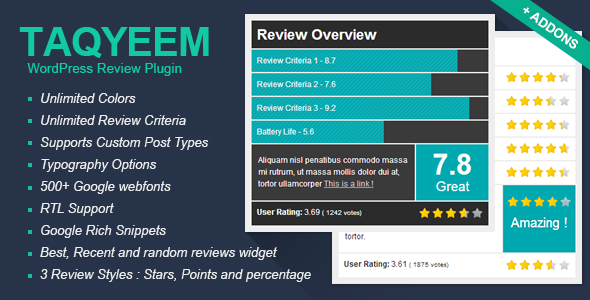 If you don't want to just add customer reviews to your eCommerce website but also be able to play with the fonts, images, and style, then Taqyeem is the best choice for you. It is a review and rating WordPress plugin that you can add to your pages, and posts. The customizing features will allow you to add a lot of color and vibrancy to your website.
Additionally, Taqyeem also provides RTL support and localized support. Hence, no matter where in the world you are using Taqyeem, you will be able to access customer support services in your chosen language. There are multiple typography options also provided by this WordPress review plugin.
Key Features
Unlimited review criterion – You can create any number of review criteria you want, it can be a star rating system, point system, percentage system, etc. You can also enable people to leave comments in the comment box and then customize the comments in bold colors and fonts.
Numerous google font colors – As we mentioned earlier, this WordPress review plugin gives you total liberty to play around with fonts, color, and design. You can use creative and engaging fonts from google to create attractive reviews and ratings.
Widget areas – In the widget area you can display any review you want, the latest one, the most popular one, or any other random one. This will arouse curiosity about the product in the customers and they might click on the product to learn more about it.
Pricing
Taqyeem WordPress review plugin is priced at an affordable $17/month. There is no free trial available.
Best for
Small or mid-sized new eCommerce business.
Site Reviews
If you want to document all your reviews along with accessing features like blocks, widgets, and shortcodes, then do check out the Site Reviews WordPress review plugin as it fulfills all your requirements. Using this plugin, you can easily display the customer reviews on your website and let your customers leave more reviews through a rating system and comment box.
However, unlike other review plugins, it requires an admin to approve each review before it can be published on the website. Moreover, you can add a review option to pages, posts, products, and even categories.
Key Features
Response – You can write a response to your customer reviews to ensure customer engagement and build a trustworthy relationship with them.
Integrations – You can integrate this plugin with Slack to know whenever a new review has been submitted. You can then proceed to approve it before publishing it. This plugin can also be integrated with Polygang and WPML.
SPAM protection – The review has an inbuilt SPAM protection system to ensure your eCommerce business website is not spammed by fake reviews. You can implement five-layer protection including things like CAPTCHA to ensure security and safety.
Pricing
Site Reviews WordPress review plugin is available as both a free and subscription plan. Depending on the number of licenses you want, the subscription starts from $102/month to $206/month.
Best for
New business that looking for a lightweight and hassle-free review plugin.
Google Reviews Widget
If you want to showcase extra credibility to your customers and not rely on lesser-known review plugins, then opt for Google review widgets. This widget has been approved by Google API, hence, you can be sure about increasing your customer engagement most effectively. Google review widget is also available in the business version, hence, if you need advanced features like auto sync, Facebook posting, etc. you can opt for that.
Key Features
Customize and design – You can customize the appearance of your customer reviews with the google review widget. You can play around with unique colors, fonts, themes, layouts, etc.
Embedding reviews – You do not to know complex coding to embed some selected customer reviews on the website. You can embed them anywhere you want, pages, posts, products, and even categories.
Updates – You can get real-time updates each time a new review is posted on your website.
Spotlight – You can spotlight certain reviews on your website. The spotlighted reviews will be the first reviews customers see on your websites. You can spotlight the best review or the latest review. You can use the review moderation feature to choose the best review through a filtering process for display and spotlighting.
Pricing
Google review widget is free and can be installed and configured easily within two minutes.
Best for
Start-up that does not want to invest in a costly review plugin.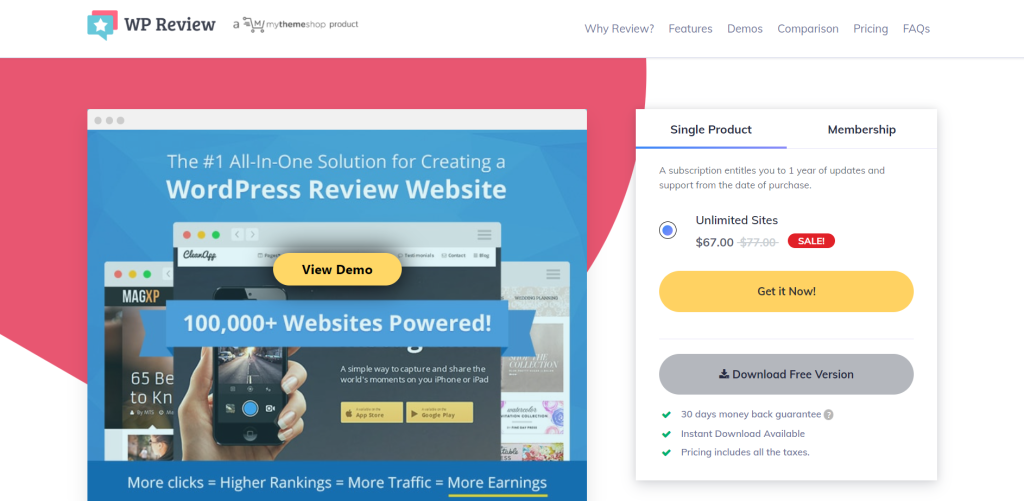 WP review pro is yet another best WordPress review plugin developed by MyThemeShop with maximum efficiency that let you engage with your customers efficiently and smoothly. The plugin supports 14 types of rich snippets.
Apart from this the plugin also has 16 default design templates to customize your review boxes. You can change the color, font, size, and a lot more. There are also 5 options available for the rating systems, star, percentage, thumbs up, points, and circle.
Key Features
Compatibility – This WordPress review plugin is highly compatible and can be integrated with any WordPress theme.
Facebook reviews – You can also embed Facebook reviews on your website with this plugin. All you have to do is enter your Facebook credentials and start importing the reviews instantly.
Comparison table – With WP review pro you can create comparison tables for two or more products. This allows your customers to make an informed purchasing decision.
Pricing
| | |
| --- | --- |
| Plan | Pricing |
| Free | $0 |
| Premium | $0 |
| Membership | $19 |
Best for
Businesses that need to embed social media reviews on their website.
Easy Testimonials
Easy testimonials is a very easy-to-use WordPress review plugin that can be added to the sidebar as a widget or can also be embedded anywhere else on the website like pages, posts, products, etc.
You can customize the review/testimonial using different colors and fonts and can even add a picture of the author. Additionally, this plugin uses schema.org complaint JSON-LD markup to make sure your customer reviews appear in the right order in the search results.
Key Features
Review form – you can create and customize the review forms and embed them anywhere you want on the website. You can add as many categories as possible in the form.
SPAM prevention – To prevent your website from security breaches and SPAM reviews, easy testimonials provide protection systems like ReCaptcha.
Exporting – If you want proper documentation and storage of your customer reviews, you can export them by creating a CSV file.
Pricing
It is a free WordPress review plugin that comes packed with all the necessary features.
Best for
Start-ups that want to invest in effective marketing.
Conclusion
Now that you know about some of the best WordPress review plugins in the market, you can make an informed choice regarding which will be the best for your eCommerce business. However, we recommend you do more thorough research and analyze all the features closely before making a final decision. We wish you luck in choosing the best WordPress review plugin for the benefit of your business.