Cyber-attacks have always been so rampant that it's impossible to nail down. Due to COVID-19 Pandemic cybercrime ups almost 600%. Can you just imagine! On average a website gets a malware attack 44 times per day, that is roughly 90,000+ websites where 75-80% of them are using WordPress.
WordPress itself is a popular CMS platform used by over 40% of all websites in the world and so WordPress websites are a top target for hackers. To keep this huge number of sites safe and secure you must depend on something trustworthy. Here comes the solutions, WordPress security plugins.
A WordPress security plugin protects your website from cyberattacks with automatic updates, malware scanning, two-factor authentication, brute force protection, and many more things. Keeping this apart here we will discuss the 7 best WordPress security plugins to keep your WordPress site safe and secure from unwanted guests.
Let's see then.
Read Also: 9 Best WordPress CDN Plugin to Speed Up Your Site with How to Setup Guide
Why Do You Need a WordPress Security Plugin?
Before going in, let me show you a quick overview of why you actually need WordPress security plugins?

WordPress security suite in place, your website will be protected against hackers who want to steal personal information or infect your site with malware. You'll never have to worry about another cyber attack again! And if there ever was an attack, With the help of the best security plugins for WordPress, you can easily clean up or restore any lost data or fix any problems caused by the breach.
Best WordPress security plugins are complete suite for your WordPress website the provide same tactic solution like:-
Brute force attacks protection
Security threat notification
Malware scanning
File scanning
Post-hack actions
Firewalls
Security hardening
Active security and blacklist monitoring
much more
Read Also: 7 Best WordPress eCommerce Plugins of 2023
What are the Best WordPress Security Plugins?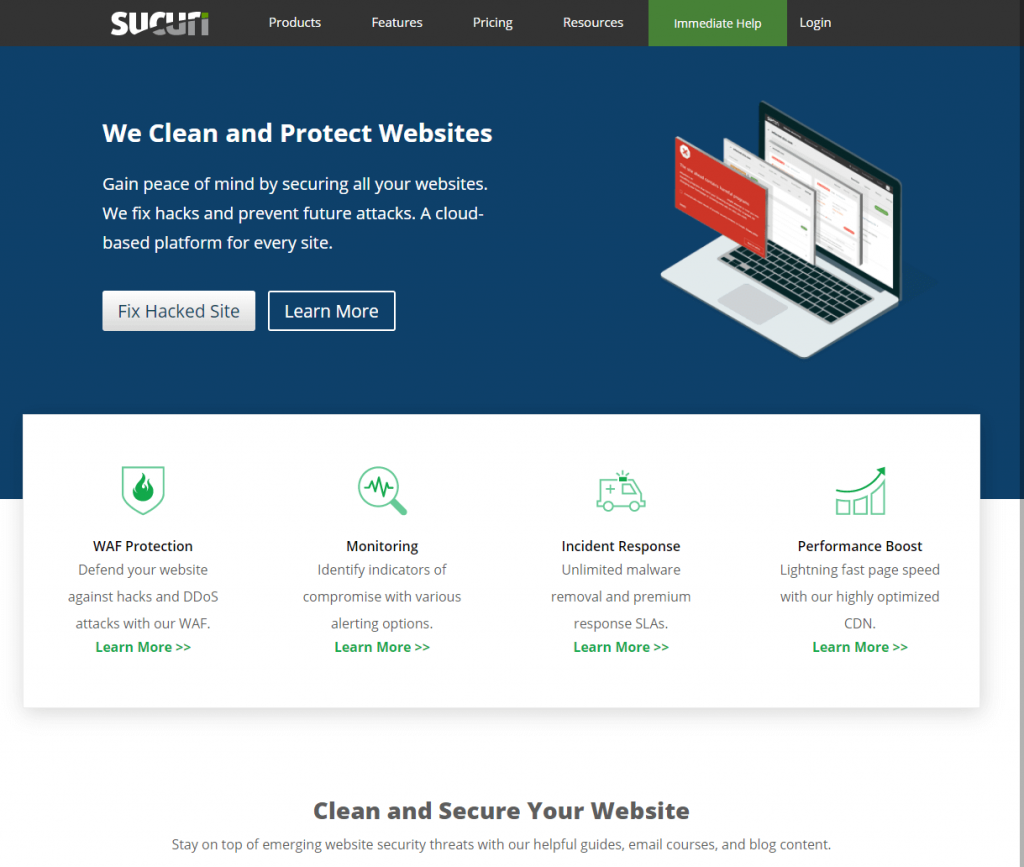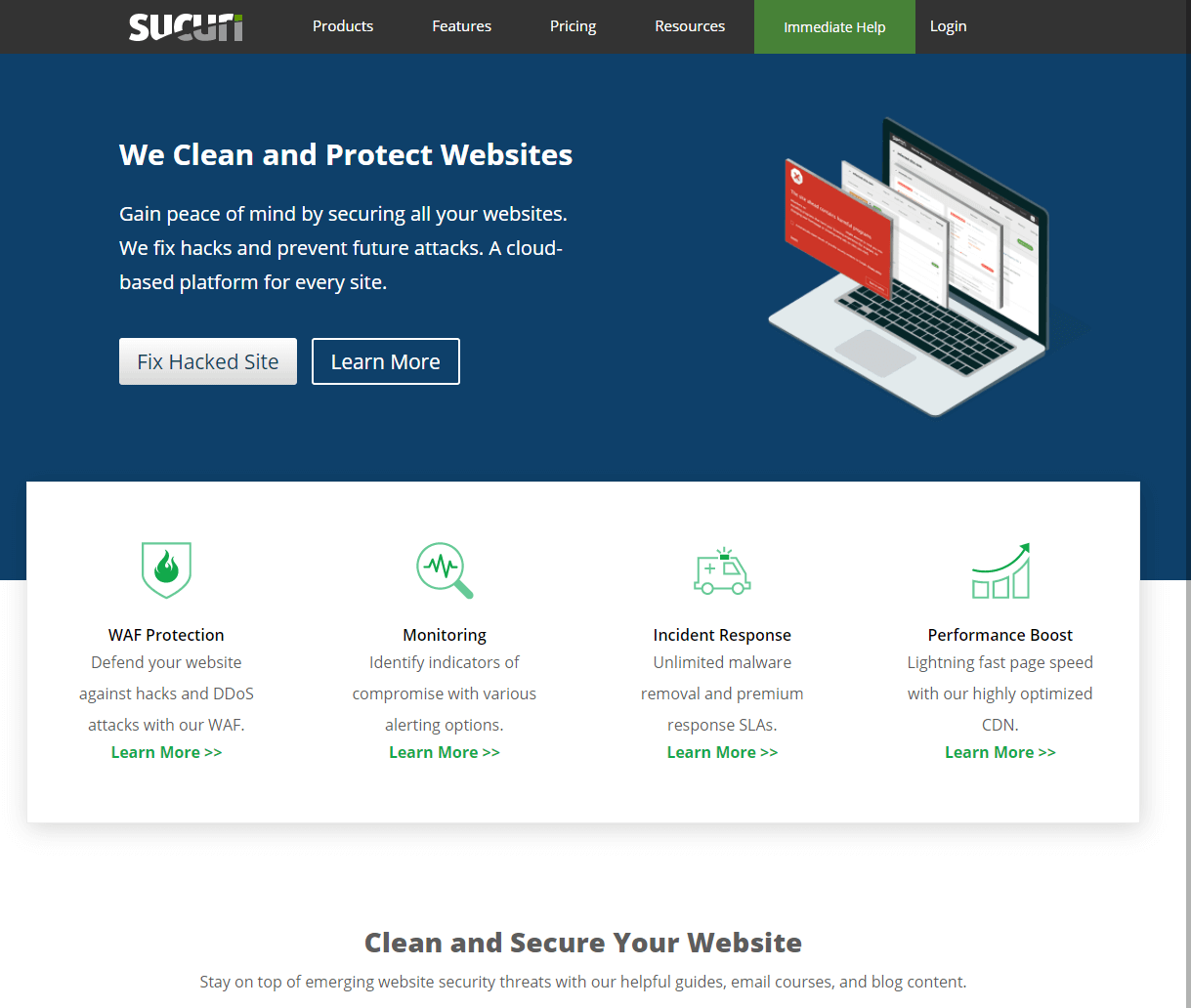 Sucuri is one of the best WordPress security plugins that helps you strengthen WordPress site security and scan your website for common threats regularly. This industry leader WP security plugin has a free plan with all the premium features except the website firewall.
Their paid plans offer the best firewall protection, which blocks brute force and malicious attacks on your WordPress site. It filters out bad traffic before it reaches the server. Their DNS level firewall with CDN gives an enormous performance boost and speeds up your website. If your site gets hacked, they will clean it up for you at no cost.
Best Features
Website malware scanner monitors for signs of website malware and indicators of compromise (IOC).
SEO spam scanners detect signs of SEO spam before Google and other search engines do.
Website Server-Side Scanner checks all files on the server for signs of malware to find backdoors, phishing pages, spam, DDoS scripts, and more.
DNS Monitoring scanners detect changes to your website's domain name system (DNS) settings and notify you intently.
It safely removes any malicious code in your website file system and database, then restores your site altogether.
Its website firewall (WAF) blocks attacks by filtering malicious traffic and speed up your site.
Website Speed Optimization improves website speed by 70% on average with their caching options and global content delivery network (CDN).
DDoS attack mitigation blocked Denial of Service (DDoS) attacks can cause downtime. It blocks layer 3, 4, and 7 DDoS attacks.
Pricing Plan for Sucuri
Free: Sucuri WordPress security plugin has a free version for any WP site, and it covers enough features to secure most of the WP users.
Basic: The basic plan charges $199.99 per year with the frequency
of 12 hours for malware & hack scans on a site with unlimited pages.
Pro: Sucuri pro plan $299.99 for a year with the frequency
of 6 hours for malware & hack scans on a single site with unlimited pages.
Business: It charges $499.99 per year with a frequency
of 30 minutes for malware & hack scans and runs malware removal SLA every 6 hours.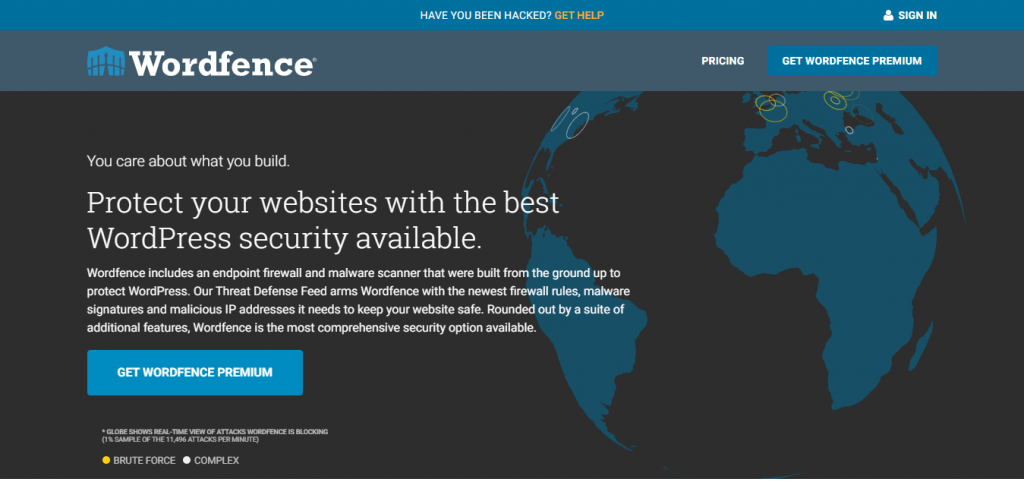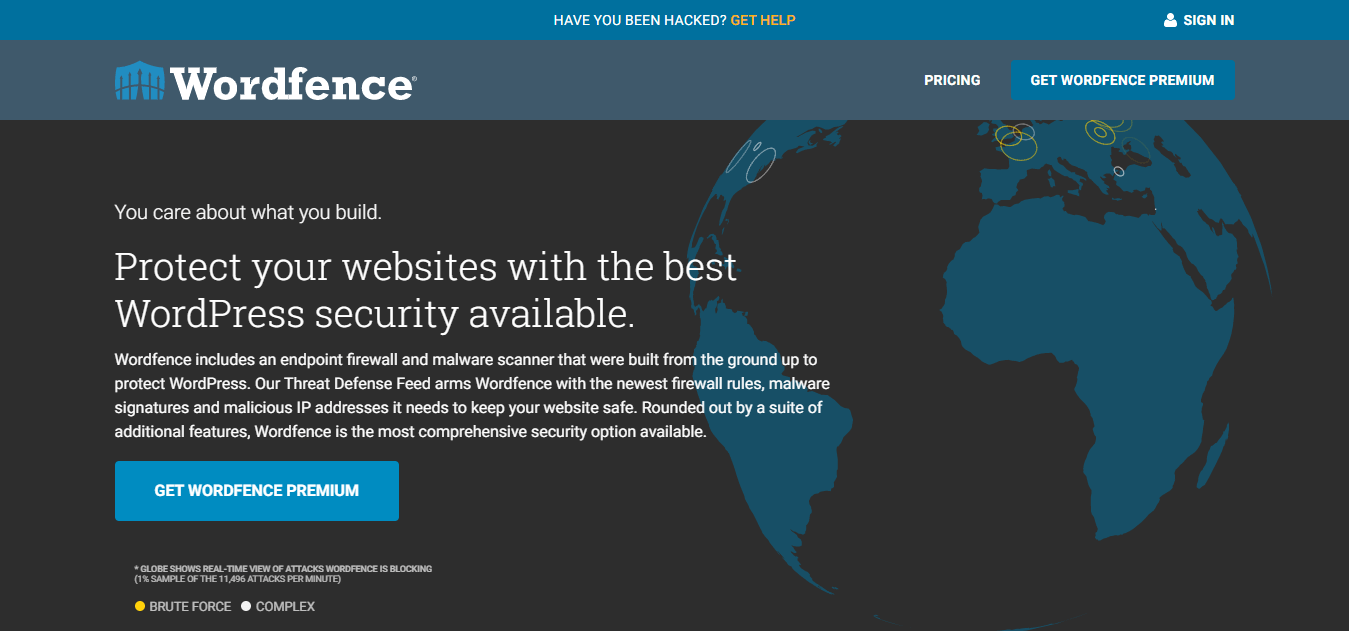 Wordfence Security is another best WordPress security plugin. It is easy to use and relatively affordable. It includes WAF (web application firewall), which blocks attacks before they penetrate your site, malware scanning checks files, plugins, themes before upload, login limits to protect your website from malicious attacks. Wordfence performs specific scans regularly and automatically and alerts users if it detects a threat, vulnerability, or corrupted file.
Wordfence Security also provides two-factor authentication on sign-in and login limitations to protect against brute force attacks. The plugin's real-time live traffic analysis tracking features also help you identify potential threats, ensuring a safe browsing experience with user-friendly tools.
Best Features
WAF(Web Application Firewall) detects and blocks malicious traffic.
Its Real-time firewall rule and malware signature updates via the Threat Defense Feed
It protects from brute force attacks by limiting login attempts.
Wordfence malware scanner blocks and checks everything like themes, plugins, bad URLs, backdoors, core files, malicious redirects, code injections, and SEO spam.
Support 2FA (two-factor authentication) is the most secure form of remote system authentication available via any TOTP-based authenticator app or service.
Wordfence block logins for administrators using known compromised passwords.
Compares your core files, themes, and plugins in the WordPress.org repository, checking their integrity and reporting any changes to you.
Wordfence has a real-time IP blocklist that blocks all requests from the most malicious IPs, protecting your site while reducing load.
With the Live Traffic, monitor visits and hack attempts not shown in other analytics packages in real-time, including origin, IP address, the time of day, and time spent on your site.
Pricing Plan for Wordfence
Wordfence offers an impressive free WP security plugin with everything from firewall blocks to protection from brute force attacks. However, Wordfence Premium starts from $99/year for a single license, and then it gets more affordable as the number of licenses increases.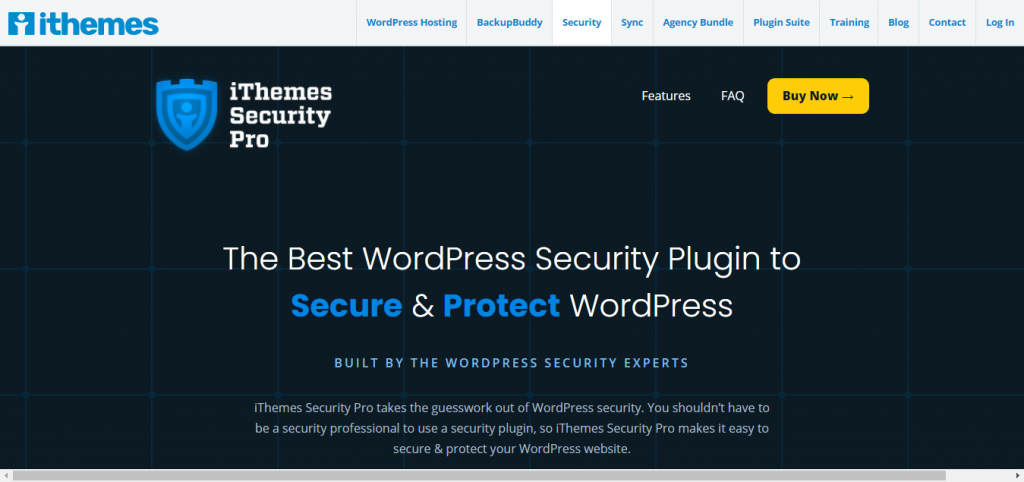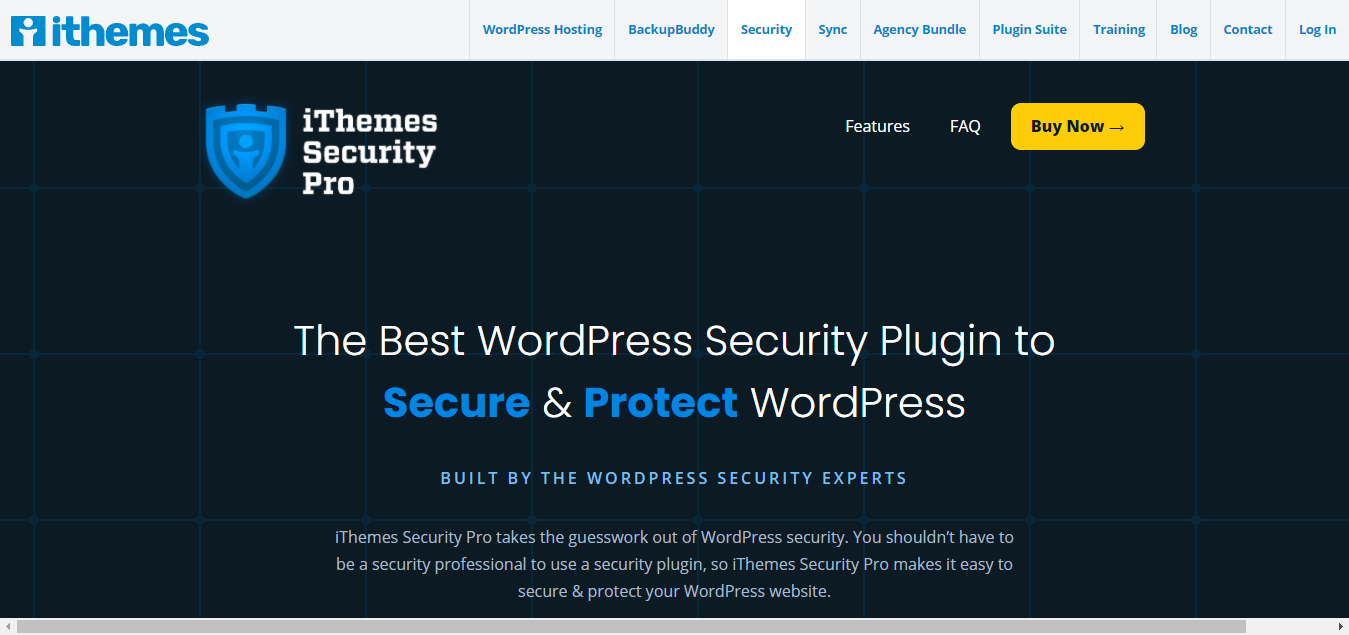 The iThemes Security plugin is one of the more impressive WordPress security plugins to protect WP websites. According to WordPress org, It has more than 1 million active users so there is no question about trust! iThemes Security offers over 30 different features to prevent things like hacks and unwanted intruders. It has a clear focus on recognizing plugin vulnerabilities, obsolete software, and weak passwords.
The Pro version also combines over a dozen additional features like forced password expiration, two-factor authentication, limit login attempts, 404 detections, brute force protection, database backups, and more.
Best Features
iThemes Security detects bots, file changes, and other attempts to search for vulnerabilities, then report instantly.
It automatically prevents brute force attacks by banning hosts and users with too many invalid login attempts
iThemes Security adds an extra layer of security by adding Google reCAPTCHA integration and 2FA(two-factor authentication)
Monitors filesystem for unauthorized changes and compares WordPress core files with the current WordPress version, helping users understand if anything malicious is placed in those files.
Users can set an "Away Mode" when they are not making content updates to their site and want to lock their dashboard from all users completely.
It has malware scan scheduling, scans for malware automatically each day, and sends an email with the details.
iThemes Security forces SSL for admin pages or any page or post (on supporting servers)
Besides, It has essentials like 404 detections, brute force protection, and vigorous password enforcement.
Pricing Plan for iThemes Security
Free: iThemes Security plugin has a free version with some security features on the WordPress org website, and that's may enough to take off the securing journey.
Blogger: This pro plan charges $80 per year to secure and protect a single site.
Small Business: It charges $127 per year to secure and protect a maximum of ten websites.
Gold: iThemes Security plugin charges for this pro plan $199 per year to secure and protect unlimited websites.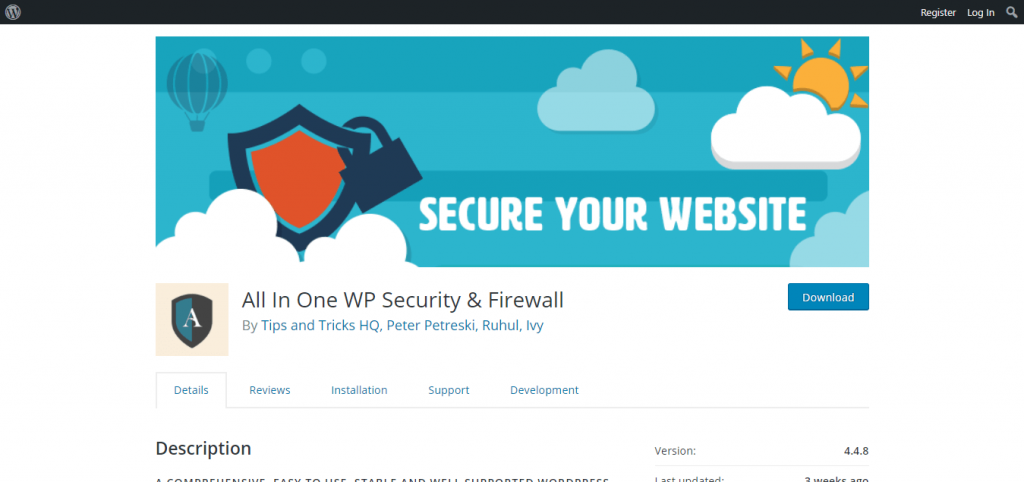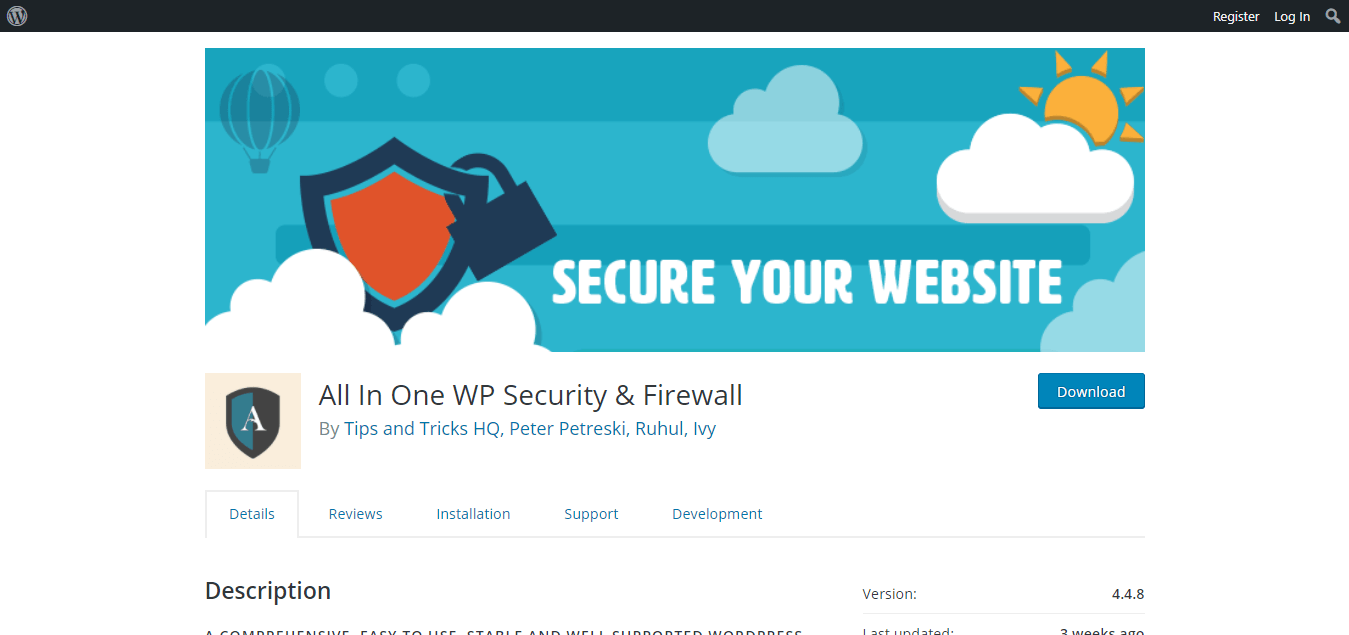 All In One WP Security & Firewall is one of the best free and comprehensive security plugins for WordPress on the market, with over 90 thousand active installations. However, It offers an easy user interface and decent customer support.
It's easy to use and comes with freemium features that will protect a website from hackers, brute force attacks, database injection, and more. All In One WP Security & Firewall also feature-packed with file integrity monitoring, user account monitoring, login lockdown, IP filtering, and scan for suspicious patterns of database injection.
Best Features
The All In One WordPress plugin password strength tool allows users to create strong passwords.
Users or bots cannot discover user info via author permalink because it stops user enumeration.
The Login-Lockdown feature, which locked a specific IP address or range, will be locked out of the system to protect against "Brute Force Login Attack."
Allow specifying one or more IP addresses in a unique whitelist. Only the whitelisted IP addresses will have access to the WP login page.
It allows seeing a list of all the users who are currently logged into the site.
Add Google reCaptcha or plain maths captcha to the user registration, login page, or forgot password form of your WP Login system.
Users can schedule automatic backups and email notifications or make an instant DB backup whenever they want with one click.
Users can backup .htaccess and .wp-config files. There's also a tool to restore them if anything goes wrong.
Instantly activate a selection of firewall settings ranging from basic, intermediate, and advanced.
Pricing Plan for All In One WP Security & Firewall
Free: The All In One WordPress Security plugin is 100% free with its full-packed freemium features.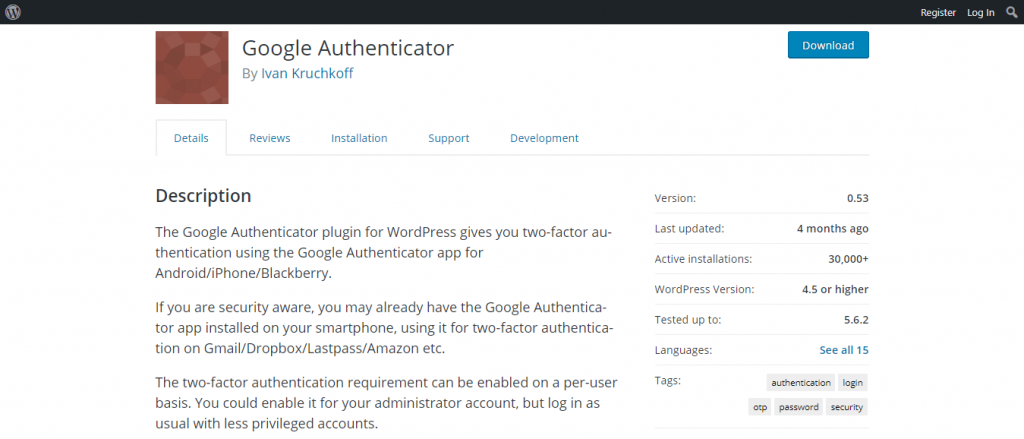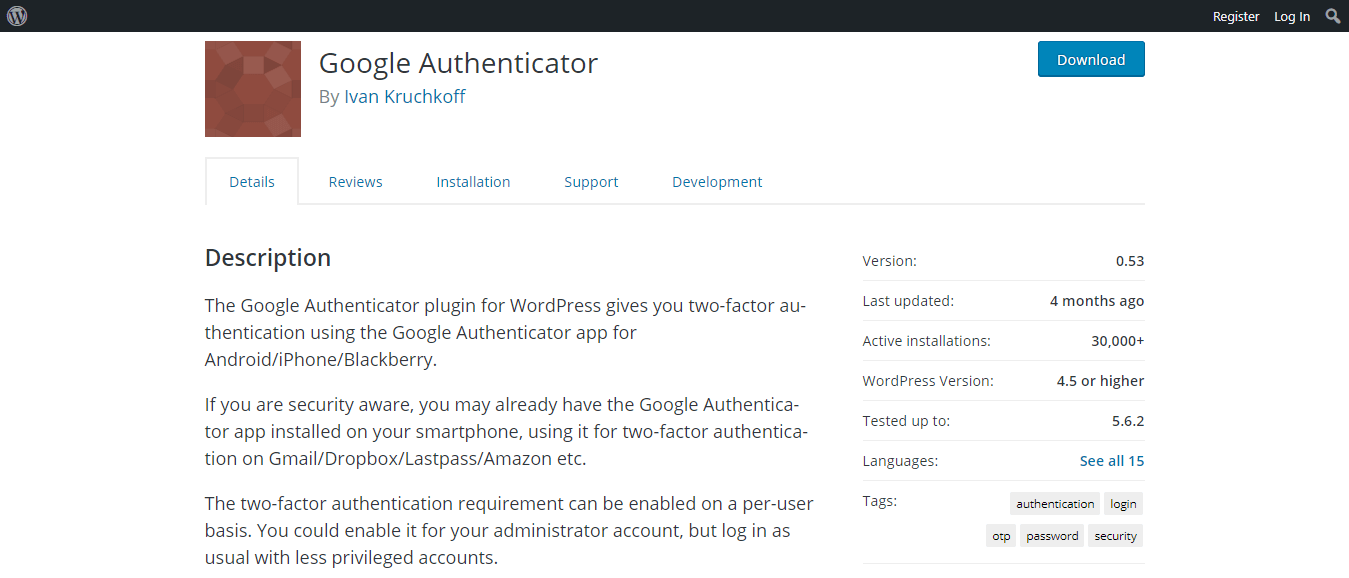 Google Authenticator is a WordPress security plugin that adds an extra layer of protection to your login, which is crucial since most hacking attempts happen with the login. It's easy to set up and use, and it doesn't cost anything. Users can get a push notification on their phone, or users can scan a QR code with their mobile device. For this, even if someone gains access to the user password, they won't be able to log in without access to one of these other methods.
Additionally, it includes IP address blocking and user login monitoring facility. However, you can set the rules for the users who should go through the authentication process and who shouldn't.
Best Features
Google authenticator WordPress security plugin nearly eliminates the vulnerability that is in the login area.
It even works when the device has no phone or data connectivity. The Google Authenticator app for Android, iPhone, or BlackBerry can generate verification codes without the internet.
Users can choose which two-factor authentication method is the easiest for them.
Admin can select which user types need to go through the authentication process.
The plugin has a shortcode for use with custom login pages.
Pricing Plan for Google Authenticator
Free: The Google Authenticator WordPress Security plugin is 100% free with its full-packed freemium features.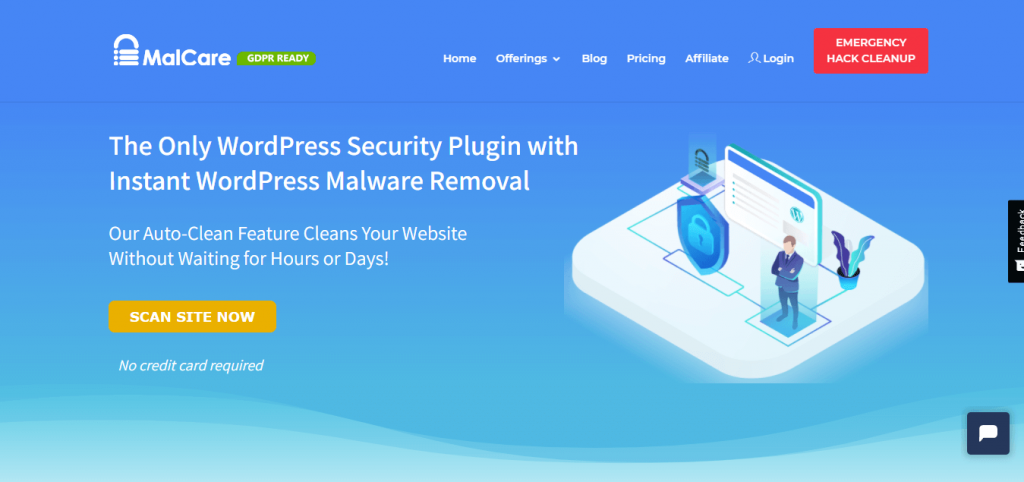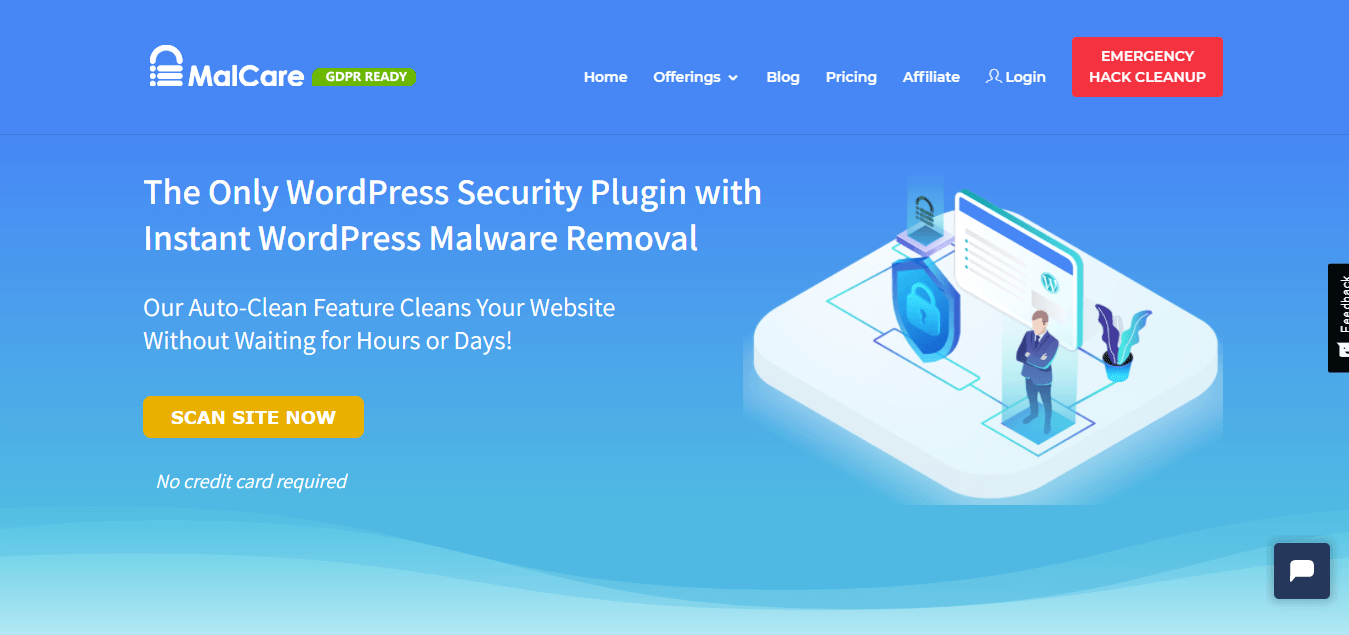 MalCare security is the best way to protect your WordPress site from malware and viruses. It's easy to use, fast, and affordable. MalCare security plugin specializes in post-attack malware cleanup. With a single click, it can scan your site for viruses and remove them from your website.
MalCare security is the fastest WordPress malware detection and removal plugin loved by over 1 million active users. It also has remote malware scanning, so you don't have to worry about slowing down your server when it scans for viruses. The pro version of this plugin includes white-labeling features and 90 days of website backup!
Best Features
Daily automatic Scans secure and Protect Websites from hacks and viruses in a single dashboard.
Most effective firewalls Block bad IPs and malware bots from entering your WordPress website.
Clean your hacked WordPress website in a click without waiting for hours and human errors.
Its deep malware scan finds complex WordPress malware with algorithms that go beyond signature matching.
Centrally update all Plugins, Themes, and WordPress Core to manage multiple WordPress websites effortlessly.
Prevent brute force attacks by automatic Login protection from hackers or bots powered with a powerful captcha system.
Tracks most minor file changes in every File, Table, Comment, Page, and Plugins are automatically tracked, so you save hours of debugging.
It minimal false alarms and gets notified via email when something needs your attention. It raises an alert only when we are 100% sure of a WordPress virus on your website.
Pricing Plan for MalCare Security
Free: MalCare security has a free version at WordPress org with some regular features.
Personal: The personal plan charges $99 per year for one website.
Small Business: MalCare small business package is a bundle of 5 website bundles and charges $259 per year.
Developers: The developers' plan supports up to 20 websites, and it charges yearly $599.
Agency Plus: It is a custom plan for more than 20 WordPress websites.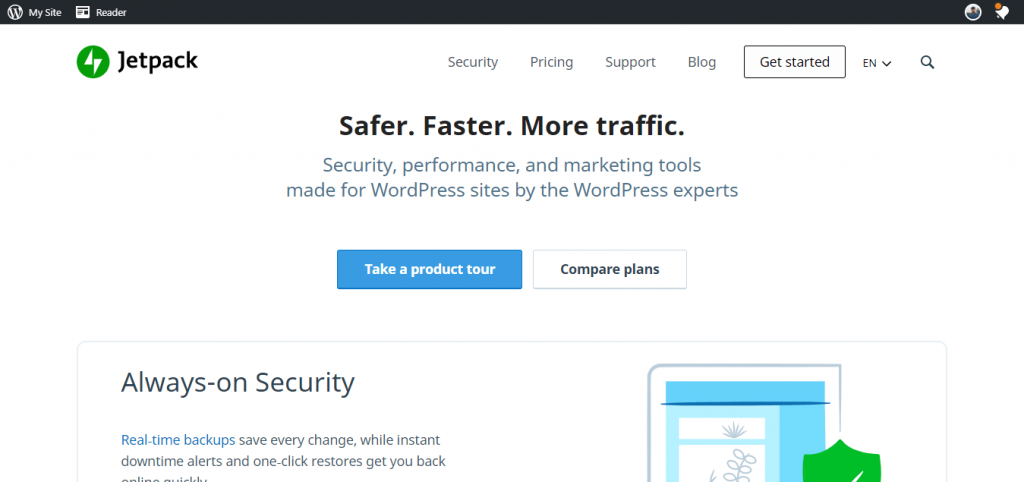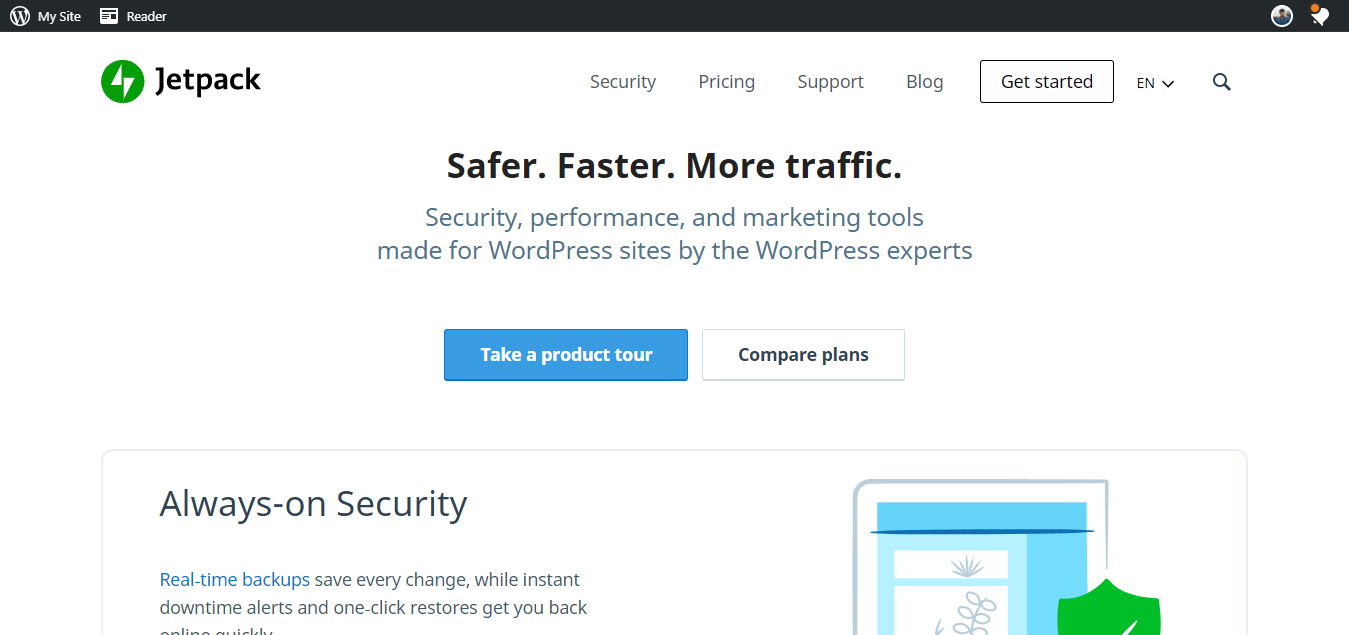 Jetpack– WP Security, Backup, Speed, & Growth is another best WordPress security plugin on our list for site protection. It offers real-time security scanning, backups, anti-spam, malware blocking, brute force login protection, a simple activity log, site stat reporting, and plugin auto-updates. This plugin will make your site more secure than ever before.
It also an easy, all-inclusive solution for site security, performance, and enhanced content management. Jetpack has more than five million active users, and frequent updates make them more reliable and trusted. It also has a unique feature: block and clear spam submissions through comments and input forms on the WordPress site.
Best Features
Jetpack back up the WordPress site automatically in real-time and restore to any point with one click—unlimited storage for backup.
Easily duplicate, clone, or migrate a site to create a staging site or move to a new host.
It has an automatic scan for malware and other code threats. By One-click fix to restore the site for malware.
See every site change and make it with the activity log, great for coordination, debug, maintenance, or troubleshooting.
It has brute force attack protection to protect your WordPress login page from attacks.
Block spam comments and form responses with anti-spam features powered by Akismet.
Jetpack monitors WP website uptime/downtime and raises an instant alert of any changes by email.
It automatically updates individual plugins for easy site maintenance and management.
Jetpack plugin updates are managed entirely through Jetpack.
Pricing Plan for Jetpack – WP Security, Backup, Speed, & Growth
Jetpack Free: Jetpack free plugin plan is more than enough for a regular WordPress website. It covers brute force attack protection, downtime monitoring, activity log, and more!
Backup Daily: This plan charges $5.97 per month for automated daily backups, one-click restores, and unlimited site storage. And also give 20% discount for annual purchase.
Security Daily: Jetpack security daily package includes all features in the "Backup Daily" plan. Besides, it has daily automated scan, anti-spam, comment and form protection, and
Unlimited video hosting. The plan charges $14.97 per month and 20% less for annual payments.
Jetpack WordPress security plugin also has a few more paid packages for covering all kinds of users. They named them Complete, Security Real-time, Backup Real-time, Scan, Anti-spam, Site Search, and CRM.
Wrapping Up​
That was the list of the best WordPress security plugins based on different uses perspectives. I hope you all enjoy the list. Let us know which WP security plugin you try or set to try after reading this blog; which one seems the best security plugins for WordPress and more accurate yet perfect to you. Also, you can suggest us to add your preferred one if we miss your favored one. Don't forget to share your valuable opinion regarding the list in the comment section below.