Are you looking for the best WordPress Subscription plugin for your website? Want to discover which WordPress Subscription or Membership plugin is the best?
Choosing the right membership plugin is important for your business because a better platform means more room for growth. It is the easiest way to set up a login-based WordPress Subscription Website where users can register to avail of exclusive benefits. This kind of plugin enables you to:
Share free content to create followers.
Charge for restricted content behind the paywall.
And create membership programs on different levels.
In this article, we'll tell you about the best Subscription plugins for WordPress site, so you can make a choice that fits your needs.
Read more: 7 Best WordPress LMS Plugins Compared
How to Select the Best Subscription or Membership Plugin?
So, before move into the best WordPress subscription plugin let's find out how to select them.
Membership levels and Payment gateway integration are only the tips of the iceberg when picking the best WordPress Membership Plugin. You have to do much more to properly set up your WordPress Membership Website as per your vision. Therefore, to select the right one that is tailor-made for your site, the three key features to look out for are:
Features:
There is a wide variety of WordPress membership Plugins available in the market. Each has its perks. So first, you must decide what facilities you want from a log-in-based membership plugin. It could be a very basic or a full-fledged feature-rich experience; that is up to you. Then, depending on your needs and keeping with your budget, you should choose the subscription plugin that lets you create a WordPress Membership Website that caters to your needs and provides enough freedom to set things up and customize as per your wish.
Compatibility/Flexibility:
The other important factor is compatibility. You must check whether your Subscription Plugin is compatible with your WordPress Theme and other plugins. To do this, you can test them on various staging sites. Also, check if your plugin is flexible enough to support integration with other membership platforms and payment gateways. It's better not to skip this step if you want to grow your website online.
Ease of Use:
Last but not least is the ease of using any WordPress Subscription Plugin. It can be a deciding factor when choosing a membership plugin. The plugin of your choice should comprise an intuitive dashboard and support the simple integration of payment getaways and essential add-ons.
Now that's out of the way, let us shed some light on the seven best WordPress Membership plugins for your WordPress Membership site that we have meticulously assorted for you.
Top 7 WordPress Subscription Plugins of 2022:
Here are the best WordPress membership plugins of 2022.
MagicMembers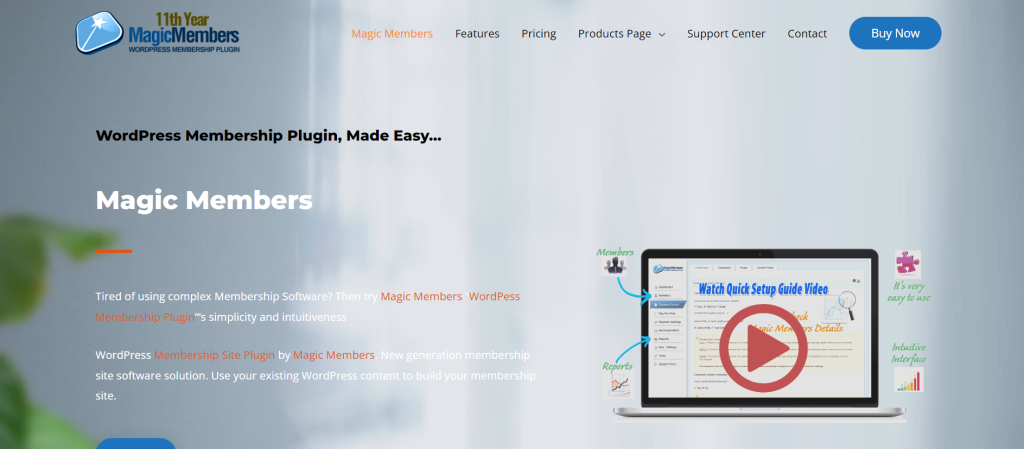 Any Discussion on 'Best WordPress Subscription Plugin' cannot start without mentioning the MagicMembers subscription plugin. It has been in the game for more than ten years and has grown exponentially. Close to a hundred thousand websites use this plugin.
A dedicated team of developers has constantly been developing the plugin to provide an intuitive dashboard and user-friendly experience since its inception. The plugin is a common choice for publishers selling courses or special programs online on a pay-per-view basis. Its reasonable pricing and sheer simplicity make MagicMembers stand out from the competition.
Key Features:
The MagicMembers Membership Plugin lets you create a paid or free WordPress Subscription website with ease.
It offers unlimited membership levels, a personalized experience for different levels, and a built-in 'subscription expiration reminder' feature.
You can also design several welcome and custom error pages using the login redirection feature.
The MagicMembers Membership Plugin offers complete content protection and controlled and partial access to published content based on different membership levels.
It supports many payment gateways and seamless integration with MailChimp and other WordPress Autoresponder Plugins such as AWeber, Constant Contact, etc.
It has built-in 'pay-per-post' and 'pay-per-view' features so that non-members can consume the content without purchasing a subscription.
Pricing:
Single Website: $97 (one-time payment)
3-Site plan: $197 (one-time payment)
Unlimited: $207 (one-time payment)
LearnDash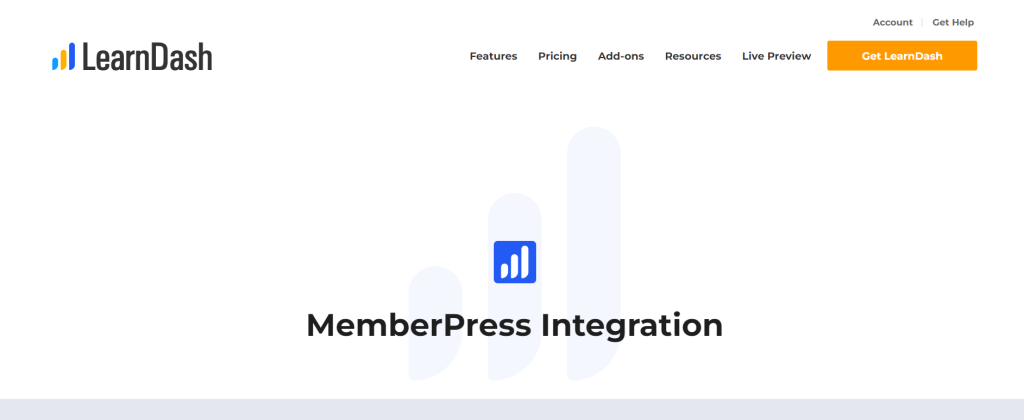 The LearnDash WordPress Subscription Plugin is currently a people's favorite. It is the most popular LMS (Learning Management System) plugin. Apart from being very easy to use, it also provides excellent flexibility in creating custom membership plans of your choice. This login-based plugin is widely used for e-learning in the online education industry.
Its features let you create a distraction-free environment for the learner, an essential aspect of e-learning. You can control and customize permissions for study materials, tutorials, and assignments and reward the users with badges and certificates. It works in favor of boosting solid user engagement.
Key Features:
The LearnDash WordPress Subscription Plugin offers a 'focus mode' that helps you develop a distraction-free experience.
You can allow access to content at a one-time price or recurring subscription basis and also use the automated renewals feature.
The LearnDash WordPress Subscription Plugin has pre-built templates and a drag-and-drop builder for quickly creating WordPress Membership Websites.
With this plugin, you can assign and manage courses and assignments, grade them and create 'drip-feed' courses.
It offers tools like 'group management' and detailed reporting on performance and progress.
It offers a greater level of control and administration than other learning management systems, making it a pretty robust LMS in the learning portal market.
It supports integration with other popular membership websites, platforms, and add-ons on a free or/and premium basis.
Supports integration with several payment gateways and marketing apps.
The LearnDash WordPress Subscription Plugin awards badges and certificates on significant milestone completion.
Pricing:
Basic: $159 /year (single site license)
Plus: $189 /year (upto 10 sites)
Pro: $329 /year (upto 25 sites)
WooCommerce Memberships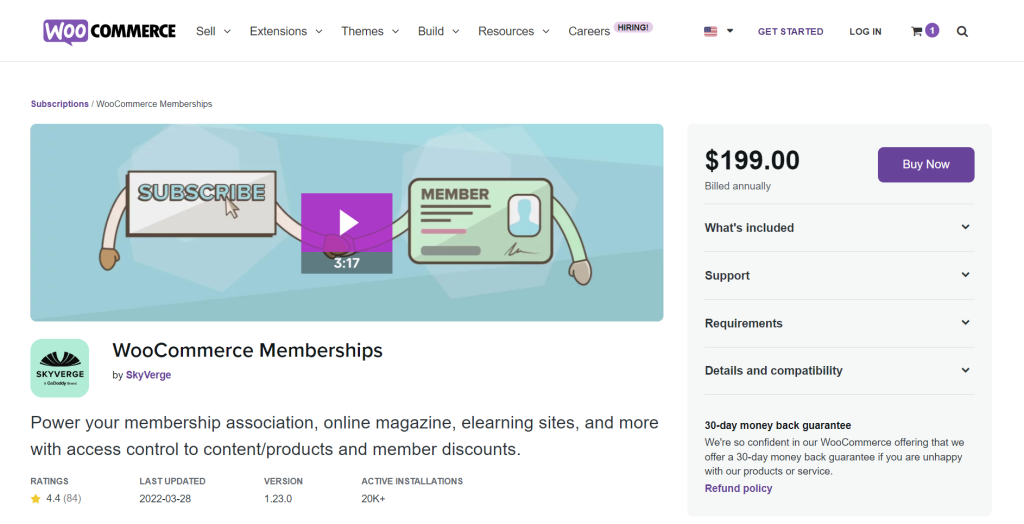 WooCommerce Memberships is a popular add-on of the WooCommerce Membership Plugin. It restricts the sale of products and services on your website by integrating membership perks into your website. With this plugin, you can manage subscriptions on a one-time or recurring basis. The visitors have to sign up and sign in before buying.
But you have to remember that it is not a one-stop solution to build a WordPress Subscription Website, as you have to install the free WooCommerce plugin and the WooCommerce subscription plugin for accepting recurring payments. However, it gives you the power to publish locked content and premium products.
Key Features:
WooCommerce Membership Plugin supports content dripping.
It offers different membership levels.
Supports integration with Constant Contact.
Offers accessible communication between members through 'membership notes.'
Member inclusion via invite-only.
Free shipping option for members.
Pricing:
MemberPress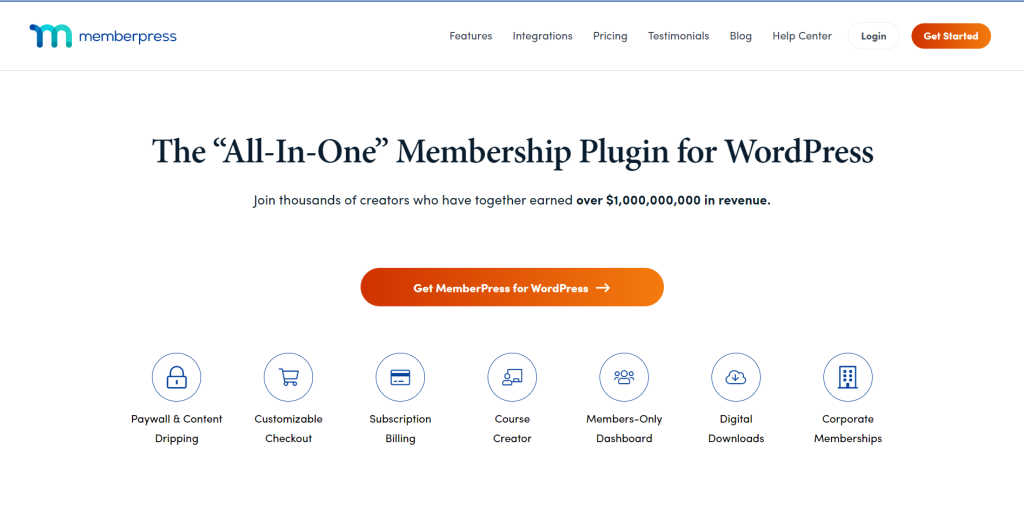 MemberPress is one of the best WordPress Membership Plugins with many robust and easy-to-use features. With this plugin's help, you can turn your existing website into a full-fledged membership website. It integrates with WordPress like a charm. If MemberPress did not have limited payment gateway support, it would be nearly unbeatable in terms of features.
Key Features:
You can create an unlimited number of membership levels.
Supports integration with popular ESPs (email service providers).
Integrates with the bbPress plugin to encourage users to be part of forums and communities.
It integrates with MailChimp, Constant Contact, Easy Affiliate, GetResponse, and other plugins to further grow your website and create your affiliate program.
Control content restriction and access dates.
Drip Content Feature.
Customizable checkout page.
It supports the selling of both digital and physical products.
Efficient and powerful Learning Management System (LMS) features for online courses.
Supports Zapier Integrations that give you the freedom to expand your site using various web tools and automation.
It lets you set expiration dates for content and provides an automated billing system.
Generate and customize coupon codes to encourage new subscriptions and renewals.
Personalized pricing pages using templates without the need for any coding.
Pricing:
Basic: $179 /year (single site license)
Plus: $299 /year (upto 2 sites)
Pro: $399 /year (upto 5 sites)
ARMember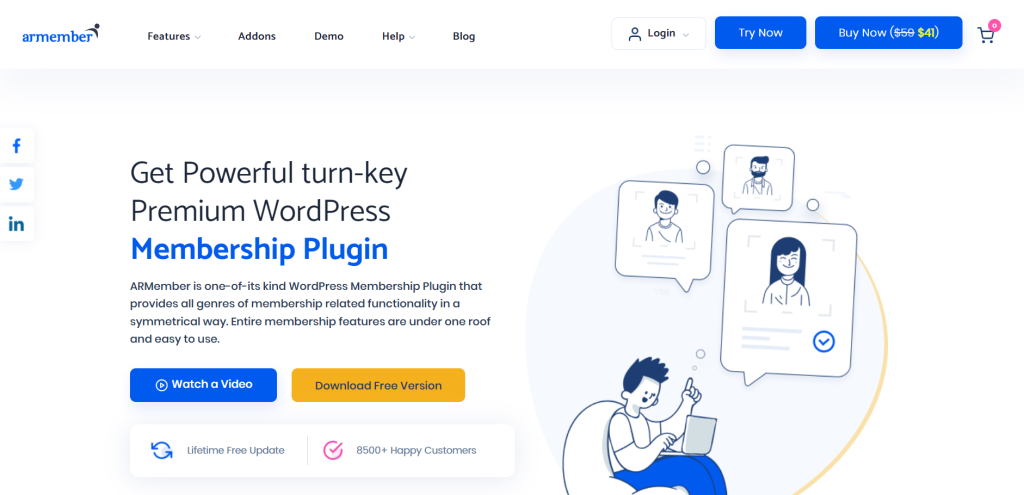 ARMember is a free and open-source WordPress Subscription plugin, mainly targeted toward everyday creators with a tight budget. Using this plugin, you can easily create unlimited membership levels with a trial period, use 1-click content restriction, and support multiple payment cycles. Although it's free, it offers a plethora of necessary features. It serves as a litmus test for new visitors, allowing them to see what you offer before they commit to the subscription.
Key Features:
Provides a hassle-free member management system (upgrade, downgrade, renew, cancel).
Power to create free as well as trial memberships.
ARMember plugin has built-in security features like force login protection, a captcha anti-spam mechanism, and site access restrictions.
It supports dripping content and monetization of posts outside membership plans.
It supports payment gateway integrations with PayPal, Authorize.net, and Stripe.
It offers a form builder and pay-per-post feature.
It supports badges, rewards, and achievements.
The premium version supports more features such as multiple memberships, social media configurations, and developer API.
Pricing:
Base Version: Free
Premium: $59 (lifetime)
MemberMouse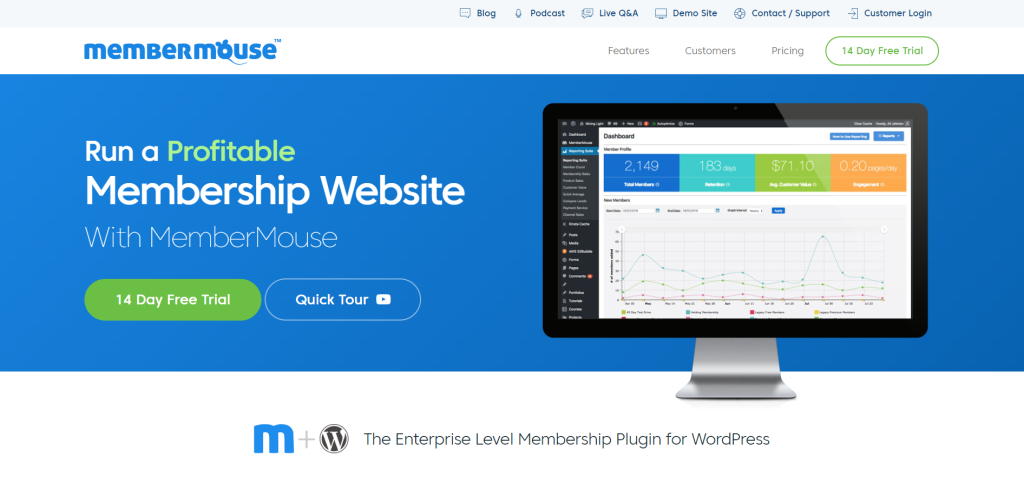 Another great WordPress Membership Plugin is the MemberMouse plugin. If you are not that tech-savvy, then this is the right membership plugin for you. It has loads of automated features to ease your job regarding user engagement, marketing, and support. Although a bit pricey in terms of features, it is a top-tier WordPress membership plugin.
Key Features:
Fast activation process and dynamic checkout page.
It offers various security functions.
Dashboard customization and smart tags.
Integration with multiple payment gateways and ESPs for email marketing.
Automatic downsells and prorated upgrades.
Automated member management.
Optimization tools (A/B testing).
It lets you sell customized protected content, both digital and physical.
It supports social media login options for broader reach.

Pricing:
Builder: $29 /month
Advanced: $79 /month
Premium: $199 /month
Custom: Determined on a case-by-case basis.
Restrict Content Pro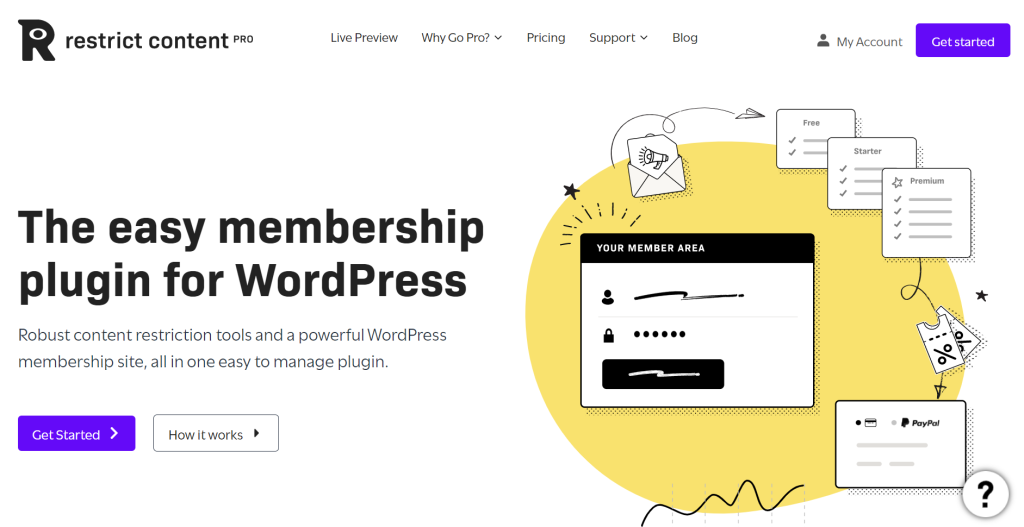 Restrict Content Pro is a fast-growing, lightweight yet powerful subscription plugin for WordPress that lets you create a membership website like a pro. It edges past other plugins for ease of use and ultra-clear user documentation. The plugin bundles all its essential features as add-ons so that you can install just the ones you require and offer the site an uncluttered appearance.
This plugin lets you create a 'members only' premium content library. You can create private forums as well as foster online communities. In addition, Restrict Content Pro provides a free membership plugin in the WordPress repository. This free basic version allows you to create custom sign-up and sign-in forms and limit access to content with a short code.
Key Features:
It offers club memberships, magazine subscriptions, private forums, and member blogging.
It supports WP-CLI integration and Woocommerce integration.
Content dripping.
Intuitive customer dashboard for members.
Detailed data and analytics dashboard for admins.
Unlimited subscription packages and prorated memberships.
Support payment integration with Stripe, Braintree, 2Checkout, and Paypal.
You can create offers and discounts or coupons on new subscriptions.
Process membership data with REST (Representational State Transfer) API.
Pricing:
Basic: Free
Personal: $99 /year (single site license)
Plus: $149 /year (upto 5 sites)
Professional: $249 /year (unlimited)
Lifetime: $499 (one time)
Conclusion
As you can see in this article, there is a WordPress Subscription Plugin for everyone, depending on the needs of the creator/site owner.
For someone who wants greater LMS functionality, a premium affiliate program, rewards, coupon codes, and robust integrations, then MemberPress could be the most comprehensive choice. The similarity of its dashboard with the native WordPress dashboard makes it a user's favorite. And most importantly, it offers excellent value for the features offered.
Or, if you want to create a learning portal that retains its members while providing a robust and interactive experience through quizzes, events, and rewards, then LearnDash would be a perfect choice.
And if you are a beginner with a very tight budget, then you can go for ARMember or the basic free version of Restrict Content Pro. And for more features and flexibility, you can opt for the paid version of this excellent lightweight plugin.
Ultimately it is your decision. Only you know which plugin serves you the best. You must select the WordPress Membership Plugin that enables you the most to achieve your desired endgame. So, assess the nooks and crannies of each plugin carefully. Take free trials, test them, rate them on performance and ease of use, and then decide accordingly.