Drag & Drop Onepage, Under Construction Page and Landing Page Builder for WordPress
The most easiest and beginner friendly WordPress landing page builder and onepage builder plugin to help you make website better and faster.
Create All of These & More...
Now you can create almost any kind of pages for your business inside WordPress


Designed With You In Mind
WPOnepager is the easiest yet powerful WordPress page builder plugin. We made it impossible to create an ugly looking landing page. Simple 4 step process…
01. Install WPOnepager
Install from WP repo or upload the zip file, its just one click process.
02. Select Block
Select from 100+ pre-designed premium templates and blocks.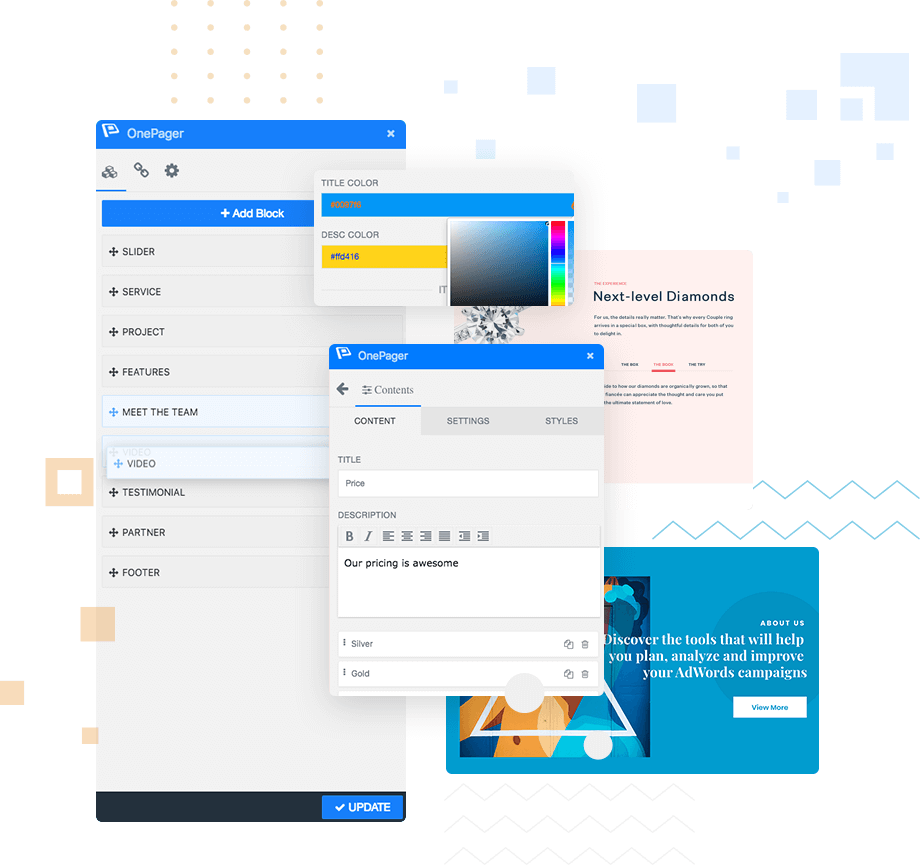 03. Update Content
Input your content and your beautiful looking website is ready.
04. Publish Website
Hit the publish button and let the world see your beautiful website.
I'm very satisfied with this plugin after trying several onepage themes. They were all much to complicated. This plugin fits my needs perfectly! Thank you.
Finally, a WordPress Landing Page Builder Plugin that's Easy and Powerful
WPOnepager is the easiest WordPress landing page builder plugin ever created. Here are the features that makes WPOnepager the most powerful and user-friendly WordPress onepage builder in the market.
Drag & Drop Page Builder
Insert any block within one click. This is the most fastest way to add blocks in your page. Drag & Drop to right place is a tedious process.
SEO Friendly
Your site built with WPOnepager is entirely SEO friendly, it will be easier for Google to rank your site.
Responsive Mobile Friendly
No matter which sized device your users use, your site will look always perfect which is built with WPOnepager plugin.
No Coding Required
You do not need to write a single line of code, cause everything is already coded with latest web standard.
Create Impressive Animated Websites in Minutes, Not Hours
Lucrative animations are ready, all you have to do is insert and make your site. Don't worry it will only take some minutes.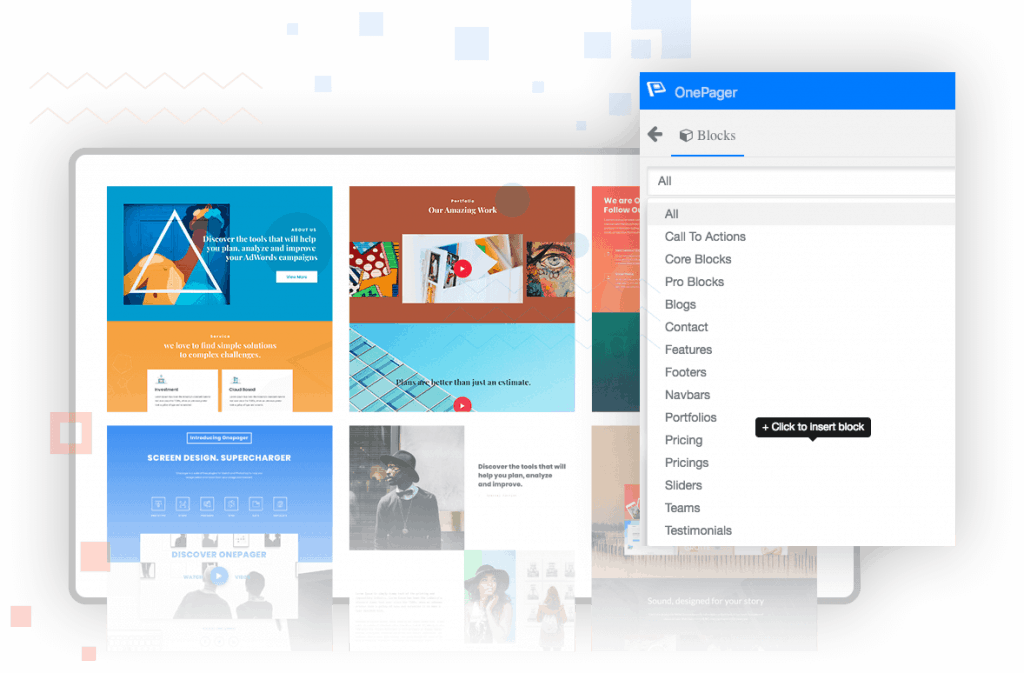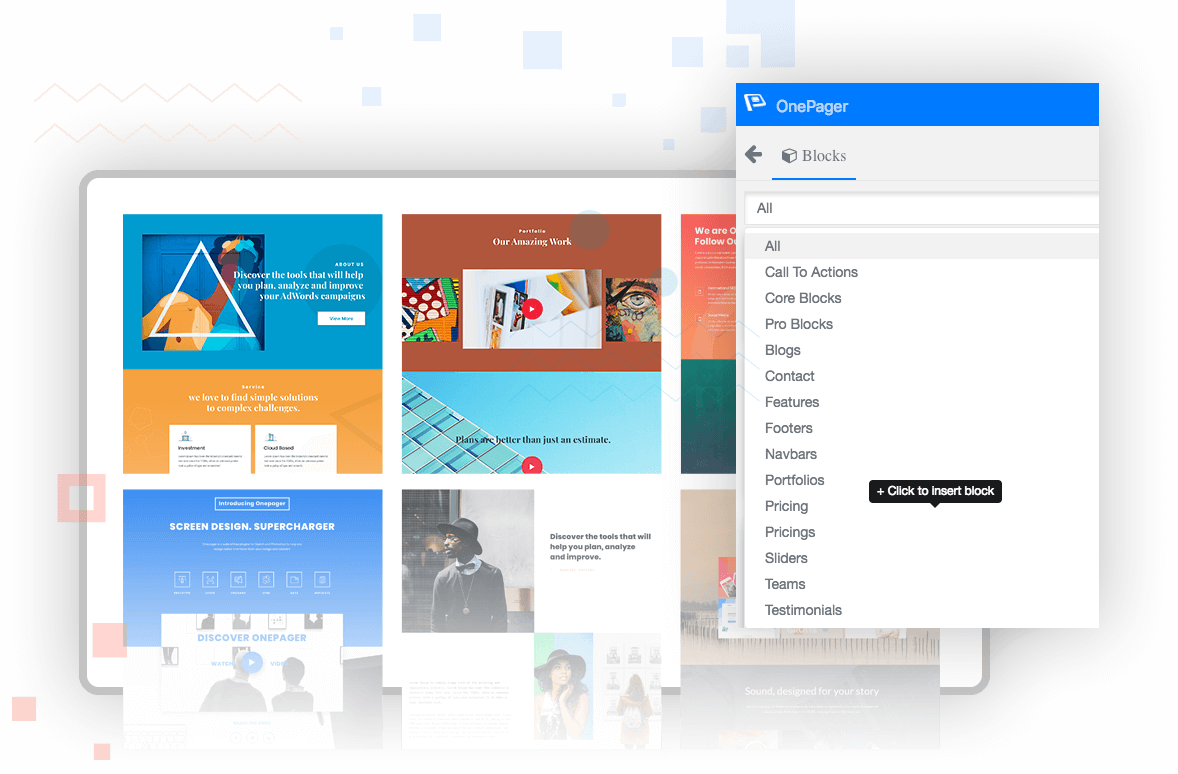 Animation Effect
Mesmerizing animation effects that will force your users to get attracted.
Slide To Scroll
Give a different angle to your users to view your website built with WPOnepager.
Beautiful Typograpy
Typography of every block has been selected carefully so you feel comfort while reading.
Create Under Construction & Coming Soon Page In 1 Minutes
You don't need to think and design pages like construction or coming soon, leave that worry to wponepager. It will take only a minute to create whole page. 
Create Beautiful Fullscreen Website Designs With Smooth Motion Slide
Blend beautify with artistic designs and create magnificent full-screen websites all by yourself, without compromising the performance.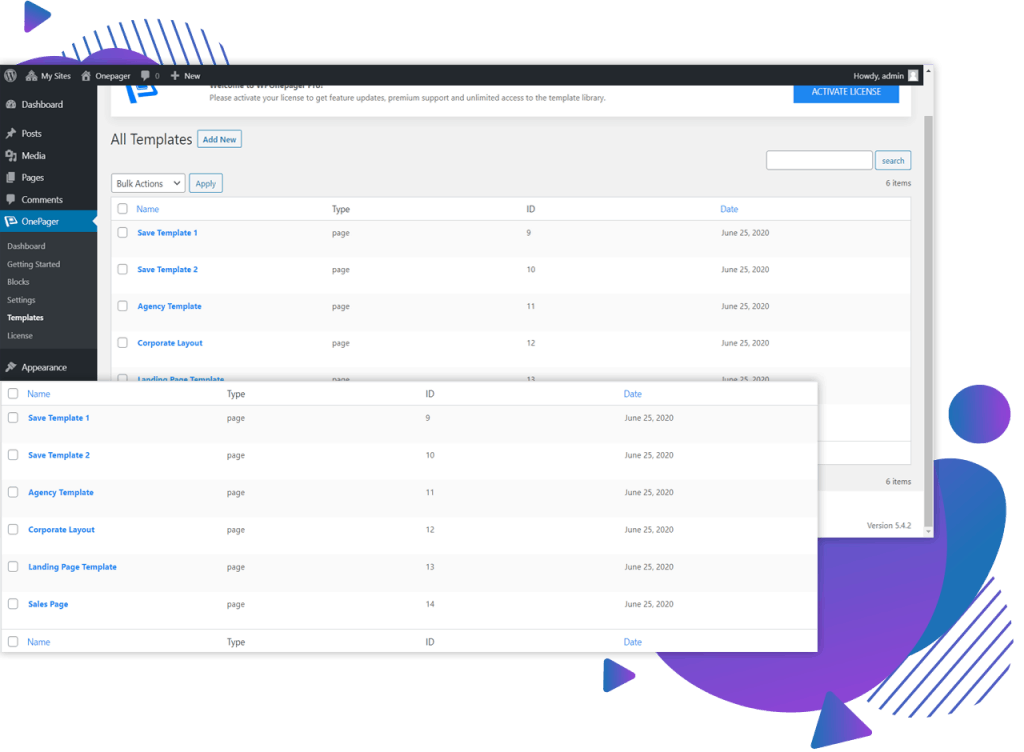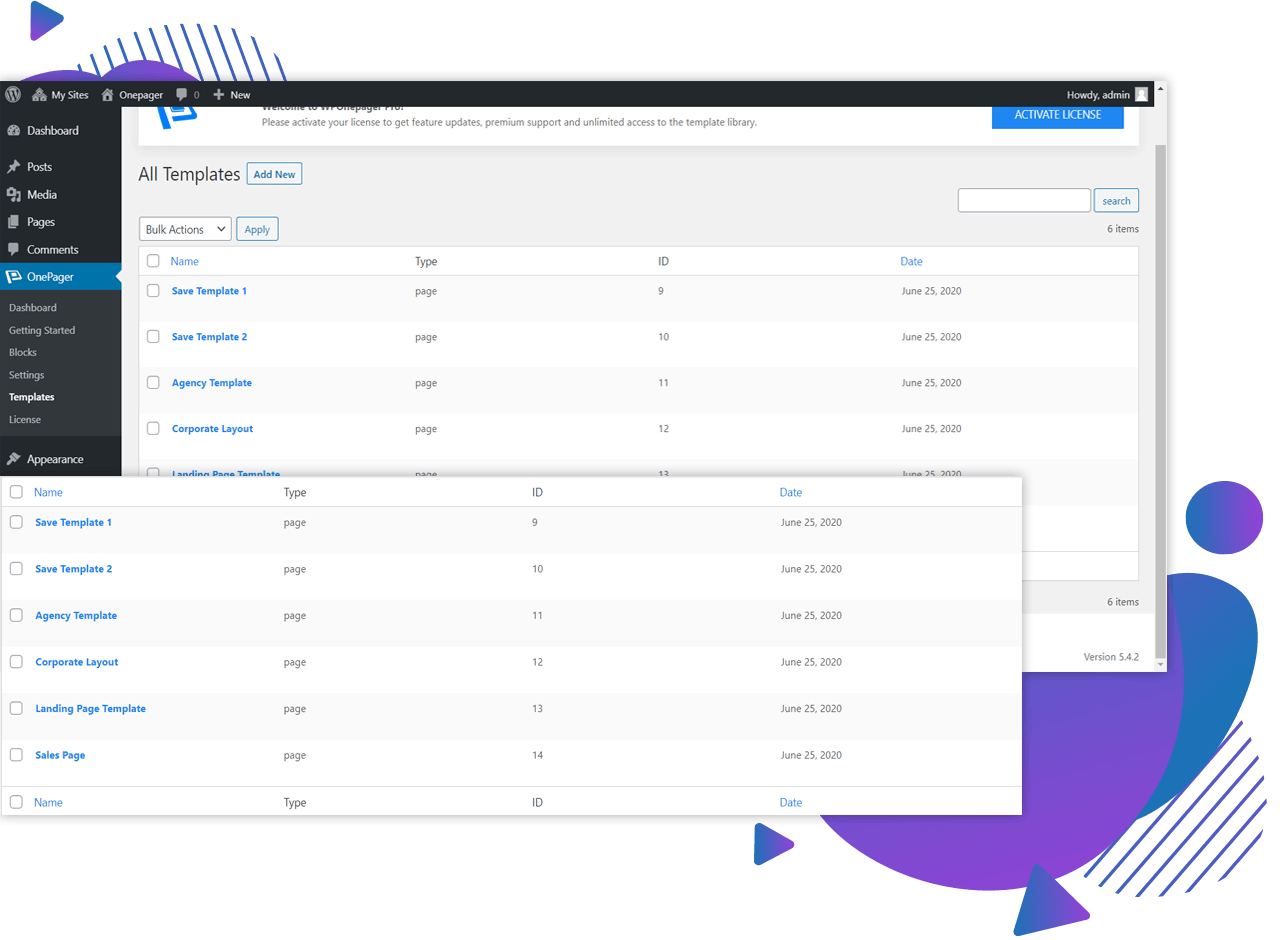 Kick-start your creativity, Save & Reuse Any Template Anytime
Save your current work or a complete layout into my template library and access, edit, or reuse them on different pages afterward. It will merge automatically with the prevailing block if there are some.
The Time Saving Feature Page Export & Import Option​
Easily export and import any ready page or your preferred modified one, and use them when you need to. You don't have to do the same task twice and spend time making a page over and over.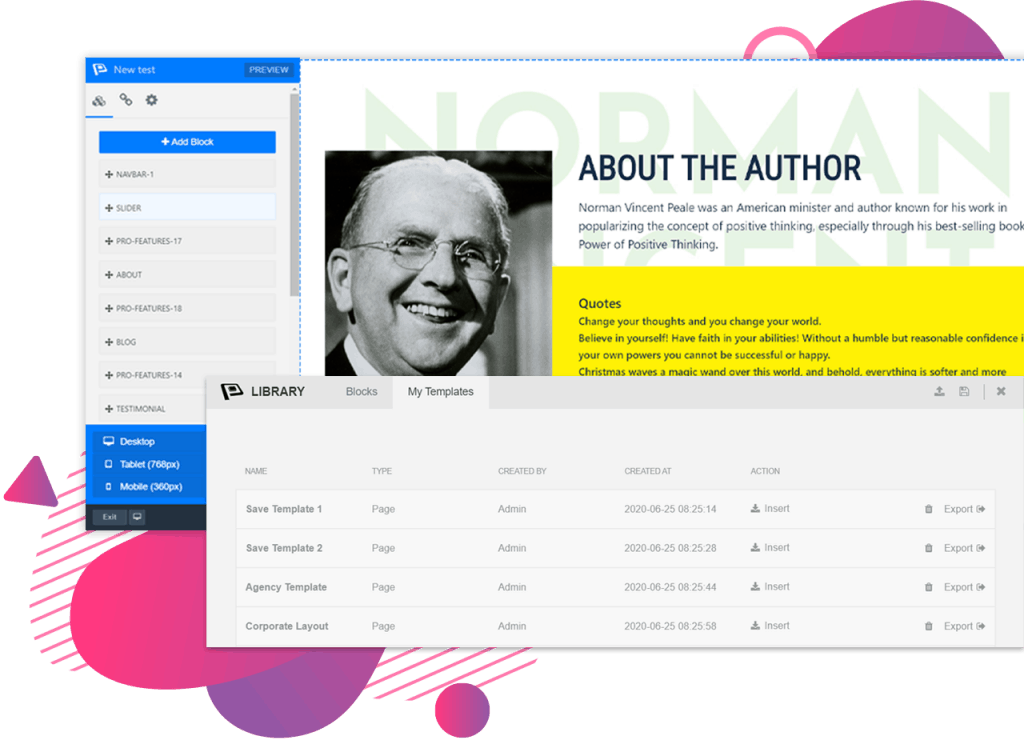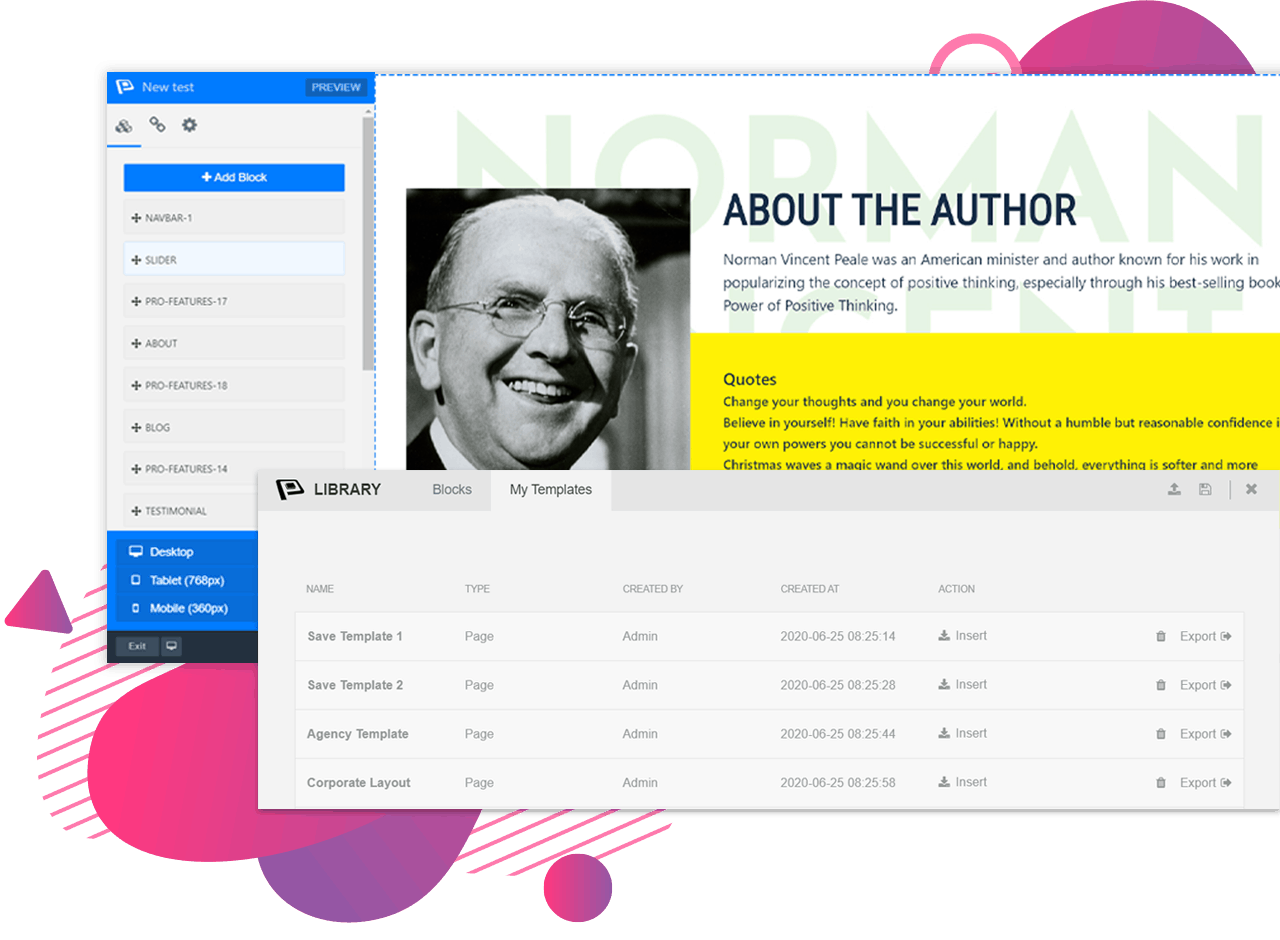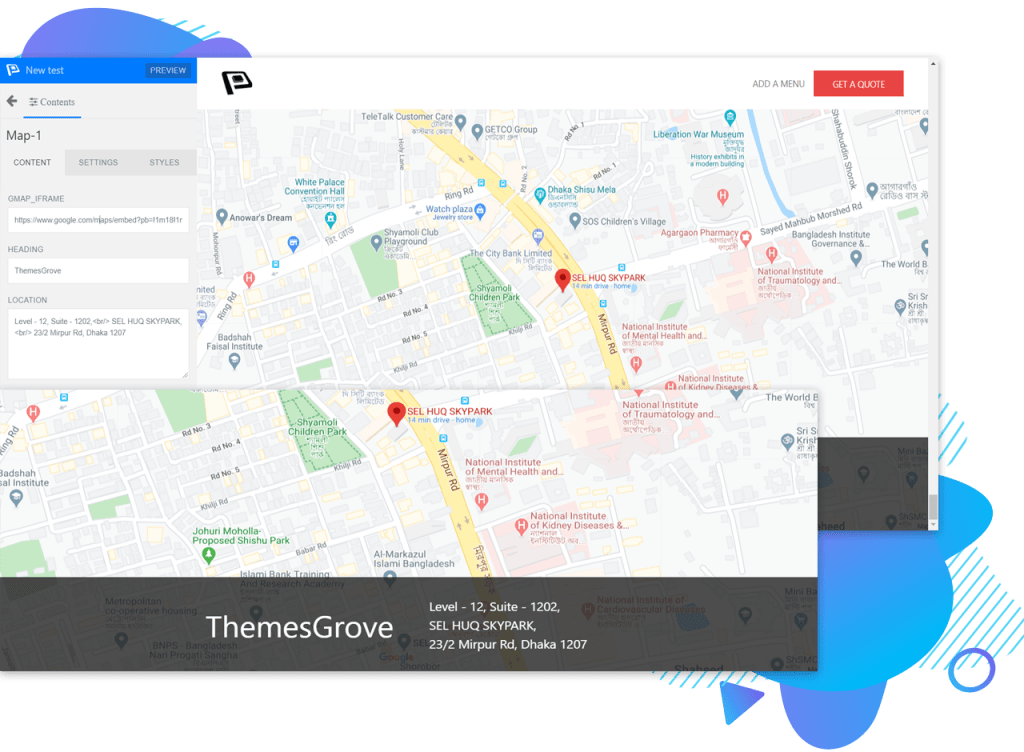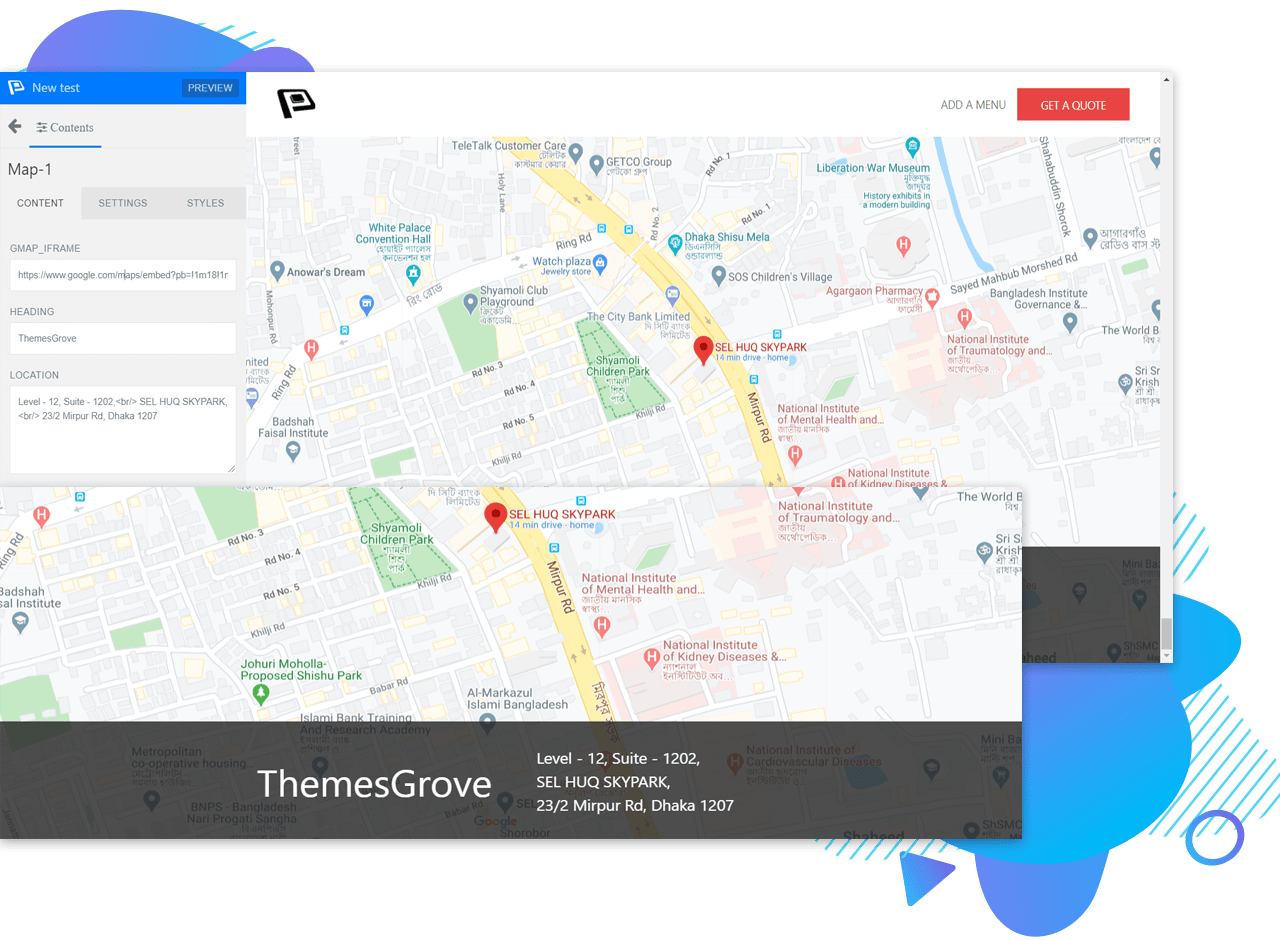 Real Time Map Embed With Google Map Layout
Easily embed google map on your site with the all-new google map layout and help your visitors find your place. Get the iframe link from the google map share option, and submit it to show the real-time location.
Distinct Blocks Library to Save Your Own Design
Build your own design library as my template with different names and use them afterward by inserting them. You can design with complete freedom and easily combine multiple pages with blocks at the same time.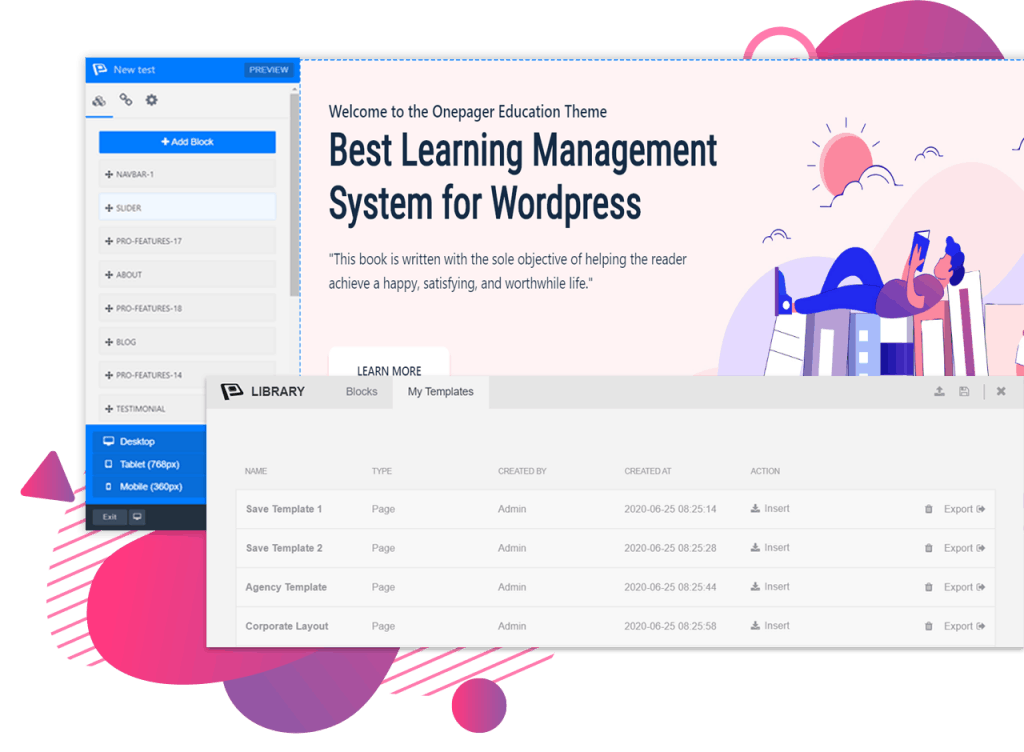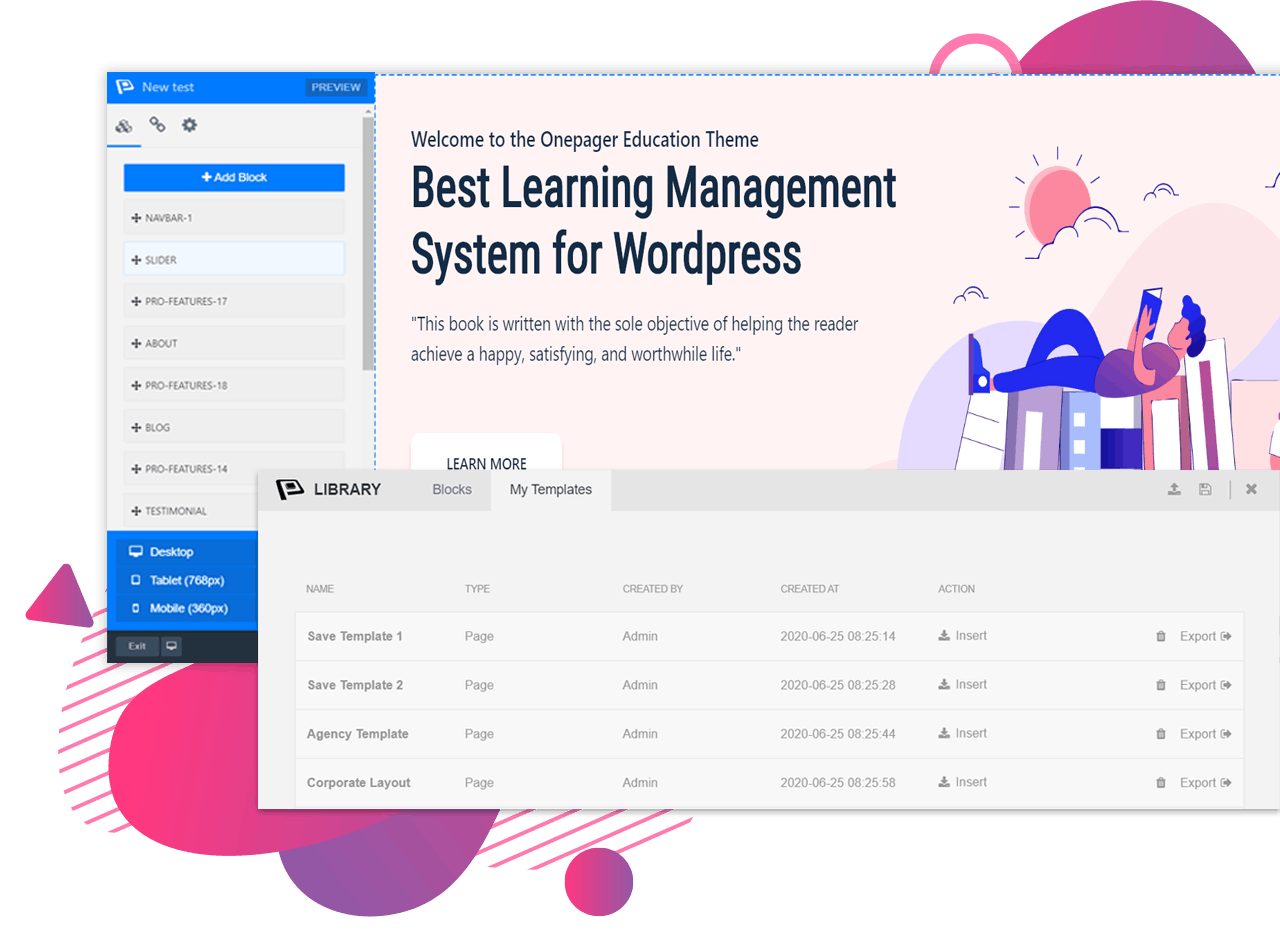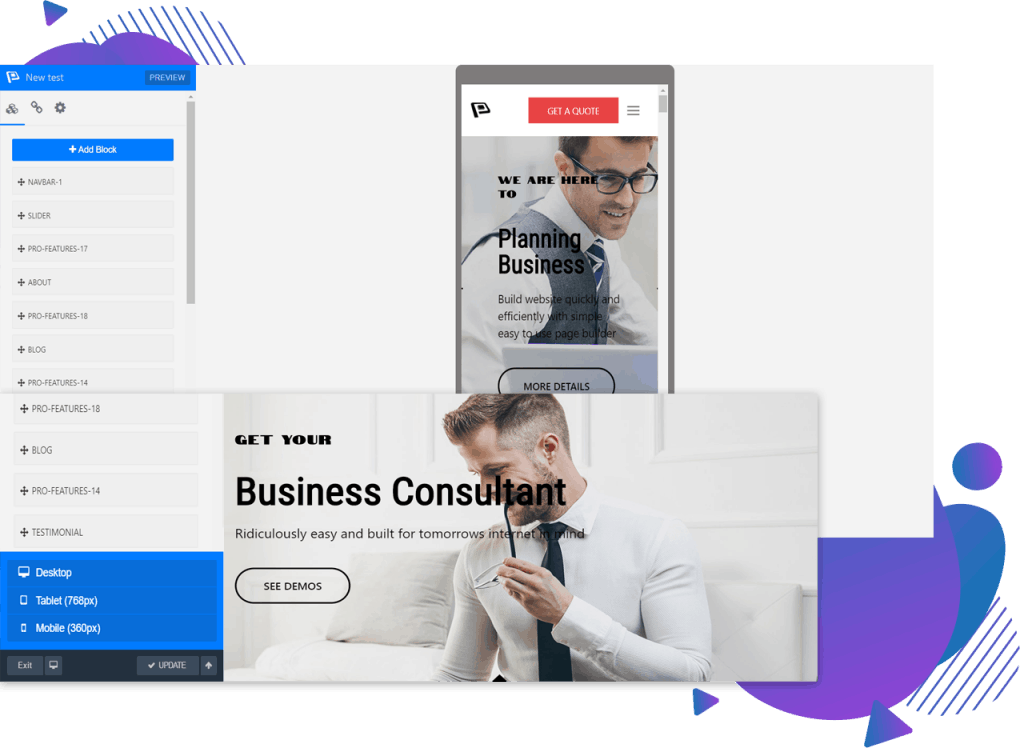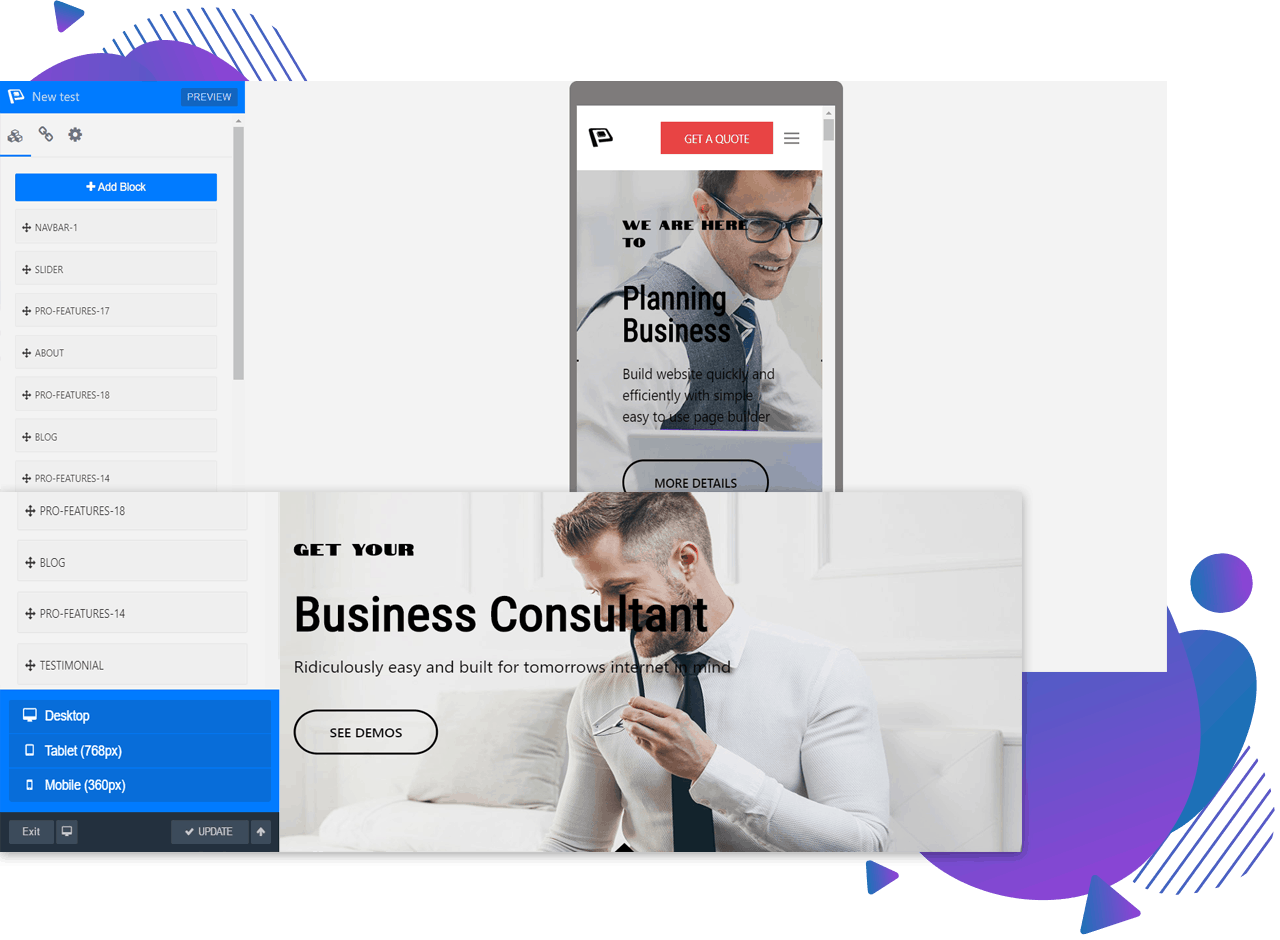 Instant Responsive Check From Builder Mode
Check responsive instantly for PC, mobile, tablet from the builder mode and experience the utmost flexibility in building layouts for your web pages. Switch to mobile view, and tablet view to make it look perfect on any device.
Experience WooCommerce Block with More Customization Query
Enjoy full control over your WooCommerce product and filter the exact products you want to display. Decide what to show up on your product list according to different product options and take your experience to the next level.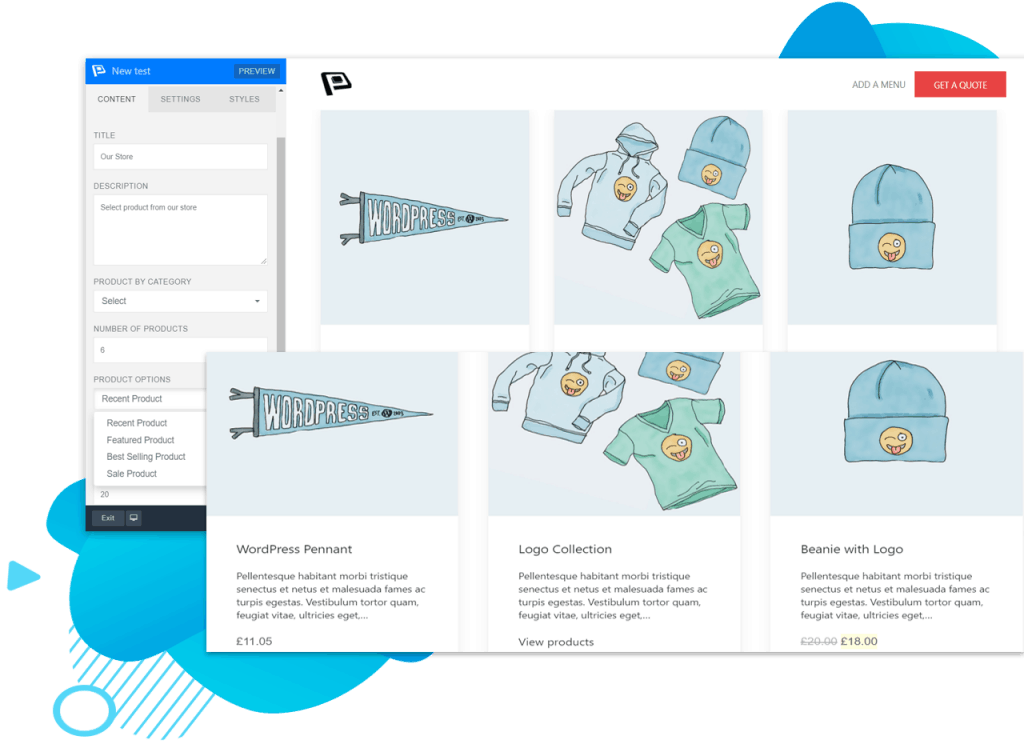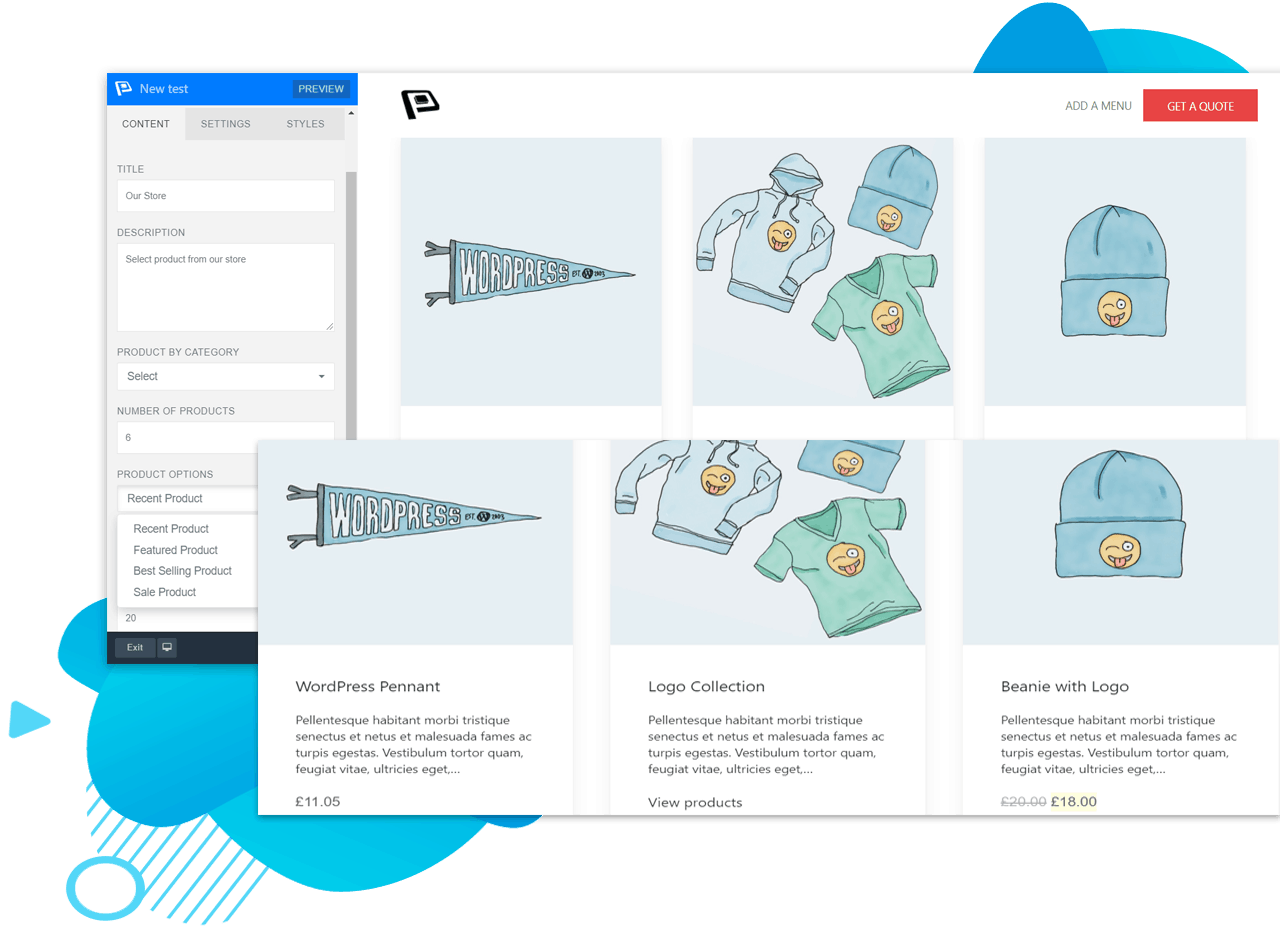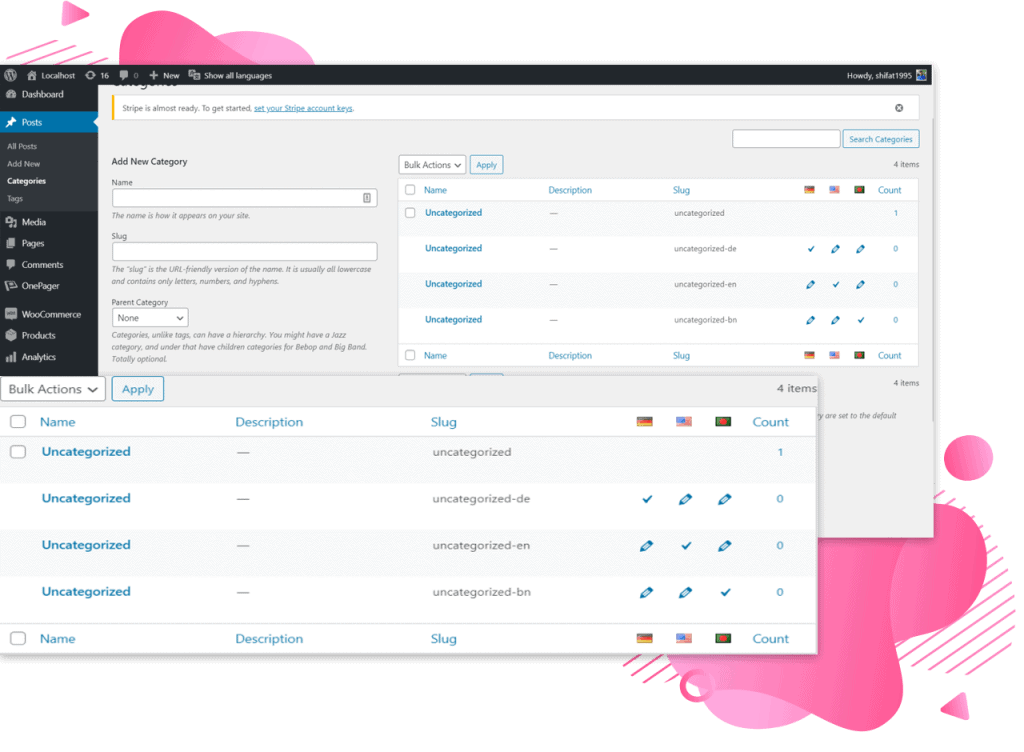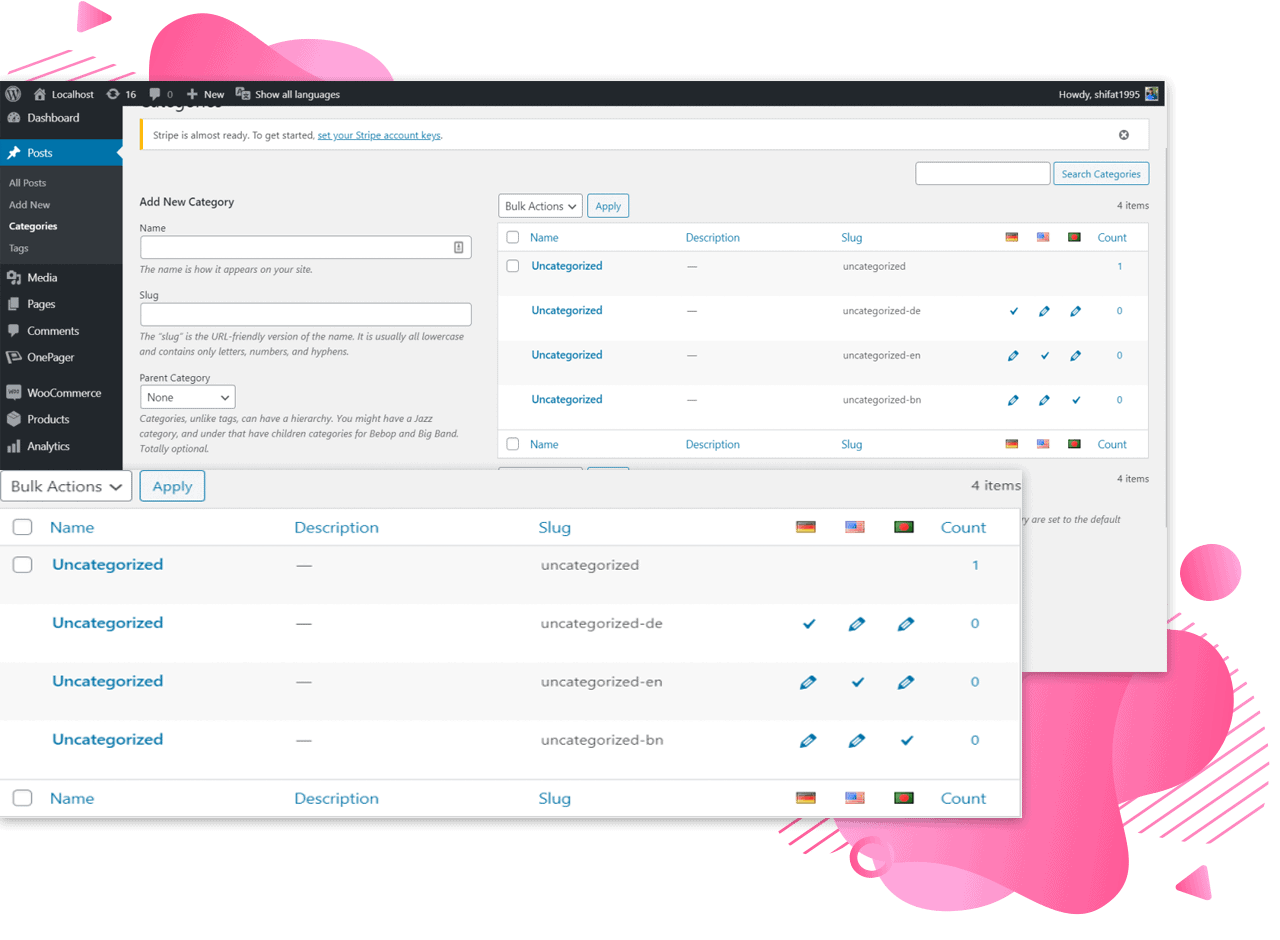 WpOnepager is Multilingual Supported, No Barrier for Languages
Make a multilingual website and open up new possibilities for the native language users. Now it's more than easy to offer translated or customize content and get close to the substantial audience with WPOnepage.
I was looking for page builder for my theme and all the "favorite" builders have some issues, but this works like a charm and it looks beautiful! Good work!
Choose From a Huge Library of Over 100+ Templates & Blocks
Start with proven templates engineered to get more visitors to join your email list, sign up for your event, or buy your products. Surprise your visitor with stunning slide like animated page and much more…
Unlimited Sites
Unlimited
normally $399
50+ All Premium Templates

Unlimited sites

All core features included
FOR 5 SITES​
Agency
normally $199
50+ All Premium Templates

All core features included
FOR 1 SITE
Personal
normally $78
50+ All Premium Templates

All core features included
Unlimited Sites
Unlimited
normally $999
50+ All Premium Templates

Unlimited sites

All core features included
FOR 5 SITES​
Agency
normally $399
50+ All Premium Templates

All core features included
FOR 1 SITE
Personal
normally $199
50+ All Premium Templates

All core features included
* Plugin updates and email support are provided for the duration of your current subscription.
All packages include 1 year of support & updates
7 Day Money Back Guarantee
Your purchase is 100% Risk-Free – use WPOnepager for 7 days and if you're not happy, simply let our friendly team know and they'll be happy to refund you in full.
Create unlimited pages with WPOnepager
We do not limit how many landing pages, sales pages or other marketing pages you can create on each site you license with WPOnepager.
Support from our friendly team
Our support team are on hand via email and chat to help you with any issues you have getting up and running with WPOnepager
Most frequent questions and answers
Built By a Professional Team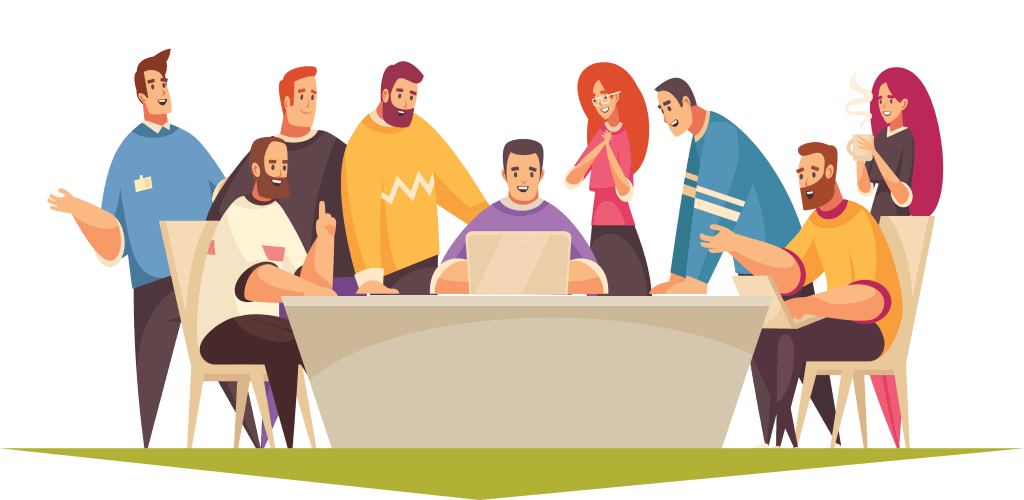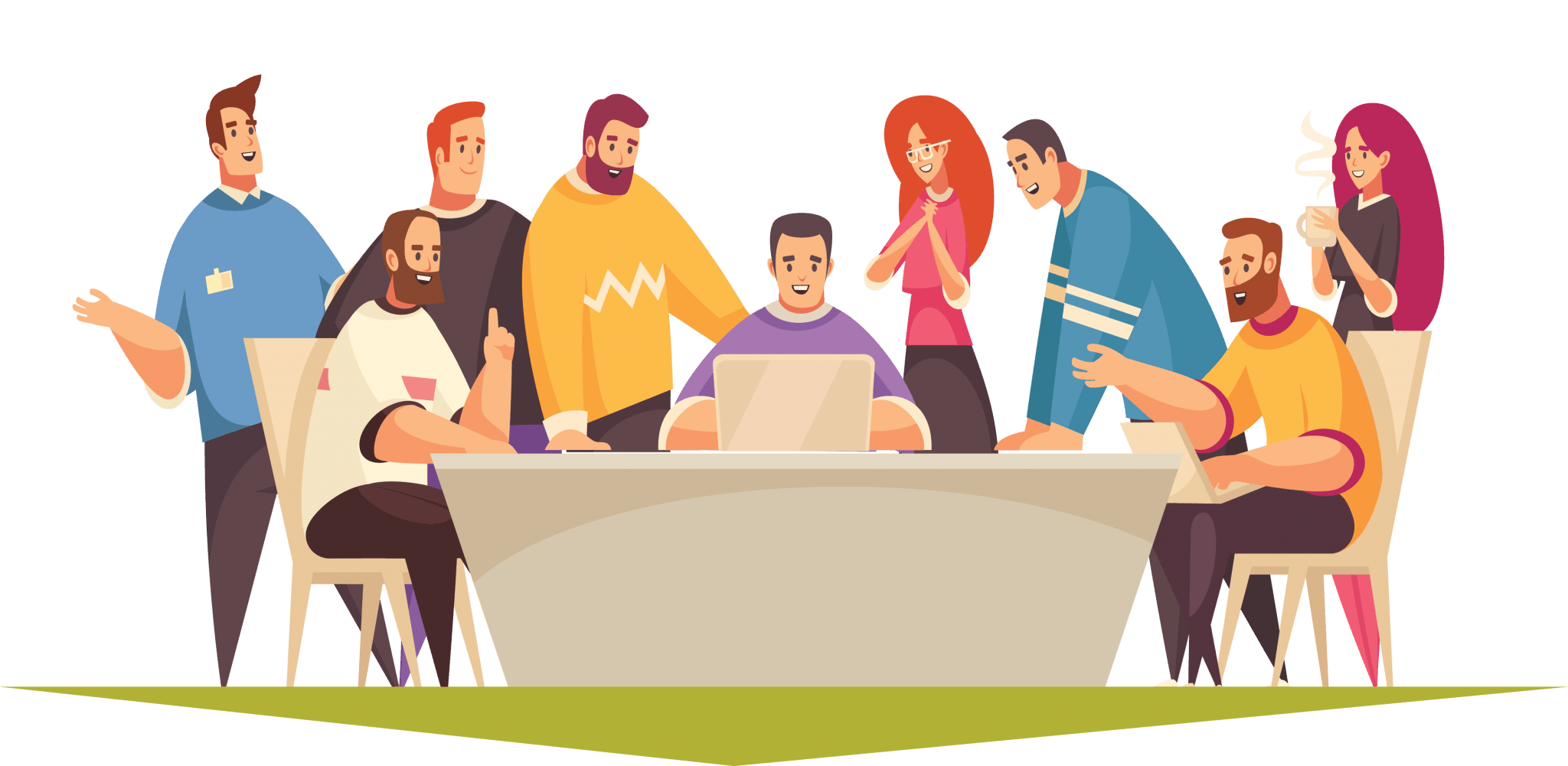 If you've been around the block very long, you know that there's one big risk when buying a theme or plugin from a small, new company: they could go out of business and stop providing updates, which means your website would quickly go out-of-date.
We maintain a fiercely loyal following of customers for one reason: we provide unbeatable support with frequent update of our products to make sure your website load faster and work smoother. We are a team of WordPress experts working since 2010.