After a while, we are back again with the easiest WordPress landing page builder that is ever created. The purpose of this page builder is to make your development easier and faster. To make it better than the best we reinvented the entire page building system.
We were working heart and soul to bring out the best of WPOnepager. Finally, we are here with the Pro version of WPOnepager. Now you have more choices, more animations, and more freedom. Develop your landing page, coming soon pages or any page like a pro with WPOnepager pro.
Let's explore what comes with the pro version of WPOnepager. Hope you will love it
Full-Screen Blocks
Designs can change the mindset of one viewer, and you can make the viewer to your client. Full-screen blocks come with such types of designs. One block covers the whole screen, it's not messy but informative and beautiful.
Every full-screen blocks of WPOnepager are designed with expert designers so that you can show your contents in a unique way.  
20+ Coming Soon Pages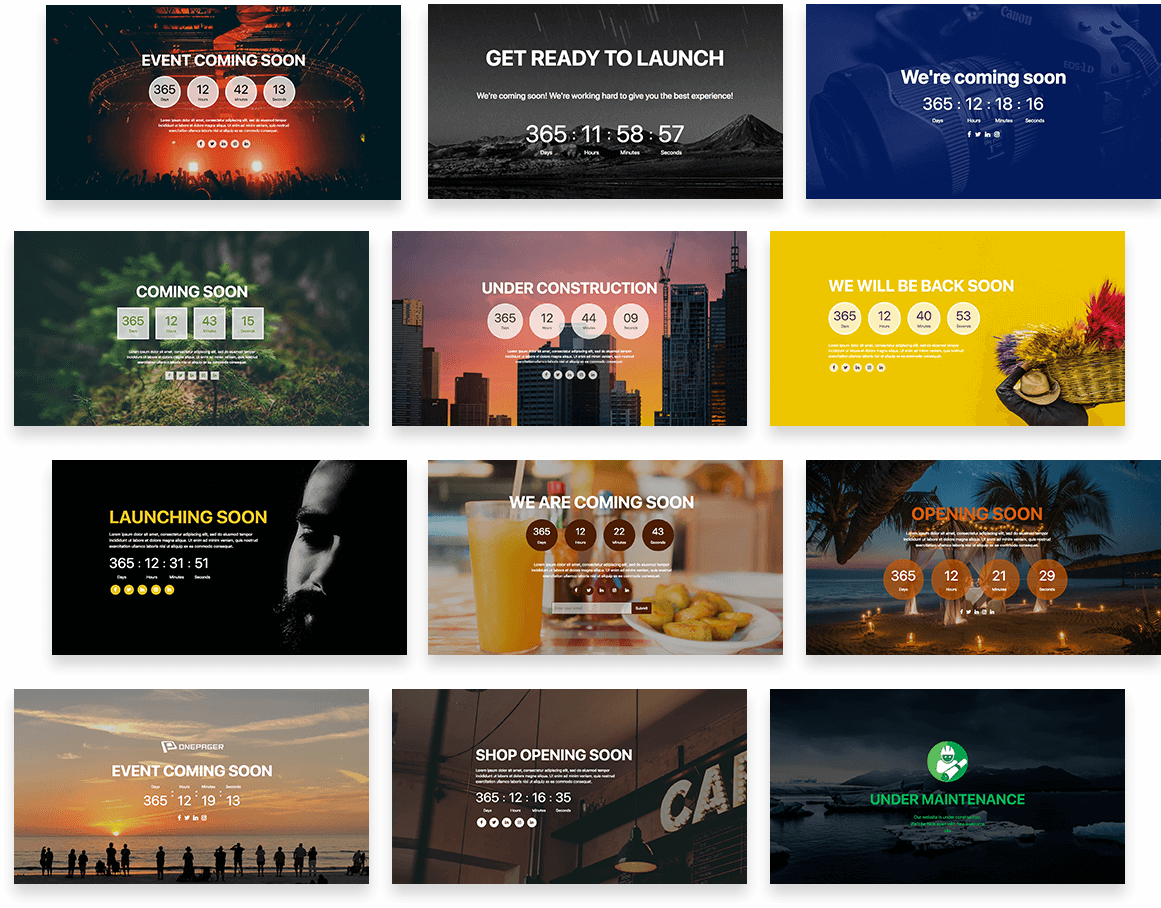 A website may consist of several different pages and coming soon pages is one of those. When you are launching a new product or feature, this page helps you a lot to enlarge the excitement of the product among people. This will boost your site conversation and sales.
Currently, there are a total of 20+ Coming Soon and Under Construction blocks. Choose one that you prefer.
40+ Premium Blocks & templates
To make your task easy WPOnepager provides you ready-made blocks. You just insert those and change the content. Voila! Your site is ready. The free version of WPOnepager gives you a limited number of blocks and templates. When you upgrade to the pro version, you unlock all the exclusive blocks and templates.
The more blocks you get, the more choices are open to developing your website. There is a block for every purpose and every kind of niche in WPOnepager.
Plugin Integration
With the WPOnepager you are free to integrate your favorite plugins. At the first stage, we will integrate some of the most common plugins. In later time we will increase the number of integrated plugins.
Dedicated support
We care for all of our clients. Therefore we try heart & soul to make a good product and provide our dedicated support to all of our clients. After purchasing WPOnepager, you will get 1 year support period.
If you run into any sort of problem, don't hesitate to contact us. Check out the enriched documentation or contact us for direct help. We are always ready to help you anytime.  
Export-Import
WPOnepager saves your precious time by providing blocks. After inserting one block only you need to do is change the content of the block. This modified blocks can be used at a later time.
For use at a later time, all you have to do is export your blocks or whole template. Then import it in the area you like. With the import-export option, you do not need to do the same task twice.
What Makes WPOnepager Pro a Winner?
The WPOnepager pro version comes with a huge collection of outstanding blocks and templates. It has the potential to create any type of landing page along with all sort of pages.

It's not a joke, you can really create your landing page and all other pages within minutes instead of hours.

Each and every landing pages of WPOnepager is highly optimized for web and entirely responsive. Your site will perform faster without any lagging.

The Pro version of WPOnepager starts at $39, it's only for one site but will help your small business very much. When you maximize your business, then you can upgrade.

WPOnepager comes with a mass collection of blocks, and this collection gets multiplied when upgraded to pro version.

Integrate your favorite extension and work seamlessly. If you like to sell, integrate WooCommerce and start your online business with WPOnepager.

Customize a block or template then reuse it at a later time WPOnepager. You can use those on your different sites as you like.
[su_button url="https://themesgrove.com/wp-onepager/#pricing" target="blank" size="10″ center="yes" radius="5″ desc="Instantly Build Your Site!"]Get Onepager 2.0 Pro[/su_button]
Conclusion
WPOnepager is not just a tool, its a time and effort saving plugin for everyone. The pricing of WPOnepager starts with $39 for 1 site, $99 for 5 sites, and $199 for unlimited sites per year. Choose the best deal for you and save your both valuable time and money.