In 2020, online revenue increased by 44 percent year on year, and by 39 percent in the first quarter of 2021. According to current expectations, this pattern will continue in post-quarantine times. Even if all retail establishments reopen, the advantages of purchasing items online will continue to exist in some form.
Online shopping in the ongoing pandemic has become a trend. Almost 80% of the U.S. population shops online, and more than 50% prefer to buy online than in person. By the end of 2022, it will be a trillion-dollar industry.
Now, if you want to build your online business how do you start? The easiest way to build an online store is using an eCommerce platform.
In this blog, we will talk about the 6 Best eCommerce Platforms for Starting an Online Business in 2023.
Before digging in Let's see some of the facts about eCommerce which nobody can/should neglect if they are thinking about making an eCommerce store.
About 72.9% of people will buy things on their phones and tablets in 2021.
Nearly 80 percent of the people in the United States shop online, and more than 50 percent of them prefer to buy things online than in person.
If someone buys from their phone then 70% of the time they make a decision in just an hour.
As of 2040, it is expected that 95% of all retail purchases will be made through the internet.
Also, because of the pandemic that happened it is said that the global eCommerce traffic will rise by at least 35% in 2020.
The people who are born in between the years of 1980 to 1995 are the most prominent shoppers as compared to Gen Z.
Over 80% of the online population has made a purchase via the Internet.
71% of buyers believe they can get a better value shopping online rather than at a store.
Things you should Look for in Every eCommerce Platform you Choose
Cost
Support unlimited expansion
Security
SEO friendliness
Mobile friendliness
Product management system
Multi social media channel integration
One Page checkout process
Social Login
A simple method of contacting, connecting with, and communicating with consumers
Here are the six finest eCommerce platforms for small businesses to consider, and we'll see which one satisfies the majority of your requirements: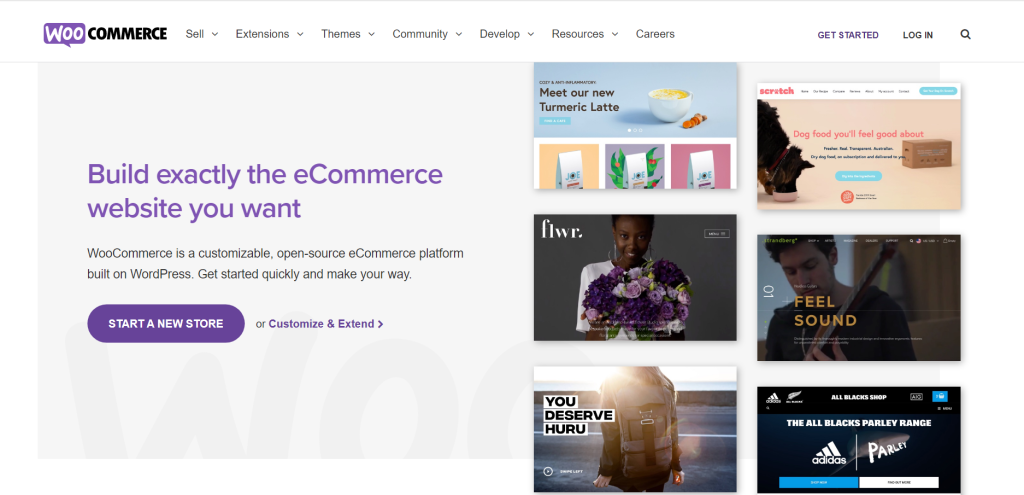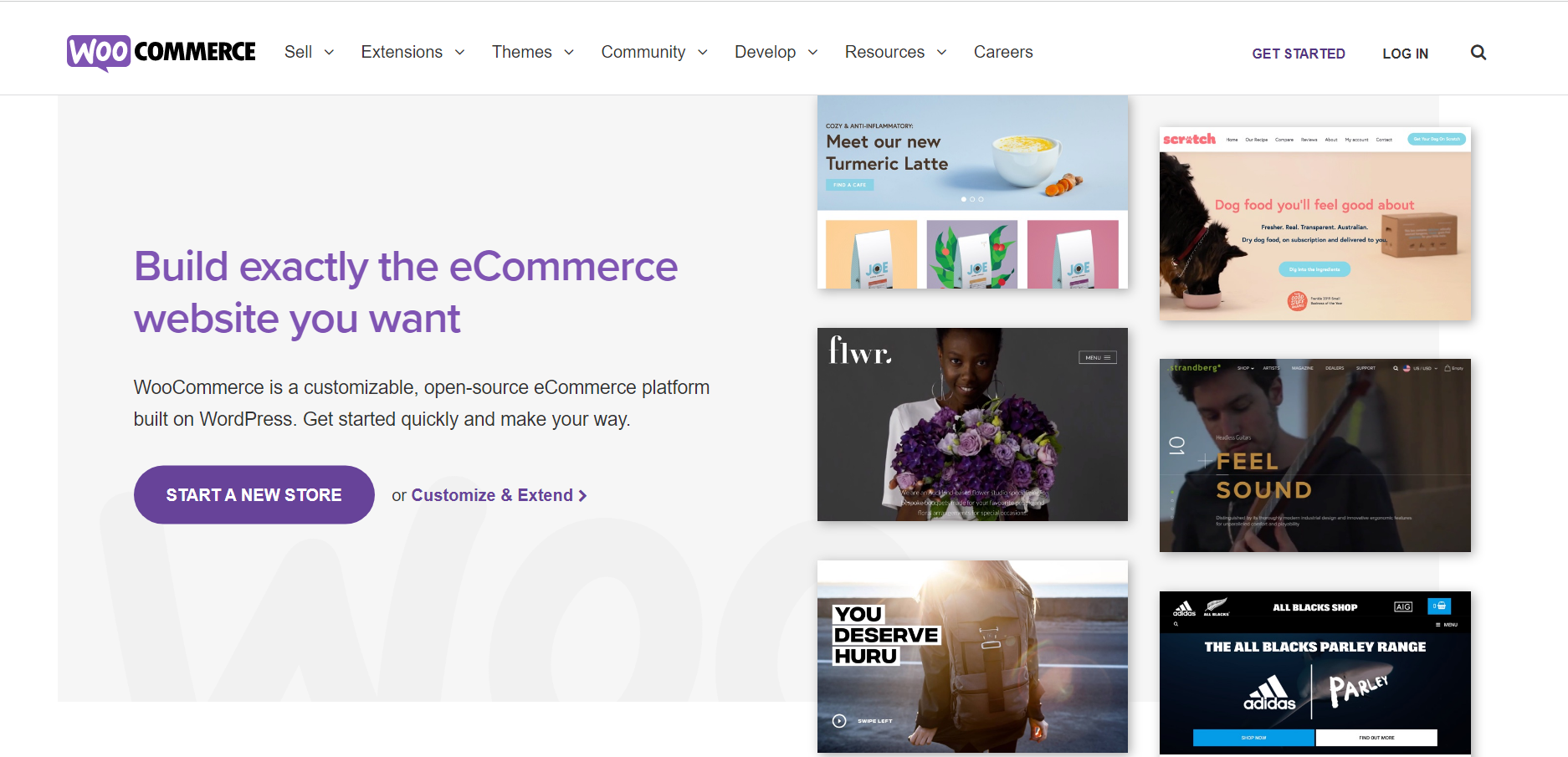 Online sellers can make use of WooCommerce, which is a free e-commerce platform that allows them to offer their products and services. It has risen to become the most widely used eCommerce platform in the world, with millions of small and large enterprises utilizing it. It has also gained a great deal of popularity (online stores).
WooCommerce was developed as an extension for WordPress, which is the most widely used website builder on the globe. This enables users to develop an eCommerce website from the ground up or to add shopping cart functionality to an existing website.
WooCommerce is a piece of software that is open source and may be downloaded for free. Even though the WooCommerce software is free, you will still need to purchase a domain name and pay for WooCommerce Development service to customize the eCommerce store as per your requirement if you want to use it.
Pricing:
Free to download
Best For:
Small, mid, and large businesses
Key features of WooCommerce:
● Countless product listings
● Integrated systems for third-party payment
● Configuration of localization
● Refunds with a single click
PROs of WooCommerce:
● You can easily set up and install WooCommerce.
● It is fully equipped with all the features for running an online store.
● It is very flexible as well as scalable.
● Shopping carts are packed with features that are necessary.
● You will have multiple shipping options.
● Tax management is very easy.
● Easy mobile eCommerce.
CONs of WooCommerce:
● Some Plug-ins and themes are paid.
● WordPress knowledge is a must.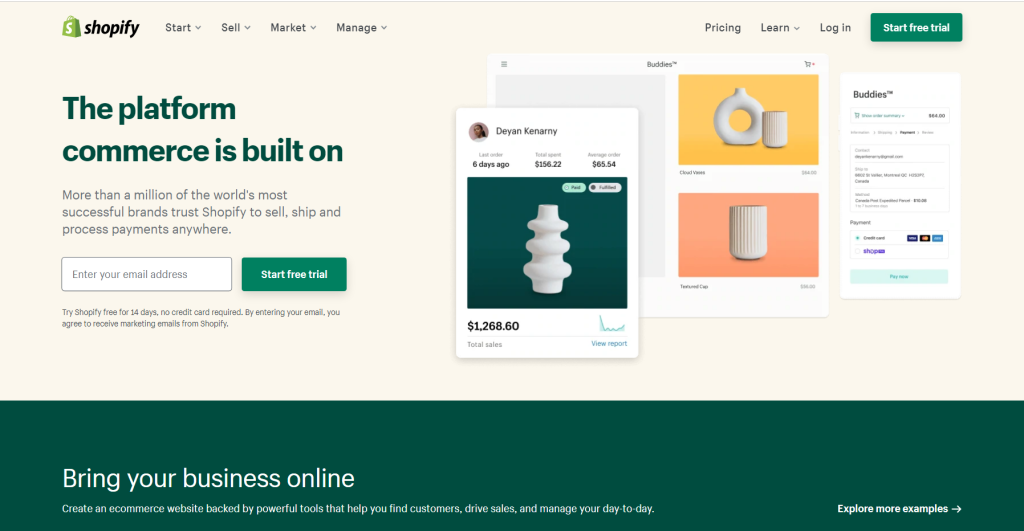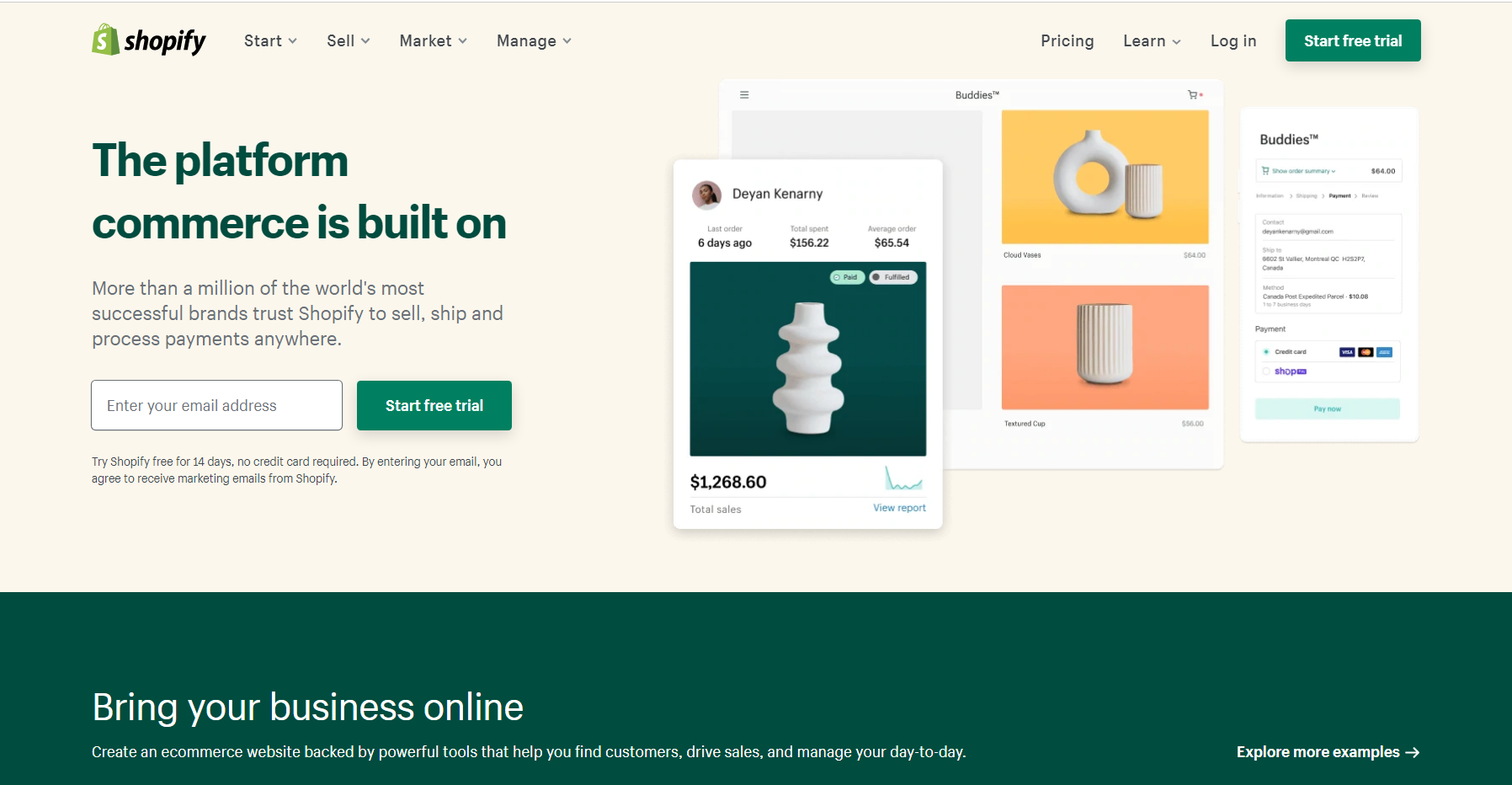 Shopify is an eCommerce platform that can be used both online and offline. It lets you make a website that has an online store. It's a service that you pay for, which means you don't have to buy things like a domain name, a third-party theme, and hosting on your own. Most of the tools you need to run an online store come with your Shopify subscription. Also, there are a lot of custom Shopify integrations available to use as per your need and convenience.
You need a system like Shopify based on what you want to do on the internet. Do you want to start a blog? In that case, there isn't likely to be a need for an internet store right away. Do you require a straightforward business website that details your offerings? Again, Shopify may work well if you make the right changes, but that is not what it was made for.
It's a good choice for people who have a product or a source for a product and want to sell it online. Shopify is good for people who want to do this. A lot of the things we're talking about are things that are made out of electronic parts, furniture, and jewelry, as well as things like eBooks and music albums. All of those businesses benefit from Shopify's one-stop-shop for selling and taking payments. In addition, you don't need to be a web designer to make a good-looking website.
Price:
Trial: 15-Day Free Trial
Basic Plan: $29/mo
Intermediate Plan: $79
Advanced Shopify: $299
Shopify Plus: Custom Pricing
Best For:
Shopify is best for all types of businesses
Key Features of Shopify:
● Integrated point of sale (Point of Sale)
● SEO and marketing instruments
● Mobile applications for store management
PROs of Shopify:
● Simple to set up and operate
● 24/7 customer support
● Secure & reliable
● SEO & marketing tool
● Abandoned cart recovery
● It has its own payment gateway
● Inventory management
CONs of Shopify:
● Only available on a subscription basis, which means there is no cost to your company and you don't own it for life.
● Customizations can only be made by the Shopify team.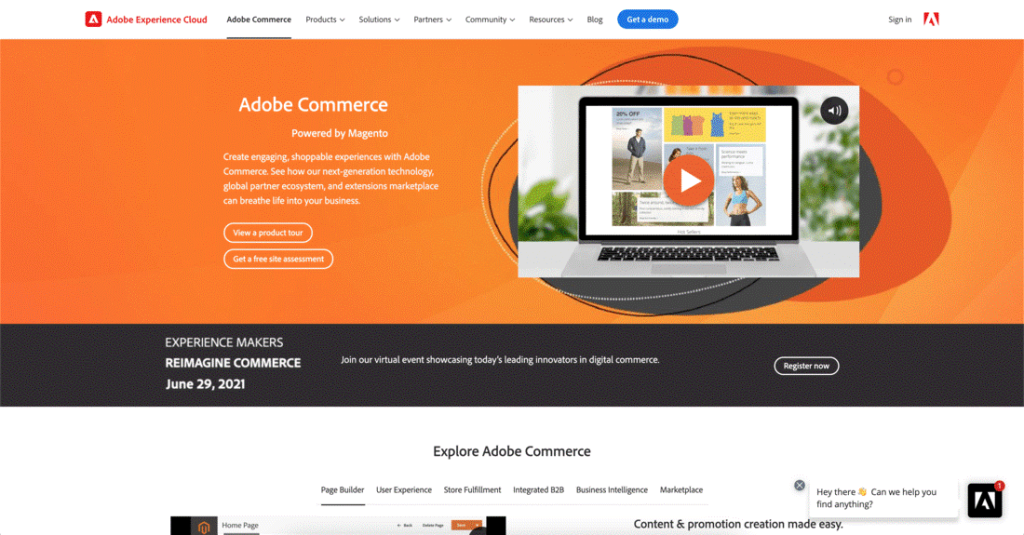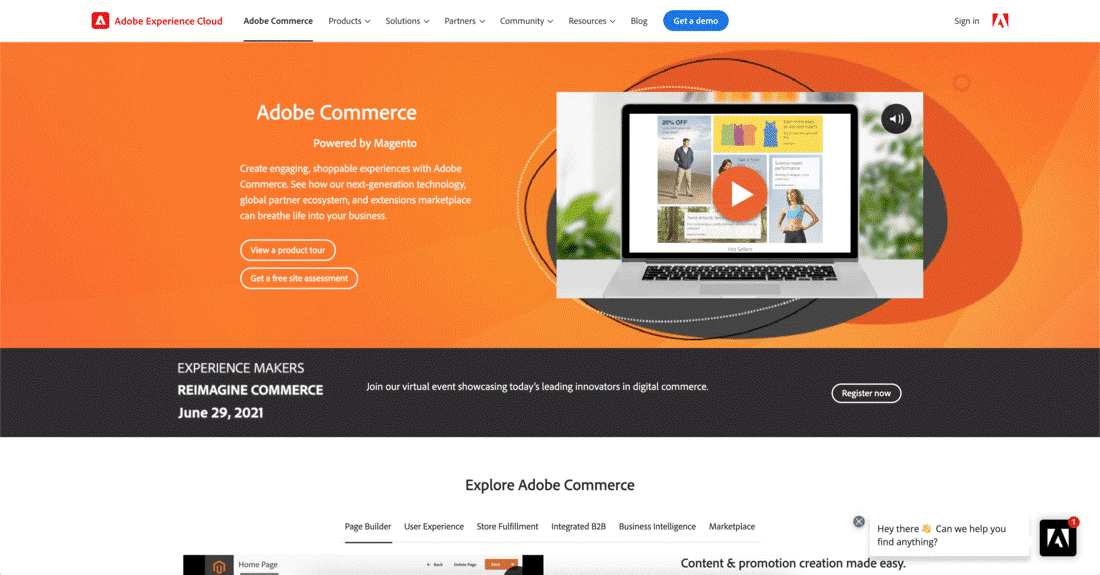 Magento is an open-source eCommerce platform that gives online merchants complete control over how their online store looks, what they sell, and how it works. Magento has powerful marketing, SEO, and catalog-management tools.
For our e-commerce clients, CommonPlaces use the Magento solution that is open source. Magento's scalability makes it easy for businesses with a few products and simple needs to grow to tens of thousands of products and complex custom behavior without having to switch platforms. It comes with a lot of plug-ins and themes that can be quickly used to make a customer's experience better. There are many parts of the internet-store that need to be set up, and how well this is done often depends on how well you know the business. However, when it comes to more specialized features, more programming is needed to make them work.
Price:
● Using Magento Open Source is completely free.
● Magento Enterprise costs between $15,000 and $50,000 annually.
Best For:
Magento is a good choice for almost any kind of business. This category has both small and big businesses in it.
Key Features of Magento:
● Order handling made simple
● Recommendations for products to increase conversions
● Segmentation of Customers
● Amazon's Distribution Channels
PROs of Magento:
● High Flexibility and Limitless Customization
● Numerous store views
● Easy-to-use administration panel for efficient order management
● Support for several languages and currencies
● Effective SEO characteristics
● Analytical and reporting capabilities are extensive.
● Mobile-friendliness
CONs of Magento:
● High development costs
● Powerful hosting is required
● Bad product support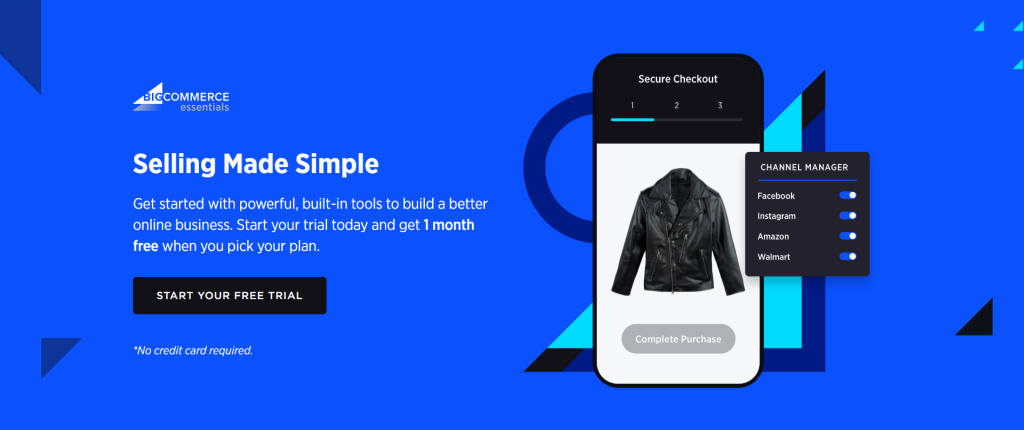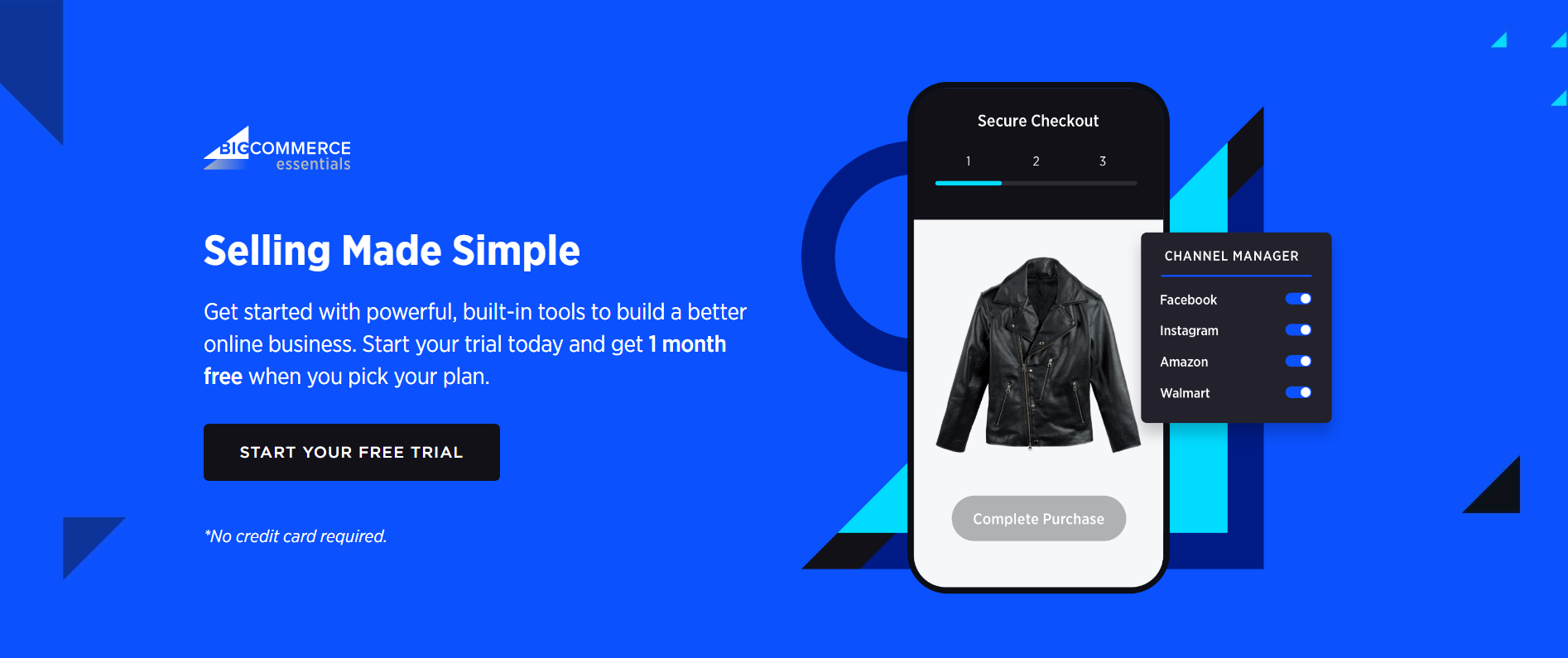 BigCommerce is a paid-for, 'hosted' eCommerce system that enables business owners to set up an online store and sell their items on the internet. It is available to both individuals and organizations.
If you want to use BigCommerce, you don't need to buy web hosting or install anything on your computer. It's because it's on its own servers. Your store can be made and kept up to date from anywhere, as long as you have a web browser and the internet.
Using BigCommerce, you don't own the software, but you pay a monthly fee to use it. This is called "software as a service," or SaaS.
The program has a lot of customizable templates that you can use to help you design your online store. It can be used to sell both physical and digital goods, and it also has tools that can help you market your site.
Price:
BigCommerce Standard: $29.95/mo – $50,000 annual sales limit
BigCommerce Plus: $79.95/mo – $180,000 annual sales limit
BigCommerce Pro: $299.95/mo – $400,000 annual sales limit
BigCommerce Enterprise: available upon request
Best for:
BigCommerce is capable of supporting the majority of businesses
Key features of BigCommerce:
● Multiple themes, both free and premium, are available.
● WordPress integration.
● A simplified purchasing process with a single-page checkout.
PROs of BigCommerce:
● Customization & Functionality
● Omnichannel selling
● Secure
● Numerous templates for customising your store
● A built-in function for product reviews.
● BigCommerce includes advantageous built-in search engine optimization features.
● The 'abandoned cart saver' function is more comprehensive than competitors' comparable offerings.
● All options allow you to create an unlimited number of staff accounts.
CONs of BigCommerce:
● Enabling abandoned carts requires a significant cost.
● Online sales are prohibited yearly. If you go beyond those limits, you'll need to pay a monthly fee.
● Many free themes lack character. Several of them have an eerie resemblance.
● The page builder should be greatly enhanced (recently they have made updates that make things much easier).
● The free templates aren't very customizable.
● Manually insert VAT MOSS rates.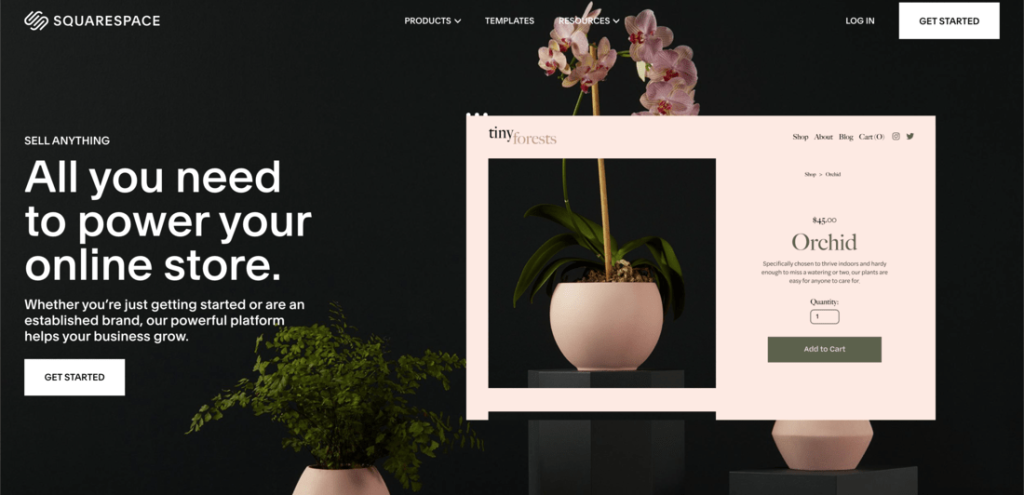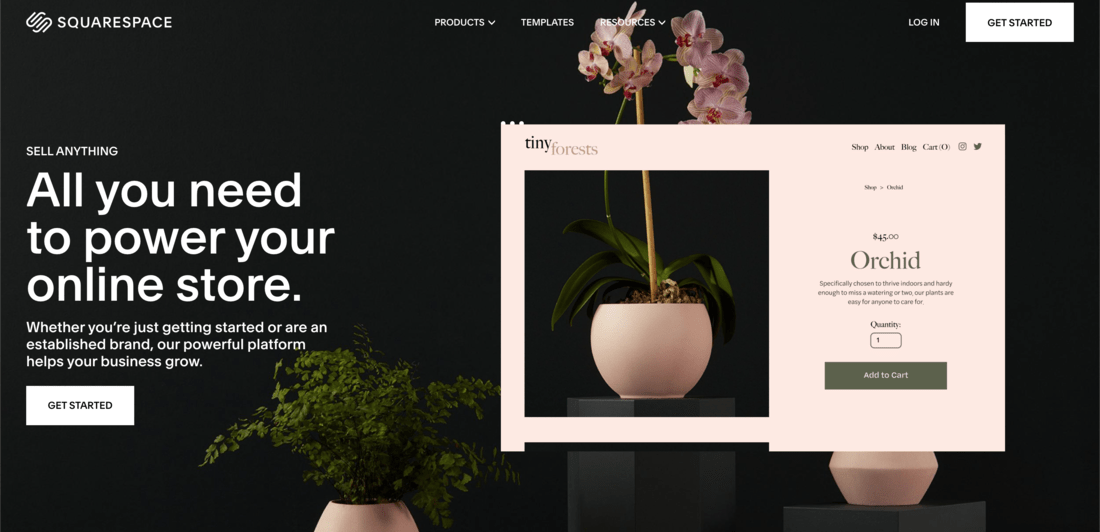 Squarespace, a shopping platform, is expanding at a rapid pace. They also have great pre-made templates that you can simply drag and drop into your website design. They don't have to spend as much time pondering how to construct their Squarespace websites. One of the most popular Squarespace features is abandoned cart auto-recovery, which is followed by gift cards. Both of these methods can be utilized to reconnect with clients and strengthen existing ties.
Squarespace is also an excellent platform for selling digital goods. In the event that your company sells digital goods, this might be the ideal platform for you. Additionally, it includes SEO techniques that you can apply right immediately to increase the likelihood that the pages of your website will appear in search engine results.
Make your products precisely how you want them with Squarespace's customization tools. It is possible that this is the ideal option for you if your company is in the industry of creating personalized products that consumers can customize themselves. As an added plus, it provides your consumers with real-time shipping quotes and tracking information. Automatic discounting is a widely used feature that appears to be beneficial to most people.
Price:
Personal: $16/mo
Business: $26/mo
Basic Commerce: $30/mo
Advanced Commerce: $46/mo
Best for:
Squarespace is an excellent choice for startups and small enterprises with only the most basic e-commerce needs.
Key features of Squarespace:
● Website templates that have won awards
● Analyses and reports for websites
● Services and experts that are connected
PROs of Squarespace:
● Ecommerce themes
● Appointment scheduling software
● Utilize payment and tax tools at checkout.
● Extensions to Points of Sale
● Tools for email marketing
● Registration of domain names
● Solutions for search engines (Google) and SEO
● Integrations with social media
● Website design and editing with drag-and-drop
CONs of Squarespace:
● There is no phone support.
● Pricing is very much expensive
● There is no support for third part app
● When it comes to editing and adding new information, it can be a challenge.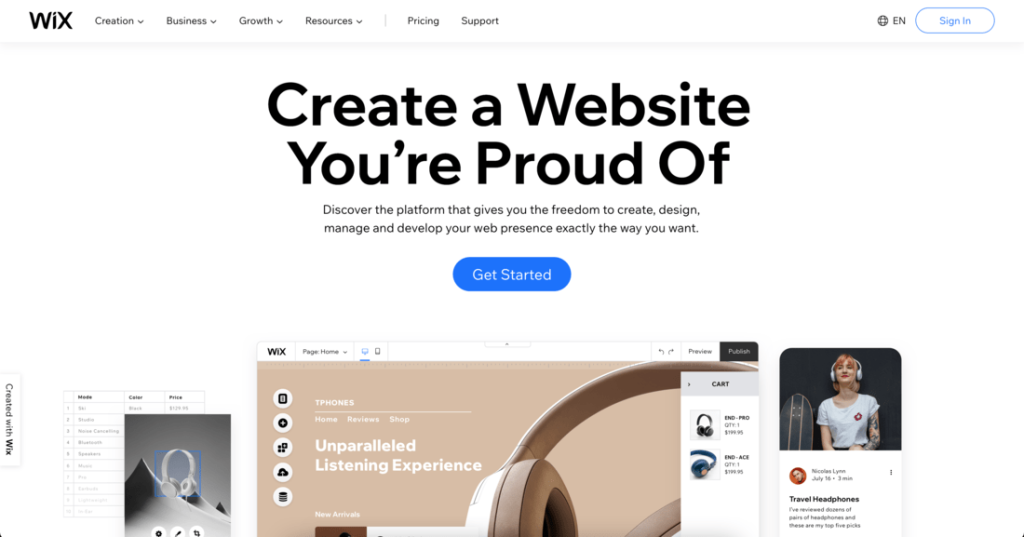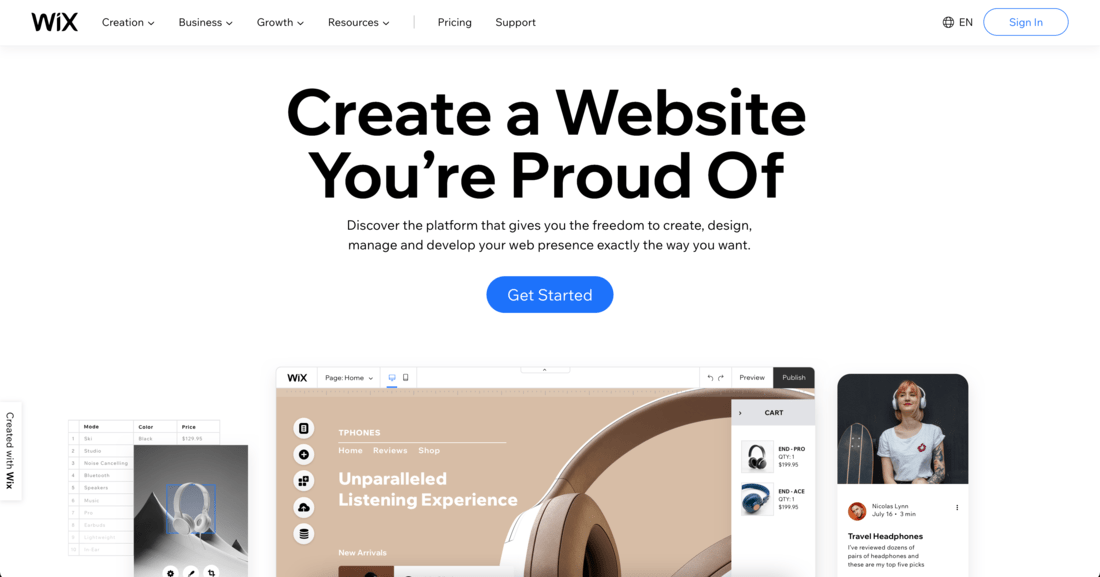 If you have a small number of things to sell, Wix Ecommerce is a smart option for you. This application assists small businesses with fewer than 50 different goods in creating visually appealing websites. Making a nice website is a straightforward and straightforward process.
In order to create Wix Ecommerce, you will need to use a drag-and-drop theme builder. The software can be customized to your specific needs by adding and removing features as needed. The process of creating your own storefront is simplified as a result.
Wix Ecommerce, like other website builders, offers a large selection of visually appealing website layouts. You don't have to be a web design professional to create a website using Wix eCommerce. It's simple and straightforward.
Wix also doesn't force you to learn how to code. You don't even need to know how to write code to create your own website thanks to Wix Code, their website-building tool. If you own a tiny business that just sells a few items, Wix Ecommerce is a fantastic platform for creating your website from scratch.
Price:
eCommerce: $17/mo
VIP: $25/mo
Business Basic: $23/mo
Business Unlimited: $27/mo
Business VIP: $35/mo
Enterprise: $500/mo
Best for:
If your business is small, Wix is the best choice for you.
Key features of Wix:
● More than 500 templates
● Complete design freedom with drag-and-drop integrations
● Designs that are compatible with mobile devices
● A comprehensive app store with hundreds of connectors
PROs of Wix
● AI designs that are unique
● SEO characteristics
● Database administration in a unified manner
● Connections to the platform's API are open
● Contact management analytics
● Totally free web hosting
● A business-class mailbox
● Personalized domain name
● Connections via social media
● SSL encryption certificate
CONs of Wix
● The basic package does not include any ad removal.
● No option to export data from Wix if you decide to switch platforms
● You cannot access all functionality and features in the free version.
Final words:
Because not every business idea needs the same kind of eCommerce solution, each of them outperforms the rest when it comes to features, functionality, security, and customer service. When it comes to technical knowledge, turnaround time, and cost-effectiveness, pre-built solutions like WooCommerce is the best option for entrepreneurs who have little to no technical programming experience. In addition, it is easy and quick to make.
Last but not least, you have the option of selecting the solution that best matches your requirements and fits your budget while still providing the capabilities you require. In the event that you are torn between two systems, choose the one that provides the most security and support, even if you are unsure of which one to choose from.