Did you know that there is a whole ecosystem of LMS (Learning Management System) plugins available to WordPress site owners? These plugins are incredibly helpful in streamlining the process of creating and managing online training content. So if you're launching an internal training website, or you have some training content that needs to be managed more efficiently, then keep reading.
We do see LMS plugins as a pretty niche for WordPress sites, but they can be super helpful when it comes to handling your training content. An LMS plugin is essentially a way for you to manage content effectively from one central location. In this post, we will take a look at the best WordPress LMS plugins that will help you manage your training content easier.
Read more: Top 5 Joomla LMS Extension of 2023
What is the WordPress LMS Plugin?
LSM i.e., a learning management system allows you to add learning-focused features and tools to your WordPress website. If you are using your online website to create and deliver online courses then a learning management system can help you with the same.
With LMS plugins you can also document and track the progress of your learners through detailed analytical reports. In the highly digital-driven world post-COVID-19 pandemic, a lot of students depend on eLearning. Hence, a flexible and efficient LMS can make the learning process fun and interactive for them.
Nowadays some of the best learning management systems are introducing new elements in the market to make the learning process more memorable for the students. Gaming for instance is one of the most creative ways to teach students important concepts while indulging them in game-like features like competing with other students, scorecards, rules of a game, and much more.
How to Choose a WordPress LMS Plugin?
If you are looking for one of the best learning management systems for your learners then you are at the right place. We have done some research and recognized the top best WordPress LMS plugins for you. However, before you begin the process of choosing the best LMS plugin, you must also know what to look for in a good WordPress LMS plugin.
Course Creation – There are a lot of online courses available online now. To stand out in the market you must cater to the need of the learner appropriately. A good LMS plugin should help you leave an impressive mark in the market by letting you create exciting and dynamic content like lessons, videos, pdfs, quizzes, etc.
Student Management – A good LMS plugin will not only help you with creating online courses but also with student management. It should take care of secondary elements like student enrolment, memberships, course fees & payment, account registration, etc.
Homework Options – Learning outside the classroom is also important. Preferably choose an LMS plugin that allows you to assign homework to your students with ease. It should also keep track of deadlines and submissions.
Badges, Certificates, and Rewards – Rewards and appreciation is a great way to motivate students. With a good LMS plugin, you can design certificates and rewards and give them to your students when they perform well, win a quiz competition, etc.
Content Layout – The content layout should not be chaotic otherwise your students will have a hard time accessing the online courses. The layout should be user-friendly and aesthetically pleasing.
7 Best WordPress LMS Plugin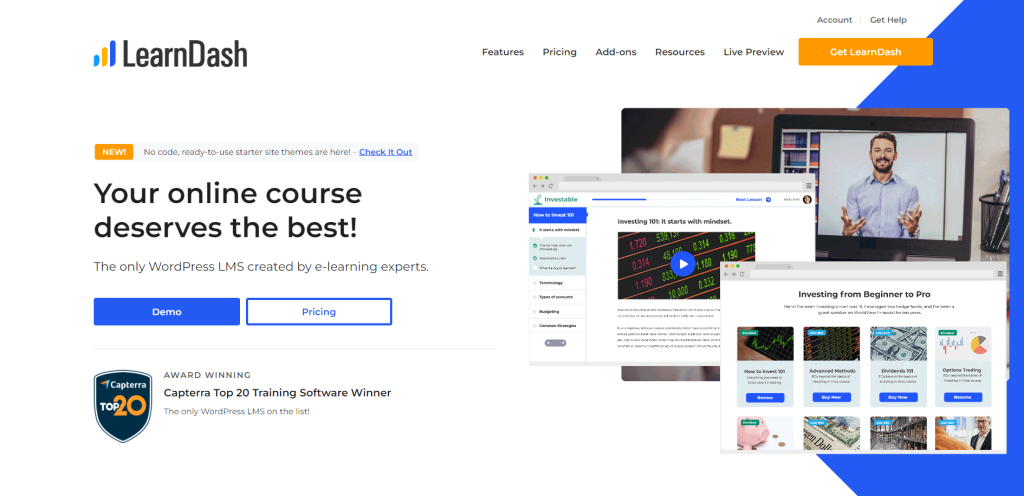 LearnDash is one of the most widely known WordPress LMS plugins used by both small businesses and big organizations. Its advanced features and intuitive technology will allow you to create unlimited courses and lesson plans seamlessly. You can also incorporate multimedia in your lessons available in its huge database and library.
Keeping organization and structure in mind, LearnDash breaks each lesson into two parts, lessons and topics. This keeps the learning process for the students streamlined and easy to follow. For LearnDash free version is not available and the basic paid version starts from $159 for a single site license. For more you may check LearnDash Review.
Best features
Focus Mode – It is very easy for students to get distracted while studying, especially young kids. Keeping this in mind, LearnDash offers a focus mode, a branded learning portal to create a distraction-free environment for students.
Dynamic Content Delivery – You can deliver content dynamically and interestingly to your learners by using tools like drip-feed lessons, video lessons, etc.
Badges and Certificates – It is very important to keep students motivated during the learning process. With DashLearn you can make customized badges and certificates and award them to students after successfully finishing a course, scoring high on an exam, winning a quiz, etc.
Integrations – To add more functionality to your learning courses, you can integrate them with other important apps like Slack, PayPal, Zapier, Memberium, ConverKit, etc.
Pricing
| | |
| --- | --- |
| Plan | Price/Year |
| Basic | $159 |
| Plus | $189 |
| Pro | $329 |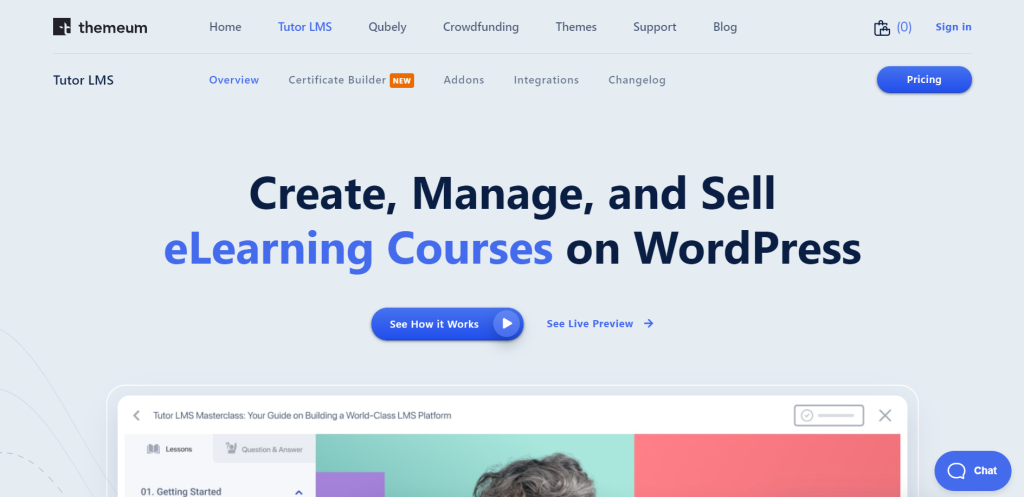 Tutor LMS, one of the most popular WordPress LMS plugins, will allow you to create, manage and sell your online courses on your WordPress website seamlessly without any hassle. It is a highly secure platform that has been built with great security measures and coding practices. You will not face complicated technical issues with Tutor LMS and even if you do, their great quick customer service support will solve it for you as soon as possible.
Additionally, this LMS plugin also provides one-click migration. Somewhere down the line if you want to switch the platform, you can do it easily. Currently, Tutor LMS supports LearnDash and LearnPress. Hopefully, more platforms will be added to the list in the future.
Best features
Host Live Classes – To make online learning more interactive and fun, you can host live classes with Tutor LMS via platforms like Zoom, Google Classroom, YouTube, etc.
Personalized Dashboard – With Tutor LMS your students and teachers will be able to access a personalized dashboard and access everything they need from a single place. Your students will be able to see all the courses they are enrolled in along with all the important announcements, assignments, and much more.
Mobile Learning – The mobile app of Tutor LMS is also very reliable and efficient. It allows learners to learn anywhere and anytime.
Pricing
| | | |
| --- | --- | --- |
| Plan | Price/Year | Lifetime Price |
| Basic | Free | Free |
| Individuals | $119.20 | $319.20 |
| Freelancers | $159.20 | $479.20 |
| Agencies | $239.20 | $799.20 |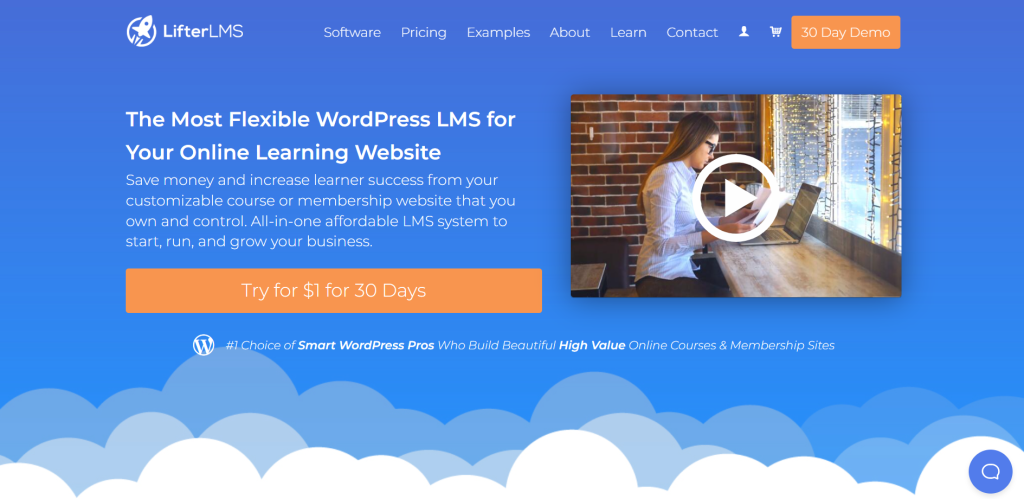 If you want to monetize your learning website, then Lifter LMS is an appropriate choice for you. It allows you to offer multiple site-wise memberships to your learners and also lets you create new online learning bundles regularly to boost revenue. It also has an individual-only pricing plan which lets students buy singular courses also.
With extra add-ons, more functionalities can be purchased with the individual plan. However, according to reviews, multiple add-ons can prove to be a little expensive. The built-in course builder with a drag and drop feature is one of its most powerful and popular tools.
Best features
Multimedia Lessons – Your lessons along with being content should also be aesthetically appealing. Through the various multimedia options available on Lifter LMS you can add video, audio, text, and much more to your lessons.
Drip Content – Students often lose focus while studying and wish to resume the lesson later. With the drip content feature, you can protect your students learning by allowing them to return to the lesson according to their pace and convenience.
Download Lessons – The lessons you wish for your students to download can be created separately with Lifter LMS. For offline learning, you can create lessons in multiple formats like PDFs, videos, ebooks, worksheets, etc.
Pricing
| | |
| --- | --- |
| Plan | Pricing/Year |
| Individual Add-Ons | $120 |
| Universal Bundle | $360 |
| Infinity Bundle | $1200 |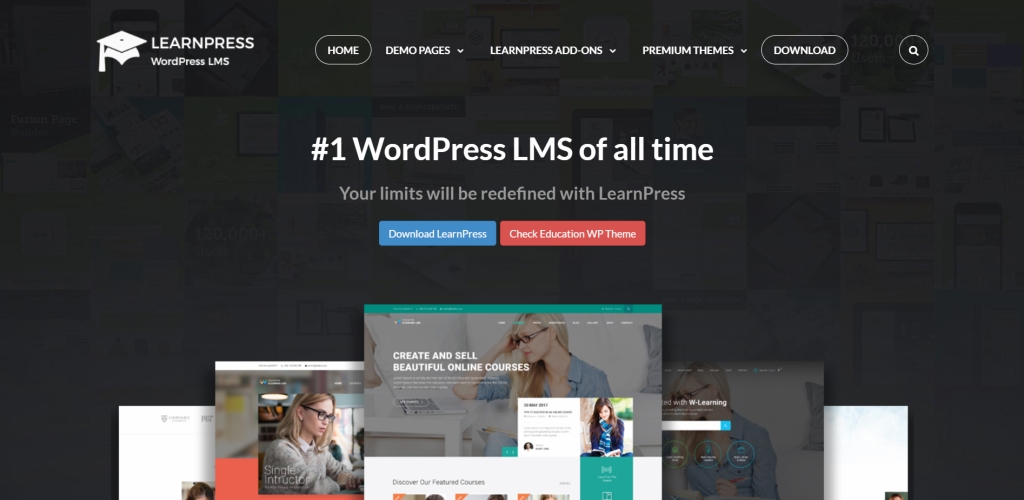 With more than 100,000+ active installations and a 4.5-star rating, LearnPress is one of the most comprehensive WordPress LMS plugins. It will not only allow you to create a rigorous online curriculum with elements like quizzes, lesson plans, videos, etc but also let you sell online courses. You can integrate your courses with multiple payments and billing methods like PayPal, Stripe, WooCommerce, etc.
The mobile app for LearnPress has been built with react native technology. This automatically syncs the courses for learners between the mobile app and the desktop app. The mobile app has proved to be very beneficial for learners as it allows them to start learning and tracking their experience anywhere and anytime.
Best features
Co-instructors – LearnPress offers an add-on for adding co-instructors to a course. Multiple instructors can be added to a course, however, a co-instructor can only edit his/her own class content. This add-on is priced at $29.99/year.
myCRED – This is also an add-on that allows you to bring reward site interactions to your platform and offer rewards to your students. You can also combine community games with the reward program to keep it fun and creative for your learners.
Gradebook – With the Gradebook feature you can track the progress of your students. easily. You can manage separate grade books for each student for each course. The guidebooks can also be exported in CSV formats.
Pricing
| | |
| --- | --- |
| Plan | Pricing/Year |
| LearnPress Free | Free |
| LearnPress Theme Bundle | $49-$69 |
| LearnPress Pro Bundle | $249.99 |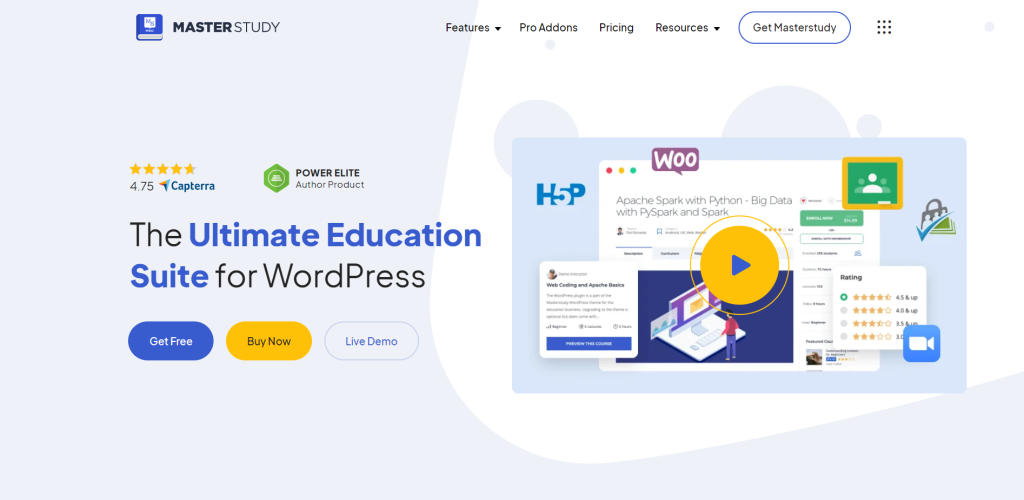 Master Study developed for delivering online courses and training is a very comprehensive learning management system. Its functional end-to-end tools make course creation easy and quick. It has been rated one of the best LMS for eLearning businesses, internal online training systems, and educational institutes.
Its 24/7 live support and chat support customer care service is very reliable and offers quick solutions. It is compatible with almost all major web browsers like Firefox, Chrome, Safari, Edge, and IE11.
Best features
Live Streams – Live online classes provide both teachers and students a tremendous opportunity for one on one interaction. Students can clarify their doubts in real-time and the teachers can also use this time to get to know their students and make a bond with them. The highlight of their live stream feature is that it will not be deleted and the students can keep coming back to it for reference.
WooCommerce Integration – If you want to sell your online courses, the WooCommerce integration will bring some of the best services to you. With WooCommerce you will be able to take complete control of the checkout process along with offering multiple gateways. You can also customize the 'My Account' for your customers and their needs.
Pricing
| | |
| --- | --- |
| Plan | Pricing |
| Plugin | $ 54 .99 |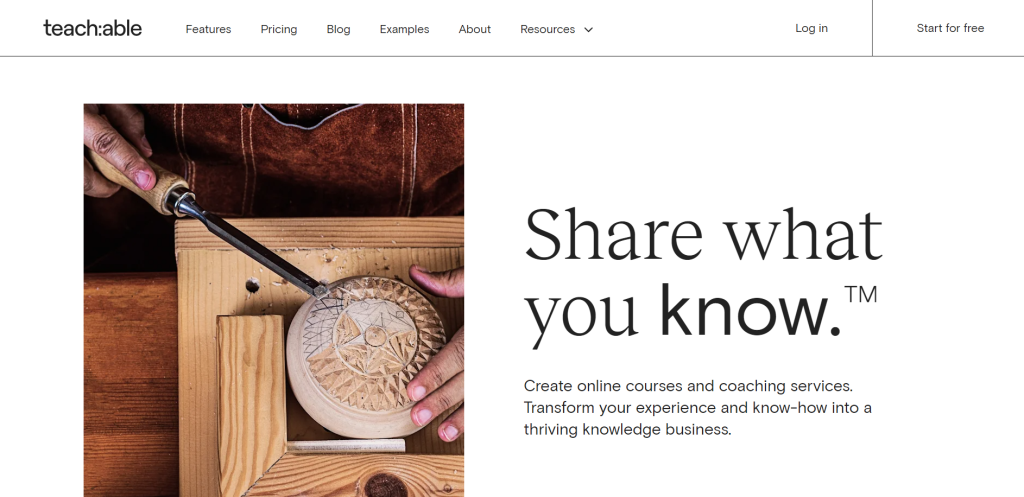 Teachable is a cloud-based LMS that allows you to create interactive courses with its power editor tools and share them online. Creative multimedia can also be added to the course like videos, images, audio, GIFS, and much more. You can also do call hosting to talk to your students live and run one-on-one sessions with them.
The third-party forms and surveys that come with a learning management system can easily gather feedback from students and help you improve. To get more support, you can integrate Teachable LMS with Zapier, Zendesk, Intercom, and many others.
Best Features
Add Code – The add code allows you to directly add live videos or webinars into a lecture. Learners can benefit greatly from it as they can conveniently switch between live sessions and course modules.
Creating Quizzes – With teachable creating quizzes has never been this simple. You can create as many quizzes as you want with multiple questions and potential answers. You can select which quiz will be graded or not. The scores for the graded quizzes will be displayed on the dashboard and reporting area.
Competition Certificates – Teachable offers good certificate-creating capabilities through its custom-made templates. If you do not wish to use the templates, you can write a new code and create a certificate.
Pricing
| | | |
| --- | --- | --- |
| Plan | Pricing/Month (Billed Monthly) | Pricing/Month (Billed Annually) |
| Free | $0 | $0 |
| Basic | $39 | $29 |
| Pro | $119 | $99 |
| Business | $299 | $249 |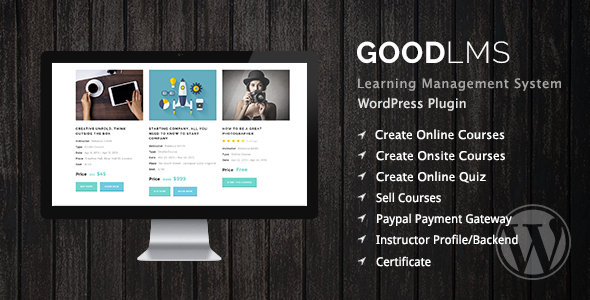 Good LMS can not only help you with designing online courses but also monetize your efforts and manage a steady income. Irrespective of the topics you are dealing with, Good LMS offers intuitive and user-friendly tools to create courses and engage with your learners.
With multilingual support, you can add as many languages as you want and expand your learner's reach and scope. Additionally, this LMS also has an efficient payment management system to provide flexibility to your learners. They can pay via PayPal, Stripe, or Authorized.net directly from the website.
Best features
Award Badges and Certificates – To keep your students motivated and increase student engagement, you can design student badges and certificates. You can award these on successful completion of a module, winning a quiz, etc.
Quiz Settings – With Good LMS you cannot only create creative quizzes but also customize the settings according to the needs of your students. For instance, you can set the number of times a quiz can be retaken. You can change the setting for an individual student.
Pricing
Conclusion
As the popularity of WordPress and other CMS grows, so does the number of their respective LMS plugins. The market is now filled with LMS plugins that are geared toward helping users create a training website or manage digital training content.
However, with so many options to choose from, it can be difficult to identify the right one for your needs. To help you narrow down your search, we enumerated the 7 best WordPress LMS plugins to manage your training content easier.
Now that you have read in detail about the top best LMS plugins available in the market, hopefully, you will be able to make an informed choice now. In case you are still confused, you can do some of your research and request live demos and free trials of these plugins.
Once you have made your decision, you can simply purchase it, install it and integrate it with your WordPress website, the same way you do it with other plugins. All the best!