Charity is a noble task, and there are a lot of people in the world who lives under the poverty line and needs our help. We might be living fine, eating well, and sleeping in a soft bed, but they are not. There are some organizations which work to help these poor people by collecting charity. 
If you want to do such a noble task, we will help you to do it. We might not help you with men power, but we will help you with something that will work better than manpower. You will not have to go door to door asking for donations; instead, people will come to you. 

In this post, I am introducing you with four top charity website templates that will help you to build a perfect charity site. The better site you build, the better it is to collect donation from people.
How to Raise More Fund?
Creating a charity website will cost you a good amount of money along with your precious time. If you really want to raise a good amount of fund you have to build your website smartly, with many things keeping in mind. So that a new visitor doesn't think that you are a fraud or deceiving people.

I know, building such a website is tough but it will become easier if you use WPOnepager plugin. The developers of this plugin have developed it in a way that you won't need to know a line of code, yet you will be able to build a site instantly. With the help of WPOnepager and charity website templates, you will be able to make a charity site instantly, and it will help you to raise maximum fund. 

Which Charity Website Templates We Choose?
There are several charity website templates available on the web. But, most of them are not targeted, well-designed and not easy to use. Let's check out the details of these charity website templates. 

Mufti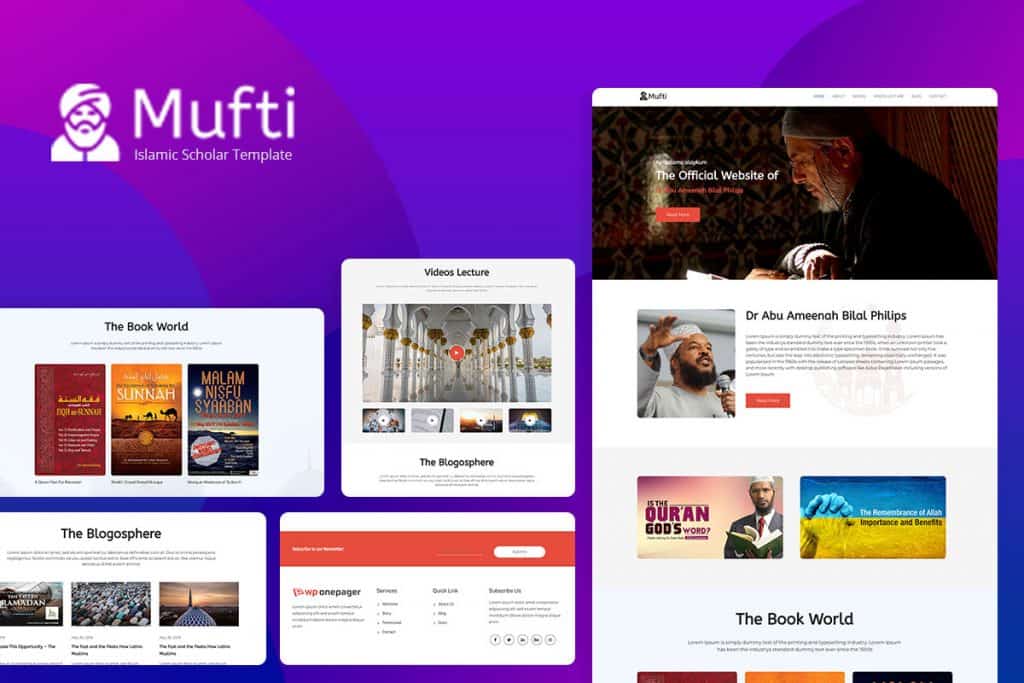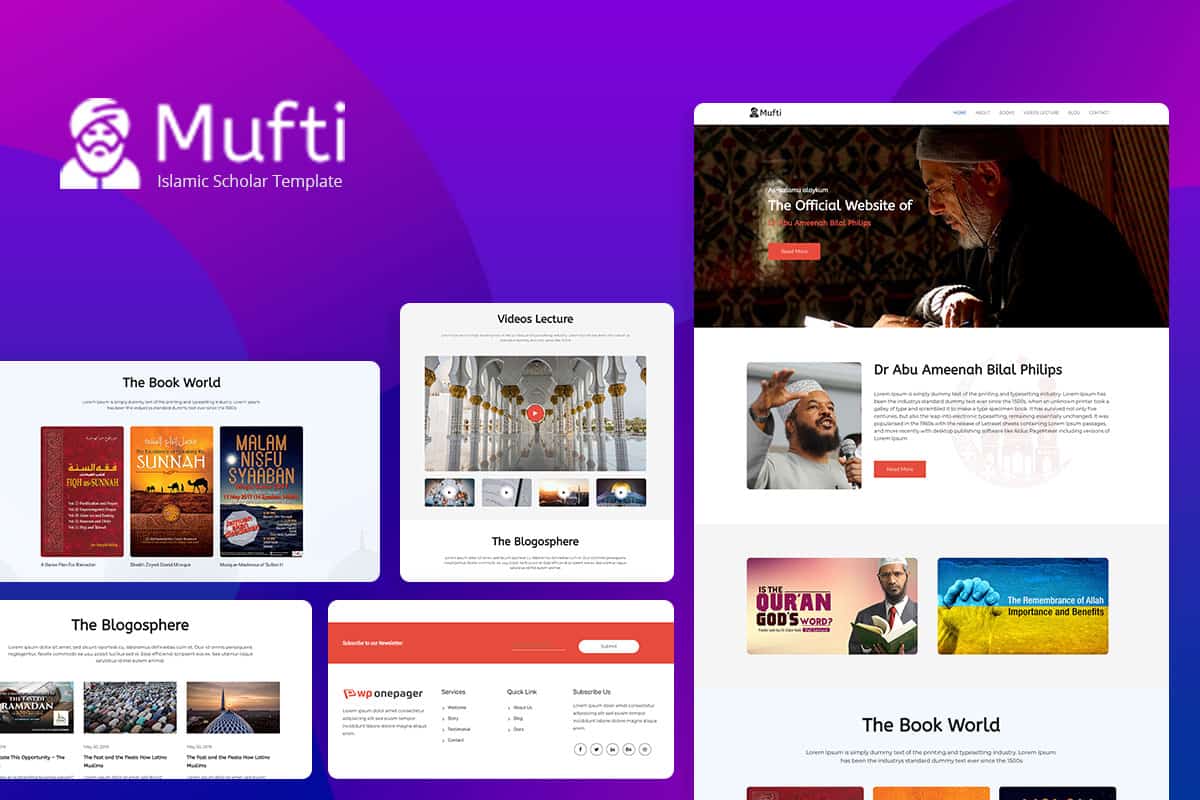 In this modern age, everyone wants information in hand. Therefore preaching Islamic knowledge through a website will be much faster and better than going door to door. In this way, people who are lazy or gets less time will be able to enlighten their soul in an easier way.

Mufti template is very straightforward when it comes to expressing itself with superb assets and great characteristics. It comes with a hero area that catches the eyesight of your viewer at first glance. In the below section, you can place different speeches that you would like to highlight on your website.

This template allows you to share exclusive Islamic books along with video lecture, which will help the seeker to understand and learn Islam better. With WPOnepager, your site will be developed within minutes.
Mihrab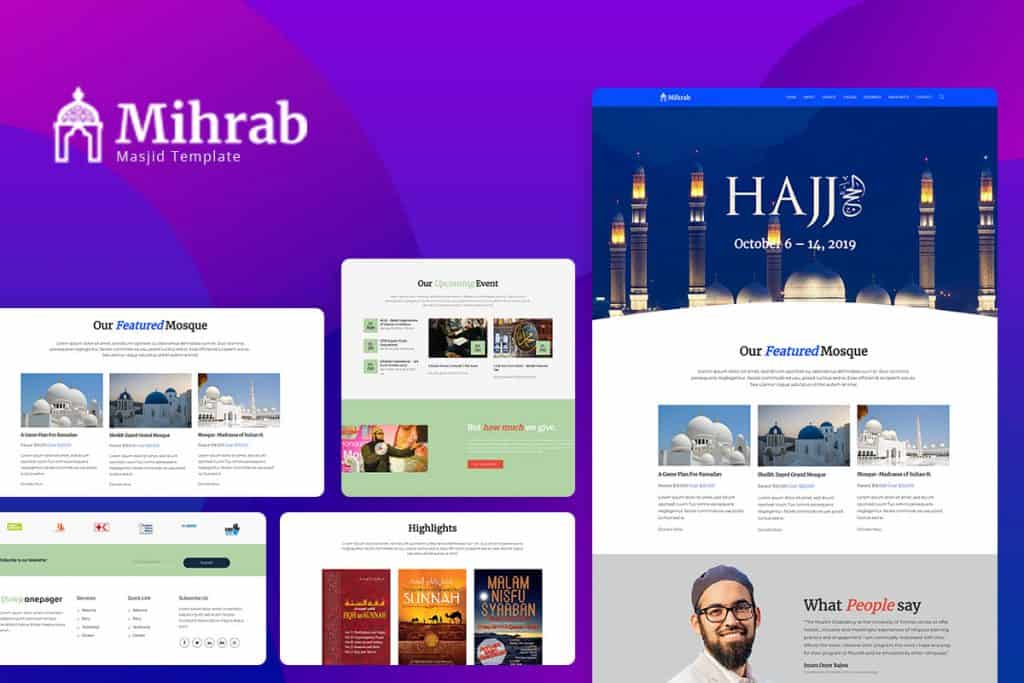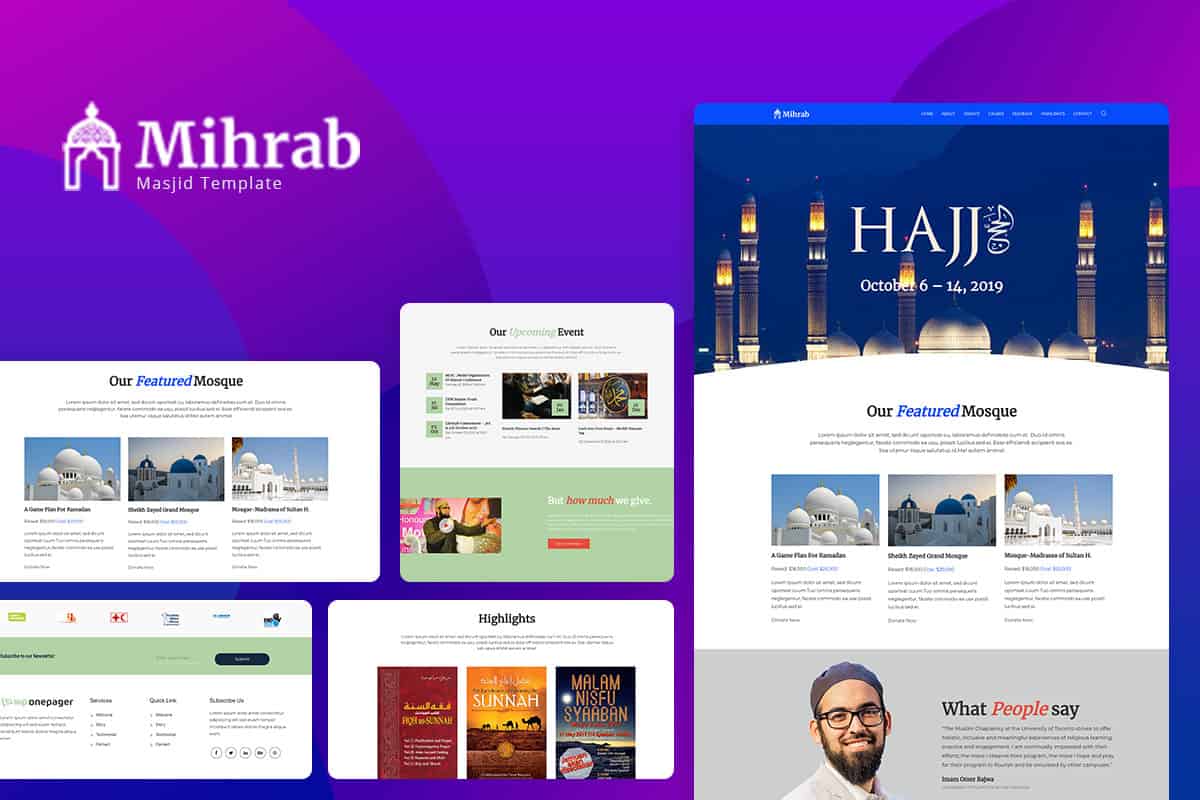 No doubt you can manage your masjid in a better way with Mihrab masjid fundraiser template. It is an elegant fundraiser template that allows you to handle every event of the masjid and raise fund for masjid without any hassle. If you want to raise money for the development of masjid, that a website with Mihrab masjid template can be your best solution.

Add your highlighted event like Ramadan, Hajj, Eid, Shab e qadar, and other events in the hero area so that everyone notices. Mihrab has hero area, testimonial carousel, dynamic event, books corner, and subscribe section. If you put your weekly bayan of masjid in your site, anyone who missed it can grab it from here.
Helping Hand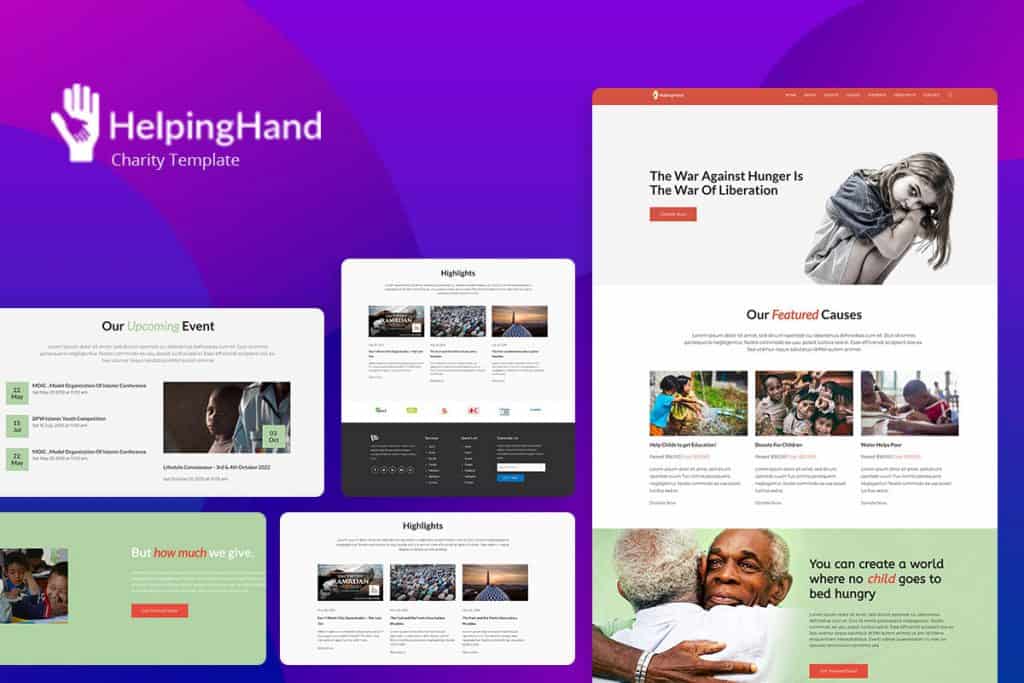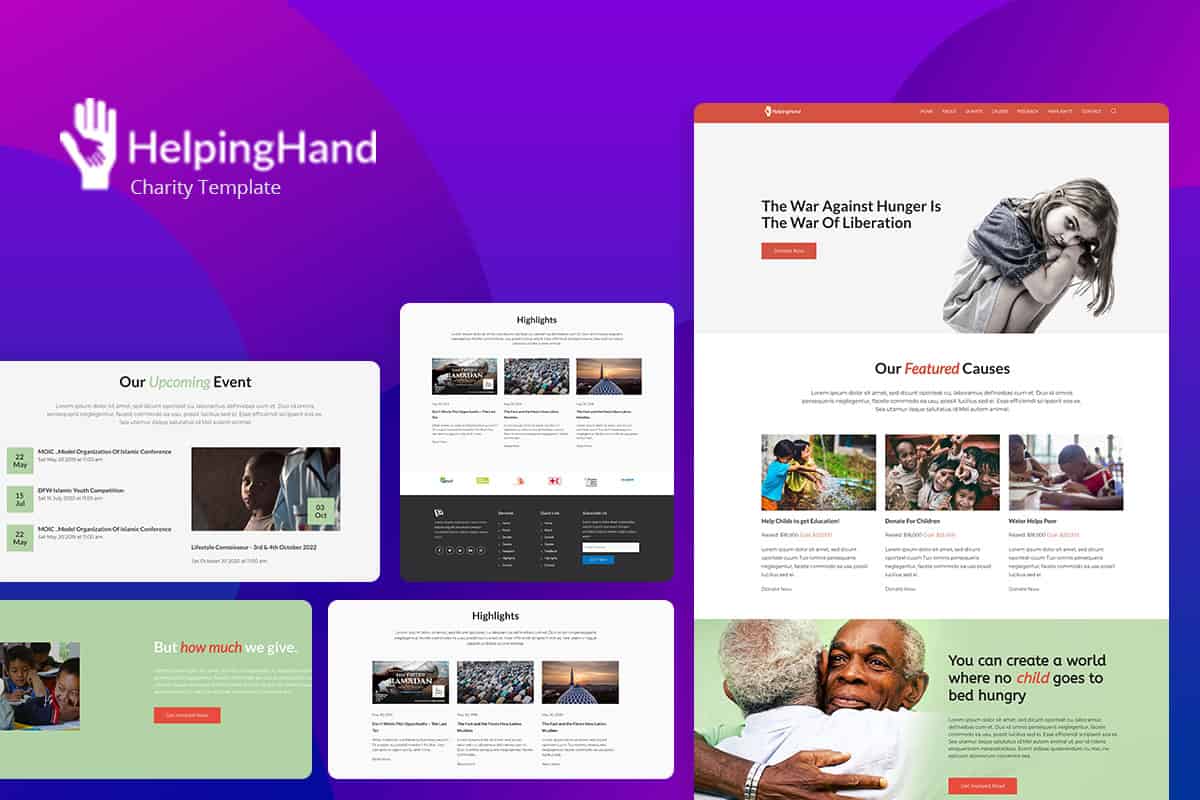 There are lots of people out there who cannot eat in full stomach, who are living in poverty and with lots of distresses. If you are intending to help these people, helping hand NGO website template will be very useful to you. This website template will allow you to demonstrate your purpose on your website.

It might be not possible for you to collect donation from door to door. This WPOnepager template focuses entirely on fundraising, donations, social program, and NGO websites. The responsive layout of Helping hand makes it adaptive to any screen. This could be a laptop, tablet, smartphone, no matter the size, it alters to any device instantly.

Charity Buzz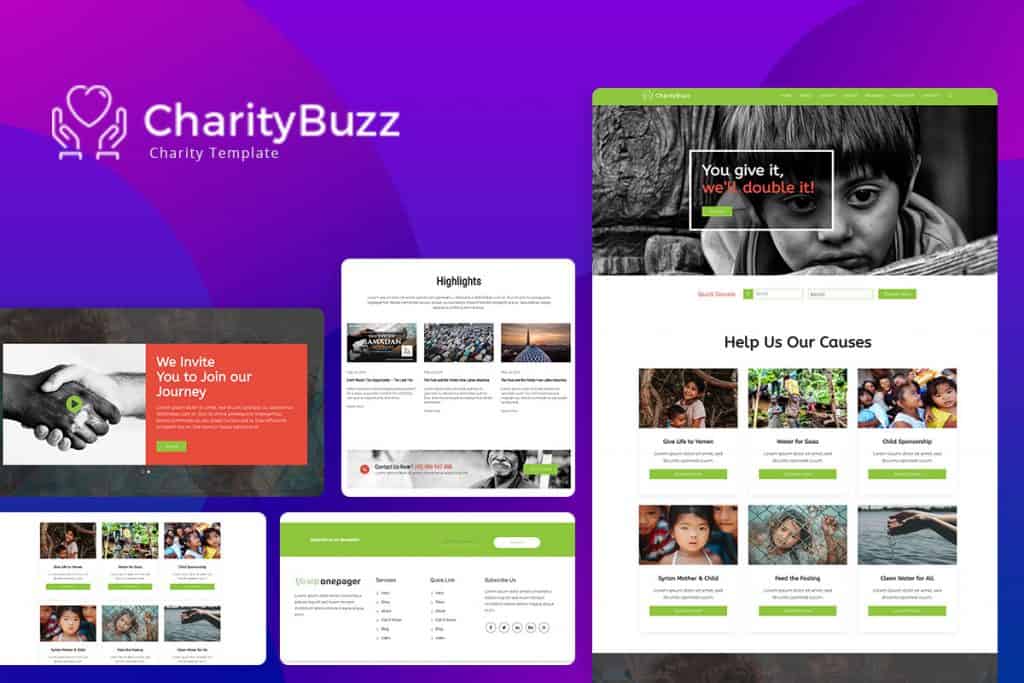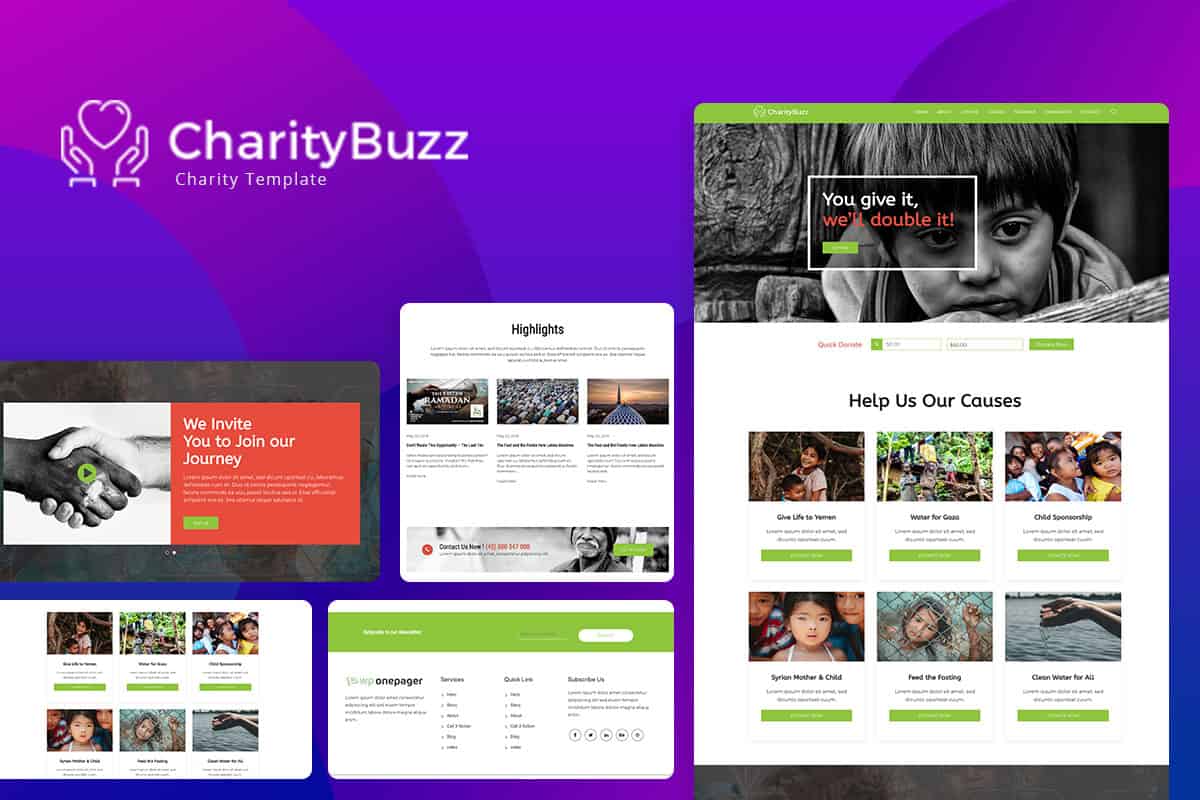 Provide your helping hand to the world with experience and knowledge, and share it using the Charity Buzz NGO website template. You got to be a pro in your working field for others to start sending funds towards your organization. Therefore a smart website is a must.

Charity Buzz will help you to build such a website within the shortest time, and you will not need any nonprofit WordPress theme for that. It comes with a highlighted event at very first with quick donate option. Anyone who wants to donate will be able to donate fast with quick donate option.

There is also a section for multiple events with a donation option. It's not like that you will use one website for one type of funding. Run different types of funding event in your site and help the poor with the raised funds.

How to Build a Charity Website in a Minute?
You can build a website with any popular tools, but we recommend WPOnepager. Because it will allow you to complete your site in minutes. So let's get started.

First of all, go to your WordPress website and open WPOnepager. 
Now navigate to WPOnepager > Dashboard, and select your preferred charity template and click on 'IMPORT' button. I am importing 'Charity' template. Give a suitable title and hit the 'CREATE' button.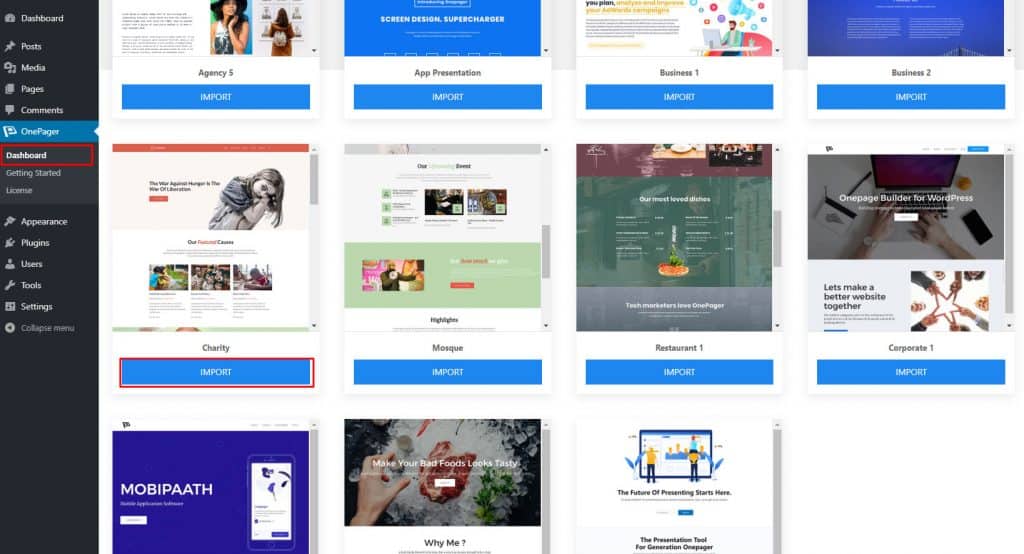 WPOnepager editor window opens with an exact same site like demo. 
Click on any block to edit the content (text, images, colors, etc.)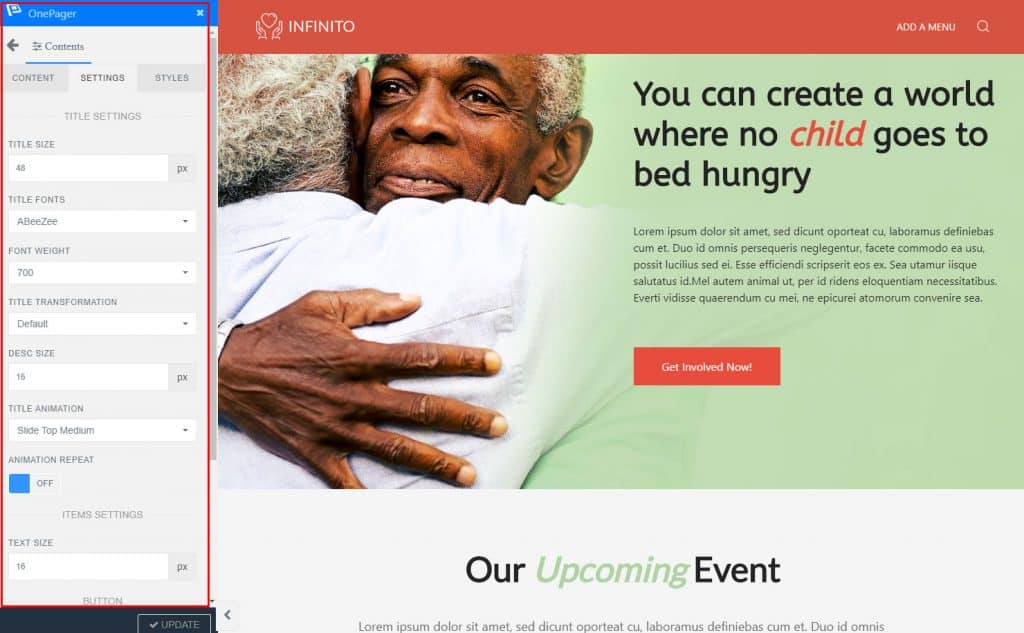 It's that simple, and you are done.
Conclusion
To get top marks for your websites, use any of these templates since they are easy to get hold of and very easy to use. You will not have to go through with a lot of settings and customizations that other charity WordPress themes provide. These charity website templates will ensure to have you a professional webpage.