Are you looking for some reliable and efficient contact form plugins for your WordPress site?
If yes, you are at the right place. We understand how important contact forms are for websites as they help you communicate smoothly with your customers and visitors. Additionally, contact forms also help significantly in generating leads and making sales conversions. 
There are numerous WordPress contact form plugins available in the market. These plugins are easy to use and allow users to create high-quality and interactive contact forms with minimal effort. However, choosing the best contact form plugins from the multiple options available in the market can be confusing and difficult.
In this blog, we will take a look at the top 7 best WordPress contact form plugins of 2022.
Read more: 7 Best WordPress Table Plugins of 2022
Best WordPress Contact Form Plugin: Comparison at a glance (Table)
How To Pick the Best Contact Form Plugin
To help you make an informed choice, we have made a list of features you should keep in mind while picking the best WordPress contact form plugin.
Multiple display formats
Pre-made form templates
Conditional logic
Saves and resumes partial entries
Location and address autocomplete
Spam protection
Multiple payment integrations
File upload options
Multi-part form creation
Multiple types of forms (quizzes, order forms, subscription forms, survey forms)
Easily configuration and customization
Import and export
Responsiveness
Smooth communications
Reliable customer support
Visual builders
7 Best WordPress Contact Form Plugin
WPForms is a very convenient WordPress Contact Form Plugin which will allow you to build flexible and interactive forms for your website. It is extremely user-friendly and allows you to give your customers a seamless user experience. The drag and drop feature allows you to build a form in seconds without writing any complicated codes. 
Features
Email Marketing Integration – Email marketing is an important aspect of online business. Keeping this in mind, WP Forms offers numerous email marketing integrations with popular email marketing tools like Zapier, Drip, Mailchimp, Campaign Monitor, etc.
Saves and Resumes Entries – Often visitors and customers get distracted while filling a form and leave it unfinished. The abandonment feature in WP forms automatically stores the details. Once the customer returns, he/she can begin filling the form from exactly where they left it.
Pre-made Templates – The additional pre-made form templates will allow you to make a new form with just a few clicks. You can easily customize the form by adding and removing fields.
Customer Journey Tracking – This feature allows you to track the journey of your customers before they submit the form. You can track the pages they have visited, their buying habits, etc.
Pricing
| | |
| --- | --- |
| Plan | Pricing/Year |
| Basic | $39.50 |
| Plus | $99.50 |
| Pro | $199.50 |
| Elite | $299.50 |
Advantages
Extremely easy and intuitive user interface
One of the top-rated WordPress plugins
Allows adding eSignatures
Efficient anti-spam controls

Ninja Forms is one of the best WordPress Contact Form plugins and is trusted by some of the top companies globally like Disney, The New York Times, American Red Cross, Harvard University, The Salvation Army, UCLA, etc.
The basic plan starts from $49/year but a free version of the plugin can also be downloaded from the WordPres.org repository. Ninja Forms is highly recommended for WordPress users, developers, and designers.
Features
Translation Ready – This feature allows you to take care of customers speaking any language across the globe. You can also ask them to provide you with special translators if needed.
Unlimited Forms – You can create unlimited forms with Ninja Forms without having to worry about crossing a set limit. You can also add as many fields as you want in the form, even with the free version.
Integrations – To increase the functionality of your website, you can integrate forms with numerous third parties like Zapier, PayPal, Mailchimp, Constant Contact, Webhooks, etc.
Pricing
| | |
| --- | --- |
| Plan | Pricing/Year |
| Basic | $49 |
| Plus | $99 |
| Pro | $199 |
| Elite | $299 |
Advantages
100% beginner friendly
Accepts all kinds of payments and even donations.
Great customer support service
Aesthetically appealing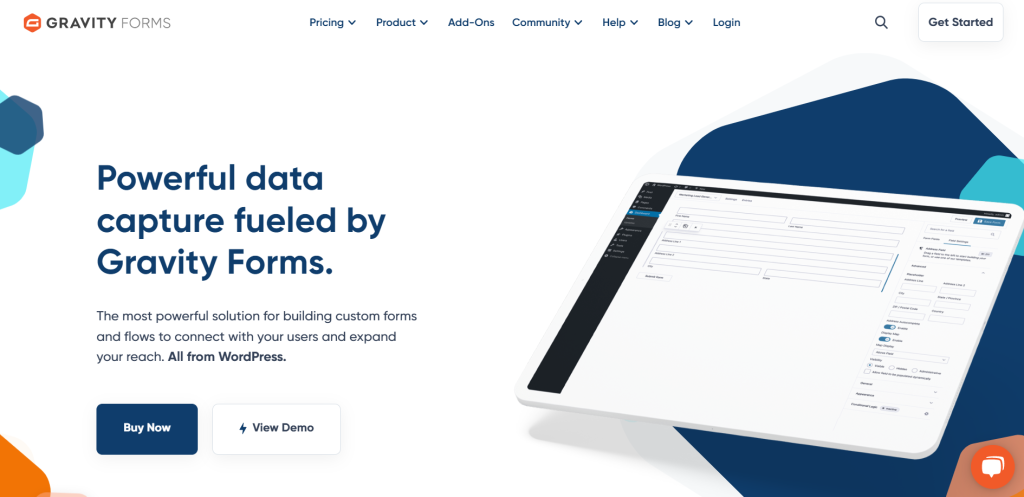 Since its launch in 2009, Gravity Forms has become popular as a reliable WordPress Contact Form plugin. It has been reviewed to be a little difficult to navigate and visually chaotic but it has all the advanced features like conditional logic, styling options, customizing options, etc.
However, Gravity Forms does not offer templates but rather sample forms. You can take a look at these sample forms to create your own like a survey form, registration form, complaint form, etc.
Features
Paginated Forms – This feature will allow you to make your forms more approachable by breaking the form into various sections and pages. Users can fill out the form and submit it with minimum scrolling.
Multi-Column Layouts – You can add as many columns as you want in the tables inserted in the form. You can also change their dimensions easily with a single click.
Import and Export – You can import and export your form in any format you want. You can also directly export it to another site by saving it in CSV form.
Pricing
| | |
| --- | --- |
| Plan | Pricing/Year |
| Basic License | $59 |
| Pro License | $159 |
| Elite License | $259 |
Advantages
30+ ready-to-use form fields
User-friendly and intuitive interface
Export feature highly efficient
Multiple notifications and alerts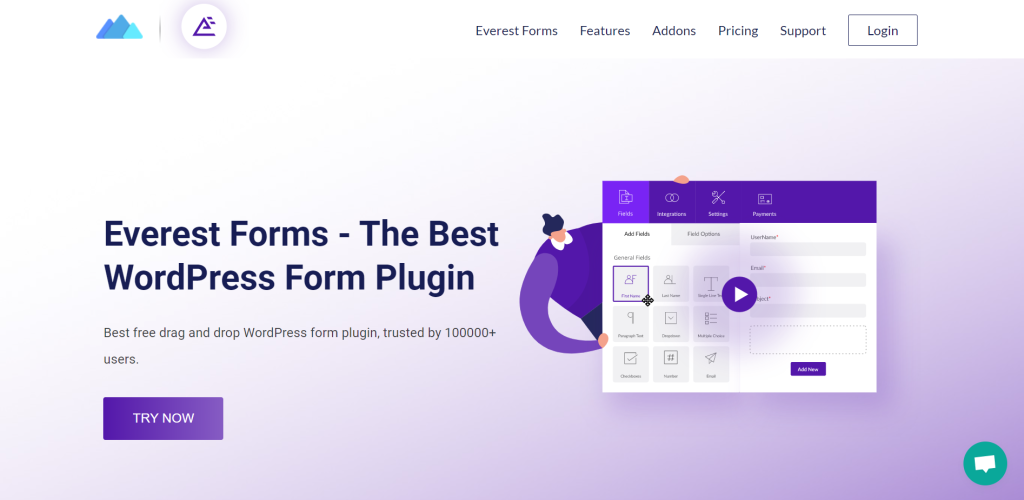 Everest forms is one of the most meticulously designed WordPress Contact Form Plugins. It is extremely user-friendly as it can be easily operated by beginners with zero coding skills.
The clean admin panels and the intuitive layout allow you to create forms quickly without any hassle. If you do not have time to build forms from scratch, you can use the beautifully and strategically designed pre-made templates.
The forms are professional-looking and compatible with all devices displayed like mobile, tablets, laptops, etc. Personal plans start from $48.3/year and large-sized agency plans start from $199/year. If you are a little hesitant to go ahead with this plugin, you can try their live demo.
Features
Email Notifications and Auto Responders – You can switch on notifications and alerts for every time a user submits a new form. You can also set autoresponders to send an acknowledgment to users who submit a form.
Web Application Integrations – To extend the functionality of the plugin, it can be integrated with numerous web applications like Facebook, Twitter, Trello, Google Docs, and numerous others.
Spam Protection – Spamming can be a big hassle for you and your customers. Keeping this in mind Everest forms provides spam protection through Smart Google ReCAPTCHA, Math Captcha, and Honeypot.
Import and Export – You can import and export with just one click. Almost all formats are supported and you won't have to waste your time dealing with compatibility issues.
Pricing
| | | |
| --- | --- | --- |
| Plan | Price/Year | Lifetime |
| Personal | $48.3 | $199 |
| Plus | $99 | $399 |
| Profesional | $99 | $599 |
| Agency | $199 | $699 |
Advantages
User-friendly and intuitive interface 
Live form designer tools to collaborate in real-time
Numerous premium add-ons are available 
Multi-part form creation 
Google ReCAPTCHA support is available 
100% mobile responsive 
Shortcode support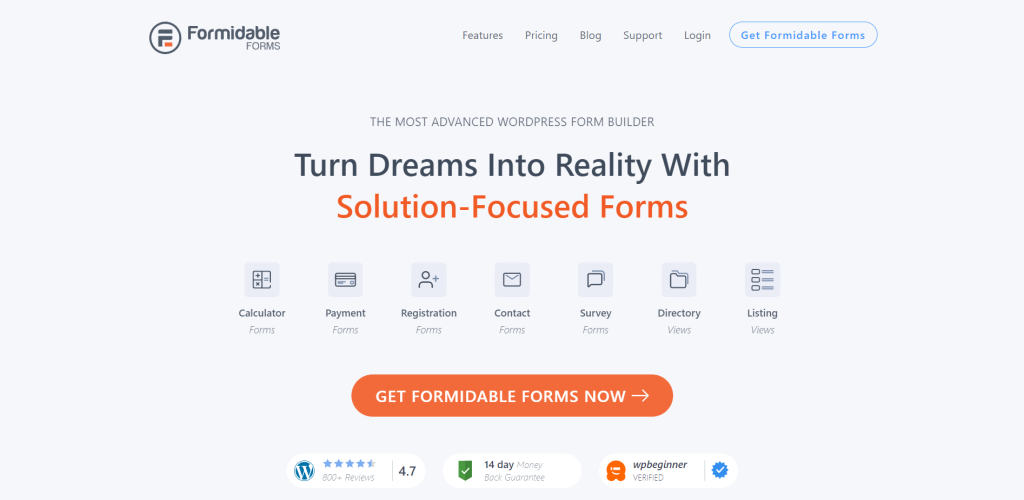 Formidable Pro is the first-ever WordPress Contact Form Plugin solution in the market. It has been built with user-friendly features and 100$% mobile responses. It has also been optimized for high speed and maximum performance.
The GDPR-friendly form generator allows you to turn off IP tracking and stop saving form submissions whenever you want. While using the plugin, you can choose from 25+ pre-made templates to design various types of forms like registration forms, survey forms, and quizzes.
There is a free plan available and upgrade plans start from $39.50/year. Another highlight of Formidable Pro is that it provides customer service with a free plan, unlike other WordPress contact form plugins.
Features
Form Building – The form building process is extremely easy with its interactive and intuitive tools like drag and drops form builder, form templates, online calculators, conditional logic, radio button images, import/export, etc.
Powerful Integrations – The powerful integrations allow you to increase the functionality of the forms through integration with emailing platforms, CRM, and even automation platforms. Some of its useful integrations are HubSpot, Salesforce, Highrise, Polylang Multilingual Forms, Active Campaign, WPML Multilingual Forms, etc.
Payments – You can collect payments through various ways like PayPal payments, Stripe payments, etc. You can also collect donations and offer physical products, digital services, etc.
Directories – Contacts and networking are very important when running a business. Keeping this in mind Formidable Pro offers directories features to build business teams and member directories easily and quickly.
Pricing
| | |
| --- | --- |
| Plan | Pricing/Year |
| Basic | $39.50 |
| Plus | $99.50 |
| Business | $199.50 |
| Elite | $299.50 |
Advantages
The drag and drop feature is very powerful.
Multi-step form feature is easy to use.
Forms can be published quickly.
The customer support service is quick and reliable.
Installation and setup are quick and easy.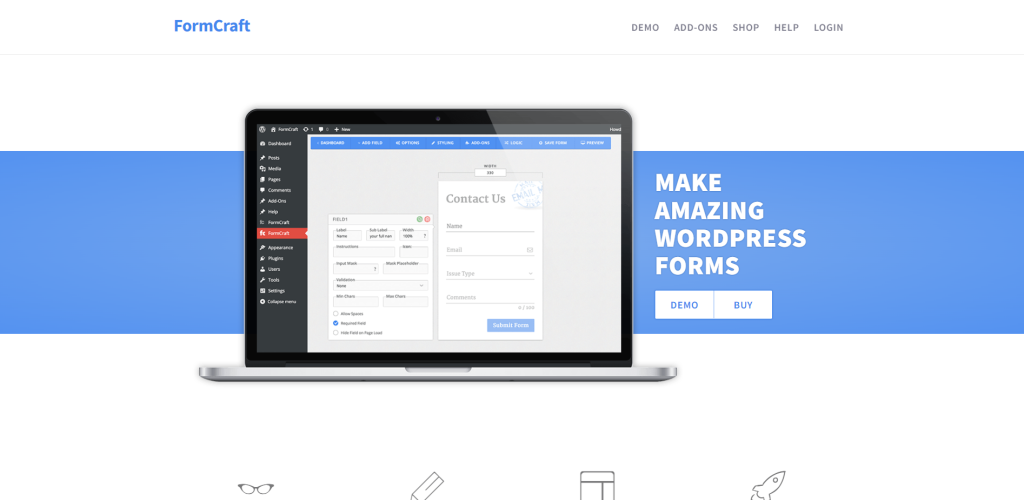 FormCraft is a reliable online form builder plugin offered by WordPress. It allows you to create all kinds of forms like contact forms, payment forms, surveys, support tickets, and registration forms.
The free version is available online but the premium paid plans to start from $49/year. The editor is highly intuitive and allows you to modify the forms as you please. You can modify colors, and layout, add new sections/pages, etc.
Features
Pre-made Templates – The numerous pre-made templates are divided across various categories like lead generation, payment forms, feedback forms, surveys, quizzes, registration forms, and much more. 
Clearly Presented Analytics – With FormCraft analytical reports can be easily viewed across all plans. In the analytics panel, you can see the number of total submissions, total payments, completion rate, and much more. 
Extras and Addons – FormCraft WordPress form plugins offer 19 addons to increase the functionality of the plugin. All the addons are easy to install and set up. Some of the addons are email marketing provider integration, payments system integration like Paypal, etc. 
Pricing
| | |
| --- | --- |
| Plan | Pricing/Year |
| Basic Bundle | $49 |
| Growth Bundle | $89 |
| Everything Bundle | $129 |
Advantages
Forms can be imported/exported across all installations of FormCraft.
Allow adding retina-optimized images for fields.
Form analytics and auto-response are quick and reliable.
Drag and drop features with GUI interface.

Contact Form 7 WordPress plugin allows you to manage multiple contact forms as well as create new ones seamlessly. The contact form plugin supports CAPTCHA, Ajax-powered submitting, Akismet spam filtering, etc. However, Contact Form 7 has not been reviewed to be user-friendly. If you are a beginner, you might face some issues navigating Contact Form 7.
Features
Documentation – Contact Form 7 provides great support and documentation. You can create documents out of all of your forms and save them from future referencing.
Form Fields – Contact Form 7 has various form field options like text, checkboxes, drop-down menu, quiz, file attachment, telephone number, email, acceptance, submit button, etc.
Integrations – To extend the functionality of the plugin, various integrations are available like Flamingo, Bogo, Constant Contact, Akismet, etc.
Advantages
Easy to install and set up
100% compatible with any WordPress theme
Numerous pre-made template options
Can add re-captcha for spam protection
Conclusion
Online businesses need to have websites that are simple, clean, and easy to navigate. If you need to collect information from your users, then getting a contact form plugin is the best way to do that without cluttering up your site. Your users see it once and won't see it again until they want to get in touch with you again. In this article, we will provide you with the best contact form plugins for WordPress that can help your website visitors get in touch with you.
However, do note that the term 'best' is relative. What might work for others may not work for you and vice versa. Hence, it is important for you to do proper research before making a final decision. Keep your goals and objectives in mind while selecting a WordPress Contact Form Plugin for your website. As your business grows and evolves, you can upgrade your plugins. Happy picking!