As an eCommerce business owner are you scared that your customers would get overwhelmed by the amount of information and data you have displayed on your web page?
If your answer to this question is yes, then we have a great solution for you that will allow you to present the information to your readers/customers in a comprehensive way.
WordPress table plugins is a tool that will allow you to collect and present data in a tabular form. The interactive tables will let your customers filter and view information according to their preferences, hence, helping you build good customer engagement.
In this blog, we will discuss the 7 best WordPress table plugins of 2022.
Read More: 7 Best WordPress Review Plugins for eCommerce Business
Why should You Use WordPress Table Plugins?
If you have no experience in HTML, making tables for price comparison and data comparison can be challenging and tricky. WordPress table plugins will do all the hard work for you and let you present your data in a nicely formatted manner. There are numerous more benefits of using a WordPress table plugin, especially as a small business owner or start-up.
Let customers view a large amount of information in one place
Create responsive and interactive charts and tables
Showcase statistics in a visually appealing manner
Showcase and compare products and pricing
Create a good business workflow
Increase the effectiveness of marketing campaigns
Increase customer traffic and engagement
What to Consider while choosing a WordPress Table Plugin?
There are numerous WordPress table plugins available in the marketplace. It can be difficult to determine which one would be the best for your website or eCommerce business. There are some important aspects you can keep in mind while making this decision.
Styling and color option
Customizing options
Drag and drop feature
Filtering and sorting feature
Import and export capabilities
Media support
Pagination
Review and reporting feature
Engagement and responsiveness capabilities
Top 7 WordPress Table Plugins for 2022
We have handpicked for you the 7 best WordPress table plugins for 2022 to help you narrow down your search.
WP Table Builder

WP table builder is a simplistic WordPress Table Plugin that will allow you to create interactive, engaging, and responsive tables. You can make use of its top 5 elements, text, image, button, list, and star rating to display information comprehensively.
Additionally, the cell management feature will allow you to add and remove rows/columns. You can also merge and split cells using the same feature. If you do not want to create a table from scratch, you can use the prebuilt templates and publish it within seconds.
Ratings: WP table builder WordPress table plugin has been rated 4.9/5 by WordPress.
Key Features
Native integration – If you are using Gutenberg and are not happy with the shortcodes, you can use the Gutenberg block to see a demo preview with the editor itself. No longer will you be confused with the various elements of the table with seamless Gutenberg integration.
Data migration – You can make use of the import option to migrate table data to any other spreadsheet. You won't have to wait precious time doing it manually.
Sorting and scrollbar – You can set both vertical and horizontal scrollbars for easy sorting. This feature comes in very handy with complex and lengthy tables.
Pricing
WP table builder comes in two versions, lite, and pro. The lite version is free and offers all the basic features. However, if you want additional advanced features, you can opt for the pro version.
| | |
| --- | --- |
| Plan | Pricing/Month (Billed yearly) |
| Starter | $39 |
| Pro | $79 |
| Lifetime | $249 (Billed once) |
Ninja Tables

If you want to create and insert interactive tables on your website for your ease and your customers, Ninja Tables is one of the best WordPress table plugins for you. It will also let you add numerous images, videos, statistical data, and much more to the rows and columns of the table. And the best part is, that it won't slow you down your website.
This is a problem that sometimes arises with other plugins that numerous rows and data of the table slow down the webpage. However, with Ninja Tables, you won't have to worry about that. Additionally, this WordPress table plugin is also extremely user-friendly with great customizing features.
Ratings: Ninja Tables WordPress table plugin has been rated 4.5/5 by WordPress.
Key Features
Connect to google sheets – If you collaborate with your team members through google sheets and have already stored information there, do not worry. With Ninja tables, you can easily publish your google sheets data in a table format on your website.
Drag and drop data – With Ninja tables you can easily drag and drop data in your table. You can also drag the data around in your table to arrange alignment.
Customizing features – Ninja table understands that each business has its requirements, hence it offers various table customizing options. The advanced setting will let you make use of numerous under the hood functionalities.
Ninja Tables live example – If you are doubtful about making this important purchase, don't worry, Ninja Tables has got you covered here as well. You can see the demonstration available on their website to make a final decision. The demonstration focuses on every functionality of the plugin.
Pricing
| | | |
| --- | --- | --- |
| Plan | Price/Month (Annual Billing) | Lifetime |
| Single Site | $49 | $199 |
| Agency (20 websites) | $99 | $399 |
| Unlimited Sites | $199 | $599 |
Visualizer

If colorful charts and diagrams are the main things you are looking for in your WordPress table plugin, then Visualizer will go a long way in keeping you satisfied. Along with creating basic tables, this plugin will let you create colorful and popping charts and diagrams with sorting capabilities and pagination.
To finally embed and publish the table on your website, all you have to do is use the WordPress Gutenberg integration feature. Otherwise, you can also paste the shortcode into the content editor section. The plugin also offers some pre-built charts for your convenience. Overall, the plugin is extremely user-friendly with advanced intuitive features.
Ratings: Visualizer WordPress table plugin has been rated 4.5/5 by WordPress.
Key Features
Enable permissions – If you want to control who can view and edit your charts within your team, you can customize the permission of charts. You can allow certain people to edit the chart if you wish and resign access for others. Additionally, you can even set permissions to allow customers to edit and modify the charts.
Online synchronization – You can synchronize your tables with data available on other platforms like google sheets, excel sheets, and even CSV files. You can set a schedule for automation synchronization according to a timeline convenient for you.
Live editor – This plugin also supports a live editor, which lets you see the results of your edits and modification live.
Pricing
| | |
| --- | --- |
| Plan | Pricing |
| Personal | $105 |
| Developer | $211 |
| Agency | $423 |
League Table

If you are looking for exceptional customizing features in your WordPress table plugin, then League table is the best choice for you. It is a widely popular plugin that comes with 105 customizing options per table along with 13 more general options and 17 cell-specific options. You can also use its integrated multi-column sorting method to create unique tables and present information to your customers in a comprehensive way.
Ratings: League Table WordPress table plugin has been rated yet by WordPress.
Key Features
Spreadsheet editor – With the spreadsheet editor feature, you can easily import your data from google sheets, excel, etc to WordPress tables. The feature can be found in the main plugin menu and won't require you to transfer data manually.
Table scrollbars – As we mentioned before this plugin provides exceptional customizing options. You can optionally enable the horizontal and vertical scrollbars and adjust their reach. This feature comes in very handy if your tables have lengthy data.
Multilingual – By default league tables come in English and Italian. However, if you want to translate the data into another language, you can do that simply by creating a translation file.
Mathematical formulas – With a league table you won't have to write the code manually for complex mathematical formulas. The tables support all types of mathematical formulas.
Pricing
There are no free subscription plans available for League Table. However, it is priced at an affordable amount of $39.
TablePress

TablePress is an open-sourced free plugin that allows you to create beautiful and interactive tables for your webpage. The user-friendly and intuitive features enable easy data formatting, filtering, sorting, and searching. Additionally, you can also embed your tables with math formulas and visuals, texts, images, links, and much more. If you want to know the plugin in more detail before going ahead with it, you can watch the free demo available on their official website. This will allow you to make an informed choice by observing each feature in detail.
Ratings: TablePress WordPress table plugin has been rated 5/5 by WordPress.
Key Features
Multilingual – TablePress is available in numerous languages. If a translation is available for the language you have selected, the translated text will be installed and displayed automatically. You can check out their WordPress plugin directory available on TablePress's page to see which translations are available.
Import tables – You can import tables in multiple formats like CSV, HTML, and JSON. Even bulk import supports all these formats.
Table preview – You might want to check how the table looks before publishing the final version. With the table preview feature, you can see how the table will look once it's live.
Role's restriction – With the role restrictions feature you can decide who can edit and view the table. You can also enable the customers to edit and modify the table.
Pricing
This WordPress table plugin is available for free and can be easily installed and configured. All you download is the zipped file, extract all the folders and begin the installation process.
Data Tables Generator

Data Tables Generator is a WordPress Table plugin that comes with the added advantage of creating SEO-friendly tables. It will let you create comprehensive tables with beautiful design and format. You can make use of the intuitive settings panel to let the plugin work its magic on the table. The resultant tables will be highly responsive, engaging, and compatible with all devices.
Additionally, the plugin is available in various languages like English, Greek, Polish, Italian, Russian, German, French, and many more.
Ratings: The Data table generator by Supsystic has been rated 4.7/5 by WordPress.
Key Features
Search feature – It can be extremely difficult and time-consuming to retrieve data from an already published lengthy and complex table. The search feature allows you to find anything you want from the numerous columns and rows of a table. The search feature enables you to apply multiple individual column/row searches as well.
Database source feature – The database source feature allows you to display the table and its various fields on the front end of the website within a few seconds with just a few clicks. You won't have to waste precious time waiting till the time the final table is finally published on the website. Additionally, each table that has been created using the database source feature can be customized directly through the main settings.
Responsive mode features – The responsive mode features come in very handy as it allows your tables to be compatible with all devices. It automatically adjusts the size and layout of the table according to the screen size. Additional features like a horizontal scroll, disabled responsivity, and automatic column hiding allow you to prioritize your needs more efficiently.
Pricing
The data tables generator by Supsystic is free. If you want a premium version, it starts at $46 annually.
Post Table Pro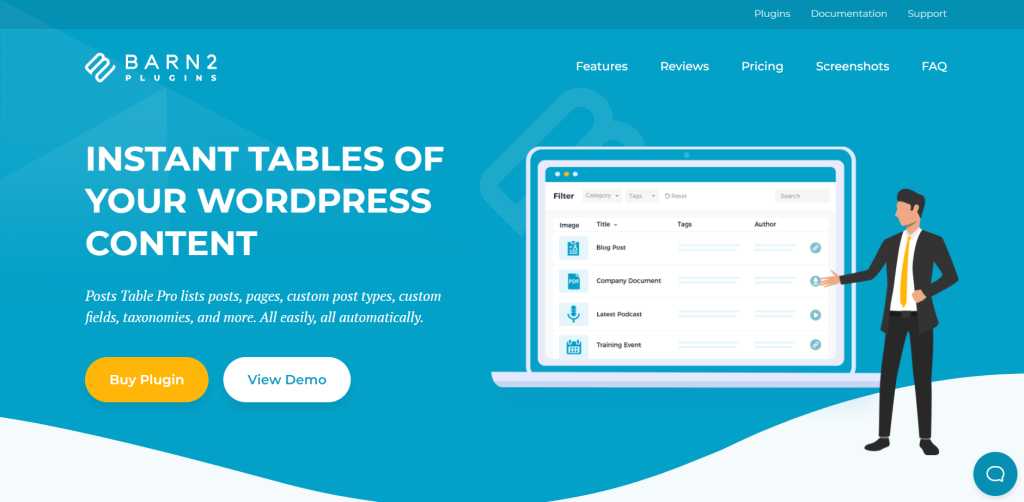 If you are looking for an easy and flexible solution to add comprehensive tables to your webpage, you can rely on Post table pro for all your needs. Along will let you create tables; this plugin will also let you organize your tables in a streamlined way. You can use numerous search features to find anything you want in your complex table by simply using a keyword. You can also enable various filters to let your customer find the content they want.
Ratings: WordPress has given a rating of 4.6/5 to the Post table pro plugin.
Key Features
Instant Search, Sort, and Filter – The instant search feature will allow you to search anything in your table and its various rows and column through keywords. You can also enable filters to allow your customers to view any information they desire.
Directory of posts – If you want to keep a directory of all your table for documentation purposes, you can do it with Post table pro. All of you have to do is use particular shortcodes and a proper inventory will be maintained.
'Buy Now' button – Along with adding numerous visuals, texts, and links to the table, you can also add the 'buy now button. All you have to do is key in a simple shortcode to do the same. It ensures high customer retention and conversion rate.
Pricing
| | | |
| --- | --- | --- |
| Plan | Price/Month | Lifetime |
| All-access | €799 | |
| Agency | €249 | €699 |
| Business | €119 | €349 |
| Starter | €79 | €199 |
Conclusion
Though we have tried to narrow down your search by offering you the 7 best table plugins for WordPress, still choosing one can be difficult. We recommend you do some more research and look at its feature closely keeping in mind the requirements of your website. A good WordPress table plugin should provide you with flexibility, proficiency, and productivity. For more information, check out our other