Managing a project is a tough job and you won't know it until you manage one. If your team is not working under a certain procedure, your project might still get completed after missing deadlines. 
This mismanagement is costing you extra labor, time, money, and you might often get less benefit from your project. A team or company without any project management procedure will have trouble quantifying the hard work they have been doing. We are humans, and humans tend to forget things.
You will find tons of reasons to manage your teams or company projects in a better way. Moreover, I am sure you have probably been looking for the best project management software for WordPress.
In this post, I am sharing the 6 best WordPress project management plugins.
Choose the one that suits best with your needs.
Read also: 7 Best WordPress Email Marketing Plugins to Use in 2022
Best WordPress Project Management Plugins
Before picking these project management plugins, we have tested a myriad of project management plugins by ourselves. It took a good amount of time to gather data and find out the best ones. Select any of these plugins and start managing your team's projects and tasks.
| | | | | | | |
| --- | --- | --- | --- | --- | --- | --- |
| Features | WP Project Manager | UpStream | Zephyr | Panorama | Kanban | Projectopia |
| Unlimited tasks | ✔️ | ✔️ | ✔️ | ❌ | ❌ | ✔️ |
| Comes with a free version | ✔️ | ✔️ | ✔️ | ✔️ | ✔️ | ❌ |
| Private messenger | ✔️ | ❌ | ❌ | ❌ | ❌ | ❌ |
| To-do mark | ✔️ | ✔️ | ✔️ | ✔️ | ✔️ | ✔️ |
| Set start & end date | ✔️ | ✔️ | ✔️ | ✔️ | ✔️ | ✔️ |
| Link to documents | ✔️ | ❌ | ❌ | ❌ | ❌ | ❌ |
| Android application | ❌ | ❌ | ✔️ | ❌ | ❌ | ❌ |
| Add title, comments & description | ✔️ | ✔️ | ✔️ | ❌ | ✔️ | ❌ |
| Set permission for each project | ✔️ | ✔️ | ✔️ | ✔️ | ❌ | ✔️ |
| Set permission for every team category | ✔️ | ❌ | ❌ | ❌ | ❌ | ❌ |
| Real-time updates | ✔️ | ❌ | ❌ | ❌ | ✔️ | ✔️ |
| See progress bar on the list | ✔️ | ✔️ | ✔️ | ✔️ | ✔️ | ✔️ |
| Make files private | ✔️ | ❌ | ❌ | ❌ | ❌ | ❌ |
| Price | $59 | $49 | $49 | $59 | $149 | $39 |
WP Project Manager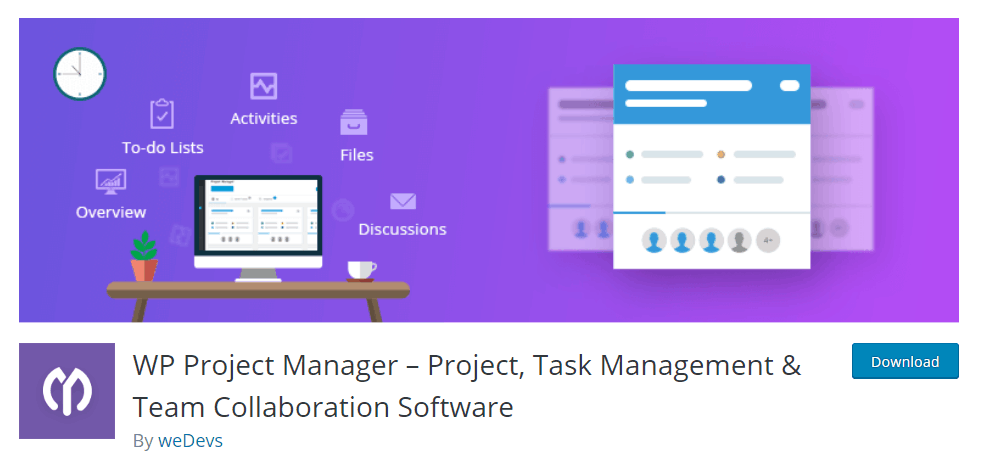 WP Project manager is one of the most popular WordPress project management plugins. If you use this plugin, then you do not need any other WordPress project management plugins. This plugin comes with a freemium model, and therefore, before buying, you can test the plugin for free.
WeDevs developed this amazing project manager plugin, and they have a large team to maintain their plugins. You can manage all your projects on the move with the WP Project Manager. It comes with a dedicated dashboard that allows you to overlook all of your projects, to-do lists, milestones to projects, user roles, permissions, and much more.
WP Project Manager allows you to manage all types of projects and tasks in the least possible time. The interactive UI of this plugin will not only give you a smooth experience but also support you to boost the overall efficiency. With this plugin, you got a built-in file sharing option and discussion thread.
Work simultaneously with all of your team and make most out of teamwork without any hassle. No matter which organization or team you are running, the WP Project Manager will always ensure the best outcome from all types of teams.

What WP Project Manager Offers?
There is more to tell, but for now, let's check its features at a glance:
Easily manage all the project within WordPress
Make the most out of teamwork with team collaboration
Overview all of your projects with a calendar function
Assign and manage user roles from one place.
Limit project visibility
Track milestones in real-time
Third-party plugin integration
See all the files of a single project from one place
Pricing
As I told you earlier, This WordPress project management plugin is based on the freemium model; therefore, you can start with the free version. When trying the free version, you will miss the pro features like setting start and date project and other advanced filters for reports. It comes with three different pricing, Personal ($79 per year with one domain), Professional ($149 per year with five domain), and Business ($249 per year with ten domain and much more).

UpStream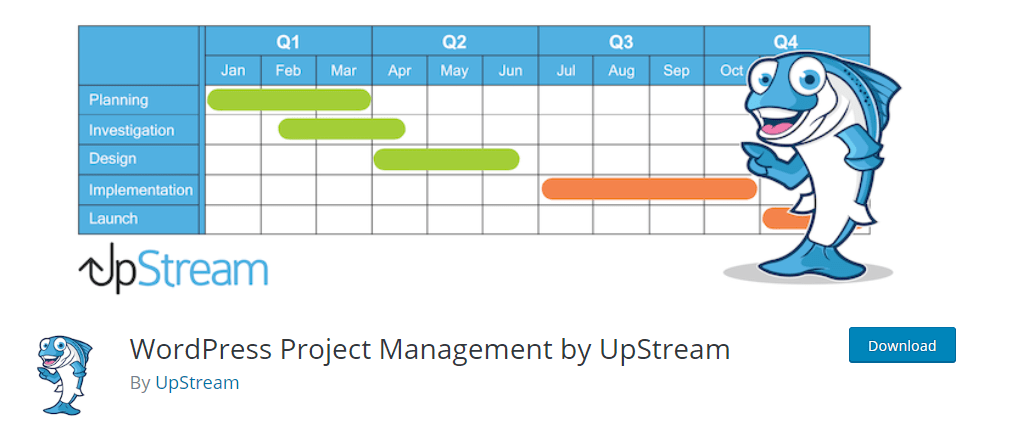 Upstream is one of the best free project management plugins for WordPress. It allows you to manage any sort of product from your site, and all your clients can track their project progress with the frontend project view. UpStream comes with a wide range of extensions that allows you to extend the features for your project. 
The milestones and tasks of upstream allow you to plan, track comfortably, and manage your projects from beginning to finish. Assign milestones and tasks to users, add starting & ending dates, notes & progress of the tasks & milestones. Even you can add custom fields. 
Discuss the project within your front end and allow your clients to add to the discussion. With this feature of upstream, you can easily avoid email trails and keep the project discussion at the right place. 
Upstream WordPress project management plugin is entirely customizable, and you can add your own CSS, create custom fields easily. You can even rename milestones, projects tasks, files, bugs, and clients. No matter which project you are dealing with, handle it easily with Upstream. 
What does UpStream provide?
Upstream provides huge features, but the highlighted ones are:
Tasks and milestones
Issue reporting & bug tracking
Highly customizable
Built-in user roles
Autonomous progress tracking
Customizable front end templates
Discussion threads
Keep track of each project through a log activity
Pricing
Upstream gives you the primary usage at free version if you want to take full advantage of this plugin then try pro version. Pro version comes with three different pricing plans – Basic ($49 per year for one site and two extensions), Professional ($75 per year for one site and all the UpStream extensions), and Agency ($99 per year for ten sites and all the UpStream extension).

Zephyr Project Manager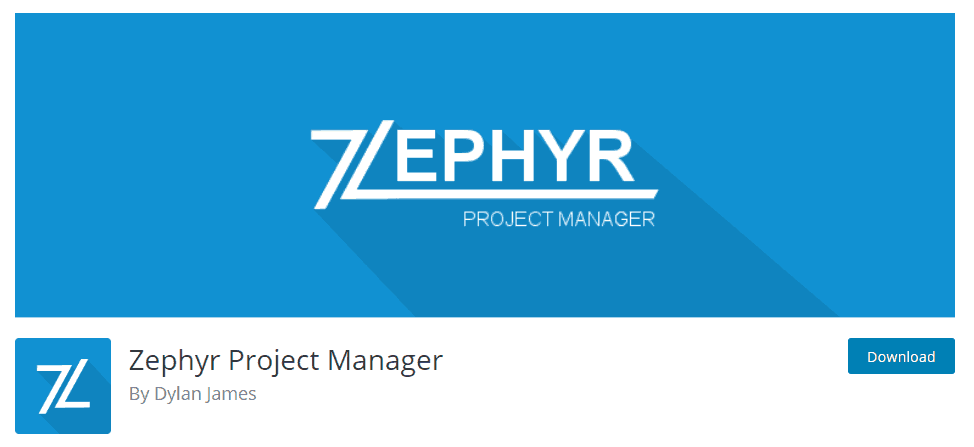 Zephyr is relatively new in the industry of WordPress project management plugins. It started its journey from 2018, and despite this short time, it has gained massive popularity. The secret behind its popularity is its ease of use and magnificent interface.
Forget about messing around; you will be able to keep your all projects on track with Zephyr efficiently. Zephyr allows you to create unlimited tasks, projects, categories, attach files, manage files, view progress, generate reports, and do everything that is needed to manage a project.
Zephyr offers an android application for busy persons so that they can manage projects on the go. The android application fully syncs with your web data and provides real-time notifications; there is no chance of staying behind. 
There is a dashboard for each user in the Zephyr, where they can see their tasks and ongoing projects, upcoming tasks, and more at a glance. You can start a discussion on tasks or projects at any time you want, and you don't need even to leave the project area to do the direct talk. There is a built-in chat system that comes with zephyr for all your private talks regarding your project. 
What does Zephyr provide?
Zephyr offers vast features, but the highlighted ones are:
Create and manage unlimited tasks and projects according to your preference
Android application
Create teams and assign tasks for every member
View progress at a glance
Personal dashboard for every user
Discuss projects and chat according to need
Receive notifications on demand
Built-in file manager
Highly customizable and custom templates
Popular plugin integrations
Pricing
This WordPress project management software comes with both free and pro editions. You can get the pro edition for $49 without other recurring fees. 

Project Panorama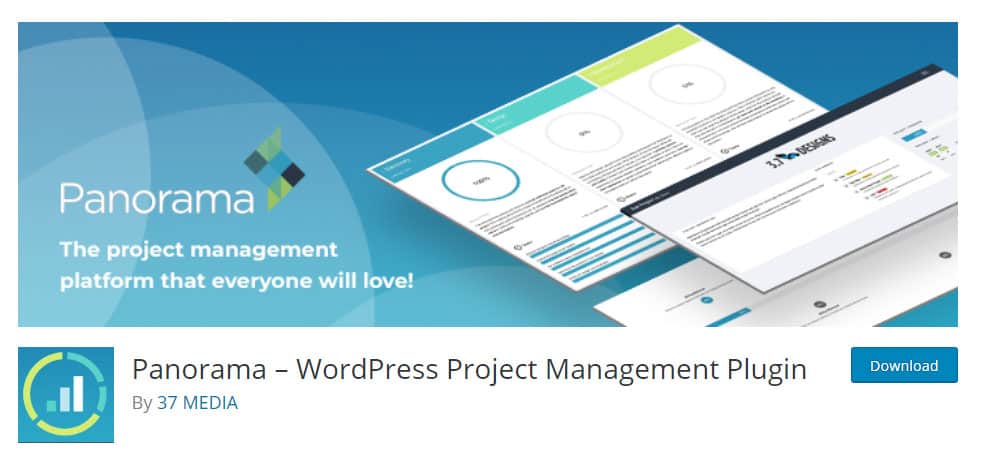 Project panorama is one of the management plugins that allow you to create a project overview in an organized way. It comes with an easy-to-use client dashboard that can be used by anyone. You won't have to worry about managing the project with this plugin. 
Panorama allows your team and clients to get a clear picture of the project status in an instant. You won't have to go to the details of each task to check each task and project, checking the dashboard is enough. If you require to check a project in detail, open it, and see the full details from there. 
To save your precious effort and time, panorama autonomously calculates the time elapsed and project completion based on task completion. You will know the exact position of your project status, whether you are ahead or behind.
Instead of providing a list of tasks, panorama allows you to give a progress bar with key milestones that indicate how they are progressing.
What does Project Panorama?
Project panorama offers a good number of features, but the highlighted ones are:
Clear project overview so that everyone gets the clear view
Elegant project dashboard
Email notifications
Dedicated customer support
Separate dashboard for each and every client, they can approve tasks or ask for any changes.
Third-party integrations
Assign project 'begin' and 'finish' dates
Pricing
This plugin comes with three different pricing – Individual ($59 for one site), Agency ($99 for 25 sites with front end editor and official addons ), and Enterprise ($129 for unlimited sites with front end editor, sequential tasks, image gallery, addons and much more).
Before buying the premium version, try the free version from the WordPress plugin repository.

Kanban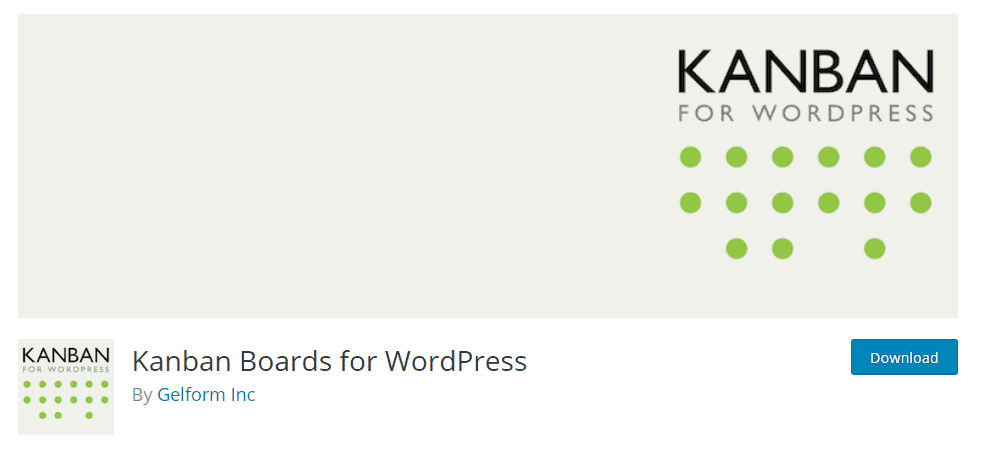 Kanban is very popular for agile project management. It uses cards and boards to visualize the progress of your tasks and projects. If you are not familiar with Trello, you might get a little confused while using this WordPress project management software.
The boards that are used in the plugin are statuses of the projects (start, on-going, finish) and cards holds the name of the tasks. You can move these cards on your will to their appropriate boards as you make progress.
Kanban WordPress project management plugin gives you multi-language support. If any client or any team member is from a different country, let him choose his tongue. Everyone who is working on your project will have the same view on every device so that they can work on the move.
If the free version of kanban doesn't fulfill all your needs, try the pro version. Pro version comes with advanced WordPress user management, task comments, task details & attachments. You can even customize the look of your dashboard by yourself.

What does Kanban offer?
Kanba comes with a good number of features, but the highlighted ones are:
Easy team collaboration
Mobile responsive
Simple installation
Properly assign task to all team members
Manage users access and privacy
Multi site support
Custom views for bookmarking
Pricing
Kanban gives you access to the pro version only at $149 per year and $499 for a lifetime.
Projectopia (Former Cqpim)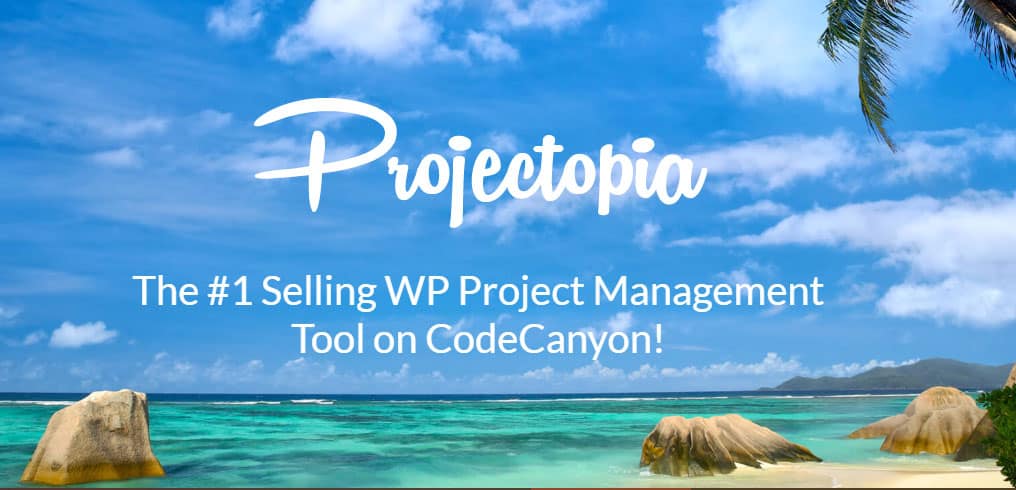 Projectopia is a full-featured project management plugin that is formerly known as Cqpim. It doesn't matter if you are maintaining a professional firm or a freelance one, Projectopia will allow you to maintain your project flexibly. It comes with a lot of features and add-ons that allow you to manage your project even more smoothly.
With Projectopia, you can create and assign tasks to whomever you want. Its management interface is built in a way so that you can manage every running project without any sort of trouble. If you want, you can create milestones for every project, re-order them, create notes, and much more.
This project management plugin comes with a clean dashboard that shows every running project and allows you to know every stats without digging deep. The dashboard will even give you alerts for quotes, invoices, projects, support tickets, etc.
With Projectopia, you can add as many clients as want and manage every account from the admin panel. No matter which device your clients or team members are using, they will get the exact feeling in every device.
What does Projectopia offer?
Projectopia comes with a lot of features, but the highlighted ones are:
Manage tasks, projects, and assign roles for every team member
Manage permission and user roles
Powerful control panel, settings, and workflow control
Separate dashboard for everyone
Create timelines, milestones, tasks, and files
Project templates with task progress bars and task management
Dashboard alerts for projects, quotes, support tickets, invoices, etc
Support tickets
Pricing
This useful WordPress project management plugin doesn't come with a free version. You can purchase this plugin from codecanyon at $39.

Conclusion
There are many choices for managing your projects, and the best six are highlighted in this post. So which one would you choose? If you ask me I would recommend you to go for WP project manager.
I see it as perfect for my workflow. However, you might find any other plugin suitable for you. Choose the one that matches best for you. Before purchasing the pro, always try the free version.
Let me know your thoughts, tell us about your preferred one in the comment box below.