Are you tired of trying to manage your WordPress database on your own? Are you constantly worrying about lost data and website crashes?
If so, it might be time to consider using a WordPress database plugin. These handy tools can help you optimize, repair, and back up your database with just a few clicks.
But with so many options out there, it can be tough to know which plugin is the best choice for your website. That's where we come in!
In this article, we'll share our top picks for the best WordPress database plugins on the market. We'll give you the scoop on their key features and benefits, so you can decide which is the right fit for your needs.
Read more: 7 Best WordPress Booking Plugins in 2023
Importance of database management for WordPress websites
Your WordPress database is like the storage unit for all the information on your website – posts, pages, comments, users, and more. And just like that cluttered closet, if you don't manage it properly, it can become a mess of unnecessary data that slows down your website and makes it harder for you to find the needed stuff.
That's where database management plugins come in. These handy little tools help you clean up your database, optimize it for better performance, and even schedule backups in case anything goes wrong.
A fast database has various advantages:
You get to ensure that your website loads quickly.
It benefits clients by providing a more efficient user experience.
It increases your chances of being ranked higher on search engines.
A quick database often indicates that you are just accessing necessary data, putting less burden on your servers.
Top 10 WordPress database plugins
WP-DB Manager

WP-DBManager is a free all-in-one WordPress database plugin that adds simple-to-use tools for backup, repair, and optimization. It allows you to optimize, repair, and back up your database with just a few clicks. You can store backups locally or remotely, such as Amazon S3 or DropBox, including a scheduling feature so you can set automatic backups. Also, the plugin is extremely easy to use and is suitable for both beginners and advanced users.
WordPress Rating: 4.4
Active Installation: 90,000+
Features
It's a basic plugin for optimizing your database and ensuring that an additional plugin doesn't slow down your site.
The primary goal is to automatically backup and log your database.
You can inspect your database tables and decide whether or not to maintain them.
The dashboard displays admin database information so you can see what's wrong with your database.
All of your database backups are kept in a list for you to manage and maybe use in the event of an attack or server failure.
You have control over which tables and files are optimized.
Running a database repair is as simple as clicking a button.
Pricing
Free
UpdraftPlus

UpdraftPlus is a popular WordPress Database Plugin for backing up and restoring your WordPress database. It offers a range of storage options, including the ability to save backups to the cloud (such as Google Drive, Amazon S3, and more). You can also use it to migrate your website to a new host. UpdraftPlus includes various advanced options, such as the ability to exclude specific files or tables from your backups.
WordPress Rating: 4.8
Active Installations: 3+ Millions
Features
Separate automated backups should be made for website files and databases.
Google Drive, Dropbox, Microsoft OneDrive, and UpdraftPlus Vault are a few cloud storage options.
Incremental backups only save new changes to existing backup files, saving time over creating a full backup of the entire site.
Database backups are encrypted for maximum security, including during cloud storage transfer.
Importing databases from other WordPress sites is simple with the UpdraftPlus Migrator.
WP-Optimize

WP-Optimize is another best WordPress database plugin that helps to optimize your database by removing unnecessary data, such as trashed comments and spam. It also includes a feature for scheduling regular cleanups. This plugin also improves your website's performance by reducing your database's size.
WordPress Rating: 4.8
Active Installations: 1 milion+
Features
An all-in-one WordPress site optimization plugin allows you to optimize the database, compress images, and cache pages.
Execute individual or batch optimization tasks.
The plugin's dashboard displays all database tables.
Allows you to retain the most recent modifications.
Pricing
A free version is available. The premium versions include the following plans:
Starter – $39 per year for one to two sites.
Business – $59 per year for five sites.
Unlimited – $149 per year for unlimited sites.
WP-Reset

WP Reset accesses your WordPress database and deletes stuff you deem unnecessary. Regardless of your requirements, the WP Reset plugin searches the database for tables, articles, comments, and other information. After that, you have complete control over which of them to delete. Keep in mind that this is a long-term strategy for fully removing elements from your website.
WordPress Rating: 4.9
Active Installations: 300,000+
Features
The site reset tool lets you quickly restore a whole website and database to its original state.
Its snapshot feature provides a backup of your database that you can restore once the site has been reset.
Individual tools such as custom table purge, cache purge, and transients elimination allow you to optimize the WordPress site further.
Pricing
Free
WP-Sweep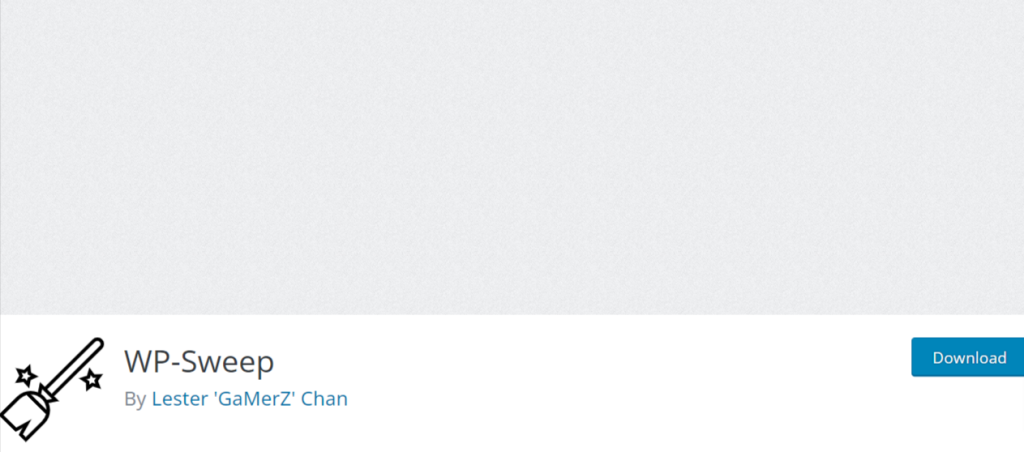 WP-Sweep is another database cleansing plugin that clears up areas such as comments, post metadata, and revisions. This free plugin is ideal for removing the mess quickly and effectively. With only one function, this plugin is elegant and simple. It is entirely up to you what the plugin cleans up. There are no other complex settings to be concerned about.
WordPress Rating: 4.6
Active Installations: 100,000+
Features
There are no extras or special prices. Everything is free.
This is a clean, straightforward plugin with only one function.
The plugin removes spam, deleted, and disapproved comments from comments.
Remove metadata such as comments, terms, and user data.
The plugin is excellent at detecting duplicate content and data. The duplicates are then removed.
WordPress delete functions are utilized instead of MySQL queries, which may cause performance issues.
Pricing
Free
Optimize Database after Deleting Revisions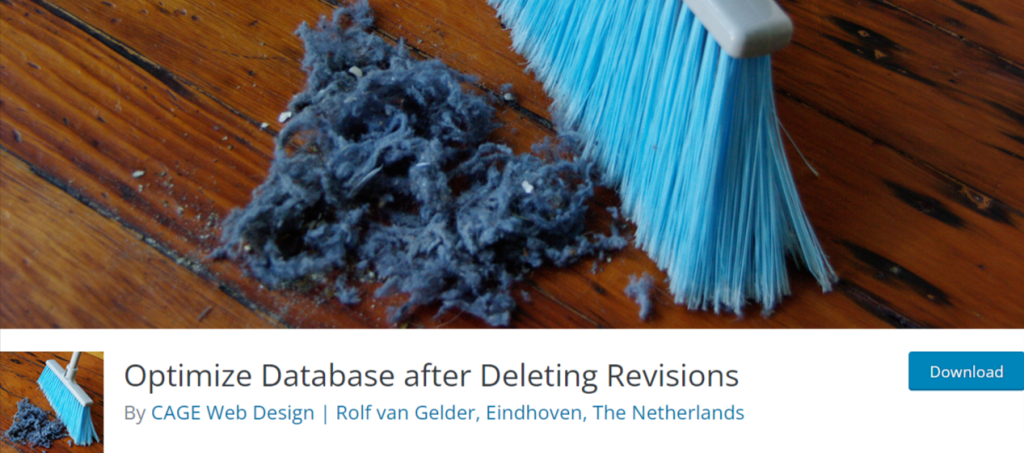 Optimize Database after Deleting Revisions is another good WordPress database plugin for cleaning up the garbage in your database. You may delete unwanted files from your website with a few mouse clicks. With this database plugin for WordPress, you may delete spam comments, unneeded tags, trackbacks, and other items.
This plugin improves your database table, and you can control which tables, articles, and pages to omit for optimization. Furthermore, this database optimization plugin is ready for translation.
WordPress Rating: 4.5
Active Installation: 100,000+
Features
The plugin identifies and removes some of the more persistent database trash, such as the OEMBED cache, database tables, and expired transients.
It handles the normal clutter, such as posts and pages.
All archived and rubbish content is discarded.
The plugin is as easy as it gets, with a one-click button and only a few settings to tweak after installation.
You can plan database optimization to occur hourly, daily, or weekly.
Pricing
Free
Advanced Database Cleaner

The Advanced Database Cleaner concentrates on removing objects from your database that are either superfluous or creating server difficulties. The Advanced Database Cleaner plugin decreases database size and improves website performance by clearing out trash. It also increases website speed.
Furthermore, you will not have to back up superfluous data, another significant benefit of this database plugin. The improved Pro version of this essential plugin removes all residual data from deleted plugins and themes.
WordPress Rating: 4.8/5
Active Installations: 1 milion+
Features
Saves you time by removing unnecessary database objects in the background.
It regularly cleans your database, resulting in a quicker and less cumbersome site.
Numerous cleaning options are available, including the ability to clean pingbacks, orphan data, obsolete auto drafts, and more.
The plugin includes capabilities for cleaning tables automatically.
Tables that have been corrupted or damaged can be repaired.
There is multi-site support available.
Pricing
The core plugin is free. The premium plans offer,
Starter – $39 for one to two sites.
Business – $59 for five sites.
Unlimited – $149 for unlimited sites.
Conclusion
WordPress database plugins are essential for anyone running a WordPress website. They allow you to manage, optimize, and secure your database, which is crucial for the performance and stability of your website.
Whether you're a beginner looking for an easy-to-use plugin or an advanced user seeking more customization options, there's a plugin on this list for you. So if you're ready to take control of your WordPress database, give one of these plugins a try.