Is it necessary for your business to receive appointments online?
You could be operating within hotels, restaurants, eCommerce, or some other businesses, and your customers are trying to reserve your product or service in advance. Finding the best booking plugins for WordPress will help you improve your workflow and make your customers happier.
A good booking plugin can be an essential piece of the puzzle for your business. Once you find the right one, you don't have to worry about losing customers because of faulty or broken plugins.
In this guide, you will get to know about some of the best WordPress booking plugins that will make it easy for you to keep track of all your appointments.
Let's jump right in.
Read more: Best WordPress Plugins for Business Websites
What is a WordPress Booking Plugin
In the physical world, booking is an act of reserving accommodation, a table, a seat, a flight, a trip etc. in advance. A booking can have different conditions like: payments in advance, cash payment, non-refundable, etc.
In the world of the internet and e-commerce, booking holds significance for various kinds of businesses. A WordPress Booking Plugin enables the owners of the site to receive bookings from their customers on various occasions or in multiple cases
Why you need a WordPress Booking plugin
You can add a professional online booking management system to your WordPress site with a WordPress Booking plugin. Your website visitors can schedule appointments and pay for them with their PayPal accounts, credit cards, or any other payment method you add. Also, people who visit your website can book available calendar dates right away using a form that lets them do so.
Booking plugins for WordPress are the best way to help your clients and make their lives easier. You can add a booking plugin to your WordPress site with the help of WordPress booking plugins. Also, they make it easier to keep track of and organize bookings. They can be used in any business, from medical offices to restaurants.
Best WordPress Booking Plugins
Following is a list of the best WordPress Booking plugins, which we think is a great collection to choose from:
Amelia

Amelia is a well-tuned plugin for booking appointments that is a great choice if you want something that will work right away. As soon as you install it, you can book appointments for free or for a fee, and the interface is quite nice.
When it comes to adding your own code customizations, Amelia is not as flexible as some of the other plugins for developers who like to tinker. So, if you like to do things yourself and want to change them, you might like a different solution.
Overall, Amelia is one of the best WordPress plugins for booking appointments for people who don't use it very often. This interface is not only good for you and your customers, but it also has a lot of useful features. It probably has the longest list of built-in features of all the plugins on this list.
Features:
Admin dashboard with real-time insights using widgets, charts, and tables
Four front-end views
Step-by-step booking wizard with smooth UX
Admin calendar view
Search booking widget to let customers search service and category by date, time range, and other criteria.
Shortcode for embedding booking form
Real-time notifications via SMS.
Business KPIs tracking from dashboard
Email notifications for the provider and customers
Double bookings prevention
Multiple services, extras, and employees support
Divi, Elementor, and Gutenberg blocks support
20+ languages support
Integrates with PayPal or Stripe and Google Calendar
All of this is included in a single license that lasts a lifetime. You don't have to pay extra for any of it.
Pricing:
The annual basic plan costs $64/year for 1 domain, the pro plan costs $84/year for 3 domains and the developer plan costs $150/year for unlimited domains.
WooCommerce Bookings & Appointments

The WooCommerce Bookings and Appointments plugin is a powerful tool that lets you take online bookings and keep track of them on your website. This is the only Bookings plugin that works round the clock and can handle all types of businesses that need a way to handle bookings or events.
You can set up your schedule, sell services, and rent out products by setting the price and time you want.
This plugin also lets you accept payments, manage your staff, work with multiple vendors, make repeat bookings, and do a lot more.
The WooCommerce Bookings plugin has a lot of useful features that you could use to make the perfect online booking system for your website.
Features:
Send email reminders to remind users of their upcoming bookings
Send notifications to users via email for new bookings, booking confirmations, and booking cancellations
Booking approvals from the admin
Allow buffer time between bookings
Set booking time and unbookable time
Set special pricing for days, months, specific user groups, etc.
Create your pricing rules
Assign resources automatically or based on user selection
Allow booking cancellations
Calculate booking price with dynamic booking cost calculator
Take multiple bookings for the same time slot
Let users book for single or multiple appointments
Let users book for a day or more
Assign resources automatically or based on user selection
Multilingual support and compatibility with different WooCommerce product add-ons.
Pricing:
The annual plan for 1 domain costs $99; for 5 domains costs $149 and for 25 domains costs $259.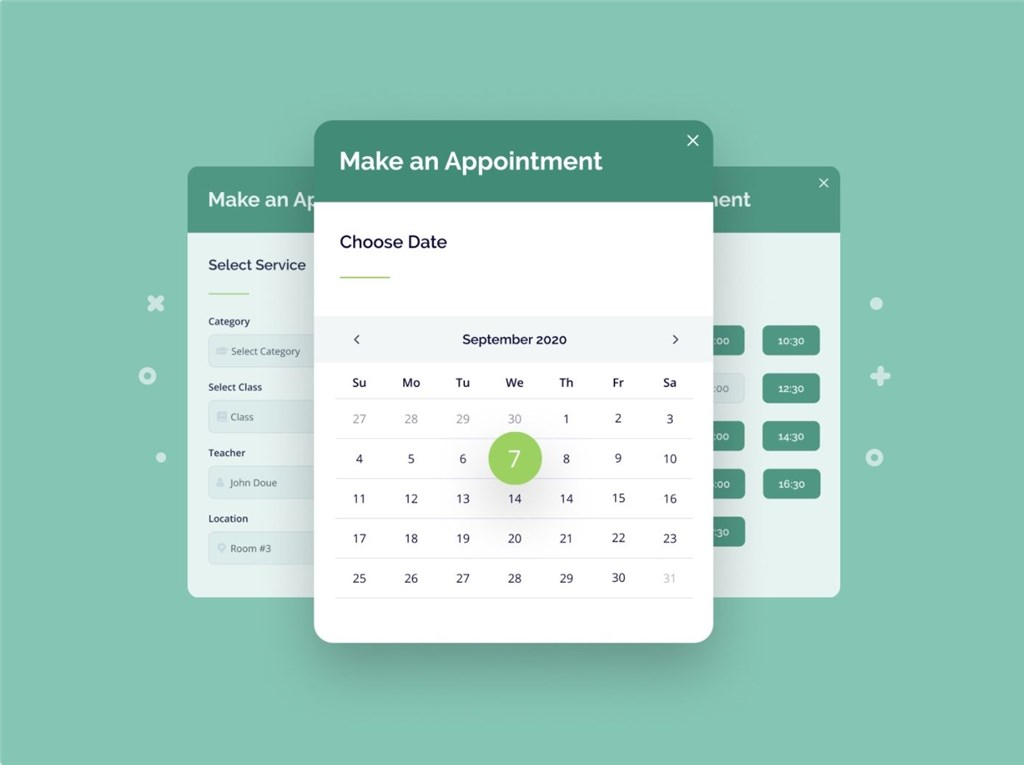 The WordPress Appointment Booking plugin by MotoPress is a top-notch WordPress solution for hourly-based businesses to arrange step-by-step online scheduling via a responsive wizard on their websites. The plugin allows you to create unlimited services and employees with their personal profiles. Also, their schedules may include lock-out hours, breaks, vacations, and days off.
The plugin supports online and offline payment methods: Stripe, PayPal, a direct bank transfer, Apple Pay, Google Pay, or upon arrival. You can add coupon codes for discounts. Clients can book several services at one go and make a reservation for a group.
Features:
A centralized calendar to view appointment booking details in the dashboard.
Booking synchronization with an employee's Google Calendar.
Options to edit existing bookings
Automated email notifications & reminders are easy to set up
WooCommerce Booking addon
Compatible with Elementor, Gutenberg, and Divi page builders
BookingPress
BookingPress is a fully functional appointment booking plugin that makes it easy to set up a full booking system on your WordPress site that fits your needs.
This plugin can be used by anyone who wants to set up appointments online. Whether it's a big or small business or a single person.
BookingPress has a very simple interface, so you don't need to know how to code or design to add it to your website. With BookingPress WordPress Booking Plugin, you can set up the plugin and start taking reservations in the blink of an eye.
Features:
Seamless Integration With Your WebsiteCustomisable email notifications
Translation Ready
Captcha Free In-built Anti-spam FacilityInteractive booking wizard to schedule appointments quickly
Easy And Quick Configuration Options
Manage Appointments with Calendar View
Super handy dashboard to track your business
Support of Elementor
Support of Gutenberg
Online Payment with PayPal
Offline Payment Available
Pricing:
The annual standard plan costs $49/year for 1 domain, the professional plan costs $89/year for 3 domains and the enterprise plan costs $179/year for 20 domains.
Simply Schedule Appointments

Simply Schedule Appointments is a relatively new appointment plugin that is getting increasingly popular quickly because of how easy and organized it is to use.
Its goal is to give you all the important features you need without making the program too big. I'd say that all in all, it does a pretty good job of reaching that goal.
The interface makes it easy to add services or providers, and there's an onboarding wizard to help you get started quickly with all the basics.
Overall, this plugin is great for salons and gyms that need to book specific time slots.
Features:
Front-end booking forms that are easy to use
Offer classes or events for a group.
Keep track of changes
You can add your own fields to booking forms and change the way they look.
Integrate with other plugins and tools, including a catch-all Zapier integration
Connect to Google Calendar or other event calender plugins
Set your own rules for working hours and scheduling
Blackout certain dates (such as holidays)
Send emails and text messages with your own messages (such as appointment reminders)
Accept payments via PayPal or Stripe
Take care of multiple locations and employees
Pricing:
The annual plus plan costs $99/year, the professional plan costs $199/year and the business plan costs $299/year.
Bookly
The plugin on this list that looks the most modern is Bookly. It looks good on both the front and back end, and you can change many parts of the booking form without knowing how to code. I wouldn't recommend it if you want to use custom code, but I think most new and experienced users will be comfortable with the plugin's style and features.
The booking form is fully adaptable and can be changed to fit your needs. Both admins and customers can see it in different ways. Bookly also has a module that lets you add an unlimited number of staff members, each of whom can set their own prices and availability. So, a gym could do this for a group of personal trainers, for example.
Bookly seems like a great deal for small businesses that might not have the money to hire a custom developer. It should give you most of what you need to run your own booking system.
Features:
Fully responsive
Simple to add more than one booking form
can let people book services or products at different times.
Messages can be sent to confirm bookings and remind people of their appointments.
Admin panel for bookings
Includes email templates.
The layout and booking form can be changed.
Supports WPML
Can sort a list of bookings in a CSV file.
Supports PayPal's Quick Checkout
Works with the Google Calendar.
"Works with WooCommerce"
Has built-in analytics to check booking statistics
Pricing:
There is a free version and a pro version. The pro version is exclusively available on CodeCanyon that costs $89. Further Bookly add-ons are available for varying prices
Bookings for WooCommerce

With Bookings for WooCommerce Pro, your regular WooCommerce store becomes a powerful booking solution. WooCommerce Booking is a powerful plugin that lets store owners make an online booking system that lets them turn their products into online booking solutions and make them available to customers for a set amount of time.
With the Booking Calendar plugin, you can now easily book WordPress time slots, confirm or reject bookings, show reservation calendar listings, allow booking cancellations, promote booking availability, control booking length, and do much more.
Features:
Set the number of days for canceling or processing a booking.
The Bookings tag is on the WC Order Listing panel.
There are many coupons for early bird discounts.
Use the render settings to show or hide booking form details.
Booking Order Listing Calendar with a lot of details.
Easily define booking Availability and Unavailability.
Customers can get email and SMS reminders before they book.
Email and SMS templates that can be changed for different types of businesses.
Pricing:
The pro version costs $79 for 1 domain, $159 for 5 domains and $259 for 10 domains. 1 year free support is included in each plan.
Booking Calendar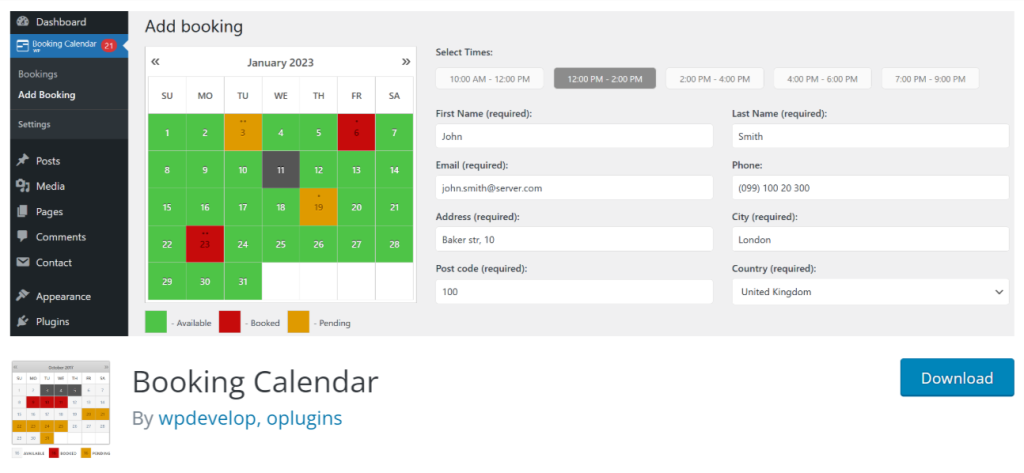 The Booking Calendar is a plugin for WordPress that lets you schedule appointments and see if there are any open spots.
Using the Booking Calendar, people who visit your website can check your availability and book appointments for certain days or time ranges. Your customers can also look up what homes or services are available on certain dates, make their own reservations, and pay for everything online.
You can use the booking admin interface, which is easy to use and reliable, to manage the reservations and get email updates. Booking Calendar is made to work right out of the box, but you can still change the parameters to fit your company's workflow and customize the form and calendar to match your website's look and feel.
Features:
Manage reservations through a pretty and friendly admin interface.
Allows the administrator or the person who made the reservation to make changes to existing bookings.
Choose the rates and costs for the season based on certain days, options, coupons, or deposits.
Change the form's layout and fields and choose from a number of stylish calendar skins.
Integrate your payment systems with the most popular payment gateways and turn them on.
There are no limits on how many booking resources can be used (properties or services).
Websites with more than one language can use the WPML and Translate plugins.
Pricing:
Booking Calendar WordPress Booking Plugin has many pricing option. The very basic plan for 1 domain starts from $23.70 with a discount and maximum plan costs $269 for 5 domains. All the plans are lifetime.
Wrapping Up
It may be difficult for you to take in all this information at once. We have tried to cover all the bases and provide as much information as possible to help you and your business.
You now know about 7 WordPress booking plugins that are good for different kinds of businesses and have different features.
Next, it's up to you to look at them and decide which one is best for your business. We believe you won't go wrong with any of the items on this list.