Marketing has evolved a great deal in recent times. These days the focus is more on the internet market than any other form of marketing. Consequently, there are now many ways one can market their business on the internet. Nonetheless, WordPress has been one of those prevalent platforms for almost everyone.
Numbers suggest around 37% of websites on the internet are now powered by WordPress. No matter if you are individually marketing your services or you are a multinational organization, WordPress caters to everyone's needs. As a result, marketers constantly look for WordPress plugins to make their jobs easier for everyone.
In this blog, we will give you the 13 best WordPress marketing plugins for marketers.
Read more: 7 Best WordPress Contact Form Plugin of 2023
What is a WordPress Marketing Plugin?
A WordPress plugin is a software solution that literally plugs into your WordPress website. In addition, the plugin adds extended features and functionalities to the website. As a result, you can create almost anything you want to enhance the overall appeal of your website.
All sorts of websites, be it an e-commerce store or a website featuring your portfolio, can benefit from the added functionalities offered by these plugins. In addition, WordPress marketing plugins for marketers are the ideal tool every digital marketer needs in their arsenal.

Best WordPress Plugins for Marketers
There is a wide range of WordPress marketing plugins for marketers that can help them in many ways. However, with so many options available in the market and so many best WordPress themes, it is never easy to find the right WordPress plugin for you. Thus, here is a list of 15 must-have WordPress plugins for every marketer.

Attracting and keeping visitors to your website is never easy for anyone. But fortunately, there are WordPress plugins for marketers to take this load off of them.
One such plugin is the OptinMonster, designed to reduce bounce rates like never before. OptinMonster makes it much easier to reduce bounce rates and enhance your conversion rates like never before.
Key Features
Geo-Location Targeting: OptinMonster allows you to boost conversions with personalized campaigns based on the visitor's location.
Drag n Drop Builder: The powerful drag and drop WordPress builder from OptinMonster makes it much easier to create powerful option forms to enhance conversion rates like never before.
Campaign Types: OptinMonster allows you to choose the ideal campaign type for displaying the most attention-grabbing offers for visitors.
Targeted Campaigns: Leverage precise targeting to create effective campaigns that attract more subscribers, generate more leads, and boost overall sales.
Pricing
OptinMonster provides you with four different pricing plans to choose from. These plans include:
Basic: Costing $9 per month, the basic plan will help you get more leads from existing traffic.
Plus: The Plus plan costs $19 per month and is ideally suited to fuel the growth of your WordPress site.
Pro: If you are selling anything on your website, the Pro plan from OptinMonster is a must-have for a price of $29 per month.
Growth: The growth plan best suits anyone wishing to transform their WordPress website and drive conversions.

WordPress is an SEO-friendly platform by all means. However, when it comes to SEO, you can never do enough, and there will always be more room for improvement.
Yoast SEO will help you fill that and ensure your posts and pages are optimized for SEO effectively. Its distinct qualities make it one of the best WordPress marketing plugins for marketers.
Key Features
Page Analysis: Yoast SEO has a page analysis feature that helps prevent prevalent mistakes. Having lengthy titles or altering missing texts are great examples of such mistakes that often go unnoticed.
Paragraph Structure: This helps you get the ideal paragraph structure to ensure readability.
Keyword Density: You can use Yoast SEO to get the ideal keyword density to ensure better search engine rankings.
Link Support: Yoast SEO helps determine if you have the appropriate number of internal and external links in your content and page.
Pricing
Yoast SEO Premium is available for $99, excluding VAT. However, this pricing can change based on the country you live in.

Digital marketing, at least in today's age, is all about the search engine. In some sense, Google determines the fate of your marketing efforts more than anything else. As a result, it becomes imperative to maintain a connection with search engines and augment your marketing accordingly.
Google XML SiteMaps being one of the best plugins for marketers, help you precisely do that with alerts for every change made to content in a matter of seconds. Consequently, it becomes much easier for the content to index faster and bag the top ranks on search results.
Key Features
Many Languages: Google XML SiteMaps can be used for content in different languages based on the location and preferences of your target audience.
No Files Change or PHP Skills Needed: One of the best things about Google XML SiteMaps is that users need not have any PHP skills, nor do they need to make any file changes.
Notification: You can click Notify Search Engines About Your Sitemap to send out notifications immediately.
Increase Memory limit: Google XML SiteMaps allows you to increase memory if you get an out-of-memory error.
Pricing
Google XML SiteMaps is one of the free WordPress plugins that does not charge anything for accessing its features and functionalities.

Speed is one of the most important factors determining your website's ranking on search results. As a result, WordPress plugins such as the W3 Total Cache become very important. The plugin is equipped with some of the best features to help you enhance your website's speed.
Besides, W3 Total Cache is very user-friendly, making it one of the best WordPress marketing plugins for marketers from all over the globe. Nonetheless, let's check out some of the key features of W3 Total Cache.
Key Features
Minification: W3 Total Cache allows you to minify your posts and pages to help enhance the loading speed of your website.
Caching: W3 Total Cache has many caching features, such as caching database objects on a disk or in memory. You can even benefit from the cache-control feature for browser caching.
WebP Image Conversion: WebP images are relatively smaller in size, making it easier for the website to load. With W3 Total Cache, you can convert all your images into WebP format all at once or only specific images.
Unmatched Compatibility: W3 Total Cache is compatible with virtual private, shared hosting, dedicated servers, and even clusters.
Pricing
W3 Total Cache comes with limited free support for its users. Nonetheless, you can use the W3 Total Cache premium service for a price of just $8.25 per month. In addition, the premium service will give you access to a wider range of features and functionalities.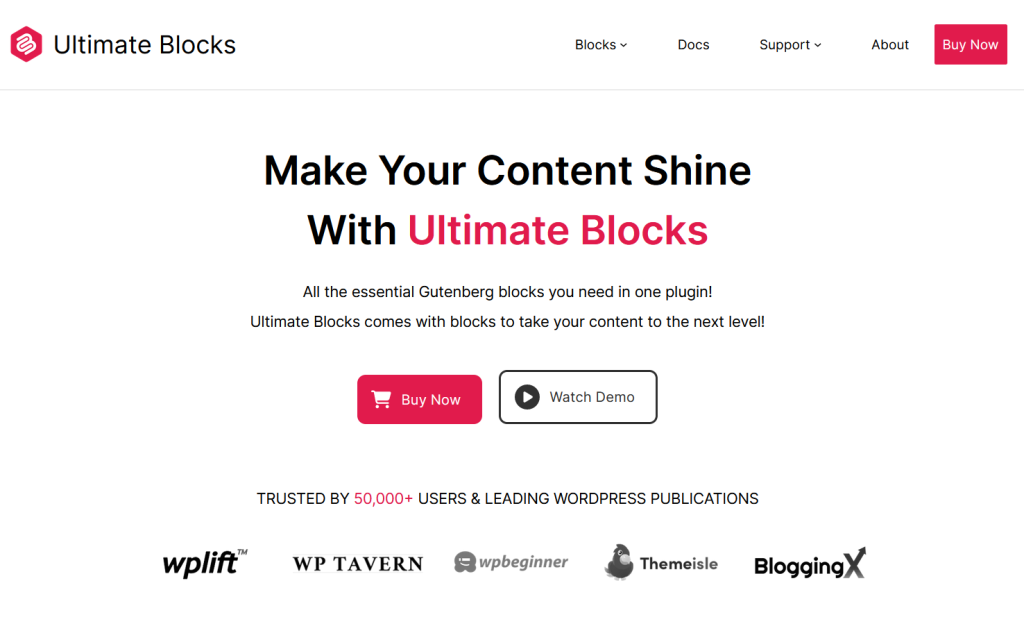 Ultimate Blocks is a powerful content marketing plugin for WordPress. It enhances the functionalities of the Gutenberg editor by incorporating a diverse set of custom blocks to create interactive content. Some standouts of them are testimonial, image slider, feature box, progress bar, etc.
The plugin has some other blocks like call-to-action, button, countdown, star rating, and review that can help you generate conversion faster. Ultimate Blocks is an intuitive plugin with an easy interface. You can customize each of its blocks to make them consistent with your web branding.
Key Features
Customizability: Ultimate Blocks offer you extensive customization opportunities. You can adjust the block content color, fonts, alignment, position, and visual elements.
SEO: Ultimate Blocks is a lightweight plugin. So it will never slow down the page loading speed. Plus, some blocks like review, content toggle, and how to have built-in schemas that can boost your SEO score.
Mobile-friendly: Ultimate Blocks is a mobile-friendly plugin. It ensures each block works perfectly on screen sizes.
Compatibility: Ultimate Blocks work equally well with all themes and all the Gutenberg block-based plugins.
Price
Ultimate Blocks have three pricing packages with a 14-day refund money-back guarantee. They are:
Free: You'll get the free version of WordPress.org.
Yearly: The yearly plan charges you $69.
Lifetime: The lifetime plan charges you $349.

Google Analytics is one of the most important tools for marketers of the digital generation. Now imagine if Google Analytics or any Google Analytics alternatives were directly accessible through your WordPress dashboard. Things would certainly get much simpler for all marketers out there.
Fortunately, there is a plugin for marketers to help you leverage Google Analytics directly from the WordPress dashboard. The plugin is called Monster Insights and is ideally designed to help you harness the potential Google Analytics on your WordPress dashboard.
Key Features
User Engagement: Monster Insights makes tracking user engagement on your WordPress website easier.
Reporting: Monster Insights make reporting much more accessible and simpler, allowing you to view detailed reports from your WordPress dashboard.
Page-Level Analytics: The plugin provides detailed stats for every page and post. As a result, you can seamlessly view all the popular pages, sections, and posts on your website.
Custom Dimensions: With Monster Insights, you can set up tracking for tags, authors, searches, authors, users, custom-type posts, and other relevant events with just a simple click.
Pricing
Monster Insights provides users with three different plans. These plans include:
Agency: The Agency pack is designed for web development and marketing agencies for $399.50 per year.
Pro: The Pro pack is designed for eCommerce websites looking for faster and better results. The price of this pack is $199.50 per year. These analytics help a lot in eCommerce branding.
Plus: The Plus pack is curated for small businesses and publishers in mind for a price of just $99 per year.

All-in-One SEO is the ideal WordPress plugin for every WordPress website owner. The plugin has highly effective SEO features to help you ace your rankings in search results. Everyone from bloggers, and business owners, to even developers can benefit from the offerings of All in One SEO.
Additionally, using All-in-One SEO is as easy as it gets. You do not even need any coding skills or any experience in coding to use the plugin. You only need a self-hosted WordPress website to get started with All-in-One SEO and nothing more.
Key Features:
Rich Snippets Schema: All-in-One SEO is one of those few WordPress marketing plugins that offers comprehensive support for schema markup. Consequently, it becomes much easier for you to get more clicks and traffic.
Social Media Integration: All-in-One SEO allows users to control the loss of their thumbnails and content from social media platforms. Some of those notable platforms include Twitter, Facebook, and more.
TruSEO On-Page Analysis: With All in One SEO, you can seamlessly add meta descriptions, title tags, keywords, and more. This ensures highly effective on-page SEO optimization to drive better results.
Smart XML Sitemaps: All-in-One SEO automatically allows you to generate WordPress XML sitemaps. You can even use this feature to notify search engines about any updates.
Pricing
All-in-One SEO offers four different pricing plans to suit your unique preferences and requirements. These plans start with:
Basic Plan: The basic plan will help you enhance the SEO rankings of a single WordPress website for a price of $49.50 per year.
Plus Plan: The plus plan is more suited for businesses as it allows you to manage three websites for a charge of $99.50 per year.
Pro Plan: The pro plan gives you access to everything you need to manage the SEO of up to 10 websites. This plan is priced at $199.50 per year.
Elite Plan: The elite plan will cost you $299.50 per year and help you manage the SEO requirements of up to 100 WordPress websites.

A blogger cannot just dispose of their old posts. As a result, Revive Old Posts has become a very important WordPress plugin for bloggers. It is the plugin you need to ensure your old blog posts do not go to waste. In addition, these older posts have more marketing juice than you would imagine.
Revive Old Posts WordPress marketing plugin automatically allows you to share your older blog posts. You can even share them on social media platforms to ensure the blog posts remain in circulation. Besides, using the platform could not be any easier. You can install the plugin and forget everything about it.
Key Features
Automated Hashtag Generation: The automated hashtag generator is one of the best things about Revive Old Posts. The feature allows you to generate hashtags for posts to enhance reach. This usually comes under the Newsmagazine WordPress theme.
Compatible with URL Shorteners: Revive Old Posts is compatible with URL shorteners to help you shorten links before posting content on social media.
Integration With Google Analytics: Revive Old Posts allows you to integrate with Google Analytics to help you better monitor traffic on your socials.
Custom UTM Tags: Revive Old Posts allows you to add custom UTM tags for analytics to all social media shares.
Pricing
Revive Old Posts offers three different pricing plans that include:
Personal: The personal plan will cost you $88.5 per year, allowing you to manage a single website.
Business: The business package from Revive Old Posts can be used for up to three websites for $175.82 per year.
Marketer: The marketer plan is the ultimate offering that allows you to support up to 100 websites for a price of $352.82 per year.
A contact form is a must-have for every website, and this becomes even more important when your intent is marketing. WPForms is one of the best WordPress marketing plugins for marketers you need to create amazing contact forms.
The intuitive drag-and-drop builder makes connecting with customers and driving engagement much easier. WPForms is also mobile-friendly and highly responsive, helping you insert contact forms on pages and posts of your website. In addition, you can also use the plugin to create customized user registration surveys, polls, forms, and more.
Key Features
Mobile-Friendliness: WPForms is fully responsive for different devices, including mobiles, desktops, and tablets.
Drag and Drop Form Builder: WPForms makes it easier to create amazing forms in just a couple of minutes without writing any code.
Smart Conditional Logic: WPForms allows users to create highly performant forms with the unique smart conditional logic feature.
Instant Notifications: WPForms allows you to respond to leads promptly with the instant notification feature from the plugin.
Pricing
WPForms offers users four different pricing packages to choose from. These packages include;
Basic: The basic plan will cost you $39.50 per year, giving you access to all important tools for building your online form.
Plus: The Plus plan costs $99.50 per year, best suited for businesses striving to do more.
Pro: Pro pricing plan is the best as it has all you need to build an ideal form at a price of just $199.50 per year.
Elite: The elite plan is explicitly curated for smart business owners and is available for just $299.50 per year.

Contact Form 7 is one of the marketers' most popular and oldest WordPress marketing plugins. The plugin is equipped with different features and functionalities that help you create complex and appealing contact forms.
As a result, you can feature attention-grabbing contact forms for your website and enhance conversion rates. Reasons such as this make Contact Form 7 the most downloaded WordPress plugin of all time.
Key Features
Documentation: You need not be a tech-savvy expert to reap the benefits of Contact Form 7. The plugin will provide you with ample documentation to help you get started and get the most out of its features.
Extensibility: Contact Form 7 is highly extensible and open-source, so it becomes very easy to create your own add-ons and extend the plugin's capability.
Messages Tab: Contact Form 7 has a tab dedicated to messages, allowing you to change the default settings of messages your visitors see.
Demo Forms: Contact Form 7 comes with a demo form to help you get started with a reference and create the ideal form for your WordPress website.
Pricing
Contact Form 7 is a free WordPress marketing plugin for marketers and businesses. Thus, you need not pay any charge for reaping the plugin's benefits.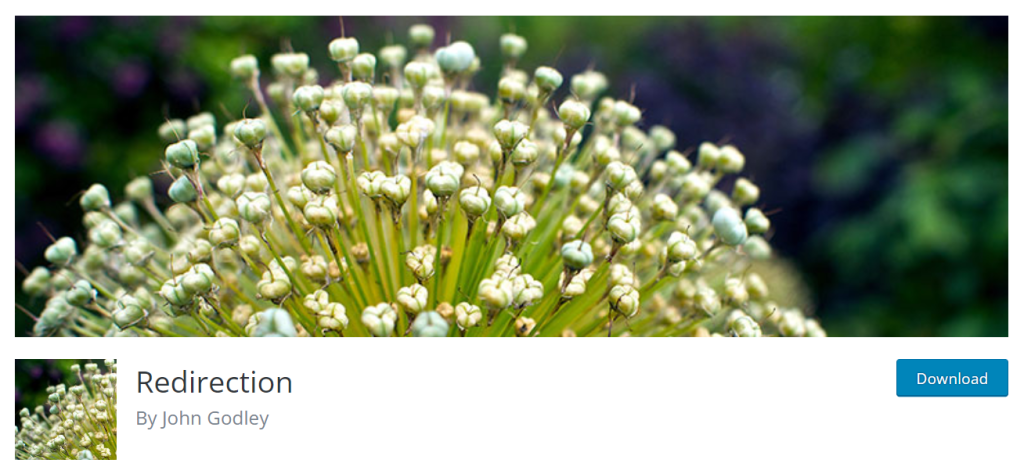 Redirection is one of the best redirect managers for WordPress. The WordPress plugin is ideally designed to help you track all 404 errors, manage 301 redirections, and fix other loose ends. Consequently, Redirection makes removing errors much easier and enhances your website's overall ranking.
No matter the size of your website, everyone can use Redirection to manage their redirects. Redirection has been there for over a decade and has proved to be a very effective tool for marketers.
Key Features:
Full Lodging: Redirection allows you to view every single redirect on your website. It also includes information about the browser used, the visitor, and even the referrer.
Tracking 404 Errors: Redirection will ensure that you have a track of every single 404 on your website. As a result, you can quickly detect and fix issues before they cause further damage.
Conditional Redirect: Redirection allows you to set conditions for users who have logged out or used the website on mobile devices. Thus, redirection becomes much simpler this way.
Simple User Interface: Redirection allows you to create and manage redirects in no time. You do not need prior knowledge of Apache or Nginx to use the plugin.
Pricing
Redirection is absolutely free, and there is no premium version of the plugin. Thus, you need not pay to access the features of Redirection.

Scheduling and managing your content on Editorial Calendar can be a huge challenge for anyone. Thus, the Editorial Calendar plugin for marketers can be a very effective tool for content managers on WordPress. The plugin will give you an extensive overview of all your content with information about the publishing schedule of every content.
Additionally, Editorial Calendar has a very user-friendly interface that makes it much easier to manage the content. You can even collaborate with other editors on a single interface with Editorial Calendar.
Key Features
Translation: The Editorial Calendar plugin can be translated into your language to facilitate ease of use.
Quick Edits: Editorial Calendar allows users to make quick edits to content, post titles, and times.
Post Overview: The Editorial Calendar plugin will give you an overview of your posts.
Pricing
Editorial Calendar WordPress plugin is made available to users without any charges. So you can use this plugin for absolutely free.

Pretty Links is another WordPress plugin you need to automatically generate amplified affiliate revenue from new and existing content. The plugin will help you add your affiliate links to WordPress one time and also place them strategically throughout the content.
As a result, you need not manually manage your affiliate links and save time and money. Consequently, it becomes much easier to simplify your affiliate marketing and drive results while enhancing your business' reach.
Key Features
Seamless Link Creation: Managing your links is difficult unless you use Pretty Links. The plugin makes it much easier to cloak, shorten, share and track all your links.
Multi-Tool For URL Redirection: Pretty Links allows you to redirect your links in many different ways. Thus, you can easily find advanced forms of redirection to suit your requirements.
Better Control Over Links: Pretty Links provides a centralized interface to manage all your links easily. Be it your affiliate links or social media links; all are managed from your admin interface.
Automation: Pretty Links lets you put your marketing efforts on an auto-pilot mode. As a result, you can save more time and focus on growing your online presence without hassle.
Pricing
Pretty Links comes with three different pricing plans for you to choose from. These plans include:
Beginner: As the name suggests, the beginner plan best suits people getting started with a single website. The charge for this plan is $79 per year.
Marketer: The next plan is the marketer plan best suited for marketers who need an effective strategy and tool to manage their links. The price of this plan is $99 per year.
Super Affiliate: The final plan will cost you $149 per year and is best suited for marketers seeking to generate significant results with minimal effort.
Wrapping Up
When used effectively, WordPress can transform the face of your website and help you scale your business with minimal effort. But to use WordPress to its full potential, you need effective plugins to help you drive better results. So before you hire dedicated developer in India, get the WordPress plugin that best serves your requirements.
Author Bio:
Jigar Agrawal is Digital Marketing Manager at eSparkBiz. He is passionate about anything related to Digital Marketing. Wants to unlock the world of technology and Social Media where every day there is a chance of new possibilities as well as innovation.