There are dozens of WordPress Frameworks available in the market, and over time, these theme frameworks have seen a lot of growth. Some of them are free; some are paid, while some of these frameworks might be familiar to you; others will likely be new.
In this article, I am going to discuss the 12 Best WordPress Theme Framework of 2020. Also, give you the best choice from them. So, enjoy the rest.
Before getting to the frameworks, let's start with a quick explanation of what they are, the advantages and disadvantages.
Read also: 9 Best WordPress CDN Plugin to Speed Up Your Site with How to Setup Guide.
What Is WordPress Theme Framework?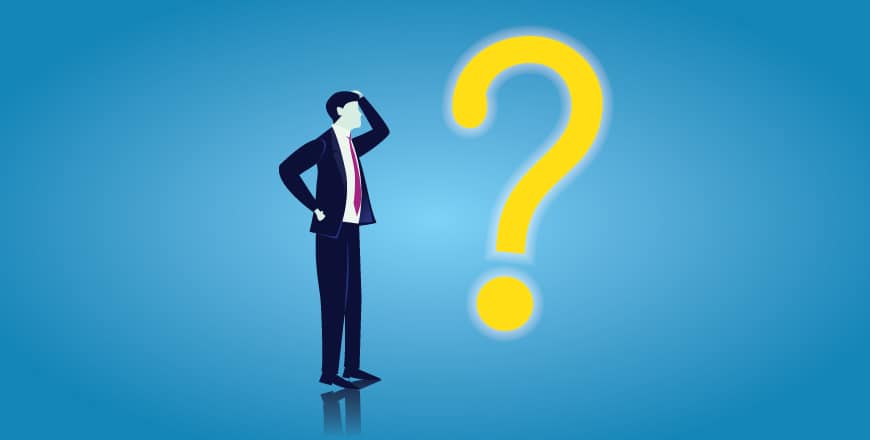 WordPress theme frameworks are the foundation of any WordPress theme. The core code has been contained by the framework itself to cover the elements as well as the features and functionalities of the theme.
You can apply new features and design elements to create a theme or product with the framework. WordPress theme frameworks can be categorized into two types; They are in-house frameworks, like the ones known as TeslaThemes and then frameworks as the foundation of projects like Genesis Framework, which range from free to paid.
You can quickly develop a wide variety of free and commercial themes built upon a specific framework. For example, with Genesis, you can purchase the framework on its own and then either develop your own custom child theme design or build a free or commercial Genesis child theme.
Why Do You Actually Use a Theme Framework?
Community: Most of the popular theme frameworks have a huge community base behind it. Therefore, it will give you every critical and support related question answered in no time.
Ease of development: Using a theme framework can dramatically reduce the development time for you and this can make things easier over the long run without suffering.
Built-in functionality: Each and every theme frameworks come with a plenty of built-in widgets, and additional functionality. That will definitely help you to build any theme.
Speedy web development: WordPress theme framework helps you for speedy web development. Once you have the functionality in place with the specific framework, all that's left to do is to create the design, that's it!
Code Quality: Theme framework follows the best practice of coding. It is well reviewed, so you need not to think about the code quality.
Upgrades: The ability to upgrade without losing any styling functionality of child themes is a plus point. This is why the theme framework is best to use.
What are the disadvantages of WordPress Framework?
Everything has its right side and wrong side. Although we are talking about a bunch of WordPress theme frameworks and its need, we can't ignore disadvantages at all. At least it is required to know before using any of them.
Let's take a look.
Learning Curve: Each and every framework has its own learning curve. To utilize the full power of the context, you must get familiar with the framework-specific lingo.
Unnecessary Code: You might get disturbed by the redundant code because Frameworks come with tons of built-in functionality, which you may not use every time.
Framework Limitations: Frameworks have limitations, and it is quite usual. Sometimes to achieve super customizations, you might have to override core files.
Price: Most theme frameworks are not free. You have to pay a certain amount to get a theme framework.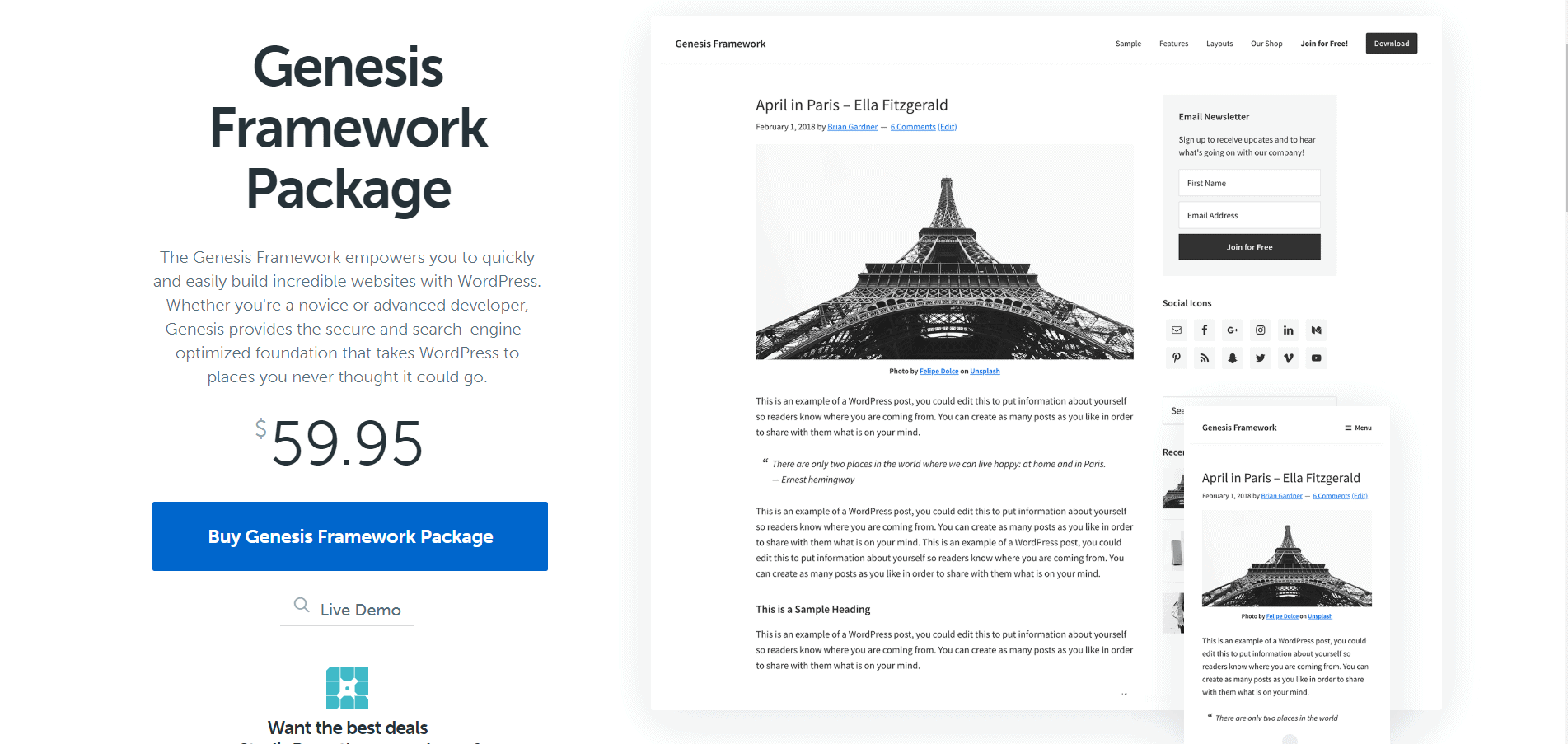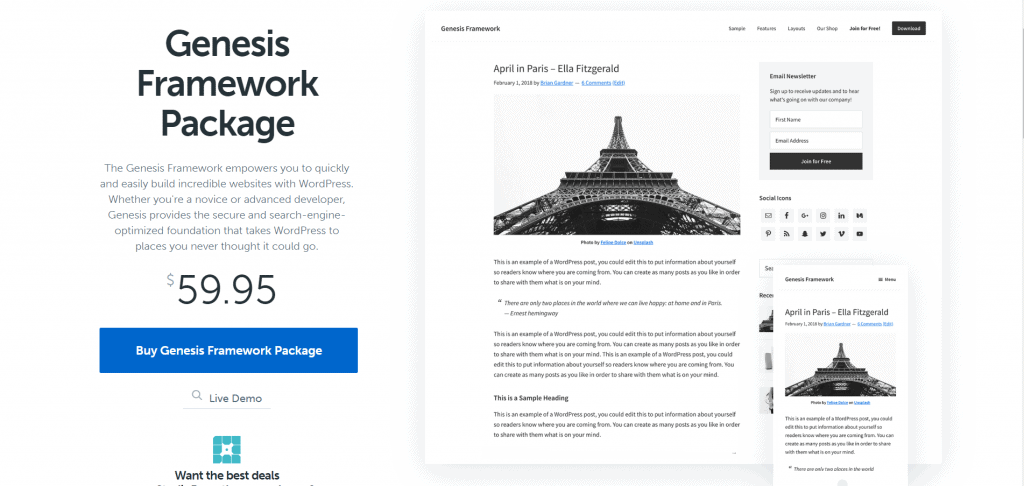 Genesis framework is the most famous and one of the most used WordPress theme frameworks of recent times. Even if you are less familiar with WordPress, you probably heard about Genesis. Altogether it's a theme-customized, highly secure, SEO friendly framework that offers a robust and reliable environment for developers.
It's a child theme based framework. Along with the great themes, the Genesis framework has a fanatics interface as well. With unlimited updates, a well-documented support system, tons of fantastic child themes, and well-optimized modern code, Genesis undoubtedly is the first choice on this list.
Get all of the extensive features like tons of child themes for a one-time payment of $59.95.
Key Features of Genesis
Search engine optimized
Delivers responsive turnkey designs
Unlimited everything
Gutenberg ready
Theme customizer
Highly security
Update your site instantly
Featured content widgets
Custom page templates
Easy customization without sacrificing speed
Custom widgets & layout options
Support from trusted developers
One-click theme setup
Pricing of Genesis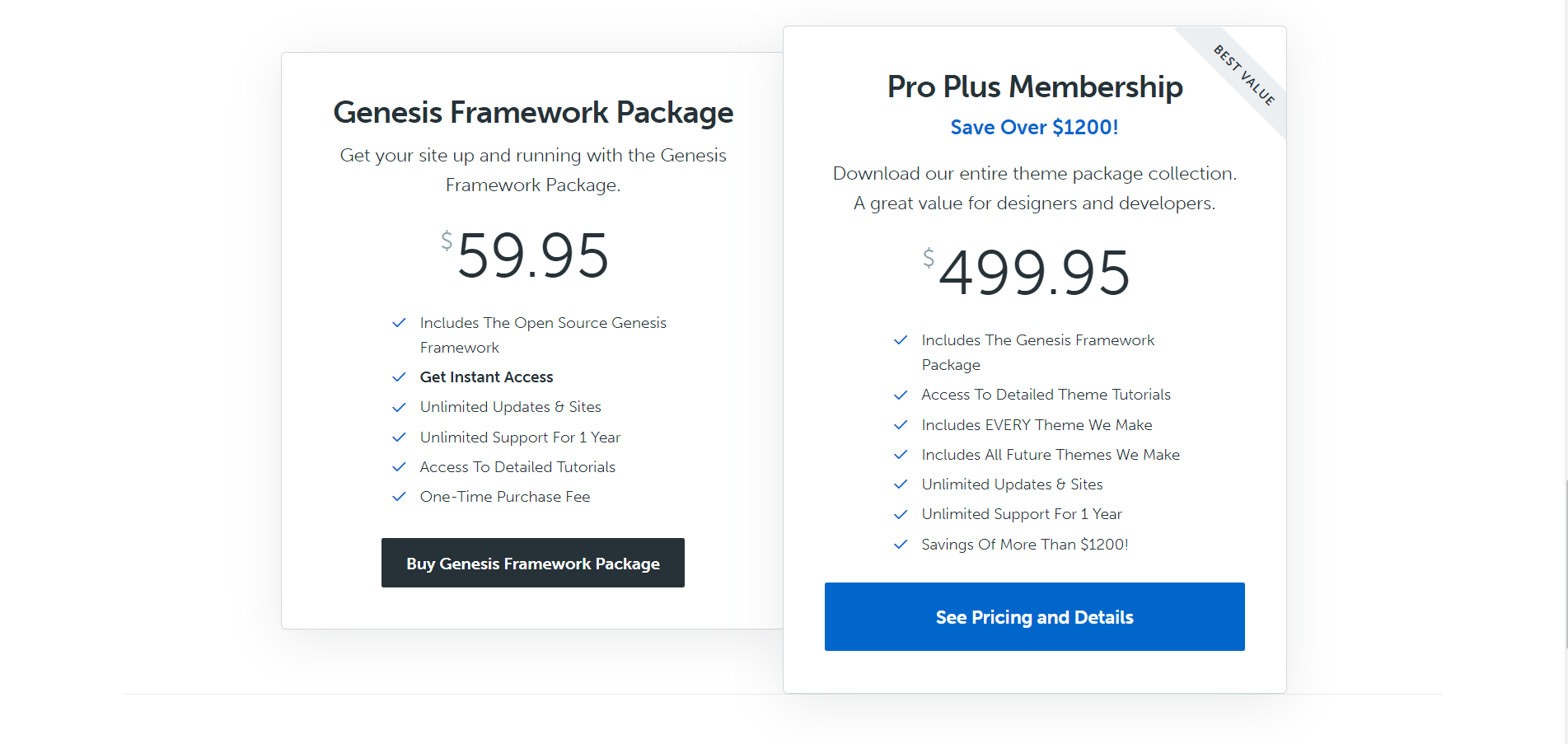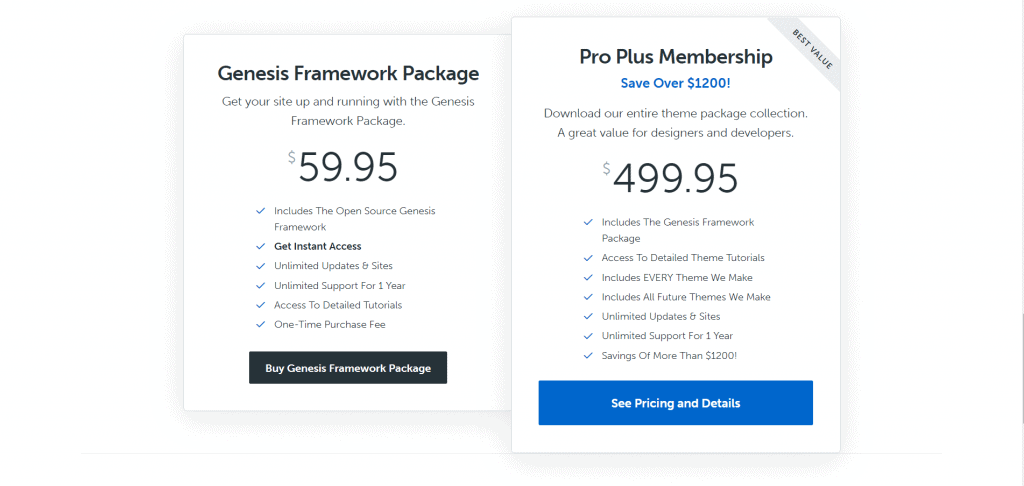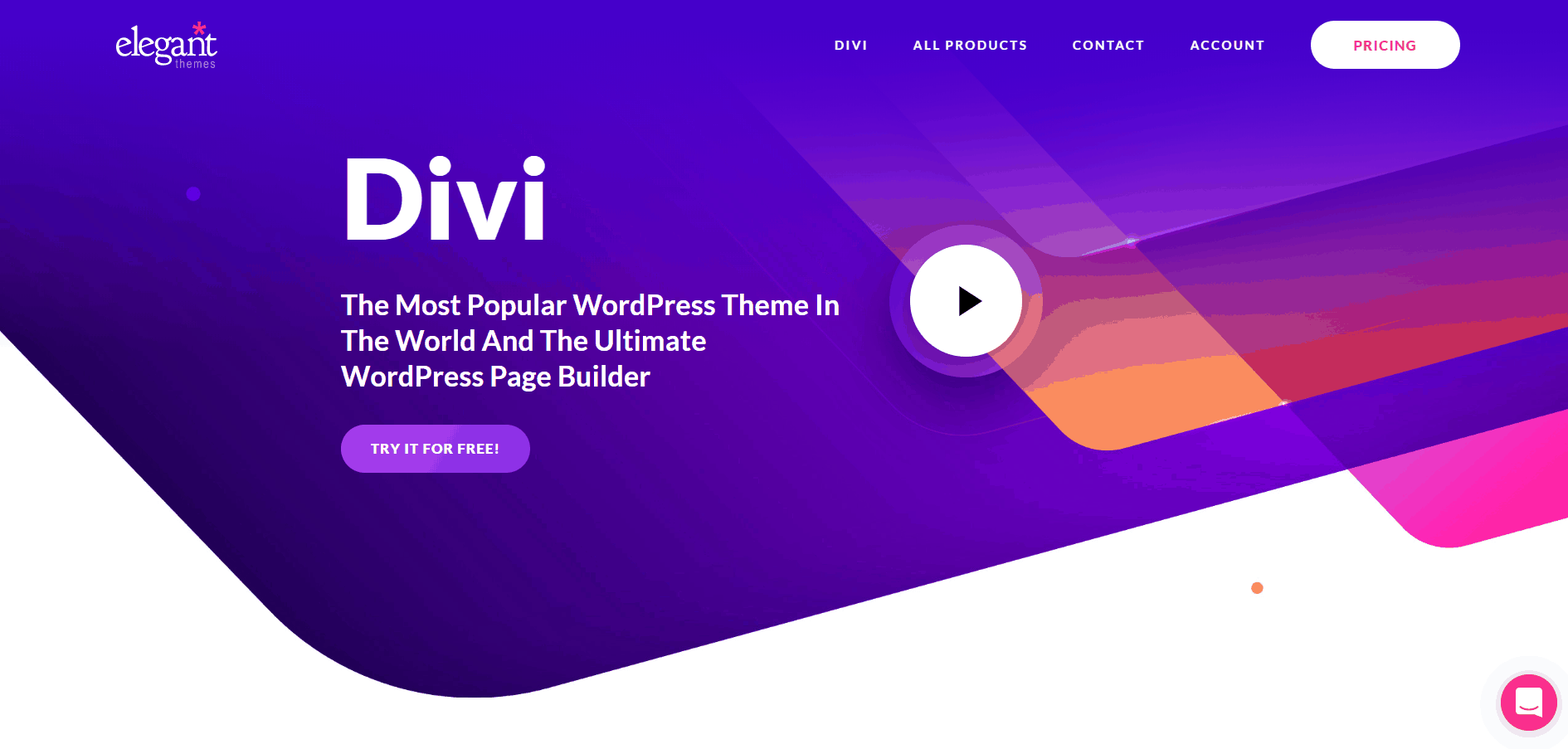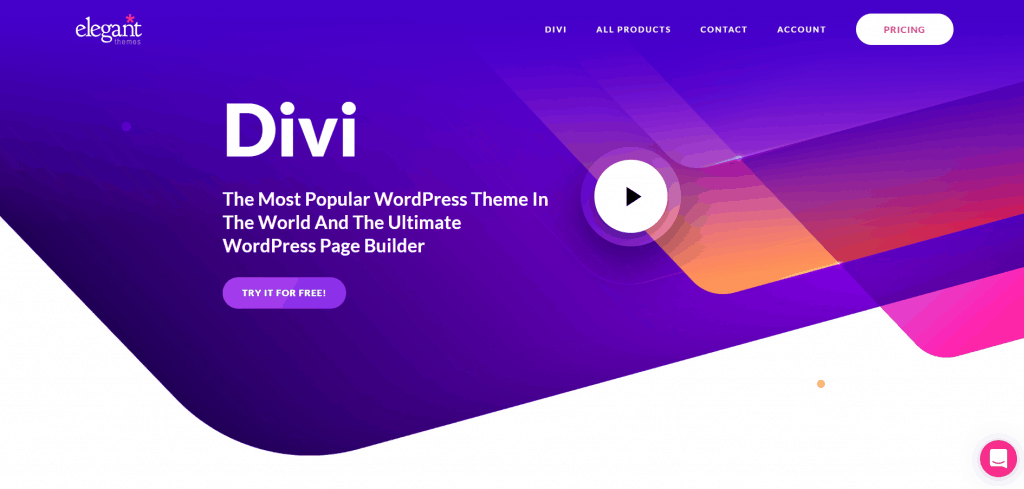 Divi by Elegant Themes is the multipurpose WordPress theme framework that is made with commercial use in mind. It's a feature-rich and highly functional drag-and-drop page builder tool with an impressive collection of pre-built page templates or child themes.
Create any kind custom website designs with Divi's code-free experience, no matter your level of development experience. Divi Theme is powered by the fantastic drag-and-drop Divi Page Builder with a huge list of modules you can use to create your site.
However, members have to pay $89 per year to enjoy all these features with unlimited websites.
Key Features of Divi
Drag & Drop Building
True Visual Editing
40+ Website Elements
800+ Pre-made Designs
100+ Full Website Packs
Custom CSS Control
Responsive Editing
Design Options Galore
Save & Manage Your Designs
Global Elements & Styles
Undo, Redo, & Revisions
Complete Design Control
Translated Into 32 Languages
Access 100's of Divi Extensions
Drag & Drop Uploading
Quick Access To Element Styling
Built in Split Testing and Powerful Conversion Insights
Build and Sell Stunning Products
User Roles, Theme Options & Website Support
Pricing of Divi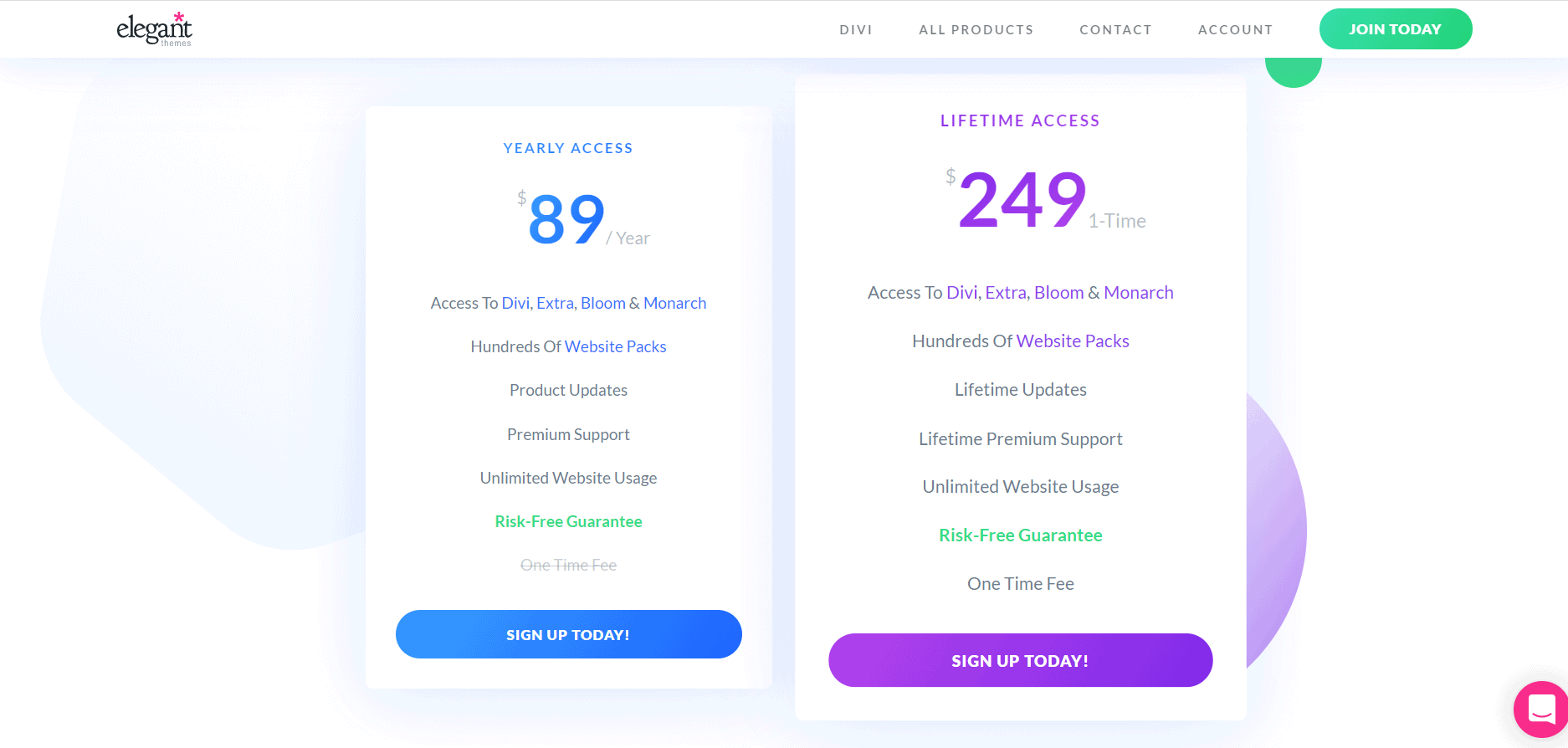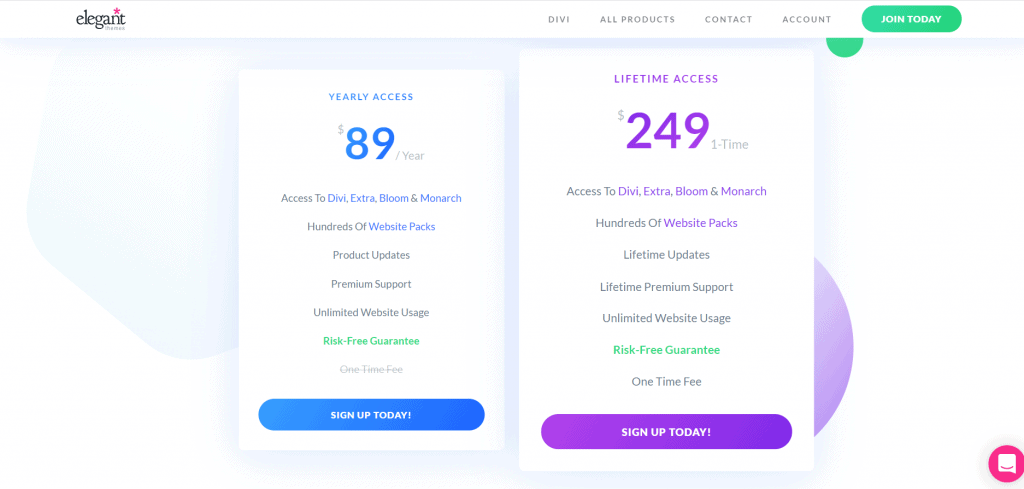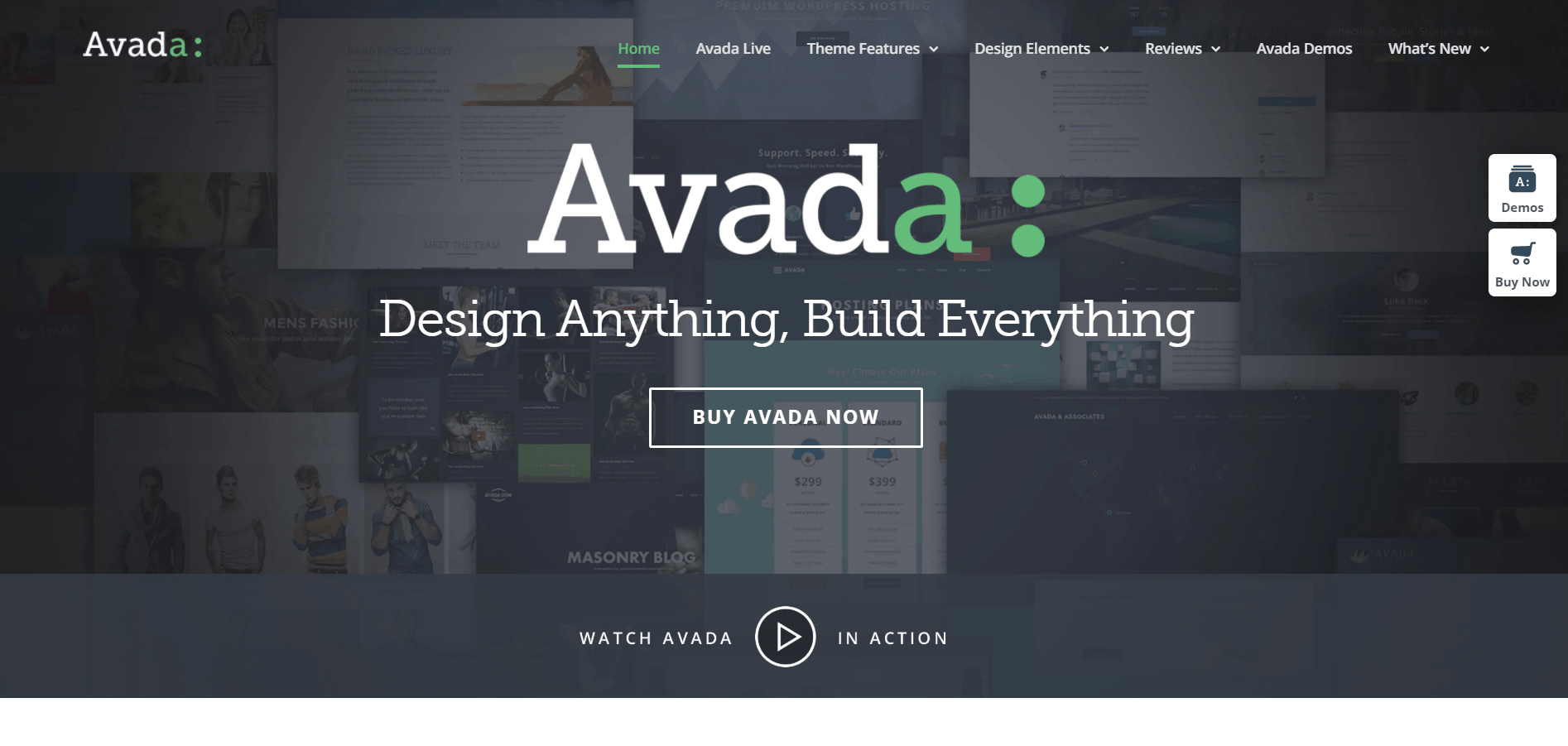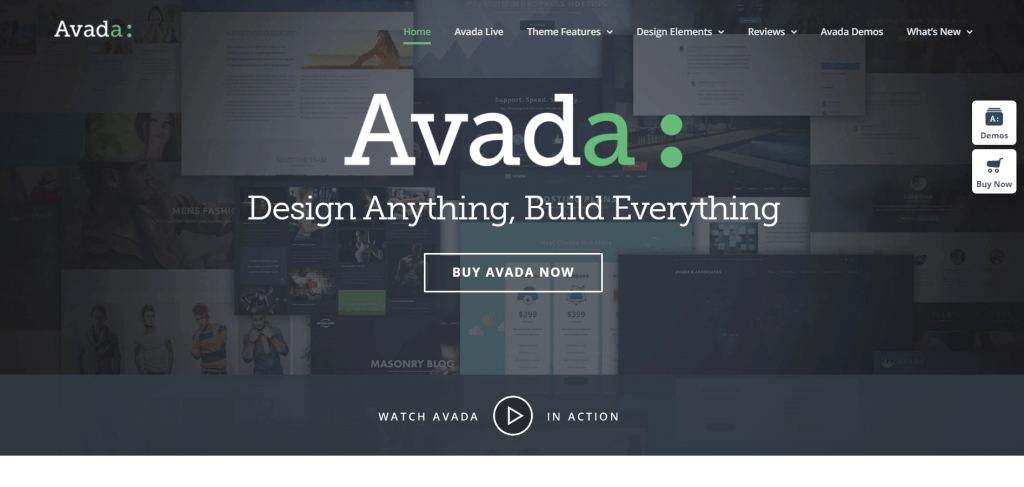 Avada; the Swiss Army knife of WordPress themes with over 200,000 sales. This is the top-selling theme of all time in ThemeForest so far. Avada will perfectly fit into any kind of business, no matter what type of theme design you wish to create and what kind of niche you are in.
With fusion builder live editor, unlimited design, and theme option, Avada gives you hope that you can create amazing, complex WordPress websites without knowing how to code. Just choose any design of your choice and apply your own customization, that's it.
Get all the quality features with updates only at $60.
Key Features of Avada
Fusion Builder Live Editor
Advanced Options Network
Professional Avada Demos
Beautifully designed Custom Widgets
Avada Third Party Integration
Mobile Responsive
Multiple Premium Slider Options
Intuitive Fusion Builder Live
Fusion Mega Menu
Popular Plugin Design Integration
WooCommerce Compatible
Unlimited Color & Styling Options
Advanced Portfolio Layout Options
Advanced Blog Layout Options
Custom Page Templates & Page Options Included
Avada is Multilingual/RTL Ready!
Includes 30+ languages
Built-In Contact Form
Pricing of Avada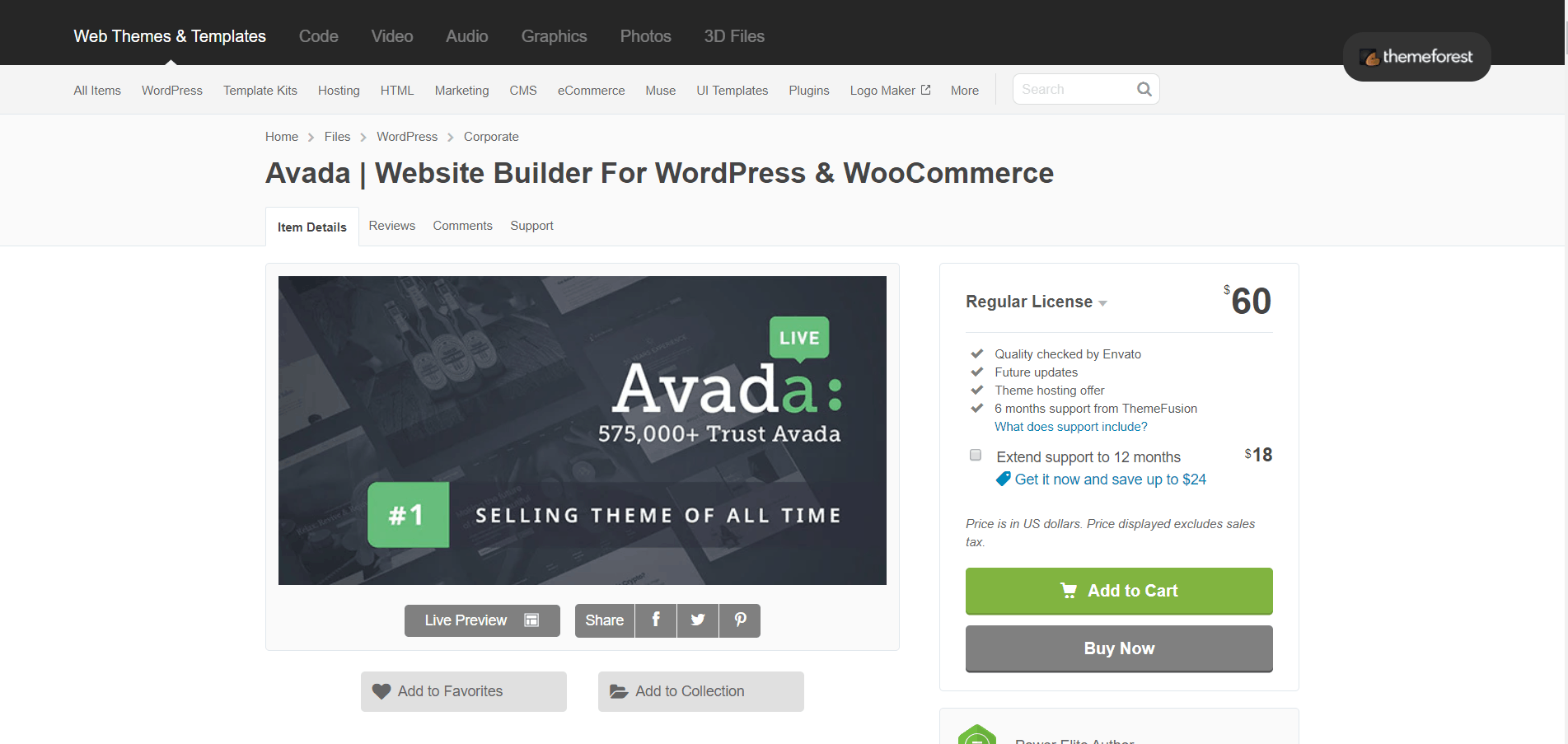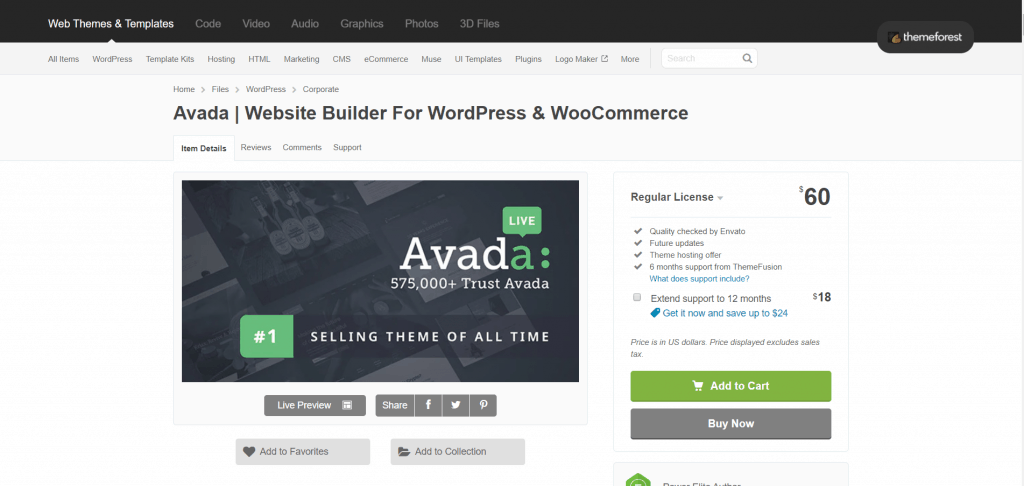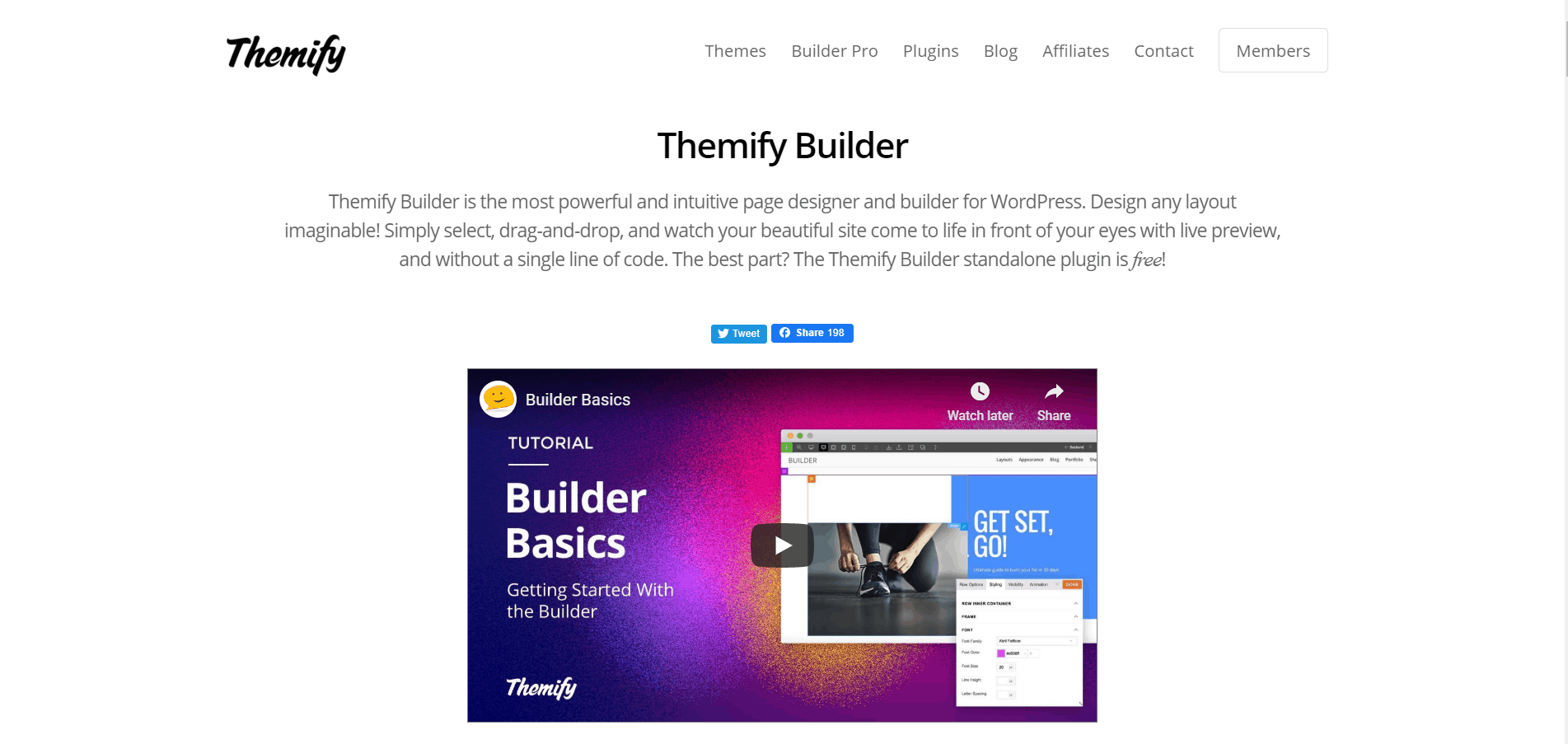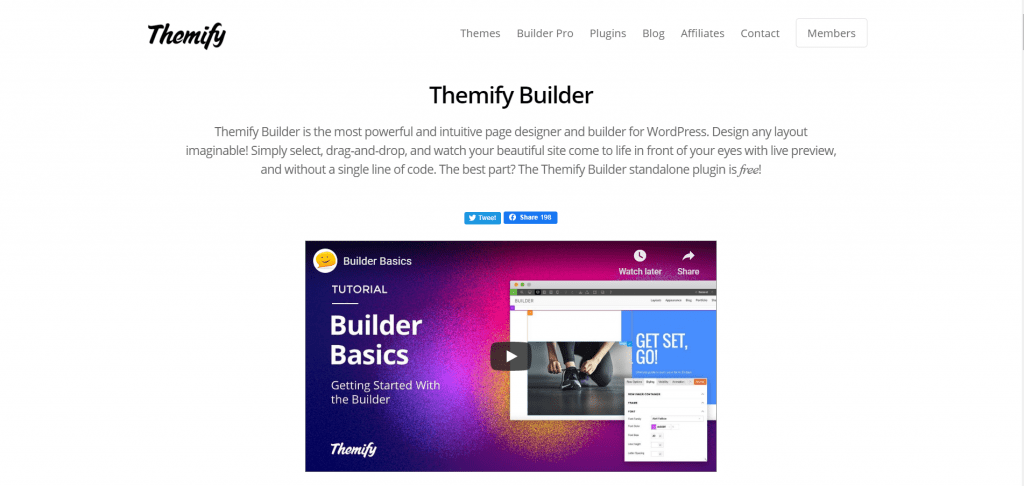 Themify theme framework comes with the popular Themify Builder to power up any theme design for WordPress. You can simply create custom page layouts, and customize them with a range of page elements and modules, all through a drag-and-drop interface.
Webmasters can build their entire website from the front-end, which lets them see the design changes as they happen. Apply galleries, sliders, maps, widgets, and many more design elements, including third-party plugin widgets like WidgetKit.
Access to all of their current themes of Themify is just $89.
Key Features of Themify
Drag & Drop Builder
Styling Panel
Much more Widgets
Shortcode Option
Auto Theme Updates
Logo Image Option
Custom CSS
SEO Optimized.
Custom Styling.
Social Icons.
WPML Compatibility
WooCommerce support
Multisite support
Over 600+ Google Web Fonts
Pricing of Themify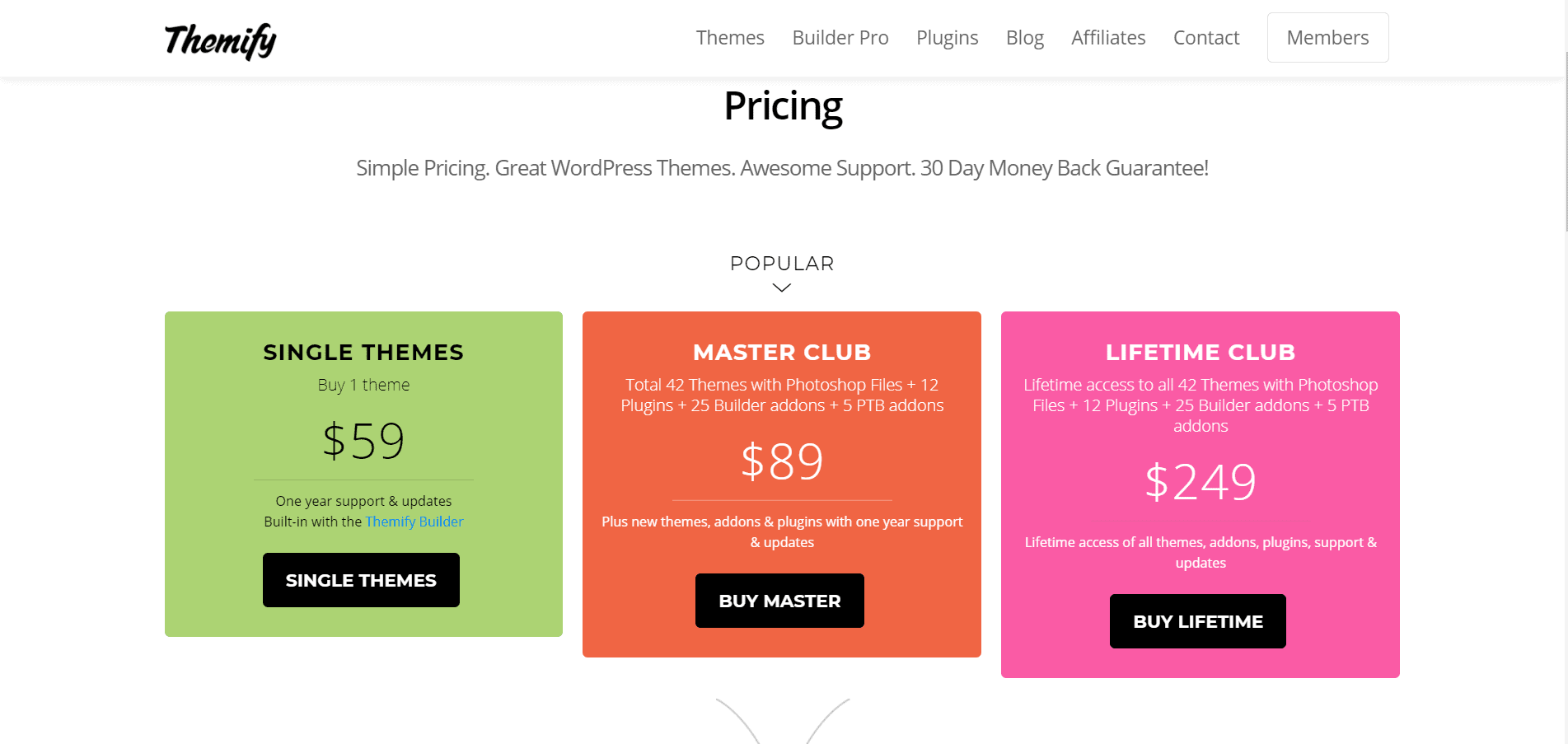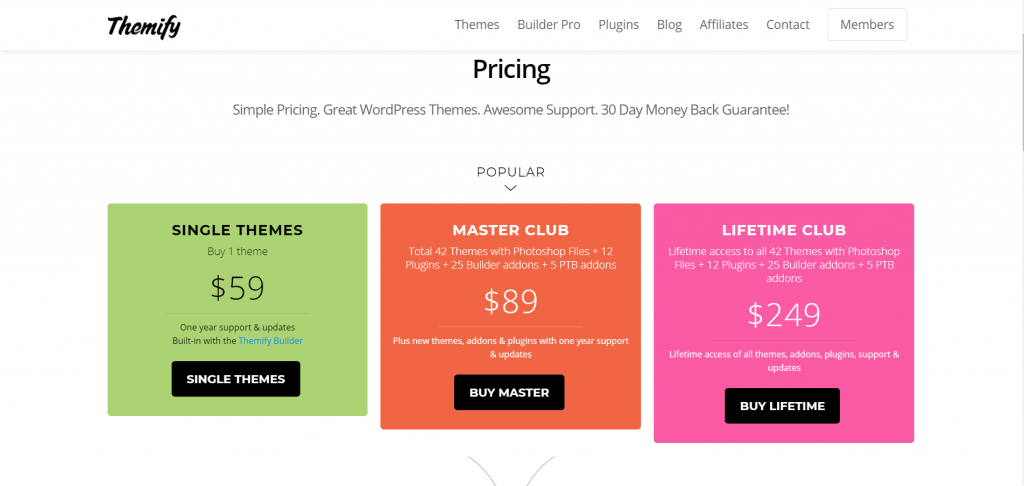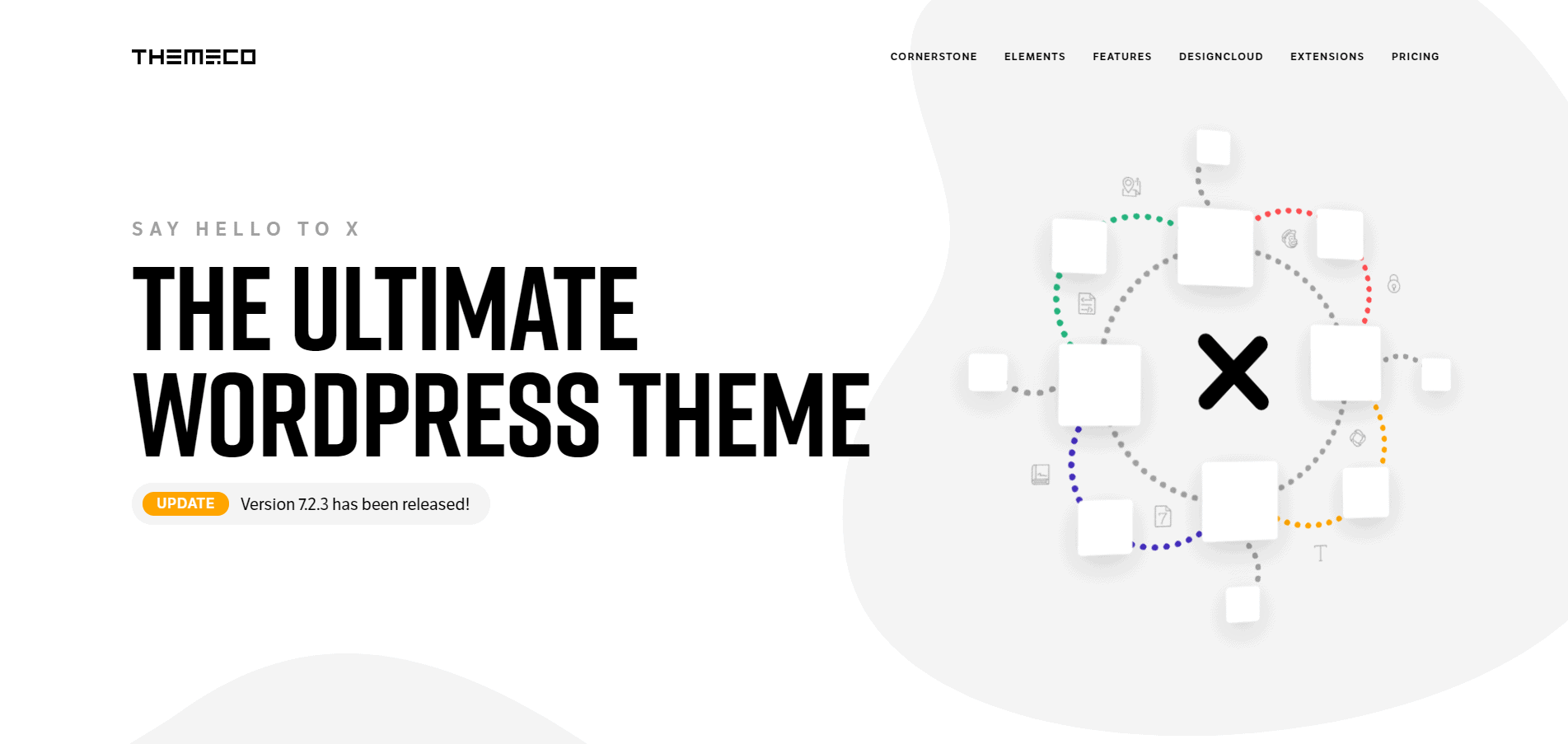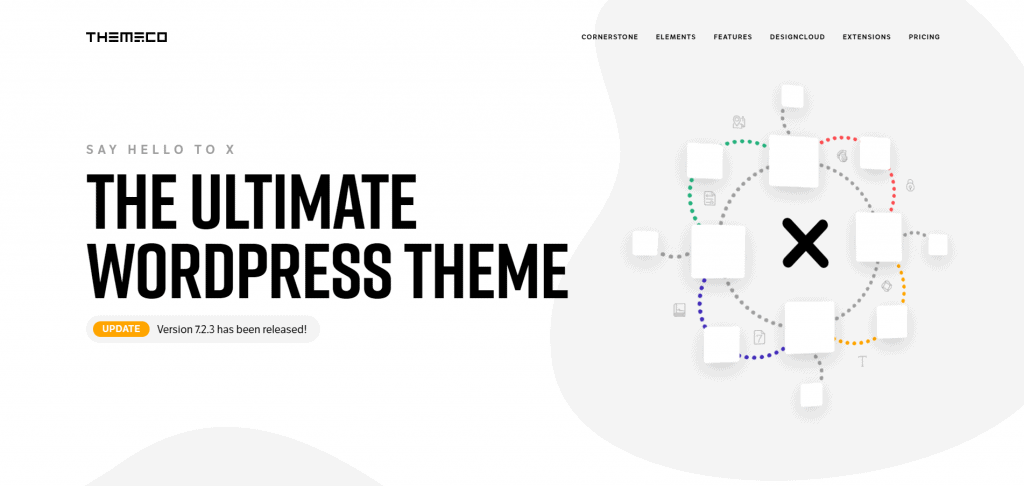 X Theme the ultimate and one of the most popular WordPress themes in the market by Themeco. It is incredibly flexible; therefore, you can design any kind of website you wish to. WIth extensive premium features, it is packed with tons of ready to be used designs.
More or less X theme offers you two different page builders to choose from; the Visual Builder and the Cornerstone builder. Both theme builders are packed with some elegant design elements with cornerstone page builder integration and many included plugins.
The regular license starts from just $29.
Key Features of X Theme
It's a Customizer
One Page Homepages
Functionality via Shortcodes
eCommerce Support
Responsive Design
600 fonts included
Unlimited Styling
400 individual responsive icons
Easy Installation and Setup
Front End Page Builder Tool
Helpful Page Templates
Supports images, galleries, and video
Search Engine Optimized
Custom Widgets
Child Theme Compatible
Translation Ready
Includes Many Third Party Plugins
Pricing of X Theme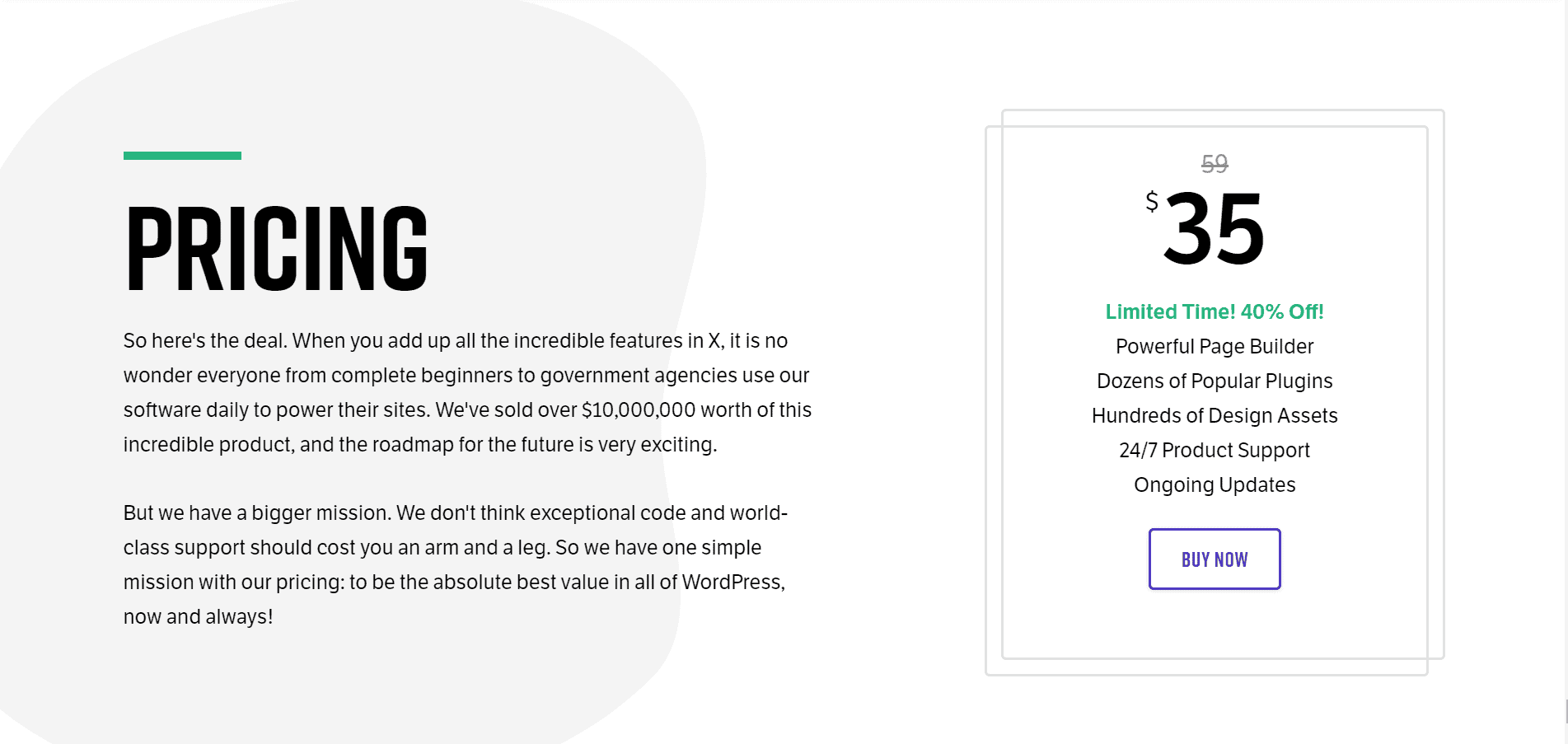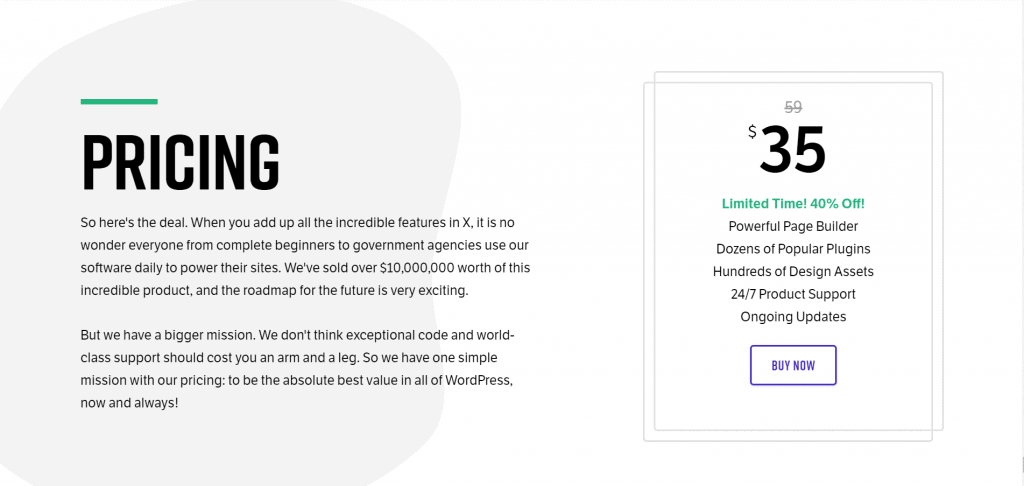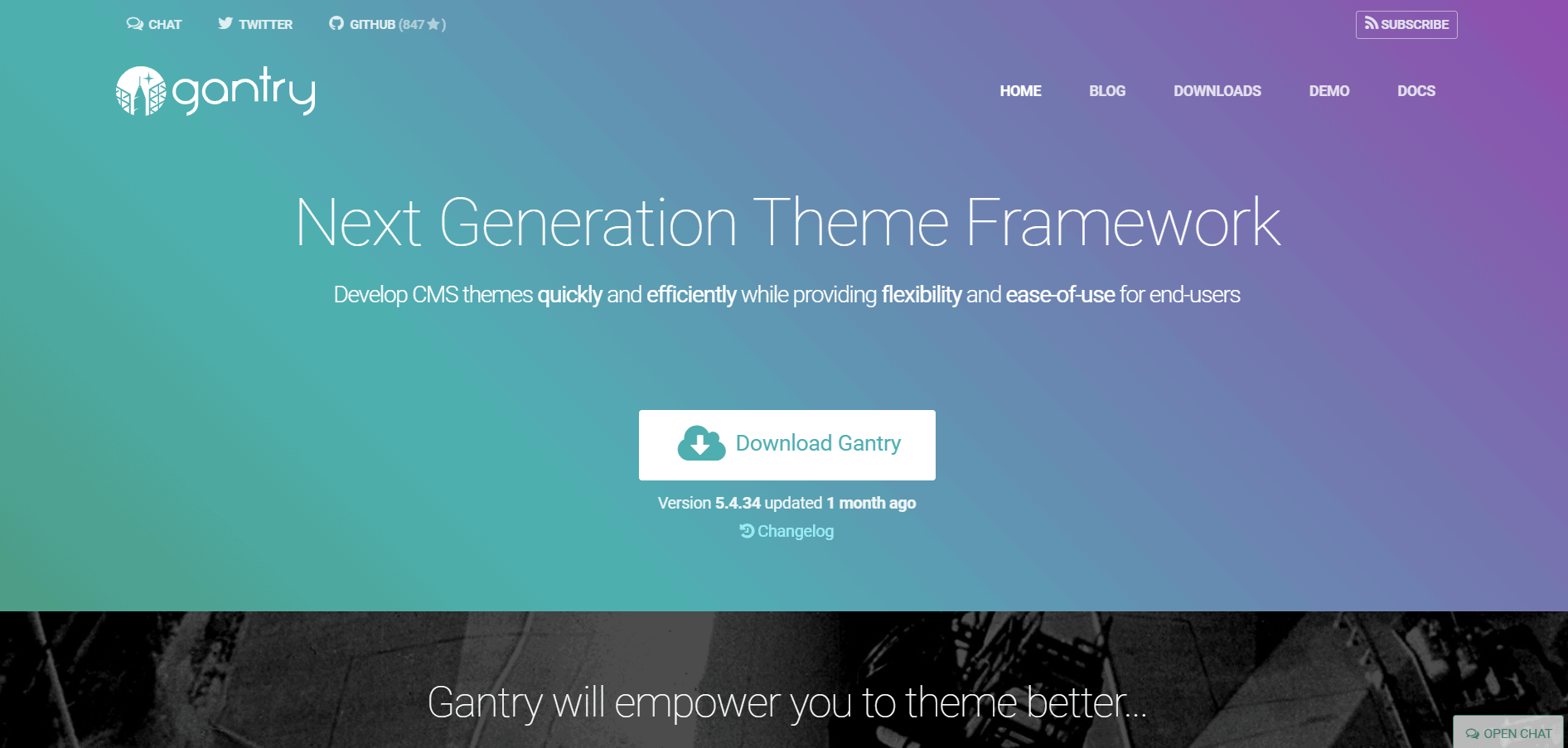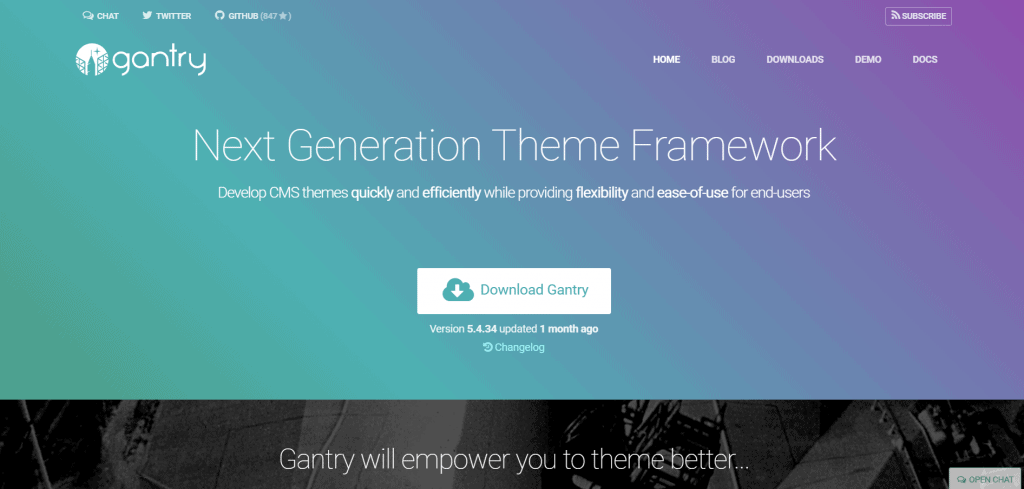 Gantry is a free and genuinely open-source framework from RocketTheme applicable for both WordPress and Joomla. Being open-source and free, Gantry has many great features, including intuitive interface and straightforward layout manager.
Gantry makes use of widgetized page layouts, where individual widgets can be dragged and dropped to your desired place. This is the most highlighted feature, along with the mega menu support for navigation. You can also use third-party widgets and customize the position on the page.
For making a user friendly, responsive layout, Gantry is the right choice for you.
Key Features of Gantry
Open Source
Responsive grid system
Joomla and WordPress Support
Stunning new administrator interface
Easy to configure, customize, and extend.
Powerful built-in fields
Per menu-item level control over any configuration parameter
Built-in extensible AJAX communication layer
RTL language support
Built-in LESS CSS compilation powered by lessphp
Flexible grid layout system for unparalleled control over block sizes
Growl-style event notification
Responsive HTML5 base template
65 base module positions
38 possible layout combinations for main body and sidebars
Advanced typography
Joomla and WordPress base styling
Joomla ACL support
Automatic per-browser-level CSS and JS control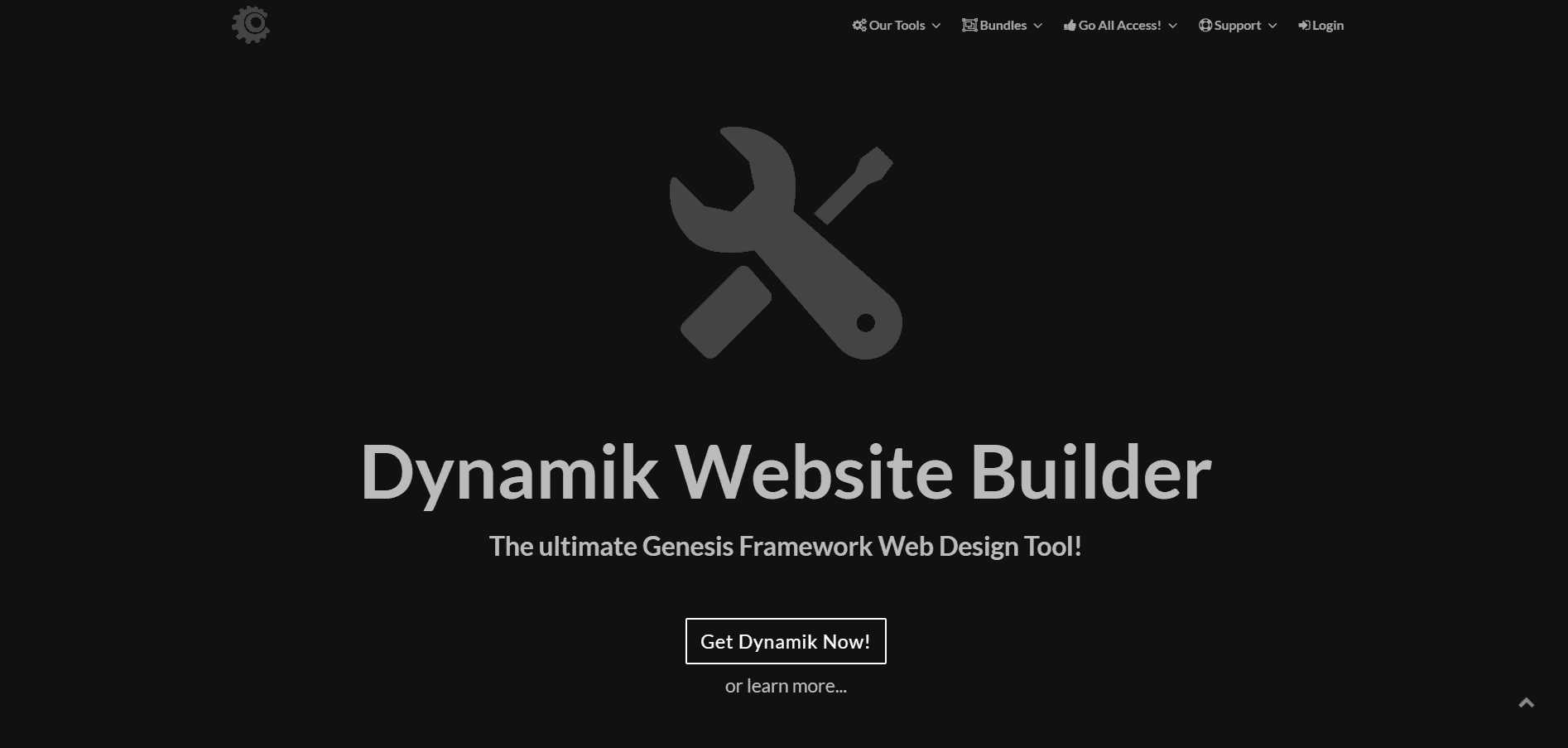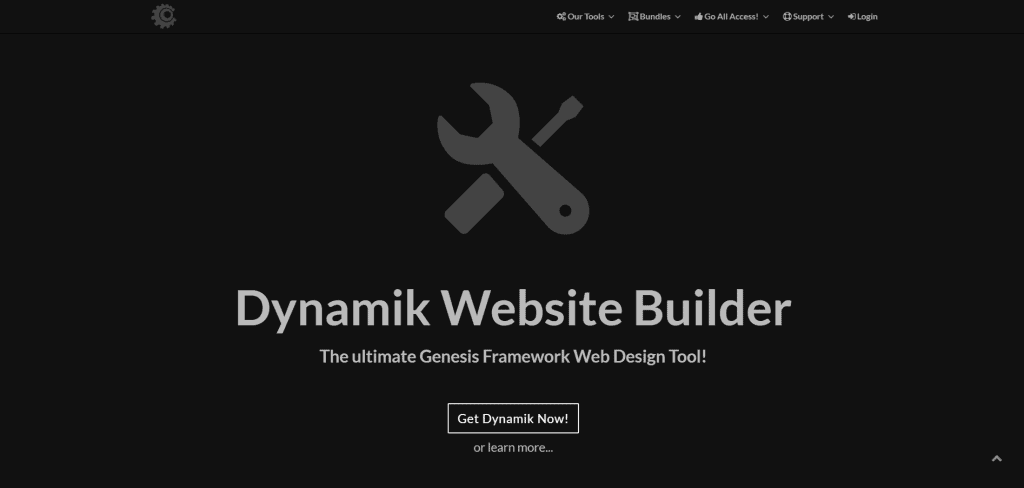 The Dynamik Website Builder is mainly a visual editor based on WordPress and the Genesis framework. If you want to create a site with Genesis and take full control of the design and layout, this is the tool you need. It's a WordPress theme framework as well as a supporting tool for Genesis.
Without writing any single line of code, you can create any layout or design for your site. Dynamik Website Builder allows you to change almost every aspect of your website's appearance to create your own custom layouts from the fonts to widgets for specific page elements.
The Dynamik price starts from just $99 with the ultimate genesis child themes.
Key Features of Dynamik Website Builder
No code required
Over 800 design options
Front end live preview
CSS editor and builder
Custom CSS generator
Optional responsive layout for multi-device compatibility
49 one-click homepage configurations
Export settings
Create snapshots for future reference
Import and export skins for sharing designs
Export your custom design as a Genesis child theme
Create conditions to show certain elements
Pricing of Dynamik Website Builder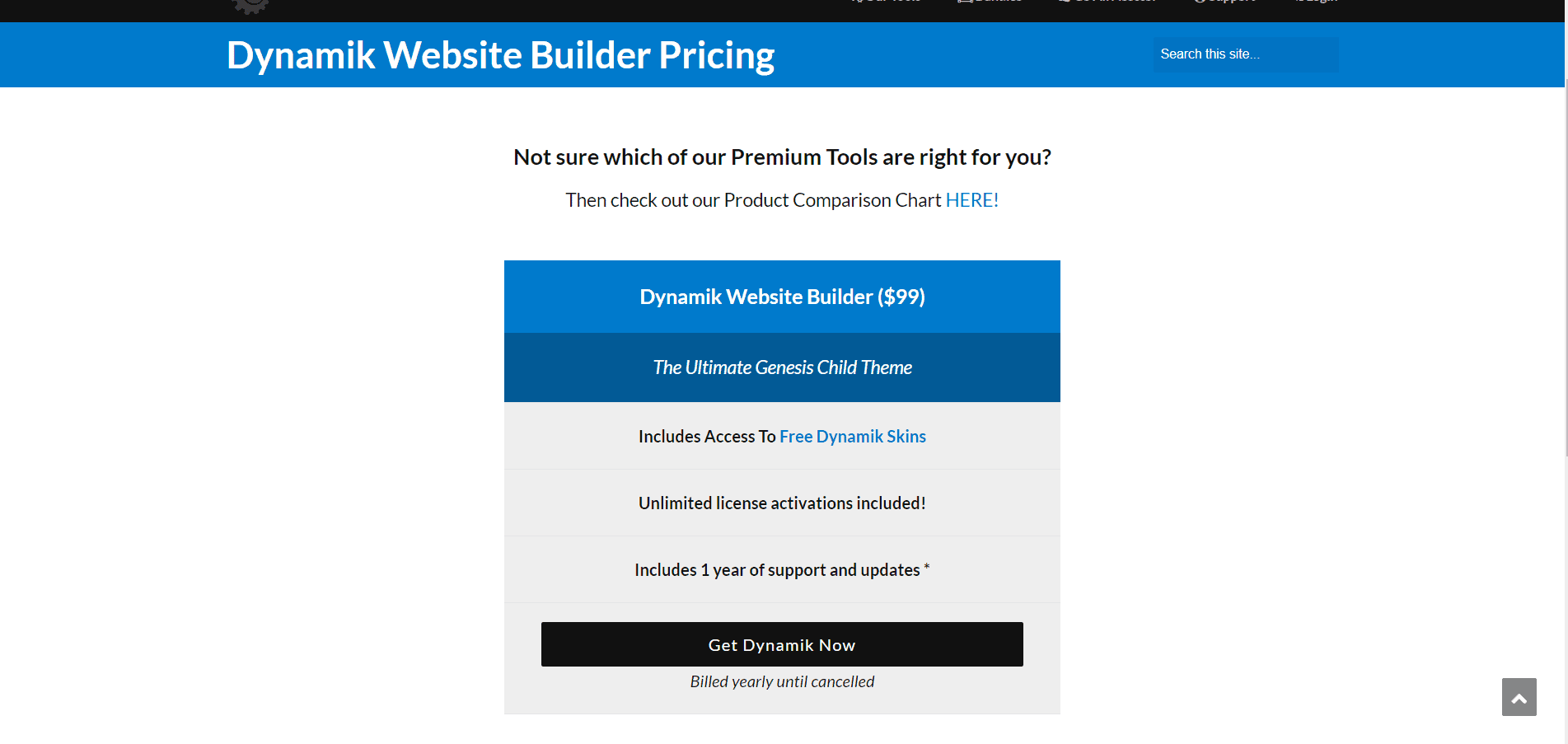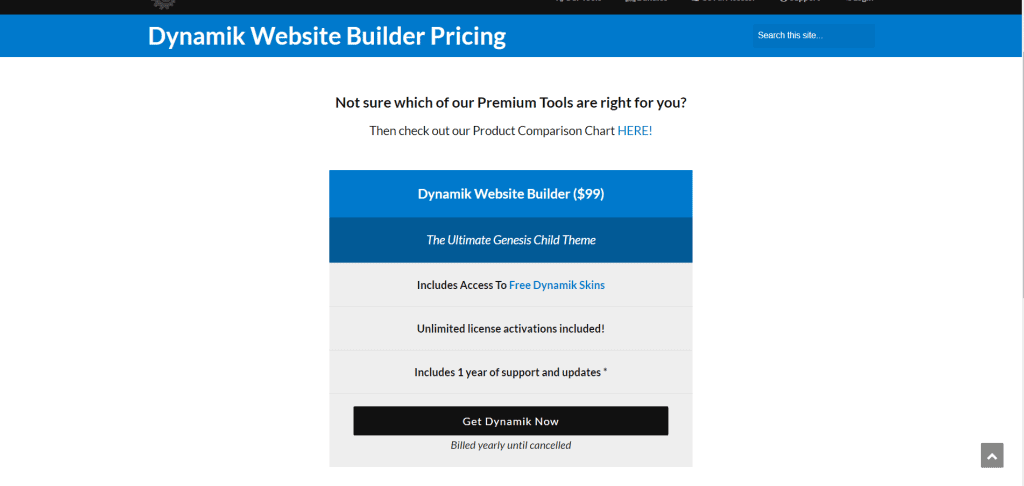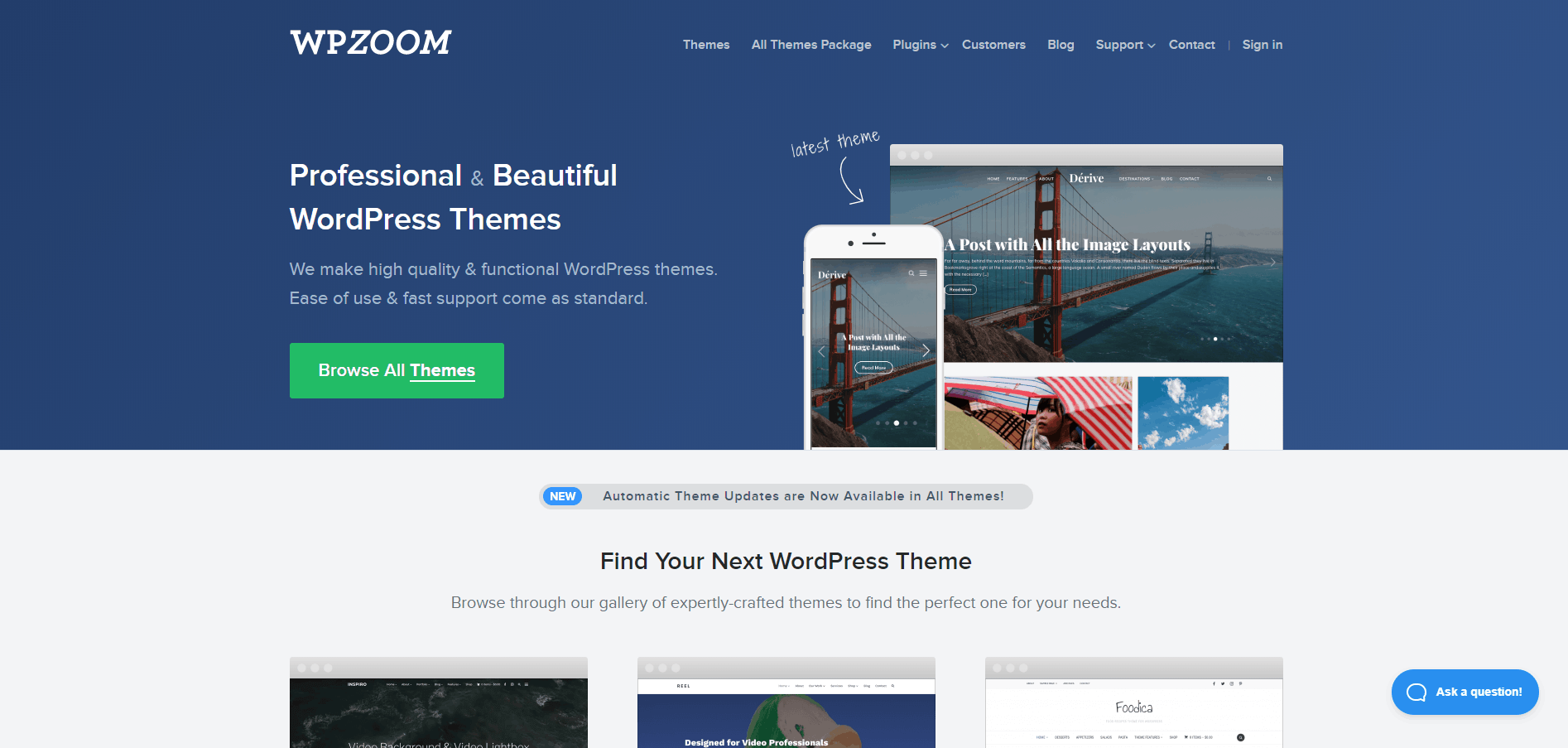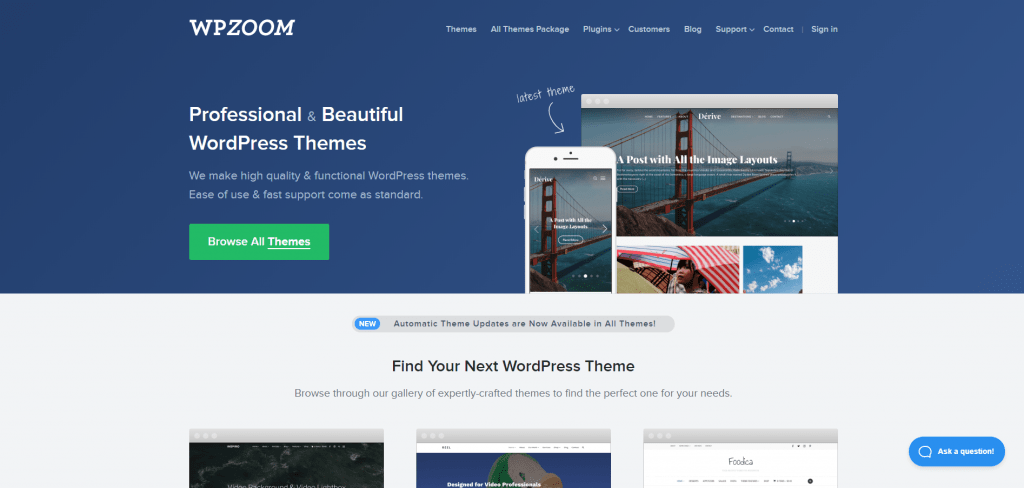 Zoom Framework by the WPZoom, an extraordinarily modern and user-friendly WordPress theme framework to use. The framework is now used to power all of the commercially available WordPress templates by the WPZoom team. You can choose a theme and complete it with the underlying structure, code, and functionality of the framework at the same time.
From color scheme, website logo, and easy one-click demo content installation, install widgets, plus includes import and export options, Zoom offers a set of options and controls to customize many aspects of your website. However, while purchasing the All Themes Package, you will also get access to over 50+ WPZoom themes.
WPZoom's theme framework offers excellent value for money. The best pricing starts from $99 per year.
Key Features of Zoom Framework
Simple & Easy Installation Process
1-Click Demo Content Importer
True Responsive Design
Live Customizer
Regular Theme Updates
Easy Customization
Logo Input
1-click Theme Updates
Translation-ready
SEO Friendly Code
Pricing of Zoom Framework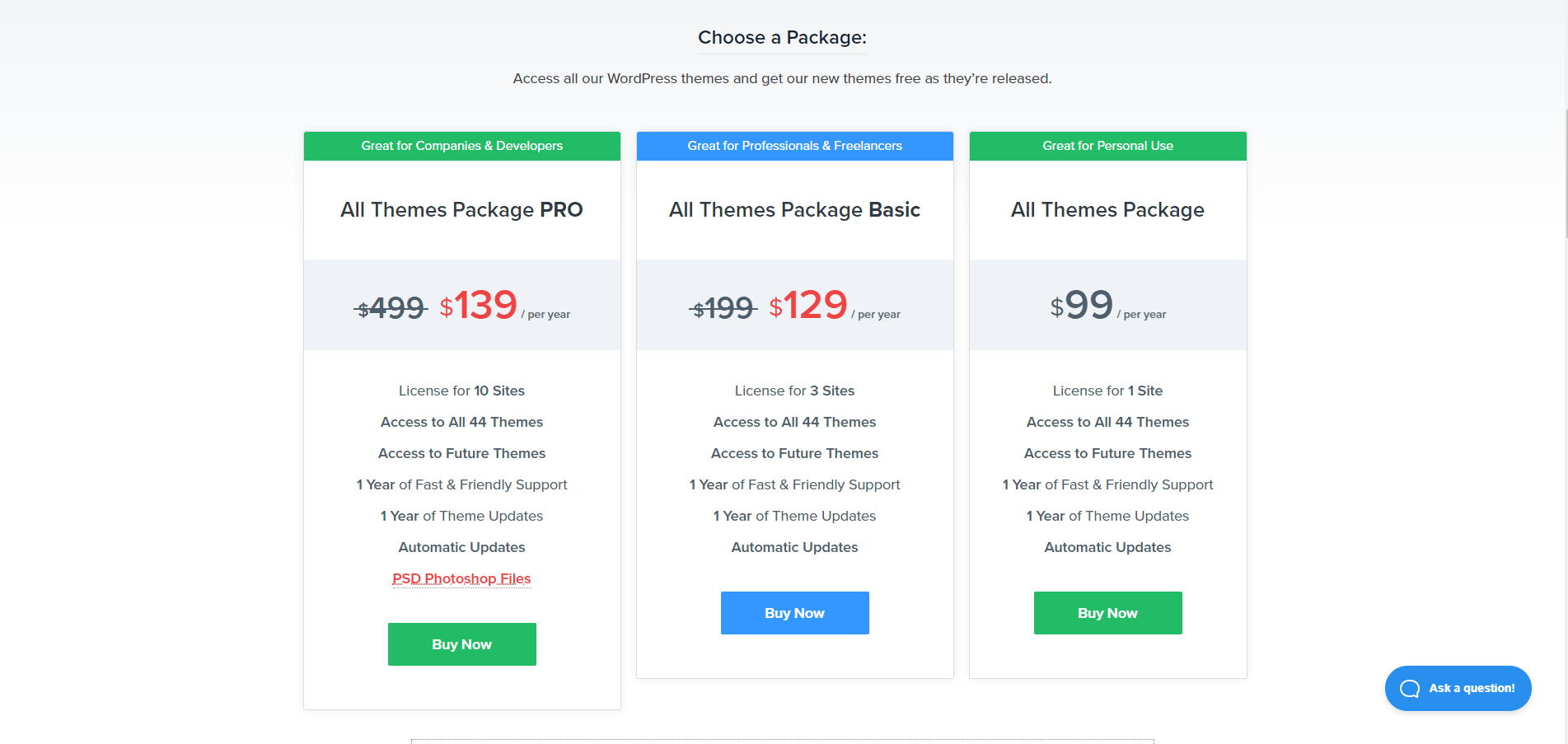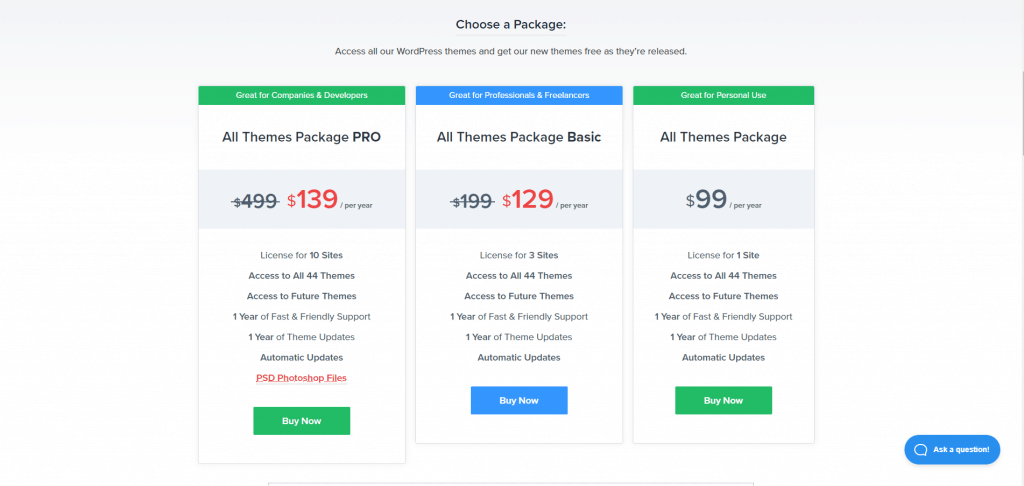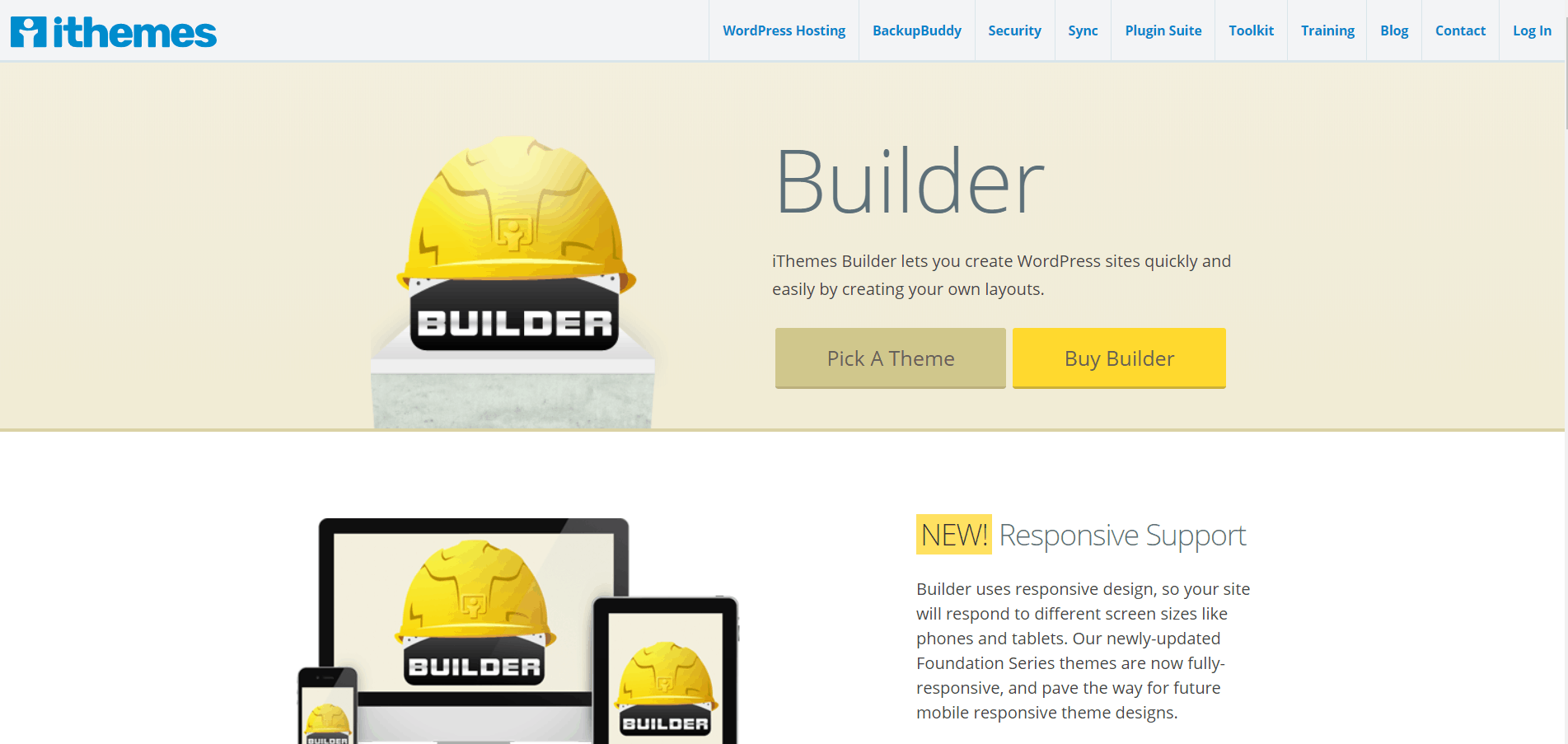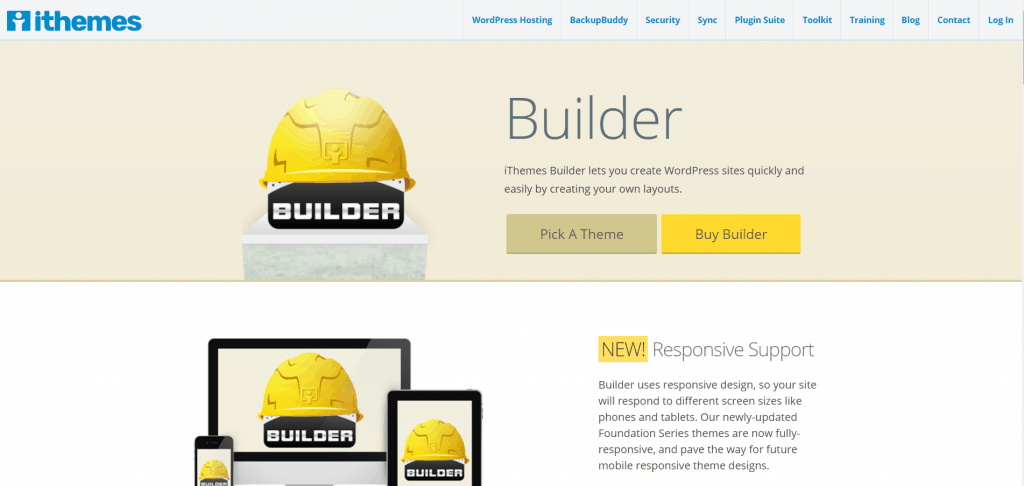 iTheme builder is a robust framework with over 90+ child themes to start with. Includes a Layout Editor this responsive framework allows you to create a layout by pointing and clicking. You can choose the modules, such as header, navigation bar, and footer, and insert them in the order you want on the page without any coding knowledge.
In particular, the builder makes use of Blocks to add niche-specific functionality, for instance, for a Restaurant Block. It allows you to add menu items and location details to your site. With the style manager plugin, you can customize the site's style like background color, headers, images, navigation, content areas, footers, and more.
The basic Foundation Pack starts from $56. There are two more plans to choose from.
Key Features of iThemes Builder
No Need to Any Coding Knowledge
Multiple Blocks
Responsive support for different devices.
The layout editor offers complete flexibility
Style Manager
Robust Design Option
Over 90+ Child Themes
Pricing of iThemes Builder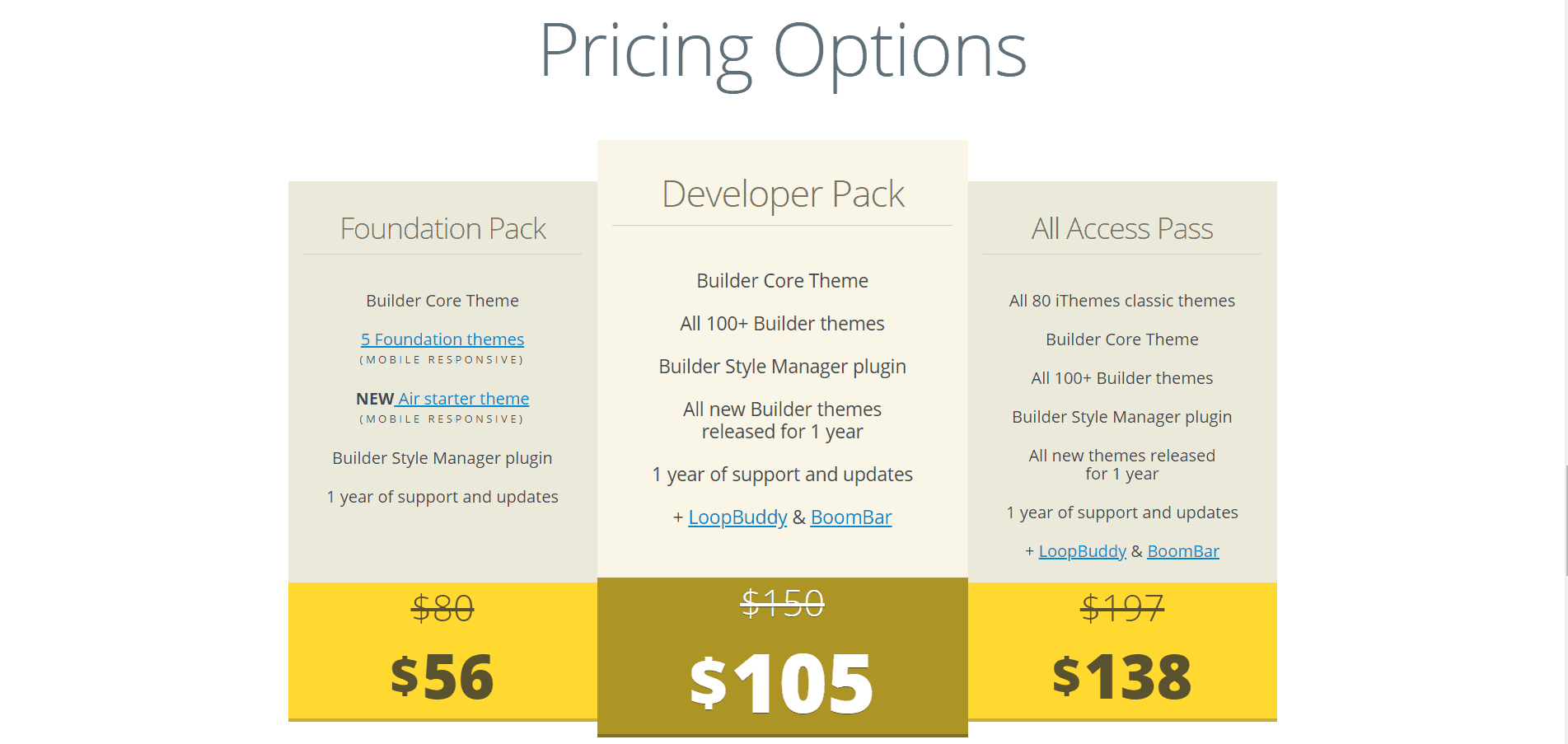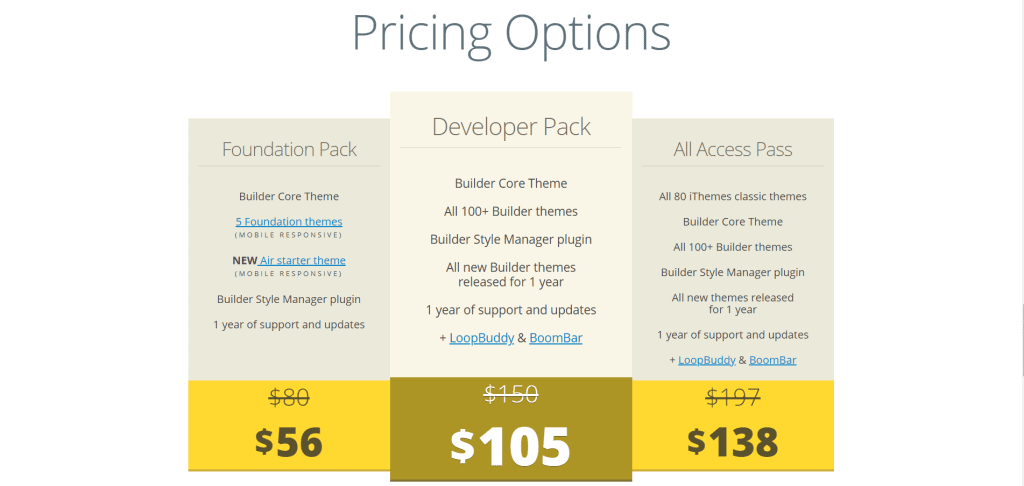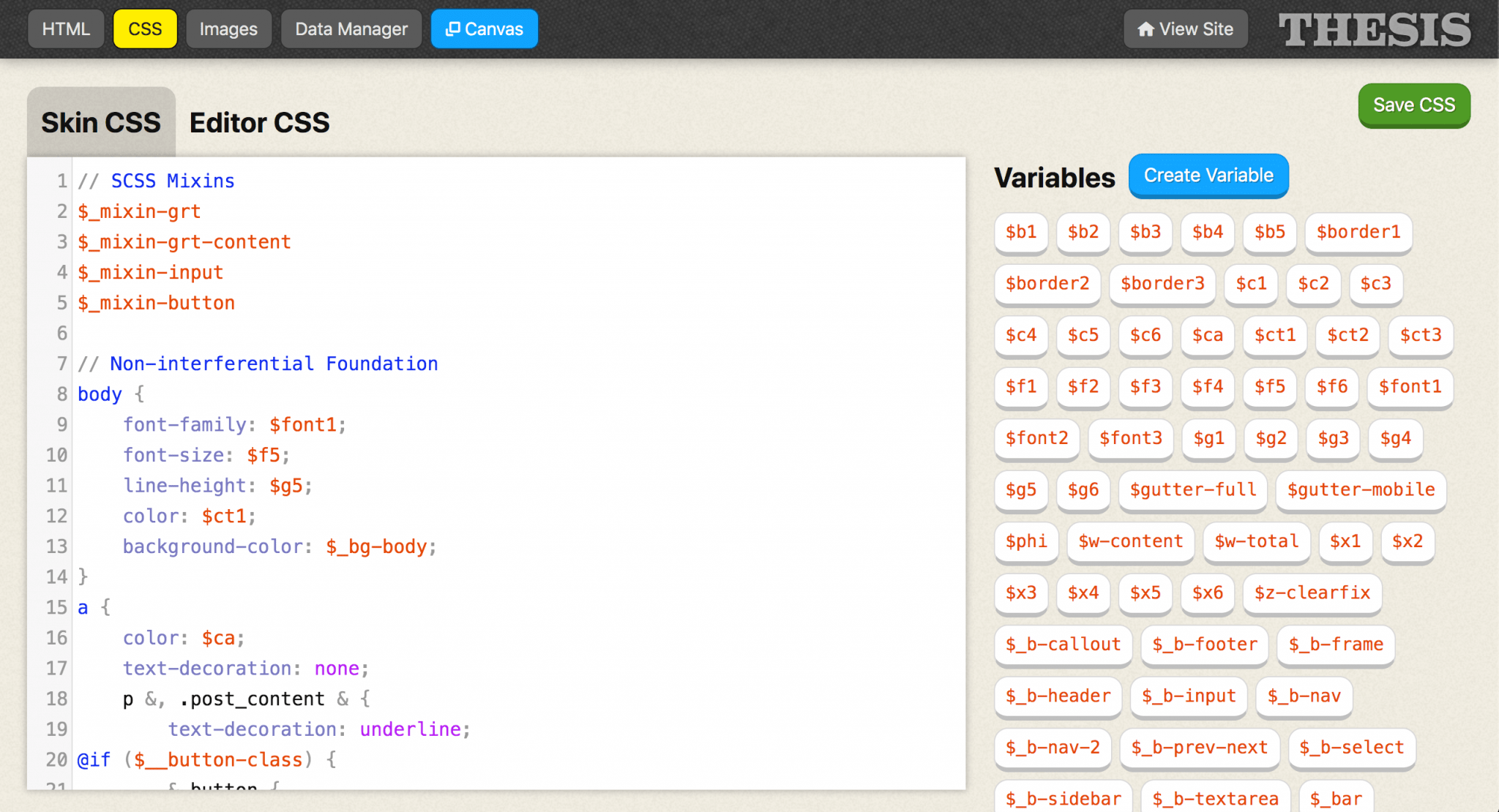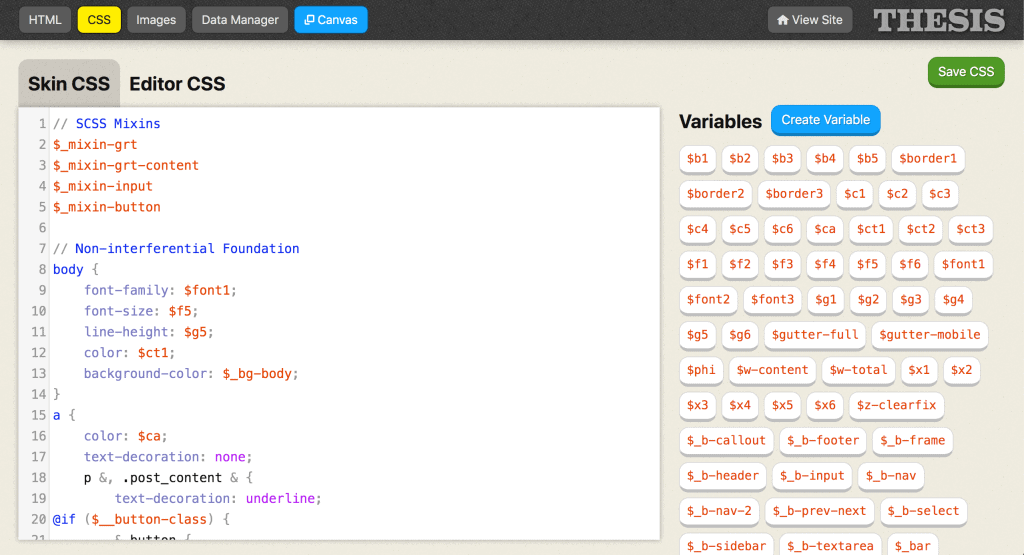 Thesis is another powerful and highly customizable WordPress theme framework which is the direct competitor to Genesis. The visual template editor is a robust theme framework for blogging sites, and small businesses come with email subscription services like AWeber and MailChimp.
From color to typography, you get complete control over all the small elements with many customization options, and developers and webmasters alike can use it easily. The drag-and-drop functionality gives you another level of designing experiences without having to code at all.
It is a modular template and design system for WordPress. The recent release of Thesis 2.0 brought some interesting new features to the framework.
Key Features of Thesis
Build Themes with a visual interface
Multiple Boxes as Block
Custom designs by simply drag and drop
Site tools for SEO and site branding
Designed for bloggers and small business owners.
Developer friendly
Backup, restore, import, and export Theme data
turn repetitive HTML into objects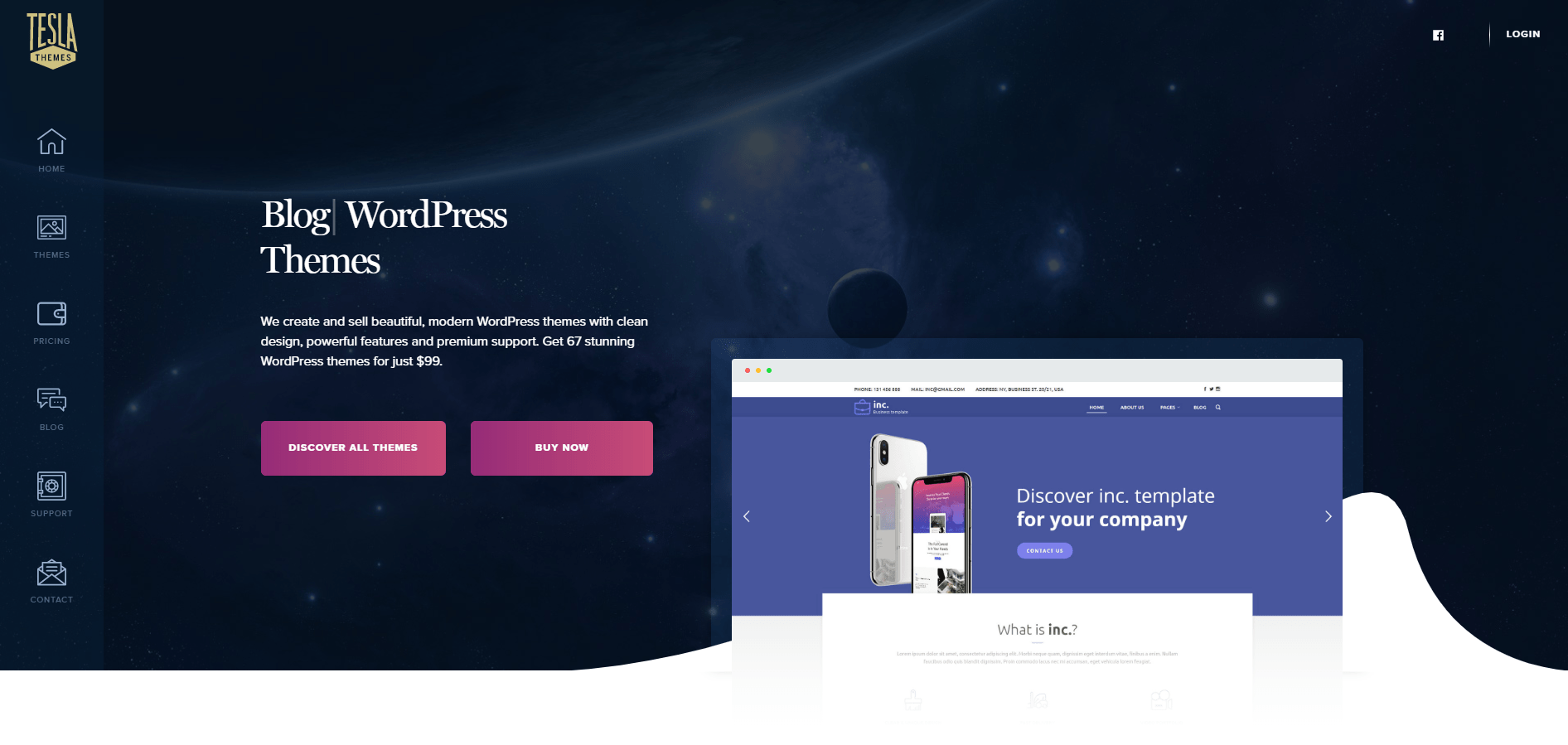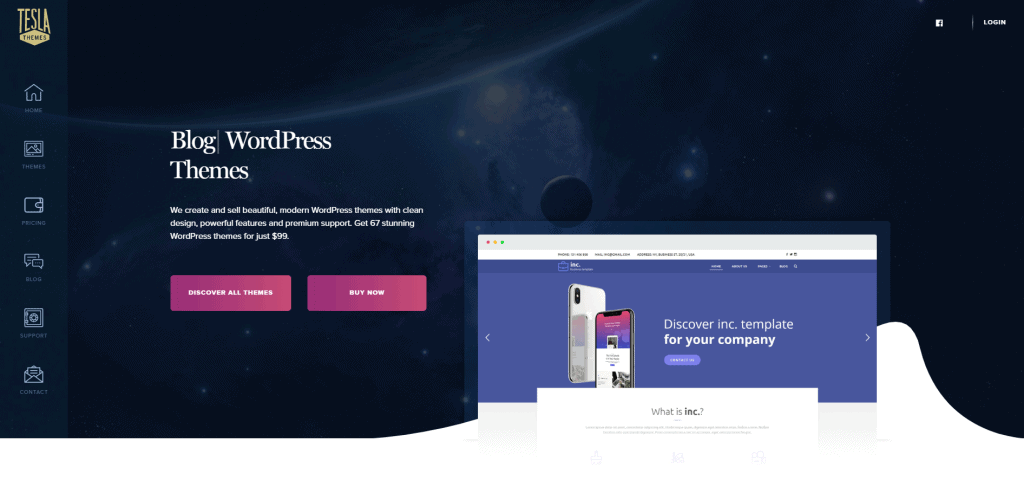 TeslaThemes framework is part of its 66 different themes, and these themes are basically based on the custom made TeslaThemes Framework. Therefore, by joining the club, you get access to all the existing themes and future releases along with the framework.
Altogether, the layouts and other elements of TeslaThemes are 100% responsive and provide cross-browser compatible sites. Any WordPress user from beginner to pro can modify and customize their website with this framework from one-click updates to some amazing page templates.
Get all themes along with the framework only at $99.
Key Features of TeslaThemes
Fully Responsive
68 Premium Theme
Simple Installation
Premium Support
Predefined Samples
Practicing all The Latest Trends
Pricing of TeslaThemes Framework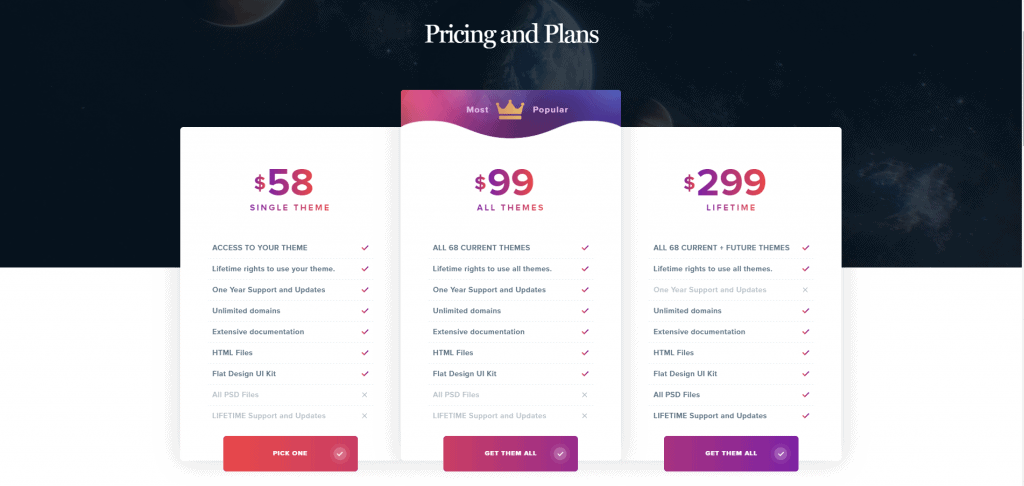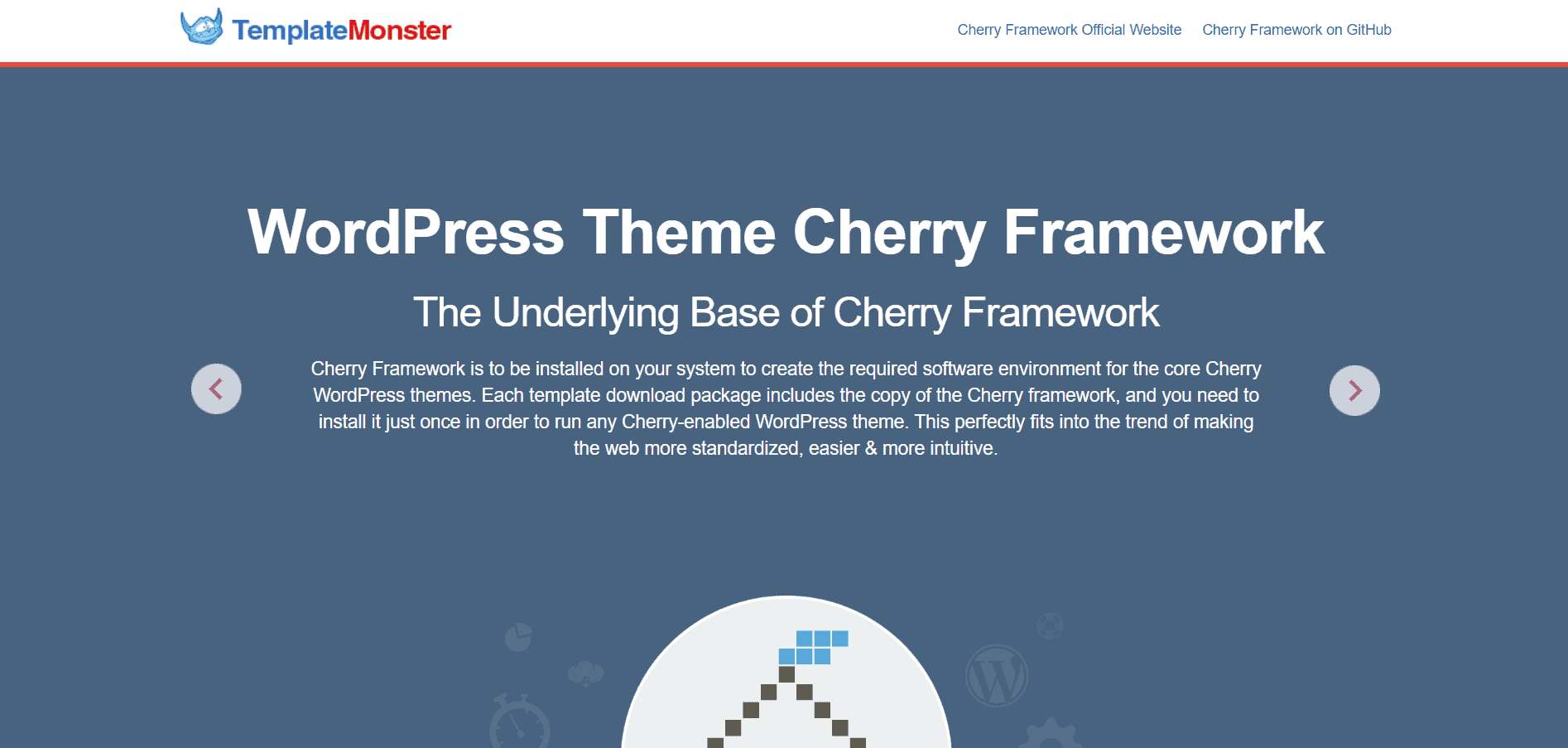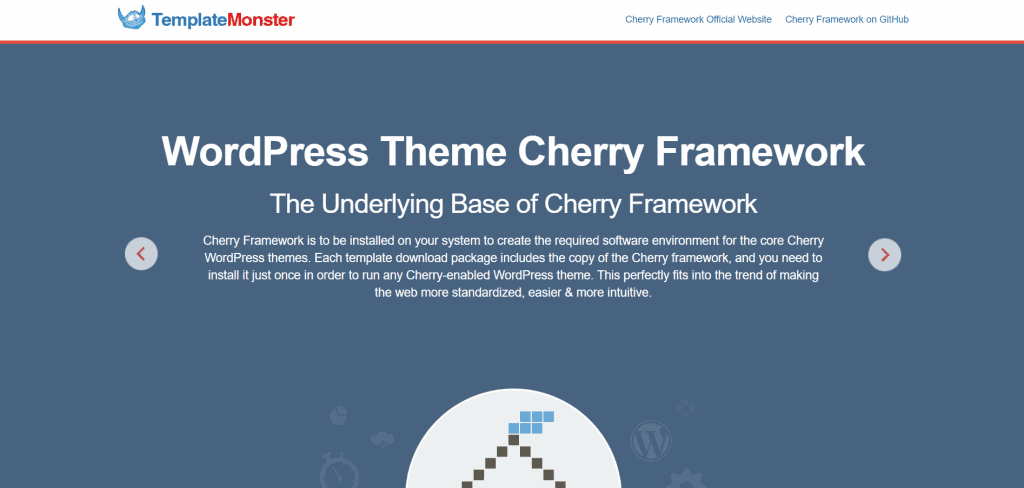 Cherry Framework is a versatile WordPress theme framework developed by TemplateMonster. It can be used for building plugins too. It is a great option to choose with fully responsive designs, easy installation processes, regular updates, shortcodes, and widgets.
The integration of Bootstrap functions and well documentation gives it another level of acceptance. You can get the Cherry Framework and its child themes for WordPress from Template Monster, and there you will get over 300 premium child themes for the framework.
The framework itself is free and open-source, but unfortunately, the child themes aren't. All of its themes come with a $75 price tag per item on average.
Key Features of Cherry Framework
Fully Open Source
Speeding Up the Development
Well Documented
Build Themes, Build Plugins
Modular Structure
Extendability
Highly Secure
Our Pick
So, which one is the best from the above fourteen. It's hard to say because every framework has its own specification and user base. However, from my side, I will go for the Genesis framework by StudioPress. It is an excellent framework for theme development in WordPress.
Genesis is not bloated like others with tons of options, but you get just what you need. Altogether it's a theme-customized, highly secure, SEO friendly framework that offers a robust and reliable environment for developers. Also, the price is reasonable too.
For beginners, you should consider using the Gantry framework. The best thing is it is free and open-source. They have a drag-drop interface that lets you create websites using a visual interface within time.
Wrapping Up
This was the list for the Best WordPress Theme Frameworks of 2020. We are trying to cover every best framework, which is extremely popular and easy to use. I hope you will enjoy it. Don't forget to share your valuable opinion in the comment section below. Let me which one do you use and why?